The Garmin 920xt has a difficult task, to match its predecessor, the successful 910xt; and of course to surpass it. For this reason, Garmin has equipped the 920xt with all the innovations that we have seen in its products of different ranges (and even in other sports) to create the most complete model to date. With respect to the 910xt, it receives the dynamic of the race that was premiered in the Garmin 620as well as its WiFi synchronization; the LiveTrack function that was already present in other clocks (even lower range ones such as the 220) as in the Edge cycling units; smart clock functions with phone notifications as we saw in Garmin Fenix 2And because it couldn't reach the market without offering some exclusive new features, the Garmin 920xt was the first to join the Connect IQ platform, which will soon be joined by other new models.
Garmin has created the most complete watch in their history, and one of the most powerful watches on the market. They have combined in one product a device for training and competition, along with a daily use watch (something that the 910xt did not offer) that will also monitor your daily activity and display notifications from your mobile phone.
As I always like to clarify, on this occasion the watch has been loaned by Garmin for the development of the test, and Once it's done, I'll send it back to you.
I hope you enjoy this comprehensive review of the Garmin 920xt and that it helps you in your buying decision. If you decide to buy it and want to help me out so I can do more tests like this, buy it at Amazon through this linkYou will get the best price possible and I will get a small commission that will help with the following tests.
Unpacking
The Garmin 920xt is packaged in a small box. The tone of the box matches the color of the watch, so if you buy the black and blue version, the box will have those shades. In addition, it also specifies on the front that this is the unit that includes the HRM-Run sensor.
Looking at it from the back, you will see some details that stand out. It is a triathlon watch, with race and pool dynamics. It allows you to put four data per screen and also calculates your VO2Max level.
The content is quite terse. In addition to the watch, you will have the manuals and the charging and synchronization cable. And in the case at hand, the HRM-Run sensor (which differs from the normal one by the white "monicker") along with the Garmin Premium chest strap.
We're going to remove all the plastic, so we can better see what he's got.
The material in which the watch is made is plastic. But plastic type "Casio". That is, you have spent a lot of money on your new watch and the feeling it gives you is that of a cheap watch. But this means that despite the large size of the watch (48x55mm), it does not feel heavy on the wrist (61g). That if, the rubber strap if gives very good feeling, it is comfortable and in more demanding activities such as swimming is shown safe at all times and does not give you the feeling of poder lose it in any stroke.
The 920xt has a total of six buttons, two on the left, two in the middle, two on the right (I hope you read this in the voice of an airplane attendant).
On the left side you'll have the illumination button, which will also serve to turn the clock on and off, and underneath the mode button, which you'll press to unlock the screen, switch from one screen to another, activate secondary options or lock the screen.
On the other side, the up and down buttons and on the front the "back" button to return to the previous menu and to mark laps, and the "enter" button to start or stop an activity or to make selections in the menu.
Despite having a battery capable of lasting up to 24h, the thickness remains at 12.7mm. That is not little, but it is not uncomfortable. The screen has a good resolution of 205×148 pixels and color reproduction is improving with each new model that Garmin launches. It has nothing to do with the "washed out" color display of the Garmin 620but it's not your cell phone screen either.
On the back (which is also plastic) you find the timing and charging pins. Don't worry about them being visible, it has no problems with water and is submersible to 100m.
Initial Setup
Before you start running, the first thing you need to do is to configure the data screens you want to take with you. In the Garmin 920xt you can configure 4 screens with up to 4 data on each one; and you also have the possibility of adding additional screens for map, virtual partner, running dynamics (for running profiles), technique exercise record (in swimming) and clock.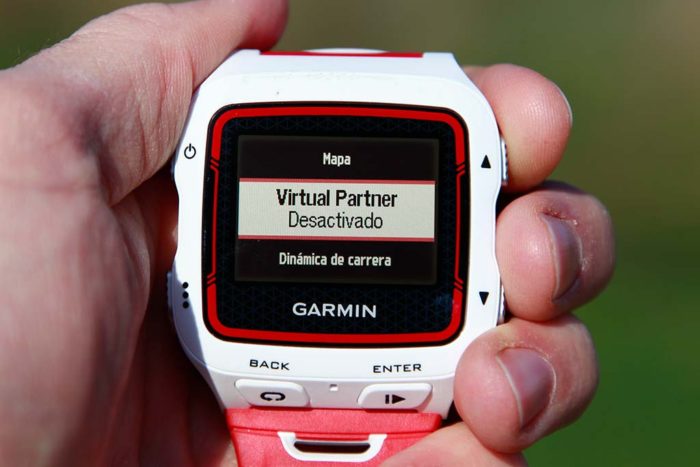 On each data screen you can put between 1 and 4 different fields. The size of the fields is variable, so the less you put on each page, the bigger it will look. I like to keep the pace big, so I can see it at a glance.
But you always have the possibility to leave a screen to have many metrics, for more complete consultations.
Or if you want to create a competition profile where you don't want any information but one or two pieces of information to see them quickly.
Many possible configurations that will adapt to each particular use. They are independent among sports profiles, so you must configure each one separately with the data that will interest you for each discipline. By default, these are the activity profiles that you can find in the menu:
Career
Indoor racing (GPS off)
Cycling
Indoor cycling (GPS off)
Open water swimming
Swimming in the pool (GPS off)
Triathlon
And you can also add other profiles, each one specified in a particular way. That is, you can add a cycling profile from the menu Settings > Activity Profiles > Add New > Cycling, and you can choose from different varieties, such as roller, road, mountain, racing, etc. All to facilitate the choice of profile and to have for example one to train and another to compete, with less data and screens.
Of course if you are not interested in any of the profiles, you can also remove it from the menu. So if you are in Helsinki in February it is unlikely that you will go swimming in open water, you can delete it and add it when the water temperature is more favourable, unless you are a penguin and enjoy the frozen water.
As for the data, in the selection menu it will clearly indicate where the field you are modifying will be placed.
These are the data you can select, totally to your liking.
| Time fields | Distance fields | Rhythm fields | Speed fields | FC fields | High altitude fields |
| --- | --- | --- | --- | --- | --- |
| Weather | Distance | Rhythm | Speed | Heart rate | Height |
| Return time | Return distance | Average pace | Average speed | FC Media | Total promotion |
| Last lap time | Distance of the last lap | Rhythm in return | Return speed | FC Zone | Total descent |
| Average lap time | | Rhythm in the last lap | Last lap speed | Training Effect | Pending |
| Elapsed time | | | Maximum speed | maximum | Average vertical speed in 30s |
| | | | | R | Vertical speed |
| | | | | % of maximum average CF | |
| | | | | R average | |
| | | | | FC return | |
| | | | | R per turn | |
| | | | | maximum turn | |
| | | | | Time in zones | |
| Other fields | Running dynamics (running) | Cadence fields (running) | Power fields (cycling) | Power zone fields (cycling) | Pedal fields (cycling) |
| --- | --- | --- | --- | --- | --- |
| Calories | Vertical oscillation | Cadence | Power | Power zone | Pedal Fluidity |
| Course | Average vertical oscillation | Return rate | Work | Time in zones | Torque Effectiveness |
| Back to | Return vertical oscillation | Last lap cadence | Power to weight | | Balance |
| Sunrise | Ground contact time | | Average power in 3s | | Average balance in 3s |
| Nightfall | Average time of contact with the ground | | Average power in 10s | | Average balance in 10s |
| Time of day | Return ground contact time | | Average power in 30s | | Average balance in 30s |
| | Cadence | | Average power | | Average balance |
| | Average cadence | | Return power | | Balance return |
| | Return rate | | Last lap power | | |
| | | | Maximum power | | |
| | | | Maximum power of return | | |
| Advanced power fields (cycling) | % fields of functional threshold power (cycling) | Time fields (swimming) | Distance fields (swimming) | Rhythm fields (swimming) | Stroke fields (swimming) |
| --- | --- | --- | --- | --- | --- |
| Intensity factor | % of functional threshold power | Weather | Distance | Average pace | Average stroke speed |
| Training stress score | | Interval time | Interval distance | Interval rhythm | Interval stroke speed |
| Normalized power | | Elapsed time | | The rhythm of the last length | Last stroke speed |
| Normalized power back | | | | | Interval stroke type |
| Normalized power last lap | | | | | Type of last stroke |
| | | | | | Last length strokes |
| | | | | | Interval/long stroke |
| Long fields (swimming) | SWOLF fields | Resting fields (swimming) |
| --- | --- | --- |
| Long | SWOLF media | Rest Timer |
| Long intervals | Interval SWOLF | Repeat in |
| | SWOLF of last length | |
And in addition to all these data fields (which are already many), you can add any of them thanks to Connect IQ (section below).
Running
You already have your clock set, so the next thing you should think about is going for a run. The first thing you'll do is unlock the clock to do a satellite search.
The Garmin 920xt has a satellite caching function, so after every sync you make (via cable, WiFi or Bluetooth) this cache will be updated. In addition, the 920xt not only uses the GPS satellites, but also supports GLONASS satellites, the Russian positioning system.
In this video you can see how the search for satellites is usually very fast. In this particular case it takes a little longer than usual, yet in less than 20 seconds it is ready to go for a run. It usually takes about 10 seconds.
The next thing you want to know is how the Garmin 920xt shows the rhythm, especially when you change your pace. So you can check it out, I've prepared this other video for you. Starting from a stop, I accelerate, to stop and start again. The rhythm adjusts quickly.
As you may have noticed, the rhythm is counted in multiples of 5, to avoid constant jumps in the rhythm shown on the screen. This is common to all the watches that Garmin is launching lately.
The Garmin 920xt adds the race dynamics function, something that is not new as we have already seen it in other top-of-the-line American models (FR620 and Phoenix 2The information it gives us is cadence, ground contact time and vertical displacement. The first one is not new either, since it is something already seen in other models. The other two metrics if it is something exclusive to Garmin watches, and we will have them only if we have the HRM-Run pulse sensor. It has an internal accelerometer to obtain this data that it will send to the watch through a private channel to which only Garmin has access (it is not part of the ANT+ specification), so at the moment you will only be able to analyze it with your watch and not with mobile phone applications, for example.
You can see this data in the clock screen if you activate the specific page of race dynamics, or if you add any of the three metrics as a data in any of the configured screens.
You'll also have this data in Garmin Connect once you sync up your activity - without being a metric that you'll get a lot of mileage out of your workouts, if it can help you understand your progress, your pace, or why you may have had a harder time keeping up one day.
In this image you can see an example of these metrics. This is a variable interval training session, where you can better see those changes that occur in the data obtained.

Once you have completed your training, and after saving the activity, you can access all the time, pace and distance data. This is the same data you will find in the history option, where you can check how your training has been, both in total data:
As in data per turn:
Finally, the Garmin 920xt will keep track of your personal records, and if you exceed any of them at the end of an activity, it will also indicate this on screen. And you can find them in your statistics, too.
These records will be for the fastest kilometer, mile, 5 km, 10 km, half marathon, marathon and longest distance and will be stored in the clock and also synchronized with Garmin Connect, as well as you can synchronize your previous records in Connect to your new 920xt.
Cycling
The operation of the Garmin 920xt when riding a bicycle is similar to when running. The difference is that it will show speed in km/h (or miles/h) instead of pace, so you can put the watch on the handlebar and use it as a mileage counter. To do this, you can either mount it directly with the strap on a handlebar holder or install the Quick ReleaseThis will be ideal for your triathlon competitions as it allows you to change the watch from the wrist to the handlebar very quickly, which is essential for maintaining very low transition times.
When working as a kilometre counter and updating the speed, it shows up very quickly when changes occur. On clear routes and without satellite signal problems, the use of a speed sensor will not be essential. A video where you can check it out.
Where Forerunner 920xt stands out is in the external sensor holder. Of course you can connect the pulse sensor, but it can also be synchronized with ANT+ speed/cadence sensors and power meters, regardless of the manufacturer, as ANT+ is an open system.
On the clock screen you will have the metrics of the full power meter. If you check the fields you can add for the activity profile, you will see that the possibilities are very extensive.
The 920xt also displays the VO2max for the cycling profile, but will only do so if we have a power meter. Without this accessory the watch will not be able to calculate it.
I must remind you that although the watch has Bluetooth connectivity, it can only be used to connect with your mobile phone, so you cannot use any external sensor that uses this type of connection exclusively.
Swimming
When it's time to soak with the Garmin 920xt, the clock offers two options, open water and pool swimming.
Swimming in open water
Swimming in open water is anything that is not a pool with a specific measurement, and that is in the open air. Therefore the bathtub at home does not count. You will have the help of the GPS to have references of distances traveled as well as your pace, and when it comes to synchronizing, to have the plan of your training. But you should know that it is not as simple as it seems. Every time you give a stroke and put the watch under water the GPS signal will be lost, to recover it when you take it out. The location accuracy will be low. Therefore the signal will be jumping continuously, and this is where the work that Garmin has to do to make the watch capable of interpreting this location data comes in.
The watch must memorize this data and guess where we come from and the direction in which we are swimming, and from there be able to make the calculations. And it is not easy to achieve this, because every time you take the watch out of the water it must look for a signal again, and it only has a chance to do so during the short time you keep it out.
The result is that the distances offered will have an approximate error of 10%, something that cannot be improved upon. Even military submarines do not have guided navigation when they are under water so you can get an idea of the difficulty of obtaining a signal.
As with the other activities, you can configure the screen with the data you need, which will be time, distance, pace and strokes. You can also set auto lap at a given distance or alerts for time, distance, stroke speed or calories.
Swimming in a pool
The most common way to train will be in the pool, for which we have a specific mode. In this case we dispense with the GPS to take advantage of the internal accelerometer, which will count the strokes and the number of lengths, as it will detect when you reach the end of the street and turn to start a new length. So if you want it to count correctly you must make sure you do not make strange movements because the clock can understand what it is not. If you greet the lifeguard with the intention of flirting, it may be that the clock thinks you have completed three lengths...
When you start the activity, the first thing you have to do is to select the distance from the pool within the activity settings. Here you will find standard measurements or you can enter a custom measurement. You can also select that the watch detects your swimming style, although in my tests this automatic detection has not worked as expected. It has detected my crawl and backstroke styles without any problem, but breaststroke and butterfly have not.
So once you are in the water, just press the "enter" button to start the activity and start swimming. On the watch display you will have the information you have selected in your own activity profile.
When you are tired and want to take a break, you can press the lap button ("back" in this case) and you will go to the rest mode. To start swimming again, you will have to press the same button.
As for the swimming mode, there is a curiosity to comment. It is possible to connect the pulse monitor to the clock, in fact at the beginning of the activity it allows the search and connects, showing it on the screen. But among the options of data fields it is not possible to select the heart rate. And it will not be recorded or synchronized with Connect. All this through Mio LinkThis would not be possible with the Garmin frequency sensor, because underwater the signal is not able to reach the watch.
I have found some problems when counting laps, because sometimes, without making any strange movements, it has counted a lap when I haven't finished it, and it's not just that I don't count in the pool, it's that you can clearly see it in the intervals marked. And these cannot be modified within Garmin Connect, so if there is any error when counting, it will stay that way (unless you edit the training in another application).
As for the rest of the activity, once it is synchronised you can access it in Connect, where you will have the graphs and all the details regarding distances, times and specific swimming data such as strokes, SWOLF and rhythm for every 100 metres.
Triathlon mode
The Garmin Forerunner 920xt has one of its main selling points in the triathlon mode: in addition to being able to measure data in your swimming, cycling and running training, it is possible to combine all these sports into a single activity. This is the mode you triathletes need in a competition, since you can switch from one activity to another without having to stop one and start the next sport. And you can also save the transition times (T1 and T2).
The triathlon mode is the default activity, but we have the possibility to add a mode called "multisport" that can be configured with the succession of sports you want. So you can also use the Garmin 920xt for a duathlon, or create any combined training of several sports, such as weights, running, cycling, pool, and that later will be synchronized to Garmin Connect as a single activity.
The Garmin 920xt came on the market with navigation as one of its options, but in a very limited way. The map view did not allow for zoom variation and was set by default to 500m while on the move.
Switching to full map view when you stopped, so when running in the mountains, if you were in doubt about which way to go, you couldn't stop running as the zoom was increased to full view and then you were really lost.
Luckily, this has changed with the new firmware version 2.70, and it is now possible to use the zoom and fix it as you wish.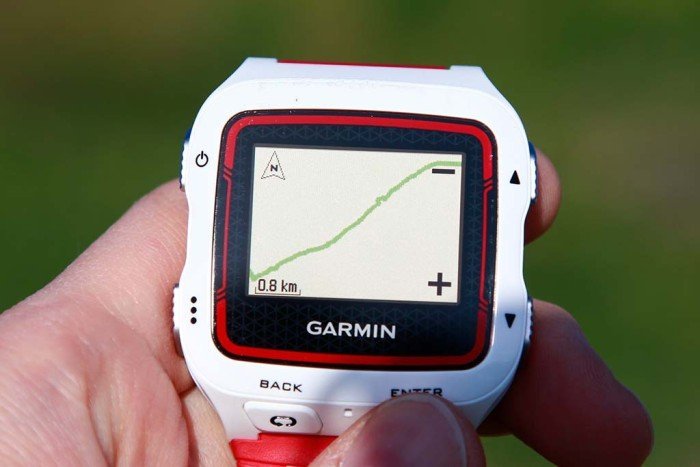 Navigation is in the form of "breadcrumbs", i.e. connecting different points. The Garmin 920xt does not support the installation of maps, so it will only show you the path to follow. But it is more than enough for almost any use, and the zoom feature allows you to use it in mountain outings that do not present much complication.
At the moment the creation of routes is limited, and only podremos make them through the "Routes" option of Garmin Connect. Its use is very simple, and you only have to mark points where you want to go through. You have a tool on the right that will help you to create the route and will indicate the total distance to be covered. If you indicate your pace or average speed, you will also know how much time you will need to complete the route, and you will have the altitude profile at your disposal.
But it's not possible to import navigation routes that you've created before, nor copy a route downloaded from Wikiloc or passed on to you by a friend. Or at least not directly by putting it into the watch's memory via USB, you can do this by importing the route into Garmin BaseCamp, and then passing it on to 920xt.
Once you have the route on your watch, you can go to the navigation menu and select the route you have created for the day's activity.
You can also see other details of the route, such as the altimetry to know what you are facing (in this case, a fairly flat route).
And when you start the activity, you will have the map of the route, the remaining distance, the total estimated time and how much time you have left to finish the route.
If at any time you feel you have lost your way, podrás find the "Back to start" option, which will help you return to the starting point.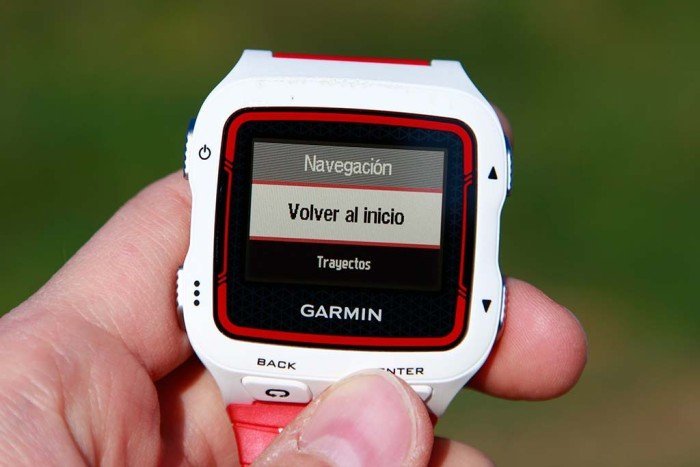 So while the Garmin Forerunner 920xt is not an adventure watch like a Fenix 3, if your demands aren't too high and you only need to follow a few marked routes on occasional escapes, the latest update will do just fine.
Indoor training
In the menu of the Garmin 920xt you can find two profiles for indoor training, i.e. GPS off and getting the data through other sensors. Additionally you can add any other, such as force for example.
In the case of running, the 920xt will obtain data on pace and distance through the internal accelerometer of the clock (the same one used to have cadence data when you run outdoors). There is no option to configure, such as step size, because the configuration is automatic when you run outdoors with the GPS activated, and it will memorize the distance you cover in each step.
To test this function I like to run in the street and face another clock with the GPS activated, and compare rhythms and distances. The day I did the test it might not have been the most suitable, because I was testing myself after a week stopped for discomfort, and my rhythms were much slower than normal. But this way I put a hard test, right?
First I leave you with an image with the data obtained with a Garmin Fenix 2, with GPS activated.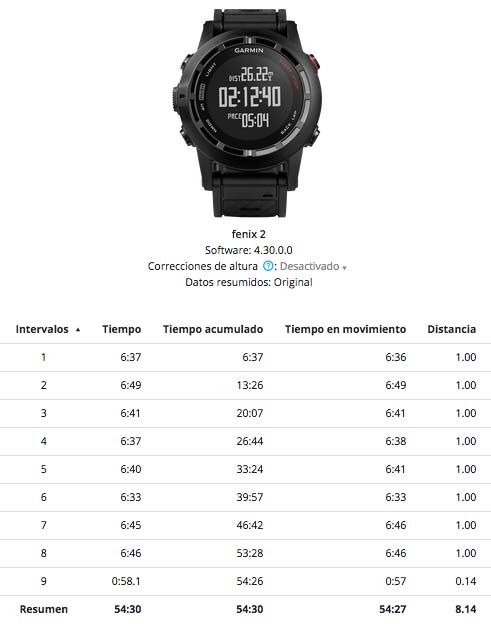 Below are the data from the Garmin 920xt obtained exclusively through the internal accelerometer.
The final result is quite positive in terms of total distance, as there is a distance difference of 300 meters (a 3.7% difference). In terms of rhythms, the distance has been decreasing over all the kilometers, which shows that it has not been very fine and that as the distance increases, the difference in the final measurement will increase.
In that regard, I have not yet found any watch that matches the records of the Garmin 620It makes you wonder if it wouldn't be better to run with the GPS turned off, trusting the data exclusively to the internal accelerometer.
However, you must not forget that the watch will take data from the accelerometer, and the cadence is obtained from the movements of the accelerometer in the first place and, if we wear the HRM-Run sensor, as a "support service". So everything we do with our hand can be reflected in the final result. If you wipe your sweat, if you look at your cell phone, if you drink water... all those movements can confuse the measurement.
In the end they are approximate data, and as such we have to take them. Normally an experienced runner is able to know at what pace he is running without needing any GPS, simply by sensations, and the watch is a mere confirmation. But to tell you the truth, I trust the data provided by the watch much more than the data provided by the treadmills in any gym, which over the years let's say that their calibration tends to fail "a little".
Not only can you train indoors with the GPS turned off, you can also train with your bike when you don't have time to go out or simply when the weather is not good in winter.
You can connect with electric training rollers (such as Wahoo Kickr or Tacx Bushido), or traditional rollers and use a speed/cadence sensor connected by ANT+. These two ways you will get very reliable data constantly.
Advanced training
One of Garmin's greatest strengths as a platform is the programming of training sessions. Of all the manufacturers, they have achieved the most complete yet simple system. Preparation is very quick, and once it is complete you simply need to synchronize the training with the clock to be able to do it under the indications of the clock.
Creating your workout is really easy: Name it, select where you will do the workout (running, cycling or other) and start adding steps.
For example, my last fartlek training, where after a 1km warm up I do ten 400m/400m reps.
Once the programming is complete, simply click on "Send to device" and proceed to synchronize the watch. You have a second option, which is to add it to the calendar and have the training schedule according to the day. Then podhen find on the watch the training session you are due each day.
If you do not add it to a date, you will find the session created in the training section.
When you start your training, the watch tells you what to do in each phase, and also shows you how much time or distance is left in the current phase of your training, along with your pace and lap time.
When you finish warming up, you will go to the workout part and it will indicate, in the same way, each of the steps of the training with your objective and, in this case, in what number of repetition you are. And so until you finish training, you will always be guided.
This is not the only way to train. You can also compete against yourself in a previous activity.
Or schedule an interval training directly from the watch, but in a very simple way (without setting pace targets or heart rate).
Or set a simple goal, such as distance (today I go out to run 15km), distance and time (today I go out to run 10km in less than 45 minutes) or distance and pace (today I go out to run 15km at 4:00 min/km, I had a big breakfast).
Garmin Connect Training
And if all these training options seem few and far between, Garmin Connect also gives you access to a range of training for a multitude of races - from plans to run 5km races to marathons, divided by weeks.
By clicking on any plan, you will have access to the training sessions programmed according to the objective, and you will be able to program them directly on the clock, either by the date you want to start them, or by the date on which the race will take place. If you choose the second option, it will tell you when your first training day will be. This will be synchronized on the clock, and you will be able to access each training session on a daily basis, being correctly structured to mark each step as if it were your personal trainer.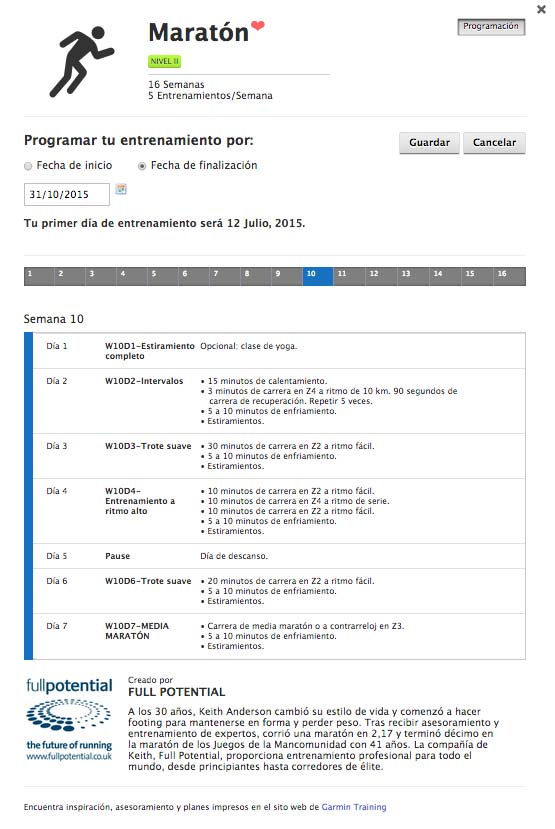 VO2Max, recovery control and race forecast
Like other high-end watches from Garmin, the 920xt offers several features to measure your performance as an athlete, as well as a recovery guide after your workouts.
The VO2Max has already been seen on other watches of the brand, it is not a new field for Garmin. The data will be updated after each workout, so you may see slight changes on different days, although an initial period is necessary to reach a reliable data. I usually vary the measurement between 48 and 51. However, for the data to be reliable the pulse sensor must be a chest one, because the algorithm that calculates it is based on the pulse variability, something that optical sensors are not able to read reliably.
Through this measurement, the watch will be able to give you a prognosis of race finishing times for different events, ranging from 5 kilometres to a marathon. It does not mean that you should reach those times, but it is an indicator of how far you could go with your current physical condition, or rather, how far athletes of your same sex, age and physical condition go.
What is new is that the VO2Max will now also be displayed for cycling. For this, in addition to the pulse sensor, we also need a power meter mounted on our bike. As with the race, this data will be updated (and stabilized) over time.
The Garmin 920xt also features a recovery control. First, when you finish a running workout, it will tell you how long it estimates you should rest until your next hard workout (at high speeds for you, not a piggyback jog so you don't miss the bus).
But if you are a triathlete (or do other types of training besides running) don't take the data as safe either, because the recovery time only takes into account your running training, so if your next training includes 100km cycling at an intense pace, that won't change the remaining recovery time.
When you start a new workout, after approximately 7 minutes, the Garmin 920xt will display a message telling you how you have recovered from your previous workout. Messages such as "Optimal", "Good", "Moderate" will never send you home because of your poor form.
Alerts:
It is possible to create a series of alerts so that the Garmin 920xt will warn us of different events. It will do so in the classic way, by sound/vibration/notification on the screen. The alerts will be typical of Garmin, that is:
Heart rate
Running/walking
Rhythm
Weather
Distance
Cadence
Calories
And they will be independent of each type of activity, so you can set an alert for heart rate while running, and a speed alert for cycling. All alerts are compatible with all sports profiles, except run/walk which you can only set for running activities.
New to the Garmin Forerunner 920xt are customizable alerts. You can create the alert you want for the event you are interested in, through the "Customize" option.
Next you must select the type of message you will receive and how you want to identify it. By default you can create it as "Eat", "Drink", "Turn around" or "Go home", but you can also customize the message.
The personalized alert will be activated whenever you want, based on time or distance, so you can set an alert to remind you to drink every five kilometers, or to eat every hour.
Another interesting option you'll find in the Garmin Forerunner 920xt is the metronome, in this case, exclusive for running profiles. By activating this option the watch will beep and/or vibrate at the frequency you indicate, in order to do running cadence exercises.

In the settings you can select, of course the cadence (in beats per minute), and the frequency of the alerts, which will be every 2, 3, 4 or 6 steps, so you will have to match the step with the sound or vibration.
Integrated sensors and external accessories

In the 920xt you have a magnetic compass that will help you to find your bearings while navigating, as well as a barometric altimeter that will be able to indicate changes in altitude.
In the case of the compass you will not have any problem with its use, in the case of the altimeter you will need to know how it works so that you know "what is there".
The Garmin 920xt has a barometric altimeter that obtains the altitude from the atmospheric pressure, since this descends as we gain altitude. But we must know that the atmospheric pressure is not something stable, but it varies according to the weather, so a day of sunny weather the pressure will be higher than a rainy day, where the atmospheric pressure goes down.
This means that the altitude we will have on the watch will not be very accurate, but the changes in altitude up and down will be accurate. This is especially noticeable when you are at sea level (as is my case). There are days when your training, practically flat, will have a very correct altitude profile and of which you probably have no doubts.
And other days when you know you haven't been out with the diving team, so it's clear that the 90% in your training hasn't been developed underwater.
The route is the same, and the profile is very similar. The difference is that the day of the first training was a sunny day, while in the second it was a very cloudy and rainy day. So there is a variation in the altitude marked of approximately 3 or 4 meters, but the important thing is that the data of ascent and descent accumulated will be quite accurate. And unless you have planned to fly low (some of you do it with your rhythms sub 3min/km), I do not think that these problems of altitude measurement can affect you.
These are the two sensors integrated in the clock, but thanks to the ANT+ connection it is possible to connect (almost) any external sensor, of many types and different brands. This is almost because the 920xt is not compatible with scales with ANT+ connection (which will end up being replaced by WiFi scales in the vast majority), the Garmin temperature measurement accessory (Garmin Tempe), or fitness machines that have ANT+ connection. But not all is lost, because thanks to Connect IQ it is always possible to add other types of external sensors later, such as the non-invasive lactate meter from BSX Insight.
Apart from those cases, everything else can be connected without any problem:
Heart Rate Sensors
Speed and/or cadence sensors (cycling)
Power sensors (cycling)
Pedometer (race)
Garmin VIRB camera for remote control
The sensors are not limited to one per type, but you can have several sensors of the same type synchronized. So you can have several bikes, each with a sensor installed, and you don't need to search every time you change from one to another. Or an optical pulse sensor and the HRM-Run, and you can use one or the other as you see fit.
Despite having Bluetooth connectivity, it is not possible to connect sensors that use this technology. But you don't have to worry, most third-party sensors are coming to market with dual Bluetooth/ANT+ connectivity.

Activity monitor
Another new feature of the Garmin 920xt, compared to the 910xt it replaced, is an activity monitor that measures your daily movements, so Forerunner 920xt will not only keep track of your workouts, but will also keep track of your activity before and after your workout. This is not unique to the 920xt, but is what we're seeing on most watches, both from Garmin and other brands.
This record is carried out thanks to the internal accelerometer of the watch, which provides you with the cadence data while you are running. In this case what it will do is count the steps you take throughout the day and thanks to an algorithm it will also translate it into the distance travelled. It is worth mentioning that it will count the steps taken both while training and when not, so the (approximate) distances it will provide you with will be the totals.
In the main screen of the clock you have a quick information, with the number of steps given at the bottom left.
And if you press the scroll down button once, you will enter the screen where you will see your full activity. A semicircle that represents how you are with respect to the goal and the situation of the day in terms of percentage next to the goal of steps of the day. By default the goal of steps is dynamic (it adjusts automatically to your usual activity), but if you want you can modify it manually.
Another function it has is the inactivity warning. It is designed to warn you when you have not moved for a long time (for example, if you are sitting at your desk in the office), and you start moving. For me personally the function has not worked well, because it ended up warning me that I should move precisely when I was standing and moving. On the screen it is represented by a line at the bottom.
At night, when you're sleeping, it will also measure your activity, or rather, inactivity. Like the vast majority of activity monitors, it will record the quality of your sleep, whether it's light or deep, from the movements you make. The clock interprets that if you don't move, it's because you're in a deep sleep, the opposite of if you move a lot. But this mode is not automatic as we can see in many other clocks and bracelets, but you have to activate it when you go to sleep, and deactivate it when you wake up.
All this data will be synchronized with Garmin Connect, where 1TP10We will analyze on the different screens both our daily activity and sleep. It is located in the "steps" section. Every day podrás check your activity separated by hours, totals and medals achieved.
In the "Breakdown" tab you will have a quick overview of the daily activity.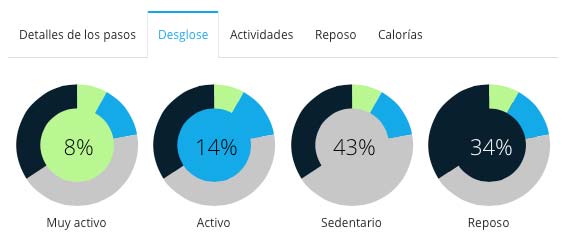 "Activities" indicates the total daily activity, broken down by workouts. So 1TP10You can check your activity both when you are training and when you are not training. In this case, it separates my fartlek session that day from the rest of my daily steps walked.
If you keep the watch on your wrist that night and put it in sleep mode (only for those who don't find it uncomfortable, it's bulky) you'll get the detail of how the activity was during sleep.
Satellite reception
The Garmin 920xt is not only a GPS clock, it also has the possibility of receiving the location through the Russian satellite network, called GLONASS.
During the time I've been using it I haven't noticed any problem with the reception. It has always been fast in obtaining signal and when marking distances in my usual circuits (in which I know perfectly the distances, for sure you do) it has never failed. Besides, trying it together with other watches in the same route -as I usually do all the tests- the results obtained have been satisfactory.
The biggest problem is when you show the track on a map, with inconsistencies such as telling you that you've run through the water when you're not a duck, or making you jump between buildings like Spider-Man.
This image is a very clear example of a confusing track, obtained in a confrontation with a Garmin Fenix 2 (which does not have GLONASS). Reception problems both in areas with trees or a somewhat more complicated reception, and in areas without any problems.
I haven't had this kind of problem with the 920xt, at least as continuously as they can with the Fenix 2. Not that they don't happen, of course they will, because with the accuracy of today's consumer GPS's the most accurate positioning data will be in a range of 3/5 meters (more than enough distance to take you on your way, or over the roofs of the building).
The Garmin 920xt has always shown me some very consistent tracks, and in return it has traced the same place on the map, always with great precision, although of course never a perfect track (which I repeat, you will not find in a device of this type).
Even more complicated activities where you are running continuously in a reduced space, like a 7-a-side football match, where you cover your demarcation and except for a few occasions you will not step on other areas (in my case, right side).
You always have to be practical and not worry so much about the marked track, as about the total distances, which in most cases will not give an error higher than 2%.
Battery life
The Garmin 920xt is a watch designed for triathlon competitions. And of course this includes from a super sprint triathlon that you can finish in about 40 minutes and where the battery of any watch will not be a hindrance, to an Ironman, where you can get up to 17h. The watch is intended for athletes who cover both those disciplines, as any of the distances in between, so the battery of the watch has to be up to date.
Garmin has equipped the 920xt with a battery that can last up to 24 hours with the GPS activated, more than enough for any competition you want to face. If we also activate the reception of GLONASS satellites, the autonomy will be affected. Of course everything depends on the weather conditions and the environment.
If this duration is too short for you, Garmin has introduced the UltraTrac mode in the watch, which we have already seen in other watches of the brand, such as the Phoenix 2By activating this mode, the 920xt would be able to last up to 40 hours, as it reduces the number of times it updates satellite data (which is normally every second). This mode is really only practical for sports where movement is not fast and you do not need high precision constantly, such as mountain expeditions or climbing.
I have made a test of autonomy, charging the battery up to 100%, starting an activity and leaving the watch without touching anything, until the battery was exhausted. The GLONASS was activated and the data recording every second, that is, the most demanding configuration. The result was the following:
It hasn't come to 15 hours, far from the 24 hours Garmin promises. So if you need extended battery life, remember to turn off the GLONASS satellite tracking feature. You'll lose some accuracy in exchange for increased range. But for normal training and competition, you'll find you have more than enough battery power.
Lighting
Among the options that those of us who have no choice but to train at night (and in my case it even means training in the early morning) are looking for is good screen lighting. Not only in terms of quality, but also in terms of configuration.
The Garmin 920xt does not disappoint in this respect, as it allows you to select when the display will light up and for how long. It allows two modes, automatic lighting when a button is pressed or when an alert is received, and setting the time it will remain on from 8 seconds to 1 minute, also giving the option of leaving the display on. In my case, I always opt for lighting in manual mode (when the button is pressed, the power is on) and that it remains on for the entire workout.
It is not possible to regulate the intensity of the background light, as for example it was possible to do in the Garmin Fenix 2But at no time will you have trouble seeing the screen because the lighting provided is intense and balanced across the screen.
Garmin 920xt, the daily watch
In addition to using the Garmin 920xt for training, you can also use it on a daily basis. It may be too sporty in appearance and not compatible with a suit, but unlike the Forerunner 910xt, in this case we do have a watch. Thanks to Connect IQ it's possible to change the time display to one that you download to the watch.
As a clock, it works perfectly, adding other day-to-day functionalities such as monitoring your activity or receiving notifications from your mobile phone.
The clock allows you to set an alarm, but it is simple and you cannot select repeat or which days of the week
Garmin 920xt, the smartwatch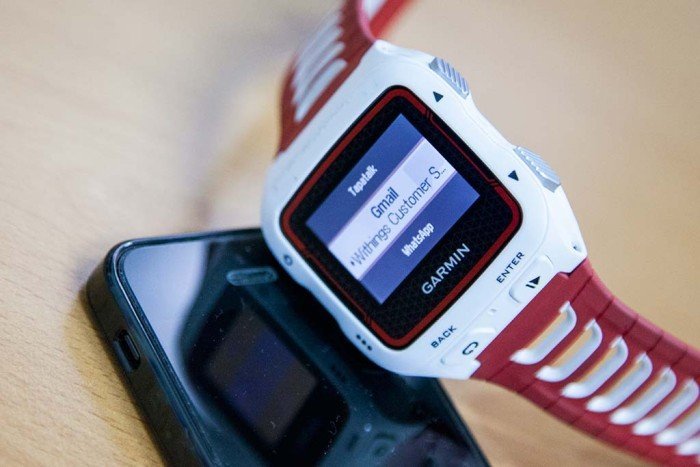 The FR920xt offers the possibility to show the notifications from your mobile phone on the clock screen, so you can read messages or emails from your phone without having to take it out of your pocket. At the moment this feature is compatible with Android and iOS, although in Android with some problems.
The clock is powered by the phone's general notifications, so there's nothing special to configure or install.
You will receive these notifications both in clock mode and when you are training, so if you go out for your workout there is no reason not to be up to date with all your Twitter notifications.
The problem with Android is that Bluetooth works erratically. With iOS, syncing between the Garmin Connect app and the clock is easy and fast (you have to sync the clock through the app, not from the settings menu), and operation is constant and has no more problems than disconnecting at some point, but it will reconnect without major problems.
In the case of Android I have encountered problems with the first time synchronizing the clock. On more than one occasion I have needed three or four attempts to get them to stay in sync. But the most annoying thing is that the connection is not saved. Every time the clock and the phone lose the connection, because you turn off the phone, or simply leave the phone in one place and go more than 10m away. When you return, the phone will ask you if you want to reconnect to the clock, because it identifies it as a new device, not the one that was already connected.
It's a very strange situation and I don't really understand why it doesn't work properly, when in the Garmin Fenix 2 runs smoothly.
Connect IQ
Connect IQ has been made official on the Garmin 920xt as of firmware version 2.70. It was previously present in beta form pending official release. This is the new path Garmin has taken to fend off the wave of smartwatches hitting the market. Quickly described, Connect IQ will allow both Garmin and third-party developers to create "apps" that 1TP10We will be able to install on our watches. These pod apps will be for training or for using the watch as a smartwatch. We have four types of apps:
Applications: Complete applications, more advanced than the simple creation of some additional screen. Here we can see how companies like BSX Insight can create a training application and make use of their non-invasive lactate meter, or mountain-specific navigation applications.
Widgets: Provide information obtained from other sources. A stock status widget that receives information from the phone would be a good example, or the current weather situation.
Customized fields: Data fields that you can add to the screens you have configured. I have one installed right now that estimates the completion time for a half marathon race. Or a beer consumption counter, so you know how much you have to run to make room for the 3 beers you will be drinking post-training with your teammates.
Clock dials: New screens to show the time, analog or digital.
These applications can be installed from Garmin Connect on your computer or from your phone. After selecting what you want to install, they will appear on the clock after the next synchronization. The operation will be similar to any application store on a mobile phone. If you would like more information about Connect IQ, I have prepared a specific entry where I explain it to you. Click here to read it.
Connectivity
The Garmin 920xt offers many different ways to connect to other devices. Most importantly, of course, it has plenty of ANT+ sensors to complement our workout data - pulse sensors, cadence sensors, bike speed/cadence sensors, and of course bike power sensors. And it'll have memory for several, so you can memorise different sensors you have installed on two different bikes without having to do a new search each time you switch from one to the other. And it'll be compatible with any sensor with ANT+ connectivity, whether they're from Garmin or any other brand.
Although the watch is Bluetooth enabled, you will not be able to connect external sensors based on this technology, which is reserved exclusively for synchronization with your phone and for LiveTrack functions.
Data synchronization can be done via USB cable, but the easiest way is via WiFi when you finish your workout, automatically. When you finish an activity, the clock will search for the WiFi network you previously set up from Garmin Express. Setup is very simple, simply search for the nearby network or enter the data manually, and it will be recorded on the clock.
In case you do not arrive home immediately after your training, you can make a manual connection by pressing and holding the Mode button and selecting the "Connect to Wi-Fi" option.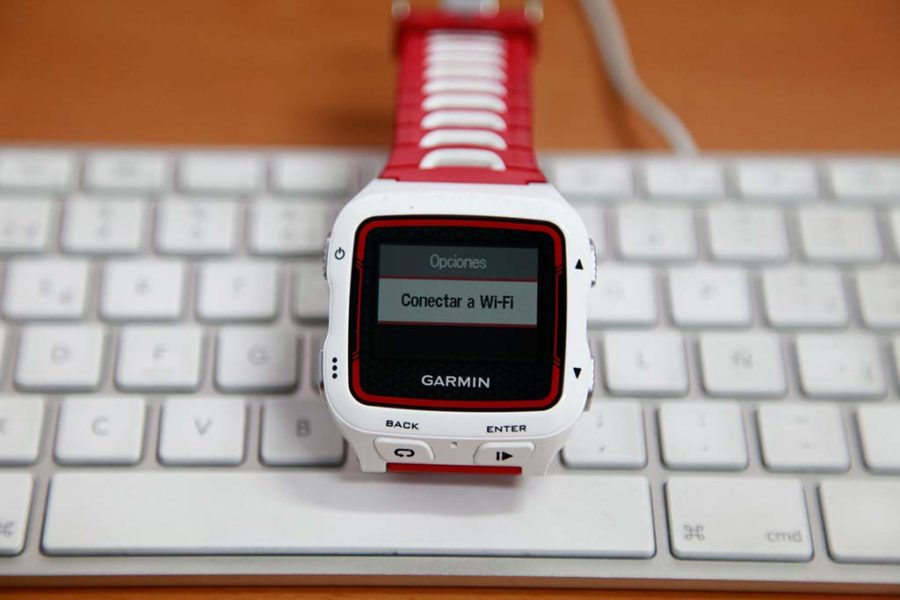 LiveTrack
Livetrack is not new to the Garmin 920xt. It first came to the cycling units, and then Garmin incorporated it into the 220, 620 and Phoenix 2It allows you to share your workouts and races over the Internet with friends and fans.
This function needs the support of your mobile phone, since the watch does not have connectivity by itself. To do this you must have a phone with Bluetooth Smart connectivity. The activity will start from the application of the phone itself, where you will enter the LiveTrack option and select how you want to share the activity (by Facebook, Twitter or mail).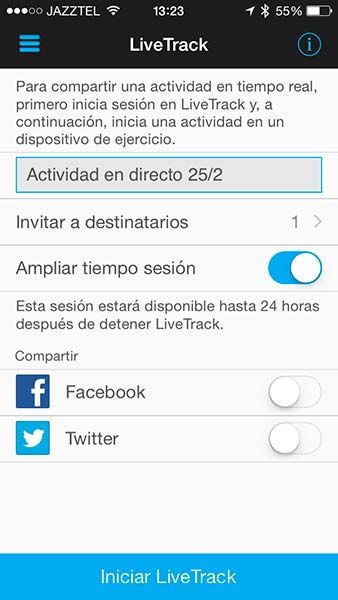 In the case of choosing to share by mail, this is the message you will receive, so you can also share the link received in any other way (WhatsApp, for example) simply by copying and pasting the address.
So once you're out on the road, you simply start the activity as you normally would and the 920xt will send the data to the Garmin server via your phone. The details of your workout can be followed from a mobile phone, where you'll only see the track and mileage markers.
Or from your computer, where you'll also have access to graphs and rhythm data. And when you've completed your training, the site itself will alert our fans that it's all over and there's nothing more to see.
Garmin Connect
Once you've completed the activity, and after synchronizing the clock in one of the ways offered (by cable, by Bluetooth with the phone or directly by WiFi), it will stay synchronized with Garmin Connect, the web application where all your activities will be recorded. You can also download the FIT file directly from the clock (or from the web once synchronized) and upload it to your workout tracking platform of your choice.
When you log in to Garmin Connect, this is the first screen you'll find. It's the control panel, which you can customise with the widgets you're interested in. A quick look at activities, equipment status, distances covered, or medals earned through the activity monitor.
But what interests you most is to see the activities. Once loaded, you can access these and have the complete information of all the graphs, which you can compare between them. Of course you have the general data of the activity and you can see the data of automatic or manual laps that you have been creating while training.
Garmin Connect is the most complete web application of all the competition, but remember, if you're used to another platform (or it's where your training partners are and you want to keep track of bites), remember that you can synchronize it, even automatically in the case of Strava (and soon others like Endomondo).
My opinion
The 920xt is a benchmark watch, and Garmin has been able to make it even better than the 910xt, incorporating features from the rest of the range and with new features such as the Connect IQ platform, which will undoubtedly represent a before and after in the brand's watches.
But the Garmin 920xt is not a perfect watch, and we can find two clearly differentiated parts. On the one hand we have the watch as a training and competition equipment, a facet in which it is a very reliable (and trustworthy) watch, which offers you all the features and performance you may need from a watch of this range. Even thanks to the latest firmware update, it is a quite serious option even for trail runners.
On the other side we have the features as a smartwatch and activity monitor, where it still needs improvement. Synchronization with Android phones is "a punishment" and the inactivity warning function fails quite a bit, asking you to get moving when, precisely, you are moving or have been moving for more than 20 minutes. Connect IQ has not yet arrived on the 100% and it is not yet possible to install apps or widgets, and the availability of clock and data screens is still quite limited as there is not much input from Garmin or third parties
However, what interests me most is precisely the part where you train with the watch. And it's a watch very niceThe rest of the features are accessories, which of course you pay for (and should work as promised), but they take a back seat. If you're looking for a watch for triathlon, or just for running and occasional sports, I can't think of any reason to tell you that the Garmin 920xt isn't the watch you're looking for.
Did you like the test?
I hope this test has helped you. If you want to know the truth, it takes many hours to do each analysis. Training, photos, writing the article, new photos... it's a long and demanding process.
If you are encouraged by the purchase of the device, you can do it through this link This way it will cost you the same or cheaper than the official price, and I get a small commission that will help with the purchase of new devices for new tests.
If you liked this complete review and you want to help, leave your impressions in the comments. It will help me to know your opinion, in case I have left something out or you think I should change something. Ask your doubts if there is something that is not clear. In short, I am just an athlete like you who details the use of the watch from the point of view of a new user.
Show this post to your friends and share it on social networks, I'm sure if they are looking for a training watch they will thank you.
Buy Garmin 920xt
You can buy the Garmin 920xt in two colors (blue/black or white/red) and two variants (with or without pulse sensor). Below I provide you with a link to some very good offers. Buying through them will help you maintain the website and my work.
In addition, these are the prices you can find on Amazon throughout its European network
https://www.amazon.es/dp/B00O44H2OA&tag=c1mes-21
https://www.amazon.es/dp/B00O44MF10&tag=c1mes-21
https://www.amazon.es/dp/B00O43VCVA&tag=c1mes-21
https://www.amazon.es/dp/B00O44914E&tag=c1mes-21