Amazon ha decidido lanzar una especie de Black Friday en un evento llamado Ofertas de Primavera. Y como siempre aquí estoy para traerte lo mejor de estas ofertas, porque hay que peinar bastante más de lo que piensas para dar con ofertas interesantes. No siempre es en España donde más barato lo vas a encontrar.
Así que no te preocupes, no tienes que empezar a darte vueltas por los diferentes Amazon porque ya te lo traigo yo todo revisado y cocinado.
Antes de nada recordarte que te unas al canal de Telegram (especialmente hoy con posibles ofertas flash), ahí se publican las ofertas de forma inmediata no sólo durante esta semana sino a lo largo de todo el año. Además, ya estoy preparando otro sorteo para los suscritos al canal, así que prepárate…
Las fechas que tenemos para esta ocasión son del 27 al 29 de marzo. Sólo estos días, todo lo que no compres con descuento en estos dos días ya no podrás comprarlo el día 30 (bueno, podrás, pero te va a salir más caro). Y Amazon dice que hay descuentos de hasta el 40%.
[TOC] Recordarte que when you buy through any of the links I provide you will generate a small commission. This is what helps pay for the website and the work I do in testing, and it won't cost you a penny more. It's the way you have to thank me for everything I do. Although not all are affiliate links, if I have no affiliation with the store and the offer is good I also include it.
Do you need more help? Here are the comments or also the general web chat channel. This Prime Day will be spent in front of the screens of the different computers I have prepared, so podré will answer your questions almost instantly.
Ofertas de Primavera en relojes GPS Garmin
Garmin Fenix 7X Solar
Suele ser de las ofertas que más estáis buscando últimamente. El último modelo de Fenix, en su versión de tamaño más grande. En esta ocasión es el que recomiendo por encima de los modelos más pequeños, y no es por su pantalla más grande… es por la linterna integrada, que parece una tontería pero yo la agradecí un montón mientras lo estuve probando.
Análisis Garmin Fenix 7X Solar
---
Garmin Fenix 7
Si quieres dar el salto a la serie Fenix 7 de la forma más económica posible también hay un muy buen ofertón en el modelo «básico». Que no es tan básico porque tiene todo el pack de mapas, música, Garmin Pay, etc.
---
Garmin Venu 2
El Venu 2 es actualmente la versión intermedia dentro de la gama Venu 2. Dispone de una pantalla AMOLED de muy buena calidad y tiene todas las funciones inteligentes de los Vivoactive.
---
Garmin Venu 2 Plus
El Venu 2 Plus es la última evolución de la parte de gama alta de los Venu. Con respecto al Venu 2 normal añade un altavoz y micrófono, lo cual le permite utilizar asistentes de voz e incluso recibir llamadas de teléfono y hablar por el reloj, siempre que tenga conexión con el móvil.
---
Garmin Vivoactive 4
Por sólo 169€ te llevas un reloj muy competente en deporte, con pagos inalámbricos y reproducción de música; incluyendo sincronización con plataformas como Spotify. La oferta está disponible en los dos tamaños del Vivoactive 4.
---
Garmin Forerunner 55
Actualización del Forerunner 45 con perfil de carrera en pista, sugerencias de entrenamientos, PacePro, etc. Aunque por la diferencia de precio, te recomiendo el FR245 de más arriba por su mejor pantalla con mayor resolución.
---
Ofertas de Primavera en relojes GPS Polar
Polar Grit X
It was Polar's first entry into the mountain world with new features such as Hill Splitter, FuelWise and route navigation with turn warning.
Or you can also look at it another way. It's like the Vantage V2, pero con algunas prestaciones recortadas. Pero como reloj de montaña sin subirse demasiado en precio, es una opción que me gusta bastante, especialmente por los poco más de 200€ que cuesta con esta oferta.
---
Polar Grit X Pro
Nuevo bisel (que es lo que lo diferencia del Grit X normal), una correa de mayor calidad y cristal de zafiro. Pero el Grit X Pro no es sólo apariencia, también ha llegado con nuevas funciones de software. Nuevas pantallas con información «outdoor», cambios en la interfaz, más posibilidades en la navegación… en definitiva es un conjunto más completo.
---
Polar Vantage V2
Al igual que ocurre con el anterior, el Vantage V2 no es un modelo que Polar rebaje de precio, así que si andabas detrás de uno es el momento de comprarlo con un descuento suculento.
With respect to the original model, it stands out not only for all the new features that the Polar Grit X included in its presentation, but also for the running, cycling and recovery tests. And recently it has just received all the new features presented with the Polar Grit X Pro so next to it it is in the top range of Polar products.
---
Ofertas de Primavera en relojes GPS Suunto
Suunto 9 Baro Titanium
Ojo que esta rebaja es por el Suunto 9 Baro Titanium (hasta ahora siempre habían rebajado el modelo sin altímetro barométrico o el Baro normal)
It has extended battery function thanks to FusedTrack (which works great) and has been receiving major updates for SuuntoPlus, exactly the same as Suunto 9 Peak introduced as Snap to Route and all other latest Suunto features.
Análisis Suunto 9 Baro Titanium
---
Suunto 5 Peak
The little one from Suunto can be an interesting option if you are looking for a small watch. Its main advantage is that in such a small size (and weight) it offers the same as the rest of the Suunto range.
It is a model that I quite like to use for testing because it offers good performance and weighs really little. Its only handicap is that it does not have a barometric altimeter, so perhaps it is more oriented to use on asphalt.
---

Ofertas de Primavera en ciclocomputadores Garmin
Garmin Edge 130 Plus MTB
The smallest Garmin model was recently updated with some of the most important Garmin cycling features. For example ClimbPro, which will guide us on each of the climbs we have on our route.
Also with guided workouts, which 1TP10You can create from Garmin or download through Garmin Connect. And now it even allows us to control a smart roller.
La oferta es el pack MTB que incluye sensores de velocidad y cadencia soporte específico de bici de montaña.
---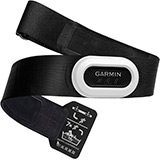 Garmin HRM-Pro Plus
El último sensor de pulso de Garmin, el más top. A diferencia del HRM-Pro que estaba hasta ahora en estas fechas de ofertas, el Pro Plus cambia el sistema de cierre de la batería, evitando así el típico fallo de que te entre agua o sudor después del cambio de pila (con la consecuente defunción del sensor).
Métricas de carrera avanzadas y almacena frecuencia cardíaca durante la natación para sincronizarla tras finalizar la actividad.
También con conectividad Bluetooth (doble conexión) y además puede registrar datos de intensidad, pasos, calorías y frecuencia cardíaca sin utilizar el reloj.
---
Garmin HRM-Dual
The HRM-Dual is a basic sensor (no accelerometer so no running metrics), but offers dual communication via ANT+ and Bluetooth, and can receive heart rate data on devices using both technologies.
For example, you can train on the bike trainer by sending the data to Zwift and to your watch. Or train in the gym in the same way.
---
Polar Verity Sense
The Polar Verity Sense is one of the best external optical pulse sensors out there. It has memory so you can record activity without relying on anything else, or instantly transmit data to any Bluetooth compatible device.
Unlike the sensors built into watches, the poder being placed on the upper arm allows the heart rate reading in a much more suitable area. Personally it has worked well for me even on the bike.
One of my reference sensors in the analysis of different devices.
---
Polar H10
De entre los sensores de pulso posiblemente el Polar H10 sea el más galardonado. Si sólo quieres datos de frecuencia cardíaca y no te importan las métricas de dinámica de carrera de Garmin (o no tienes un Garmin) sin duda creo que ésta es la mejor opción.
Dispone de doble conexión Bluetooth de forma simultánea, además de ANT+ y 5kHz,
---
Ofertas de Primavera en otros artículos interesantes
Philips OneBlade – Recortador de cuerpo y barba, perfecto para depilarse las piernas porque rasura como una cuchilla. Buenísimas valoraciones en Amazon
Freidora de aire – Come sano sin restringir lo que te comes. La mítica COSORI de 5,5L y 1700W está ahora en oferta de Cyber Monday. ¡Patatas fritas para toda la familia!
Amazon Echo Dot 5ª generación – Por sólo 34€. No sólo para pedirle cositas a Alexa (aunque todavía no te sabe traer un café…), pero también perfecto para escuchar música en cualquier rincón.
Sigo buscando y actualizando… ¡permanece atento!
Thank you for reading and above all, for collaborating with the site!