Garmin today announced a new partnership with another streaming music service provider, Amazon Music, which is coming to the platform via a Connect IQ application, joining the existing Spotify, Deezer and iHeartRadio applications.
What does this mean? That if you have an Amazon Prime account you have access to music synchronization to your watch. To enjoy the full service you will need Amazon Music Unlimited, but from the basic service you will also be able to take advantage of it.
What, that you didn't even know there were two Amazon music services? That nobody explained it to you? Don't worry, ask and your wishes will be granted.
Differences between Amazon Prime and Amazon Music Unlimited
Indeed, there are two music services available - the good news is that with either one you'll have access to download your playlists to the clock, so you can listen to music later without a connection.
So what's the difference between Amazon Prime and that of Amazon Music Unlimited? Just the song catalog.
With the service of Amazon PrimeYou can stream them from compatible devices or, as you can see in this guide, download them to your compatible Garmin watch.
What do you get with the service Amazon Music Unlimited? a much larger catalogue, with more than 50 million songs, but this service has an additional cost: 99 ? per year if you are already a Prime user.
What is really new is that Garmin is the first "wearable" platform on which Amazon Music is available. No Apple Watch, no Wear OS... Garmin has been the first to close a partnership.
Compatible Garmin watches
This question is easy to answer. Basically any Garmin watch capable of playing music is compatible with Amazon Music. This, as of today, includes the following:
As usual, future models will also be perfectly compatible, such as the Garmin Fenix 6, Garmin Vivoactive 4 or Garmin Venu.
Configure Amazon Music
As with all other platforms, Amazon Music is simply another Connect IQ application. It is available for download today.
You can install it from your computer, by connecting the cable clock, but as I'm sure you're reading this from your phone, it will be quicker to open the new Connect IQ Store application (and if you don't have it: here for Android, here for iOS).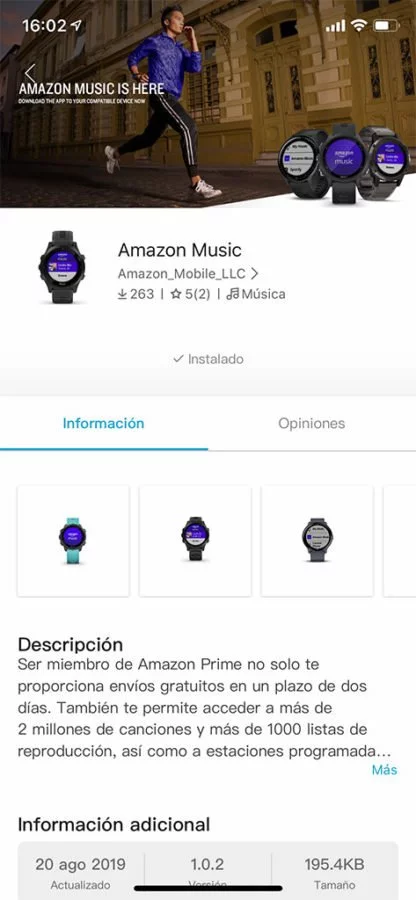 After clicking on install you will have to synchronize the clock to receive the application, once done you can find it among your available music providers.
When you select Amazon as your provider, you will be asked to link your account. To do this, you must go from your phone or computer browser to a website where you must enter the code it gives you.
So we simply obey. Remember that at all times the clock must be next to the phone, as this is the way it carries out the communication.
Once the account is linked we will have access from the clock application. If you already have lists created in Amazon Music you will be able to see them here (because it is your account that is linked, with all your settings), otherwise you will also be able to do regular list searches in the clock itself.
When you find something you like, you can select it and ask to download it.
Time when the procedure will start, for which you must be in range of a WiFi network that you have previously configured.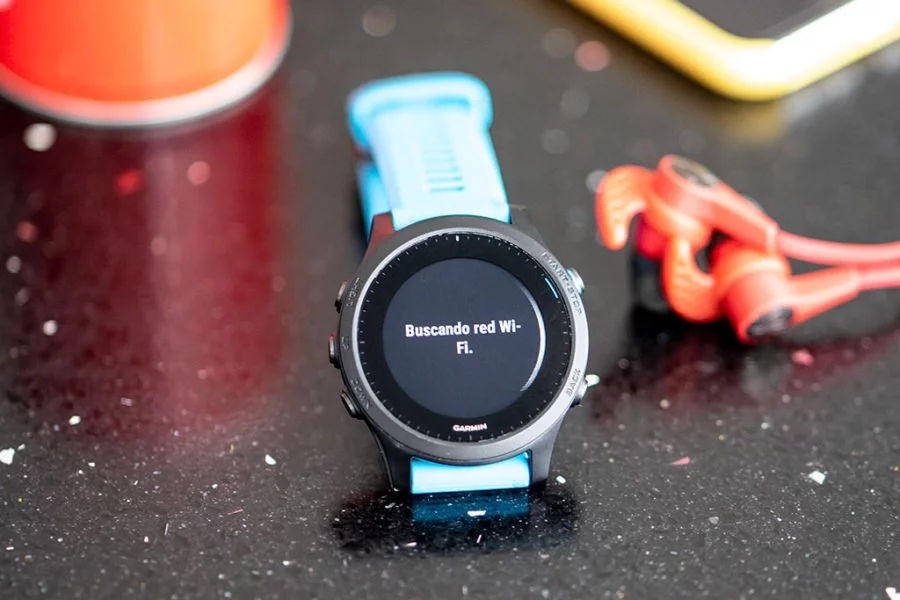 And once you've located the network, you'll simply have to leave the clock running.
I found the download speed to be a little slower than Spotify, which is probably related to the configuration of the Amazon servers.
Once you have downloaded the list or lists you have chosen you can start playing the music, it's that easy.
Other platforms?
With today's announcement, four music platforms are now available in the Garmin ecosystem - not bad, considering that their first music-enabled model, the Garmin Forerunner 645 Music, hit the market just over a year and a half ago.
Garmin has gone from not offering music playback to being the most popular streaming music platform, plus the classic ability to manually upload music from your computer.
And it's not just small platforms. With the addition of Spotify last year and Amazon this year they already cover an important spectrum of what users use.
There are undoubtedly more platforms: Apple Music, Tidal, Google Play Music, YouTube Music... Any of them can be easily integrated just like the others have already done given the ease with which they can do so. Simply create your own Connect IQ application and reach an agreement with Garmin.
In any case, if you already have an Amazon Prime subscription (which many of you do), there's no reason why you shouldn't download the Amazon Music application and try it out. It won't cost you a penny, and for your next long run you'll have a new entertainment.
You'll tell us how you're doing!