The Suunto 3 Fitness is far from the usual Finnish company customer. This watch is not intended for those who love the mountains or adventure. Or those who practice sports for hours on end. Instead Suunto has created a watch for casual fitness enthusiasts. And even though they exercise casually they want more than just an activity monitoring bracelet.
In other words, it's a watch for active people who like to train to stay in shape but without any kind of competitive objective.
If there is one thing that stands out from the new Suunto 3 Fitness, it is its adaptive workouts. They are very simple, yet easy to follow. It is true that the algorithm does not depend on Suunto, but the implementation on the clock and how it interferes with all its functions does.
Remember that if you like the test and want to compensate my work, you can do so by buying through the links I provide. In addition to benefiting from a great price a small part of that purchase will go to pay both my work and the expenses involved.
Do you want to know all the details of Suunto's new proposal? Let's start.
Summary
Overall operation - 8
Training possibilities - 9
Platform and applications - 7.5
Battery life - 8
Finishes and comfort - 9.5
Price/performance ratio - 7
8.2
TOTAL
Suunto enters a new segment in which it has not had any representation until now. And to do so, it goes hand in hand with Firstbeat, providing Suunto 3 Fitness with one of its latest algorithms.

All the functionality of the clock around this algorithm, but in addition the Finns have managed to pack almost all the features of the Spartan brothers into a very small clock.

No, it doesn't have a GPS, and that may be its biggest drawback compared to watches in the same price range. But maybe in this model it's not quite necessary. At least not for everyone.
---
The good
Easy to use adaptive training
It has almost everything a Spartan has in a small size
Very light weight
Really comfortable on the wrist
Very complete activity monitor
The bad
Sometimes the heart rate display shows "-" during exercise (but strangely the data is recorded correctly).
No GPS, only mobile phone assisted GPS supported
Records a lot of daily activity data, unfortunately many of them are not synchronized anywhere
Suunto 3 Fitness basics
The user experience you get with Suunto 3 Fitness is virtually the same as its big brother Spartans - the menus, option locations, clock displays - everything is identical and located in the same place.
Note, however, that like Suunto Spartan Trainer, Suunto 3 Fitness does not have a touchscreen, and is controlled using five buttons in the classic Suunto layout: three on the right and two on the left.
The materials used by the Finnish brand do not disappoint. Despite not being a top-of-the-range model and having a very contained weight (only 36 grams) the quality product feeling is good, especially because of its stainless steel bezel - which can be in various colours, depending on the configuration chosen.
The quality of the screen is really good. Resolution and contrast are at a very good level, and it's even a little clearer than the Spartan screen, as if it were closer to the glass. With the lighting off, it's easier to see the information on the 3 Fitness screen than on the Spartan screen, something that is especially noticeable when receiving notifications on the clock screen.
Where there is a noticeable difference is in the sports profiles. Yes, we have more than 70 sports profiles that we can use (including running, swimming pool, cycling, aerobics, yoga, rowing, etc), but we cannot make changes to them or choose our data screen settings, so we have to view the information the way Suunto has decided.
Given the type of target client for this model, I don't think this is a problem, on the contrary, I think it's a good thing and helps to have a basic and extremely easy to use watch. However, if you scroll down before starting an activity, you will find different options that you can modify, such as setting targets (time, distance or intensity by heart rate), setting intervals; or changing basic details such as the backlight or power saving mode.
If you have selected an "outdoor" sport profile, as the Suunto 3 Fitness does not have internal GPS it offers you the possibility to use the positioning data of your cell phone. That way it will record your training track and the pace/speed and distance data will be more precious. Of course, if you don't have your phone with you, you won't be able to record it.
So if you go running with your mobile phone you will have the data of pace and distance thanks to the GPS of this one, otherwise the clock will use the internal accelerometer to make the estimate. The margin of error is higher, but if you have made a calibration (basically running outside with GPS at least once) and you don't make big changes of pace, the data is quite close to reality.
Although the watch has a Suunto optical pulse sensor, it also allows us to connect external pulse sensors. This sensor can be Suunto's own or any other brand's sensor, as long as they use Bluetooth Smart technology. This is not the only sensor supported, it also allows connection to pedometers and speed/cadence sensors for cycling.
The whole system is very oriented towards the recording of heart rate, given the importance of adaptive training in the clock that we will see below, so the data screens are quite focused on this with varied graphs of this data.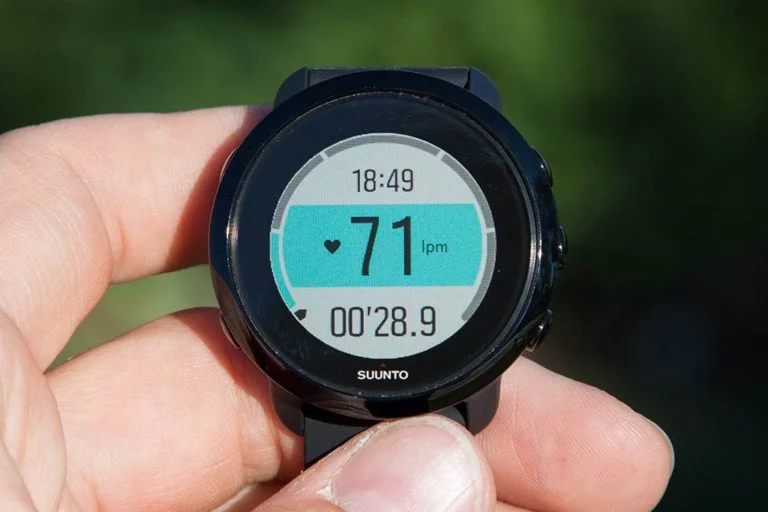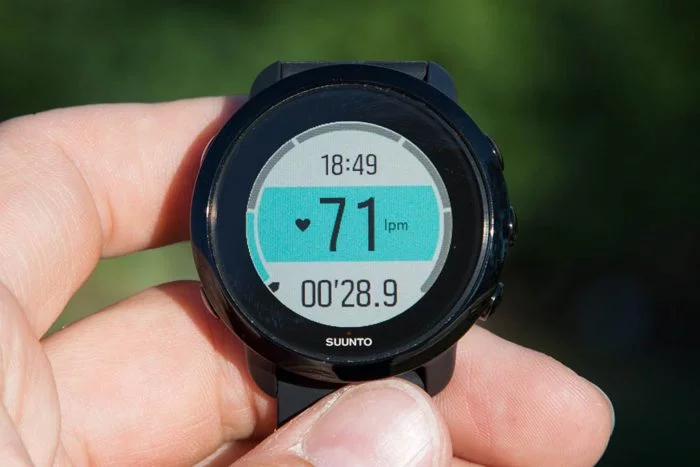 When you finish the activity there is also access to that complete heart rate graph for the whole exercise, as well as the rest of the post-workout information with the same data shown in the Spartans. I think this screen is fantastic not only because of the way it shows the information, but also because the data is extensive but without showing too much detail (as in the Amazfit Stratos).
And of course also to the cell phone application, simply called "Suunto".
Suunto 3 Fitness is not compatible with Movescount, but if you want to check your training data from your computer you can do it from the other platform, which Suunto also owns (through Amer Sports): Sports-Tracker. Although in this case the information is quite basic not only compared to Movescount, we also have it in the Suunto app.
At least from this website is where you can download the activity file in case you want to send it to Strava or other platforms, because nowadays there is no synchronization between both platforms (Movescount and Sports Tracker).
---
Adaptive training
Suunto 3 Fitness has been designed for what is called adaptive training, something that is not found in any other Suunto watch and is only present in the 3 Fitness (at least for the moment). It is not the first model to incorporate it, the Amazfit Stratos benefited from this Firstbeat algorithm.
But it's not all about integrating the algorithm, you also have to adapt it and make it useful. And while in Amazfit it's simply a more buried option between the menus to which they don't give any importance, in the case of Suunto the whole clock revolves around this function, giving it maximum prominence.
And what is adaptive training? It is simply the way in which Suunto provides training plans that, instead of being rigid and preset regardless of the athlete's profile, in this case are built in reference to your fitness level (thanks to VO2Max estimation), workouts performed and user profile (age, height, weight, etc.).
With all these details, the algorithm will build a seven-day training plan to keep you at your fitness level.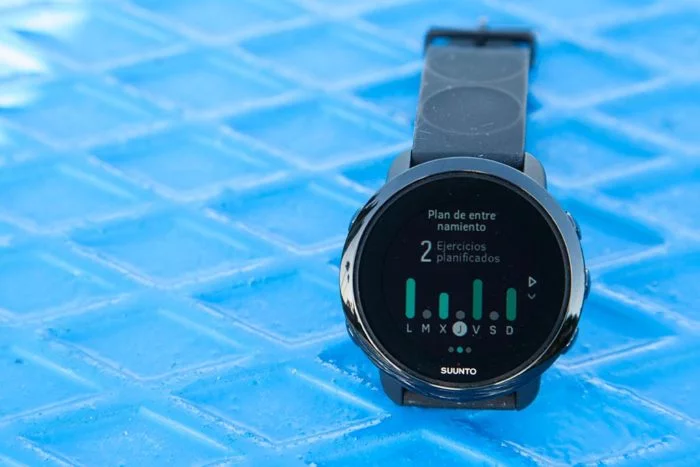 Of course, it doesn't all end here, but the training plan is open-ended so if one day you can't train, the plan will adapt; just as if your training for the day is more intense than the clock suggests the successive workouts will adapt accordingly.
Just to be clear, this is not about you going into the application and asking Suunto to put in a basic training plan for running, for example, a half-marathon. It's about maintaining your level of training based on the data you enter into the watch and the information it gets from your use.
And how does all this work? From the summary of the day (as soon as you wake up when it tells you how much sleep you have) it will tell you what the plan is for today.
It's not the only place. Besides the calendar itself, if it's a training day it will appear as soon as you try to choose a sport profile so you don't forget what you have to do today.
It will tell you how to do the training to comply with it.
And then you can try to follow the plan in any of the supported sports; be it running, dancing or spinning. That's up to you.
Basically you should keep your heart rate in the range indicated in the picture. You can say that it is something simple, but it is appropriate for most people especially if you do not have special goals or are an advanced athlete.
The clock display will briefly show messages telling you to speed up or slow down if you are outside the programmed zone.
Our goal is to meet the set time and intensity. Any minute you spend outside that zone will not count towards your total. If you have to be between 145 and 160 bpm, you will not "accumulate" minutes if you are at 140 bpm or 190 bpm.
What if for whatever reason you don't meet the target or exceed it? Don't worry, because the training plan will be adapted again. If you've gone longer the next session will be smoother, and if you've towed for the next day it will be remembered that you need some more cane.
At any time you can see how your week is going and what lies ahead. Within the available screens you can access the one that shows you the training time, compared to our weekly goal.
In short, what you get is a concept that promises quite a lot. The plans are very simple to follow, which I think is more than appropriate for the user that Suunto 3 Fitness is intended for. And it's a good detail to be able to see what the workout is for the next few days directly on the clock, something that as I say the Amazfit doesn't do.
---
Activity monitor
In the daily activity tracking part, Suunto 3 Fitness again receives all the functions that can be found in its range brothers. To review all these functions, if you like, let's look at what it offers in the menu and what data it records.
Everything related to the activity tracking part is located in the "bottom" part of the menu. By tapping the bottom right button the first thing we find is the instant pulse measurement screen. In this screen you can check your current heart rate. Additionally, by pressing the center button, podrás review the heart rate of the last 12 hours in a rather elegant and complete graph.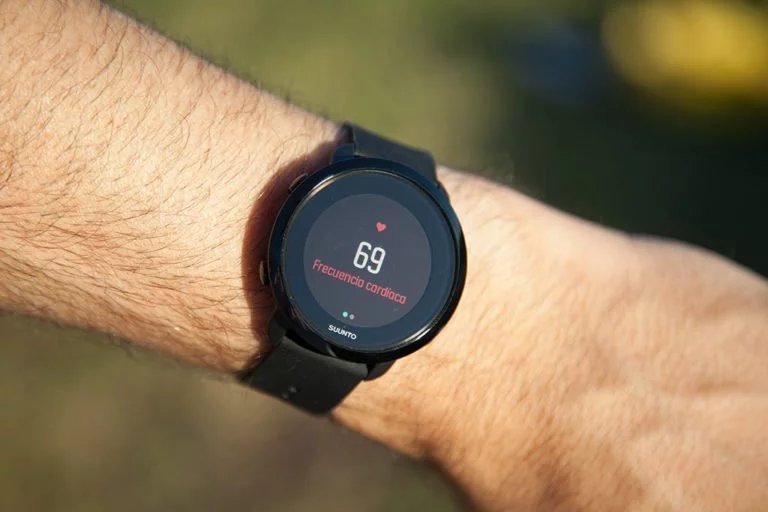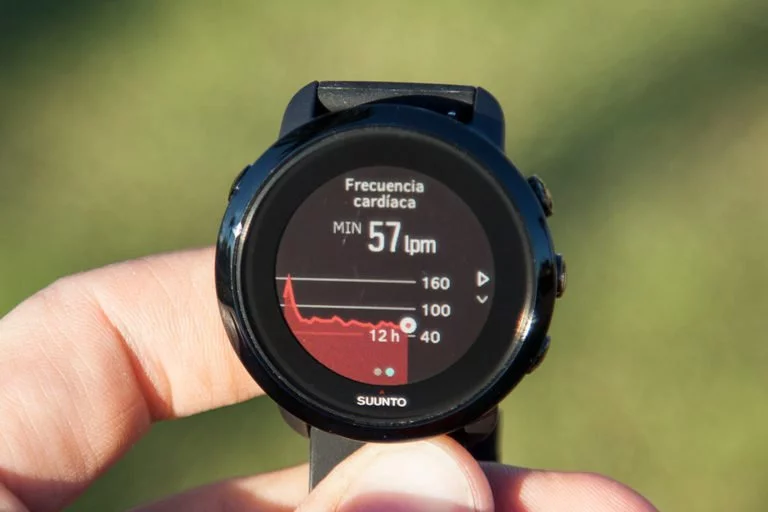 Suunto 3 Fitness doesn't have a constant heart rate monitor as we can see in other models. It takes one monitor every ten minutes, so as not to over-punish the autonomy. But this is not the worst part, since having a perfectly constructed graph won't be a detail that interests the vast majority of users either.
Where the problem is that Suunto, at the moment, does not synchronize this data anywhere. That is to say, after those 12 hours all the graphs and records pass away. That may not be important to you or may be uninteresting. But then... why record it?
Below are two new screens that have been released with Suunto 3 Fitness (and from here to the rest of the Spartan range) - the stress and recovery screens, a good guide to how you feel physically and how much energy you have to get through the day's workouts.
The first one will show you what your current status is (active, inactive, under voltage or recovery) and depends on the optical pulse sensor and the measurement of the pulse variability, as it is usual in this kind of algorithms, is run by Firstbeat.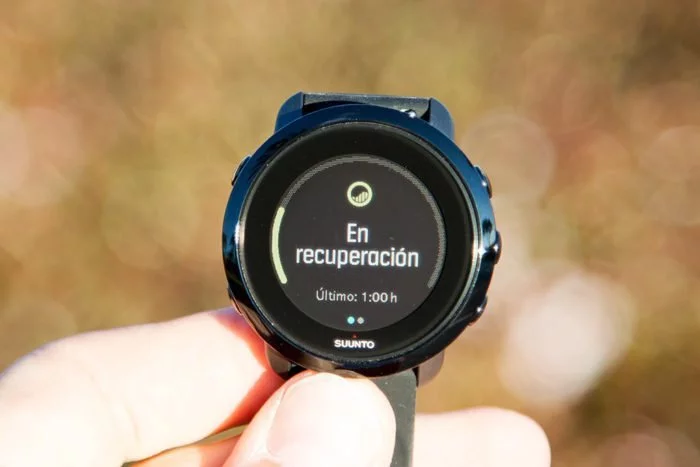 If you press the central button, you can see your resource level, i.e. the energy you have available for a workout.
Again, this data does not appear anywhere else, and once it disappears from the clock display, it will disappear from the face of the earth as well, so there is no possibility of tracking this metric over time.
There is, however, data that is synchronized, such as steps and calories, which is shown on the next available screen, where you can see the steps you have walked on the current day and the calories consumed during the activity (along with the total calories including basal calories).
By pressing the central button you can see bar graphs of steps and calories for the last seven days. And in this case, if you access the application you can see step data and calories that are synchronized and recorded in the online platform of Suunto.
This data does synchronize, but it is only visible in the application. And here comes the second crossroads that Suunto has, and that is that it is in the middle of a platform revolution. The new mobile application only synchronizes with Sports-Tracker, a training platform that Amer Sports acquired in 2015. But it does not synchronize with Movescount, nor is there any possibility of setting up automatic synchronization. It is not clear what the future of both platforms will be; if one replaces the other, they will merge, double their possibilities... It is still a mystery.
Not only do we keep track of the activity during the day, if you keep the watch on your wrist at night it will also record your sleep and the quality of your sleep. But only at night, this will not include possible naps that you take throughout the day. We can see graphs for the last 7 days and access the data for one of these days by pressing the central button
Entering any of these days you will be able to review all the data of that day's sleep: hours of sleep, quality of sleep, average heart rate, beginning and end, awake time and deep sleep time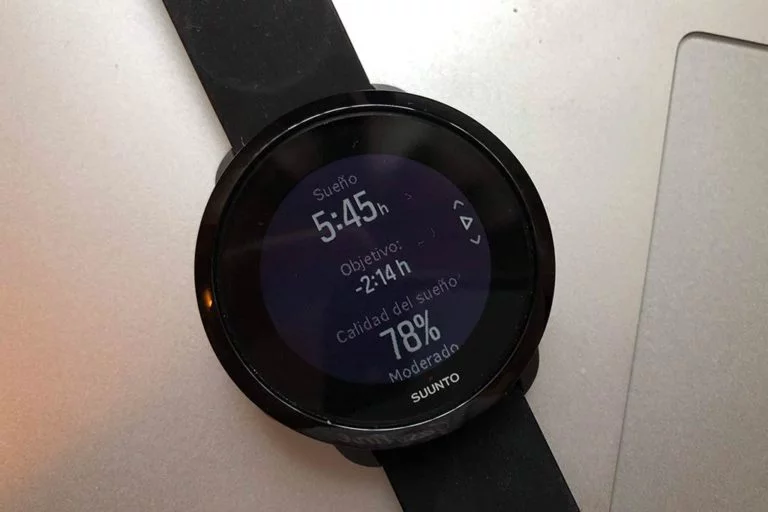 Again, this is also data that is synchronized with the platform, although the level of data it displays is less than what the clock shows.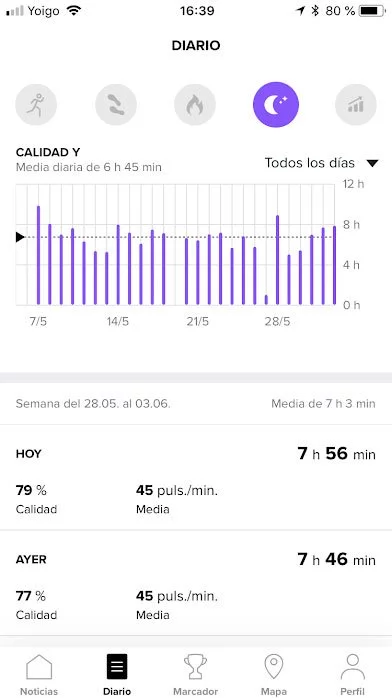 Strangely enough, this is where we will find our resting heart rate data for the last seven days (which, effectively, is not synchronized either).
It is therefore a fairly complete measurement and practically at the same level as other devices that provide more information. Its weakest point is the lack of synchronization with a platform and the loss of all this data. It is something that Suunto must put in order and clarify what it wants to do and what the future of its platforms will be
---
Optical heart rate sensor
Suunto has not yet wanted to go down the road of designing their own optical pulse sensor, and they are choosing to license technology from third parties. I think this is a good decision because it leaves them time to deal with putting out other fires, or designing other things that they are specialists in. At Polar it makes sense, as they have always been pioneers in heart rate recording; but Suunto has always had other goals in mind.
As with the rest of the range, Suunto 3 Fitness is equipped with an optical sensor by Valencell, one of the leading developers of this technology. It is always important to have correct heart rate data, but in this case and due to the training plans, even more so.
Let's go with the sensor analysis and see how it behaves.
I'll start with something easy, run at a steady pace. It's a workout of just over 30 minutes at medium intensity. In this case the comparison is against the optical sensor of the Garmin Forerunner 935 and a Suunto Smart Sensor, paired with a Spartan Baro.
Altered start during the first few minutes, as is usual with all sensors. I think in this case the award for that start goes to Garmin, as it has the most progressive rise and best match with reality. Meanwhile the breast sensor and the Suunto 3 sensor "are out for grapes".
The chest sensor finds its way about five minutes later (when I start to sweat, which helps with conductivity), while Suunto 3 Fitness needs three more minutes. But from then on it's all about happiness.
Another similar training in terms of intensity, but of slightly longer duration, in this case all three sensors are in line from the beginning, probably because of the time of day when I do the training (higher temperature, more stabilized blood flow).
In this case the actors are the same, but the sensors change. The graph of the Suunto Spartan is from its integrated optical sensor (Valencell as in Suunto 3 Fitness, but somewhat older) while the graph of the Garmin is from an HRM-Tri sensor. There are some point peaks where the graphs are not fully aligned, but in general terms all three clocks agree with the record.
There is only a slight difference at the end of the training where both Suunto models have a sudden rise and fall of the pulse while the chest sensor remains stable.
The theory would say that it is the chest sensor that provides the correct information and that the opticians are wrong, because they are always held in lower esteem. However, by checking the activity you can see how that rise in heart rate coincides with a change in elevation, so it is due to the rise of a slope. There is more effort, so it is normal that the heart rate rises.

Positive point for the optical sensors, because in this case the pulse sensor in Garmin's chest is the one that has been lost.
I'll start to put in a little variation in the intensity. It's not something as rough as interval training, but with a stop and go.
As usual, the optical sensors are slightly delayed in recording these stops, which is the case with both the Suunto 3 Fitness and the Garmin FR935 optical sensors.
And when it's time to start walking again, the chest pulse sensor detects the change immediately while the opticians need a couple of seconds to do so - nothing you haven't seen before.

From there on, more of the same, three graphs that indicate the same data and that, at the moment of slowing down, it is the optical sensors that detect the change somewhat more slowly.
Finally, we are going to a pure interval training. This is already a different matter and it is a test that demands much more (from the watch and the wearer). After the warm-up period - where Suunto 3 Fitness has a small, but not too big, slip at first - it's time to work. Five 4×200 blocks at full throttle. This is probably the hardest test that an optical sensor can undergo, because the changes are too abrupt and the intervals too short for the algorithm to understand what we are doing.
I'm going to separate the intervals to see it more clearly, but you'll have seen that here if we run into problems.
First block: The Polar M430 more or less senses what the film is about and, although delayed, traces similar figures to those of the Garmin chest sensor. Meanwhile the Suunto is missing and doesn't know about the film until the last interval, although it still falls short of the measurement.
In the second block it seems that Suunto is already realizing that this is somewhat demanding, and the second and third intervals are recorded in a similar way to the Polar, but the first and last of the 200 meter intervals are missed completely.
Similar situation in the third, with three regular Suunto intervals and one bad one. Still none of them convincing.
And because it is not repetitive, the fourth and fifth blocks are a repetition of what we have already been seeing.

This is not the only interval training I've done with Suunto 3 Fitness, and I have a similar one where I wear a Suunto Spartan Trainer (with the same sensor as Suunto 3 Fitness) instead of the Polar M430, and the results are exactly the same.
Conclusion? The truth is that I was expecting something else. Firstly because of the sensor, which has proved itself in the Scosche RHYTHM+ his good work. Naturally this has the advantage of a better location for the heart rate recording (the wrist is not exactly the best place), but I also expected it to perform better due to the low total weight of the watch.
While we maintain a constant exercise intensity the truth is that the behavior is perfectly valid, but as soon as we introduce some variation we immediately find problems. I have found the same problem with the Spartan Trainer, but I do not remember that the Spartan Sport had such an exaggerated behavior in the intervals. One of the causes could be the smaller size of the 3 Fitness and the Spartan Trainer, and that because of that they cannot block the outside light more efficiently.
However, at constant rates the record is good, and it should not be forgotten that the aim of the watch and its adaptive training is to keep you in a certain heart rate zone for a certain time, which you have already seen it does perfectly.
So the sensor without having a "standout" behavior is sufficient for what is required, but if in addition to adaptive training you are going to want to do some other more demanding intensity change training such as interval or HIIT, for this case I would recommend that you use an external pulse sensor by pairing it via Bluetooth, something that Suunto 3 Fitness can do without any problem.
---
My opinion of Suunto 3 Fitness
With Suunto 3 Fitness I can clearly differentiate two aspects: the clock and the added services.
As a watch, materials and general use, I love Suunto's proposal. Despite being their first foray into this segment, they do it on a very good note.
Despite having almost all the functions of the Spartan, it is not a complicated watch. If there is one thing that has made the Spartan range stand out, it is precisely its carefully designed user interface. Every time a function has been added, great care has been taken to implement it, and all this work is evident in Suunto 3 Fitness.
This is the first Suunto watch of its kind, yet it can be perfectly placed among the leading models on the market.Apple Watch, Garmin Vivoactive 3, Fitbit Ionic, Fitbit Versa...) and even in his own home since the Suunto Spartan Trainer is similarly priced and does have GPS - albeit with worse materials and no adaptive training - but offers reasons to stand out in the segment from the rest.
The problem today is with their add-on services. Amer Sports (parent and owner of Suunto) must understand that they are no longer simply a watch manufacturer. They are now a software company and as such must devote many more resources to hiring developers.
Suunto 3 Fitness is only compatible with the new Suunto application, which was inherited after the acquisition of Sports Tracker. Despite its good overall performance and superb presence it is really sparing in its functions. There is a lot of data that Suunto 3 Fitness collects but then it doesn't synchronize anywhere.
Suunto has a winning product on its hands, both in terms of possibilities and novelty, but they need to bet more strongly on all of them because the competition is atrocious. But they have different ideas, which is the most difficult thing. The truth is that it has left a very good taste in my mouth and I would recommend it without any doubt, even in spite of these unresolved things it has.
It's a well made and thought out product, although I hope and wish that Suunto knows how to put order in the added services that come with it. The information I have is that after summer there will be important news in the platform (which in Suunto calendar will be December), but once they have solved it Suunto has here a winning horse for those who want to pay its price.
Who is Suunto 3 Fitness intended for? For those who train 3-4 times a week in the gym, swimming, spinning or other classes, but have no other goal than to stay in shape. This type of user will be quite satisfied with what Suunto offers with this model even despite the shortcomings in the software section (something Suunto continues to work on). The look is really good and it is very comfortable on the wrist; all while doing the basic smart watch functions showing all kinds of notifications, which will surely please most.