The complete analysis is already finished, so if you are interested in knowing all the details of the Polar M600, I recommend you to read the complete review 

by clicking here

.
Today we know a new product Android Wear and Google welcomes the new Polar M600. It is not the first smartwatch with an optical sensor. It is not the first smartwatch with a GPS receiver. It is not even the first smartwatch that offers different options for practicing sports. But it is the first Android Wear watch developed by a brand that only produces devices for practicing sports and in which everything that has been included in it is designed by and for practicing countless sports.
Do you want to know exactly what this new model of the Finns is? Stay with me and I'll explain in a second.
The Polar M600 at a glance: specifications
We all like to see what's new, and you couldn't be less so, right? To make it easier, here's a complete list of the main features of the Polar M600.

Android Wear operating system (upgradeable to Android Wear 2.0)
Colour touch screen, with anti-scratch treatment Gorilla Glass 3
A single physical button, the side buttons are removed
Integrated GPS receiver with GLONASS
WiFi connection
4GB of internal storage (which can be used to store and play music)
Water resistance: IPX8
Smart Sports - Polar features continue to work in the background even when you're listening to music or using Google Maps navigation
Smart coaching: running index, sports profiles, heart zones, training benefit
Autonomy: Up to 10 hours of GPS use, 2 days of use as a smart clock (at the moment, I take it with tweezers)
Let us now comment on some of these most important features.
Android Wear Operating System
Without a doubt, this is the most important detail present in the M600, and it is that the Polar M600 is the first smartwatch designed specifically for sports. It is true that it is not the first to combine both characteristics, but it is certainly the one that will satisfy us, the sportsmen.
Both the Apple Watch and other smart watches have come closer or closer to the fitness functions of more traditional sports watches (practically the exclusive realm of Garmin, Suunto, Polar or TomTom), but none has managed to find the right formula and offer something beyond a mere activity monitor which, in some cases, had a GPS receiver (this is the case of Motorola Moto 360 Sport or Sony Smartwatch 3, for example). They have always been guilty of something, either because of software that is too simple or because of optical pulse sensors that were not up to the task.
But with the growth expectations for the wearables market and with companies such as Apple or Google with practically unlimited financial resources, it is clear that the more traditional manufacturers must adapt to the new times. In the medium term we are going to witness a major struggle in the fitness device market, where all manufacturers are beginning to reorient their positioning to compete in the medium term.
At Polar they have been the first to take a step forward by making use of the saying "if you can't beat your enemy, join him". With the M600, the Finns present the first device that is first and foremost a sports watch, and secondarily a smartwatch with Android Wear. The approach of the other manufacturers up to this point had been the other way around, but in the Polar M600 the primary focus is to have a device with which poder to play sports.
This way Polar frees you from the pressure of having to design a watch that stays ahead of the curve, and you can focus your resources on creating software for sports and developing your own platform. No more fighting to add notification functions to your watches, or advanced features beyond what Polar can do.
It should be noted that the M600 will be compatible with the new version of Android Wear 2.0, which is about to be released this fall. The main new feature of the new version of the operating system is that now the clock will not depend on having permanent communication with the mobile phone; applications can be independent of it. This means that you can download apps directly to the clock (both Android and iPhone phones) and once installed, these applications will reside on the clock and not on the phone as before.
In the case of Polar, this is a fundamental detail, since it allows your training application to reside on the clock. That is, it is not an application that requires the mobile phone, but it is integrated into the firmware itself. The phone will only be necessary when synchronizing the different activities. And if you don't like it, you can always jump to the Android application store (Hello Strava!).
News also in your optical pulse sensor
The optical sensor of the new M600 also has new features compared to the one we saw in the Polar A360If the bracelet had two LEDs to illuminate our capillaries and be able to take a heart rate reading, the M600 takes advantage of its greater width and multiplies the number of LEDs by three, bringing it to a total of six.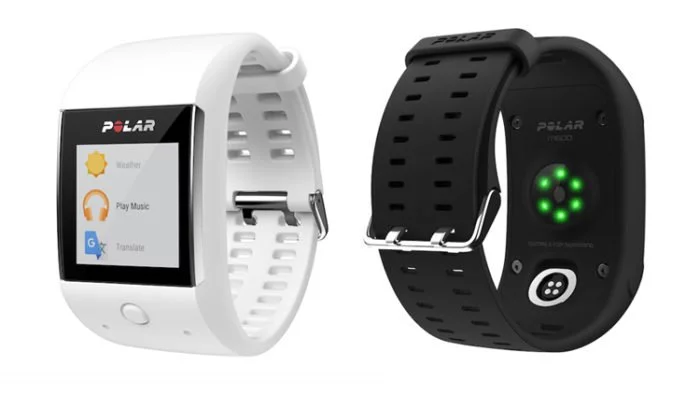 Obviously I can't tell you anything yet about the performance of the optical sensor, so you'll have to wait for the full test with a final unit that I expect to receive at the end of the month. But I am confident that the sensor will perform better than the Polar A360.
What the Finns have not yet dared to make the leap is 24-hour pulse monitoring (or 23 hours if you're not training). Whether it's for lack of sensor development, for taking care of autonomy, or both, the M600 will only allow you to take occasional records throughout the day (and done manually).
Despite this, together with the classic activity monitor counting steps and estimating distances and calories consumed, the M600 will incorporate the different functions of Smat Coaching by PolarThings like Running Index to be able to track your racing performance (comparable to VO2Max calculation), state of recovery to prevent over-training, or zone training guidance.
Did I already say it's a sports watch?
So far I've focused quite a bit on its performance as a smart watch, but I want to remind you that the Polar M600 should not be seen as such. It is first and foremost a GPS watch for sports, and not just for running, but you can select your activity from a long list of options with different settings in each of them.
This is not a possible substitute for the Polar V800Firstly, because the M600 does not allow for multi-sport activities (i.e. starting with one sport followed by another), so it cannot be considered a triathlon watch. Nor does it have a specific application covering swimming, either indoors or in open water. Nor does it allow for connection to power meters. It is somewhat more basic than the V800.
In essence, it combines the features of a Polar M400 inside a smart clock with Android WearBecause it leaves the door wide open to future enlargement possibilities (which I am not saying will happen).
Polar M600, availability and price
Do you already feel like buying the Polar M600? Well, you're in luck, because it will be in the shops very soon. As much as September, with the return to school. And what about the price? Well, it will be 349 euros and you can buy it initially in white or black, although later you can change the strap to other colours, for example in red.
My opinion
I think it's a smart move on Polar's part. I've been waiting for a big brand to launch an Android Wear based watch adding the different training options. Polar has chosen to include its software in a device with a foreign operating system. Something that hadn't been possible until now, but the possibilities that Android Wear 2.0 will offer will be what will stand up to new watches of this type. In fact New Balance is preparing a similar device that should see the light before the end of the year.
Thanks precisely to having an operating system to which third-party applications can be added, it leaves the door wide open to developments of this type, both from software developers and from Polar itself. Why not sell a watch "by modules" in which to pay and include more sports as we need it? With the right hardware and an open operating system, as is the case, it would be enough to simply release a paid upgrade in the form of a new program that adds the features you need. Commercially it is a cost saving solution for the manufacturer and distributor (you only have to have one model), and the customer would pay for the features they really need. A duathlon runner would have no reason to pay for the swimming capabilities of a multisport watch. Or an advanced runner who is short of the M400 and needs the more advanced features of the V800, but is not going to make use of the cycling or open water profiles.
I like the M600 as a concept, precisely because it differs from a trend that was becoming monotonous. At Polar they break that trend with a model that is undoubtedly risky; but you will also find multiple benefits. Gone are the headaches of providing the watch with smartwatch functions, of fighting with different Android revisions in which phones of different brands do not behave in the same way or having to worry about fragmentation in terms of the operating system version. All of that is left to Google, while they are "just" going to focus on what they truly understand: sports.
But it's still too early to give a verdict. Nothing is known yet about the range, the main Achilles' heel of smart watches with Android Wear. Colour display with backlight, optical pulse sensor with six LEDs, GPS receiver... everything working at once seems too aggressive for a battery that, judging by the size of the device, can't be very big. And I also want to see what progress Polar has made with regard to the optical sensor and whether surrounding the photodiode with six light emitters really serves to improve performance. There are still very important questions on the table that I won't be able to answer until I have a final unit in my hands.
This will all come in the next few weeks, as soon as I get a chance to do the full test.
And with that... thanks for reading!
—
UPDATE! You can now buy your Polar M600 through Amazon and, on the way, support the site.
https://www.amazon.es/dp/B01K28RNVS&tag=c1mes-21
https://www.amazon.es/dp/B01K28RO76&tag=c1mes-21