The Garmin Forerunner 245 stands out in the road running watch segment. It already did when Garmin introduced it, and it continues to be a very interesting offering now that it has continued to receive new features through updates and that its price is much, much lower at Black Friday.
As you may already know, in the Garmin FR245 you can find two different versions: The Garmin Forerunner 245 normal and the Garmin Forerunner 245 Music. The difference is that the latter has the ability to play music independently, i.e. without having to carry the phone with you.
I start with the offers of the standard Garmin FR245 and later I will leave you with those of the FR245 Music.
Black Friday Garmin Forerunner 245
We currently have two offers. The first is obviously from Amazon Spain. It is at its lowest price ever (in Spain).
If you want to save a little more you can buy it at Amazon GermanyWhat is the difference? None, just the process is a bit more laborious, but you will save about 30€. I'll explain how you would have to do it:
Enter the offer of the Garmin Forerunner 245
Log in to your Amazon account (the same one you use in Spain).
Place your order in the normal way and select your shipping address in Spain.
It will only add a small shipping cost, but the total final savings compared to Spain will be about 20€ less.
And you don't have to worry about warranty. First of all because Garmin offers European warranty, so purchases in Germany are fully covered. But regardless of that, Amazon is going to supply you with an invoice from Amazon Spain (even if we buy in Germany), so you are fully covered.
In any case, if you don't want to get dizzy with the purchase, the offer from Spain is also very good. It depends on how much you want to fuck today.
Buy Garmin FR245 at Amazon Germany
Black Friday Garmin Forerunner 245 Music
As for the Garmin Forerunner 245 Music the best offer was found at Sprinter.
For €216 you get the model with music playback and WiFi connectivity. And remember that it is not only music that you load on the watch, it is also compatible with streaming platforms such as Spotify or Amazon Prime Music.
Buy Garmin FR245 Music at Sprinter
As for the Garmin Forerunner 245... I'll tell you a bit about it below, starting with all the new features it has been receiving and what has made it an even more interesting option.
Updates received by Garmin Forerunner 245
These are the features that the Forerunner 245 has recently received through updates.
All of them are new features reserved for the top of the range of Garmin and that, in addition, have also seen their arrival on the Forerunner 245.a are in the final firmware channel, having left beta status some time ago.
You can click on each of the links to find out in detail what's new, but I'll explain briefly:
The training suggestions will offer you different recommended workouts each day, depending on the accumulated load and other values that the watch registers.
The trail profile includes specific VO2Max estimation, created mainly to have a more solid data of this value.
The running track running profile, released with the FR745, will allow you to have accurate data when running on the track as it will learn the location and "stitch" the track perfectly to the street you are running on.
Finally, the virtual running profile allows you to use the watch on the treadmill and send heart rate, pace and cadence data to third-party apps via Bluetooth, for example Zwift.
Garmin FR245, perfect for asphalt racing
The Garmin Forerunner 245 is one of the best options within the watches for running on asphalt. In fact, it is one of the watches I recommend in the buying guide for 2021. With the FR245, Garmin made a qualitative leap forward by equipping it with all the improvements that pod used to find in high-end models: running dynamics, training status, training effect...
It also offers route navigation, so you can also make mountain routes, the only thing you will not have barometric altimeter. But as I say, if your main use is asphalt, you won't need it either.
Don't miss out on all the Black Friday sports technology offers
It features the latest optical pulse sensor from Garmin, which allows estimation of blood oxygen saturation (SpO2).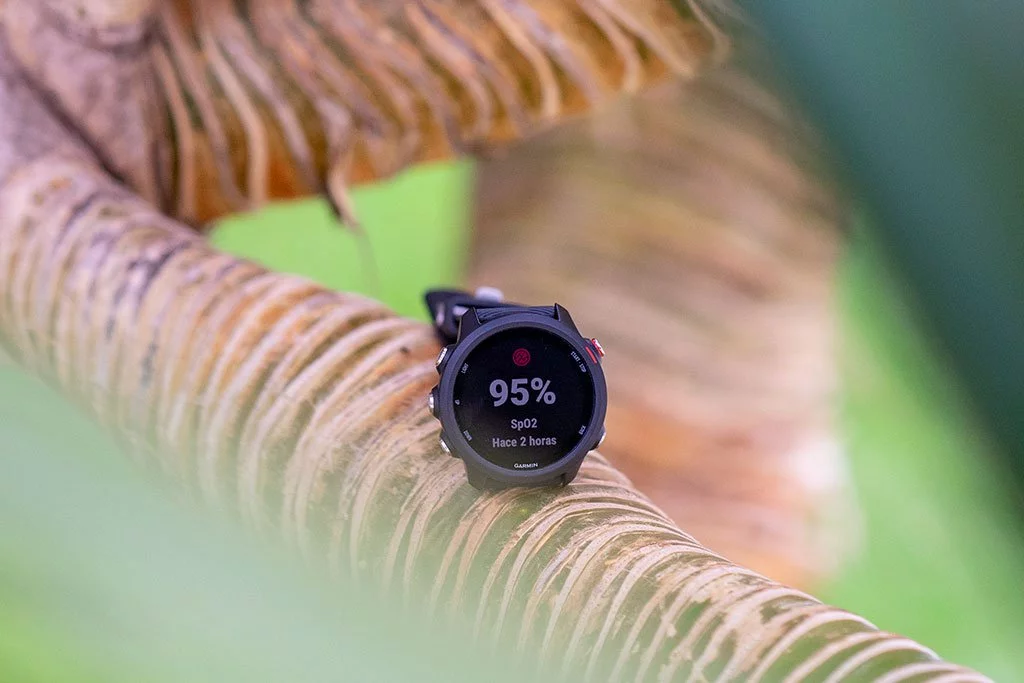 The GNSS chipset is the one from Sony (the latest that is being mounted in all watches), so you will have an autonomy of up to 24 hours with GPS use.
With the Garmin Forerunner 245 podrás perform training series and intervals in the most comfortable way, which podrás create from the application or from the web. It is also compatible with Garmin Coachwhich allows you to create a training calendar to prepare yourself for different races such as 5K, half marathon, etc.
With Garmin Coach you enter a date for the race and, based on the data you provide (availability for training, set goal, etc.), it will create a training plan for you. The most interesting thing is that this plan is intelligent and dynamic. If one day you cannot train, the training plan will take it into account and adjust the following sessions according to the training you have not done.
So it is not a plan that is set in stone but has room for change and will adjust to your daily life.
However, what stands out the most about this Garmin watch (which is one of the best deals of Black Friday 2021) are the training and performance metrics. The same functions that Garmin introduced in the Fenix 5 and Forerunner 935 and are also present in 245.
Training EffectIndicates whether the training has been aerobic or anaerobic.
Training loadTo keep track of our training and to know that we are not overtraining or if we still need to tighten the screws.
Training statusIndicates whether the training we are doing is useful for progressing.
And all this is combined with other metrics such as VO2Max estimation (with time estimation for different distances), recovery time, stress, Body Battery...
As if all this were not enough, this is a model that continues to receive updates. Recently Garmin introduced the new Garmin in the new Forerunner 745 the function for running on an athletics track. Well, this same mode has also arrived to the Forerunner 245 in the form of an update (accompanied by a redesigned user interface).
Anyway, this is a quick summary. If you want to know all the details, the best thing to do is to take a look at the complete test where you will see all the features that you must take into account of the Garmin Forerunner 245.
So you know, if the FR245 fits what you are looking for take advantage of the offer that is available today, because it is frankly good.
Buy Garmin Forerunner 245 at Amazon UK
Buy Garmin Forerunner 245 at Amazon Germany
Buy Garmin Forerunner 245 Music in Sprinter
Do you have a question regarding the Garmin Forerunner 245 that you need answered? Use the comments below and ask away, I'll get back to you in a matter of minutes.
And with that... thanks for reading!