After a little more than two years without having done any demanding competition, I was finally able to put on a bib again. I don't think there has ever been a more desirable bib; firstly because of what it means in terms of normalizing the current situation, and secondly because of the number of times the race has been delayed.
This race should have been held in April 2020, obviously it was cancelled due to the pandemic and a new date was set for September 2020.
September 2020 arrived and the situation was repeated, being postponed again to April 2021. Well guess what, that 2021 race was again cancelled and postponed again to September 2021.
And naturally in each of these delays the training had already begun. But well, what can I tell you if we have all been going through the same thing.
In these months there have been some short (VERY short) competitions. And demanding workouts that have allowed me to improve marks that I had not improved for years. At least that has been the motivation during all these long months. But well, I won't bore you any more and let's go directly to the race that concerns us, the 2021 edition of the Ironman 70.3 of Marbella.
The preview
I am very well prepared for this race. Thanks to the training I've been doing with Jaime Vigaray, with whom I started working a little over a year ago. And also to the very specific preparation for this race since there was nothing else on the calendar.
But not everything has been rosy. Two weeks earlier, recovering from a summer cold, I went out to do a series training on the bike. I had the typical muscle fatigue that occurs when you have a cold, specifically in the lumbar area. That day the sensations were not very good, so I cut the workout short.
On the way back home and after a stop, when I got back on the bike I slipped, with such bad luck that I got a whiplash in the lumbar area, leaving me totally bent like a pliers and a week totally out.
I wasn't worried about "not making it". In that sense I was very calm and I knew that all the work was done, but I did want to at least poder have a chance to do some last training with some quality to get those last feelings of confidence.
Luckily after rest, some massage, medication and patience I was able to do those workouts days before the competition. I did not reach the 100% because my back was still bothering me on some occasions, but the positive part was that neither swimming nor running bothered me. Not even while riding the bike, which was my biggest concern. So a small bump in the road. A slight scare and nothing more.
Swimming
6:15 Sunday morning heading to the transition area. The day before I had already set up the bike and bags (I couldn't remember how much stuff to put in there!). That morning it was just putting nutrition and water on the bike and getting it ready.
The organization had strongly requested us not to bring our own pumps to inflate tires and to use the organization's pumps, which were distributed throughout the pit.
Pero si alguna vez habéis usado esas bombas ya sabéis lo que me encontré. Yo conozco mi bomba, su funcionamiento y sus trucos. Sé si hay que sujetarla de una forma determinada o no. Con las tres primeras bombas que probé lo único que conseguí fue desinflar la rueda. El cuarto fue peor, porque me partió el obus de la válvula delantera. Empezaba bien…
It was not a problem because I had spare tubes and tools to change them, but I preferred to go to the bike-point to solve the problem. They replaced the broken core and inflated my tires with a pump that they had checked and knew it worked well. I already know what I will do next time.
Luckily I arrived in plenty of time and this was no problem at all. I still had plenty of time to drop off my post-race bag, calmly put on my wetsuit and head to the start area to meet up with my entire group.
We placed ourselves in the first places at the start (30:00 box) and waited a little over 15 minutes for the race to start, chatting with colleagues and greeting people inside and outside the race.
At 8 o'clock sharp and with a beautiful sunrise before us we were given the start. Rolling start in groups of 6 as it was usual until now, even more so because of the pandemic.
I jump into the water in the fourth wave. I run into the sea for longer than the rest of the competitors, who quickly dive in. Finally I dive in and start swimming behind the first few feet until the first left turn. From then on all the turns would be right turns.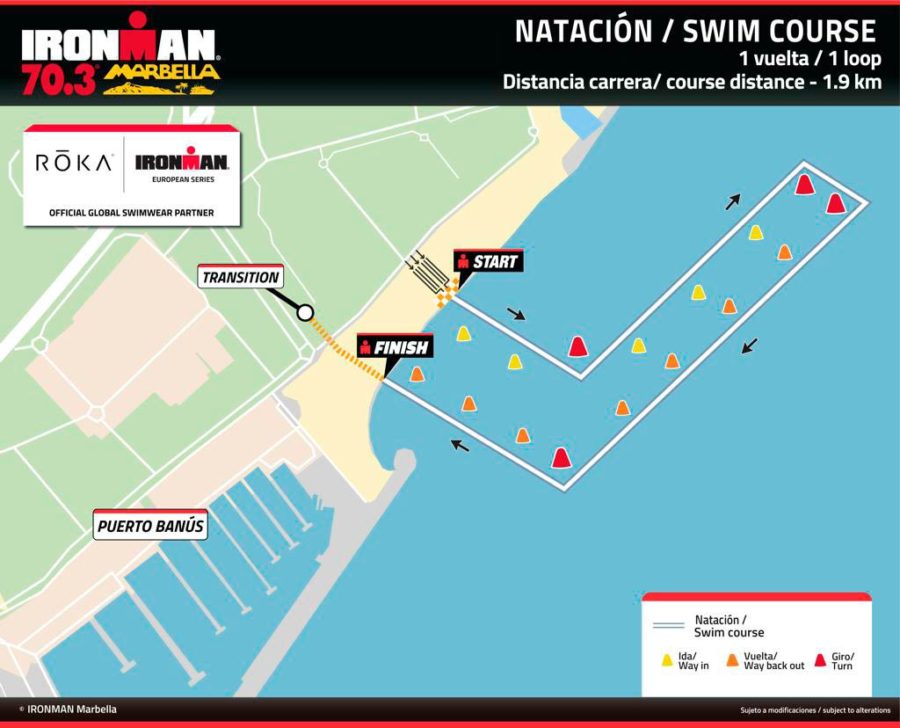 I "manage" the feet I was following and I reach the second buoy. Here I get a little disoriented because I have the feeling that the buoy is not where it should be, but my feeling didn't matter and the only thing that mattered was that I had to leave it on my right.
Another buoy turn and the longest part of the swim begins. We had swum the swim segment on Friday and that part felt quite long to me. On race day I didn't have that feeling and it lasted as long as I expected it to last, it's likely we had a headwind on Friday.
In the middle of that line I took a good kick in the face, fortunately without knocking my glasses off my head or water ingress. It served to wake me up a bit.
Last right turn and destination to the beach, taking as a reference the statue of Puerto Banus that was very easy to see from any point.
I get to the beach and take a quick glance at the watch, seeing 31:XX on the screen. Quite a bit better than I expected as I had swam it in 33 on Friday. Good sign and 2 minutes in the bag for poder to use later.
Relatively quick transition (I put on socks for the bike and save putting them on in T2) and run to the staging area. At the moment there is very little "atmosphere" (later I would see that I was coming out of T1 in 6th position in my age group).
Cycling
If there is something that stands out in the Ironman Marbella is undoubtedly the cycling sector. Feared and loved in equal parts, it is the most demanding segment of the three but at the same time the most beautiful.
The first kilometers to Marbella are flat, which allows me to catch up with 2 or 3 runners. On arrival at the first traffic circle I go through a bumpy area on the road and lose the water bottle. I knew that podía pass, but the refreshment station was at the end of the first port and meanwhile I had the bottle of nutrition.
In the Pirulí de Marbella, things start to get lively. First steep ramp and it's time to go down. Cool head and do the race plan, forgetting about everyone around me. I don't like climbs, so two or three bikes overtook me.
From here it's pretty much all uphill for the next 40 minutes. I set the limit at 300W and make the climb. I reach for the bottle on the frame with the nutrition and when I go to put it back in place it slips out of my hand and falls to the ground.
Aquí sí me paro, me bajo de la bici y voy a recogerlo. Por suerte es en subida y apenas ha supuesto pérdida de tiempo. Son cosas que pasan y prefiero perder esos segundos a quedarme toda la bici sin la nutrición que llevaba planificada hacer (por no hablar de que los botes aerodinámicos no son precisamente baratos…).
I reach the top of the pass, pick up water and isotonic water and start to ride on oscillating terrain followed by good descents. This is where my race is, so I get on the bike and it's time to keep putting watts on the pedals.
On the climb I had been left behind the first groups, but quickly I return to chase all those bikes that have been leaving me behind.
I make the loop of the Coín detour without pushing too hard and continue my fast road towards Cártama. I continue to recover the time lost on the climb.
Arrival in Cártama and turn around. Those of us who are from the area and have trained a lot the route know that this is where the race starts. If you did the first strong pass, this is where the guy with the mallet awaits you. If you dosed, you better keep doing it from this point.
All the kilometers that we have gone down we now have to go up, with the difference that we have been racing for about 2 hours and our strength is not the same.
I continue with my plan, 300W climbs that are sometimes interrupted by catching up with other bikes. First lowering the power so as not to get closer than 12 meters and then going up to overtake them and continue at my pace.
The part from Cártama to Ojen goes quite well, with a constant and contained effort, and I crown again the port on the other side. The bike is done, it's time to go down to Marbella and then flat to Puerto Banus.
Finishing the descent, at the McDonalds traffic circle, I pulled a muscle in my right abductor. Strange, it had never happened to me before on the bike. It takes me a couple of minutes to recover the feeling in that leg and I pedal without pushing too hard despite being an area that favors me.
Not long after, the same thing happens to me, but this time in the left abductor. Same procedure, although this time the pain passes much faster.
I arrive at T2 with a total time of 2:54 on the bike, a good time considering the time lost "letting my legs go" at the end and the almost 1,500m of positive elevation gain.
Running on foot
After leaving the bike I sit down on the ground and take it easy to put on my shoes, I didn't want to pull any more for making strange movements. I put on my Vaporfly I don't like the feel of these elastic shoes and I prefer that extra time in transition than running 21 kilometers without a good feeling.
I go out to run at the pace I had previously agreed with the trainer, around 4:20-4:30. I set the cruise control at 4:30 and begin to see the kilometers pass with good feelings in general. I'm in the leading zone and I notice the support of the public, now they have energy and want to shout and cheer.
The cruise control lasts about 9 minutes, and I start to lose performance little by little and gradually. The heat (hot!) starts to press and the two blisters I'm getting on my foot don't help either.
I complete the first lap in about 47 minutes. My time is good but I'm starting to get tired. Every time I pass a refreshment post it becomes a separate competition: let's see how many things I'm able to get into my body quickly.
I take a bar that I have a hard time swallowing, and from that moment on I decide that my nutrition was going to be based on Red Bull. It was cold and they were giving it out in cans instead of cups. And Red Bull after Red Bull I reach the last turning point.
Only the lap was left, I continue with the speed control set now around 4:50-5:00. The finish line is already in sight and the only thing left to do is to finish the job.
Arrival at the finish line
I cross the bridge for the last time and ride the last stretch before the finish line. I slightly increase the pace to consume the little that was left in the tank and, after a small sprint (more in my head than in reality) I cross the finish line in 5 hours and 12 minutes.
I finish tired but very satisfied with the performance in the three segments. Considering that in 2019 I completed this same race in 5:55 the improvement has been brutal (logically the preparation has not been the same).
But looking back on the race there are few things I would change and many small victories. A very good swim for what I'm used to (and best time in the distance by far), controlled bike with good nutrition and hydration guidelines and a run where I had absolutely no stomach discomfort (for the first time).
In short, back to competition with a very positive result. And now, when all the aches and pains that I have up to my eyelashes are over, to think about the next goal 😜.
And with that... thanks for reading!