The Garmin Fenix 5 is the American manufacturer's new flagship for at least the next two years, making it the premier reference for what Garmin can do with a product, both in terms of software performance and product quality.
But this time there is something different, this time it has not arrived alone. In the new iteration of the model there are more models to complete a range that, from being a marginal niche, has become the most successful of Garmin. The Fenix 5S offers practically the same features as the Fenix 5 but in a more substantial sizeWhile the Fenix 5X chooses to keep the size of the Fenix 3 but offer real maps for navigation.
As always, I want to clarify the origin of the devices that you always see in the tests as I like to be totally transparent. This Garmin Fenix 5 has been bought by me at Amazon as soon as it went on sale, with the intention of being able to offer you the complete test as soon as possible. In the meantime, I am waiting for Garmin to provide a press unit for the Fenix 5S and Fenix 5X that, once properly tested and analyzed, will be returned to their corresponding department. When? Well, I don't know, but things are going slowly at the palace.
There is no compensation of any kind, which means that I have no pressure regarding opinions about the products I test, and obviously I do not admit advertising for the brands I test on this site either.
The way this website is maintained is thanks to your support, so if you like the work I do you can show your gratitude by buying the Garmin Fenix 5 (or any other product) via Amazon.
I have been testing the Garmin Fenix 5 for over a month now in a multitude of situations in my training on asphalt, trail, cycling, swimming pool, open water or any other situation imaginable, so I have clear references of what the watch offers and I can tell you the good, the improvable and the bad of this mountain clock.
You ready? Let's get to it.
Unpacking
Simply by looking at the progression in the product boxes you can see how a range is maturing. And not just the range, but also the manufacturer's performance and how it takes its image seriously. The packaging of the Fenix 5 is a clear example. Gone are the big boxes in which you can see the watch itself.
The Garmin Fenix 5 is a good quality cardboard cube, and with UV printing to highlight the clock on all sides where it appears. It gives the impression of being a premium product from the moment you have the box in hand
The back is a good example of how complicated Garmin has made understanding their Fenix 5 range, something I will try to explain later (I don't guarantee it). Now you can see details such as the size or colour of the watch, or the type of strap, on the case itself, but it is more of a guide for the seller, not useful information for the buyer.
If you open the box, you'll find the watch waiting for you. Again, you can see the ingenious details in the design of the box, but they're already mine... my hobbies.
There are very few things inside, at least if it is not a pack version that includes the pulse sensor HRM-TriA small instruction manual shared between the 5 and 5S (the one for the 5X is different... although it provides the same scarce information), and the new synchronization and charging cable.
As you can see, aesthetically the Garmin Fenix 5 is a worthy successor to the Fenix 3.
There are quite a few differences from the back. Starting with the optical pulse sensor, which is now flush with the rest of the lid. There's no longer the bulge that used to stick out from the back. That hump started out as quite a big hump on the bracelet Garmin Vivosmart HR (first device with the Garmin Elevate sensor), was reduced in the 735XT and now it disappears almost completely in the new models.
Meet the brand's new timing and charging connector. The Garmin Fenix 5 the first to be released, but promises to become the standard connection for all manufacturer's watches from now on.
It's a smart connector, so you can connect it in any direction.
If I can put a glue on it, it's that it doesn't allow you to wear the watch while it's charging. At least not while it's on your wrist.
If you have noticed the images, the straps also have some new features. They now have clips that allow them to be quickly replaced, which Garmin calls QuickFitAnd by quick, I mean being able to do it in about 10 seconds, as long as when you do it you're taking a bite out of a banana to get your workout back. Otherwise, a lot less.
The Garmin Fenix 5 has a 22mm strap, the Fenix 5X has a 26mm strap and the Fenix 5S has a 20mm strap. And in case you are wondering, your Fenix 3 can also use this type of strap. You will need the Fenix 5X, which is the model that shares size with the Fenix 3.
How big is it? Well, smaller than the Phoenix 3. And not much bigger than the Forerunner family.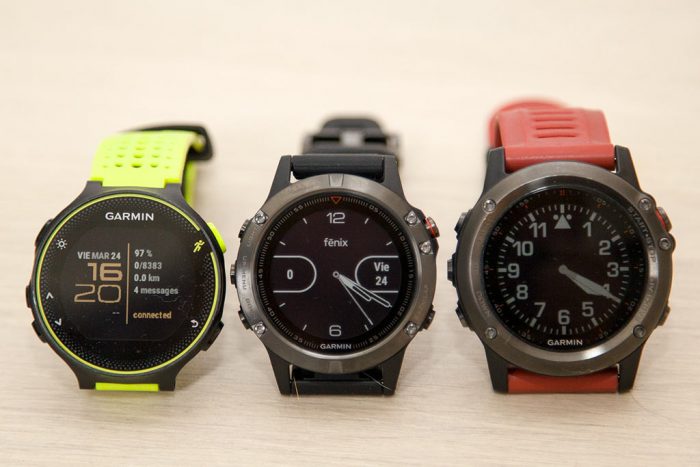 Now let's try to clear it up with the models...
Fenix 5, differences between models
I think I've written this part and erased it about 3 or 4 times, trying to find a way to explain the whole range to you. Don't think it's easy, in fact even Garmin has a hard time, just look at how they have it set up on the web.
First, you must decide if you want to have maps on your device. If yes, Fenix 5X (and you can skip to the last box). If no, choose size.
Garmin Fenix 5SDial: 42mm Although Garmin mainly targets women, it is perfect for those who do not have a very large wrist or prefer a slightly smaller and lighter watch.
Garmin Fenix 5: Esfera de 47mm. Algo más pequeño que el Fenix 3, podemos considerarlo ahora el «tamaño estándar».
Garmin Fenix 5XSphere: 51mm sphere. It is the one with maps. The most complete of all and with a size identical to the Fenix 3. Despite being bigger, the screen is the same size of the Fenix 5.
So far it's been easy, let's make it a little more complicated...
The next thing you have to decide is whether you want sapphire glassOr if you want WiFiBecause both options are associated, so you can't choose one or the other, only both. It only applies to the Fenix 5S or Fenix 5, because the Fenix 5X is only available with sapphire crystal (and therefore, with WiFi).
Are you still with me? Well, let's stick to the options, although this is where my eyesight gets blurred and I start to see everything.
The next thing to be decided is the combination of coloursBecause it's not only about choosing the color of the strap, but depending on the model chosen the finish of the dial will be different, as well as the color of the case (the one of the watch, not the one of the package). Always keeping in mind that the options are not duplicated, but that there are colors that can only be had if we choose sapphire crystal or vice versa. Come on, try to stay with me, I see that you're starting to get lost, so let's go model by model.
Complicated, right? Well, we haven't gotten to the part where we can buy it with a pulse sensor HRM-Tri... But in this case the choice is simplified because you can only combine it with the normal Garmin Fenix 5 or sapphire.
Shall we talk about prices? Then wait until I give you the painful...
Those are at least the official prices. On Amazon you will surely find them cheaper.
I hope I don't have to do it again without the chop in front of me, because I guarantee I'm gonna miss.
What? You want to know what all the differences are between them, too? This is just for show...
It has always been said that having a multitude of options to choose from is good, right? Well, the Fenix 5 (and 5S/5X) is the clear example. Now you can't say that you can't find a combination that satisfies you.
News
As I said at the beginning, the Garmin Fenix 5 is not a revolution, you should not expect very different things if you compare it with the model it replaces, the Phoenix 3But it doesn't mean that they've just bothered to add a couple of little things and launch a new model, there are a lot of little things that change.
Instead of analyzing each of the parts that make up the clock, I want to focus the test mainly on telling you what these new features are and what they represent, firstly because of what has already been said about it being an evolution, and secondly because I intend to finish the test in a reasonable time frame and if I were to go through each of the details I would need several months to tell you everything (and half an internet for me alone).
We can start with the new quick access menu to functions. In other models, if you held down the upper left button (the illumination button) you could turn off the clock or lock the screen. This has been replaced by a more complete control menu with various options and allowing customization, showing or hiding some options.
This shortcut menu is linked to the shortcut keys, which is something already seen in the Fenix 3; in the new model there are more options since we can use more keys, pressing two simultaneously to perform an action.
Without going into the sports possibilities yet, the Garmin Fenix 5 also shows changes in the clock display. In addition to having new faces (and still being compatible with other spheres of Connect IQ or Garmin's Face It application), it also allows you to modify the aesthetics of the same.
Puedes elegir las agujas, el color del segundero, y el fondo de la esfera. Pero lo que más destaca es que podemos alterar las «complicaciones», como se denomina en Android Wear OS. Hay cuatro espacios de datos que podemos usar para mostrar diferente información en la pantalla principal del reloj, como los pasos dados, minutos de actividad, pisos subidos, etc.
There are new developments in the sensor section. Garmin has begun to support sensors Bluetooth in addition to the classics ANT+ he's been using so far. Plus the wrist pulsometer is also renewed. But since there's a specific section on sensors, it's something I'll talk to you about later. Also the wrist pulsometer in its specific section.
The same goes for the new function of training load and stress, training effectThese new metrics are the most notable novelty of this model, so, logically, I also have a section reserved exclusively for you.
Before going into the most important aspects of the watch, I'm going to give you a brief overview of all the functions, so that those of you who are not familiar with the range can get an idea of what it offers, and for those of you who already know it, it's the perfect opportunity to refresh your memory.
Sports and Activity Measurement on the Garmin Fenix 5
In the aspect of sports profiles and their configuration there are not many new features, everything remains practically intact, so I will try to give a quick review of all the details so that at least the less initiated in Garmin know all the details.
By pressing the upper right button you will find the different profiles that you have configured. This menu is now a little different, mainly because at the bottom of it you can add new profiles (before you had to do it from the configuration menu), and because we found a direct access to navigation or Connect IQ applications.
By selecting any sport you have chosen, you will go directly to the main screen, starting the search for satellites, pulse and external sensors (if paired).
If you wish to make any changes in the sport mode, such as data screens, alerts or any other configuration, you can do it directly from here. You must leave the menu button pressed (the central one on the left side of the watch) and you will access the configuration of that particular sport profile.
You can do it from the general settings, but the main advantage it offers is that you can make any kind of change not only before the activity, but while you are doing it. Have you forgotten a specific data field? No problem, you can add it at any time without stopping the activity you are recording and going to the menu.
The configuration of the screens does not save surprises. You can create many screens, with between one and four data per screen. Here are some examples of these screens.
The only new thing is that on the screen with three data, it is now possible to skip the name of the data field and leave only the rhythm, time or whatever. That way the size will be bigger, but it is up to you to remember what you have configured.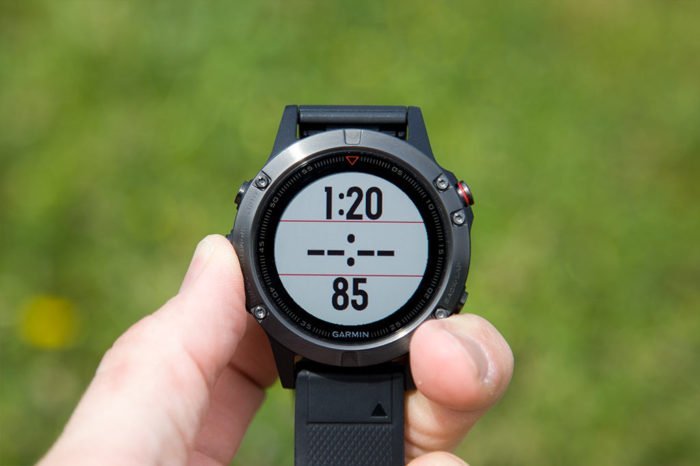 And what fields can you configure? Many. Many. Maybe too many. I'd put them all on, but it would be too extensive an exercise, so you'd better find out for yourself. Besides all the screens you can create (which I'm not sure if there's a limit to it, at least I haven't found it), there are other default screens such as race dynamics, virtual partner, compass or music control of the paired phone.
The rest of the possible settings are the same as Garmin usually offers: Alerts for different events, automatic lap and pause, specific behaviour when climbing hills or running on the mountain, etc. All of them were already in the Fenix 3. They also offer different configuration possibilities, such as editing the data that appears when you mark a lap automatically (by distance, not by location), the pace to consider that you have stopped or the vertical speed to change to the climb and descent view mode.
This last option is something that was first introduced in the Fenix 3. It allows you to switch to a screen with specific settings when you are going up or down, for example showing the degree of slope or other data that may be useful when you are on a steep climb or descent. The only objection I make is that the setting for the screen to appear automatically is meters ascended per hour, when it would be more comfortable for the average mortal if it were by percentage of slope.
All these settings are possible in any sport you have created. It doesn't matter if you are preparing your running or cycling profile. And you can even set up all these data fields in the middle of your activity.
In swimming the variations are the normal ones of the sport. Obviously there is no rhythm per kilometer or speed, nor vertical speed functions... These are things that do not apply. But what I want to refer to is that the way of configuring them and the options that it allows, are exactly the same for running, cycling, walking or strength exercises.
The Garmin Fenix 5 is also compatible with multisport applications. Triathlon, duathlon, aquathlon or simply any activity or training that combines more than one sport. Among the activity profiles you can create new profiles that include more than one sport. Everything can be customized: from including transitions, the order of the sports (even repeating the same sport twice), or the name.
To create these activities you must first have the individual sports well configured, since what you will be doing is joining those sports. That is, you won't have to configure the race profile and then reconfigure that profile within the triathlon, since it will inherit all its settings. Not only data screens, but also (take into account) alerts, automatic lap or automatic pause settings, although in the settings you will be able to deactivate their use.
But what you can't have is an alert in your running training and, using the same profile, a different alert in triathlon. If that's how you want to set it up, I recommend leaving a specific running application ready for competition, so you can use one or the other depending on the situation.
When you have started the multisport activity, if you want to go to the next activity you just have to press the lap button. If you have activated the transitions, you will count the duration of that transition until you leave the pit, pressing the lap button again to go to the next sport.
And to finish with the activities, the Fenix 5 allows you to configure many and very different ones. I am not only talking about running, cycling or swimming, but also about golf, hiking, skiing, paddle surfing, etc. Each of them will have specific modes of use, it is not only a timer and a tracking of pulses and calories consumed. In golf you will be able to download information of the course and see distance to flag, counting the strokes in each hole. In rowing sports you will register paddle rhythms, while in skiing or snowboarding the clock will automatically separate the descent from the climb period, being able to check descent times and speeds. That is to say, those activities imply more than an identical profile with a name change.
Well, after spending a long time configuring the clock to your liking, it's time to start practicing sports (because that's what you want it for, right?). Pressing the main button will access the list of sports you have configured, and you can select one from the list.
Once selected you will see the first data screen you have configured, then the search for satellites and sensors will begin. You will see the satellite signal quality through a circle on the outside of the screen that will be completed as more satellites are getting signal, changing to an orange circle when a minimum of satellites are available to triangulate the location (usually four).
But don't go out running yet, it's better to wait until the circle turns green. Likewise, here you can check how the search for all the sensors you have configured is going.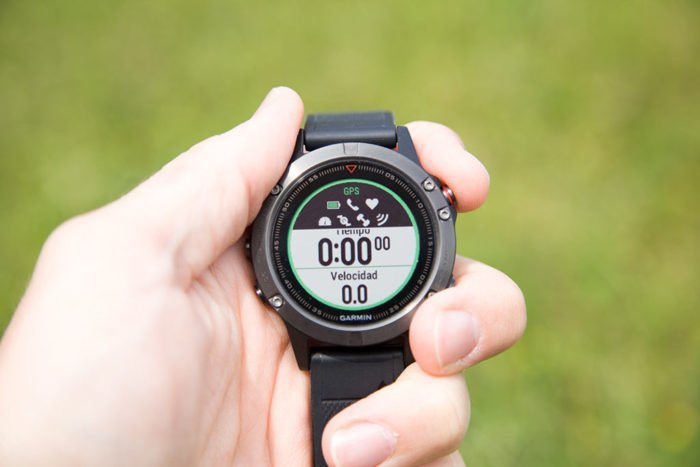 You can switch between the different data screens that you have configured by pressing the up and down buttons, and these same buttons perform another function if you hold them down. If you leave the up scroll button pressed you will access the menu, and you can enter the clock or activity profile settings, changing alerts, screens or any other detail, all without having to end the activity.
You can also enter the navigation menu to start the back to home mode, view saved locations or use the navigation functions themselves.
And if you hold down the bottom scroll button, you'll go to the main clock screen where you can see not only the time, but all the widgets you have configured, and you can go back to the activity (without stopping it) simply by pressing the back button.
And if you hold down the light button, you'll get the shortcut menu I talked about earlier.
When you have finished the activity you can review all the details of the activity, such as recommended recovery time, review general or lap data, see if you have set any new records, etc. And these details also include graphs of time in zones or altitude variation during training.
You can also see the new training effect (which we will see in more detail a little later).
And with everything finished, as soon as your watch connects to your phone via Bluetooth (or, if it has WiFi, as soon as it enters the coverage area) the activity will be synchronised with Garmin Connect and you can access it from the web or through the mobile application. If you want more details about everything you can see in Garmin Connect, you can check it here in an extensive manual I prepared for you on Garmin Connect.
And this is how it looks when you use any Connect IQ application, in this case the StrydAt least until the battery runs out and the signal stops.
Of course, the various models of the Fenix 5 can also benefit from the advanced training you can create from Garmin Connect, which you create through Connect on your computer.

And you can download them to your watch, where, before starting the training, you can review all the steps that it is composed of, to know which is the torture that you have to submit to.
When training, you have a specific screen where you can control each of the intervals. In the upper part you will have the rhythm (or pulses, depending on what you select as target) correctly graduated, so that when the arrow is placed in the green zone it indicates that you are in the planned target.
The other two pieces of information will give you the keys to the interval, such as the time or distance of that series. And if you have selected interval repeat, you will be able to see how many you have done and how many you have left.
On the clock itself you can also set up a training session, but with somewhat simpler objectives than the previous option allows.
Finally, remember that the Fenix 5 is compatible with Strava segments. The operation is identical to what we have already seen when Garmin launched this option for the 735XT, so if you want to know more details I invite you to take a look at that article.
And what about activity tracking? It is also present under the same premises as in previous models. The clock counts your daily activity through the steps you take, and you can check on the screen how many you have taken so far. The goal can be editable or dynamic, so that it adjusts every day to try to improve. The widget changes from previous models, as it now shows no approximate distance traveled.
However, if you press the main button you can access the weekly graphs, where you can see distance data, although they include what was done in sports (for example, distance traveled by bike).
It also counts the number of floors that have been climbed, thanks to the barometric altimeter.
Of course, you also have a weekly chart.
However, you will probably find it easier to consult all these details in the mobile application, as it will synchronise all the activity data throughout the day.
With respect to the Fenix 3, the first new feature is that there is an automatic activity log. The Fenix 5 is compatible with Move IQ, detecting activities outside of specific workouts. Things like walking, running, swimming or elliptical training that you do for more than 10 minutes. All of this will appear as an event in your daily life, although if you want to have more details about that exercise, the best thing to do is to record it as an activity.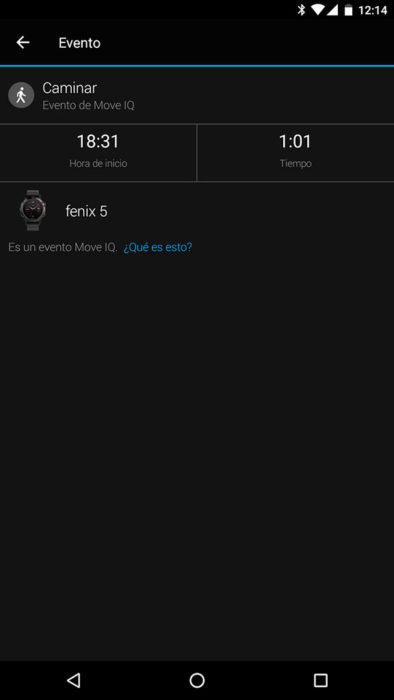 These events are also present in the daily pulse graph, as for example in this image below, where you can see that it has detected several walks during the day.
And as you can see in the picture, constant pulse tracking is another new feature of the new models. Not because it was not present before, but because now the recording is constant. Before, it only took a variable recording depending on the movement. You only have to compare how the heart rate was shown before throughout the day (in this case, the 735XT).
And what is recorded now.
You can see that there are many more points and that there is no interruption in the recording, when before there were many periods without taking data, especially at night. The difference is that the new Garmin Elevate sensor is less demanding on the battery, so it can always be in operation.
On the clock you can also check the heart rate graph, in this case for the last 4 hours.
In this graph, in addition to seeing your pulse at that moment, you can check the maximum and minimum pulses of that period of time, and if you press the main button, the resting pulses of the last week.
And as we are used to, not only monitoring activity, but also rest, in this case, sleep.
Phew... a lot of things, right? I hope this quick feature review has given you a general idea of what the Fenix 5 can do, at least globally. We're going to get into more specific features now, especially the main new ones.
Performance metrics, the main novelty
Without a doubt, the main change in the Garmin Fenix 5 is the new physiological metrics algorithms, which I could even say is its star feature (if we don't take into account the 5X maps). This is the most important new feature of this watch compared to previous models of the brand.
As with many other algorithms that Garmin uses in its devices, is not a development of its ownbut of FirstbeatA Finnish company that has been studying and analysing heart rates for many years, simply by looking at their website you can see the number of proprietary options they include.
As for the new metrics, everything is controlled by a new widget where you will find all the details.
The entire data revolves around the training status (or Training Status), which will vary and adjust each time you complete a new activity, analyzing your last workout along with past activities to give you an overview of what you're doing.
This status is substantially supported by VO2Max data estimates, something that was already present in many existing Garmin models.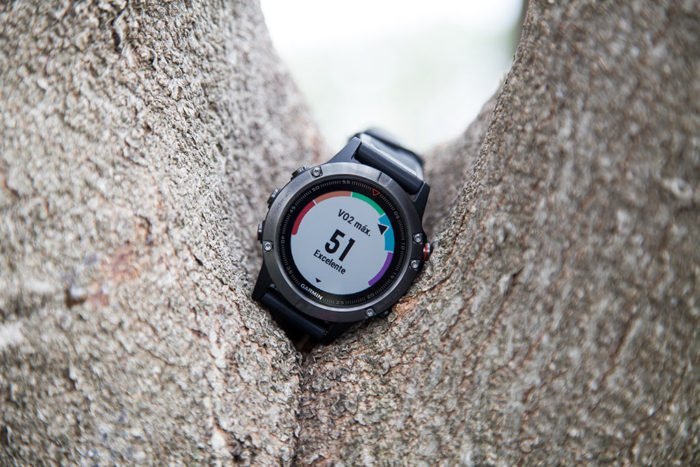 The way to obtain the VO2Max data is the same, simply the watch will calculate it with the data collected from the different trainings you are doing, therefore it is necessary to spend a few weeks training with the watch so that it can analyze what you are capable of, being also important to record trainings at different intensities.
In this case, for example, in other Garmin models my VO2Max is around 56-57. In contrast, in the Fenix 5 at the moment it only goes up to 51, which is normal considering the type of training I have been doing this last month (including discomfort and small injuries). But as I get to know you and you do variable training, you will see that the figure increases until it gets to where it should, little by little. The increase is gradual, but constant.
To get your VO2Max on race you don't need anything else than the clock, because it is able to register it with the optical sensor (no chest sensor needed), but if you want to have VO2Max data on cycling it is essential to have a power meter.
If you continue to move through the widget, you will find the recovery status, along with the remaining hours until you are fully recovered from past activities. If you continue to train, you will add hours to the recovery, and on that same widget screen you will see the recommendation regarding the training you should follow.
Una mejora importante con respecto a lo que mostraba antes, pues realmente no sabías qué hacer en ese periodo de tiempo. ¿Podías entrenar? ¿No? ¿Misma intensidad, o a menor intensidad? Aunque los números sean ligeramente altos, ahora se elimina esa sensación de «miedo» por volver a plantear un entrenamiento en poco tiempo.
The state of recovery It's not new either, but the advice it offers on how to continue with your training and whether you should think about doing a series today or leave it for tomorrow.
Below is the screen for training loadYou'll see the cumulative load over the last 7 days (the figure is EPOC, excess post-exercise oxygen consumption), along with a graph indicating whether you're at your optimum, training below your maximum or just scraping by on over-training and need to take a break.
This data is totally variable, and the determination of whether you are on the right track is individual. For me, a training load of 200 may be optimal, while for someone else that same data may be a lack of training. It depends on your past activities, so your history is taken into account, as well as for the VO2Max estimation. And again, you will need weeks to get a reliable assessment.
Finally, this is where you will find the race time estimate, which as in the past is simply linked to your estimated VO2Max.
La estimación depende de cómo estés desarrollando tus entrenamientos, y de para qué estás entrenando. Por tanto pueden ser más o menos precisos. Por ejemplo, mi último tiempo en distancia 5km fue de 20:31… en un duatlón. Así que evidentemente puedo mejorar ese tiempo e incluso por debajo de lo que indica el reloj, pero en este momento de la temporada no estoy haciendo «méritos» para que la estimación del VO2Max sea más alta. Para una correcta medida necesitaría más semanas de entrenamientos.
But by the same token, I'm not about to do a marathon in 3:15, or an average in 1:33. These are distances I'm not training, so as much as the Fenix 5 thinks I can do it, I won't volunteer to try it.
As I said at the beginning, all this is part of this new function of the training statusIt is the result of combining all the physiological metrics we have seen before. The algorithm uses all those values and combines them into a single screen for easy understanding. Any changes in your history will be analyzed and processed to change the value displayed.
After the first training sessions you will not have any data yet, but they will appear as the watch gets to know you, and the training status will be updated every time you do a new activity.
In addition to showing your training status, it divides it into two variables: fitness and load. The arrows indicate how the activities you are doing are affecting both your fitness and load.
At the end of each training session (at least for running and cycling) you will see a new screen, the training effect (o Training EffectThis metric now provides more data because previously it only indicated a value from 0 to 5 without providing any further detail. It now separates it into Aerobic and Anaerobic Effect. For example, this gentle roller recovery workout
What does each of this data indicate? Well, the way it will affect your fitness, cataloguing it to give you a grade in intensity. As before, you will also have a number from 0 to 5, but by separating it you will be able to know what improvement it can bring you physically. If you access the history you will be able to see a brief explanation (not from the summary after the training).
It has perfectly identified the type of training I was doing and my objectives, confirming also that I have behaved well and that what I had marked as recovery, I have done recovering (although there is always some segment of Strava that can force you to leave the recovery aside ...).
In addition to viewing it on the clock, you can review each of your synchronized activities and see the same details.
If you click on the question mark you will have more details about what each figure means.
As for the values it gives, in general I think they are quite good. The previous training, for example, was a bike ride where I didn't do intervals, but it was a bit demanding at least in a couple of sections, while the rest was smooth. This results in an anaerobic effect of 1.5. A strictly series training will raise this value quite a bit.
And an aerobic improvement of 2.7 that maintains my physical level, as it hasn't been particularly hard.
A different example.
That was a very smooth 15-minute run, recovering from tendinitis in one knee, and it marks it perfectly as a recovery without any possibility of anaerobic improvement.
Then a training at the rhythm of the race.
And indeed, I spent all my training in the lactate threshold zone, so it's an improvement in that heart rate range. But even though it's not an easy workout, there's no anaerobic improvement because I didn't do any speed work or push myself above those pulses.
In the end, it's good information that you're providing. The key is to know how to mix your workouts so you don't get stuck doing the same thing all the time. And now it's possible to measure it more accurately than before, when we simply had a training value but didn't specify anything else. We could have the same value for a long run of 3 hours as we did for 30 minutes of series, when obviously these are two workouts that produce very different effects on our bodies.
It is also important to note that all advanced metrics such as Training Effect, VO2Max estimation and lactate threshold take into account your maximum heart rate. This is the only information you have to enter correctly, as the rest of the information the watch is capable of obtaining by itself. By default the watch will show the classic formula of 220 minus your age, but we already know that this is quite far from the reality, so it is advisable to enter the data manually (if you know it).
The maximum heart rate will be automatically adjusted if you exceed the maximum clock setting, but you will have to run at a sufficient intensity to reach it. And note that it can be adjusted upwards, but if your maximum rate is below what you have marked it will not make any adjustment.
Not everyone runs at enough intensity to reach their maximum capacity, so if you know your maximum heart rate data, it is best to enter it manually. You can enter different maximums depending on the sport. And use the average resting frequency to calculate your training zones.
All these measurements can be made directly with the optical pulse sensor, so there is no need for a chest sensor.
Finally, and for lack of a more appropriate section to include it in, remember that the Fenix 5, like other models in the range, is capable of making the lactate threshold calculation. But to do so in this case you do need to wear a sensor on your chest, as the test is based on pulse variability, something that optical sensors are not yet able to record reliably.
There are two ways to get the record: automatically with your activities or by performing the specific test in which the clock will guide you through different phases.
Finally, and speaking of pulse variability, the Fenix 5 allows data to be recorded in FIT files, so that it can be later analyzed in applications that support it.
In the end the section has been longer than I thought initially... and I have tried to condense it quite a lot! As for all the information it offers I have frankly liked it quite a lot. Not only does it offer more information than before (training status and load) but the information that was already present now gives more details which clears up all the doubts that may arise such as the training tips in the recovery screen or the division of Training Effect into two.
Increasing the understanding of new metrics is something that Garmin has not always been successful at. For example, with race dynamics, Garmin has always failed to explain in simple terms what each thing is and how to use it to its advantage. It provides a lot of data, but not a guide to how to use it and improve it.
And as far as the metrics themselves are concerned, my opinion is quite positive. Whenever I have completed a workout the Training Effect values have always seemed perfectly correct, just as in the training state I have always found that my feelings are in line with the data Garmin provides. And I remember, all this is something external to Garmin, and from a company that has been studying heart rates for many years now, so they are not numbers or data taken from a hat.
When it comes to navigation, we must differentiate between the two options offered by Garmin, firstly the Fenix 5/Fenix 5S which offers the more traditional version of navigation, and later I will add the specific details of the Fenix 5X (when it is available), as there is a substantial difference in offering maps on the device itself, along with greater options when creating routes from the clock.
Because while on the Fenix 5X you can create a route without external help, on the Fenix 5 (and therefore also Fenix 5S) you must create or download it externally in order to follow it on the clock.
The easiest way is through Garmin Connect in the route section, which includes route height data (you'll see why later).
There are other ways to incorporate routes, such as through BaseCamp, by downloading a route from another service and copying it to the NEWFILES folder in the clock memory. Or, with the new Connect IQ application from WikilocHowever, if you have a subscription to the navigation pack, which does not have a high cost and will be worth it if you are a regular user of the routes, you can download a route that you have searched for on the web and place it in its corresponding folder.
Once you have the route loaded on the watch, you must enter the activity you are going to do (running, cycling, etc.) and you will find the different navigation options it offers.
Back to top: To return to the starting point anytime you have missed
Routes: Routes you have downloaded
Activities: Re-doing a route you have done before
Saved Locations: Saved Points of Interest
Sight N' Go: Navigation through the compass
Coordinates: Navigate to coordinates you enter manually
I mean, the same thing we already found on the Phoenix 3.
But we were sailing, so it's better not to get lost. When you select a route, you can look at the map, do it upside down (from end to beginning) or see the height graph, which will then take more relevance.
If you open the map before starting to navigate you can move around the map by zooming in/out and moving left/right. To switch between these options you can press the main button and it will alternate between them, you can make the selection with the scroll keys.
You can also scroll on the map while you are in the middle of navigation, if necessary to make checks on the route. The interaction is quite fast and feels faster than the Fenix 3.
The navigation offered by the Fenix 5 and Fenix 5S is of the breadcrumb type, that is, it simply represents the route you should follow and shows your location in relation to it.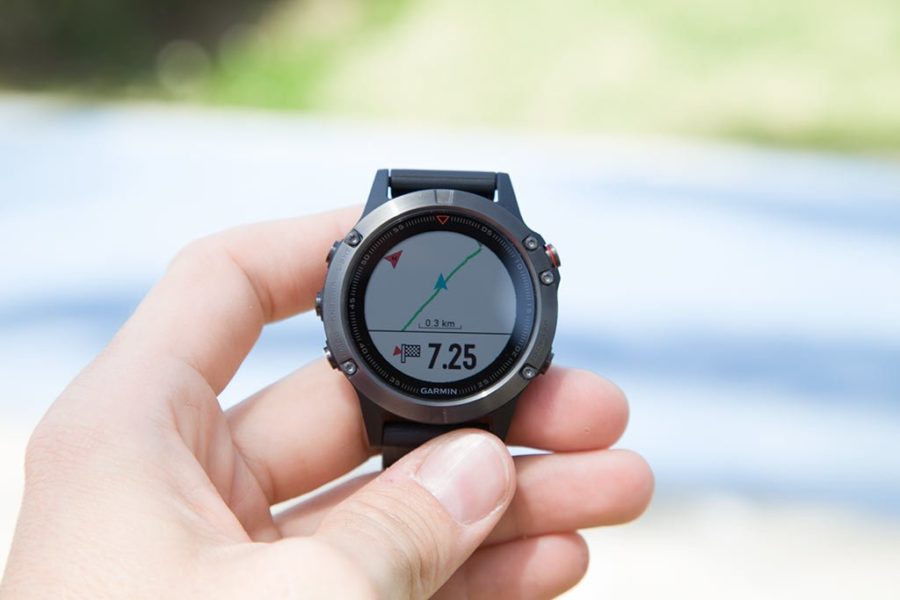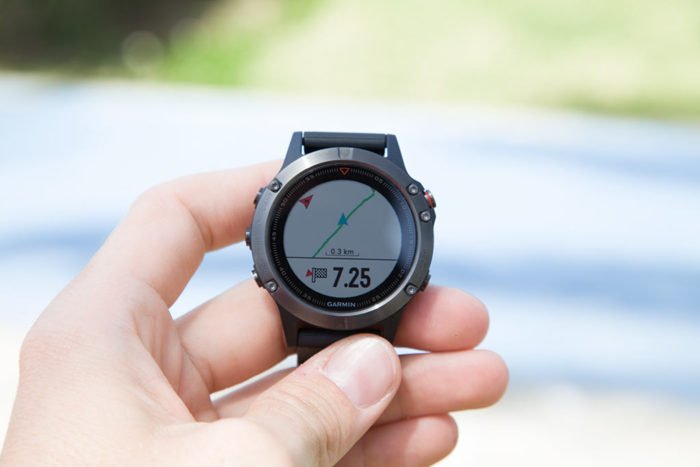 With no mapping, it can't tell you whether you need to turn onto a road or take the third exit at a roundabout, just like a car navigation system. But if you go off course, it will alert you on screen with vibration and sound alerts.
You can navigate using the compass exclusively, indicating the direction to the end point of the route and the remaining distance.
And if you have entered a target time for the route, you will see a virtual partner screen indicating whether you are meeting the target and the estimated time until you reach your destination. This same screen appears if you are navigating an activity that has already been completed, but in that case the time you are competing against is the time you have done previously.
While you are navigating, you will see a red arrow on all data screens (whether navigation or not) indicating the correct path to follow, thanks to the magnetic compass.
So even if you're on a time and pace screen, you can still have a reference as to what the correct orientation is.
By returning to the altitude profile screen, you can see where you are on the route and how many peaks you have left to overcome.
I call this screen that of suffering, because you can see what you have suffered until you get to where you are (with the number of meters ascended on the upper left), and the positive meters that still remain to be suffered (the data that appears on the upper right).
In addition, the graph shows the maximum and minimum altitude of the route, and below it the remaining distance. This, together with the arrow with the direction of the route, is all I need when I am doing a trail route, where neither time nor rhythm matters to me in the least. This image below is not the best example of suffering, but it serves me to detail where each of the data is.
The clock will warn you if you go off the planned route, as well as tell you how many metres you are off the route. But it does not tell you which way to go to get back on the route, so you will have to use the map as a reference to get back on your planned route.
All this is with respect to the Fenix 5 and Fenix 5S, since, as I mentioned before, the Fenix 5X offers features that go beyond displaying the route map: turn warnings, possibility to create a route directly on the clock, etc.
But I'll analyze all that when I have the Fenix 5X in hand.
GPS
With each new model of watch, it's time to perform new GPS logging tests. You should keep in mind that the results can be variable, since the areas I frequent and their conditions can be very different from the places where you train.
My training locations, by location, are almost always outdoors (little vegetation and trees), skies with hardly any clouds and with very good satellite reception. So if the sites you frequent are very different (lush forests in areas with many clouds, steep canyons or inside the city), the results you get with respect to GPS tracking can be totally opposite to mine.
Lo digo porque si hay algo conflictivo en este tipo de dispositivos es siempre con respecto a la recepción de satélites. No hay más que echar un vistazo a diferentes foros y ver comentarios del tipo «mi amigo tiene un reloj X y me dice que el GPS es muy malo, no lo compréis». Y luego resulta que el amigo entrena exclusivamente en el centro de Londres, con muchos días con de nubes espesas y rodeado de edificios altos.
Y a ese comentario le sucede otro que diga «pues yo lo uso en todos mis entrenamientos y el GPS es siempre muy exacto!». Pero nadie le pregunta dónde entrena, y lo está haciendo en el desierto de Almería con total y absoluta visibilidad del cielo en todo momento, con la nube más cercana a 100km de distancia. Como véis, «todo depende».
As for my GPS analysis methodology, I simply use it in my day-to-day training by comparing it with other devices. In other publications, comparisons are made on a predefined route where the same tests are repeated over and over again, but on different days. In my opinion, this is not the most correct way to perform the tests, because even though the route is the same, the specific situation of that particular day is not being taken into account.
A cloudy day affects a lot more than you might think. And if there are trees, do they have the same leaves in spring as in winter? The test has always been performed at the same speed, or has it been faster at times? All variables can affect the different records, making a test at different times lose consistency. And of course, always with data recording per second and activating the use of satellites GLONASS.
- 2018 Update
The Fenix 5 is now also compatible with Galileo satellitesfrom the version of firmware 11.00The watch allows you to choose between GPS + GLONASS or GPS + Galileo
I have tested the Fenix 5 in a variety of conditions and comparing up to 5 different devices. Road, mountain, open sky or with more complicated visibility areas. Everything to try to get a more representative sample. And I have selected some of them where I can show you how the GPS performance of the Fenix 5 is.
Although the Fenix 5 is oriented to a multitude of sports, at least by tradition it is in the mountains where we will see it most often. 30 kilometers of running, carrying the Fenix 5 accompanied by other watches that, in turn, are also oriented to mountain users. Suunto Spartan Ultra, Suunto Ambit3 Vertical and Garmin Fenix 3. And to complete the test, an Ambit3 Sport as the only representative without having the antenna integrated into the bezel, which a priori should offer better results in the location.
As usual, from a distance there are not many differences to appreciate. At first sight everything looks very nice.
This is actually the case during most of the training, with 10 lines perfectly aligned on the path taken (5 uphill, 5 downhill). You can click on the images to see them in a larger size, although later you can also carry out the analysis yourself.
It is in the turns where we can find more problems, especially in mountain situations where we are running in areas of trees with greater difficulty of signal reception. You can see that the graph of the Fenix 5 is quite correct, except for some point where it cuts slightly above the trees. These are minimum deviations of one or two meters and at specific times.
However, you can see how Suunto Spartan has a worse time.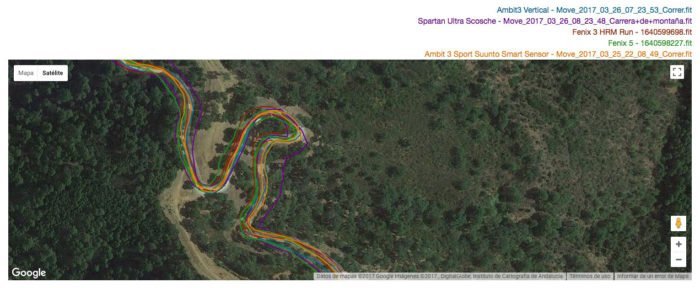 This is the general tone that I have been able to appreciate by reviewing the whole climb and descent. Good overall performance of the 4 watches, with the Spartan being the one furthest away from the real track in the turns and the Fenix 5, without being the best, offering quite reasonable results.
As a simple curiosity, the final result of meters
A little more than 1% difference between the most and least measured distance, so all 5 are within the 1-2% of typical error in asphalt, so in mountain situation all pass with a very good note.
We are now going to have an easier training in areas that I have quite a lot of experience with. As I already know them, I know perfectly well which points can be conflicting for the signal reception and where the watches show me their good performance.
To begin with, running just below a row of trees, in this case it is the Fenix 5 that best records the position, as it is the one that offers the straightest line. Both the Spartan Ultra and especially the Forerunner 230, have some deviation.

The turn at this point is always a perfect spot to analyze. Under quite leafy trees and with a very sharp curve. Either the clock is alive, or it gets lost very easily. Which is what happened with the FR230 and the Spartan in this case, while the Fenix 5 (the purple line) makes the curves perfectly close at the passing place. 
Not always the Fenix 5 will have the best result, but the Spartan is the best performer on the next leg.
Let's go with a bike workout.
Here there are few obstacles that can be put to any of the devices that I was carrying that day. Reviewing the entire route at no time have I seen any strange situations beyond some punctual moment in which they could have been a meter or two off the real route, but nothing of importance.
And even though I'm dealing with the logging capability of the GPS, I take advantage of the barometric altimeter graph. No initial calibration, but you can see how all three keep exactly the same record throughout the workout.
We are going with another bike training, but in this case on a progressive circuit, and it is very useful for me because I can see perfectly the recurrent turning points and compare the tracks perfectly, because I make the turns over and over again on the same point.
In this image you can see how the Edge 520 sticks again and again in the same spot (because of its location, it plays with advantage). The Fenix 5 is quite close, although the exits of the curve delay them a bit more. Meanwhile the Spartan thinks I'm doing motocross instead of series with the goat.
The situation is repeated at other turning points.
And speaking of intervals, shall we make some running? Again, it allows us to draw very good conclusions, by making them over and over again on the same point where the traces should coincide.
Wait, what broad...
Very similar results in the different models. The Fenix 5 is displaced a couple of meters from the real location, while the other two go where they should. But I don't worry too much, as it is always consistent, repeating the same path over and over again.
I've also done training in open water. Here the complexity is in the way the clock software processes the positioning data that it manages to obtain more than in the capacity to receive a signal.
Every time the hand enters the water the satellite signal is lost and has to be retrieved again when the hand is taken out. Obviously there is a very short time frame for recording the signal, so it is common to face positioning errors.
In this track you can see very interesting things. In the same training I was wearing the Suunto Spartan Ultra in my right hand (the Fenix 5 in the left), while I used the FR230 as a route confirmation wearing it under my swim cap, so the FR230 is always above the water, not losing the satellite signal.
This is what the track looks like from afar.
If we analyze from a little closer (and with the satellite view) the point where I make the turn we can see how the track recorded by the Fenix 5 is quite similar to the one of the FR230 that, I remember, is out of the water.
Meanwhile, the Spartan Ultra tries to follow the other two, but it looks like a dizzy duck.
The start and end of the training is very similar; both Garmin models keep a fairly similar record, but the Suunto is once again making a splash.
If we go to the distance log, the data speaks for itself.
Both the Fenix 5 and the FR230 are very close in terms of distance - a pretty impressive result from Garmin's new model. I can't say the same for Suunto...
To sum up, I find quite positive results from the Fenix 5. Considering that it is at the beginning of its commercial life and that the firmware is generally improving over time, I can't say anything negative and it shows a good performance.
Optical heart rate sensor
The new Fenix 5 features a new evolution of the Garmin Elevate sensor, which is now more discreet in size and stands out less from the back of the watch.
But size isn't the only thing new, the main difference is that now heart rate monitoring is constant throughout the day. That's because the sensor is more energy efficient, so Garmin can allow you to leave it on all the time without fear of draining the battery. That way you can record your pulse every second or two, instead of every few minutes as with previous sensors.
Just to clarify, I'm referring specifically to 24/7 tracking modebecause during the exercise it continues to record every second, exactly as in the past.
As far as the accuracy of the activity monitoring data is concerned, in general I see good results. The pulse remains stable when there is no movement and if there are variations in the pulse ,it is because I am walking or doing some activity. You can check it in this same graph, when there is a rise in the heart rate is when there is movement.
But before we go into that aspect in depth, I think it's worth clarifying a few points, as I know that the optical sensor is what will end up creating the most debate, even over the GPS records.
The trend in the market is clearly towards incorporating the wrist pulse sensor in all devices, so Garmin has an optical sensor in all its current range. Only Forerunner 230 is the latest model in its range not to incorporate such a sensor, but rest assured that as soon as the replacement for FR230 and FR235 arrives there will only be one replacement, and it will have such a sensor.
The optical sensor is here to stay, so the sooner you take it on the better. That doesn't mean that chest sensors are doomed to disappear, nothing could be further from the truth. In fact, brands continue to work and incorporate new features into them (the latest Polar, which has just launched the H10 sensor).
Es habitual leer problemas de usuarios con los sensores ópticos. Si bien es cierto que la tecnología no es capaz de cubrir perfectamente al 100% de los mortales (tonos de piel, tatuajes, vello… todo presenta dificultades), al final lo más importante es llevar el reloj correctamente ajustado en la muñeca. Esto es, dejando aproximadamente el espacio de un dedo entre el reloj y el hueso de la muñeca (para que esté en una zona más «carnosa» del brazo) y sujeto firmemente en el brazo, pero sin estrangular. Al menos así lo llevo yo para entrenar, aunque el resto del día aflojo un punto el apriete de la correa. Pero es importante minimizar los movimientos el reloj mientras estás corriendo o realizando otras actividades.
Another common complaint is that in the winter many people like to wear their watch over their clothes, or mount it on the handlebars of their bikes. Although these are two reasons why you should not use the optical sensor, the only thing I can tell you is that the fact that it is integrated does not mean that you are obliged to use it. In fact, the watch is still compatible with external ANT+ sensors (and now also Bluetooth), for those who still prefer the traditional band. And in fact it is more than recommended depending on which sports.
Well, once I have made a few clarifications it is time to see performance in real life. The way to perform the tests is simply to wear the watch during my workouts. And in order to verify that the data obtained is correct (there is no point in seeing a pulse graph if you can't compare it with anything else), I accompany it with more pulse sensors; both optical and pectoral. From 2 more (three together with the Fenix 5) to a total of 4.
This first training is in the mountains. More than 3 and a half hours of running that throw a lot of data. Here you can see the general view.
Several things. First of all I always rule out the beginnings of all activities. The sensors in the chest don't register well until they are well moistened by sweat, while the optical sensors also need a period of adaptation. Although in the graph above you can see that the only one that has a dubious start is the Fenix 5, while the other sensors fully coincide. The Garmin joins the party at about the 15th minute, starting the coral from that point.
Everything works perfectly until the hour and a quarter, when the Fenix 5 is once again on the loose, but quickly returning to the right path.

I've extended the zone around the 45th hour of activity, where I stop to do a refreshment. It seems that the Garmin is still in the mood for running and as you can see, it marks around 30 pulses more than the rest of the sensors, although before running again it recovers.
The rest of the training continues in the same way, almost without major objections. When there is not much variation in intensity there are usually no problems of any kind.
Proof of that is this other workout. Constant cruising pace, flat and no change of pace. Result? Not a single snag.
It's something I've seen repeated in every training session of this kind I've done. Here's another example.
In general, in most of my trainings these are the results that I have been able to appreciate. Except for small moments the record is always identical to other sensors. At least as long as there are no complications with changes in intensity.
The real Achilles' heel of optical sensors is the change of pace. As an example, this training series on slopes.
There is not much to say about this. The Garmin was not precise in just one of the intervals. In all of them it arrived late and left late. I attribute this to the weight of the watch, because despite the difficulty it presents, in the end the more than 80 grams are noticeable in the movements. In other lighter watches I have been able to obtain better results, as in the Garmin 735XT or the Vivoactive HRWhatever the case, there is no excuse, the performance in intervals is simply poor.
Let's move on to another type of activity that has always posed another obstacle for Garmin's sensors: the bike. I'll start with this long outing of more than 5 hours. There are many points to choose from, different intensities and in general quite variable pulse.
Here we can see at a glance the complete activity. Forget about the data from the Scosche sensor after three hours. He died (the battery died) and that left that nice death graph.

We can see that the usual trend of not being too reliable in cycling is still present, but it is true that it has improved. At least it is not like before that putting the first image of the graph was more than enough. Now we can go looking for the fault (which is not difficult to find), but at least there is more precision.
Here you can see an enlargement of the first zone, about the time of training. It coincides with a period of descent where I decrease the power, and with it the heart rate. Although it seems that the Fenix 5 is not mentioned.
It recovers for quite some time, with about another hour when it fully matches. Until about the third hour there is a disruption, but in this case it is general. None of the three sensors match in the log, especially in the final part of this enlargement. Coincidentally, at that moment I am standing there taking some pictures and sending some messages, so there is not much activity from my side.
I don't know which of the three sensors would make the correct record, but I'd be inclined to think it was the HRM-Run connected to the Edge 520.

A partir de ahí sólo hay dos gráficas a comparar, pero vemos que los datos son similares a lo visto anteriormente. Más o menos está en el mismo rango, pero aquí el «más o menos» no sirve de mucho. O tienes un buen registro o no lo tienes.

Here's another bike workout, this time shorter and with a more constant intensity.
The result is very similar. There is almost always a match, but it is not perfect. I can still see that the new sensor has slightly improved in its cycling aspect, but for training on two wheels I still prefer to record the heart rate data with a chest sensor.
In short, I think Garmin has taken a step forward with the new sensor, which now uses less energy and not only allows a more constant recording of the heart rate at rest, but also offers a good range despite training by recording the pulse on the wrist.
When riding your bike, its reliability has improved, although it is still far from being totally reliable. The same goes for intervals, when it is always better to have a sensor on your chest. But for training without intensity variation or races? The data from the optical sensor seems perfect to me.
I'm still anxious to see when Garmin will step up and activate the optical sensor for swimming. Suunto has already done so in the Spartan Wrist HR.
File Comparison
The above are just some of the examples I have extracted from the different activities, but if you want to take a look for yourself and analyze the data more thoroughly don't worry, I also allow you to do so. It's perfect for you to review pulse sensor and GPS data.
You can find the links below, and I'll tell you what each of the activities is:
Compatibility with external sensors
Aaaahh, sensors... Because what we can record just with the watch is never enough. Well, here comes another important innovation in the Fenix 5. And that is that after a long time, these new Garmin models are the first to receive compatibility with external Bluetooth sensors.
Of course the compatibility with ANT+ sensors continues, that hasn't changed, just now the possibilities are bigger. In the ANT+ sensors section all this is what you can add:
And that's just the ANT+ sensors, plus the new possibilities opened up by Bluetooth Smart sensor support.
Whatever you have around the house, you can pair it with the Garmin Fenix 5.
What you need to keep in mind is that, unlike ANT+, Bluetooth Smart does not allow the sensors to perform more than one connectionIt has a master-slave relationship, so a slave (the sensor) can only connect to one master (the watch). You cannot use a Bluetooth pulse sensor simultaneously with the watch and an external application (such as an app on your mobile phone or computer, like Zwift).
But the watch (the master) can connect to several slaves simultaneously, because each of them occupies a channel, so you can have a pulse sensor and a footpod paired simultaneously, both via Bluetooth, without any problem between them.
On the other hand ANT+ does allow sensors to be connected to a multitude of devicesANT+ creates a communication network, so all devices belonging to that network will be able to read your data. In theory Bluetooth 5 will change this way of operating and will be similar to ANT+, but after many years of promises until I see it I will not believe it.
You don't have to choose between ANT+ or Bluetooth as both connections will be simultaneous, so you can wear a Bluetooth pulse sensor and receive data from an ANT+ potentiometer at the same time, for example.
You'll see that I've made specifications for the memory pulse sensors, because while ANT+ has a standard for accessing data stored in the sensors, there is no such thing as a Bluetooth standard, and each manufacturer does it differently. So even though Suunto Smart Sensor or Polar H10 sensors have memory for recording heart rate data, each manufacturer does it differently (and proprietary) with their devices. So in the case of Garmin, you can't take advantage of these Bluetooth sensor features, and they will only display heart rate data.
Connectivity and WiFi
Although I have mentioned it before, only models with sapphire glass have connectivity WiFiSomething that was previously present in all the Fenix 3 models has now been reserved for the top-of-the-range models, as a way of giving those models a certain exclusivity, beyond the glass material.
If your goal is to get a Garmin Fenix 5 or Garmin Fenix 5S with mineral crystal for a price, I don't consider the lack of WiFi to be a determining factor. It doesn't offer any extra limitations, nor does it make synchronisation much faster. It can be relatively more convenient, since after training and returning home as soon as you pick up your phone, you'll see that the activity has already been synchronised.
What you will find in all models is the connectivity Bluetooth SmartWith applications available for iOS, Android, and Windows Mobile, Garmin makes sure you have the phone you need to use and update your watch wirelessly - as long as your phone has Bluetooth Smart and is updated to a firmware version that supports it. Which today, unless you have an older phone, is all models.
And another thing that the Bluetooth connection allows us to do is to be able to show notifications from the mobile phone. Calls, text messages, Twitter notifications, Facebook, WhatsApp... whatever. Everything happens through the Garmin Connect application, which you must have installed on the phone (the pairing is done with the Garmin applicationYou can even control the music on your phone (but not play it from the clock, as there is no possibility to do so as the TomTom Runner 3).
These notifications are displayed on screen as soon as they are received, and will be present for a few seconds where you can either mark them as views (removing them from the notifications on your phone) or access the notifications widget and view them all together.
What you can't do is interact with them in a more advanced way than you can with an Apple Watch or Android Wear.
Garmin Fenix 5 or Suunto Spartan?
If you are a regular visitor to the site, you will know that I don't usually make this kind of comparison. Giving recommendations of this kind, although many of you ask, is not what I like to do most. Each user has certain requirements, certain uses, predilections and previous experience with one or another platform. Moreover, I try to clarify this in the purchase recommendations.
Telling you that X or Y is better would be lying to you, because two different people don't have the same needs. It's like asking what's better, a villa in the suburbs or an apartment downtown. Well, it depends...
I still want to give you my overview and I take the opportunity to answer this question that I know will be asked in the comments on many occasions. So I work that I save.
Obviously, in terms of quantity and depth of performance, there is no colour. Simply the Garmin Fenix 5 is superiorThere is no room for discussion, if we look at the data sheet and the amount of things that one and the other can do the superiority of Garmin is overwhelming.
But this is where we come to the important part: what are your requirements? Because what I need may be very different from what you need. And the use I make varies greatly from what any of you do. Do you only run? Are you a triathlete? Is cycling your main sport? What do you give more importance to? Do you already have sensors of a certain type? The final choice may depend on these and many other things. Today hardly any more bad watchesbut there are still bad choices.
In this case I have the comparison very up to date, because I am preparing the tests of both devices practically at the same time. I am training with both watches and I wear both on my wrist when I am not doing it (and now the Spartan Sport Wrist HR).
From Garmin we can undoubtedly highlight the amount of metrics and information No other watch to date has provided the amount of information that the Garmin Fenix 5 does. Still, as a source of data while I'm training I've always preferred to look at the Suunto. The size and visibility of the screen, especially at night, is what has won me over.
The lighting is more powerful, the difference in resolution in favour of the Spartan is noticeable and the five field data page of the Suunto is simply perfect The lap handling it does, separating the automatic laps from the manual ones and being able to have a page that shows the data of the last ones, is brilliant. These are all things that I would like to see in the Garmin, as well as the power or heart rate charts in Suunto activity (which of course, I would also like to see in configured profiles and not only in the predefined ones).
And I should also point out that the Spartan is compatible Stryd sin «artilugios» extras. En Garmin precisamos de aplicación o campo de datos de Connect IQ. Aunque suficiente, no ofrece todas las posibilidades que sería posible ofrecer si se trata como un medidor de potencia (muchísimos más datos entre los que elegir). Aunque el Fenix 5 sí permite usarlo como medidor de potencia y footpod de forma simultánea, algo que Suunto todavía debe resolver.
The Movescount platform is also more enjoyable for me to use. Garmin Connect is very good and complete, but the continuous addition of features makes it need urgent cleaning and give more clarity to all options. It is time to think about a redesign of the website.
Despite this, if I had to choose one as my unique device (I repeat, as far as I'm concernedeach of you will have other needs), no doubt I would choose the Garmin Fenix 5And it has nothing to do with the additional services it offers, which, although welcome, I do not consider to be a determining factor in purchase.
So why would I keep Garmin? Simply because of the ANT+ and the handling of the sensors. I hate that Suunto can only store one sensor of each type (I can't have a power meter and Stryd paired at the same time, so I can't use both in a triathlon. Or that every time I change bikes I have to search for sensors). If Suunto decided to offer ANT+ support again, as Garmin just did with Bluetooth...
As a watch for training on the asphalt or in the mountains, it's the Suunto that I'm most comfortable with. Even though the GPS performance is currently better on Garmin (although this may change in 6 months' time... or not), I'm more comfortable with the way the Spartan displays the data. Does this mean that Suunto is better than Garmin? No, just that TO ME I find it more enjoyable to use, even despite the difference in performance, but in the end I value the whole package.
But when I do other sports everything changes. In open water swimming there is simply no colour, the data provided by the Spartan is practically useless and the management of power meters in cycling is not satisfactory. In swimming the Garmin Fenix 5 I like more how it records data, although the Suunto does not do badly, but the possibility of separating the series manually, or exercises, seems better to me in the Garmin.
Therefore, for my specific use and globally (because I repeat, in the end I value the whole package), clearly the Fenix 5 is better resolved. And for yours? Well, only you can know.
Opinion Garmin Fenix 5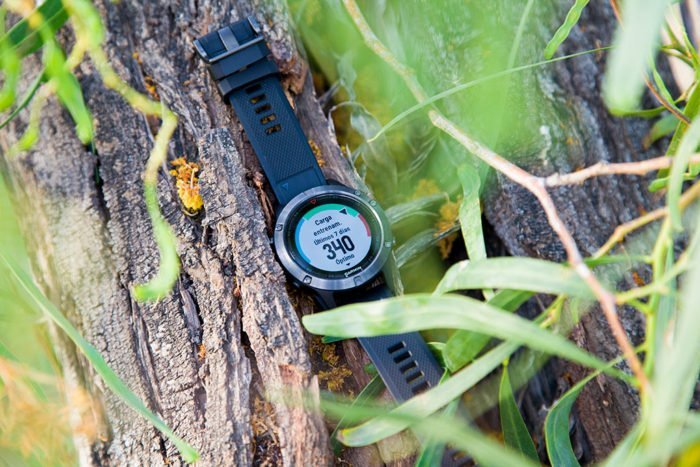 If you were expecting revolution You may be disappointed in the Garmin Fenix 5, but it's not a good fit, it's an evolution of what was offered by a Fenix 3 that was already in a very good place. In fact, if the Fenix 5 hadn't been released, the Fenix 3 would still be selling just as well, I have no doubt. But Garmin has chosen to make a splash on the table by improving what was already a good product, creating probably the best product they've ever had, both in terms of performance and build quality.
The last few weeks have seen significant growth in the Connect IQ platform, with new possibilities being added. For example, integration with Training Peaks or Wikiloc. Ahora ya es una plataforma que lejos de ofrecer meros reclamos promocionales, ya tiene aplicaciones interesantes que de verdad amplían las posibilidades de uso de los relojes. Por tanto es otro factor más a tener en cuenta, sobre todo en este mundo en el que estamos rodeados de «apps» por todas partes.
Despite having added more features to the Garmin watch, it has managed to simplify its use, something that is not easy given the long list of features it offers. For example, all the new features it presents with physical performance metrics (which is undoubtedly the main attraction of the Garmin Fenix 5), is almost entirely integrated into one easy-to-use screen.
Maybe you had a Fenix 3 in mind (or own one) and are thinking of making the leap to one of the new Garmin Fenix 5 (5, 5S or 5X). Will you find any big differences? There's nothing that makes a big enough difference to say directly that the change is worthwhile, but there are small changes in so many areas (sensor, size, increased speed, better display, new metrics, new version of Connect IQ...) that make opting directly for the Fenix 5 worthwhile, at least as long as the high price of the watch doesn't pose an insurmountable barrier to entry.
Buy Garmin Fenix 5, Garmin Fenix 5S or Garmin Fenix 5X
I hope that this complete analysis has helped you to decide if it is a valid device for you or not. All the work I do you can consult it without any cost, but if you want to support the web and with it the work I do, the best way to do it is buy your new device through the links I provide below. And if you don't buy it today, remember to stop by when you do!
Through these links not only will you get a very competitive price and the best customer service, but I will also receive a small percentage without costing you any additional outlay, which is what allows me to continue offering you proofs like this on the page.
If you have any questions, remember that you have the comments section at the bottom, where I will try to answer all your questions.
---
---
---
---
---
---
Help the site
This page, like any other page you see on the Internet, needs to be compensated in order to continue to function. If you make your purchase through the links on the web you'll be helping out the blog a little bit and becoming part of the Running a Marathon family. It's a small family, but it's cool!
This is the only way the blog generates some money (apart from the cents that come from Google advertising), as there is no consideration from the brands. The only income comes from the purchases that you, the users, make through the links provided.
If you liked the analysis, don't forget to share it on your social networks. Not only will you be helping me, but you will also be helping your friends find this page.
Thank you for reading, and especially for supporting the page!