The Fitbit Charge 2 comes to replace two models with one product. The Charge 2 is the replacement for the original versions: Charge and Charge HR whose difference was that the HR version included the optical pulse sensor. Well, in the new Charge 2 you will find this optical sensor by default.
No big news, but a major change in screen size and quality of materials used.
The bracelet for this test has been temporarily loaned by Fitbit, so after completing the test it will be sent back the way it came. It's important that you understand this, because the tests I perform and my opinions of the products are totally independent, there is no remuneration of any kind from the brands.
Remember that if you want to show your gratitude for the tests I perform and want to help support the site, you can buy the bracelet through the links I provideThat way I get a small commission for each watch, which allows this website to continue and covers some of the work I do on it.
I've been wearing the bracelet on my wrist for a little over a month now, so we know each other very well. Ready to know EVERYTHING you need to know about the Fitbit Charge 2 and no one has told you?
Unpacking
Inside the Fitbit Charge 2 box there is not much content. It is not excessively large.
This is what you'll find inside: The bracelet, a few user guides and the charging cable.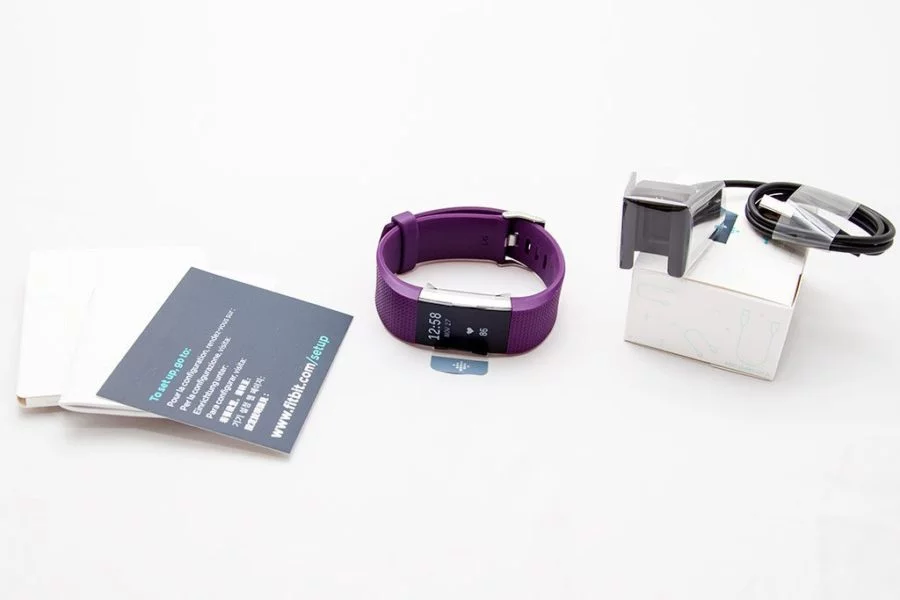 Fitbit Charge 2 is very similar to the first version of Charge, both in design and in the texture of the strap.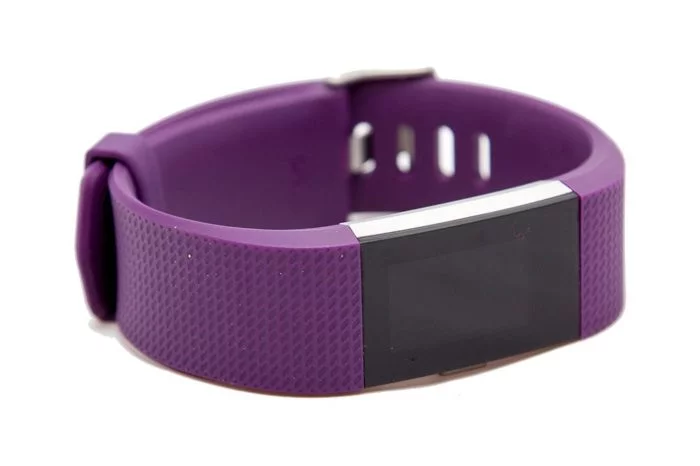 There is only one button with which you can control the bracelet, but there are several ways to interact: short presses, long presses or touches on the bracelet itself.
But the design has improved. Everything is now dismantled. The activity monitor is only the central part, while the strap can be easily replaced thanks to a clip on each end. Not only to replace it in case of wear, but also to change the aesthetics, as Fitbit offers many different straps in both texture and colour.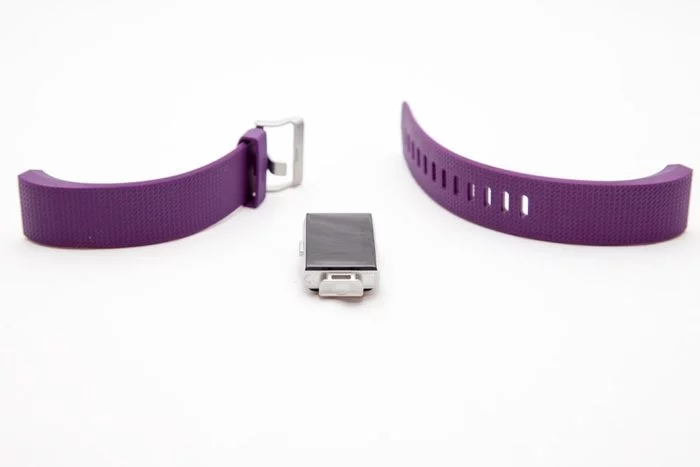 On the back you'll find the optical pulse sensor. No news, being the same hardware Fitbit has used so far. A generous sized sensor with a couple of green LED's. Underneath you'll find the charging pins.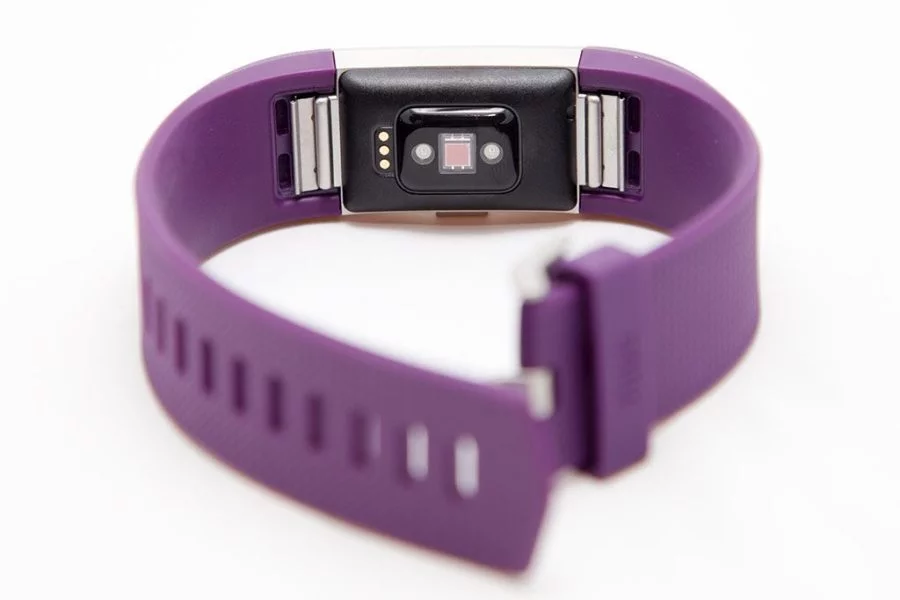 And speaking of charging, the clip is bulky, holding the bracelet well. The main button itself serves as a guide, so it's easy to fit it in the right spot.
So once we've gotten to know the bracelet on the outside, it's time to talk about the basics of the Fitbit Charge 2.
Fitbit Charge 2 basics
The Fitbit Charge 2 is, in essence, a product quite similar to what is currently on the market. Fitbit Charge HRThere are some slight changes to the software as well as a slightly different design, but nothing exaggerated.
There is only the possibility of getting the Fitbit Charge 2 in its version with an optical pulse sensor, there is no more economical version without this option, but this is normal, because what was once a novel option has now become an almost basic feature.
With the renovation of the bracelet, aspects of the finish have changed, mainly the screen, which is now much larger. Its technology is still OLED, allowing several lines of text to be displayed.
Although Fitbit's advertising is advertised as a touch screen, it is not. It does respond to touches on the wristband, but not on the screen. It cannot be slid to change between screens, but responds to touches on the screen thanks to its internal accelerometer. In other words, more than touching the screen, we must touch it.
The main control is done with the side button. By pressing it briefly we switch between different options (pulse, training, stopwatch, etc), while if you hold it down you start an activity or access the menu in question. But we'll see that later.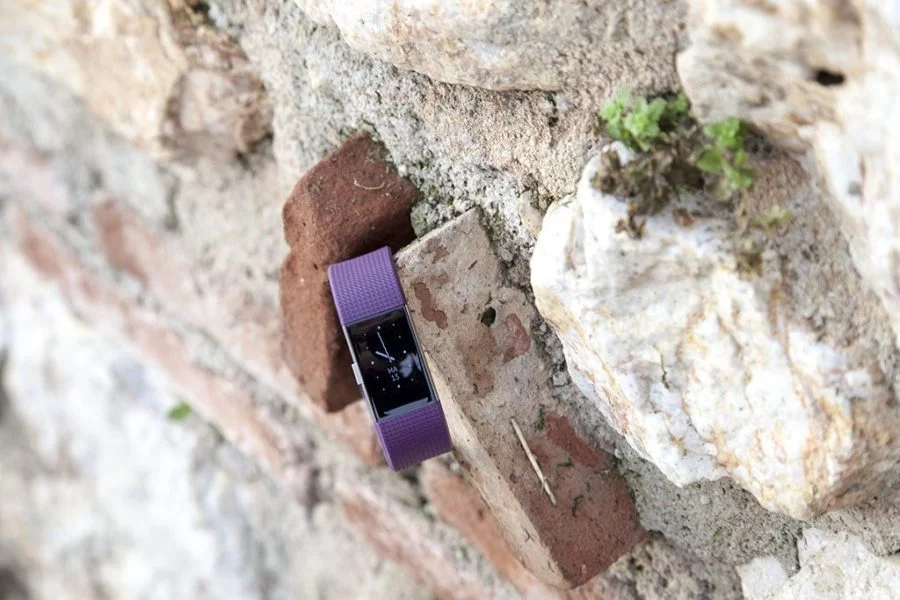 The pulse sensor is Fitbit's classic, allowing a constant monitoring of the pulse during 24 hours. It is the main differentiating factor with respect to the competition, that which stands out the most.
In short, an activity bracelet is composed of several functions:
Activity monitoring (day and night)
Recording of training sessions
24-hour pulse monitoring (if equipped with optical sensor)
Notifications
How about I go through these basic functions? Let's do it.
Activity monitoring
The main function of this type of bracelets is to monitor your daily activity, so Fitbit Charge 2 was not going to be less. This function is always active, always "listening". It estimates your activity level by calculating your daily steps, which it translates into distance traveled and calories burned (in conjunction with heart rate data). In addition, thanks to the barometric altimeter it is equipped with, it also allows you to count the number of floors climbed by stairs (no more elevator cheating).
The basic data of the activity is displayed on the main screen. Through the phone application you can set the clock display to show different options.

There are options that include basic activity data; and others that are more aesthetic but offer less information. But whichever one you choose, you'll be able to see all of the day's activity data by touching the screen and switching between the various display options.
The bracelet is always connected to the phone, so it will constantly update the activity data. It is in the Fitbit application where you will find more specific details of your activity.
You can even see your heart rate data at that very moment. This is the bottom right-hand box that you can see in this screenshot (at that moment, 57 beats per minute).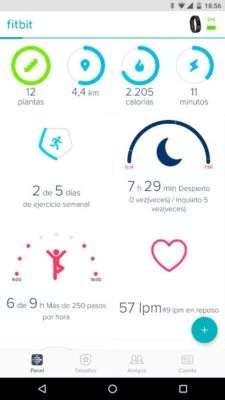 You can also check the activity data on the Fitbit website, but I find it less intuitive than the application, and it's obviously always more to hand.
If there is one thing Fitbit does a very good job at, it is notifications for goals reached. In many cases, it is common that you pay attention to your activity tracker during the first week. Even two weeks. But after that time you end up not even looking at the activity and wear the monitor "by default".
Fitbit always tries to keep you motivated with notifications of goals achieved, but not goals that require your intervention to program them, but automatically. Something like medals and awards,
In the application you will also find the new challenge function that Fitbit launched a few months ago. Virtual routes through special places with hidden secrets that, as you accumulate steps, you will be able to discover in images and challenges.
These are different ways to promote your activity in different ways, trying to give you excuses to go for a walk. Something very smart, because it goes beyond the traditional "go for a walk, I'll give you a medal later".
And if we have activity monitoring during the day, there is also sleep monitoring. No special options need to be activated on the wristband, but when the data is synchronized to the Fitbit platform, it will be your own servers that will interpret what is activity and what is rest period.
You can see all the details of your dream in the application itself.
And if you select any of the days that appear you will be able to see in detail how the night has been.
Sleep goals" can be programmed. That is, try to sleep for a certain amount of time. The application will detect your usual wake-up time and your average sleep time, so you can try to increase it by programming a notification (on the phone, not on the bracelet).
This notification will simply remind you that it's time to go to bed, nothing more. Additionally, you can directly program a vibration alarm to wake you up at that time that it has automatically detected.
But there is no "smart" function that determines when it is best to get up. Something that seemed to be the latest trend a couple of years ago seems to have been forgotten. The truth is that in my case, when I have used devices of this type, they have never woken me up when it was most convenient for me. But of course, it's always annoying to be woken up...
But the vibration of the bracelet is powerful enough to wake you up from your deepest sleep, and the good thing is that it's totally silent, so if you don't sleep alone, your bed partner doesn't have to know that it's time for you to get up, but not necessarily for the rest of the family.
Train with Fitbit Charge 2
With Fitbit Charge 2 you can not only track your daily activity, its other main function is to monitor your workouts. There are two options for recording your workouts: automatically and manually.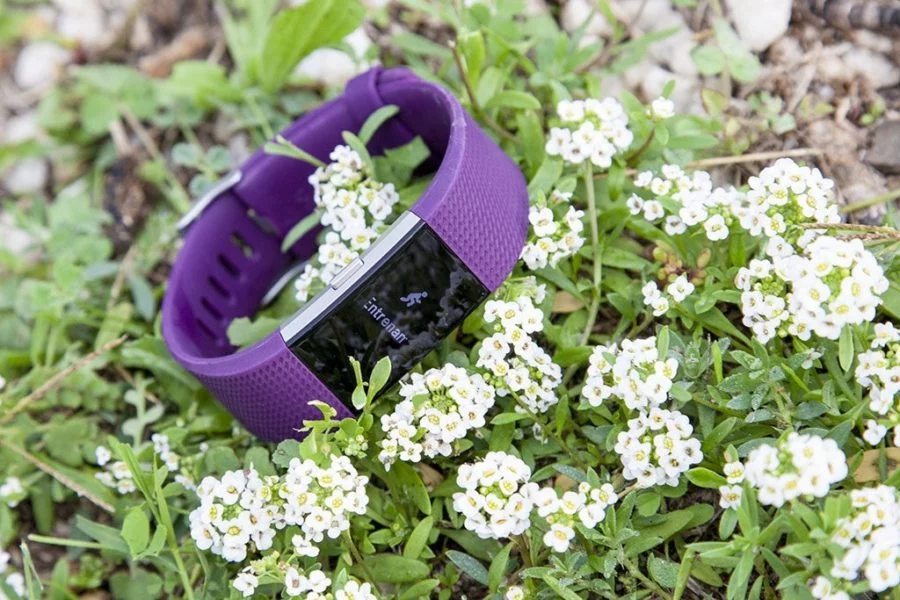 SmartTrack function
The automatic recording, called SmartTrack, was already present in the Charge HR. This function allows you to automatically recognize certain exercises, appearing in the list of activities separately. The information provided is not very high, although you will have basic data on heart rate, steps and calories consumed.
The example you see above is for an 18 minute walk. At no time did I activate the training function to record the activity, it is the Fitbit service itself that identifies it.
But it is not the only exercise that it automatically recognizes. It also recognizes races, when you ride a bicycle or when you use an elliptical trainer. In each of these cases it will label the activity with the sport practiced. If you are doing another sport with movement, such as basketball or aerobics, it will identify a sport activity but without specifying what it is.
In order for these activities to be recorded independently from the rest of your activity, they must last at least 15 minutes. This is the default setting, although it is possible to change this setting in the application options between 10 and 90 minutes.
It is a function that is very useful when you are doing activity, but it is not a training in itself, so if you are just walking or going to work by bike you can count the activity, without being a sport in itself. Constant quantification
The screen of your Fitbit will not show any indication that it is recording activity, nor will it show specific metrics. The identification of the activity is automatic by the server, after synchronizing the different data and analyzing the movements.
Training Modes
When it comes to training, the main novelty we found in the Charge 2 is that, while in the Charge HR we simply had a generic training mode that encompassed all activities, in the new wristband we can choose up to seven different sports on the wristband (which can be defined through the application).
This way you can specify what you're training at any given time (so you can see it later in the application) and even configure if you want to use the GPS for any activity, such as running, outdoor cycling or hiking.
You can make the configuration and order of the activities that will be shown on the wristband from the application.
It allows you to change both the sports available and the order in which they appear in the options. And to the sports you see in the two screenshots above you can also add walking, tennis and pilates.
Some of these sports modes allow you to use your mobile phone to obtain GPS data and include it in the activity. Specifically, it is the running, walking, hiking and cycling modes that allow you to do this. The wristband does not have a GPS receiver, so it will use the mobile phone's GPS to obtain the data.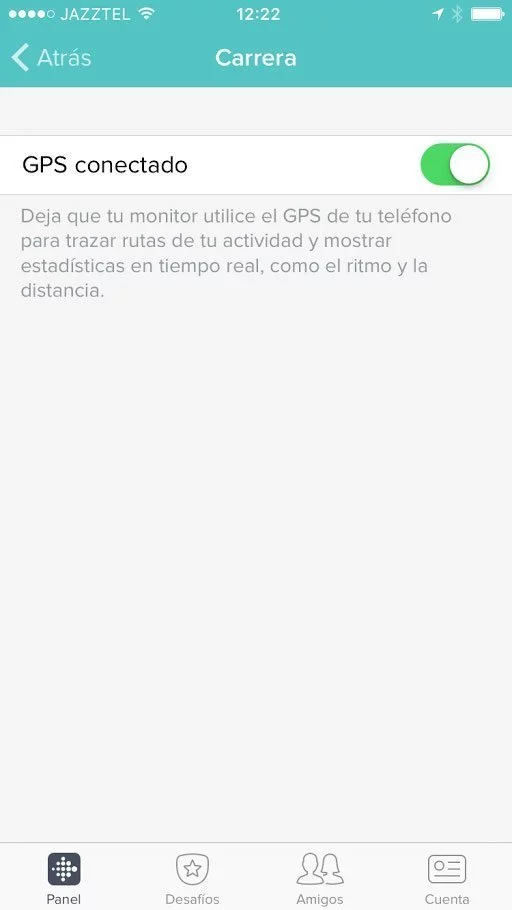 It is a function similar to the one offered by Fitbit Blaze, allowing you to have more accurate data on distance and pace than if you did it only through the internal accelerometer.
Once you have configured the different options it provides, it's time to start training with the wristband. To do this you must go to the training option (three touches of the button if you have not changed the default order) and you will find in the first sport you have chosen to practice, in my particular case running (which is also the default).
If you hold down the button it will start recording the activity. At the top of the screen you can check whether you have GPS data or not. In the first case a picture of a phone is displayed and in the second case the phone is crossed out.
This is the only way to know if you will have GPS data in the activity, as there is no previous step that indicates this, so first you must start the activity and if there is no connection, stop it and find out where the problem is
While you are training you can alternate between the different training screens by tapping on the screen.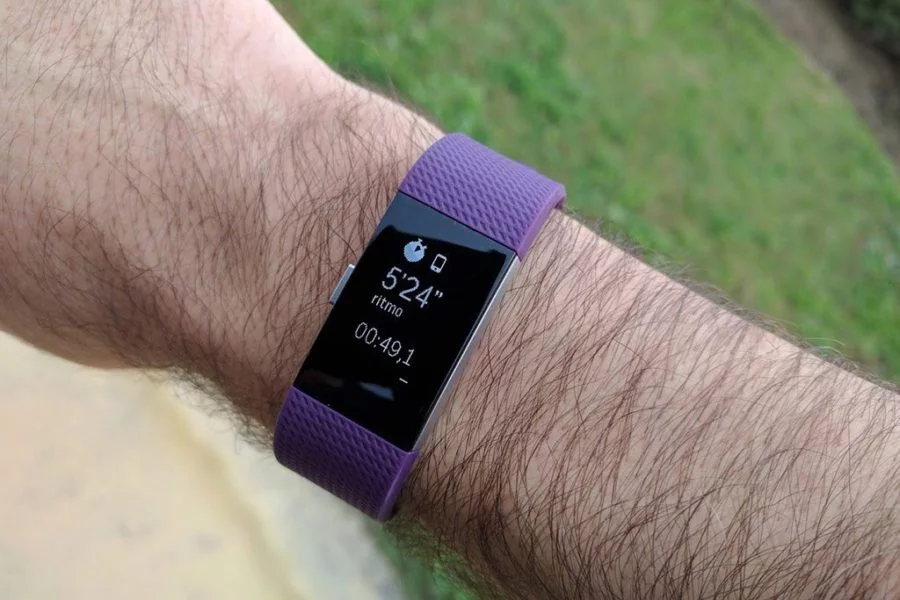 The data displayed is the default and does not allow you to change any of the order or information displayed. By default, the duration of your workout is displayed on the bottom line, while on the top line you can alternate between heart rate, instantaneous rate, average pace, calories burned, steps, time of day or distance traveled.
This is in running, obviously in other activities such as weights no data on pace or distance will be shown.
When you finish training you just have to press and hold the button to finish. Different screens will be displayed with the summary of the exercise and, as you can guess, you can consult all of them by simply tapping on the screen. This is how it is shown (although it is not a "normal" workout).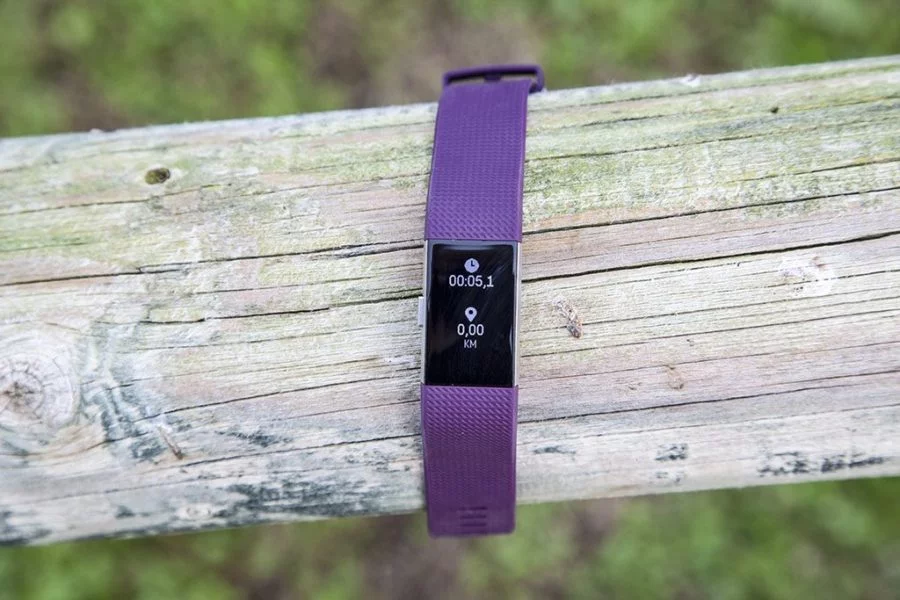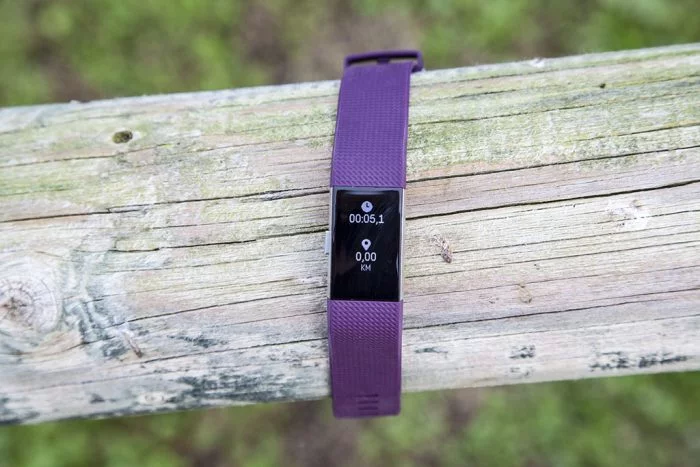 This data can only be seen on the wristband when you finish training, as there is no history option that summarizes the activities you have done during the day. To find out all the details again, you must go to the application or the website.
The representation of the workouts in the Fitbit application is basic. It is designed for a less demanding user who is not going to make a detailed analysis of their workouts. But if you want to go further Fitbit offers you the possibility to download the activity file and import it into any other analysis platform, as the file format is TCX (a widely recognized standard).
There is a specific interval training mode, which can be configured through the mobile application. Its operation is extremely simple and, although it allows the use of GPS (i.e. it can be used for running intervals), in my opinion it is more intended for other types of training.
For example, it is not possible to set a warm-up or cool-down period, which is a basic feature of any interval session in cycling or running. All it allows is to set the work period, a rest time and the number of repetitions. And although there is an "Add" button to create new steps, you can't make use of it.
What you see on the screen is what you can do. I see it more for gym sessions than for any other kind of outdoor training.
As for the GPS, I won't dwell on it too much, as it depends on many aspects, none of which are directly related to the bracelet. The GPS on your smart phone can be good - or bad -, or it can be carried in a good position on your arm or bike - or hidden in a fanny pack - so you can have good graphics like the one you've seen above, or calamities like this.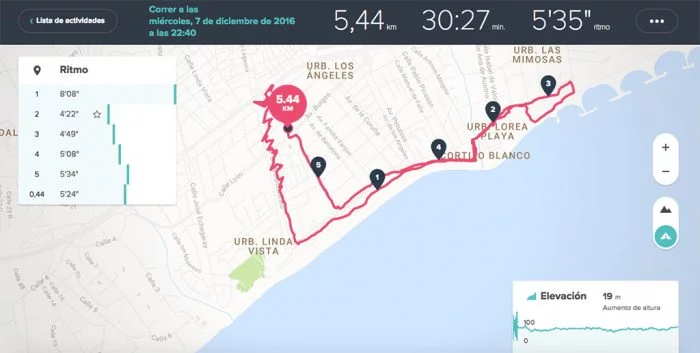 Is it Fitbit's fault? No. He was just carrying the phone in a place not too suitable for satellite signals and with no intention of having good rhythm or distance data. He was just carrying it because he could use the activity file for heart rate chart comparisons.
Because if the activity has no GPS data, the resulting TCX file has no valid standard and no heart rate data, so if I want to be able to compare charts I need GPS data - good or bad.
Finally, another new feature of this model is the possibility of displaying aerobic capacity level data. This is how Fitbit refers to data from VO2Max or oxygen consumptionIt is a data that does not show you the bracelet, it simply appears in the application. And it does not save the record over time either.
As for the data itself, I probably need a little more time to get more accurate, because my VO2Max is right now around 58-59, which is the same as other Garmin, Suunto or Polar devices.
24-hour pulse monitoring
It is at this point that Fitbit continues to shine, as the recording rate is constant, namely every 5 seconds, something that no other activity monitor is capable of doing. For example, the Apple Watch S2 does it every 10 minutes, or Garmin Vivosmart HR variably but every few minutes.
Logically, this constant recording rate has some impact on the battery life, but it is capable of holding up to 5 days between charges. And don't worry about forgetting to charge the wristband, because another of Fitbit's highlights is its notifications. Not only will it warn you on the screen of the wristband itself, but you'll get a notification from the application as well as receive an email from Fitbit indicating that you have to put the wristband on charge.
But let's go back to the constant monitoring of the heart rate. Obviously that's something you'll see on the bracelet itself. There you have access to the heart rate at that moment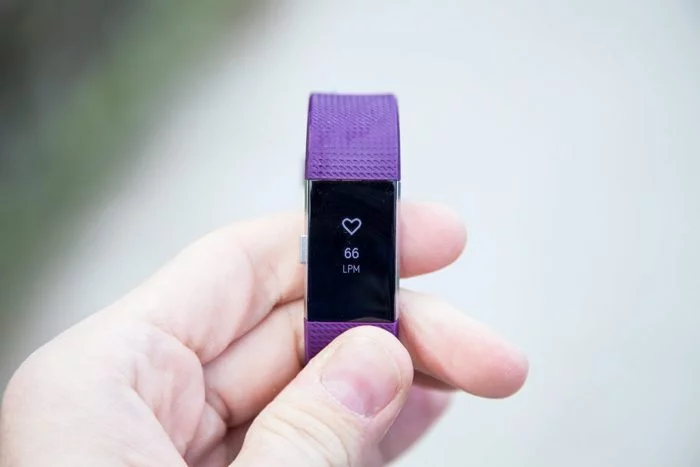 And if you tap, the sock at rest during the day.
But it is on the Fitbit platform where you will have access to all the data, with complete graphs where you can check when you have had more activity during the day and more importantly, if you have any kind of heart condition when you have had a higher heart rate without having done any kind of exercise that justifies it.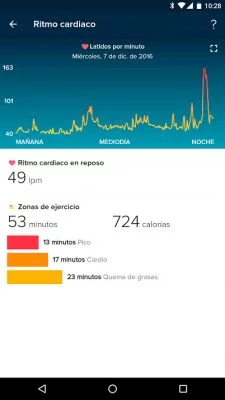 In the application you will also have the resting heart rate recorded for each day, along with trend graphs over time.
In general I find that the resting heart rate measurement has very reasonable values, similar to what I am used to seeing and checking with other devices.
As for the heart rate at rest, Fitbit does it a bit differently. We are used to our heart rate at rest being the lowest value we can reach, usually as soon as we wake up. Or even when we sleep, that when we are lying down and relaxed our heart rate goes down. In those conditions my heart rate can reach 39-40 beats per minute, however Fitbit indicates that my heart rate at rest is higher than that.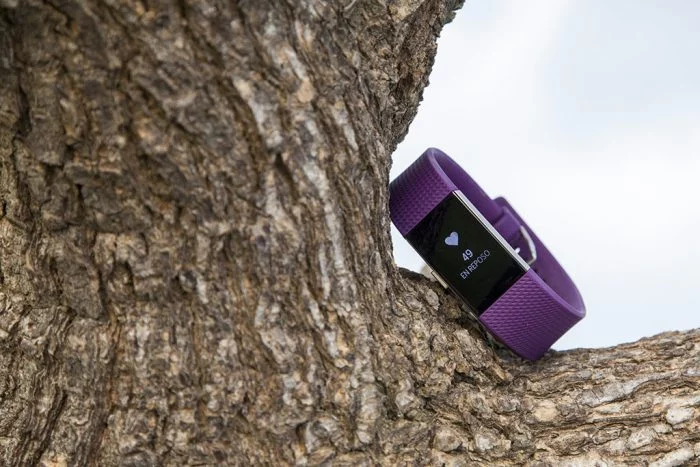 The reason is that they average out the pulses, and only when you are awake. So there may be times of the day when I am awake, relaxed and have a heart rate of 42 pulses; but it will indicate that my resting rate for that day is higher.
It's just another method of calculation. Some will think it's more correct, others less accurate. The important thing is to maintain linearity at all times so that the data can be comparable. So for my part, fine. Except that I can only compare the data with the same data collected by Fitbit, not in any other way.
Charge 2 Optical Pulse Sensor
Registering the pulse at rest is simple, as the noise to be filtered out is less and there is less movement at the wrist. When exercising, the complications for the pulse sensor are greater: movements, vibrations (or lack of them), changes in the terrain, wrist rotation allowing light to enter the sensor area, etc.
Any optical pulse sensor in a cheap device is capable of giving more or less accurate resting heart rate data. Another thing is when we're playing sports. That is, any smart watch with an optical sensor will give you consistent information while you're sitting watching TV. But running or in the gym... it's a whole different story.
So let's see how the pulse sensor of the Fitbit Charge 2 behaves in different types of activities, comparing graphs with other sensors that I wore in the same exercise. Remember that by clicking on the images you can see them at a larger size.
Firstly, a constant pace training in the lactate threshold zone. Two optical sensors (Polar M600 and Fitbit Charge 2) together with a chest sensor (Garmin HRM-Run sensor).
Both sensors start the activity perfectly, better than the sensor on the chest (which as usual in winter, until you start sweating will not have good conductivity on the treadmill). But it suffers a drop in heart rate for about two minutes that is not real. The other two sensors are fully compatible and the running pace is constant, so it is clear which one is wrong.
He recovers well and continues in a satisfactory way, until in the final zone of the training he has again some slight drops, but not as much as the Polar M600 that there is a moment that is totally lost.
It is true that not everyone will use an activity monitor of this type to train at this intensity. Don't worry, if this is your case I have a chart for you too.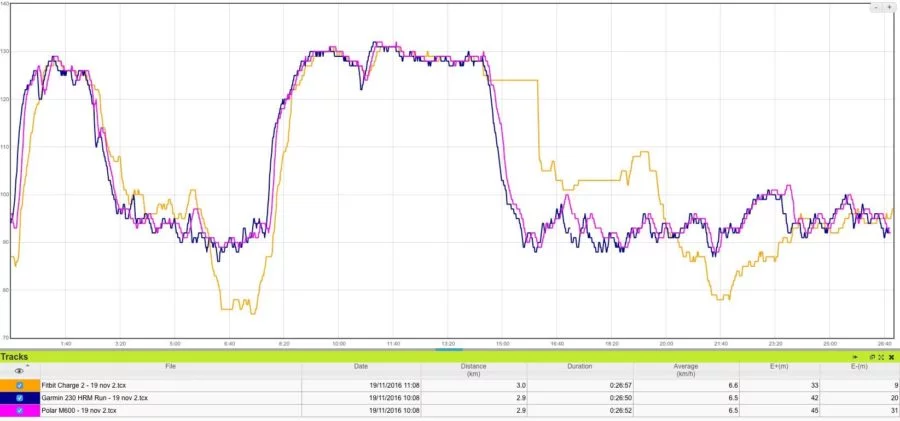 An easy jog followed by a walking period, to repeat the same procedure later. In the period of moderate intensity the recording is perfect and aligns correctly with the other two sensors, but when I lower the intensity and am simply walking there are many more variations.
There are even periods when it is not registering pulses (which is when a completely straight line appears).
Another similar test with intensity variation: the first four kilometres at a slightly lower pace and then two at a slower pace, in which case the Polar M600 is replaced by a Scosche RHYTHM+also optical.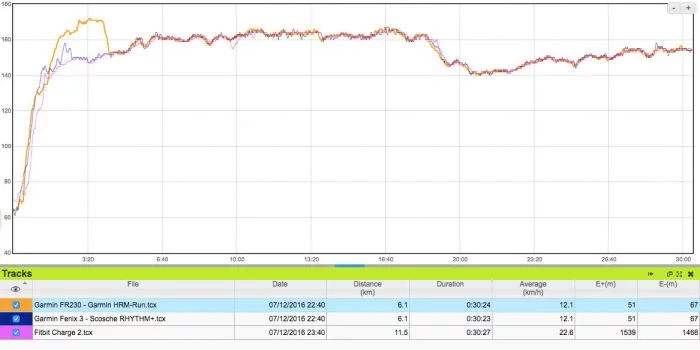 In this case it is the Fitbit sensor that starts best. In cold weather the Garmin sensor has the classic unrealistic peaks again, while the Scosche takes some time to achieve stability. From that point on all three behave perfectly.
Let's go now with a bike training. Generally the results obtained by the optical sensors when riding a bike can be improved a lot, not only because of the difference in noise that the device has to filter (the constant movement of the race is not the same as the vibrations in the handlebar), but also because of the incidence of light in the area of the wrist when it is turned to grab the handlebar.
In this case, when testing in winter, the results are more satisfactory because of the long sleeve. Not only does it prevent light from entering the sensor area, but it also helps prevent parasite movements of the bracelet on the arm.
In this workout you can see how, except for rare occasions when the Fitbit sensor deviates slightly, they are always in complete agreement - a really good result for what is usual in optical sensors and cycling.
But the truth is that in summer, with more light and without the protection of a long sleeve, the readings are much more variable. And I'm sure that the behavior of Fitbit's bracelet will be erratic as well. It's something I always see when rolling with the light off.
I have done many other trainings, but due to the problems of working with the files that Fitbit provides when there is no GPS data, the comparison is practically useless. As an example this roller training with many exercises at different intensities and working several power zones.
I can compare peaks and the number of times these peaks appear, but without a correct scale and placing one graph over another it is impossible to do so accurately. I would love to be able to make comparisons in gym activities, which is where a device of this type is usually used the longest; but even if it is connected to the phone, as there is no constant valid GPS data it loses a lot of data in the file.
In general I see a good performance, especially thinking that the type of user of Fitbit is not someone who performs interval training at very high frequencies. In continuous intensity efforts the performance is good, and in gym activities although I have not been able to make a complete comparison of graphs I have checked constantly with two or three more pulse sensors and the data was always around 3-4 beats per minute in all of them.
Although the pulse sensor is the same as the original Fitbit Charge HR, I do notice some improvement, especially when recovering in intervals or when momentarily lost and must return to the correct path.
Notifications and alarms
Notifications (rather the absence of them) is the worst resolved aspect of Fitbit Charge 2. It is only capable of notifying of calls, text messages, and calendar alerts. Nothing else.In the case of Android we can replace those text messages with some other messaging application, but only one.
If you are an Android user you will be privileged and can display on-screen notifications from WhatsApp. If you have an iPhone, you will have to go back to the 20th century and communicate via SMS.
And regardless of your platform, there will be no Twitter, Facebook, or even email notifications. But it's not just that it doesn't show you the message on screen, it's that it doesn't even notify you with a vibration or a small icon on the screen. Nothing.
Meanwhile, virtually every other manufacturer reports any and all notifications received on the phone in some way.
Something that in 2016 (and entering 2017) is so extremely basic, it seems unbelievable that Fitbit continues to struggle with notifications. And it's not that the app isn't capable of sending them, as the Fitbit Blaze does have support for notifications and both use the same syncing "app". It must be that someone at Fitbit is totally against smartphones and is still determined that we continue to use text messages and calls exclusively.
You can also set alarms, plural, because it supports multiple alarms (i.e. not just one alarm to wake you up). It also allows you to select whether you want the alarm to be repetitive or only to be triggered the next day (or later in the day).
The alarms are silent, mainly because the bracelet does not emit any sound, which is quite logical given the size of the device.
Other functions
There are a couple of additional functions that I want to touch on briefly. They are less important, but they are there so I want to detail them even slightly.
First there are the breathing exercises, a guided procedure that, in theory, helps with relaxation. There are two possible durations, of 2 or 5 minutes.
The exercise starts with the heart rate search, and then it will begin to tell you when to breathe in and out. The picture is accompanied by a graph that represents (supposedly) your breathing. It's true that if I do the test without the bracelet on my wrist - no heart rate data - this graph doesn't change, but it's easy to fool around while I'm completing the test.
As for the validity of this method to help you relax... the truth is that in my case it doesn't make a major difference. It is not the first device with such a function, so I guess it will do "something". What? I don't know, but it is not something tangible or quantifiable either. I suppose it is a method that can help those who do not have a good breathing pattern (something that is taught for example in yoga classes), and if you already know how to breathe correctly it does not bring you much more.
We have a simple timer.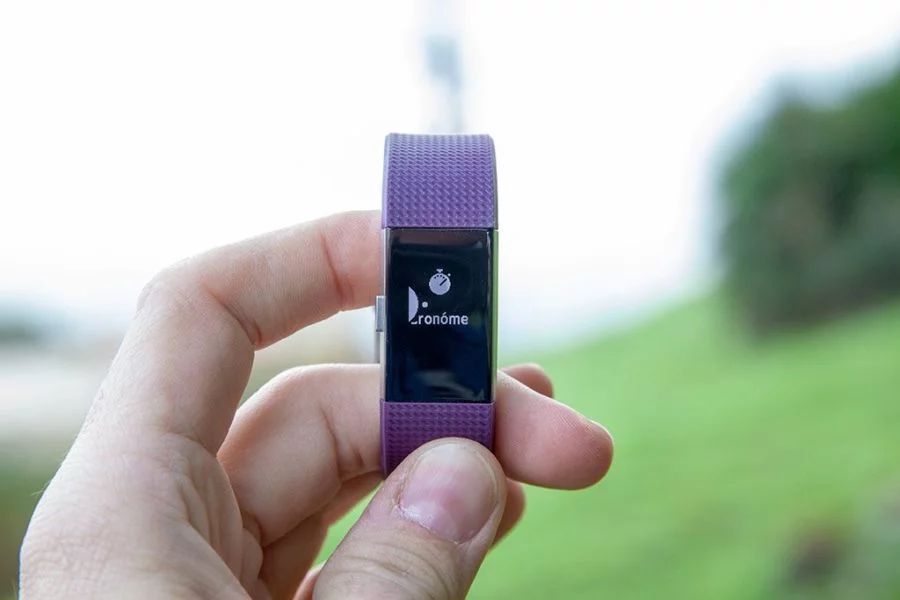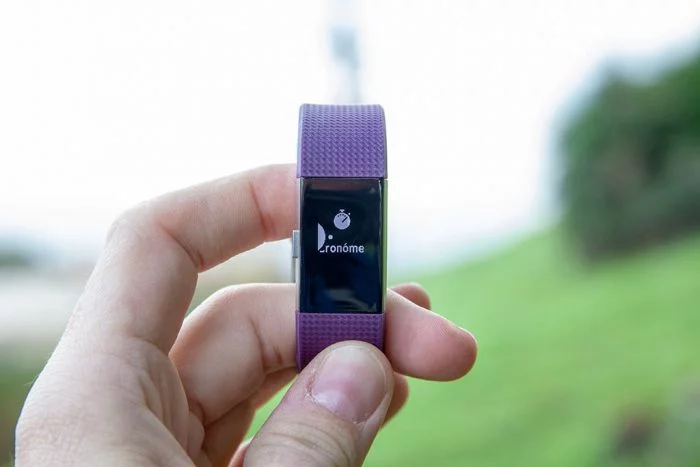 There's not much more to say about this function. You start it by holding down the button and once it's started it's paused by briefly pressing it. One more press and it continues where you've stopped it. But it doesn't have a spin function or anything like that.
Finally, I would like to point out that Fitbit Charge 2 is still not waterproof, at least officially, and I include it in this section not because it is a feature, but because there is no other specific section where to include it.
In theory the Fitbit Charge 2 is only resistant to splashes and perspiration, but the manufacturer indicates that you can't shower or swim with it on. Although when I've been swimming I haven't used it (because it doesn't give any information on swimming), I have showered every single day with the bracelet on without any problem.
Mind you, given the recommendations I wouldn't do swimming sessions with it on. But as with notifications, it seems that there is someone at Fitbit who is also against water. I start thinking and I can't think of any other manufacturer that doesn't offer water resistance in their wearable devices.
And it's not that I need an engineering study studying the case for 6 months, even 5 euro watches offer water resistance, something that Fitbit continues to ignore even though, as I said, you can shower with it (at your own risk, of course).
Accessories for Fitbit Charge 2
One of the strong points of Fitbit's latest products is, without a doubt, the amount of accessories available and the possibilities of personalization that it offers. Colored straps, sport or leather type.


These last few days I have been testing the new strap that Fitbit calls the "Sport Band". It uses the same material as the original strap, but thanks to the perforations it is lighter and has a sportier look, plus it obviously has a more breathable design.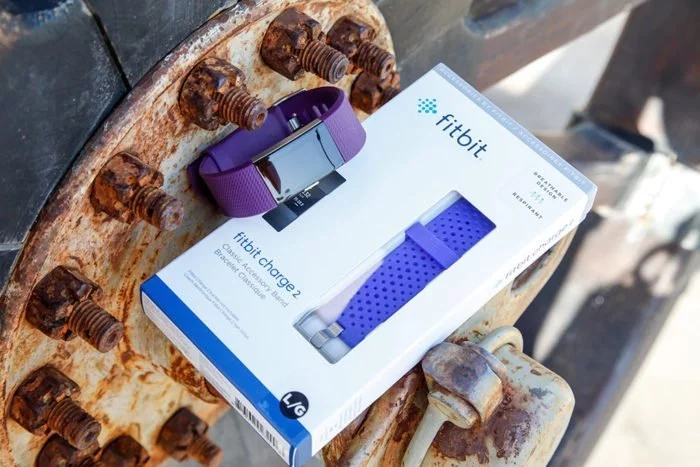 As we have seen in the unpacking, Fitbit has prepared the system well to offer accessories, as it is very easy to change from one strap to another. The activity monitor is the central part, and the strap can be removed very easily by using the hooks on it.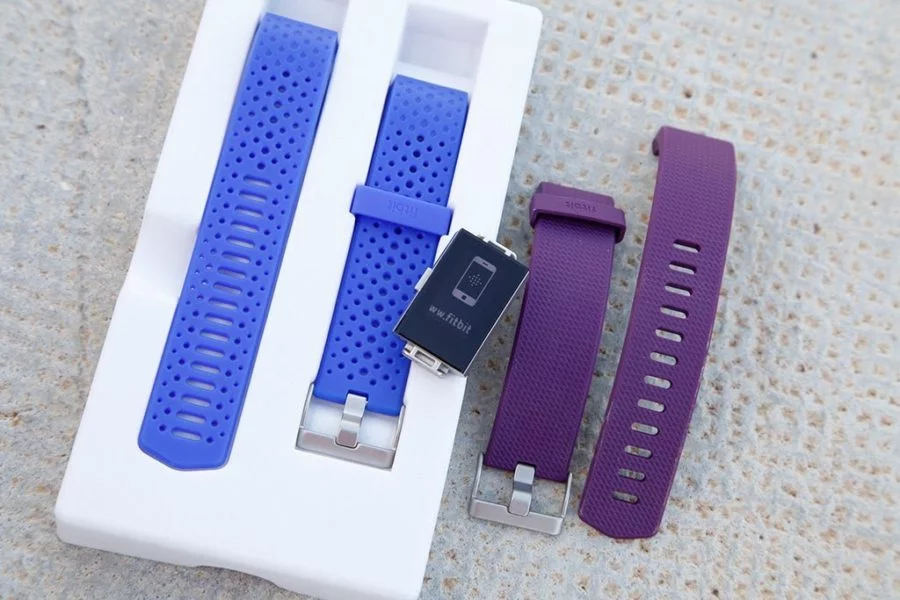 It's literal. In five seconds you have a practically new device.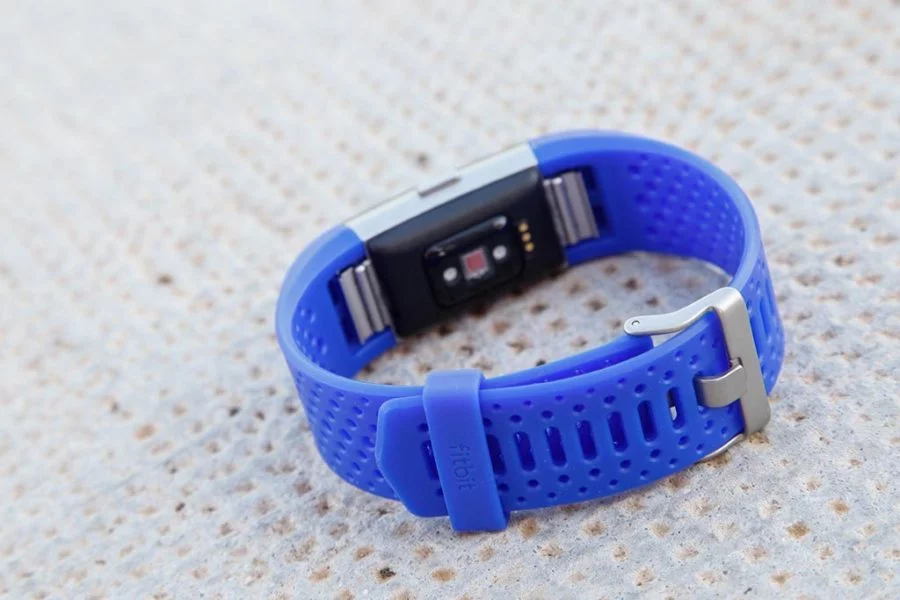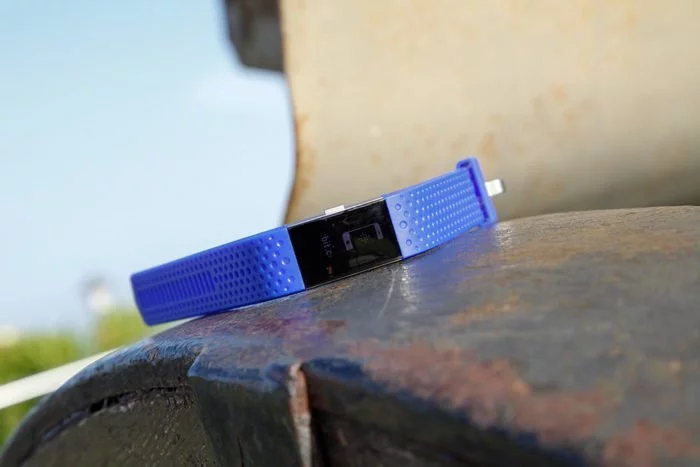 And of course, in the event that the strap breaks (which can always happen and has happened to all of us), you won't have to buy a brand new activity monitor.
My opinion
The renewal of Fitbit Charge 2 is quite satisfactory, both at the product level and the utility level. The Fitbit application is still the best, not only because of the information shown but mainly because of the different forms of motivation it offers, as well as the continuous communication with the user based on notifications (not only of the application, but also through e-mail). At this point Fitbit is one or two steps above the competition.
New sports modes, a pulse sensor that continues to provide fairly reliable data at all times, and being the only activity monitor that truly keeps track of your pulse, and the ability to connect to your phone's GPS for more accurate walking and running as well as a map of your route.
The screen, aesthetics and materials used are now better. All this adds up to a really good final product, which well 1TP10Could award it the title of "best activity monitor" without much trouble.
Unfortunately Fitbit stumbles back on the same rock. Fitbit Charge 2 still doesn't offer full protection against water and even among the recommendations are not to shower with it on (although I've done it every day I've used it without any problem, but it's something to keep in mind). I get to thinking and I can't remember any other device of this type that doesn't offer some kind of protection, even the lowest resistance. It's something that even the cheapest Chinese products have.
The second problem is the lack of notifications. You will only be notified of calls and SMS messages if you are paired with an iPhone, while if you are with Android you will be able to select other applications such as WhatsApp. But nothing else, no Twitter, no Facebook, no email...
At the end of 2016 it is incomprehensible that such a device does not cover something so basic. Someone at Fitbit is totally against notifications.
If these two points are not a major impediment to your use, Fitbit Charge 2 is one of the best options for you (if not the best) without a doubt.
Buy Fitbit Charge 2
I hope that this complete analysis has helped you to decide if it is a valid device for you or not. All the work I do you can consult it without any cost, but if you want to support the web and with it the work I do, the best way to do it is to buy your new device through the links I provide below.
Through these links not only will you get a very competitive price and the best customer service, but I will also receive a small percentage without costing you any additional outlay.
And if you have any questions, remember that you have the comments section at the bottom, where I will try to answer all your questions.
If you liked the analysis, don't forget to share it on your social networks.
Thank you for reading, and especially for supporting the page!