Suunto gives one of lime and one of sand. After the review I did yesterday of Spartan's current situationToday Suunto presents the new feature it has added to Movescount. Training InsightsThis new feature analyzes the millions of Moves stored on Suunto's servers to make analyses and determine what training each athlete has followed to reach a certain goal.
It's not to be taken as a training plan, because it's not at all. But it is a good example to know what you have to face to reach a certain goal, both in terms of concrete test and objective time.
This function is available to everyone, not only to the Suunto user. Anyone can view the data, whether or not they have a Movescount user account. There are many sports for which podemos "ask". Road or mountain running, vertical running, cycling, triathlon or even cycling power (although without weight data this last aspect is not very useful).
Suunto's data analysis procedure is as follows: they identify athletes who have performed some of the tests you specify when selecting the data and analyze their training over the last 15 weeks. But not all of those who have run a certain competition (such as a marathon), but only those who have finished in the target time you have selected. And they also eliminate those users who have not had a minimum amount of training before running a marathon (because they change their device frequently or because they have just bought a Suunto watch).
The information you can extract from it gives you an idea of how other athletes have trained to reach the goal you are aiming for. I am not only talking about being able to predict a time, but knowing if with your pace of life you have time to, for example, prepare an Ironman finishing under 10 hours.
Suunto Training Insights
This is how you will see all the data when you access the Training InsightsFor the moment I'll give you the complete capture, and then we'll change the example and go section by section.
That is, you can find out distances and number of training sessions, how many hours you spent during the week, or what heart rate ranges were present. That is, the intensity of the training sessions. Finally, a time comparison table that you can use to extrapolate. So if your best half-marathon record is 1:45, trying a 3:40 record in a marathon is quite optimistic. Therefore, when comparing yourself with others, it can help you calculate what your target pace might be.
But let's look at each of the sections separately, using a different example, which also helps me to highlight something else that needs to be taken into account. Let's look at some data to try to assault a middle distance triathlon in less than five hours.
The first thing you can see is that the indication of sport is a bit confusing; because as it involves swimming, cycling and running, there are obviously few Triathlon Moves made in those 15 weeks. But if you think about it... it also lets you know that it is not common to introduce a shorter distance competition in that last stretch of preparation. So it is not usual to do some previous sprint or Olympic competition to prepare the middle distance competition.
But the important numbers are the ones we can see below. Trying that goal may require us to do 5 to 6 training sessions a week, with more than 8 hours of training. So I have some bad news for you... if you are training 5 hours right now to do Olympics it is not going to be just to extend the Sunday start a little bit.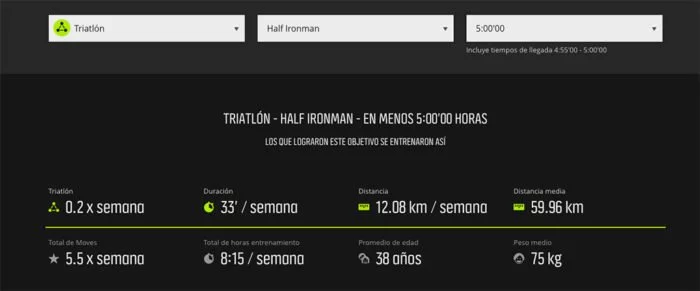 In the following section you can see how the intensity is in previous weeks. But not only intensity, also volume, which you can see how it increases from week 7 progressively as the race date approaches; being the week before the race the "tapering" week.
In the distribution by sport, you can clearly see how the triathlete dedicates more time to cycling, which is logical, since it is what takes more time during a race. It also seems that the average is to dedicate only one day to swimming training. Pay attention to the importance given to other sports, which are usually for strengthening. It is usually the great forgotten in any training plan. Let it serve as one more reminder.
Finally, in triathlon the view of times in other disciplines is much wider. Again, this data helps a lot if it's your first competition at the distance. We've previously seen something similar in Garmin's estimated race times (from VO2Max estimation) but this is much more useful. Not only because they are real records that you can compare yourself to, but because the Garmin figures are for running only, whereas what 1TP10We can get with the "big data" from Suunto is for many more sports.
In the example I am using, you will be able to compare yourself not only to times over other triathlon distances, but also for individual sports.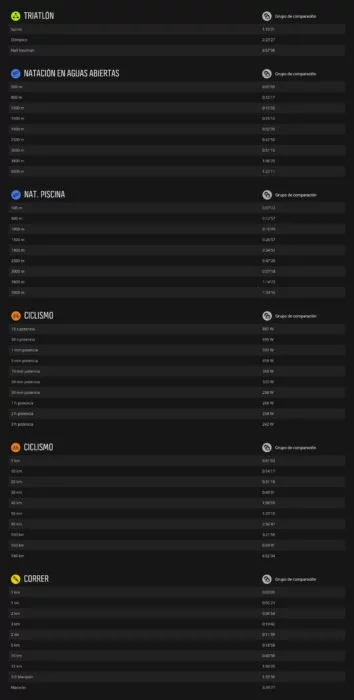 This opens up the comparisons much more, because you may be able to do a sprint triathlon in 1:10 because you are very good at swimming and it allows you to catch a good group of bikes in T1, but you must also look at the rest of the data to be able to evaluate it. Perhaps on the bike without being able to go on the wheel your time is not so good and therefore looking below 5 hours is too optimistic.
Suunto continues to make good use of all the data it has collected over the years, first with heatmaps and now with the new Training Insights feature, both of which are accessible to anyone, whether they are Suunto users or not.
Undoubtedly, a good source of information.
And with that... thanks for reading!