With the Ignite 3, Polar makes a renewal of its fitness watch much more intense than in the passage from the first to the second version. The new Polar Ignite 3 takes a leap in quality and now has a new AMOLED screen much more attractive than the previous one, faster processor, multiband satellite reception and some new features in Polar Flow.
Despite being a fitness-oriented watch, Polar has not shaken the pulse to make it its first watch with multiband GNSS chipset. But also other more typical running functions, such as Running Test (also Walking Test for those who are not used to running) or marking laps by tapping the watch.
Also new is the way 1TP7We can configure the home screen and the sleep tracking functions are extended with SleepWise. And obviously, the price is also higher.
After a few weeks of testing with the Ignite 3 (along with other watches that have matched dates, a fairly complete end of 2022), I can already say I know it pretty well so I can tell you all the good and less good it brings to the table.
You know that there is no compensation of any kind from the brand, which allows me to do these reviews completely independently and tell you the good and the bad openly. So if you like the work I do in these tests and you want to collaborate with the website, you can do it through the published links. And be sure to join the Telegram channel because I post a lot of bargains there on a regular basis.
Thank you for your support!
Polar Ignite 3
Overall operation - 7.5
Training possibilities - 8
Platform and applications - 9
Battery life - 7.5
Finish and comfort - 7.5
Price/performance ratio - 7
---
The good
Magnificent AMOLED display
Screen border much smaller than is usual for Polar
Full ecosystem support and Polar platform, one of the best in the world
New and more complete home screen options
Satisfactory autonomy
Very light
The bad
Despite having a faster processor, some lag is still felt.
Satellite reception still needs work
I miss some additional buttons
Buy Polar Ignite 3
Polar Ignite 3, features and news
As usual, I will start by listing what are the new features and characteristics of this Polar Ignite 3.
1.28″ AMOLED touchscreen with "always on" function
Curved lens with Gorilla Glass protection against scratches
43mm in diameter which, together with the almost 1.3″ screen, makes for a fairly small bezel for what Polar is used to.
Stainless steel bezel
35 grams of weight
Faster processor for better clock performance and improved animations
Dual-band / multi-band GNSS chipset (Sony sourced)
Latest version of Polar Precision Prime optical pulse sensor (same as Polar Pacer and Polar Pacer Pro)
Autonomy: up to 5 days in clock mode, up to 30 hours of GPS use and up to 100 hours in power saving mode
New home screen choice system with different clock face options with customizable widgets
SleepWisenew function in the sleep analysis with indication of the moments of greatest focus of the day according to how the rest has been
Voice guidance of workouts through the Polar Flow application, either through the speakerphone or through headphones connected to the phone.
Fitness Test, Running Test and Walking Test
Interchangeable 20mm standard type strap, includes two in the box (short/long)
Price:329€.
Polar Ignite 3, this is its basic operation
Undoubtedly the highlight of the Polar Ignite 3 is its AMOLED display. It is large (1.28″ for a 43mm diameter watch), with a resolution of 416×416 pixels and touch control. It is obviously very eye-catching, bright and displays all menus and images in superb quality.
The design of the watch is also really good. It doesn't have the large screen bezels that are common on other Polar watches and, thanks to a curved lens, the smaller bezel is even more concealed. The lens has Gorilla Glass protection.
As I said, the screen has touch control, something that works quite well because it responds correctly to keystrokes and the sliding of our finger. We also have a physical button that serves to return to the previous menu (or force synchronization with the phone if you hold it down).
This is the usual Polar design for the Ignite, but I would certainly like to have more buttons to give more options in control. Other Polars with touchscreen have five buttons, which multiplies the possibilities of use. Although in this case it must be said that the touch control is much better than, for example, the Grit X Pro.
If the screen is what stands out visually, its lightness is what stands out when you hold it in your hand. It is only 35 grams of watch (21 grams if we discount the weight of the strap), being quite pleasant to wear on the wrist because you hardly notice that it is there.
It is not a small watch, since with its 43mm in diameter let's say it has a medium size; but it is quite thin since it is only 9.5mm thick.
To achieve that weight obviously Polar has to resort to plastic, but at least the bezel is stainless steel, which gives it a nice touch of quality. In addition the bezel has an engraving in one of the colors in which it is available, such as the "Brown Copper" which I have. In other colors the bezel changes.
The strap is slightly off-putting, I did not like the feel or especially the way it is placed. Considering the straps of other Polar watches that are frankly good, in this case pod would have improved the experience. Although it is to be appreciated that Polar includes two strap lengths inside the case. Anyway it is a standard 20mm strap, you can change it for the one you want.
Back to the display, by default the "Always on" option is disabled. In this mode the display is always on, albeit with a low-power dial to save energy.
The display will change to normal when you raise your wrist or press the screen or button. This change is relatively fast, more so than if the function is deactivated and left off to save battery life.
Detection has improved over previous Polar models (probably because of its faster processor) but still remains somewhat clunky. Nothing to do with the experience of an Apple Watch for example (and also below Garmin models).
As for the battery life in both cases, if you activate the always-on display mode you can expect to have to charge the watch every two days (with daily GPS use). If you use the power saving mode the autonomy goes to 5 days. I have used it both ways and in the end I ended up opting to keep the screen off.
But if you want to know more about the autonomy of the Polar Ignite 3, nNothing better than the guide posted by Polar on the subject. It doesn't seem too intuitive, but what you have to look for is how many hours of autonomy you want to have during training, and in the box you will see which options to choose.
One of the new features of Polar Ignite 3 is the new watch face selection menu. It now allows more customization as podWe can choose between different dials and then what data we want to appear on the screen.
To do so, go to the "Watch appearance" option and the first thing to do is to choose one of the four dial designs available (at least for the moment).
On the screen you can see how many empty spaces there are to enter additional "complications".
After finding the design you like, you can choose between different backgrounds or hands (if you have selected an analog design). You can also change the color of the theme.
Finally, it is time to choose the data for these complications.
Your sphere is now configured and personalized.
By clicking on some of these complications 1TP7You can access to more details (provided that it is a data that supports it). For example the summary of the day or the weather forecast.
These are part of the widgets or views that are available on the clock, and which podemos access by swiping left or right. Below I detail all the views that are available:
Daily activity
Weekly Summary
Sunrise and sunset time
Weather
Training load status
Nightly Recharge
FitSpark
Music controls
Some of these views give access to additional information: steps and activity, weekly training summary, weather forecast, etc.
Obviously everything that is day-to-day statistics (steps, calories, sleep, etc.) 1TP7After reviewing it in the Polar Flow app on your smartphone.
When you receive a notification on your phone, it will be displayed on the clock screen (although 1TP7We can disable it). This will be automatic and for a short time, but you can always go back to them by swiping on the screen from the bottom. In fact, if there are unread notifications, there will be a little red ball at the bottom that will be bouncing.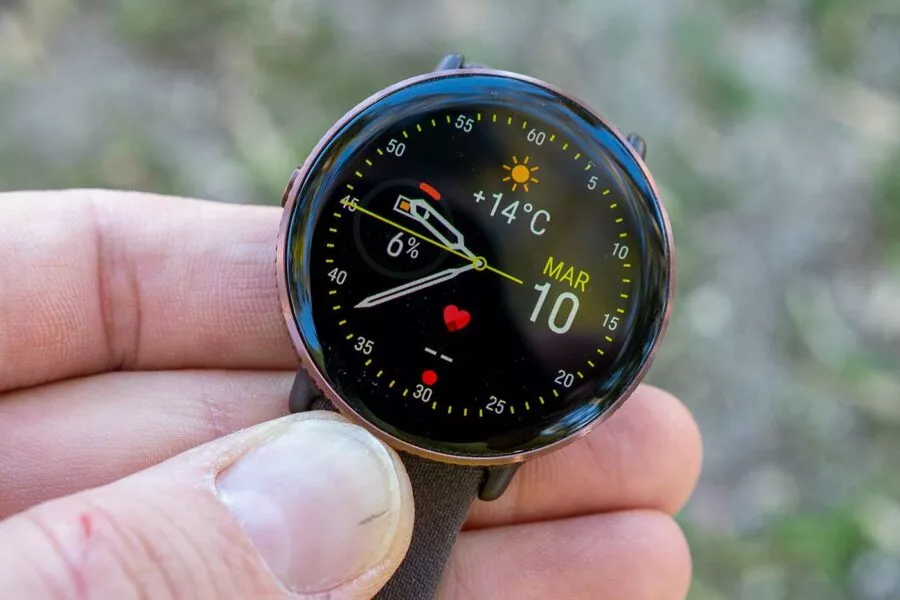 But you should be clear that this is not a smart watch, nor is it intended to be. It is not possible to answer these notifications or do anything with them beyond reading them, if this is something you are looking for you will have to look elsewhere. Under "smart features" the only thing you'll find is music playback control.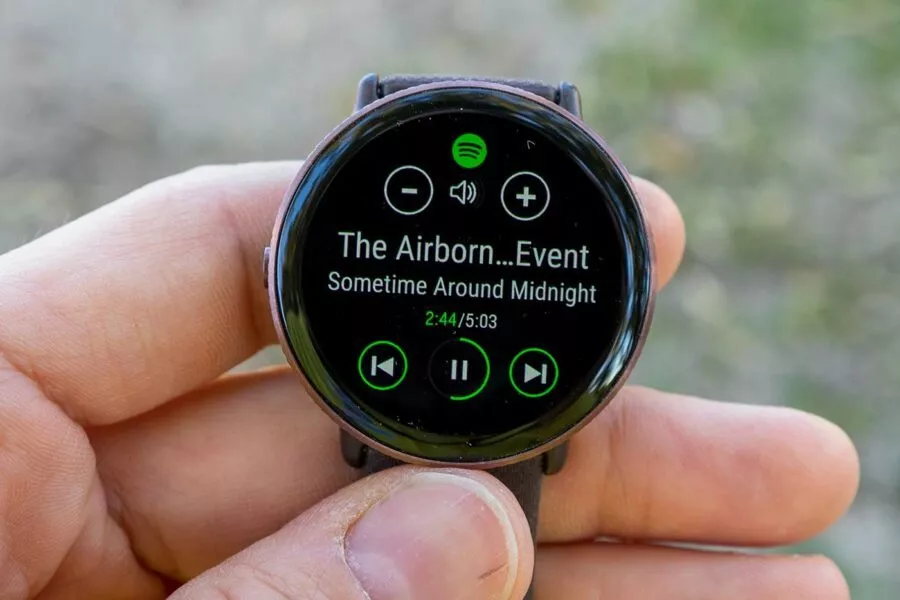 This playback control is from the paired device (in this case your phone), being able to change songs or modify the volume. But you must carry your phone with you, the Ignite 3 does not have the possibility of storing music inside.
Polar Ignite 3 for sport
As much as it may look like a smartwatch, the Polar Ignite 3 is first and foremost a sports watch. And I'd say a good sports watch. In fact it's very close to a Polar Pacer, except the Ignite 3 has multiband GPS, AMOLED touchscreen and fewer buttons.
That AMOLED display offers a substantial behavioral difference. While we are training it will remain off (but recording activity), and will turn on when we lift our wrist.
With respect to the Polar Pacer Pro, it has no barometric altimeter (and therefore no running power estimation or hill splitter) and some additional function of training load tracking, Strava segments, navigation or compass; but in the rest they have similar approaches.
The management of sport profiles are similar to those of other watches of the brand. All configuration of the Polar Ignite 3 the 1TP7We can do from the mobile application or on the Polar Flow website. There are dozens of sports profiles for podrás to choose from, and then configure your displays independently.
The FuelWise function is present, but it is configured directly on the watch. FuelWise are hydration and nutrition reminders during training on the one hand, along with energy source information after the end of training on the other.
Basic Polar functions are present and are already part of its ecosystem in a generalized way:
Training Load ProCumulative measurement of training load over time.
Sleep Plus Stages: Analysis of sleep phases and trend.
Nightly Recharge: Recovery tracking through sleep data. It's incompatible with Recovery Pro, we have to choose one or the other.
FitSpark: Based on the load and recovery data indicated above, provide suggestions for strength, cardio or supplemental training.
For the typical user of this watch, FitSpark is likely to be quite an interesting feature. These are training suggestions that the watch will provide you with, and they will be for strength, cardio or stretching. The watch prepares them based on your past training load and recovery status (based on Training Load Pro and Nightly Recharge data, in part).
And why do I say that it is focused on the typical user of this watch? Because they are suggestions whose objective is not to prepare you to run a marathon or a triathlon, but to maintain your fitness.
When it talks about cardio or strength, it does so in terms of heart rate zones. The watch doesn't care if you reach that HR by running, cycling or swimming. And I think they are very well oriented for the "fitness" user and not so much for the pure runner, because for example it will not give you a training with a certain pace guidelines.
That doesn't mean you can't do them. The Polar Ignite 3 supports advanced workouts. Both those that we create in the Polar Flow application and those that come from the platform, being able to plan a program to run the most common distances (5K, 10K, half marathon and marathon).
But the latter has nothing to do with FitSpark, it is not a "smart program" that takes into account the functions of Training Load Pro or Nightly Recharge to create it.
Another interesting aspect for a "fitness" watch is that it allows you to share heart rate data via Bluetooth with other devices. For example, to see your heart rate on compatible gym machines.
And finally, remember that the Walking Test and Running Test are present. Its purpose is poder keep track of your fitness through VO2Max estimates, which are obtained thanks to these tests. Running at the intensities that the watch shows you or, if your physical shape does not allow you to run, you can do it walking.
In my case I have podido do the Running Test without problem, but with the Walking Test I have the problem of not poder reach the heart rate demanded without going too fast. But as both tests are present it will cover the range of use of all users without problem.
The new features
With the presentation of the Ignite 3, Polar announced two new features that would come first to this watch and later to the rest of the platform. This is because it is an update of the application, rather than specific components in the watch. These are SleepWise and voice guidance for workouts.
SleepWise
SleepWise uses sleep data to provide insight into what the impact of rest will be for the current day, with recommendations of when it might be good times to train (and when it might not), as well as a recommendation of what time you should go to sleep.
In these two screenshots you can see two different days. Friday gives me a normal vitality score of 8.5 (good rest, no accumulated fatigue). The best times to train will be early morning or early afternoon, with the recommendation to go to bed around 11pm.
It changes a bit for Saturday, showing two hours when it would be the best option to go out to train, for a day that in principle I will have more vitality.
Polar processes this data thanks to the Nightly Recharge and Sleep Plus Stages functions, using it together in the algorithm with the quantity, quality and moments of sleep of each user. Therefore, several days of recording will be necessary to have the data.
Voice guidance of training sessions
Another of the new features that have come to Polar Flow with the Ignite 3 is real-time voice guidance. It is possible to listen to training data through messages, either through the phone's speaker or through headphones connected to the phone.
To clarify, the watch does not have a speakerphone or the possibility of connecting a handsfree, but the phone is responsible for sending messages, so it will have to be paired to the watch and you will have to carry it with you during training.
These are just basic messages: training time, distance, etc. But they are not indications of how you should perform a specific training session, nor do they function as a virtual trainer.
GPS and optical heart rate sensor
One of the surprises brought by the Polar Ignite 3 is the inclusion of a dual GNSS chipset. It is the first Polar watch to have this feature, and perhaps it seems odd that it is a fitness-focused watch that is the first to do so.
The reason is none other than that it is no longer a "premium function", but something that has already been standardized. But not with respect to watch manufacturers, but with respect to component suppliers (in this case Sony). So everything is now reduced to the watch manufacturer (in this case Polar) being able to adapt an antenna inside the watch.
To see this trend, just take a look at the latest releases: Suunto 9 Peak Pro, COROS APEX 2 Pro, Garmin Forerunner 255... all of them offer multiband reception, something that until not so long ago required paying extra (for example the Garmin Fenix 7).
As you may have seen in reviews of other devices, the benefit of using the dual band depends a lot on where you are training. If you do it in open areas with full visibility of the sky you will not notice any improvement.
This is an aid that the manufacturer then has to poder take advantage of. To do this, there must be an antenna and software to match, including a multiband chipset is no guarantee of absolute improvement.
Before we get into the analysis, the warning I always make regarding sensors so that you understand how these tests work.
As with the optical sensor tests, the GPS comparisons are done in the same way: with the watches accompanying me in my regular workouts. Wearing both the Polar Ignite 3 and other models, and checking where the problems appear.
I do not have any defined path to establish a score for the simple reason that there are other external factors that we should never forget. Things like clouds, leaves on the trees or simply the position of the satellite can alter the GPS results from one day to the next.
This is why I prefer to make this type of comparison instead of having a predefined route and assess it from this one.
As for the optical sensor, you should keep in mind that a wrist heart rate monitor does not work the same way on every body. We are all different, and if we add into the equation things like skin tone, tattoos, body hair... the difference from person to person can be quite large.
In my tests it is not that the spectrum of users is very broad: it is me, myself and I. So what works well for me might not do it for someone else, or it might be better.
But the most important thing to keep in mind is that you have to follow some guidelines to wear the sensor. It should be tight (but not cut off your circulation), enough to keep the watch from moving freely on your wrist, leaving a separation of approximately one finger from the wrist bone. By following these details you will ensure that you get the best results that your conditions can offer.
Having remembered all this let's go with the tests. Taking advantage that this end of the year is being prolific in new watches I have podido combine them to poder make joint comparisons, which allows me to reuse between the different analysis of these dates. An advantage because I avoid duplicating a rather arduous work.
Here I don't wear the COROS APEX 2, because instead I wear the Polar Ignite 3, which also has multiband. Only the Suunto 9 Peak Pro does not, but it uses all constellations.
This is always a complicated point, because I make 180º turns in a very small space. It is a footbridge over the highway, so the speed is not too high either.
The red track on the Ignite 3 gets quite lost, it looks more like it's signing a mortgage than recording where I'm going. The COROS APEX 2 Pro makes the correct ascent and descent, but at the top it is quite offset. Meanwhile the Suunto 9 Peak Pro shows a near perfect track at that point.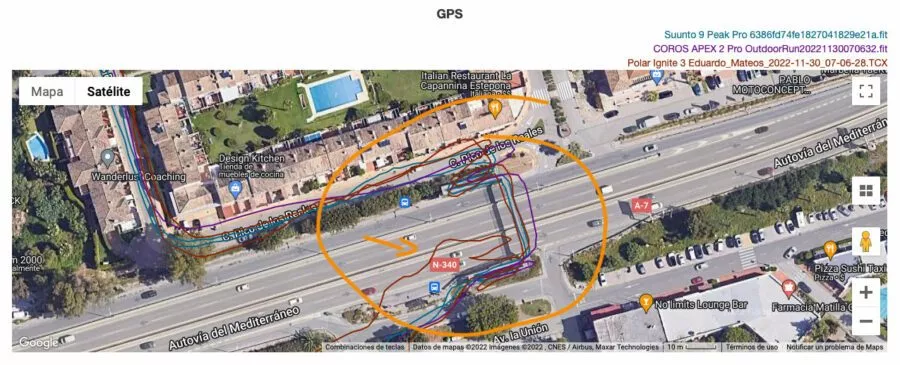 Later I finish the warm up and start with the series that played in that training (what you see on the left side). Until I get there, the three watches are generally good, taking into account that the Polar Ignite 3 goes on the right wrist and the other two on the left arm, so the separation is logical.
During the intervals the performance is correct for all. Except for two of the repeats where the Polar Ignite 3 goes off the correct track, but both COROS APEX 2 Pro and Suunto 9 Peak Pro are quite reliable repeating the same track over and over again.
Let's look at another day when the two APEX 2 CHOROS are back out on the road, again along with the Polar Ignite 3 which is still configured in multiband mode.
Let's look for those tricky areas. In the stretch that I have been running along the road, completely open, of course there has been no problem. But entering Puerto Banus and trees and buildings begin to appear. When running next to one of them you can already see the problems.
Here you can see how all three have dithering, but it is the Polar Ignite 3 that does get lost going over those buildings. The APEX 2 Pro, which is set to multiband, also has a slip and interestingly, the COROS APEX 2 which only has all-satellite mode is the best behaved.
But later on, the tables turn. Here it was the COROS APEX 2 that behaved erratically (I didn't go on that sidewalk) while the Ignite 3 is slightly off, but not excessively so. It is the COROS APEX 2 Pro that shows the graph perfectly, also taking into account that in the left turn I am running under a canopy, so I have no direct view of the sky (only a slice to my right).
Leaving the building area the situation improves, although here I'm running under some trees and it's the APEX 2 that deviates slightly. But it's these deviations that don't worry me too much because, in the end, it doesn't add distance or change the pace indicated by the watch.
Let's go now with the optical pulse sensor, starting with a simple workout. Progressive pace without intensity changes.
The two optical sensors I use in this training are those of the COROS APEX 2 Pro and the Polar Ignite 3. In addition and as a verification element I carry a Polar H10 paired with the COROS APEX 2.

No incidents throughout the training, apart from a slight hesitation at the beginning by H10. It is normal in winter until the body starts to sweat and the conductivity of the body improves.
Let's go now with intensity changes, in this case a series training. In this case I'm wearing the COROS APEX 2 Pro and Polar Ignite 3 on both wrists, while the Suunto 9 Peak Pro is in the palm of my hand (the main goal was to get its satellite graph). As you can see it is much more unstable, but that is because it is not positioned where it should be.
So I forget about the Suunto 9 Peak Pro graph and remove it, because in this case it does not contribute anything, and I focus on those of COROS and Polar, especially in the part of the intervals.
As you can see there are hardly any differences between the two devices. Maybe some punctual peak (especially in the eighth interval), but in general both watches coincide in the record.
In summary, the optical pulse sensor performs well, on par with any other rival in the segment. The Polar sensor is good and also in this case it is favored by the low weight of the set, with only 35 grams it does not involve excessive movement on the wrist, which helps the algorithm.
But I can't say the same for satellite reception. I can't say it's bad or disastrous, but it's clearly below the competition, even despite having a multi-band chipset. Keep in mind that the chipset is only part of the equation, but equally if not more important is the size and placement of the antenna as well as the amount of power that chipset is allowed to use.
Polar already warned us about it in their media presentation (not openly, but in a veiled way). Someone asked why the Ignite 3 was the first Polar watch to have multiband reception. The answer basically was that because of the design that Polar had used (optimizing their size and screen size), they had to sacrifice on the antenna design. And with the use of multiband they wanted to compensate for that sacrifice.
Clearly the multiband alone is not enough to compensate for that less optimized antenna. This is certainly the worst Polar watch in recent years in that regard.
Want to help the web? Buy Polar Ignite 3
I hope that this in-depth review has helped you to decide if it is a valid device for you or not. All the work I do you can consult it without any cost, but if you want to support the page and by doing so the work I do, the best way to do that is to buy your new device through the links I provide .
And if you don't buy it today, remember to stop by when you do! Through these links you will not only get a competitive price and the best customer care, but also I will receive a small percentage at no additional cost to you. That's what allows me to keep offering you reviews like the one on this page.
Buy Polar Ignite 3
Review Polar Ignite 3
In terms of hardware and technical specifications the Polar Ignite 3 is a good upgrade over previous models. A very reduced size (especially in thickness), extremely light and with a high quality AMOLED screen with quite reduced borders -much more than what is usual in Polar-.
However, not everything is satisfactory in the Ignite 3. Possibly this reduced screen border is the cause of the satellite reception with a lower quality than the rest of the market. Even despite the multiband satellite chipset it is the worst Polar of the last years.
These are concessions that have been made with respect to the design and that, given the target audience of this device, may be forgivable. Mainly because it is a watch intended to be used mainly indoors (gym, supervised classes...).
But as I say, that flaw in satellite reception is compensated for by a superb screen with lots of brightness and color.
On the software side of things there's not much new, just SleepWise and training alerts. Together with the rest of the Polar training metrics package they make the Ignite 3 a very well equipped watch to satisfy the type of user I have already discussed, but I expect a lot more from Polar for their new 2023 devices. A little more effort is needed on their part as they have been somewhat sluggish in recent years.
In any case I think it is an interesting proposal for those who are looking for a nice watch with a magnificent display, and do not mind the accuracy of satellite reception and the slow response at times.
Any more questions that haven't been answered in this review? Your opinion of the Polar Ignite 3? You know, you have the comments below to say whatever you want, so use them! That said... thanks for reading!