Con el Black Friday ya en el espejo retrovisor es momento de recuperar todo el trabajo pendiente, y nada mejor que empezar con un nuevo episodio del podcast Entre Umbrales. ¿Te parece bien?
Lo primero en lo que entramos en materia es en la resolución de preguntas, en concreto acerca de Stryd y las cintas de correr. A qué datos debes hacer caso, ¿A los que indica la cinta, o a los que muestra Stryd?
Una vez resuelta la pregunta entramos en la parte de tecnología, aunque en este episodio es algo diferente… y es que comienzo hablándote de las últimas zapatillas que he estrenado, en ambos casos de Nike. Previamente ya había escrito unas pequeñas pruebas de ambas zapatillas en mi Instagram.
El primer modelo del que te hablo es de las Nike Infinity Run, probablemente la zapatilla más maximalista de Nike ideal para las tiradas largas, aunque aguantan bien si les apretamos un poquito las tuercas.
Ver esta publicación en Instagram
El segundo modelo en cuestión que he estrenado estos días son las nuevas Nike Air Zoom Tempo NEXT%, que se tratan de las hermanas pequeñas de las Nike Air Zoom Alphafly NEXT%. Tienen un diseño parecido y ambas utilizan la espuma ZoomX (que es una maravilla), pero luego hay cambios en cuanto al material de la placa interna así como la combinación con espuma React en las Tempo NEXT%.
Ver esta publicación en Instagram
Y como tecnología pura y dura, la última cámara de acción con la que estoy jugando estos días: la Insta360 One R Twin.
Tiene un diseño único en cuanto a que es a la vez una cámara de acción y una cámara de 360º, permitiendo el cambio de objetivo de una forma muy fácil. Sin embargo cada modo de funcionamiento es muy diferente en cuanto a lo que debemos tener en cuenta tanto antes de grabar como a la hora de editar.
Y todo lo que cuento acerca de la cámara vale tanto para la Insta360 como cualquier otra cámara de acción y su comparación con cámaras de 360º.
Ver esta publicación en Instagram
Como has visto, últimamente están llegando un buen número de pequeños análisis a mi Instagram. Y es que ese es el uso que quiero darle e ir haciendo publicaciones con pruebas que no tendrían cabida en la web, pero para las que una plataforma como Instagram es perfecta. Porque al final «juego» con muchas cosas más de las que se ven en la web.
Así que si todavía no me sigues en esa red social, pincha aquí para acceder a mi Instagram y sígueme.
Por su parte, Jose continúa con la serie especial de biomecánica, donde hoy nos va a enseñar a todos cómo ajustar correctamente la altura del sillín. Pero no sólo la altura, también la regulación en cuanto a inclinación y retroceso. Esa es la base de cualquier ajuste de posición que vayas a hacer en la bicicleta, y hay cosas a tener en cuenta si cambias el retroceso (tendrás que subir o bajar el sillín).
Además, nos ofrece dos posibles soluciones para hacerlo directamente en casa con la cámara de tu móvil y un programa gratuito, junto con las pautas que deberás tener en cuenta. ¡Todo muy didáctico!
El primero de esos programas es Kinovea. Este programa gratuito te permite cargar un vídeo que hayas grabado con tu móvil para poder calcular todos los ángulos que Jose nos comenta que son los correctos.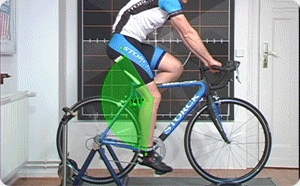 La segunda opción es Bike Fast Fit, un programa (de pago) que puedes encontrar en la App Store para dispositivos iOS con un funcionamiento similar, pero que lo hace todo mucho más fácil y rápido.
Dudas, ruegos, cuestiones… ¿Nos envías tu pregunta? Puedes hacerlo a través del formulario que encontrarás en https://www.correrunamaraton.com/podcast. Dudas, peticiones de contenido… envíanos un mensaje.
Heads up!
THE BEST BLACK FRIDAY OFFERS

The best offers of the year are here, NOT TO BE MISSED.
Offers in sports technology: Black Friday at Garmin, Polar and more.
Canal GRATUITO de Telegram para recibir todas las ofertas. ¡Únete!
You can find us here
Podcast social networks
- Instagram: https://www.instagram.com/entreumbrales_podcast/
- Facebook: https://www.facebook.com/entreumbrales_podcast-106404554393056/
Eduardo Mateos
- Correr una Maratón website: https://www.correrunamaraton.com/
- Facebook: https://www.facebook.com/correrunamaraton
- Twitter: @running1marathon
- Instagram: https://www.instagram.com/correrunamaraton/
Jose Manuel Plaza
- Instagram: https://www.instagram.com/jose.m_plaza/
- Facebook: https://www.facebook.com/entreumbraless/
Where can you listen to it? Well, on the usual platforms, you can choose your favorite:
Or from here, at the bottom of the page.
Do you have a specific podcast topic you'd like us to cover? Do you have a training or watch question you'd like to discuss? Enter the podcast page and you will find a form from which you can podrás send us a message with what you want.
Send us your comments, we appreciate all your criticism to improve and offer you what you are looking for. Leave us your comments on the platform you use to listen to us!and don't forget to send your rating!
If you rate us with 5 stars more 1TP10 people will be able to discover it, because the platforms will put it above in its corresponding section.
Thank you!