Zwift today introduced its first device, a direct drive roller called the Zwift Hub. A move that not many expected, because a few months ago Zwift scrapped the idea of marketing a smart indoor bike, which led to quite a few layoffs and a change of perspective within the company.
However Zwift did not leave the devices aside and bring to the market a direct drive roller with two fundamental keys:
Simplicity of installation
Price breaker
In their press presentation a few weeks ago, Zwift wanted to emphasize simplicity. And they reiterated several times that they did not want to "break" the market and affect all the other manufacturers in the industry, which Zwift ultimately calls partners. Well, I'm sure the announcement has gone down like a bombshell with those who are now not only partners, but also competitors.
They also reiterated that they were after new users, those for whom the small complexity of a smart roller could be a barrier to entry. How do you remove that barrier to entry? For starters, with simple installation. The roller comes in a box virtually fully assembled, only the two legs need to be mounted.
The assembly is hand-proof since each of the legs is marked with a color code (orange -obviously- and blue); and not only marked with color but also with a filled or grated square, also thinking about color blind people. And if you make a mistake when assembling it, a danger sign will also be visible.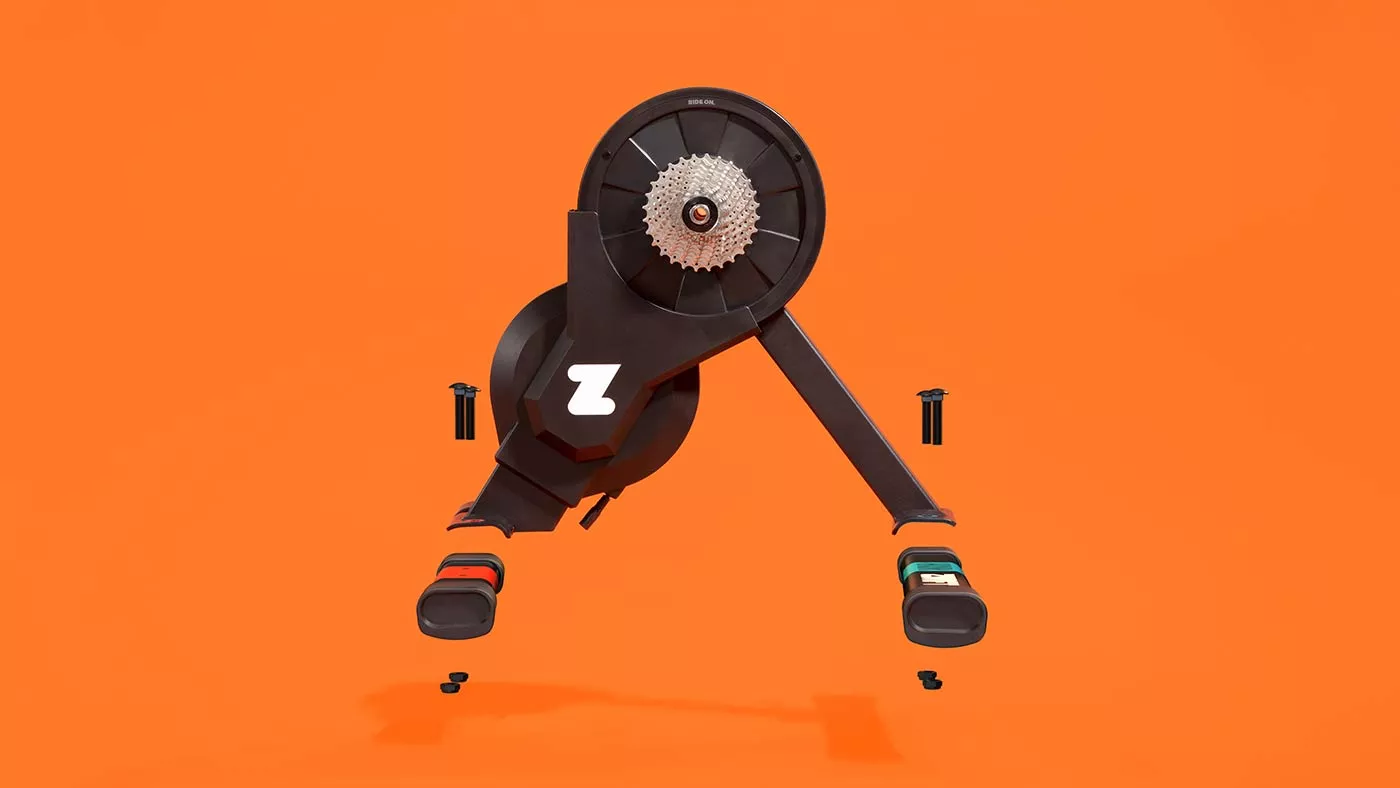 Continuing with the user facilities, the Zwift Hub includes a cassette of the speeds you request (8, 9, 10, 11 or 12), and all the adapters you may need in terms of fasteners, axles, etc.
No matter what you use on your bike, the Zwift Hub includes all the accessories and it's easy to find out what you need with cardboard cards to help you.
Each card comes with the measurement, which podrue check by simply putting it on the back of the pods. And depending on what goes in then you will have to use the adapter included in that card itself.
The installation and accessories included is not the only thing they have thought about to offer a simple product. At the software level it includes some add-ons like poder to do the firmware update directly from the Zwift Companion App on your phone (and from the Zwift poder game itself to see if there is any pending update).
In addition, for Apple TV users who have limited number of connections, it also allows to transmit the pulse sensor data. That is, 1TP7We can pair the pulse sensor with the roller and all the data will be transmitted to the Apple TV with the same initial connection that we have created.
Zwift Hub Specifications
What do the cold numbers look like? I detail them for you below, so you can compare how it stacks up against its competition.
Accuracy: ±2.5 %
Maximum power: 1,800W
Simulation of maximum slope: 16%
Flywheel flywheel weight: 4,7kg
Connectivity: ANT+ FE-C and Bluetooth FTMS. Intelligent control through either of these two channels.
Compatibility: Zwift and any other third-party application through the above channels
Direct drive: The wheel is removed from the bicycle and installed on the roller.
Cassette: Can be ordered with 8, 9, 10, 11 or 12 speed cassette installed.
Price: 499
Zwift Hub Summary
If Zwift repeated several times in the press presentation that they did not want to upset their business partners, it is clear that they knew they were going to do it. With a price of 499€, including all necessary adapters and even a cassette, we are talking about a price never seen before for a direct drive smart roller.
Assuming they do not have stock problems and are able to manufacture enough units (which by the way they do not manufacture directly, but is actually a roller manufactured by JetBlack), this is a product that eliminates in one fell swoop all the mid-range on the market up to the 800 or 900 euro range.
Above that will be the more "niche" models that may offer additional features, but all those rollers from Tacx, Wahoo or Elite that sell for less than 800€ are totally eclipsed after today's Zwift Hub announcement.
The good part for us, the users? The rest of the manufacturers will have to react by lowering prices, and including cassettes and accessories in the purchase of the roller.
And with that... thanks for reading!