On January 25, the 21st edition of this race was held in San Pedro de Alcántara, a race that belonged to the provincial circuit of cross-country races, so the level promised to be high. 1,500 athletes from the different categories that were going to participate met there, the vast majority belonging to different clubs in the province and other neighboring provinces.
The day was good, and despite getting up very windy, throughout the morning the strength of the wind was reducing, leaving a fantastic weather at the time of the race. Around 20ºC, light breeze, not a single cloud... and me with long pants and long sleeve shirt. A 10 in execution...
The truth is that I didn't pass an excessive heat during the race. Or at least I didn't realize it, because with what I suffered, the heat is what I didn't care about. I'm passing it on to you, it was the race I had the worst time in, by farI don't remember the bird that gave me the third time around for many years.
We started slightly "startled". We were at the starting line chatting and suddenly the starting gun sounded. I think it caught almost all of us off guard. I started at a fast pace, but I felt comfortable. The race was on a 1.5km long course that mixed fairly tall grass with compacted trail and very little mud. Slight inclines, but not very long. They made you vary your pace a bit but didn't cut into your progression.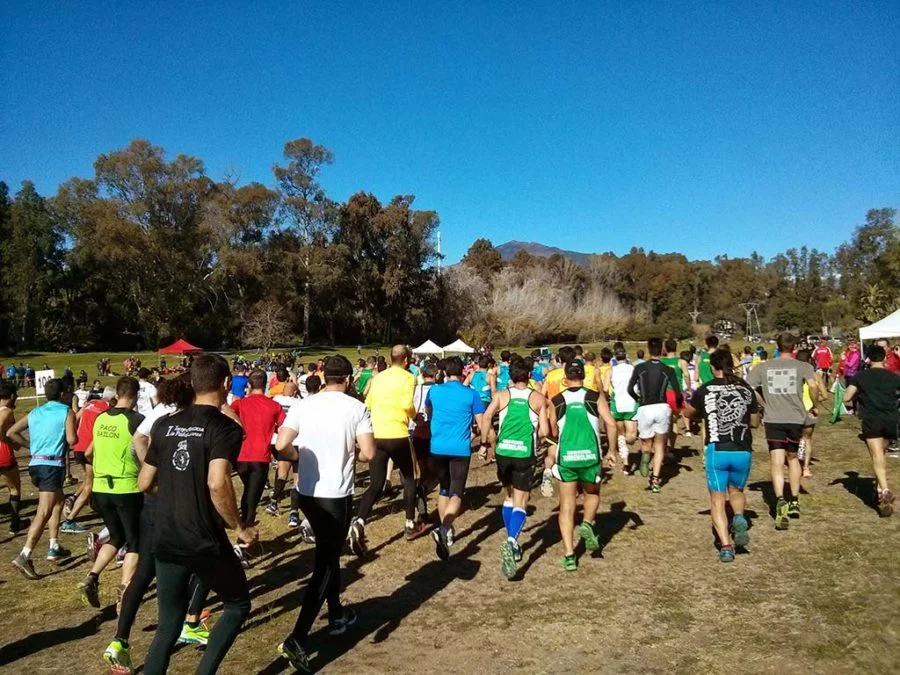 After a first comfortable lap at a pace of 4:30-4:40, I remembered that I had forgotten to drink some water at the start, I was starting to get thirsty... And if in a race of about 9 km you are already thirsty before you have even covered 2 km, it is already a clear sign of what lies ahead. But we had to continue.
I do a second lap at a slightly slower pace, getting away from the two athletes from the Bikila club in Granada whom I got hooked on from the beginning, but trying not to lose contact with my partner, with whom I am doing a little bit of rope without leaving more than 5 meters between them. At the end of that second lap it is already taking a bit more work to move along the stretch of grass, it is very long and you can really feel the resistance it offers to prevent you from moving forward. I stabilize my pace around 4:50 min/km and 5:10 min/km depending on whether I was flat or climbing. I was noticing the kilometres, but I was keeping a reasonable pulse, around 169-172ppm. Nothing excessive for a short race like today's.
Soon I was going to start being turned, and before the end of the third lap the head of the race had already caught up with me, so in addition to looking for a way not to trip up, I had to avoid hindering the fast riders who were putting something on the line. From then on I had to choose the worst roads and take the most open turns as soon as I felt someone behind me.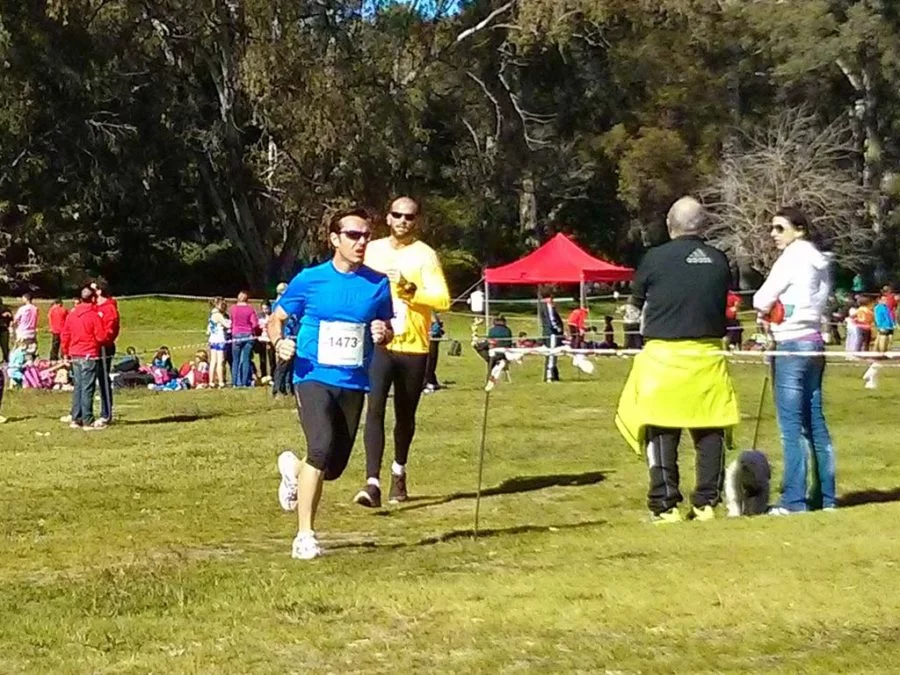 By the middle of the third lap I knew something was wrong. Besides the thirst I had been carrying since the beginning, my legs were getting heavy. I was trying not to lose my partner's pace, but there was still almost half of the race left and I knew I wouldn't be able to hold on, so I decided to drop back a little. In one lap I was increasing my pace by 30 seconds per kilometer, and when I started to fall behind and lost the hitch, the pace increased quite noticeably. But the heart rate remained constant above 170 ppm.
I have to say that abandonment crossed my mind several times. Being laps of a circuit, it's not like abandoning 5 kilometers from the finish line when you know that in the end you're going to get there one way or another. Here podías finish a lap and say "this is as far as I've come". My legs were weighing me down, I was starting to feel the dehydration and there were still two more laps to go. Two laps with their corresponding climbs, their corresponding stretch of grass (which was sapping my morale) and I was getting slower and slower with no one to catch up to. I knew that the final time was going to be really bad, that I was running at much higher paces than I train and that I was far from my real performance. But I made the decision not to withdraw, I had to finish the race no matter what.
There was still one and a half laps to go, a little over two kilometres, which was the hardest I've ever had. I could already feel the dehydration. My mouth was dry, my lips were white and I was starting to stumble around any corner. My pace was getting slower, I wasn't even close to 5:30 min/km any more. I was totally defeated.
I knew I wouldn't be proud of my time, but I had to be proud of finishing the race, even if I was last in the standings. And so, using what little strength I had left, I crossed the finish line. And I went to get some water, because I was dry.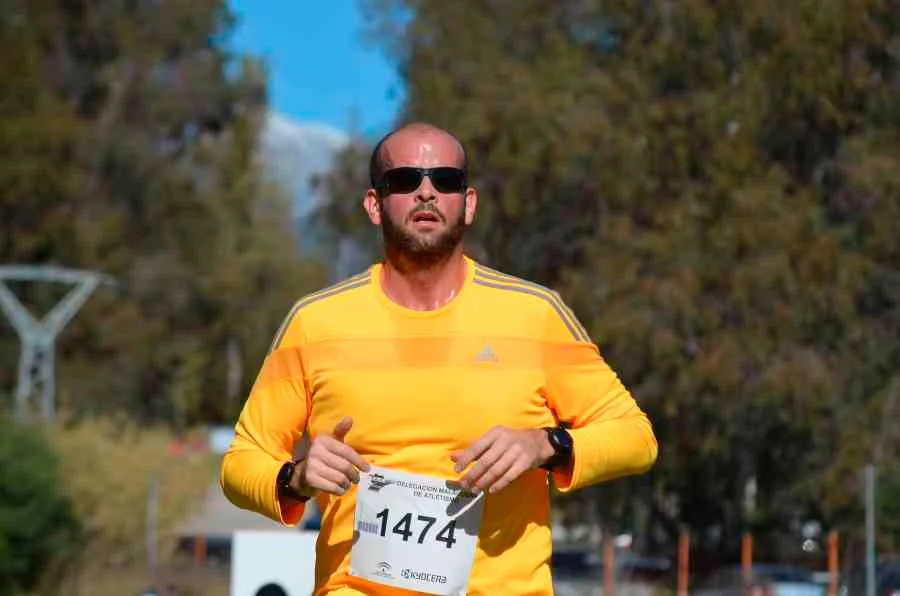 The final result? 50:06 and a total distance of about 9.5 km. I think I have several explanations for why what happened to me happened and why the final time was so slow. I thought I could finish the race in 46 or 47.
I spent the previous two days in Cordoba, sightseeing. Walking around the centre, seeing the Mosque, the Alcazar... in the end those are kilometres that end up accumulating in my legs, irremediably. The day of the race I lacked freshness. Besides, the night before I didn't have much of an evening meal either and the breakfast that morning, although bigger than usual, was nothing out of the ordinary. If to all this I add not having drunk anything that morning except the coffee for breakfast, 3 hours before the start of the race, the resulting cocktail is sufferingA monumental bird.
Positive reading is the lesson learned... Always be well hydrated and energetic, because even if you don't aspire to important positions, nobody likes to suffer. And me, I suffered The next appointment will be at the beginning of March, with a 10km asphalt race and as a last preparation for the Malaga Half Marathon (although on the day of the regional elections, you will see that I will be called to the polling station...) I promise to take more seriously the previous rest and hydration, it is not a good taste to finish such a punished race as I finished this cross-country race.