Un año más comienzo mi temporada oficial «a la puerta de casa», como quien dice. Y es que esta prueba parece que se va a convertir de forma oficial en mi season openerIt already was. last yearThe fact that it is held a few metres away is, of course, one of the main points for doing so.
It's precisely that proximity that has allowed you to be the first this year. Yes, I've won something. I was the first to arrive to pick up the bib. You have to win something, don't you?
This year I changed my pre-race strategy a little bit. The bib collection is done on the same day of the race, and this time I decided to collect it before anything else, to have the maximum tranquility. This allowed me to jog a little bit both to the going and to the coming back to take advantage of doing the pre-race activation and, once collected, back home to have a very relaxed breakfast and then put the corresponding bibs on the bike and helmet.
It certainly worked well, with no rush and plenty of time to prepare the material in the pit before the race, and I think this is the first time I can say that I have had time to spare from putting all my stuff in the pit until I start to warm up.
The departure was delayed from the scheduled time. It should have been launched at 10 a.m. although finally, due to problems with traffic cuts in the bike sector it had to be delayed.
Por suerte la organización lo notificó con total claridad y nos dieron vía libre para volver a trotar y calentar un poco más. Algo de agradecer porque en muchas ocasiones lo que ocurre es que te quedas esperando «ad eternum». No es que hiciese frío, pero por mucho que estemos en el sur las mañanas de febrero también son frescas.
At 10:24 we officially started the race. 5 km sprint duathlon, 20 km bike and 2.5 km run again (for those of you less used to run-bike-run).
The start of the race was very good. I think we all positioned ourselves at the start line quite correctly with regard to our individual goals, something that is not at all usual in popular races. Nobody was overtaking from behind, nor were there people in the front line running at 6min/km. It was simply a smooth start, without stumbling or having to look for a gap to run comfortably.
We had two laps ahead of us of a circuit along the practically flat promenade, just a small downhill slope as we set off in search of the coastline, which we obviously had to climb on the way back. But the slope would be very slight, so the pace at pod would be perfectly stable.
I start the race under 4:00 min/km, comfortable. Unlike other times, in this race I was going to control mainly the power in race (with StrydOf course I would also check it out from time to time, but my main metric would be power.
My intention was to reach 400 watts, which is not too much effort, especially when I think that after these 5 kilometers there was still a lot of race ahead. As it is normal to be the race in plain it is not very complicated to maintain a constant effort, but still you can see in the graph that I stuck to the plan.
The first five kilometers start perfectly, trying to find in the last moments of the race a large group for the bike segment, so I try to regulate according to the number of riders I see ahead. I finish the race in just over 20 minutes, which means MMP in the distance (although it is true that I do not run 5K races, so I have to take these opportunities to find a mark), and it's time to look for the bike.
I make a good transition and go out without a defined group, so I have to squeeze from the beginning. A small climb and when I reach a flat area I take the opportunity to squeeze shoes and drink a little. The chase of the group that has formed later begins.
On the bike I don't need any information at all. I don't want to check power or heart rate, much less speed. The only thing is to find a good moving group that is open to offering headlong relays.
I go around the circuit pushing all by myself. I'm gaining distance from the group I want to catch up with, but I lose it again in the turns. The design of the circuit is complicated, because these turns are 180º in areas with pedestrian crossings and water on the road. That is, skating rink. And I took them with a lot of Calm, the chances of going down were quite high and he had no desire to drag it out. So what he managed to recover on the straight, he practically lost on the turns.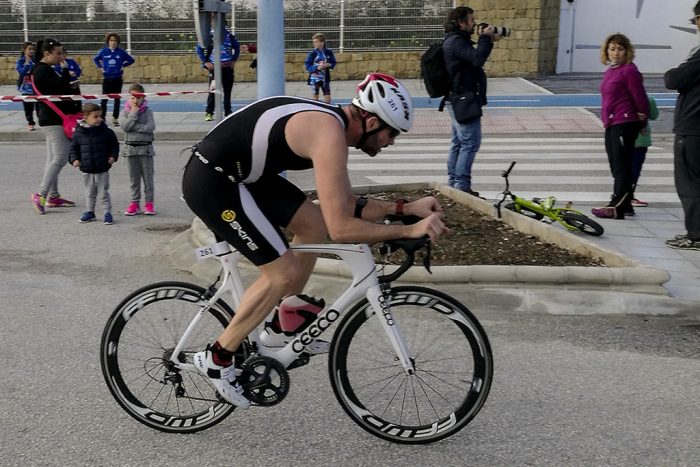 When I finish the second lap of the circuit I manage, with a lot of effort, to catch up with the group, but I manage to catch up when the road bites slightly upwards and with the effort to reach it I am unable to keep up with the climb. At the end of it I have lost contact again, even though I have caught up with some other rider who has also fallen from the group.
I take the lead in that group that is forming and I keep on trying to catch up with the front group, but I give up and go to the tail of that new group. I take a break for a minute to get my strength back and go back to the lead to try to get some momentum and to have a relay movement and increase our speed, but we don't understand each other and when I want to realize I'm running away again without anyone accompanying me.
I repeat the same operation several times, but there is still no understanding. Nobody gets on my wheel when I try to speed up, so all the efforts I am making are not serving any purpose, so I give up and decide to do the last lap at the pace they set, I had already pushed enough.
I get off the bike after 32 minutes with a pretty severe leg punishment. It's been a long time pulling by myself or in front of different groups and I've barely enjoyed any wheel time (295W nominal power, very close to my FTP).
I'm so crushed that when I start to run, my gums get mounted. I can barely run because my twins are like rocks, so when I come out of the pits I have to stop and stretch out my twins on a kerb, while I watch the group I've been pedalling with walk away.
Continúo la marcha y bajo el ritmo a 4:30min/km, todavía con las piernas bastante rígidas. Necesito un kilómetro para empezar a sentir las piernas y comienzo a aumentar el ritmo de forma progresiva. Pero a cada giro del circuito volvía a recibir un «aviso».
As I was about to complete the last lap I started to catch up with competitors I got off the bike. At least I have podio recover the distance given at the beginning, although having lost some time because of the inconvenience. I give up the idea of pressing on the finish line (which was in a slight slope) and lose two positions, but I prefer that option to being blocked with a pull a few meters away, and it is not that I am playing the podio.
Final time in 1:05:26, in the 97th and 44th position of my category. Not a bad result considering the difficulties in the cycling segment and the muscular problems when I got off the bike, but improving quite a lot my participation in 2016 (that I finished in the 122nd position), especially with a much faster and consistent initial race, although I have the thorn in my side if I hadn't done a cycling segment as I would have liked.
Race finished with good feelings and above all opening the season in a positive way. But the next triathlon will be without drafting, so I will forget about the problems of the relays in the bike segment and will allow me to pull without having to be aware of who is coming with me... with desire to arrive.
And with that... thanks for reading!