The morning (dawn, rather) was not inviting to get out of bed: a lot of wind and rain the day I was starting a new competition. The XV Duathlon Ciudad de Marbella would be my first race in which, besides running, there was another discipline to worry about. If in any other foot race the fact that it rains slightly does not suppose any problem beyond knowing if it is cold, when you have to go through a cycling circuit in an urban area, the thing is complicated if it is on wet, especially because most of the turns would be closed and in areas with pedestrian crossings and other non-adherent asphalt elements (not to say that it slips more than a banana peel).
I woke up around 5:30 in the morning, not because I had to move (about 500 meters is what took me away from the start of the race), I just slept. And of course, as soon as you open one eye you start to think about the same thing you had slept with the previous night. In this case it was nothing more than the choice of tires.
It seems that I am talking about Formula 1 instead of duathlon or cycling, but what I had mounted on the wheels were Michelin Pro4 Comp Limited Service Course tyres. Light, fast, designed for competition, and so on... but no matter how much Michelin says, they don't give me confidence in the wet. So at 6 in the morning instead of sleeping peacefully in my bed, I was changing tyres.
The first time out on the street did not give a good feeling. A lot of wind, light rain and cold. And with the doubt of the clothes, because we return to the beginning: if it was a foot race you do not have many doubts, but to ride a bike on February 7 with wind and rain and a simple monkey with straps did not seem to be the most pleasant thing at that precise moment, so we had to get the clothes right. A compression shirt over the monkey and an aero helmet, which is warm.
The race started at 9:30, but the collection of bibs began an hour and a half earlier. After giving a final general check to the bike and making sure for the umpteenth time that I had everything I needed, in two minutes I was in the finish area looking for my bib. When I arrived there was already a lot of people, many clubs from outside the city and even from outside the province. Not in vain the race is part of the Circuito Andaluz de Menores.
After presenting my ID in exchange for receiving an envelope, I proceeded to register my bike and helmet. Before entering the box and leaving the bike I decided to go down to the area of the promenade and see where the wind was blowing, reactions to the braking and evaluate if the profile wheels were going to make me shake a lot when Eolo decided to gust hard.
This ride made me realize that the wind wasn't necessarily going to be bad, since it was drying up the asphalt quite fast. There were still some areas with puddles, but you could already see clearly dry areas. With a little more inner peace I went to the pits to prepare the bike. After showing my ID again and picking up the chip, I hung the bike from the bar and left shoes in coves and a helmet on the handlebars, making sure the straps were open. And of course, hoping that the wind that was moving the bike wouldn't cause the helmet to fall to the ground.
There were still 20 minutes to go before the race started, but do you know another positive point about competing so close to home? Instead of waiting in line to use a bathroom, I chose to jog home and use my own. Now I know how a TOP athlete must feel in competitions where he is invited and made to feel at home.
I had a clear plan for the race. It was the first duathlon of the season (in fact, the first race I participated in) and I wanted to take it as training. So I placed myself in the final zone of the starting line and started calmly, from less to more. Then I realized that this tactic has a major conceptual problem, but as training it was, it also serves to learn these things.
I start a little faster than I had planned, but as the start was slightly negative it was easy to get carried away to rhythms of 4:05 min/km. Once I reached the flat area, I stabilized in the rhythm I had planned, 4:30 min/km and a comfortable pulse of 160.
Two laps of a 2,500-meter circuit at the back of the race. In fact, he finished the first sector of the race far behind, in position 194 with an official time of 22:01 and an average pace of 4:24 min/km. Meanwhile, the head of the race was already starting his first lap of the cycling sector, as they had flown at speeds close to 3:00 min/km.
Realizo una transición conservadora pero sin dormirme (33 segundos). Básicamente se traduce en no correr como un pollo sin cabeza por el box. Aún así me atrevo con un salto de la rana y «encesto» los pies en los zapatos sin percances.
The cycling circuit was practically flat, except for two light and very accessible downhills with slopes of 2%-3%. The terrain was totally in my favour. Shortly after starting the segment I saw where my racing plan was watering down, and I couldn't find a group to join and relay, protecting me from the wind, so I had to pull myself. But I was very careful in the turns, as there were still areas of water. In fact, I immediately saw two slippery falls in the hot spots. I passed other riders, but I overtook them without much difficulty and none of the small groups helped me to continue with my pace.
After a lap and a half I manage to attract a runner who is in my wake and has a similar pace. We start to take turns and we hook a third runner from another group that we pass, taking good turns in the relays, which allows us to go hunting for other groups and gain positions quickly, while we are catching people. Our group is starting to grow and there are already 7 or 8 of us, but I start to feel the initial effort and after each turn I find it hard to follow the group's acceleration, getting a little off.
With half a lap to go I'm about 30 meters away from the group, so I give a last push to close that space and get hooked to the tail of the pack, but again I fall off at the last start. I consider the group lost and decide to take it easy and take advantage of the last hundreds of meters to hydrate and, before making the last climb, I take my feet out of the shoes to make another good transition in T2.
I arrive quickly to the dismount point, and after jumping from the bike I immediately leave it in the box. I take the same time as in T1, although I am a little bit clumsier leaving the helmet. And again to run, trying to adapt the cadence after getting off the bike. The circuit is the same as in the beginning, but this time with only one lap. Again the first slope in favor makes me launch and in a glance at the wrist I see that I am at 3:50min/km. It is still early to give everything.
I make the last turn and face the final meters, wanting to push more but knowing the false flat until the finish line I choose not to push too much, remembering that I have no time to beat and that this was a mere training. I cross the finish line without sprinting with an official time of 1:16:04 (1:15:57 according to my watch, what a habit with not putting a carpet for the chip in the starts), much better than I expected because with the calculations I had done I thought I would be around the hour and twenty.
I finish in 122nd position. Taking into account that in T1 I was in 194 and that in the third sector there were barely one or two overtakings, very happy especially with the cycling sector, in which I averaged 285w of average power and with a time in the upper third of the race. There is no doubt that running on the flat favors me, the climbs will come to take me minutes.
After recovering a little bit of breath, I exchange the chip for a T-shirt (seems like a good deal, right?) and go back to the pits to pick up the bike and leave space for the little ones, who would then run the race. But before we go for a short walk (did I already say that it's great to run so close to home?) one last picture with my official competition photographer. His is the picture you see above these lines.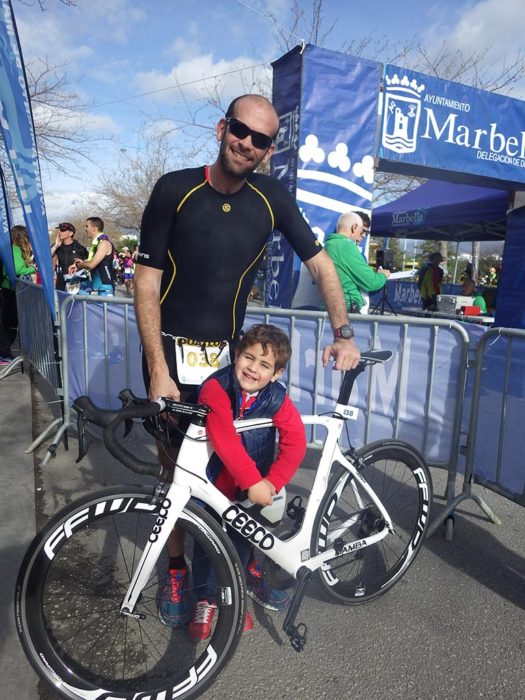 A good race that I'm looking forward to repeating. Thanks for reading!