We often justify the prices of the higher ranges of any product by their performance, by the amount of things they can do and by that being what differentiates those more expensive models from the more economical ones. And not only in terms of GPS watches but related to any product especially in consumer electronics. For the Amazfit Stratos (the latest smartwatch from Xiaomi) is the exception that confirms the rule, as it is a multisport model with a lot of features including music playback, altimeter barometric, metric of Firstbeat…
You may ask yourself... Who is Amazfit? It is a brand of Xiaomi's ecosystem. Its manufacturer is Huami, a company that was born in 2013 and focuses on biometric data analysis and activity. It is not Xiaomi Amazfit or Amazfit Xiaomi, it is not a direct development of Xiaomi but it is a competence of Huami, a partner of Xiaomi where the latter injects money and experience.
After this brief introduction of Amazfit, Huami and Xiaomi it's time to talk about the Amazfit Stratos again. At first glance it brings if not everything, many of the features found in the top models from manufacturers such as Garmin, Suunto or Tomtom. So... is it as good as it looks? Well, that's what the evidence here is for, all without any gimmicks or cardboard.
I've been using the Amazfit Stratos regularly for a few weeks now, so I have a pretty good idea of what it does well and what it could do better. This time I bought the test watch myself, it's not a test unit on loan from the brand.
From the shop to my house and from there to be tested. So you know, if you want to collaborate with the site and make these tests possible, you can do it by buying through the links I provide. It will not cost you more and you will be helping with a small amount to defray the costs and the work I do here.
Without further ado, we'll go over all the details.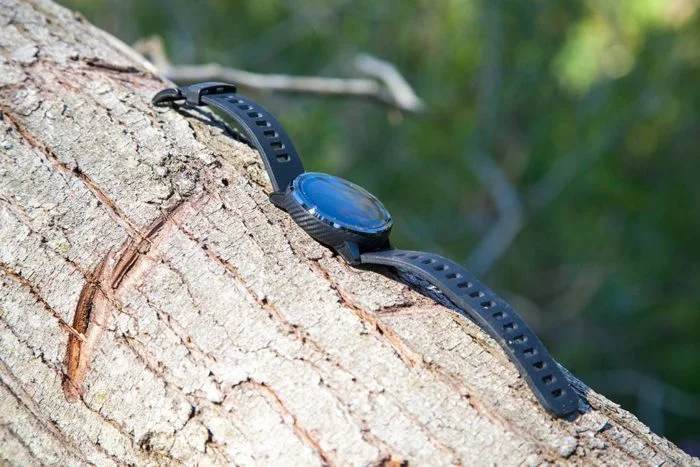 Summary
Overall operation - 5.5
Training possibilities - 7.5
Platform and applications - 6
Autonomy - 9
Finishes and comfort - 8
Price/performance ratio - 8.5
7.4
TOTAL
The Amazfit Stratos is a watch that attracts attention, both for its neat aesthetics and for its feature sheet. Not only for being one of the cheapest options to play music from the wrist, also for being the cheapest watch that allows you to make a triathlon log as a single activity. On paper the watch appears to be very good, is it so in reality? Well, to verify it is precisely the tests that I perform, assessing in a real way how a device is and not simply detailing what are the advertised features.
---
The good
Competitive price for your services
Music playback
Very successful aesthetics
High quality screen
The GPS works accordingly
Includes a multitude of Firstbeat algorithms
The bad
Low quality optical pulse and barometer
There are still a few software bugs that need to be ironed out
I was unable to configure the WiFi from iOS
The display does not light up when displaying or receiving messages, and the wristwatch lighting does not turn off when we set the no disturbance period (very uncomfortable at night)
Difficulty in updating the firmware
---
Amazfit Stratos, the device
Technically and aesthetically the Amazfit Stratos is an eye-catching watch, and that's without looking at the price tag. It's quite evident that in many ways the manufacturer (Huami) has been taking a lot of ideas from existing products on the market. Why try to turn the market around when you can take the best that others have made?
The screen is touch-sensitive, but we also have three physical buttons, just like in Suunto's Spartan range. This is not the only thing that reminds us of the Finnish models, as aesthetically the master lines are very similar.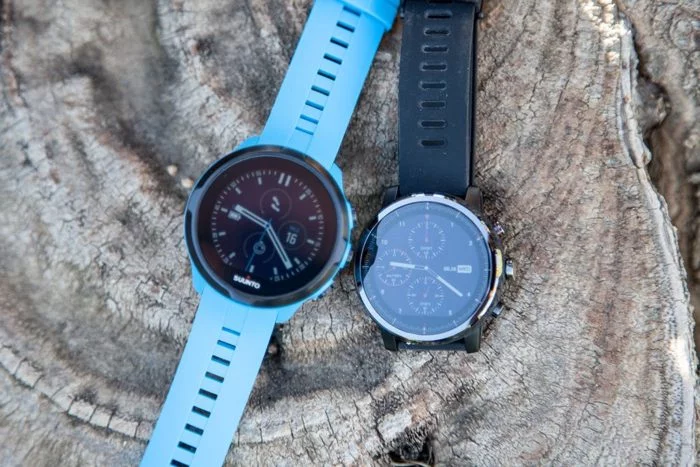 The quality of construction is quite good, although there are two aspects that do not convince me:
I don't like the similar-carbon finish of the box. I think a plain color would be a better option, but this is already an aesthetic issue that you may like.
The silicone strap was a bit stiff and I haven't finished feeling comfortable with it. It's an easy solution because not only can it be replaced but it also has a quick change system and can be replaced with any 22mm wide strap.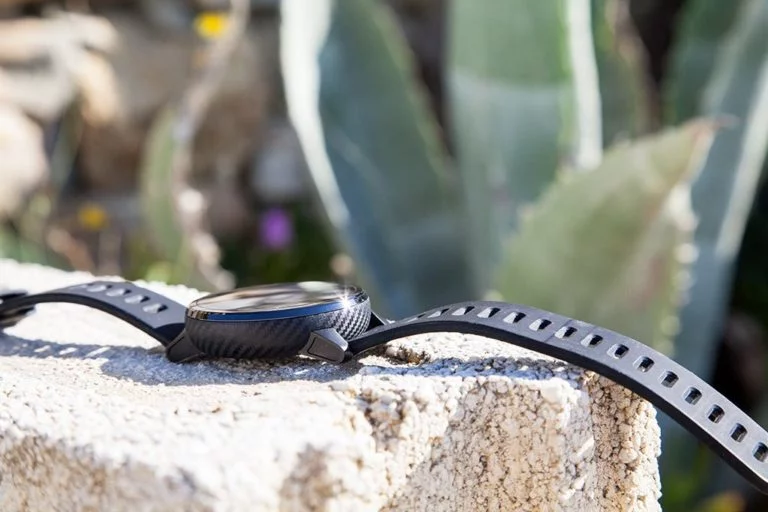 The touch of the buttons is good, it is perfectly appreciated when you have clicked on it. Although it does not have Sound confirmation message that can be activated for any function (any notification or alert is made exclusively by Vibration), the very click of the button is enough to know that you have pressed it.
You can navigate through the menu either by sliding your finger or by using the buttons. The menu is arranged from left to right and in case we can see more details (e.g. activity or history monitor), from top to bottom.
And by the way, I haven't commented yet... how are you doing in English? Because the clock is entirely in Shakespeare's language, there is no other option. It is foreseeable that in the near future, if the clock arrives officially to our country, it will be updated and include the Spanish language, but for the moment it is not a possibility. There is an option to change the ROM and put a translated one through the community, but there are more steps to be taken.
- Update 25 June
With the new update you can now configure it in Spanish.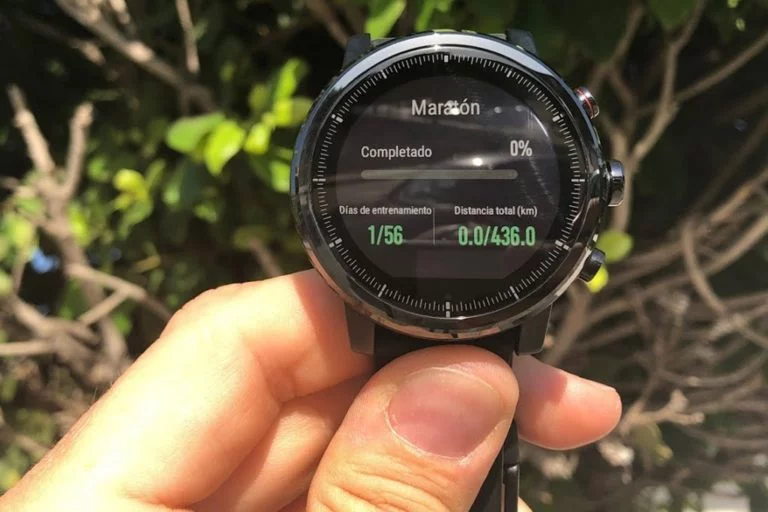 That the Amazfit Stratos is a serious gamble can be seen in that includes up to 8 Firstbeat algorithmsTherefore, when the clock indicates an estimate of VO2Max, recovery time, calories, etc. it will, in theory, be as accurate as a similar Garmin clock, because Americans also license these algorithms through the same company.

That "in theory" I indicate because in all these algorithms the heart rate is the most important variable, so it all depends on how the clock is collecting that data. In the case of the Amazfit Stratos we have a optical heart rate monitor of our own designBoth the hardware and the software that controls it.
Therefore all Firstbeat metrics depend on that sensor, unless you synchronize an external one through BluetoothThe specific section on the optical pulse sensor below is therefore very important.
---
Activity monitor
The first thing to note about the Amazfit Stratos is that it has a full activity monitor, which tracks your day-to-day and sleep patterns, and compared to more traditional brand models, the only thing missing is constant heart rate monitoring.
It is possible to take a reading on the clock at any time, but the graph it shows does not indicate either the date or the time, so it is of little use as a reference.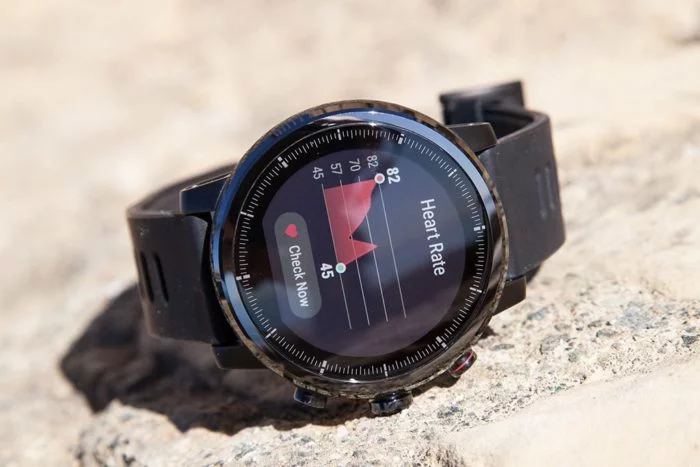 The same graph can also be found in the application, but now we can access the dates and times of each of these measurements.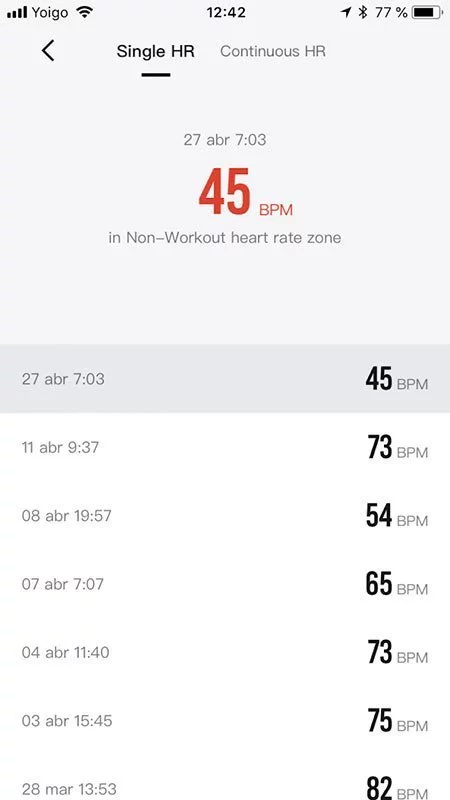 The clock allows you to activate a constant heart rate monitoring mode, but this information is not synchronized via Bluetooth to the phone. You can synchronize it via WiFi, but since it has been totally impossible for me to set up the wireless network with the iPhone, I cannot confirm that it will also appear in your account.
As for the rest of the activity, the clock screen shows all the information and details of activity in great detail, all with beautiful graphics.
The activity history of past days is present and you can review not only the daily activity but also the training you have done.
There is also a weekly report. It shows information that no other manufacturer had thought to offer, such as times and total distances of all sports weekly, average rates and Comparative with past weeks, etc. Certainly does not mean that all this information is of interest, but it is a detail and it is not superfluous that it is included and that each one gives it the value that he considers appropriate.
Of course there is data synchronization with the application, where complete reports of activity and of dreamAnd speaking of sleep measurement, he also separates periods of deep sleep from lighter sleep. As for the times he estimates, they seem more or less right to me; they don't go by the minute but they are quite precise and coincide when I have been able to fall asleep.
Here are a few images of all these reports that are displayed in the application.
There is also measurement of the number of plants ascended, but as you will see later in the section on the barometric altimeter, perhaps in this aspect it is not necessary to give it much credibility...
In short, the Amazfit Stratos does everything we can ask of a watch when it comes to measuring daily activity. It's not surprising, but it doesn't miss any functions that we can find in other models either. But almost certainly if you're interested in this watch it's for specific training and racing measurements, so let's get on with it.
---
Sport on the Amazfit Stratos
On the Stratos we have a wide variety of sports profiles, which I will now list:
Career (exterior and interior)
Mountain race
Cycling (outdoor and indoor
Swimming (in pool and open water)
Elliptical
Climbing
Triathlon
Skiing
Tennis
Football
These profiles are predefined and it is not possible to alter them, although with successive updates new profiles have been added. Each of them can be configured separately, except for the triathlon profile which does not admit any modification. This configuration is inspired by what Wahoo did with his cycling units, although in a slightly more complicated way.
First, through the mobile application, we must select which data fields we want to show and the order of importance we give to them. Depending on the sport the data varies, of course, and within this data we can choose to show or hide it if that metric is not relevant for us.
This is in the mobile part, because then in the settings of the sport profile of the watch we must select whether we want 6 or 4 digit displays per screen.
Once this selection has been made, it will show all the data selected and in the order that we have placed it on successive screens.
Logically, each sport profile has data relevant to it, which for example differs quite a bit from what you have seen previously for racing from what is available for swimming or skiing.
There are other possible settings within the sports profiles:
Autolap (pretty obvious)
Alerts:Lap warning, heart rate warning (by zone or by number) or pace
Real-time metrics:The Heart Rate Monitor adds an additional display where it only shows a heart rate or pace indicator along with a graph (only if the display is unlocked)
3D data:For training or races where you will encounter a steep incline and horizontal movement is not "standard". Moving at a certain speed on a 20% slope does not cover the same distance as on the flat, so the watch will adjust the speed to provide a more accurate data, taking into account the hills. However, only use it in situations where you will actually have a significant drops
Background color:black or white
Yeah, it's kind of messy, especially since you have to set up in two different places.
As for the profile of triathlonBut as I indicated before, it does not allow modification of the profile so the order of data and what is shown is what comes on the clock and does not allow changes. Nor does it allow the creation of others, such as duathlon or bike/running block training.
Once you have chosen the desired profile and it indicates on the screen that you can start the activity, you simply have to press on the screen or press the upper button to start the timer (if you press the upper one again, you will be paused). If you want to change the data screen you can do so with the central button and, finally, the lower button will allow you to mark laps.
This is true for any normal profile, but the triathlon profile is a bit more complicated because transitions come into play. There is no possibility of changing screens here as we only have one for each of the sports (swimming, cycling, running). To switch to transition, for example from swimming to T1, you must leave the top button pressed for 5 seconds, but be careful that if you have not pressed for 5 and only 4.9 you will not change sports.
Going from T1 to cycling is faster, because you only have to make a short tap. It can happen that you mess up and when you go from a sport to transition you don't remember and just give the short tap, stopping the recording that if you don't realize it can become a very big problem.
In short, Huami should review these details because it is quite unintuitive and if there is a time when you do not want to miss any data is precisely while participating in a triathlon.
Once you have finished training and pressed the top button to stop the activity the pause screen will be displayed, where you can choose to continue, finish or discard. If you save the activity you will access the activity summary screen, which I have to say is simply impressive.
The amount of data is overwhelming, more than any other sports watch, in fact I think it's too wide. And just like Suunto watches there are also very detailed graphs of heart rate, rhythm, performance condition, cadence and altitude.
In addition to seeing this data on the clock, you can also see it in the mobile application, where all this data will be synchronized. Here are some screenshots of what is shown.
If the information shown by the clock is remarkable, the one shown by the application is not surprising. It is quite basic and it is not possible to see it through a web page since only the mobile application is enabled.
Mind you, everyone data is synchronized at server level, so if you delete the application or change your phone, you can still access all your workouts.
If you don't like the way the application represents the information you have a second option, export the workouts from the clock. At the bottom of the workout summary you will find a button to export the file, which will be saved in memory. The clock works with the GPX format that is perfectly recognizable by any application, saving it in the "gpxdata" folder. Remember that the Amazfit Stratos is based on AndroidThe data cable and direct communication in Windows or with Android File Transfer in Mac is the standard.
However, you must take into account that it does not work the GPX files correctly, since it does not record the GMT time information, which causes that when you open the training with another application the hours are not correct. When making the comparative graphs that you will see later on, it has been a bit of a headache, but for a normal use it is not something too important either.
But if you just want to see rhythms and distances and you're not going to compare with other models, it's not something you should worry about.
---
Guided and personalized training
When performing trainings With the Amazfit Stratos we can do them freely, where you simply make the changes and turns you want, or objectively.
When you select the race profile you can scroll down to find not only the profile settings, but also the different training goalsThis part is only available in the outdoor running profile, it is not available in any other profile.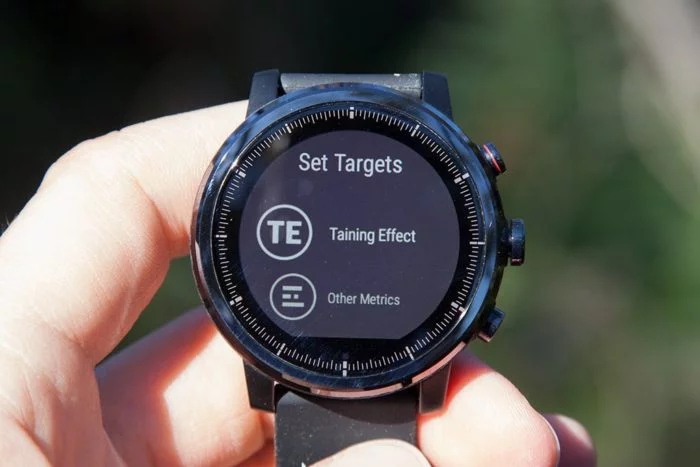 On the one hand, we have the possibility of training intervals That is, we can program a guided training in which the clock will tell us in each of the phases what we have to do. These trainings are prepared through the application and we can select different intervals by distance, time or click on of lap button. As for the target of each interval can be by ritmo or heart rate.
In this mode the data screens are specific (not customizable) and do not present much information. Also, when you create an interval, it does not allow you to set a rest period. For example if you select a 5-time repeat of an interval between 3:00 and 3:30, there will be no intermediate period to catch your breath and it will appear as a separate lap. This is a major flaw.
The second option is to train with the Firstbeat custom training algorithmThis is something that Suunto has also included in its latest model, the 3 Fitness. But even if the algorithm used is the same, the most important thing is how it is implemented in the clock.
In this case Suunto has solved it much better because it has made the whole clock and its possibilities revolve around this, while in the case of the Amazfit Stratos it is simply a more hidden option within the menus.
By selecting this training mode, which again indicates that it is only available for the race profile, the clock will indicate what kind of training we should do. Everything is based on TE (Training Effect) and depends on other variables, such as the estimated Running VO2Max , the recovery timefrom your past training history. That is, it is not a pre-determined plan but rather one that adapts as it learns from your training habits.
There are two problems. The first is that it is not obvious or easily accessible on the menu, so it can easily go unnoticed. Also, it does not indicate what training we should do on other days to adjust better or worse to our lifestyle (something that Suunto does by indicating the weekly planning). It just shows what you should do today and that's it.
The second problem is that the entire algorithm revolves around the heart rate data collectedTherefore, the recorded HR data is very important, and if we are only going to use the optical heart rate monitor of the watch, it must be reliable, at least to a great extent. And as you will see later on... it is not the case.
---
We have the possibility to have a basic navigation on the clock. It's nothing sophisticated but it can be enough for the less demanding ones.
The clock supports GPX path files, which can be downloaded from Wikiloc or created with any tool that supports these files, which is quite common. We can also go back to navigate routes that we've done before and that they're kept in memory.
The routes must be uploaded by connecting the clock to the computer and copying them to the same folder where we can export the activities, called gpxdata. Once copied when you want to make use of them you simply have to access the settings of the sport profile and select the option of Course Import.
Here you will see both the path files you have uploaded and the exported ones that you have not yet deleted from the clock memory.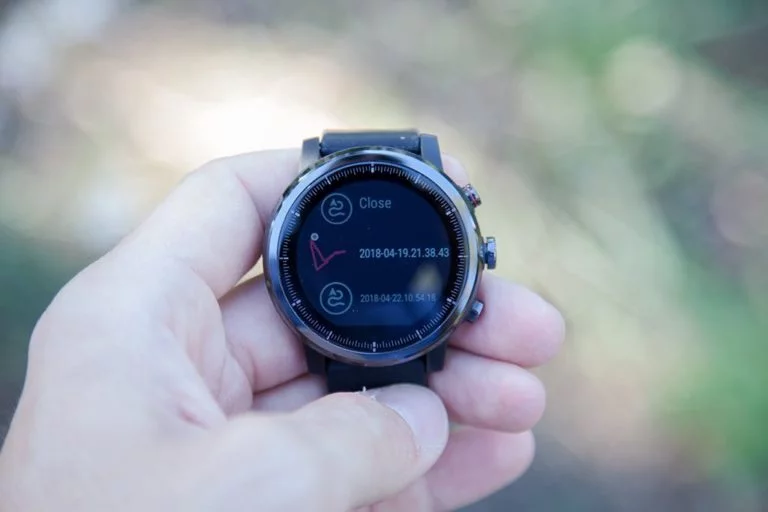 Simply select it and it will be loaded, you can start the activity at any time and the route will appear on the last data screen.
We also have a magnetic compass, so you can turn on yourself and the map will also change, helping you to find the right path if in doubt. There is also a zoom in and out of the route with a range of 50m to 5km.
There is no turn signal or anything like it, just a route of points to follow, so it is not a navigation at the level of what a Suunto or Garmin model can offer, but for basic use it is perfectly valid.
---
Music playback
The ability to reproduce music is another important aspect of the Amazfit Stratos. 4GB internal storage, although not all of it is available for uploading our MP3 files because as usual the operating system needs its memory space.
To transfer music to the clock there is no magic procedure or need for special programs, since if we connect the clock to the computer we can access its memory directly. Do not forget that it is still an Android device for everything. Therefore in Windows it will appear directly as an external drive and in Mac we will need to download Android File Transfer.
We have to pass the music files directly to its memory, therefore we must have our music or podcast already downloaded previously. By the way, it supports MP3 but not archives FLAC.
The player is accessed directly from the clock menu by sliding from right to left. Before you can play music, you will need to pair some headset BluetoothThe watch will then be stored in memory so you simply need to turn it on to be recognized by the watch.
The player is quite simple. The main screen only shows the play and forward/back buttons of songs and, when playing, also details of the song.
As it doesn't sync playlists but simply files, it doesn't allow us to play a particular album for example, but we have three playback options:
RandomShuffle: Plays the music in a random way
LoopPlaying the music in order, but we do not access the folders to choose where to start playing, so if you want to play a particular album you will have to search it by song
SinglesRepeat: Repeat the same song constantly
In the settings there is a second option which is the playback volume. This volume is not controlled by the buttons on the headphones (if any), which is quite annoying. So we have two different volumes, on the one hand the one marked by the clock and on the other the one controlled by the headphones. So the best thing is that the clock volume is always at the maximum so that from the headphones you can increase or decrease the volume as you like.
This if the headset has control buttons, if it doesn't we arrive at the second even more serious problem, which is that the music player is only accessible from the menu and not when we are in a workout. In case we are recording an activity there is no additional screen where we can change the song, pause or increase the volume. To do this it would be necessary to stop the activity and return to the menu. Quite loose in that sense.
As far as playback is concerned, I haven't had any problems with cuts, neither training nor walking normally, but I always take the precaution of wearing the watch on the same wrist where the headphone antenna is located -if they have a cable that joins them together they usually have a bulkier area where the battery and the control buttons are. If you have problems with playback cuts try changing the location of the watch and pass it to the other wrist.
---
Optical Pulsometer and External Sensors
As I said before, all the training functions of the Amazfit Stratos are closely linked to the data of heart ratebecause all algorithms need this data to calculate. VO2maxThe training loadThe customized training plansThe recovery time… all.
To be able to use all these metrics the Amazfit Stratos has an optical pulse sensor. Some less experienced manufacturers choose to incorporate a more developed external sensor, but Huami has chosen to include his own.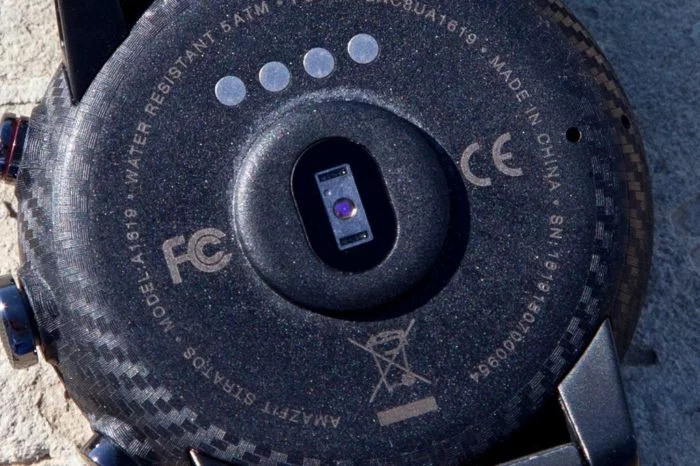 Therefore this aspect was one of the main ones to focus on when testing this model, for which and as I usually do, I simply train accompanied by other pulse sensors, either optical or traditional chest.
Usually I write this section from minor to major difficulty, but today I'm going to change everything completely and I'm going to do it the other way around. Let's start with the most complicated aspect for an optical sensor: cycling.
Honestly for this test I do not expect a minimally positive result. So far no watch with integrated pulse sensor has managed to get good results, and the Amazfit Stratos was to be no less.

In fact, if there is any coincidence in the three graphs, it is just a coincidence. And it is not a complicated output because there is not too much variability (for example, no stops, many ups or downs, etc.). The Garmin 935The Amazfit, without doing a good job either, at least it does have a similarity to the breast sensor, but the Amazfit was just passing by.
Well, nothing strange, that's to be expected. Interval training is also a bit difficult for optical sensors. Variable intensity, very fast changes, etc. What you usually see is some delay in the rise and fall of the pulse and sometimes it gets lost in one of the intervals. Let's see what happens with the Stratos...
I can only think of using a "meme" to express what I felt when I saw the comparison of the graphs....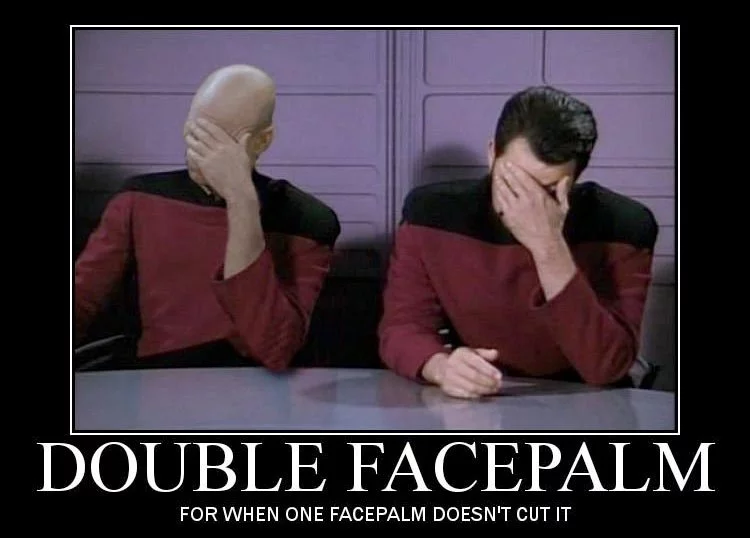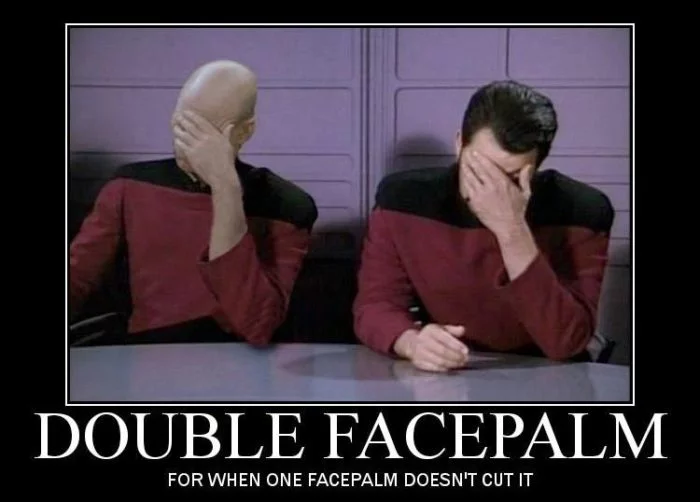 It's a total and absolute disaster. It's just that in the 45 minutes of interval training you don't get to hear about the film even once, something I've never seen before. There's a positive side to this, it saves me from enlarging the graphics to show you some separate interval or some important detail. The error is so big that it's simply not necessary.
This is just one of the examples of interval training I have done with the Amazfit Stratos, I could put you two or three more graphs where the result is practically identical.
Well, let's continue to lower the bar. Maybe I've been too harsh and maybe not everyone who wants this watch is interested in doing interval training. Let's go with the easy and any optical pulsometer has to be able to record almost perfectly, training at a constant pace and without any variation.
This is a 7 kilometer workout without paying attention to any of the data on the clock and simply for the sake of sensation. Aiming to force, but without getting into a running rhythm. I accompany the Amazfit Stratos with a Garmin Forerunner 230 linked to a sensor HRM-Tri and with the FR935 using his optical pulse meter.

The start is always difficult for any sensor, even for chest sensors when they are dry, but when the graphs of the two Garmins start to show identical data the Stratos is always about 10 beats below.
Only at the end of the training the Amazfit is aligned with the other two graphs and starts to show some real data.
Will it be a one-off failure? We're going with an even easier training, first recovery run after the Half Seville 2018 at a lower intensity and pace.


How about another day of racing with slopes?
No, there's no way the sensor on Huami's watch has even slightly correct pulse readings.
It is a complete and utter disaster. The optical pulse sensor is absolutely worthless, not even for 24-hour heart rate tracking. It's a feature that can be activated in beta mode in the "Huami Lab" section, but they won't be recorded anywhere in the app, apart from eating up the battery and drastically reducing autonomy.
As I said at the beginning, all the algorithms in the clock are related to heart rate, but if we depend on a sensor that is not worth a cent then the whole experience goes down the drain. It's a real shame that Huami didn't choose to provide the Amazfit Stratos with a proper sensor, and if they are not able to develop it there are companies that can supply it. But of course, that implies paying rights that would make the product more expensive and not as interesting in its price/performance ratio.
At least we do have the possibility of using the watch with a external pulse width that we can connect through Bluetooth.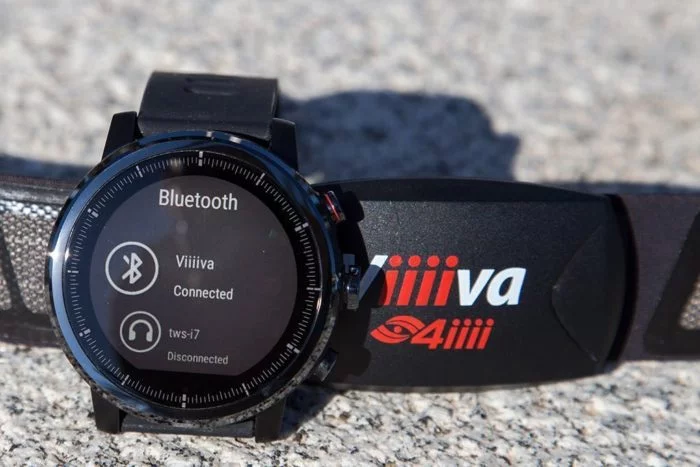 This heart rate monitor you connect can be optician or bandedBut what is clear is that regardless of how the watch is used and what your training is, it is mandatory and must be included in the budget.
---
GPS and barometer on the Amazfit Stratos
After the huge fiasco with the optical sensor, let's go to other sensors, see if we have more luck. I'll start with the barometric altimeter which includes the Amazfit Stratos and has a remarkable presence in a watch in this price range. It's not at all common.
This barometer will do two things:
Tracking floors that have been climbed throughout the day
Count the number of positive meters climbed during training, whether running or cycling
That is to say, for the normal thing that we can find in watches that use this type of sensor, but that normally is in a higher price range. But of course, perhaps it is because in those models the sensor serves for something since, in the case of the Amazfit, the barometric altimeter serves for the same thing as the optical pulse sensor: for nothing.
Going back to the graphs, here is an example. It's not a question of being more or less precise, it's that it offers absurd information.

In short, I'm not going to say anything more about it because the graphs speak for themselves. Obviously it is not strange that you come back from a training session and I tell you that you have done 1.000m positive and you say "well, I'm like a bull". Well, I'm sorry, they are lying to you.
But hey, let's go with the GPS that at least there's something about the Amazfit Stratos that does work wellIt is not "star", it is simply in line with the rest of similar products on the market.
I will start with this simple training where I run parallel to the road, in a totally clear area and without any impediment for a correct registration.
From a bird's eye view, there is no problem, all three clocks record exactly the same route. There is one area where it can be interesting to zoom in, which is where I go around. I do this under a tunnel so the clocks lose signal and have to recover it when I come out of it. It is always interesting to check what the behaviour is in case of signal loss.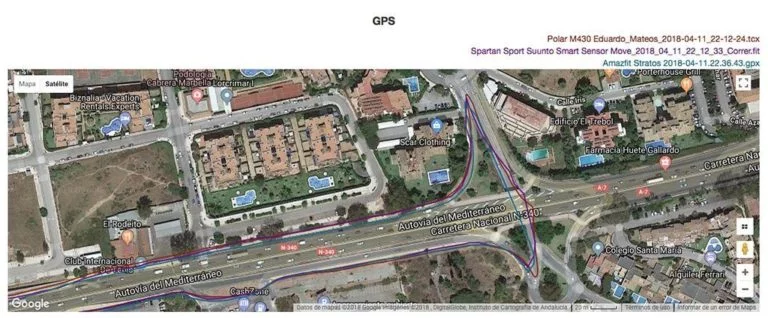 The Stratos algorithm simply joins the points between which it has had a signal. Points for why in this case the performance has been as expected and has been the best of the three, but if the tunnel instead of being straight is in a curve it would have been cut.
Little more to add in this short training. In some points it keeps the line correctly while the others go 1-2 meters somewhere and vice versa, that is, the usual behavior that we can see in any GPS watch.
Second example on my usual route, so usual that I know perfectly well where there might be problems and I can look for them easily.
Well, there's a bit of everything. This is the pivot point, you can see how much Garmin 230 like Amazfit Stratos are reasonably good, while the Garmin 935 However, in the section I'm pointing out, it's the Stratos that's totally off course, as my real path is the one marked by FR230.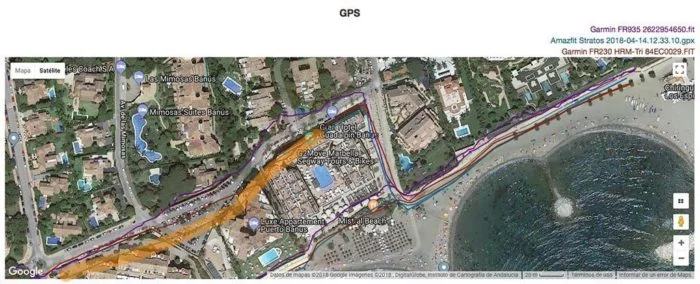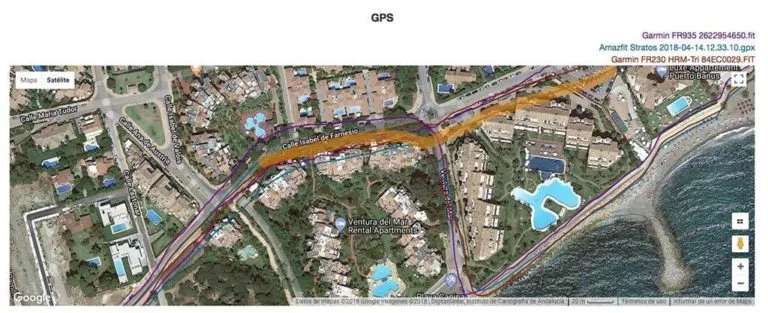 And more of the same. Is this bad? No, simply that a GPS clock is not a precision instrument, as I often say, and it is common for it to move a few meters in relation to the real track.
Another interesting training is the series because I constantly repeat the same line over and over again, to and fro. So the register has to be constant and straight on the same line.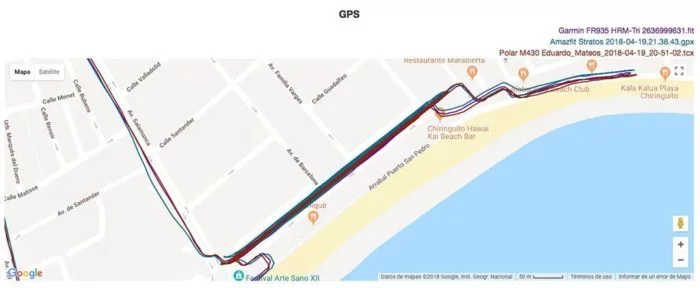 Again no problems from any of the devices, constant lines without making strange traces. The rest of my trainings have been very similar and with an identical behavior, either running or riding a bike.
Finally an open water start. The reference line is the one marked by the Garmin FR230 he was wearing in his swim cap. Yes, it's the most "curly" graph, but the sea was quite moved so it's normal what you see.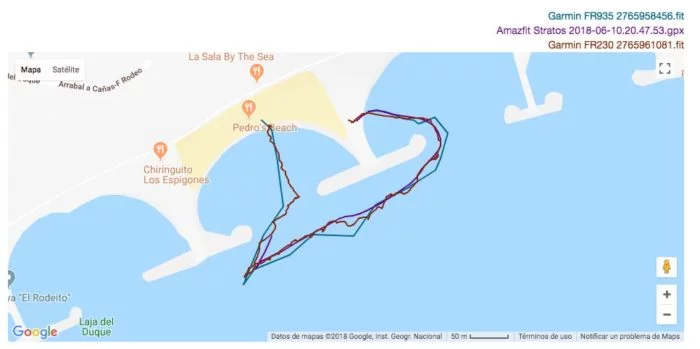 Again we have errors when extracting the GPX file (the data does not arrive until the end, when the complete track appears in the clock), but well, enough for analysis.
The track is correct but maybe too filtered. It improves the typical track that we would see from some of the Suunto Spartans where we would have left and right turns constantly, worse it appears too straight. It's not a stellar behavior, but it could be quite worse.
The conclusion is that the GPS, unlike other sensors, does offer good performance. It's not the best GPS watch, but it's not bad either, at least as far as track is concerned.
But it's not all about the track, and I do have to point out that I've noticed some strange behaviour when it comes to showing instantaneous rhythm on the clock. Even though the field is instantaneous rhythm it seems as if the Amazfit Stratos does some kind of averaging on the rhythm and it's not rhythm per second.
This means that as long as we run in the open and without many speed changes the pace remains stable, but as long as there are problems it will not be at all precise.
It's easy to check this by comparing the speed log in cycling. You can see how the log that the Stratos makes is much more variable than the one I make with the Edge 1030.
Running is also noticeable, with the Amazfit Stratos graphics showing greater speed peaks than other watches.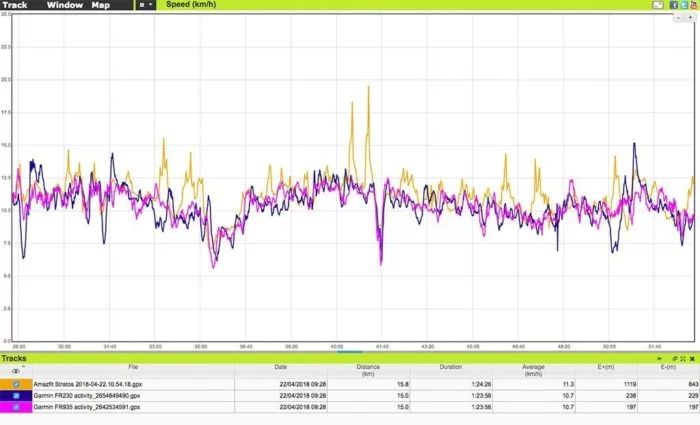 This is a software issue, so I hope it will be solved in later versions. It would be more serious if the track was not correct, because it would indicate that there might be some design problem with the antenna and that it doesn't get the signal correctly, but this is something related to the signal processing that I think can be improved in later versions.
---
My opinion of the Amazfit Stratos
Huami's Amazfit Stratos is a watch that stands out in many ways. And considering the price (I paid for it about 145 ?), there is no other model in the market that can present such a bulky list of features as in the case of the Stratos.
But it's not just a matter of providing dozens of features to achieve a very eye-catching product pageThis is the main sin of the Amazfit Stratos, with various problems present that may be fixable by way of firmware upgrade... or not.
The most notable are the operation of its internal sensorsespecially the optical pulsometer and the altimeterIn both cases, it is as if they were not there at all, because the information they provide is totally wrong. In fact, I would prefer that they didn't even have it.
Like GPS clock it works perfectly because it is a section where it does work as it should, although I hope he'll improve in representing and recording the rhythm.
Mind you, for about £140 it's a fairly capable multi-sport watch, with a autonomy very reasonable, a screen that any Garmin model would want it and even the possibility of reproduce musicAnd thanks to Firstbeat's algorithms we can have many of the same metrics as those same significantly higher-priced Garmin watches.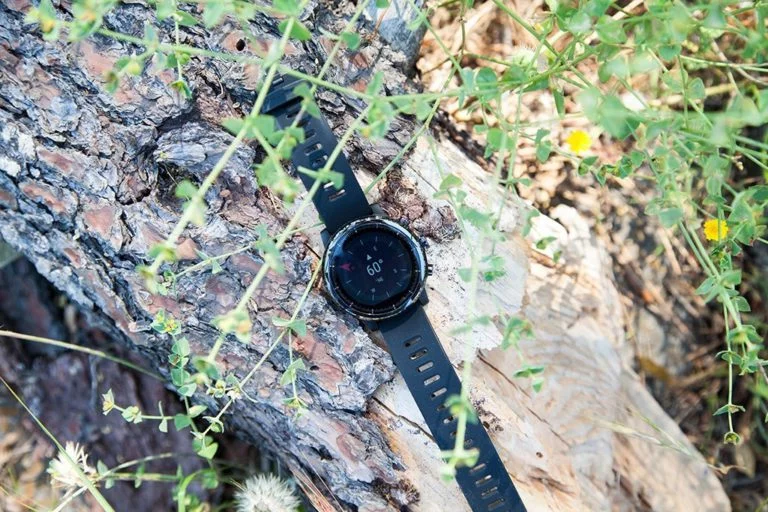 You have to be very clear about who you can be a good choice for. If you're a competitive athlete I don't think it's a suitable model for you, but if you're someone you like be activeIf you're looking for your first running or triathlon watch, it may be a good choice, but you run the risk of not getting it right soon enough.
At the level of reliability does not reach what brands like Garmin, Polar or SuuntoThe Amazfit correctly does the 90% of things, but it is that remaining 10% that is extremely complicated to get and where manufacturers have to give their particular nod.
The Stratos is a cost-effective alternative It is not yet in a position to worry the major manufacturers, but that does not mean that they should not do so. If Huami continues to make progress with its products and maintain this low price, the sales figures of some of the more basic models may be affected.
There is still a long way to go. To be considered as a serious candidate you need a lot of improvements. If you equip sensors that are reliable, to provide wrong information better not provide anything. If you really want to be a contender in the segment of multisport watches you need to support more external sensors and not only heart rate. Cadence, speed, footpod, even power meters. Today none of this is present.
The configuration and the possibilities of data fields are also not very extensive, and the triathlon profile cannot be configured. We cannot have a duathlon profile either (many triathletes switch to this modality in winter), nor can we schedule block training, or do aquathlon.
Huami has already put up some small stones to build something big. First there was the Pace, a fairly simple model that was no more than a GPS smart clockThis Amazfit Stratos is betting on entering the GPS running clocks (it's much more than a smart watch), but they still have to walk those steps ahead of them to keep up with the big boys.
---
Buy Amazfit Stratos
I hope that this complete analysis has helped you to decide if it is a valid device for you or not. All the work I do you can consult it without any cost, but if you want to support the web and with it the work I do, the best way to do it is to buy your new device through the links I provide below. And if you don't buy it today, remember to stop by when you are going to do it!
Through these links not only will you get a very competitive price and the best customer service, but I will also receive a small percentage without costing you any additional outlay, which is what allows me to continue offering you proofs like this on the page.
And of course, at Amazon Spain
If you have any questions, remember that you have the comments section at the bottom, where I will try to answer all your questions.