There are more and more activity monitors on the market. Whether it's in the form of a bracelet, smart watch or belt clip, they all do more or less the same thing: they count steps, analyse the intensity of your activity, the quality of your sleep, and some even count stairs or display smartphone notifications. And they will end up transmitting all that information to your mobile phone. They are usually discreet, but when someone looks at them they always ask what it is that you are wearing. But the Withings Activité Pop is different from the rest.
Lo que hace especiales a los Activité es precisamente no parecer un «gadget». Rompen con todo lo que hay en el mercado. Hacen lo mismo que otros fabricantes, pero en un reloj de aspecto elegante que puedes llevar puesto en todo momento y que nadie se fijará en él, al menos no como un monitor de actividad.
Dentro de la gama puedes encontrar dos modelos. El primero en llegar al mercado fue el Activité, presumiendo de su fabricación suiza y con un precio de 390€. Durante el CES de Las Vegas Withings presentó el Activité Pop: mismo concepto y prestaciones, pero cambiando su etiqueta «swiss made» por «made in China», a cambio de rebajar notablemente su precio a 149,95€. Y a pesar de la disparidad en precio, lo único que los diferencia son los materiales usados. El Activité Pop pierde el cristal de zafiro, la caja de acero inoxidable y la correa de piel. Lo cual no significa que se sienta barato a su lado, todo lo contrario. Sigue teniendo cristal (aunque mineral) y no una lente de plástico, la correa de silicona tiene buen tacto y la caja del reloj está realizada en metal con un recubrimiento de PVD. Y su funcionalidad como monitor de actividad es exactamente la misma.
The watch I have tested for a few weeks is the Withings Activité Pop, which is the most interesting watch in the Activité range because of its quality/price ratio. It is available for purchase on the Withings website since the beginning of February.
As always, I like to clarify the origin of the test units. Despite contacting the Withings press department on several occasions to get a test unit, I got no response. So as soon as it was in stock in Europe, I went to their website and bought a unit. And in just two days (and without shipping costs) the test was already starting.
Unpacking
The Withings Activité Pop is unobtrusive and at a glance you can see its main features. You don't have to charge it (it works with a button battery that lasts about 6-8 months and you can replace it yourself) and it is synchronized via Bluetooth Smart. It monitors your activity, your sleep and has a silent alarm.
This is the first time I have to break a box to get a device out. Withings has not made it easy, and by pulling the watch and the small box that holds it, it doesn't seem to come out, so the option is to pull the whole block. Wrong, because it's stuck to the bottom of the packaging. The trick is that you have to take the box out by forcing it slightly forward to overcome some tabs that it has. And so you avoid the damage.
We throw away the box and keep what we are interested in: a small instruction manual, our new Withings Activité Pop and the tool to activate it and to remove the battery cover.

The Activité Pop allows you to change the strap very easily. If you turn it over, you will see that it has some actuators on the pins. You can change the strap for any of the ones offered by Withings (leather or rubber) or use any one you want, as it is a standard size of 18mm. You can also see the activation button that you will have to press to start the watch, and the small tab on the cover to be able to change the battery.
And speaking of changing the battery, it's very simple: lift the lid, replace the CR2025 battery (which you can buy in any supermarket for a small fee), close the door and it's done in another 6 months.
Once I've assembled it and made sure there are no pieces left over (you never know...) it's time to put it on my wrist and start moving.
Withings Activité Pop, the clock
The Withings Activité Pop is only available in one size, with a 36.3mm diameter dial. I think this is a size that will satisfy few, because while for men it may be too small, for a woman it may be too big. I have a fairly wide wrist, aesthetically it is too small.
In the case of a woman's wrist, the sphere size is much more natural, but the problem here is that the strap is very long.
All the clock settings are made directly from the phone, so after pairing it up and checking if there are any software updates available, what we need to do is calibrate it. You should leave the hour and minute hands at 12 o'clock, and the movement hand at zero. After that, the clock synchronises with the time the phone has at that moment, and it will stay that way as long as it remains connected. So if you make a change of time zone, the clock will change time automatically.
The clock has a silent alarm that can be activated and deactivated from the mobile application, but with details to be improved. The first thing is that it is not possible to differentiate between the days of the week and the weekend, so if you use the alarm to wake up in the morning you must remember to disconnect it manually when the weekend arrives. Unless you intend to get up on a Sunday at 7:00, which I doubt. The second problem is that the alarm cannot be stopped, you have to wait until the clock stops vibrating, and it will do so for twelve times in a row. Something annoying if at the third or fourth vibration you have already heard the alarm.
A couple of touches on the watch crystal will move the hands to show it.
Withings Activité Pop, the activity monitor
Let's go to what we are interested in, monitoring our activity. Once the clock is synchronized with the phone we will have all the information regarding our activity, both in the application and on the Withings website itself. The synchronization is not with a device, but with its servers, so it is multi-device. We can consult the data from different phones or tablets (and synchronize them), as well as view it on its own website.
In the section of applications, we can find it for Android and iOS. But at the moment in Android it is not possible to synchronize the clock to download the activity, we can only consult data and enter others manually, such as weight. On March 2nd, Withings has updated its Healt Mate app to support syncing with Android.
Both applications, the telephone and the web, are complementary, that is, they do not show the same information. On the web we will find more generic information about our activity, such as objectives or comparisons with other friends that we can add, medals achieved with our achievements (which you will also receive by e-mail), as well as different graphs. Especially useful is MyFitnessPal to be able to follow the evolution of the week if you want to lose weight.
In the phone application you will have more detail of the daily activities performed, as well as the duration and steps taken. These activities are separated into fragments, so you will be able to identify each one of them. When you take the dog out, when you go out on the way to the subway, the way from the subway to work, etc. Each one of them will indicate a start time, the type of activity, the distance traveled and how long you have been moving.
But not only is it useful for counting your walks, it also makes a difference when you go for a run, counting it in a totally different way in terms of distances and calories, which it calculates with an algorithm from the height and weight data entered at the beginning.
Here I compare the Withings Activité Pop records against a GPS clock. This is the data present in Garmin Connect. Tuesday and Wednesday running, and Thursday playing football.
On Thursday, according to Forerunner 920xt's GPS measurement, I covered 4.71 km (football match), starting at 21:58 and with a total duration of 1:07. Let's see what the Withings Activité Pop recorded for that time of day.
A very similar distance, 4.5km done in a little more time, as it has counted as the same exercise, in addition to the match, the coming and going of the parking lot. But the intensity of the exercise has not been interpreted correctly, so it has only counted 199 calories instead of the 850 indicated by Garmin Connect. And it is something that you can not change later, so if the clock is wrong in the type of activity, bad luck, because it will stay that way.
On Wednesday I did a 33:47 workout for a total of 6.8 kilometers at 10:34 p.m. and consumed 615 calories. What does the Withings Activité Pop say about that activity?
Enter the start time and duration of the exercise, 34 minutes from 10:35 p.m., although it counts one kilometer more, but the calorie estimate is very close to the figure recorded by the Garmin Forerunner 920xt.
Finally, Tuesday's activity: 10.51 km training leaving at 22:30, running for 55:56 with a consumption of 882 calories.
As on the previous day, it again perfectly records the time of departure and the duration of the exercise, although again it counts a little more distance. But where it coincides again is in the calculation of calories, indicating a consumption of 936.
Within the typical operation of an activity monitor, which simply collects data thanks to the internal accelerometer it has and interprets it thanks to the algorithms created by the manufacturer, the records offered are closer to reality than we might imagine at first.
Sleep monitoring
Once you're tired of walking, running and exercising it's time to go to bed and rest. Another feature we found in the Withings Activité Pop is that sleep detection is automatic, so you don't have to change modes before going to bed and go back to normal mode once you get up, the clock does it automatically.
The mobile will then receive all the data about how the dream was that night, and you can check it both on the web and in the app.
The graph shows when you start sleeping and whether you are sleeping deep or light. It also tells you if you have woken up in the middle of the night. And if you put your finger on the graph, you can tell at what time each of the events has occurred.
Withings Health Mate
Health Mate is the name of the application with which Activité Pop is synchronized. It is the one we have to download to perform the initial configuration and where you will find not only the details of your activity, but also the monitoring of your health with a series of tips that will be offered to you. At this point Withings has set it up well, as the application itself encourages you to monitor your health completely thanks to other products of the brand, such as the scale or the blood pressure monitor that they have in their catalogue and that are also wireless.
The application is simple and the menu is quickly summarized.
Timeline: your daily activity, both on the move and sleeping. You can also set the alarm or take a heart rate measurement (with the iPhone's camera).
Control Panel: A section where you can place widgets with the information you are most interested in and that you can order yourself.
Tabla de clasificación: Si más amigos usan Withings, aquí os podréis «picar» a ver quién da más pasos cada día.
Profile: Set your weight and height here, and you can also enable synchronization with third-party applications such as Apple Health Kit, MyFitnessPal, RunKeeper, and more.
Reminders: Health tips for which you can activate warnings, such as going for a run, taking your blood pressure or going to sleep.
At the top of the Timeline you will have your activity of the day while below you can see what you have been doing in the past days. Clicking on each section you will have extended information.
In the control panel you have the different widgets that you have selected, along with a butterfly with coloured wings, which will be coloured as you carry out the activity and fulfil your objectives. This is what you call your level of well-being.
As you can see, these levels are based on your weight, activity, sleep and heart rate. Activity and sleep are automatically completed with each synchronisation, while weight and heart rate data must be entered manually, although if you have the Withings scale and blood pressure monitor you will also get this data automatically.
What is missing from the Withings Activité Pop?
Como suele ocurrir con los productos lanzados por Withings, sus inicios son algo «tortuosos». Se lanzan al mercado con alguna característica anunciada que no está presente (aún) en el producto final y que deberá llegar en futuras actualizaciones. Y esto también ocurre en el Activité Pop.
The first thing you'll find is the lack of an Android app, although Withings hopes to fix it soon. It's not really that there is no Android app, which there is, but is not yet compatible with Activité or Activité Pop. This issue should be resolved by the end of February, as announced on their website. Withings has kept its promise, and on March 2nd (well, it's been a couple of days) Activité and Activité Pop can sync with Android.

Withings has also repeatedly announced the ability to use Activité and Activité Pop for swimming and to take pool metrics into account. And when I say announce it, it is really proclaiming it. Here are some examples from his website.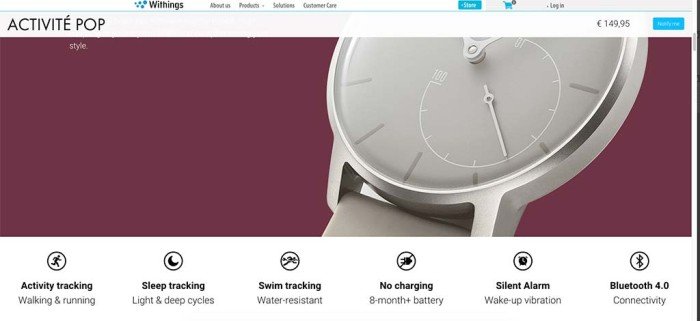 Both on the web and in advertising materials, and even on the box itself, they advertise this feature. This is something that has yet to be updated, and according to estimates by the French firm, we will have it on the clocks by the end of the first quarter of 2015.
Update July 7

Withings has launched updates for the Activité and Activité Pop, and from today it is already possible to track swimming activity. This makes them the first activity monitors with this functionality. It took a little longer than expected, but finally it has become a reality.

As for the Activity Monitor feature, one thing we can't do yet is change the target. By default Health Mate sets it to 10,000 steps a day, which for some may be too much and for others may mean only a part of their daily routine. I hope that in a future update they will allow this to be changed, because even if at 10,000 steps the watch continues to count, starting the hand again from zero, it would be more convenient for everyone to adjust it to their own particular use. Thanks to an update of Withings, it is now possible to modify the target of daily steps to your liking.

La función de seguimiento del sueño no es todo lo fiable que quisiera. En ocasiones falla a la hora de ponerse en modo «sueño» y el tiempo que pasas dormido no lo cuenta como tal, sino como inactividad. Esto modifica todos los registros acumulados durante la semana, por lo que la media de sueño acumulado no será la correcta.

Where it has a lot of room for improvement is in the section on alarms. Not only does it allow more than one to be configured, but it also makes the alarms to wake us up intelligent; a feature that is available for example in Jawbone UpWithin that time, depending on how we sleep (light or deep), the bracelet decides whether to wake us up at the right time or advance the vibration, with the aim of waking up at the right time.

My opinion

Despite these details, I liked the Withings Activité Pop. Quite a lot. And I'm sure you will too. Even if you're a runner, but don't need the accuracy of a dedicated GPS watch or know your workout rhythms right away, the Withings Activité Pop will give you fairly accurate distance data (the usual for an accelerometer-based activity monitor), with a margin of error that will usually not exceed 10%.

Lo mejor es precisamente su estética, de reloj tradicional. Y dentro de ese uso normalizado también está el hecho de no tener que cargarlo varias veces a la semana. Un par de cambios de pila al año (para lo que no necesitas más de 30 segundos) será suficiente. Si quieres contar con la ayuda de un monitor de actividad sin que te vean como un «friki tecnológico», el Withings Activité Pop es la mejor opción.

The price is quite interesting given what it offers (and what it has to offer by upgrading), and the choice of colors available, both for watches and straps, allows you to completely customize it to your liking. What I would ask Withings is two different sizes of dial and be able to offer a slightly larger model, around 41 or 42 mm in diameter, for which we have wider wrists.

Did you like the test?

I hope you enjoyed this full review. It takes many hours to do such a review. If you liked it and want to help, comment below on what you thought of the test, or if you have any questions, ask me!

If you want to help out, send this test to your friends and share it on your social networks. If you want to buy the device, you can do it directly on the Withings website through this linkThey return a small commission that will help in the purchase of new devices to perform more analysis like this.

Buy Withings Activité Pop

You can buy the Withings Activité Pop on their website through this linkOr also on Amazon in the links below.

(

1629opiniones de clientes

)

(

1629opiniones de clientes

)