Below you will find a summary of my weekly training sessions. I also take this opportunity to give you a summary of everything that has happened on the web during the last week and the latest updates in the sports technology sector (so that you don't miss anything). I also take this opportunity to make small notes of interesting links that I have found on the internet in the last few days. If you find something interesting that you think is worthwhile, contact me at Twitter or Facebook From time to time I also share or retweet information or interesting links, so don't forget to follow me on social networks if you want to know them all. So let's go with the best of this week.
This week's news
A small list with the main news of the page and the sector, happened during the week. This week I have been "on fire". A lot of content that has been on the page.
New Garmin Forerunner 735XT - Garmin presents a new watch focused on triathlon and multi-sport activities.
Polar Balance now supports more devices - At least, all those that can be connected with Polar Flow.
Garmin Varia Vision Update – Varia Vision is updated to support the new Forerunner 735XT. A graphical page of heart rate and running dynamics is added, as well as specific running data.
Garmin Forerunner 735XT upgrade - Recently released and already has firmware update, improving the swimming pool algorithm and adding paddle surfing and rowing application. Spoken information is enabled (through the Connect application of the mobile) and several problems are solved with Garmin Varia.
Garmin Forerunner 920XT upgrade - Following the launch of the new 735XT this is probably the last update to the 920xt, except for bug fixes and updates to Connect IQ. This version improves the swimming pool algorithm and enables support for swimming training that was made official with the introduction of the 735XT. Garmin also adds a multi-sport total time data field (for the full duration of a triathlon or duathlon, for example) and fixes a number of bugs.
Garmin Edge Touring Update - Compatibility with Varia lights and radar also comes to Edge Touring (at least the plus), and new features and navigation error corrections are added.
Garmin Fenix 3 Update (beta channel) - After the big update of Fenix 3 last week, in which the series of new features present in the beta channel were brought to the official version, the development of the firmware continues, solving several possible problems.
Garmin Fenix 3 HR (beta channel) update - Same new features as Fenix 3 normal, but solving an error with the optical pulse sensor during swimming in multi-sport activities.
Links of interest
The most interesting links I've found this week, almost all of them are curious news related to sports.
Training
Here is a summary of my training over the past week.
Pre-competition week. Next Sunday it's time to compete again, so this week has been strong for what lies ahead.
On Monday I started with a swimming session, initially scheduled for 1500m, but finally I extended it a bit longer than I thought, until 1800m, this time without any technique exercises or anything like that, just swimming at a constant pace.
The next day I played 20 minutes of filming followed by specific exercises for chore, a day I used to recover, with a very quiet trot.
On Wednesday the plan was similar, 15 minutes and then core work. But this time looking for faster race rhythms.
After resting on Thursday, on Friday it was time to start rocking. 40 minutes at a constant pace for more than 9 kilometers, and suffering the wind on the way back.
Saturday was the most demanding day. One hour and a half on the bike with 283W of standardized power and doing several specific work fragments. Two blocks of 10 minutes at 327W and 304W followed by a descent of just over 16 minutes also at over 300W.
And if that wasn't enough, as soon as we arrived it was time to go for a run: almost four kilometres of running (although the activity only starts when a GPS signal is detected) at a running pace, getting the legs used to running after getting off the bike.
But don't think that's where Saturday's work ended... because that's where the Malaga White NightDozens of activities, concerts, open museums... A unique opportunity to enjoy the city and the enormous cultural offerings.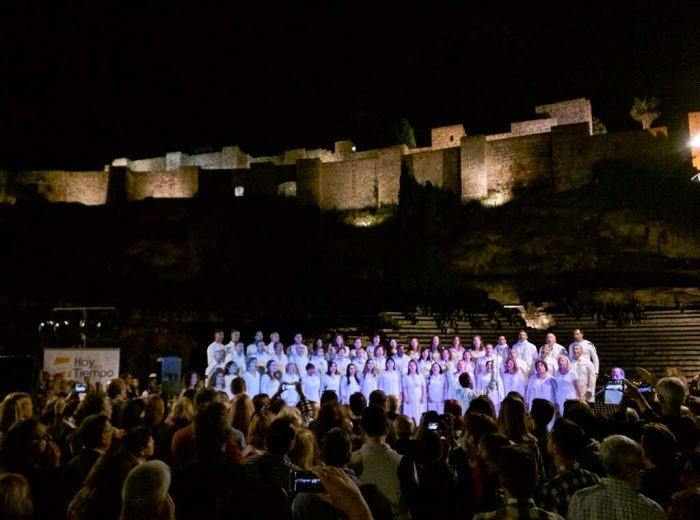 And with it, thousands of Malagueños on the streets enjoying it all.
So if the morning training had been "quiet", the approximately 15 kilometres travelled through the night back and forth had left me ready for Sunday. I had planned another 15-minute outing, but I replaced it with rest.
And in the time I saved I took the opportunity to make a complete pre-competition check-up of the bike: disassembly, complete degreasing of the chain and subsequent greasing (with care, link by link) and general adjustment of everything, ready to compete next Sunday.
And with that... thanks for reading!