These entries not only include a summary of my weekly training sessions, but also what has happened on the web during the week and updates from the sports technology sector (so you can always be up to date), as well as interesting links that I have found throughout the week on the Internet.
If you find something interesting that you think is worth appearing in this section, you can contact me by Twitter or by Facebook From time to time I also share or retweet information or interesting links, so don't forget to follow me on social networks if you want to know them all.
So let's go with the highlights of this week.
This week's news
A small list with the main news of the page and of the sector, happened during the week.
This week everyone has been quite busy, there are many updates released during these last days, probably finishing work before the beginning of the summer season.
Complete Fitbit Surge Analysis - A new review completed, this time it was the turn of the first American GPS watch. If you haven't had a chance to see the test, you can reserve a few minutes just for yourself, and read it lying on the couch.
Garmin introduces two new cycling computers, Edge 20 and Edge 25 - Garmin continues to introduce products. Two new cycling computers for its range, in a tiny format. And a small difference between the two models.
Update v3.60 for Garmin Fenix 3 (and GPS to v2.90) - Expected update for the Garmin Fenix 3. It had been promised for several months and finally it has become a reality. This new version tries to solve the GPS problems that some users reported when doing activities in wooded areas. At the moment the general commentary in the Garmin forums is quite positive among those who had problems before. I personally have never found serious problems with the Fenix 3, but almost all my trainings are in open sky areas.
Update v2.40 for Garmin Epix - Like the Garmin Fenix 3, the Epix receives an update to improve GPS measurement in areas of difficult coverage.
Upgrade to Garmin Edge 1000 - The cycling computer receives a minor update, restoring support for old pulse sensors.
Update v3.00 for Garmin Vivoactive - Finally, the Garmin Vivoactive has also received a little bit of attention. The main improvement is the ability to interact with notifications. Also added is the ability to set multiple alarms as well as a number of other improvements.
Learn more about sleep measurement on Garmin activity monitors - Something that we have been asking Garmin for a long time, a more complete information of the quality of sleep. Now the "sleep levels" view is added, detailing the time of deep sleep, light sleep and awake times. As for differentiation from light to deep I can not confirm much, but it is true that some nights where I have had a bad rest, it has been reflected in the graph.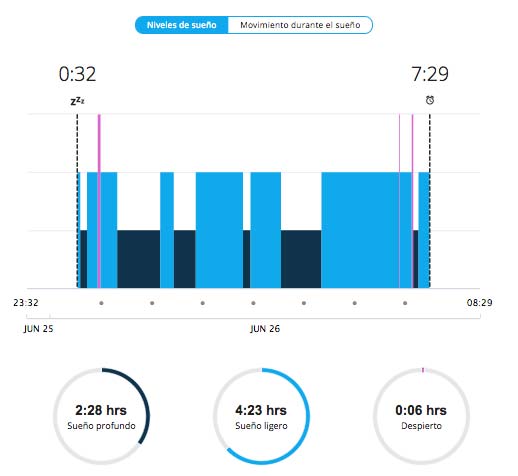 Polar M400 Upgrade - Some users were having reset problems with the M400. This new update tries to solve that.
Slightly updated Polar V650 - The update doesn't add anything right now, it's just a preparation for the next updates to come.
Suunto updates Ambit3 to version 2.0 - The update includes new metrics: recovery status, quick recovery test, sleep recovery test, recovery time and career level estimation (VO2Max).
Suunto Movescount application is updated to version 1.0.6 - Finally Android phone notifications in your Ambit3. At the moment they are only for incoming calls and SMS messages and the clock needs to be updated to version 2.0.4. But step by step the features will be matched with respect to the iOS version.
Update for Fitbit Charge HR - Although the 18.84 update was started, after some problems with older Android devices it has been stopped until this is resolved. A gesture is added to show the time. It will now appear on screen by simply turning the wrist, no need to press the button. It is also accompanied by a few improvements and troubleshooting.
Links of interest
The most interesting links I've found this week, almost all of them are curious news related to sports.
Two pilots flying through a hangar simultaneously - An impressive video in which two Red Bull pilots simultaneously pass through a hangar.
A good study about power and cadence - Curious study about the PMM during short periods of time. Contrary to what it may seem, we can generate more pedaling power in short periods of time by lowering the crankset and pedaling faster, than with a large development that is difficult to move. As an example this attack of Chris Froome to Contador. The truth is that it is quite strange to see him running away with such a strange cadence, but after the complete study made by Zitasport's colleagues we will have to agree with the British.
360fly, the next action camera that will impress us (in English) - Although it's been almost a year since it was introduced, this article from Mashable is quite interesting. 360º video technology is making a lot of progress thanks to Google (with native Youtube support and Google Cardboard as a cost-effective solution), and we're sure that in no time recording action video with just one shot will seem old-fashioned.
Google might be working on a wearable, but it's destined for medical testing - At least, that's what Bloomberg reports. Apparently that's what Google X, the search engine's secret R&D lab, is trying to do.
A judge admits as evidence the data from a Fitbit bracelet - In this case, the data on the bracelet helped investigators see that the alleged victim of a break-in and assault was not sleeping.
Training
Here is a summary of my training over the past week.
| Day | Activity | Distance | Pace/Speed | Click on |
| --- | --- | --- | --- | --- |
| Monday | Rest | - | - | - |
| Tuesday | Running | 11.33 km | 5:29 min/km | 152 ppm |
| Wednesday | Rest | - | - | - |
| Thursday | Running | 14.01 km | 5:29 min/km | 150 ppm |
| Friday | Rest | - | - | - |
| Saturday | Rest | - | - | - |
| Sunday | Running | 22.04 km | 6:04 min/km | 147 ppm |
I don't need to tell you, but it's been a WARM week... Summer has decided to make itself felt. This week I could only train for three days. I started on St. John's night. While everyone was celebrating on the beach with the bonfires and the parties, there was someone running around, getting hot and... suffering.
I got caught up in the training shortly after dinner time, and I didn't digest it well. So from kilometer three or four I started to suffer a lot, with a ball in my stomach and I even felt like throwing up. But I got used to the idea that I was training "the wall", and there I continued to suffer. Just look at the graph to see the gradual reduction in pace.
So on Thursday I was able to leave before dinner time. The final average pace ended up being the same due to the heat (around 28º-30º), but it is because I started with a little more calm precisely because of this heat.
But for heat, WARM, Sunday's. I had the longest run of the week leaving at 11:30 a.m. According to Garmin Connect, the average temperature during the workout was 32.7°C.
Obviously the pace of training was very calm, because I was looking for a long run and not a certain rhythm, but for the next long run it will be time to get up a little earlier and go out with a slightly less aggressive temperature.
See you next week!