Below you can find a summary of my weekly training sessions, and I also take this opportunity to give you a summary of everything that has happened on the web during the last week and the latest updates in the sports technology sector (so that you don't miss anything). I also take this opportunity to make small notes of interesting links that I have found on the internet in recent days.
If you find something interesting that you think is worthwhile, contact me through Twitter or Facebook From time to time I also share or retweet information or interesting links, so don't forget to follow me on social networks if you want to know them all.
So let's go with the highlights of this week.
This week's news
A small list with the main news of the page and of the sector, happened during the week.
Links of interest
The most interesting links I've found this week, almost all of them are curious news related to sports.
MuscleWiki - You should have this page in your favorites. Do you need to strengthen any part of your body and you have doubts about which is the best exercise to do it? Just select the muscle group to work and you will see examples of exercises along with GIF images so you can see how to do them correctly. Very useful!
Summary of the Texas RAAM Challenge - The ultra long distance runner Alberto Cendrero dared last week with a hard 400 miles race with hardly any rest. 640 kilometers of race completed in just over 30 hours. I recommend reading it, because it is one of those adventures worth reading.
Training
Here is a summary of my training over the past week.
And here I am, recovering sensations, although I have not yet run again. On Tuesday I had a visitor at the physio to make me dry puncture in the twin. After a good time of "stabbing", I left there quite touched. If you have ever had any such intervention you know that, musculature, is a good beating. In fact that day and the next seemed to be much worse than how I had gone to the physio, so I simply spent the day stretching and stretching as much as possible.
On Wednesday afternoon I started to move the muscle a little, starting with a light warm-up and a high cadence to activate the blood flow in the legs.
And after that warm-up, some more effort, pedaling around the 250W.
On Thursday, already in the middle of the Easter week, I dared with the first open water session of the year. If you have doubts about whether the water is still cold... yes, I certify that it is still cold. A short dip, about 20 minutes to cover a distance between 1050m and 1300m (the first measured by Garmin Fenix 3, the second by Suunto Ambit3 Vertical). Of course, when you take it to other platforms, the calculation of distances changes completely.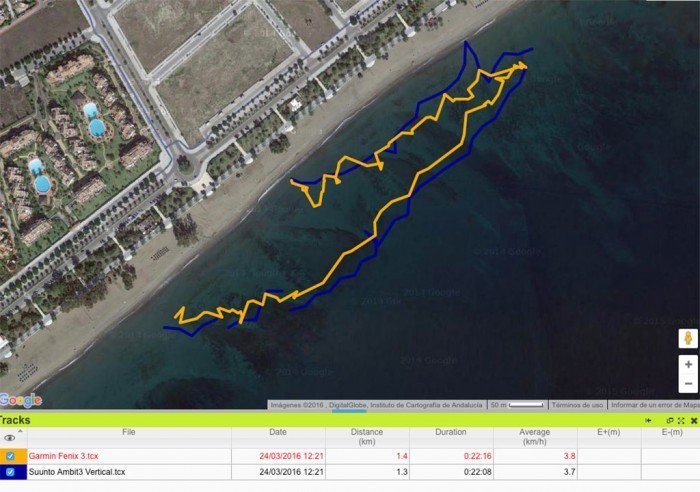 It's not that he swam like a dizzy duck, it's just that every time he puts his hand in the water the watch loses a GPS signal, hence the difficulty he always has in calculating distances.
I also took the opportunity to compare the optical sensor with the pulse sensor in the chest. So far, all manufacturers that are launching multisport watches with optical sensor, are not enabling the use of the optical sensor during swimming. The truth is that the results are not so bad.
Although it is not representative either, because he wore the optical sensor under his neoprene, so in swimming sessions
On Friday it was time to get more serious about the training. These last two weeks I've been out of the training plan because of the problems with the twin, so I'm doing the trainings for sensations. For this day I wanted to take the bike, and since it was a great day I opted for a good start of about three hours.
I also wanted to take advantage of training for the climb of the Olympic triathlon that I will do this summer. Mainly, to start taking power references for the climb section. The cycling section includes the climb of a pass of about 550m from the coast. It is about 11 kilometers of constant climb, with an average slope of 5% but with much more demanding sections around 10%. I was trying to do the climb keeping the 280W-300W of power, which I think will be a good average to recover strength in the descent and then flatten before the 10 kilometers of race. But there is still quite a lot of time ahead, so nothing is decided.
What I can confirm is that without having eaten much breakfast, it's very easy to get a bird of prey... as it happened to me about kilometer 45. I ended up going into a supermarket to buy some bananas, which tasted like glory.
On Saturday, to recover the effort and bird of the previous day, and to continue moving the muscle neither swimming, nor cycling, nor biking. A accompanied walk.
I think that walks like this will also be basic to recover sensations in the twin in order to run again.
After this, I finished the week soaking. I had the intention of doing more meters, but I was very weak, especially with heavy legs. So instead of doing longer sessions, as it was my initial intention, seeing that there was no strength for much (nor desire either) I ended up choosing to do five series of 50m with 1 minute rest. And after that a few meters of rest and the sauna.
Let's see if this week I dare to try my hand at running again...
And with that... thanks for reading!