Wahoo has introduced today a new optical pulse sensor. Yes, the same Wahoo that manufactures rollers and cycle computers. Don't think it's strange because they have been in the pulse sensor business for many years. In fact they were the first to launch a Bluetooth pulse sensor (designed to be used with the iPhone 4S). And in fact they have not only introduced it today, but is now available for purchase.
This time they were not the first ones to come on the market, in fact, more of the last ones and without too many remarkable details. This does not mean that it cannot be an interesting sensor, on the contrary, because it has some interesting features.
What is Wahoo TICKR Fit?
It is an optical pulse sensor oriented to be fixed in the forearm. It has dual connectivity Bluetooth and ANT +, so it can be paired with any watch, phone, tablet or computer that has either of these two technologies. In addition the connectivity is dual, so it can emit data simultaneously using both systems.
As with other similar sensors such as the Scosche RHYTHM+ or the more recent Polar OH1, the Wahoo TICKR Fit is designed to be worn on the forearm, slightly below the elbow. It is an ideal position for wearing an optical pulse sensor, much better than on the wrist. It is a fleshier area so it is easier to read the heart rate and is also exposed to less vibration. This is something you have already seen in the corresponding tests of Scosche RHYTHM+ and Polar OH1.
Given the location where the sensor is taken I expect a good result, although logically I can't take anything for granted especially because in the case of Wahoo they have not adapted a sensor from another company with more experience in the sector, but they have chosen to manufacture their own. Not so much at the hardware level (which is simply mixing components manufactured by other companies), but when it comes to creating the algorithm, the really important part of a sensor of this type.
The other important detail of the new Wahoo sensor is its autonomy, capable of reaching 30 hours of battery life. That can be a minor detail because you simply want the sensor to do training of no more than one hour; or be something totally fundamental for its use in ultras or long distance triathlon. But we must also remember that with time the batteries degrade and reduce their duration. The impact on a new battery that offers 30 hours of use is not the same as the one you will see in one that gives 8 or 9.
The competition
Wahoo's proposal is not new and it reaches a market where there are already different proposals. I'm not going to say that it is saturated, but it is starting to be quite mature and if you want to enter it you have to offer something different.
What sets the Wahoo sensor apart from the rest is precisely that range I was talking about earlier. Compared to the two independent optical sensors, it triples what the Scosche offers and has more than twice the battery life of the Polar sensor.
Wahoo could have been placed in the first position, but it doesn't have a fundamental feature that we do find in the Polar OH1 such as the possibility to record a training session without depending on an external device. It may not make much sense to many if you only run, but it can be very comfortable for training in the gym or in the pool. Although the objection that can be made to the sensor of the Finns is the absence of ANT+ connectivity.
Therefore, if you want ANT+ connectivity you must decide between the additional autonomy provided by the Wahoo sensor or an a priori slightly higher accuracy in the Scosche sensor. In this case I think the choice in favor of the Wahoo sensor is quite clear.
But if you're interested in the possibility of saving data in memory it's something that, for the moment, only Polar offers. The fight is over features, because all three models move in the same price range: 79
Buy Wahoo TICKR Fit
You know, if you want to collaborate with the site you can do it by buying through the links I provide. Not only do you get a good offer, I get a small percentage in compensation for all the work I do here.
Opinion Wahoo TICKR Fit
I'm not going to say that this is a presentation that has left us all with our mouths open, nothing could be further from the truth, but it is interesting to see a new manufacturer entering the segment of optical sensors, and not only because of what it means directly, but also because of what it could mean in the development of other products (it is rumored that Wahoo is preparing a GPS watch).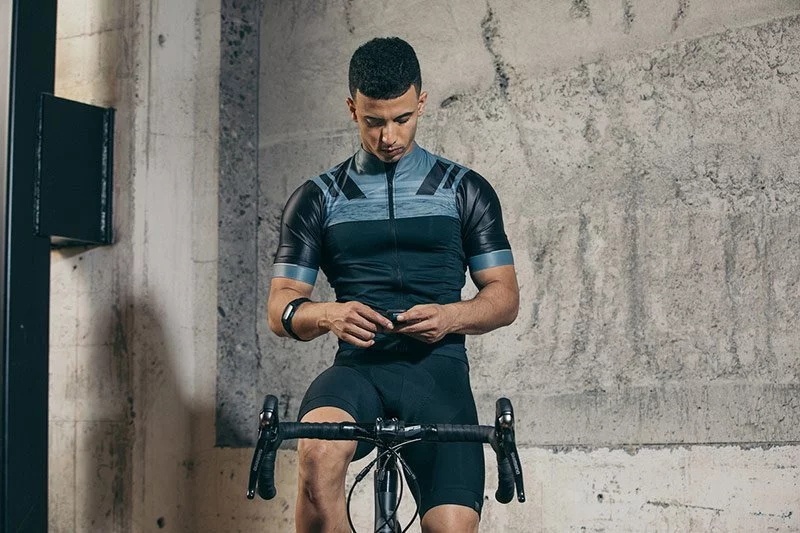 However, I find it strange that the new TICKR Fit doesn't include the additional features that TICKR X has in terms of running dynamics or memory, especially the possibility of recording workouts on the device without having to rely on carrying anything else and especially thinking about its use in the gym, which is where I think it has the most pull.
I do believe that it is an interesting offer because of its extended autonomy, but I think that nowadays, unless ANT+ connectivity is essential (which in many cases it is, for example with Garmin devices) in my opinion the Polar OH1 seems more interesting because it can work independently.
And with that... thanks for reading!