Today Wahoo presents its new cycling computer, the new Wahoo ELEMNT Bolt. This GPS bike computer follows the path started by the original ELEMNT, with which it shares all its specifications. And certainly, the original model has caused good impressions among its users.
There was only one complaint among many of the potential customers: a size too big. And more than in terms of actual size, mainly because of its design, which does not disguise it at all. In fact it is like carrying a brick installed on the handlebar.
The new Wahoo proposal is focused precisely on reducing the size of the device. But this smaller size does not mean reducing the performance of the device, which remains the same as in the larger model. So we are going to go into detail in all the specifications so that you can know the ELMNTs if they did not sound like anything until now.
Characteristics of Wahoo ELEMNT Bolt
Both the original Wahoo ELEMNT and the new ELEMNT Bolt are very complete devices. Of course it offers the basic functionality of any GPS computer: displaying speed, distance travelled, training recording and all the other usual features of this type of device. But it goes beyond this basic functionality.
Before I go in to evaluate some functions, if you think I'm going to detail all the features of the Wahoo computer. Yes, in bulleted listings. I know you like bulleted listings. Well, your wish is my command.
Small size: 74.6×47.3×22.1mm. By comparison, a Garmin Edge 520 has very similar measurements (73x49x21mm). And both are also very similar in weight, about 60 grams each
2.2″ screen. And again to "put a face to it", the Garmin Edge 520 is 2.3″, practically the same. In the case of the Wahoo ELEMNT Bolt is high resolution but in grayscale, there are no colors on the screen as in Garmin although the contrast is high.
Integrated aerodynamic design along with the stand itself
Compatible with Bluetooth and ANT+ simultaneously, allowing the use of both types of sensors
Wireless synchronization via Bluetooth Smart, WiFi or ANT+
Autonomy of up to 15 hours of GPS use
Programmable LED reference indicators for different metrics such as speed, power or heart rate
Three smart touch buttons on the bottom
Dedicated zoom buttons on the side of the device to enlarge or reduce the number of data fields
Route navigation and global map availability
Monitoring of live activities
Compatibility with Wahoo Kickr roller, electronic shifters (Di2, eTAP, EPS or FSA WE) or oxygen sensor in muscles. Generic compatibility with ANT+ FE-C rollers is coming, but not yet available
Compatible with live Strava segments
That is to say, exactly the same features as the original Wahoo ELEMNT, so the only difference between the two models is the smaller size of the new Bolt.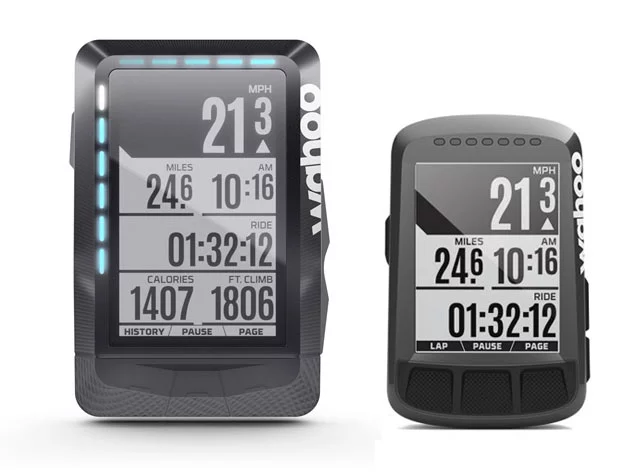 And as they constantly point out from Wahoo, their aerodynamic design.
Wahoo boasts a lot of that design and the integration between the device and its support. Let's be realistic, the aerodynamic difference that can exist between a traditional device and the new ELEMNT Bolt should be minimal, entering already the field of marginal gains (very marginal). But if we can get half a watt from there ... well half a watt more to the bag. Nobody rejects those free watts no matter how little they suppose.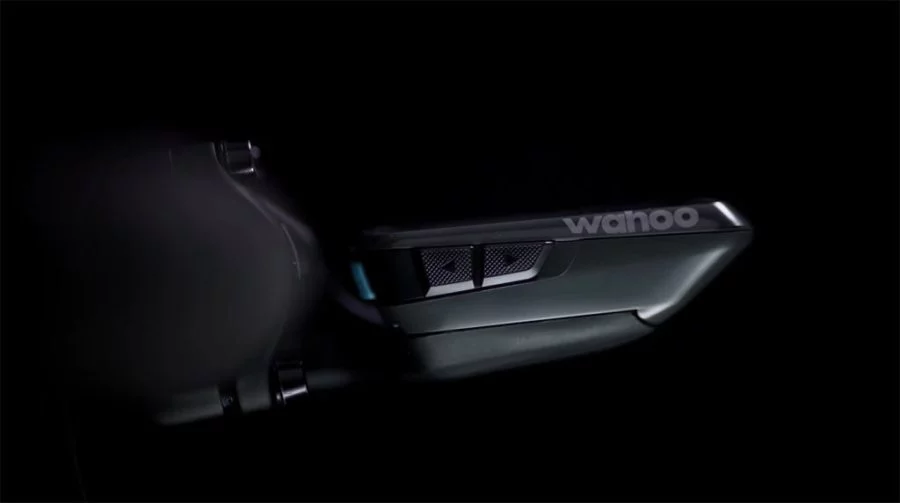 The screen is neither touch nor colourful, but has good resolution and high contrast, making it fully readable for route navigation.
Control of the ELEMNT Bolt is done, as in the original ELEMNT, with a total of 6 control buttons. One on the left side for power on (and access to settings), two on the right side to increase or decrease the number of visible fields (which I will explain briefly later how it works), and three under the display, which are the "smart" ones.
That is, they do not always have the same function, but are "software" buttons. Depending on where you are, they will do one thing or another, always indicating on the screen what they are for.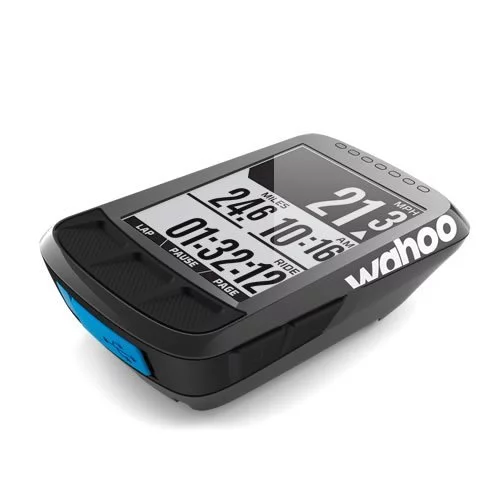 As for sensors, it is totally versatile, allowing you to connect Bluetooth and ANT+ devices simultaneously. So you can connect, for example, a Bluetooth pulse sensor and an ANT+ potentiometer. Used to what is offered by brands like Polar or Garmin, which force us to opt for Bluetooth or ANT+, it is grateful that there are brands that try to leave the final choice in the hands of the customer.
One of the new features of the ELEMNT was the intelligent LEDs. These can be configured according to various data sources and work as if it were the speedometer or tachometer of your car, to control some aspect in a more visual way. In the case of the ELEMNT Bolt and due to its smaller size, there is only room for one of these luminescent rows, at the top of the device.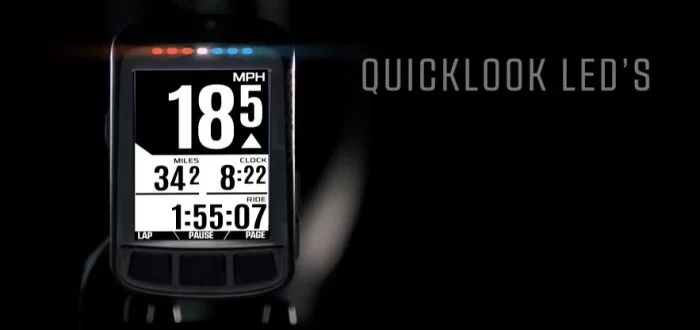 It is a curious and certainly intelligent option. You can set it up for example with respect to your power zones and know perfectly and at a glance if you are doing the intervals in the right zone or if you are fainting and are no longer able to keep zone 6 in your interval 17.
Best of all, it's always there, no matter what you're displaying on screen, such as the navigation map.
Finally, remember that the ELEMNT Bolt is compatible with route navigation you create with external applications such as Strava, RideWithGPS, Komoot or any other (such as Suunto Movescount) You only need to have a route in .GPX and you can transfer it to the device wirelessly, but you must plan the route in advance, as you cannot enter an address on the device and have it prepared for you.
The maps are based on Open Street Maps, so cartography is available to everyone and without having to pay for them, as they are free (and continuously updated) maps.
In short, a quite interesting device for all that it offers and, above all, for what it offers in comparison with other manufacturers.
How Wahoo understands the configuration of data screens
Among those particularities that Wahoo prints on its products is also the configuration of the data screens. I don't want to go into too much detail, mainly because this is not a complete test. But I do think it is interesting to comment because what Wahoo does is not done by any other manufacturer.
All the configuration of the ELEMNT Bolt is done through the mobile application. But there are no data screens that you can edit with the fields you want, Wahoo asks you to establish a list of importance for each of the available data, for example power, speed, heart rate, cadence, etc.
With the list already built, when you use the zoom buttons you will be able to increase the number of data on screen, which will be ordered according to the importance you have previously established.
It doesn't mean that there aren't several pages of data, which there are.
Wahoo ELEMNT Bolt, availability and price
The new Wahoo ELEMNT Bolt you can buy it NOWAs for its price, it's surprising. Despite not cutting any features from the original ELEMNT its price is quite a bit lower. The ELEMNT Bolt is on sale from 239.99 euro which, compared to the 329.99 euro of the ELEMNT (on sale now at 299.99 euro) is a substantial difference. You can also buy the device as a pack including additional sensors.
You can
My opinion
The Wahoo ELEMNT Bolt is an important bet for the American brand. It represents an important price reduction with respect to the device they already had in the market, so it is clear that Wahoo has a lot of hopes in its new computer. It is not usual that a brand launches a product renewal (although in this case it is not such, but a product that complements the previous one) and accompanies it with a price reduction.
The goal is clearly to compete against the successful Garmin Edge 520. Compared to the Garmin device, the ELEMNT Bolt cannot match some of the Edge's main features, such as its ability to perform workouts, FTP calculation, the Garmin Connect platform (although we can export our workouts to it), set up alerts, or any of the many settings you can set up in Garmin. For some people this can be an insurmountable barrier, although a lot depends on how you are going to use the device.
But I don't want to say that the Wahoo is an inferior product, it's just different. Starting with the navigation possibilities, which thanks to a bigger internal memory allows to store bigger maps, one of the main cuts made in the 520 not to cannibalize the upper range. The map included in the Wahoo devices is worldwide, and also quite detailed.
The ELEMNT Bolt continues to offer all those features that made the ELEMNT a special and different device, putting special emphasis on aerodynamics, something that until now no manufacturer had done in their products, at least not giving it the importance that Wahoo has given it.
Wahoo's new model is another piece of good news for a market dominated almost entirely by Garmin. And it's good to be brought to market by a company like Wahoo, traditionally quite disjunctive, and which from its small market share has already achieved great things. For example being able to take down Computrainer, if not directly, then being quite "guilty" of having done so. This is a clear sign that they take their work very seriously and that they take their customers' opinion into account. And in the end, that is what we are most grateful for.
And with that... thanks for reading!