One of the main metrics we can find today on any watch is VO2 Max (or maximum oxygen consumption). Regardless of the brand, everyone shows it in one way or another as an indication of your fitness level.
But as every performance metric, you need to understand what it is and where it comes from, so you can make the most out of it. It won't help you having a lot of data on your watch if you don't know what they mean or how you can benefit from them.
What is VO2 Max
The first thing you need to understand is what the VO2 Max is and what it means for your performance as an athlete. As in the vast majority of the data we handle, it is a way to describe our fitness level quickly and with a single number.
VO2 Max indicates the maximum rate of oxygen consumption that our body is able to absorb, transport and consume. It is expressed in the amount of milliliters of oxygen per kilo consumed by the body per minute.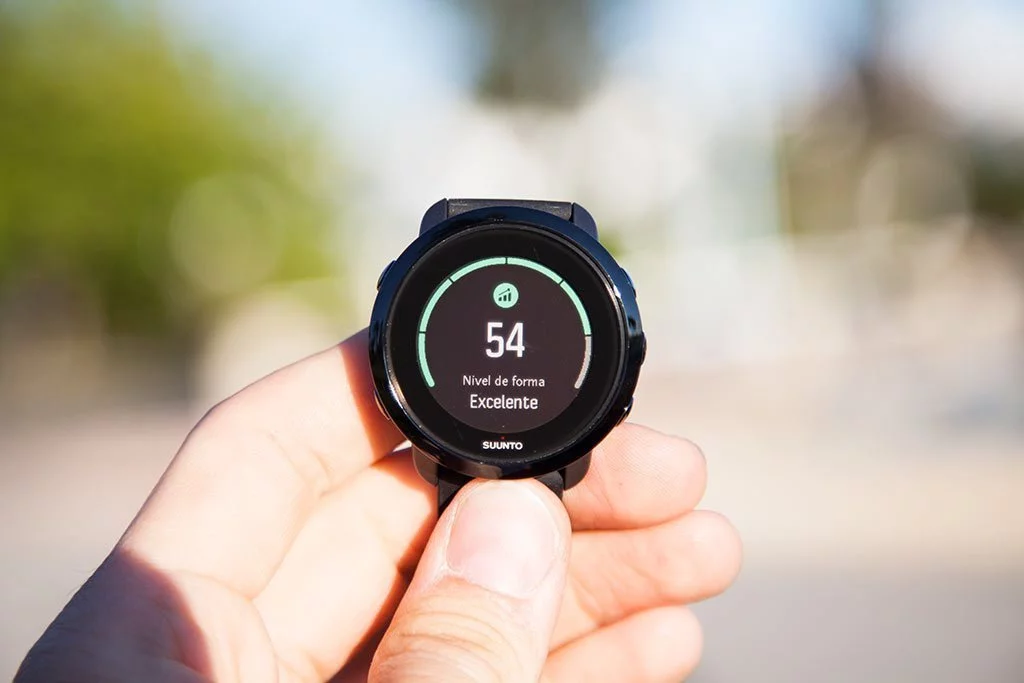 What does the image above indicate? That the watch has estimated the maximum oxigen that my body is capable of consume, but we will go to that point later.
Generally speaking t is a fairly indicative value of our fitness and what our performance will be. But it should also be borne in mind that it is not a value that can be compared so lightly between different subjects because weight is also a factor to be taken into account (remember, milliliters of oxygen per kilo of body weight).
Likewise, in general the value of VO2 Max is higher in men than in women, and generally the rate decreases with age.
Values above 40ml/kg/min in men and above 35 ml/kg/min in women are generally considered acceptable, but they are far from what a professional athlete can achieve. Here are some examples of the highest VO2max values ever recorded and the sport they practice:
Oskar Svendsen: VO2 Max 97,5 ml/kg/min. Cyclist.
Espen Harald Bjerke: VO2 Max 96 ml/kg/min. Cross country skiing.
Bjørn Dæhlie: VO2 Max 96 ml/kg/min. Cross country skiing.
Kurt Asle Arvesen: VO2 Max 93 ml/kg/min. Cyclist.
Greg LeMond: VO2 Max 92,5 ml/kg/min. Cyclist.
Kilian Jornet: VO2 Max 92 ml/kg/min. Ultra distance runner.
Matt Carpenter: VO2 Max 92 ml/kg/min. Ultra distance runner.
Yes, it's funny that the top of the list it's taken by Scandinavian sportsmen.
Now that you're clear about VO2 Max, let's see how it's calculated in the lab.
How is a VO2 Max test?
When it comes to obtaining a VO2 Max figure we can do it in two different ways: a lab test to obtain the real value, or estimate it through other tests or obtaining it from different data.
In the case of an elite athlete, of course, the only value that will matter will be the one obtained in the lab by direct measurements. Doing such a test is simple, as long as we are not the ones who are performing the test (because yes, such a test is painful...).
In this test the athlete breathes through a spirometer, thus obtaining the maximum oxygen consumption value.
Spirometry is the only way to obtain this measurement directly. Everything else will be indirect estimates.
We can perform a series of tests such as the Course Navette test or the Cooper test. But if we have a watch that will also estimate it... let's say that relying on our device is going to hurt you less.
How to calculate your VO2 Max
Below I will explain what are the main methods you can use, although as I said if you have a GPS watch you will already have it integrated into it and it will be updated regularly in all your workouts. However, it doesn't hurt to know some of the ways you can do the calculation on your own to contrast what the watch says or simply suffer a little bit.
Cooper test
It is the most common and simple way of doing it because of what it entails (not because it's easy to do it). We must run for 12 minutes trying to cover as much distance as possible. To do this, the terrain must be completely flat and without having to make turns that distort the result. So a track is what makes sense for this kind of test.
Once the test has been completed and with the total distance travelled, you can apply the following formula to get the estimated value of your VO2 Max:
VO2 Max = 0,0268 X Distance (m) – 11,3
So imagine that in those twelve minutes you managed to travel 2.450m. The equation would be as follows:
0,0268 X 2400m -11,3 = 53,02
Your estimated VO2 Max would be 53ml/kg/min.
Course Navette test
To perform the Course Navette test you need to do it along with a special audio. I will not dwell long on this test because of the complications it presents when it comes to performing it.
It's a maximum and progressive test. You need 20 meters to be able to run, and we must travel the distance depending on the tone of the audio. The time between the tones will get shorter and shorter, and there will come a time when we will no longer be able to travel the 20 meters in the specified time frame.
The goal is to make the maximum number of intervals until we can no longer complete an interval within the time set. At that point you will be able to calculate the VO2 max using a formula, starting from the speed of that last series you have managed to complete. But to do this you have to remember which series you have no longer been able to reach the end and look for speed in a table.
VO2 Max = 5,857 X Speed (km/h) – 19,458
Considering that it's going to hurt as much as the Cooper test, the Course Navette test seems much less practical to me.
Rockport test
Finally, there is the Rockport test, designed for those who are not able to run for 12 minutes. But you need more data to remember, like heart rate.
You will have to travel a mile (1,609m) walking as fast as you can, and note how long it took you to travel it. Once done, you must apply the following formula:
VO2 Max = 132,6 – (0,17 X weight) – (0,39 X age) + (6,31 X gender) – (3,27 x time) – (0,156 x HR)
In the equation you need to enter the values for each calculation, taking into account that when accounting for gender you must replace with 0 if you are a man and 1 if you are a woman.
So, if you're a man weighing 75 kg and 30 years old, and it took you to walk the mile 14 minutes with an average heart rate of 130, the result would be:
132.6 - (0.17X75) - (0.39X30) - (6.31X0) - (3.27X12) - (0.156X130) =
132,6 – 12,75 – 11,7 – 0 – 39,24 – 20,28 = 48,63
Your estimated VO2 Max would be 48ml/kg/min.
In short, if I have to choose one of the three, I will choose the Cooper test. It will "hurt", but it is the easiest to perform and calculate of the three options.
How GPS watches and devices estimate VO2 Max
But as I said, the VO2 Max estimation is something that is already present in the vast majority of watches on the market. Regardless of the brand, they all display it in one way or another. Some call it VO2 Max directly (such as Garmin or Suunto), others refer to it as Running Index (Polar). But ultimately they all indicate the same thing.
What you do need to know is how the watch comes to that calculation. It is performed taking into account the values of activity: pace, heart rate and physical values of each person (age, weight, height, etc.). And for those who calculate cycling VO2max, instead of speed they will use power.
But keep in mind that it's an estimation, not your real value. And it also depends on your previous training, because it adjusts and learns from the user over time.
In short, it is an algorithm that determines that if you are able to run at an X pace, with a Y heart rate and with values A, B and C of age, height and weight; then it is because your VO2 Max is of a certain number. And it does so in addition to obtaining that value through the algorithm, comparing it also with known values of other users on equal terms.
So to have an accurate metric, the first thing you need to confirm is that your gender, age, height and weight data is well configured on the watch. You may have lost weight or gained it, or you skipped the part of setting up the profile and it thinks you were born in 1750... It's an important part of the algorithm and must correct.
The next thing to note is that the heart rate data should be correct. Therefore you need that your Heart rate monitor is accurate. If your watch's optical sensor doesn't work well, or you train without heart rate values, a fundamental part of estimating the value will be missing.
Once we have that value of VO2 Max and depending on the watch you have, then it will provide you with a number of additional information. For example, the estimation of times for a given distance.
I hope I was able to clarify a little more about what the VO2 Max is and what and why it is the data you see on your watch. If you have any questions about it, you can use the comments below to resolve it. Thanks for reading!