Garmin today made official the news they have brought to the ESC. In addition to the New Fenix 3 modelsIn addition, the company has just introduced a new member of the Varia family (which so far consists of the Varia lights and the radar VariaLike other smart glasses, such as Google Glass, the new device becomes a remote display of another device and is placed in front of our eyes.
It follows a concept very similar to that of the glasses Recon JetWhile the Recon glasses are a completely self-contained device (in the sense that they have GPS and can be used without connecting to another device), Varia Vision is a remote display of your Edge unit that attaches to your existing glasses, placing a color display in front of your eyes.
Not only will you have a screen with your training-specific data, but you will also receive warnings from the Varia Radar, notifications from your mobile phone or receive directions for a navigation route you are following.
This is not a complete pair of glasses, but a device with a universal holder that attaches to your current frame. It has a touch panel on the side that allows you to move between the different data screens. This panel is compatible with the use of gloves or water, so there will be no problems in case of rain or wet fingers from sweat.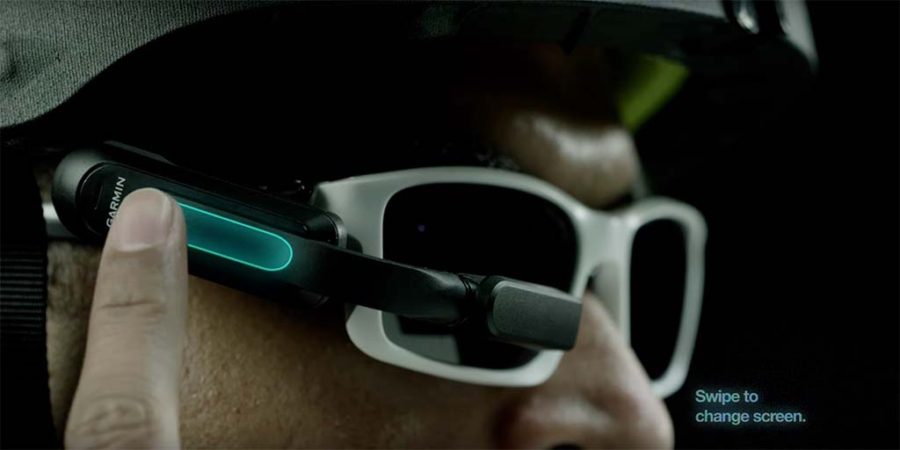 The stand can be fixed on either side of the glasses, and both the arm and the positioning of the screen are fully adjustable. Garmin announces an 8-hour battery life, so its battery will perfectly support your longest outings. It weighs 29.7 grams and has an integrated light sensor that adjusts the intensity of the screen depending on the ambient light.
Supported devices
At the moment, Garmin Varia Vision will be compatible with Edge 520 and Edge 1000. And only with those two devices. It is not contemplated at the moment to use it with Forerunner or Fenix devices, which could also be interesting, not only for its use in cycling but also at the time of the race.
Therefore, the brain of Varia Vision is your Edge computer. The data screens are configured on the Edge device, and this is what will be shown on each screen below. The information will not only be data, it will also show different graphs.
In addition to visual, the alerts will also be vibrating for performance alerts, navigation or radar warnings, as well as the notifications you receive on your mobile phone.
Availability, price and opinion