— Actualización 12 julio
ÚLTIMO DÍA
La promoción SUMMER30 termina hoy. Hay unas cuantas cosas que se han agotado, pero han repuesto stock de unos cuantos artículos, así como tallas diferentes tanto de textil como de zapatillas.
Te recuerdo que el funcionamiento es a través de un código descuento que permite aplicar un 30% de rebaja adicional a los productos que ya estaban rebajados. Es decir, oferta encima de otra oferta.
Eso sí, no todos los productos están promocionados, el descuento adicional se aplica sobre los que aparecen en este listado. Zapatillas para hombre y mujer, pantalones, camisetas, chaquetas, cortavientos…
¿Cómo se aplica el descuento? Simplemente añade a la cesta el artículo o artículos que quieres comprar y, donde te pregunta si tienes un código promocional, introducir SUMMER30.
Eso si entras con el móvil, si lo haces desde el ordenador, lo encontrarás a la derecha de la pantalla.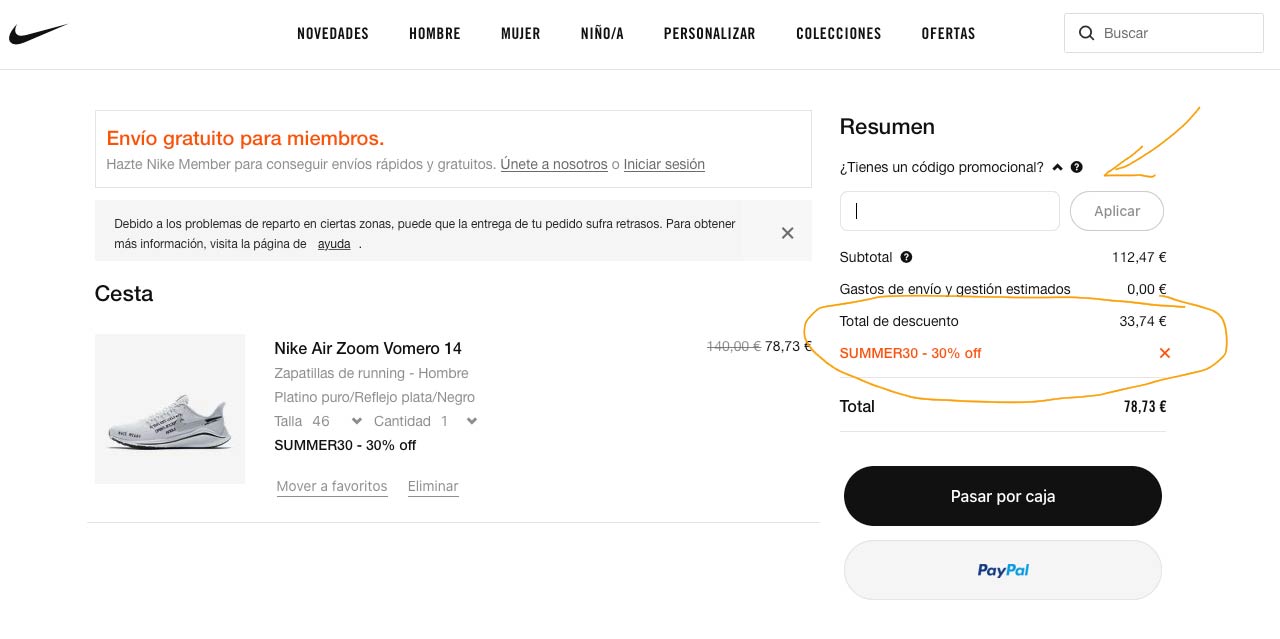 Así que recuerda, los precios que ves en la sección de ofertas no incluyen el descuento adicional, éste sólo aparece en el carrito tras introducir el código SUMMER30. ¡Y los gastos de envío son gratuitos!
Enlace directo a los artículos que permiten un 30% de descuento adicional
El periodo de rebajas termina hoy 12 de julio.
¿Quieres alguna idea de producto que puede ser interesante? Te pongo algunos ejemplos.
Zapatillas Nike running rebajadas
Estas son todas las zapatillas de Nike rebajadas.
Si tengo que decirte mis favoritos, aquí va una lista rápida:
Esa es mi lista, pero si no hay de tu talla o quieres ver si encuentras algo que se adapte mejor a tus características, puedes ver el listado completo en este enlace.
Ropa Nike rebajada
Pero no sólo se vive de zapatillas. También necesitamos ropa y textil. Pantalones, camisetas, chándal, sudaderas… Si algo bueno tiene Nike es que fabrica muchísimas cosas y de muchísimos rangos de precios.
Yo ya le he echado el ojo a algún cortavientos para la temporada de invierno. Eso en Marbella, seguro que más de uno de vosotros necesita el cortavientos para alguna salida de tarde a la montaña para este mismo verano.
No os entretengo más y os dejo comprar tranquilos. Simplemente recordaros que tenéis que añadir los productos a la cesta y aplicar el código de descuento SUMMER30, y que sólo entran en la promoción aquellos que he enlazado en esta página, tanto productos específico como de secciones.
And with that... thanks for reading!