Today I arrive in better spirits than last weekNot because of times, which have not really changed much, but because of feelings. You will have already experienced it, being even slower, but knowing that you are better.
This week I haven?t noticed that exhaustion in my legs that I noticed last week, which from kilometer 13 or 14 made me lower my performance quite noticeably. Also, I?ve increased slightly the total mileage of the week, from 40km run last week to 47.84km of this one. Basically I?ve increased the average training from 12km to 15km, and the long run from 15km to 18km.
| Day | Activity | Distance | Pace/Speed | Click on |
| --- | --- | --- | --- | --- |
| Monday | Running | 10.23 km | 1km heating + 10x400/400 + 1.23km cooling | 149 ppm |
| Tuesday | Rest | - | - | - |
| Wednesday | Running | 15,01km | 5:09 min/km | 159 ppm |
| Thursday | Football | 4.45 km | - | 129 ppm |
| Friday | Rest | - | - | - |
| Saturday | Rest | - | - | - |
| Sunday | Running | 18.15 km | 5:22 min/km | 156 ppm |
This week on speed day I changed the series to fartleks, which I find much more entertaining. A short warm up followed by 10 400-metre intervals at an intense pace with 400 metres of recovery, ending with a cool down on the run.
The rhythms of the intervals were as follows: 4:33-4:36-4:34-4:28-4:20-4:25-4:08-4:06-4:14-4:05. Quite a headwind, especially at the beginning of the training. But not having to fight against a target pace, but rather looking for intensity in the exercise, was not a "psychological" problem.
Wednesday is a day to train race rhythms. I wanted to increase to 15 kilometers, not only to strengthen a rhythm, but also to gain strength in my legs, which seemed to take a toll on me last week.
Again the wind was present during almost all the training, something that I'm getting used to lately (and getting tired...) The important thing is that the rhythms were stable, except for kilometer 7 where I had to pass about 80 meters on the sand of the beach and kilometer 13 where I had quite a lot of head wind.
After Thursday's football match, it was time to rest up for Sunday's long outing. What began as a nice, sunny day ended as a real gale, and as usually happens on these occasions, the wind starts blowing just as you turn around and eat it up.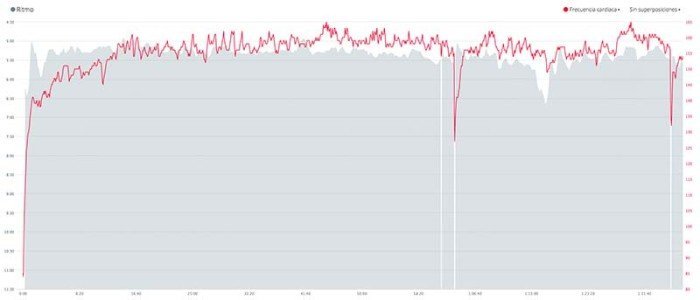 But as it happened to me on Wednesday, despite not making a "brilliant" final time (and it doesn't matter, it's a training session) the final sensations are good, because the last two kilometers were made without excessive accumulated tiredness and without feeling of wanting to stop.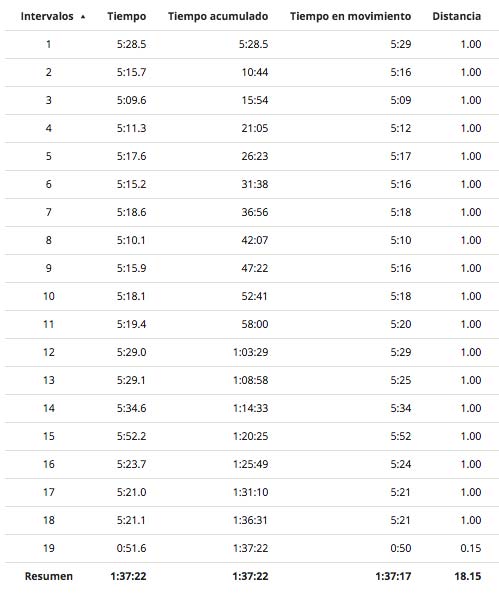 For this week I ask only one thing. Somebody turn off the wind machineI'm looking forward to training again in a climate worthy of the Costa del Sol...