The period of mandatory confinement we are going through is changing all of our habits, and that includes our training habits as well. It seems like an eternity ago the last time we were able to run outside, and today we are even pining to poder do an interval session at 120%.
We are now all practicing sports at home, to the extent that our equipment indoor allows us to do so. The more fortunate ones will have been confined to a treadmill and a roller, and the less fortunate ones to a simple mat and water bottles.
Whatever everyone's situation, we've all changed, and we're looking at indoor training differently. You've done it, I've done it, the pros have done it.....
From sporadic to regular training at home
Until now, training at home has been a purely circumstantial solution. We would roll because it was raining, or we would get on the treadmill because we had no choice.
When the quarantine began, all the rollers in stock. We don't even talk about treadmills, El Corte Inglés has been adding stock on an ad hoc basis these days but they disappear faster than a piece of candy at the door of a school. My prediction at the time was that Wallapop was going to be full of rollers and treadmills as soon as June arrived and we could train outdoors with the good weather.
But as the quarantine has lengthened, we're all changing our perception of home training, especially when it comes to the trainer. If you had told any cyclist a year ago to spend more than an hour on the trainer you probably would have ended the conversation very quickly. Today we no longer have a problem and 3+ hour workouts are becoming more and more common.
I think we have passed the tipping point where we have stopped seeing indoor training as an obligation (both cycling and running), to see it as a perfectly valid and even fun option.
And the culprits of all this are the online platforms. The gamification The Zwift, Bkool, Rouvy or RGT Cycling simulations are making it less important for us to stay at home and train. What's more, thanks to group rides or competitions, it's even fun.
Everything depends on a psychological factor. It is no longer about pedaling on the roller enclosed within four walls, now we aim to complete a route, climb a mountain pass, not lose contact with the group we are pedaling with or try to beat the time in a Strava segment. Yes, all virtual, but we ride with a goal in mind.
Zwift, the main beneficiary
As in any crisis, there are always companies or individuals who have the opportunity to benefit. Zwift has undoubtedly been the platform that has benefited the most of all and has seen its user numbers grow exponentially week after week. Their numbers have skyrocketed.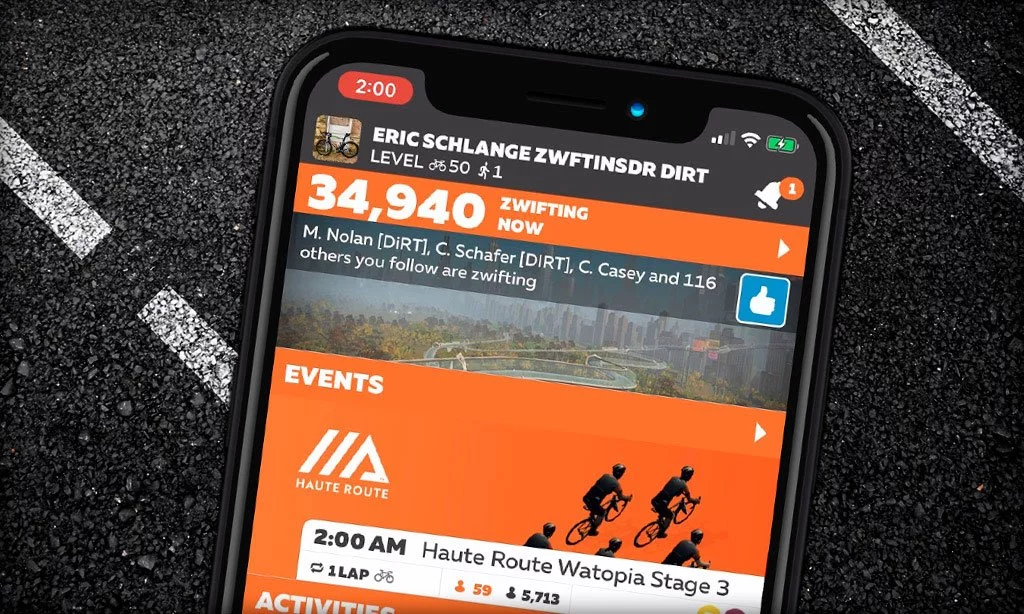 This past Sunday they set a new record for the number of users simultaneously connected to the platform, with 34,940 users. And to give you an idea of the growth, here are the previous records registered in Zwift:
January 21 (before any confinement): 16,512 users
March 21 (beginning of confinement in many countries globally: 19,720 users
March 24: 24,341 users
March 29: 28,299 users
April 5: 34,940 users
The growth is brutal. And we are not talking about subscriber figures (something that Zwift does not talk about), but about users connected at the same time.
Zwift is not the only platform, there are others.
In the end Zwift is the main beneficiary because it is the majority platform, they are the biggest and the ones that are able to attract the most attention to them. But they are not the only ones and all of them have increased in number of users.
Bkoolits main competitor, is also seeing a significant upturn in users and is organizing multiple events on its simulator. Professional cyclists are backing it (in many cases under sponsorship agreements, of course, but this is not just about money). Without going any further, this Sunday Bkool has organized the virtual Tour of Flanders and can even be followed live on Teledeporte.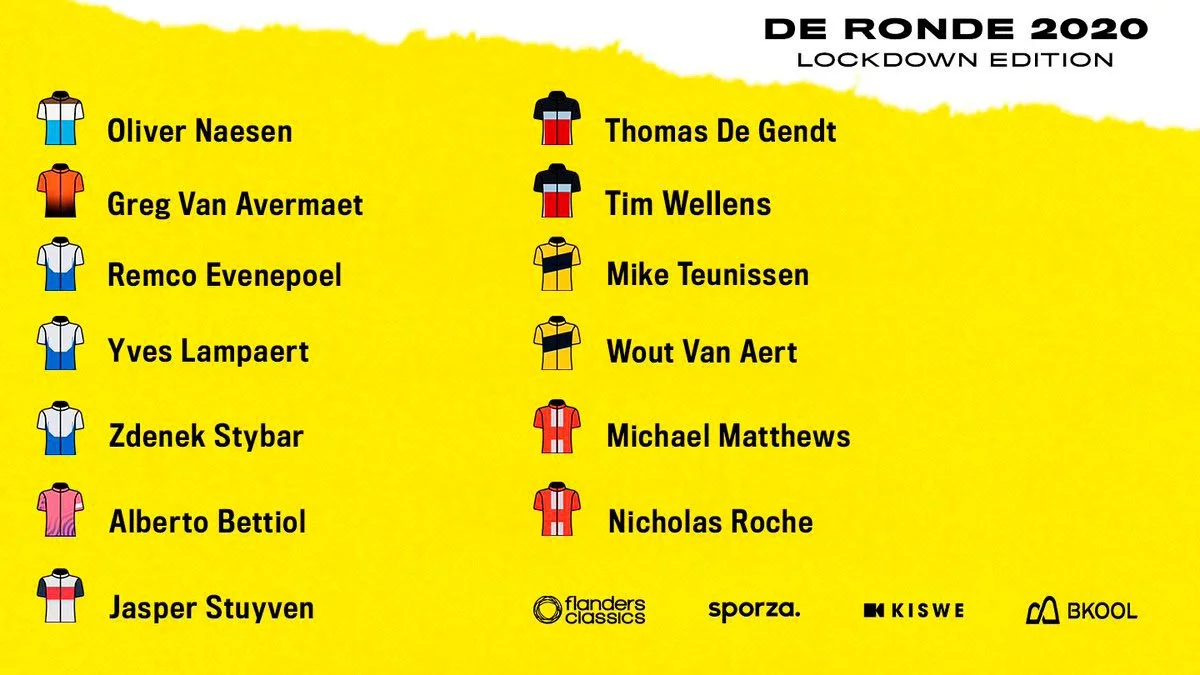 The output list It's no nonsense, names like Thomas De Gendt, Evenepoel Van Avermaet... They will all race in a short stage of only 32km, but podhey will be organized by teams and will be in contact with a race director who will give them indications to know when they can or should launch attacks.
But as I said, there are many existing platforms, do you want to have a list?
Ironman also gets into the indoor training and racing game
And taking advantage of having to train in seclusion Ironman also announced its own platform and competitions: Ironman Virtual Cluba training aggregator portal that will give you points for your activities that podrás will exchange in the form of a discount on the purchase of products from sponsors of the M brand.
But it is also the basis of Ironman VR, a series of events and competitions for both age groups and professionals. The first competition, Ironman VR1The race has already finished with a total of 6,614 finishers. For this the competitors had to run 5 kilometers, 90 kilometers of bike and finally 21 kilometers of run again. It was not necessary to complete it one after the other, but podías to do it within the period from April 3 to 5.
Right now there is a new competition with shorter distances: 3km run, 40km bike and 10km run. You still have time to sign up for Ironman VR2 through this link.
With the amount of competitions that Ironman is canceling (so far they have canceled everything until June), there is no doubt that this platform will become increasingly important. At least, if we want to compete in 2020.
Although it is not necessary to register your training in any specific application to participate, Ironman has teamed up with Rouvy for competitions with your professionals.
E-Sports, for real
The so-called E-Sports are becoming more and more popular. Competitions of different online games that have a multitude of followers and fans. Well, they have also arrived among us and are here to stay.
Because just as you are seeing indoor training in a different way, the same is happening with the professionals, and more and more of them are participating in different competitions. And they are having a good time!
Lionel Sanders participated (and won) in a competition organized by Zwift along with riders like Van der Poel and more members of the Alpecin-Fenix team. Beyond the win, his final conclusions were that he had a good time racing in a different way, relying on the strategy of a race director and giving it his all. In fact at the end of the video he reviews his numbers in Training Peaks and this competition served him to set season highs.
In Spain we also had online competition. The Spanish Duathlon Championship was supposed to be held in Soria. Of course, like many other races, it was cancelled. Instead it was replaced by a Zwift competition of 28km of cycling, including the climb up the Alpe d'Huez Alpe du Zwift.
Short races seem like a small thing to you? Well don't worry, Jan Frodeno plans to do an Ironman at home this weekend.
https://www.instagram.com/p/B-cA63vh0dv/?utm_source=ig_embed
This is not a competitive event, nor will Jan be aiming for any specific time. He will simply be running this distance at his home in Girona for charity. Both the bike and the run will be done on Zwift, so podremos not only watch him while he does it, but also podrás will be there to support him.
Looking to the future
As you can see, training at home is here to stay. It has taken a worldwide pandemic to realize that training on a roller or treadmill is not a punishment, but that we have multiple options to not only make it fun, but also very profitable.
The future for all of them is brighter than ever. There are thousands of new users who have subscribed in the last few days, many of whom will unsubscribe as soon as the confinement period passes. But many others will continue to subscribe and continue to take advantage of it, not only during the winter but also all year round. Because they have seen that training on a roller or treadmill is not torture or punishment, it can also be fun.
And just as training is here to stay, so are competitions, especially in the short format that both Zwift and Bkool present. For the pros, they are short competitions that don't alter their season too much.
Obviously they are not going to replace a Tour de France or the New York Marathon, but it is very clear to me that we will continue to see these events even after we get back to normal.