As I mentioned on Twitter, after receiving the TomTom Runner Cardio and starting the test, I immediately noticed that I was having problems, specifically with the pulse reading. For a few days I was debating whether to arrange a change of device or to carry out the test with the one I had available. After making the relevant queries, I finally decided to test this TomTom Runner Cardio unit without waiting any longer. After consulting several sources, it seems that it is a common recognised failure of some units, so I think it is interesting to reflect this in the test, instead of waiting for a fully functional unit. And as the sensor is basically the same as the one in the Mio LINK Anyway, I'll talk about all this later, when I play, in the section about the optical pulse sensor.
This watch is the evolution of the TomTom Runner that the Dutch firm launched in 2013. And not only have they added an optical pulse sensor, they have also improved the software. But let's go with the full test.
Before we start the test, I would like to clarify that the watch is a store-bought unit, so it is not a demonstration unit with special care from TomTom or any special software revision (of course, it doesn't work properly). It is simply the watch that you and I can buy in any store, with the same accessories and presentation, although I hope that the one you buy works from the first moment.
Remember you can buy it on Amazon through this link and that way you will generate a small commission that will help the development of this page, and that you can see more tests and analysis like this one.
Unpacking
The TomTom Runner Cardio (which is the subject of the test, as TomTom also has a slightly different watch, the TomTom Multi-Sport Cardio, which also has specific functions for cycling and swimming and is more oriented towards triathlon) is presented in a square box made of methacrylate on the top and cardboard on the bottom. Inside, the watch is waiting anxiously for us to take it out and put it on our wrist.

The box itself shows the characteristics of the watch, so that the absent-minded shopper will know it well and learn its characteristics when it is found in the store.


But let's get him out now, because he's anxious to get out and run. Of course, inside such a small box, there can't be many things. Clock, charging and synchronization cable and a short instruction manual.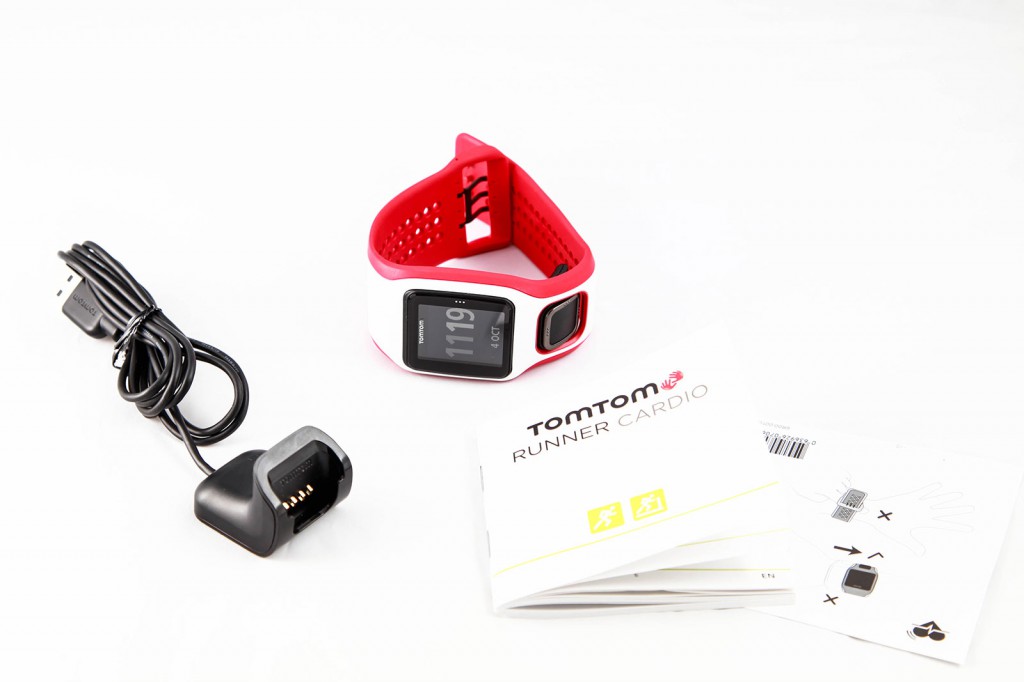 This is what our new watch looks like as soon as it comes out of the box.
And surely the first thing we'll do is turn it over, to see where its magic comes from. This sensor is capable of taking your heartbeat directly on your wrist. It will do so by projecting light onto the capillaries and then the optical sensor reads our pulses. You can also see an extension in the rubber band that holds the watch, and its purpose will surely be to prevent light from outside entering the area where the sensor is located, confusing the readings.
Although it has already been inserted into the belt, it can be removed from it. The belt can be replaced, for example, by the black and red one in which we can also find the TomTom Runner, or a new version that TomTom has just launched on the market: deep green and white.
The charging cable is a small desktop base, with a USB connector at the other end that will be attached to the computer to synchronize the clock and charge it, or to a USB charger if you just want to charge it.
We can insert and load the unit without the strap...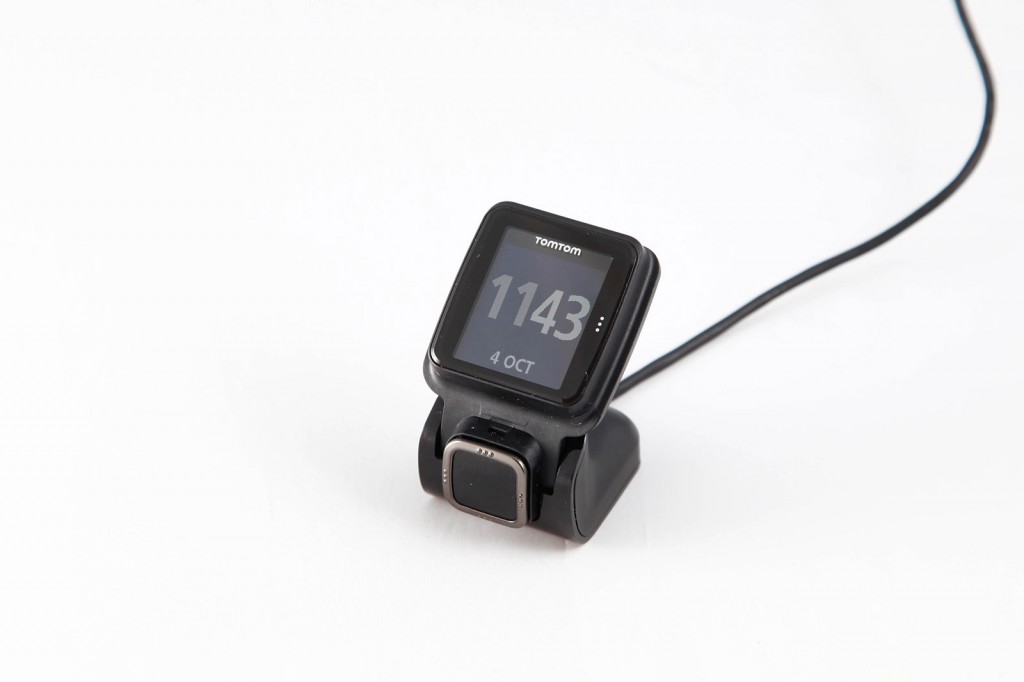 And of course with the strap on. This will be the usual way of charging, as the strap is fully adjusted with the watch and taking it off costs some work.
The optical pulse sensor is licensed by Mio, and as you can see in this picture, both are the same.
The light emitted is the same in both cases, with an intense green colour, thanks to two high intensity LEDs.
The strap closure has the TomTom logo engraved on it.
We're going to train
Once we've got to know the TomTom Runner Cardio, loaded it up and configured it with our profile, we can go out and train. However, I recommend doing the initial configuration by connecting it to the computer, as TomTom has probably released some clock update that includes some kind of improvements. I did it and, indeed, started downloading an update.
To start our new training, we simply have to press on the control crosshead to the right (twice, as the first one unlocks the watch, even though the display does not show anything). We have two training options to choose from, RACE and TAPE. CHRONO, as you can imagine, is simply a stopwatch.
RUN is the mode for outdoor use, while TAPE corresponds to the mode for running indoors on a treadmill. This way we tell the watch how it should act, since if we choose RUN it will activate the GPS to take the data from there. In TAPE mode, it will use the data from its internal accelerometer to do the distance calculation (which we can calibrate from its own menu).
Select again to the right and it will start searching, both the GPS signal and the pulse signal, either with the integrated sensor or through another sensor connected by Bluetooth (I will expand on this later). We can see the icons at the bottom, which correspond to the satellite search (and will also indicate the quality of the signal), the heart rate monitor icon and the battery status.
The satellite search is amazingly fast. Thanks to the QuickGPSfix feature, after every connection to your phone or computer, it downloads the satellite location for the next seven days. So when we ask you to do the search, you know where to do it and in less than 30 seconds you'll have coverage. It doesn't even let us stretch!
With the GPS signal found, it is now possible to start the training or race, by clicking on the right, but we can also click on the left to exit, up to access the summary of previous activities or down to enter the menu of the activity, where we can configure the type of training or event as well as the information that will show the screen. By selecting TRAINING we configure the training to be done, in STATIST we configure the information that will show at the top of the screen during the exercise.
When you access TRAIN you access the different training modes. These modes are present in both RUN and TAPE mode

The different trainings we can set up are:
NOTNormal training: We simply go out for a run and the watch will record all the data. Perfect for a day's running or training without looking for anything special, just an outing to do miles.
OBJECTIVESTomTom Runner Cardio: The TomTom Runner Cardio will alert us when we reach a distance, time or calories that we indicate. It does not only do this through digits, but also has a circle that fills in as we complete the target.
You can select the distance not only in hundreds of meters, but also in kilometers
INTERVALSWarm-up: We will define the warm-up, interval, rest, number of repetitions and cool-down period after the last interval. Each part of the training can be defined based on a certain distance or time.
The negative part is that we cannot select how we want the intensity of the interval to be, the objective of the interval. That is, we cannot set the interval and then zones for that interval, which would be ideal. That way it would be possible to edit the exercise part and the clock would warn us if we are above or below what we are looking for in our training.
This would be the perfect setting, as we could prepare, for example, a 2km warm-up in heart zone 1, 5×1000 intervals at a pace between 3:50 min/km and 4:10 min/km with a rest in zone 2, ending with a 10-minute cool down. But unfortunately, we can't prepare the training so thoroughly, and we have to stick with the setting that the TomTom people have determined to be most appropriate.
RETURNS: Es posible que el TomTom Runner Cardio nos avise cada vez que completemos una «vuelta». Esto puede ser tras un tiempo determinado (minutos y/o segundos), distancia o marcando nosotros de forma natural las vueltas desde la pantalla con el botón táctil de los tres puntos (que es el mismo usado para encender la retroiluminación). De esta manera es posible configurar la forma de entrenar si necesitas cumplir unos objetivos determinados, como ocurre en muchas ocasiones para oposiciones. Además, estas vueltas quedarán marcadas en la información de actividad que podremos consultar desde diferentes plataformas (pero no desde TomTom MySports).
ZONESThis is the menu I would like to see after the intervals, but TomTom has decided to put it as another type of training completely different. Personally I think that despite its usefulness and probably the most interesting option of all, it sins of lack of configuration. Yes, we can create a training in a certain pace, speed or heart rate range, but this will apply throughout the training, it will not allow us to expand the training design.
COMPETEThe option of competing allows us to challenge ourselves by comparing with recent activities or against activities we have previously defined from the web application MySports If you want to save a workout and then challenge it, you need to click RACE AGAINST THIS on the activity details page. The problem is that to challenge an activity, you have to do it first.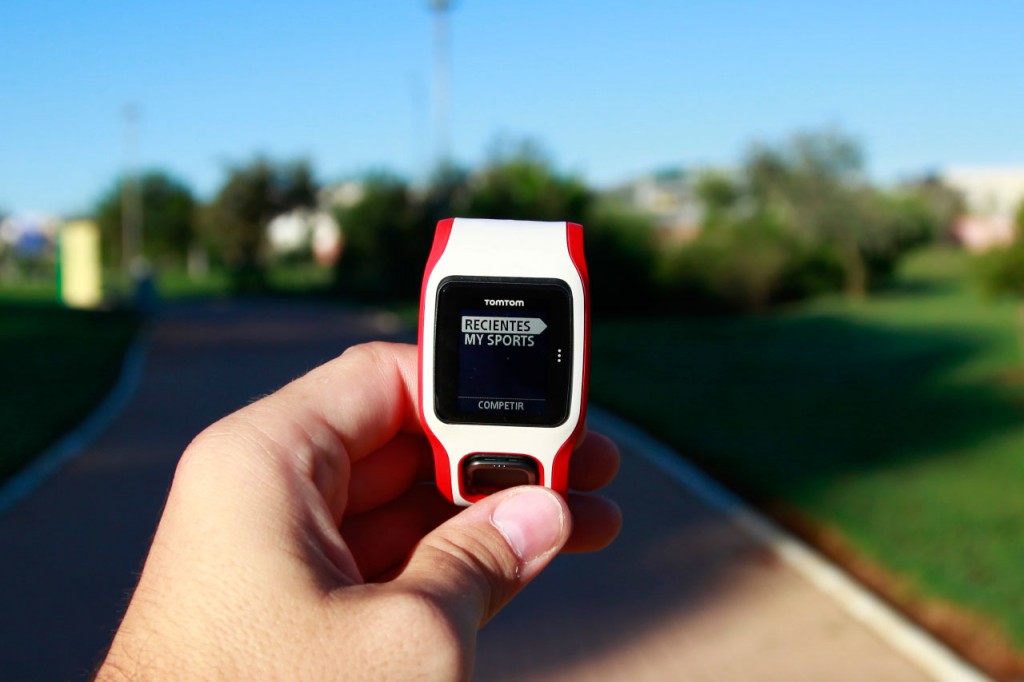 Básicamente se trata de un «Virtual Partner» como el que Garmin usa en sus relojes. Nuestro objetivo es la flecha gris, nosotros somos la flecha negra y hay que adelantarlo antes de llegar a meta. Este tipo de opción se suele usar habitualmente cuando queremos correr por debajo de un ritmo, por ejemplo, en una carrera. Inexplicablemente, TomTom no contempla que podamos crear una actividad a la que podamos retar o crear una actividad de forma manual para arreglar este problema. Por tanto, sin estas opciones, pierde bastante interés.
Imagine that we want to run a marathon below 3:30, and we want to help ourselves from this option to do it and see how we go as we progress in the race. Well, to be able to do that, we would first have to run a marathon at that pace. A concept that is a little lacking in logic.
Information displayed on the screen
It is possible to configure the information shown on the screen as we wish. We have three fields for this, two small ones at the top that we must set before starting the training (or pause the training by pressing the cursor backwards for 2 seconds) and the main screen, at a larger size, that we can consult during the training by simply pressing the up or down button.
Configuring these fields is very simple. As we saw before, pressing down before starting the training we can enter the STADISTIC option, arriving at the screen shown in the following image. Entering SCREEN, we will be able to define the fields that will remain fixed during the training. SPEED will allow us to choose if we want to see rhythm, speed in KM/h or both.
By clicking on SCREEN on the right we can select the fields to be configured by LEFT or RIGHT.

The data that we can see both in the main screen and in a fixed form at the top are the following:
Clock
Duration
Distance
Rhythm
Average pace
Speed
Average speed
Calories
Heart rate
Heart zone
We can compose our training screen, based on this data, in any way we want.
This way of representing the information is different to that proposed by other manufacturers, who usually propose several screens configured. TomTom has decided, wisely, to show it in another way. So we can select two data in a fixed way and change in the main screen looking for the one that interests us most at a given time.
GPS reliability of the TomTom Runner Cardio
In the end, the most important thing when using a GPS watch is that the information it shows us is reliable and that when we review our workouts the information is accurate. Let's take an example of a workout comparing the results obtained between a TomTom Runner Cardio and a Garmin Forerunner 410.
First of all, this is the data collected by Garmin:
And the ones we see below are those corresponding to the TomTom Runner Cardio
There are some data that we have to discard, such as those related to heart rate and calories consumed, as the TomTom's heart rate monitor did not work and was fixed at 130 heart rates. So we have to focus on the distance travelled, the pace and the height. Between one and the other there is a difference of 40 metres in the total distance, less than 1%. A really good result for a commercial GPS. The Garmin set a final average pace of 6:48 min/km while the TomTom did it in 6:51 min/km. However, the information provided by the Garmin is much higher (I will talk later about the TomTom's MySports web application).
Since the data provided by the TomTom application is so scarce, and since it allows you to export workouts automatically to other applications, let's compare another workout. And this time I'm going to do it by 1 km splits. First, the information collected by the Garmin Forerunner 410.
And then the one that brings us the TomTom Runner Cardio
Where we find more differences is in the recorded elevation, because neither of them has a barometric altimeter, so it is an estimation through GPS and also, in the case of the Garmin 410, are corrected. But the rhythms are totally comparable, and although there are variations between the two teams, always around 1% of error between them, with the maximum error found in the KM 12 that goes up to 1.66% of error.
These small differences in the final result may also be due to the way in which the data is collected by each device, because while in the case of the Garmin the capture is of the Smart type (it creates smaller data files collecting data after variable periods of time), in the TomTom this capture is of 1 second. In other words, every second records the change. This detail, taken at the time of training, is immediately noticed when there are changes in pace. The TomTom records changes in speed much faster than the Garmin, a very important detail if we are doing interval training in short periods of time. The Garmin has practically no time to record these changes in speed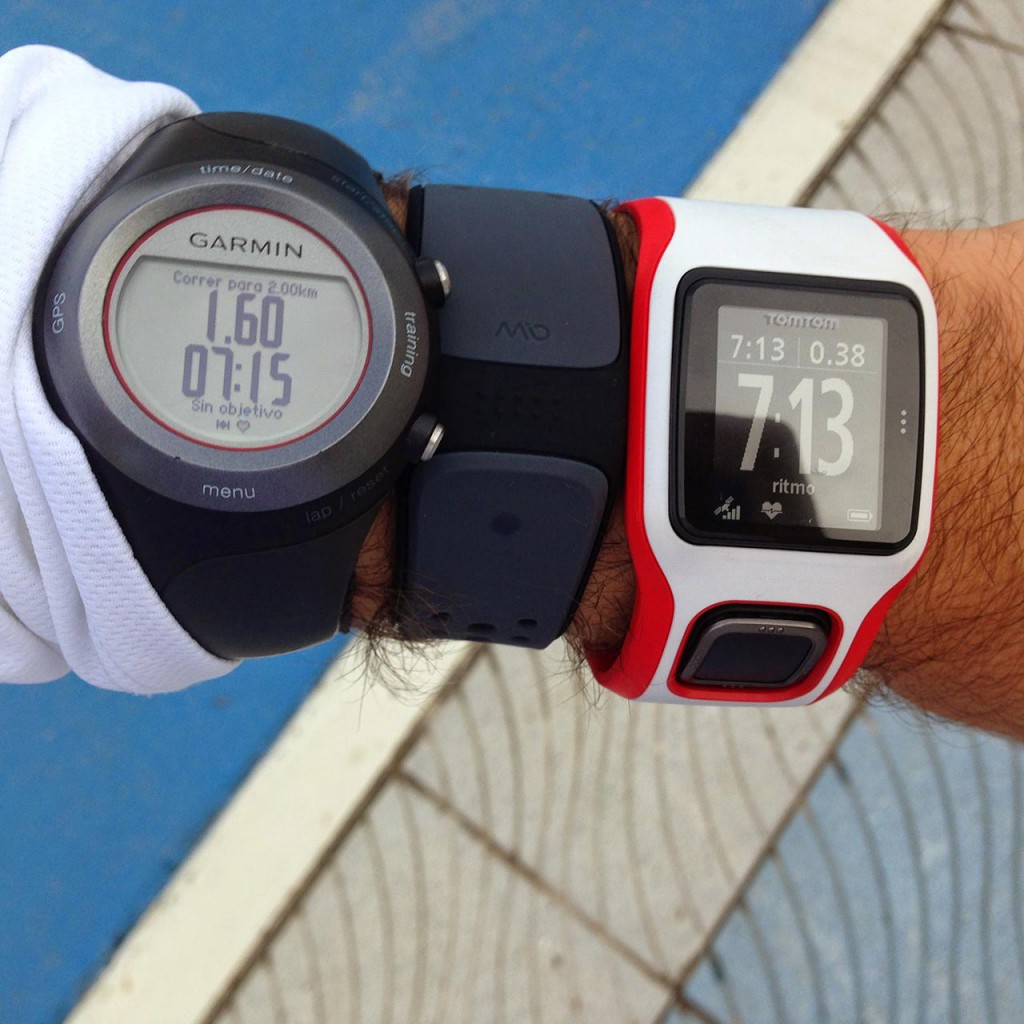 Optical pulse monitor, sweat problems
As I mentioned at the beginning of the entry, unfortunately the unit used for the test had problems with the pulse sensor. The sensor works correctly, it measures the pulse at all times, except when we start our training and start to sweat.
After consultation with TomTom and other users of the TomTom Runner Cardio or Multi-Sport Cardio, it has become clear to me that this is a problem that is present in some defective units. TomTom is already aware of this problem, so you can buy the watch with peace of mind. If, after purchasing it, you find this problem, you can return it to the shop or contact TomTom for a replacement.
But the problem doesn't stop at the sensor alone. After a couple of weeks of use, my test unit has had another problem, and that is that it has lost one of the two green lights.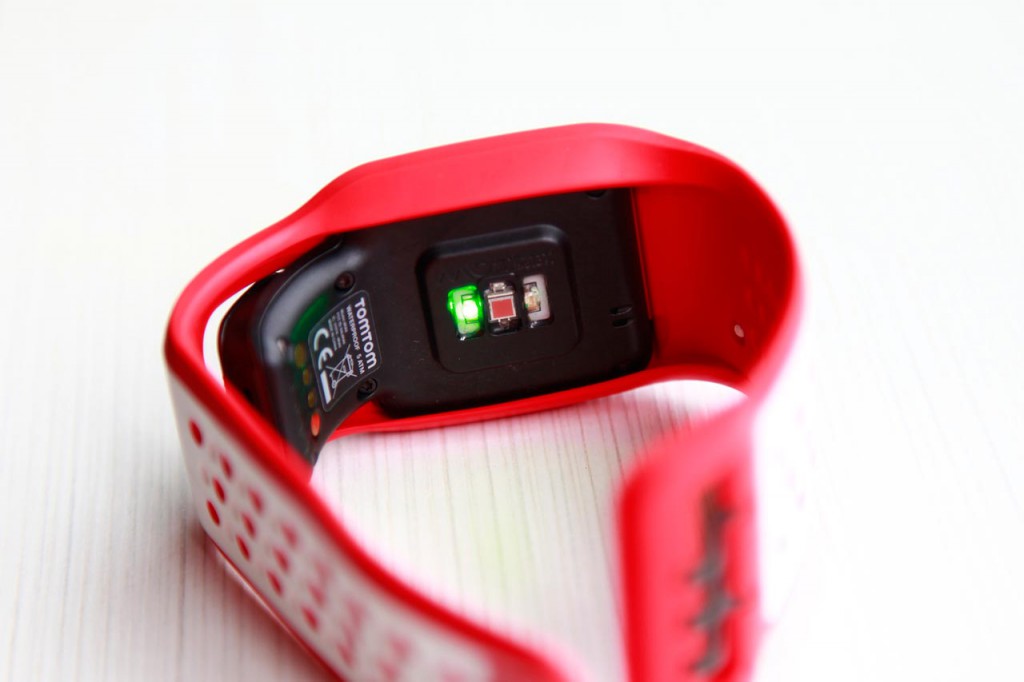 Después de examinarlo con un microscopio, me he percatado que el encapsulado de resina recibido en ese LED no ha sido completo, quedando parte del LED «al aire». Esto ha provocado que el sudor acumulado realizase un cortocircuito con el LED y lo dañara irremediablemente. Está claro que a mi me tocó la unidad fabricada un lunes.
Dado que no puedo proveer datos del sensor de pulsaciones mientras se realiza un ejercicio (aunque sí se incluyan en la parte de «monitor de actividad» que veréis a continuación), y que el sensor es el mismo que el que monta el Mio LINK which I have analysed in the past, I copy the conclusions of that same article in this one, as the result of the comparison will be if not the same, very similar.
In all the tests I have done with Mio LINK, it has proved to be totally reliable. The pulse data it gives is always the same, very similar to that given by a chest strap.
To see it, nothing better than a multi output chart in continuous comparison.
Start 1 - 1h20m continuous race
The first test carried out was a continuous-paced start, with few slopes and maintaining a constant pace. Both exercise cards show an average heart rate of 146 ppm with a maximum of 160 ppm
Image 1: Garmin 410 with chest strap (Garmin premium soft strap)
Image 2: Mio LINK connected via Bluetooth to Android phone with Runtastic app
Figure 3: Overlay of the two graphs, in blue MIO graph, in red Garmin graph
Both graphs are very similar, the only difference is that the Garmin graph has more saw teeth, probably due to the way Runtastic records the data. In both cases and during the same race, the information received would be the same.
Departure 2 -1h30m bicycle ride
A slightly different test, this time changing the sport: bike ride. I looked for changes of pace, ups, downs and jumps to see if Mio LINK moved from its place and stopped giving pulse information. At no time was the transmission cut off. The average pulse in both records was 134 ppm, while the maximum was 162 ppm in the recording made by Garmin and 163 ppm in the combination of Mio LINK with Wahoo fitness.
Image 1: Garmin 410 with chest strap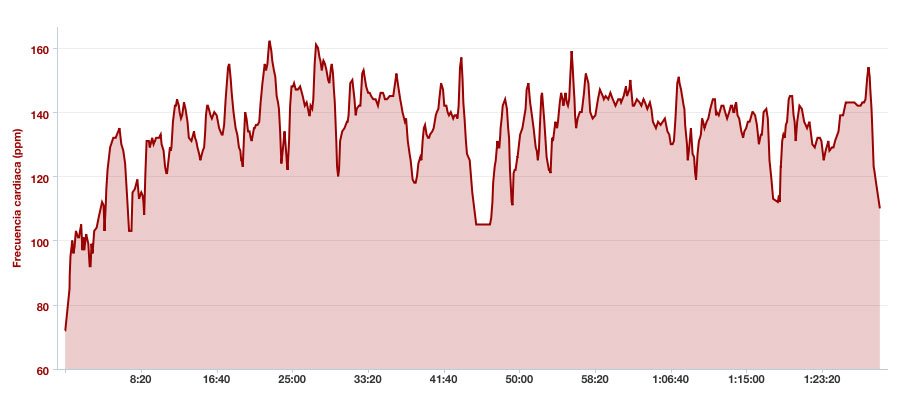 Image 2: Mio LINK connected via Bluetooth to iPhone with Wahoo Fitness app
Figure 3: Overlay of the two graphs, in blue MIO graph, in red Garmin graph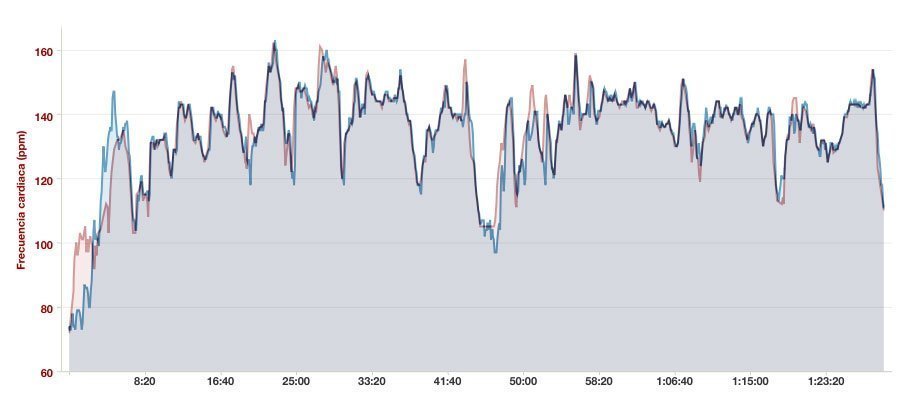 This test was harder for both contestants. The first few minutes of training are not decisive, as I was not wearing my Mio LINK strap properly. As you can see from the overlay chart, the first few minutes were not giving the same readings. But after I stopped to adjust my strap (you can see the drop in heart rate), the chart again developed in a very similar way. This time there are some blips at very specific moments, especially from the reading of the Garmin.
The graph in minute 43 is striking, because after a couple of minutes I stopped the graph. Garmin scores 5 ppm more than Wahoo's app, but nevertheless the Mio LINK and Wahoo are more realistic in the fall of keystrokes, because while Garmin records a full minute at 105 ppm stable, Mio LINK scores more variations and makes the graph descending and then going back up again. A much more realistic behaviour.
Except for very specific moments, we can see that both graphs follow the same movement and are constantly traced.
In this case there is no comparison with any other device. I only had the Mio LINK connected to the Garmin 410 through ANT+. But it does serve to check how, when connected by ANT+ to the Garmin 410, the saw teeth are continuous, unlike when it was connected by Bluetooth with the Runtastic app.
Daily use clock
We cannot forget that the TomTom Runner Cardio, besides being a sports watch with GPS, will also serve as a watch for daily use. Its bold and casual look may be more or less valid depending on the wardrobe (actually, with a suit I don't see it), but it is a watch that is designed to be used daily and not as that accessory that we wear when training.
And as such, it has specific watch functions.
In addition to being able to set the time manually (and you don't get it directly from GPS, as other equipment does), we can also set an alarm.
Tenemos también iluminación nocturna, no sólo para cuando entrenemos por la noche, sino también cuando estemos usando el reloj como lo que es, un aparato que nos da la hora (entre otras muchas cosas…). Para que se ilumine la pantalla sólo tenemos que presionar sobre los tres puntitos de la pantalla, y automáticamente se encenderá la luz de pantalla. Este «botón» es el mismo que se usa a la hora de marcar una vuelta cuando estamos entrenando.
TomTom Runner Cardio as an activity monitor
En mis pruebas con el sensor óptico, se me ocurrió que podía comenzar una actividad de «CINTA», pero sin que fuese un entrenamiento. Simplemente dejar que el reloj tomara las pulsaciones a modo de monitor de actividad. Evidentemente, y a pesar de contar con un acelerómetro integrado, las distancias calculadas son incorrectas. Pero no sería una locura que TomTom pensara en añadir esta función tanto en el propio TomTom Runner Cardio actual (a través de una actualización) como en el futuro reloj que lo sustituya.
For TomTom it would be very simple. Just add a separate function with a specific calculation algorithm, like those used by activity monitors, such as the SPC FitEspecially to rival other watches that are beginning to introduce it as a novelty, such as the Polar V800 that was the first to add it, followed by the Polar M400 and the Garmin 920XT.
After almost 5 hours of normal activity, these are the results obtained. Obviously the distance and steps do not correspond to reality, since much of that time was spent working on a table or in the car, so the accelerometer and the algorithm used have taken the data as what it is not, but it does serve as an activity monitor somewhat rudimentary, since it is possible to see at what times the heart rate has risen or what has been the average of it, being able to determine whether we have been active or not during the day.
I would even dare to say that the data obtained in this way (thanks to the pulse sensor), correctly processed, would be considerably more real than that which a traditional activity monitor can provide. By taking the pulses, you will actually recognise the intensity of the activity carried out and the calorie count will be much more accurate.
Connectivity, with the phone and with other sensors
The TomTom Runner Cardio has connectivity via Bluetooth Smart. This allows it to connect to other devices that use this technology, such as an external pulse monitor. And you will say... why do I want to connect to an external sensor if the watch integrates one? Very easy, for when it stops working, as in the case of the test unit...
No, seriously, this can be useful depending on the type of training. For example, despite being the Runner and not the Multi-Sport, and not having a specific cycling function, we can see on the screen the speed instead of the rhythm. This would allow us to synchronize the watch with the Bluetooth heart rate monitor and be able to mount the watch on the handlebars of a bike.
For the same reason of not having a direct cycling function, we could not use a speed and cadence sensor. So, if this is important to you, I recommend that you buy the Multi-Sport version of the TomTom Cardio. But if you do not use this type of device, with the Runner version you will have more than enough.
Bluetooth also allows connection to compatible phones (i.e. phones that have Bluetooth 4.0, such as iPhone from 4s or Nexus 4, Nexus 5, Samsung Galaxy S4, Motorola Moto G, etc.). Downloading the TomTom MySports application allows you to synchronize your watch with the web application, and update your QuickGPS data.
And, of course, the watch supports USB connection through the charging cable. We can download the software TomTom MySports ConnectWe can do the same as with the mobile application, but much faster (the download via Bluetooth is very slow). It also allows automatic export of training data to other platforms such as Endomondo, Strava, Runkeeper or others, as well as downloading the training file to upload it to any other platform.
MySports, TomTom's activity website
When we pair the TomTom Runner Cardio, either via the phone via Bluetooth or with the computer via USB, it automatically uploads the workout to TomTomThere is no problem with it if you don't need large data from your workouts and just want to keep track of time, pace and distance, but it doesn't provide much more information, and above all it is not comparable in any way with competing web applications. 
El «backend» de MySports es de la empresa MapMyFitnessSo we can also register on this website and keep track of it, but in this analysis I will focus on the TomTom website as it is basically what the company provides to keep track of all our activities.
The first thing we can say about it is that it is quite slow. Navigating between activities becomes tedious. Just deleting an activity that we are not interested in keeping takes an average of 10-15 seconds, as we must find the activity and wait for it to load. Then enter the activity and wait for it to load. Hit delete, confirm and, again... yes, you guessed it. Wait for it to load. The thing is that navigating through it becomes quite heavy, as everything takes quite a while, it is not at all fluid.
The first thing we find when we access our account will be this screen. It is the main panel where we find a summary of the last activity, the total data and at the top, the main menu.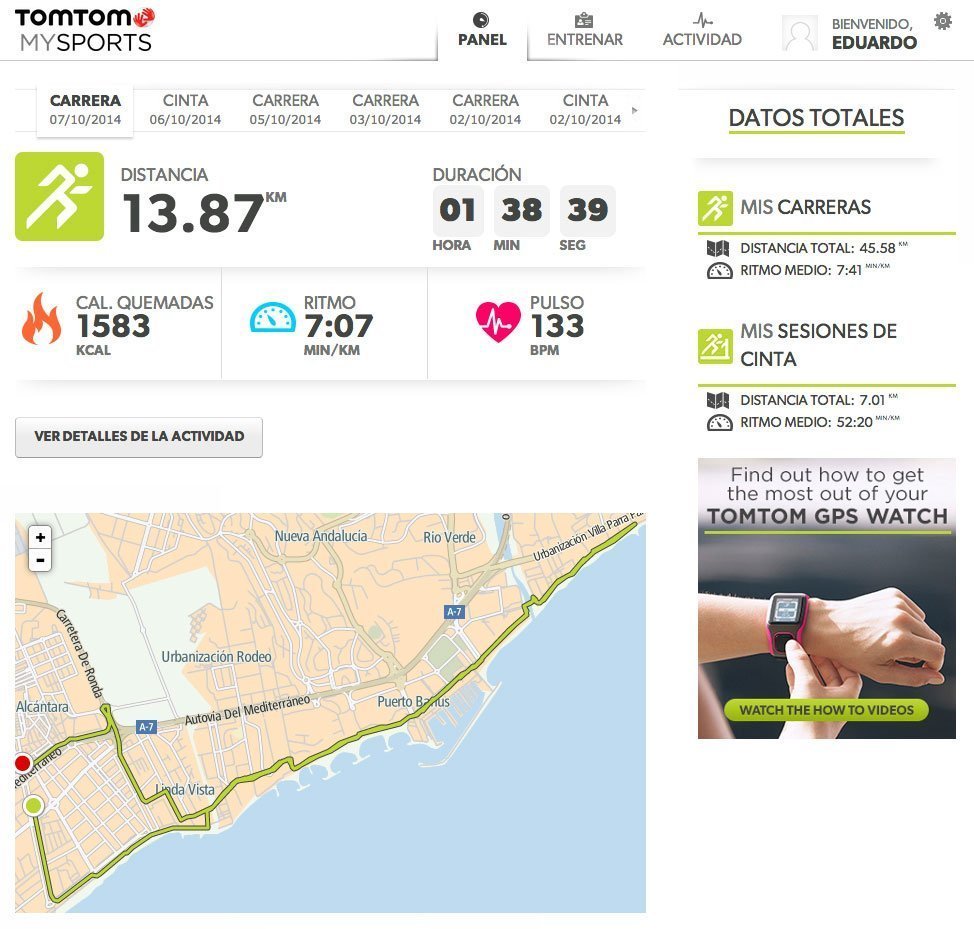 Al hacer click sobre «VER DETALLES DE LA ACTIVIDAD», se nos abrirá una nueva ventana con los detalles ampliados. Ampliados por decir algo, porque no es que desglose mucha información. 
Si seleccionamos «ENTRENAR» desde el menú, nos presenta las actividades contra las que podemos competir. Las que muestra son las que ofrece por defecto, y como he detallado antes, para añadir una nueva primero hay que hacer esa actividad y después hacer click en «COMPETIR CONTRA ESTO» en la propia actividad. Así que olvídate de poder crear una actividad que te sirva como «Race partner», porque no podrás hacerla. 
Dentro de «ENTRENAR» también podemos acceder a las zonas de frecuencia cardíaca. Podemos introducir nuestra frecuencia máxima y después variar las zonas manualmente. Éstas zonas serán las que luego tendremos nosotros en el reloj, y sobre las que podremos preparar un entrenamiento por zonas o cuando miremos en qué zona estamos entrenando. 
Finally we can access our user profile. With the data we enter here, the calculation of the calories consumed will be made.
And that's it. It's not that I wanted to go through this section quickly, it's just that the application doesn't offer more. As I said, it's a fairly simple application and hardly offers any data about training. If TomTom wants to be a serious contender in the mid-range of sports watches, then of course its web application is the first thing you should check out.
Summary
First of all I would like to stress that I will skip the issue of the defects of the test unit with the pulse sensor. If I had not already tested on the Mio LINK I might think it's a general failure of the sensor, but knowing it (and using it regularly) I'm clear about how it works and what it offers.
The test started with a lot of enthusiasm. A sports watch with an integrated sensor, without having to use a chest strap for the pulses, and with a multitude of training possibilities. I think this is the way to go for all manufacturers. The sensor simply works and having everything in one device to carry, one device to recharge and one device to use, is fantastic.
But the final feeling is that it is a product that has yet to be polished. Slight details when preparing a workout that, it is true, we can find a solution manually. But the presentation of data at the end of training or race is not acceptable. However, it is grateful for TomTom the ability to export the training to different file formats and upload them automatically to certain pages and manually to wherever we want. But it adds a further step, and is something we can not do from the mobile application. Only synchronize with MySports, not with other services. And if we want to synchronize with other services we will have to do it from the computer, duplicating the training.
With a price of £259 on the Runner Cardio version (£299 on the Multi-Sport Cardio) it should offer something more if you want to compete with other brands' mid-range watches. For example the Garmin Forerunner 220 offers more training possibilities at a similar price, and the new Polar M400 we are all waiting for promises to offer similar features at a knock-down price.
Recommended for:
The non-competitive runner who is tired of the chest strap but does not analyse his races or his times. He runs at his own pace and does not seek constant improvement.
Not recommended for
Everyone who likes to prepare their training sessions looking for maximum efficiency, who likes to compare all the data and see their evolution as a runner.
Did you like the test?
I hope you enjoyed this complete review. It took quite a few hours to put it together. If you liked it and want to help, just comment below what you thought of the test, or ask your questions, as I may have left something along the way. Comment on this post with your friends and share it on your social networks. If you are encouraged by the purchase of the device, you can do it through this link This way it will cost you the same or cheaper than the official price, and I get a small commission that will help with the purchase of new devices for new tests.
Buy TomTom Cardio Runner
You can buy the TomTom Cardio in two versions (Runner and Multisport), and each version in different colours. Here are links to good prices.
(
643opiniones de clientes
)