Ask the audience. How many of you have been looking for a new bike, and find yourself in a sea of doubts about choosing the size of the frame? It's clear that it's not a trivial issue, in the end you're going to spend many hours and kilometers riding it and, of course, it's not cheap. That's why you have to choose your size very well, so that you don't discover two months later that your new bike is too big or too small, and that riding it causes you pain.
And there I am, about to buy a bike (as a test stand for more specific cycling devices, hello power meters!) and I'm a sea of doubts, hesitating between two sizes.
If you do a Google search, you find a lot of opinions, but the only thing that is clear is that we are each made in a very different way, and two people of 1.92m can be very different when it comes to riding a bike.
In my particular case, I am hesitating between size L (58) and size L/XL (61). I have used the www.competitivecyclist.comI entered my particular measurements and selected the use of the bike (road), and the type of use I want to give it ("competitive" or racing). And these are the data obtained.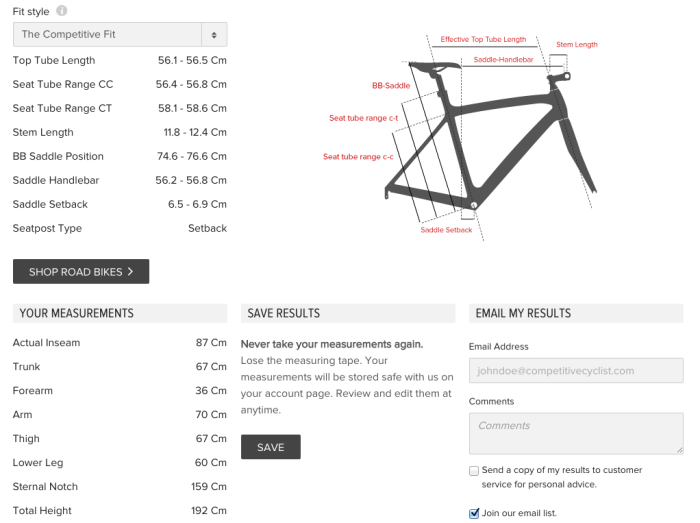 And these are the geometry data in the two sizes between which I am hesitating. I have noted on the right the measurements that I can transfer directly from one place to another, which are: seat tube size, top tube size and stem size.
The end result is that I have a lot of geometrical data, but I don't have enough knowledge to know what to do with it. I think my assumptions are correct... but I can be totally wrong. At this point, I'm leaning more towards size L (58).
The seatpost size is 35cm for both sizes that I hesitate between, so if I need a total length of about 76cm (the BB-saddle size) and the seat tube is 58cm, it means that the seatpost protrudes 18cm (actually a little less, because you have to take into account the height of the saddle). So the seatpost is fixed in the middle of the seatpost, so I guess everything will be fine.
The top tube would be almost as large as the Competitive Cyclist, and the 120mm power would fit perfectly.
So, do you think that if I choose the L frame size, I will be right? Or should I think about the larger size, L/XL? I have to say that using these measurements and extrapolating them to my current bike, everything fits perfectly, so I have confidence in the tool used.
If there are any bike experts in the room, I would greatly appreciate your comments (which you can write below).
Thanks for your help!