The Motorola Moto 360 is one of the main showcases for Google's new wearable platform, Android Wear. Since its presentation, it was the device that stood out the most, not only for its aesthetics (it was the one that most resembled a watch), but also for having an optical pulse sensor, where many users have wanted to see a new training device. In fact, the Moto 360 in addition to being presented as a smartwatch or smartwatch, also boasts of being an activity monitor.
And this is the part that I have to analyse, so the first thing I want to clarify is that my mission will be exclusively to assess the functions that the Moto 360 can offer for athletes or not so athletes, who want to rely on a device of this type to remain active in their daily lives. I will only deal with the sporting aspect of the watch, and that is what is valued in the final results.
On this occasion, I would like to clarify that the device has been bought in store. It is not a device given by the brand for a certain time to perform the test. This does not mean anything, I just like to be totally transparent with you, the real interested parties, and I will do so in all the tests you can find here.
Remember you can buy it on Amazon through this link and that way you will generate a small commission that will help the development of this page, and that you can see more tests and analysis like this one.
Unpacking
This is how the Motorola Moto 360 is presented. A white box, round and with a black circle in the center. I assure you that when you see it from a distance it looks like a roll of toilet paper. Motorola, what were you thinking?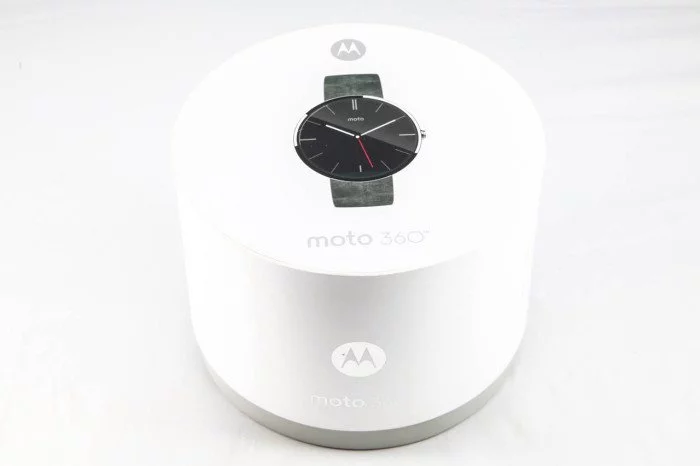 After looking at the box carefully, you discover that you don't have to take it to the bathroom. And there's a surprise, it's a box that opens!
What we can find in the box, besides the watch, is the charger and its base. Oh, and a rectangular thing made of paper. I think it's called an instruction manual, but since nobody reads it, it goes totally unnoticed. The charging base has no pins of any kind, since the charge is wireless, and also standard. Any Qi charger will work to charge the Motorola Moto 360.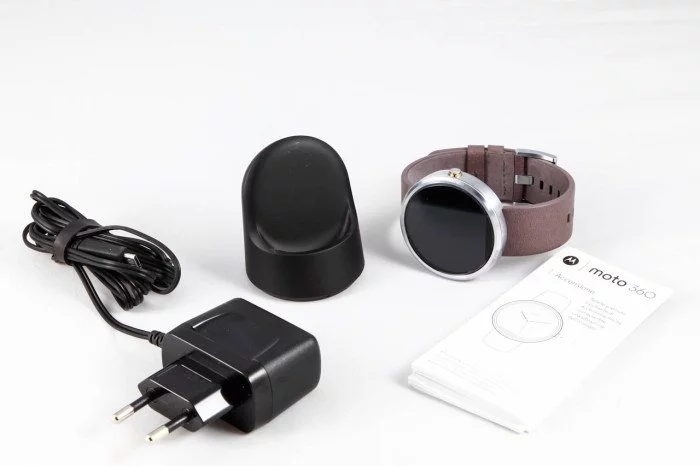 You have to get used to that position, because you'll see it like that every night. Its autonomy is a day or a day and a half, so you'll have to put it on charge every day. But thanks to its wireless charging, the process is so simple that you won't mind. You get to bed, take off your watch, leave it there and see you in the morning.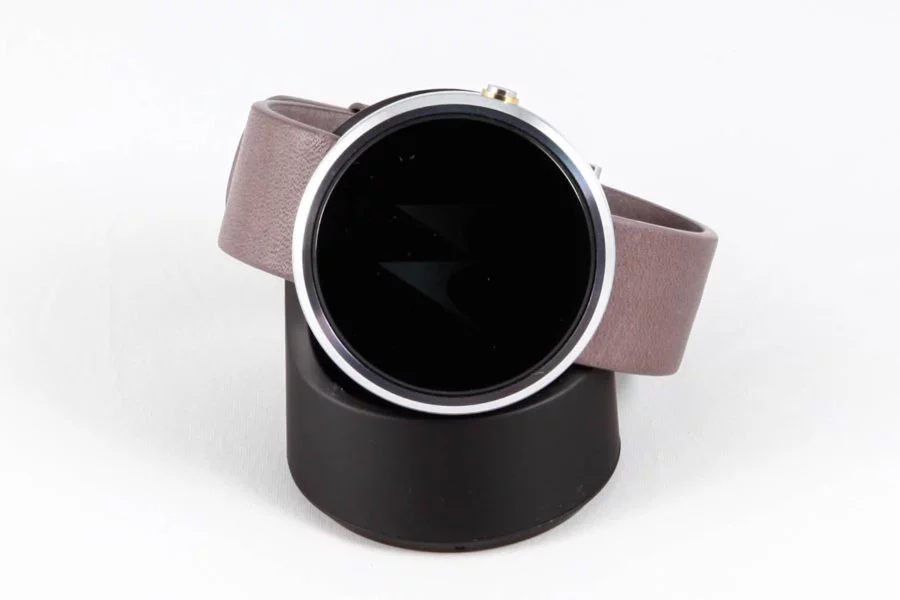 The strap is the most striking feature of the set. Yes, it's made of leather, but of the right quality. It doesn't seem to last very long, although it does look better than it is when you wear it.
He's shy and doesn't like to pose for the camera. It's hard to take a picture where the clock looks good and the screen is on.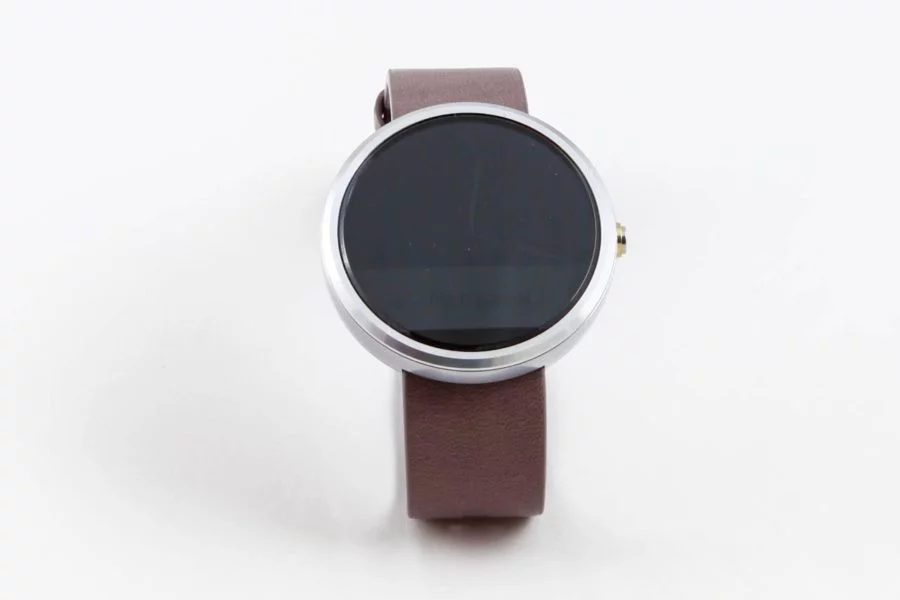 But there are always tricks. With the screen on, it's an eye-catching clock.
If you turn it over, you'll see the optical pulse sensor, which I'll quickly tell you about.
Pulse sensor
As you have seen, the Motorola Moto 360 has an optical pulse sensor, located at the back of the watch.
Although at first you might think it's similar to the sensor we'd find in a Mio Link or in a TomTom CardioThere is nothing better than a closer look to see that the size of the sensor is quite small and the lighting is not very powerful. This logically affects the measurements you make.
At the back you can find all the features: IP67 certification, made of steel, optical pulse sensor, wireless charging, pedometer ... and everything inside that small package.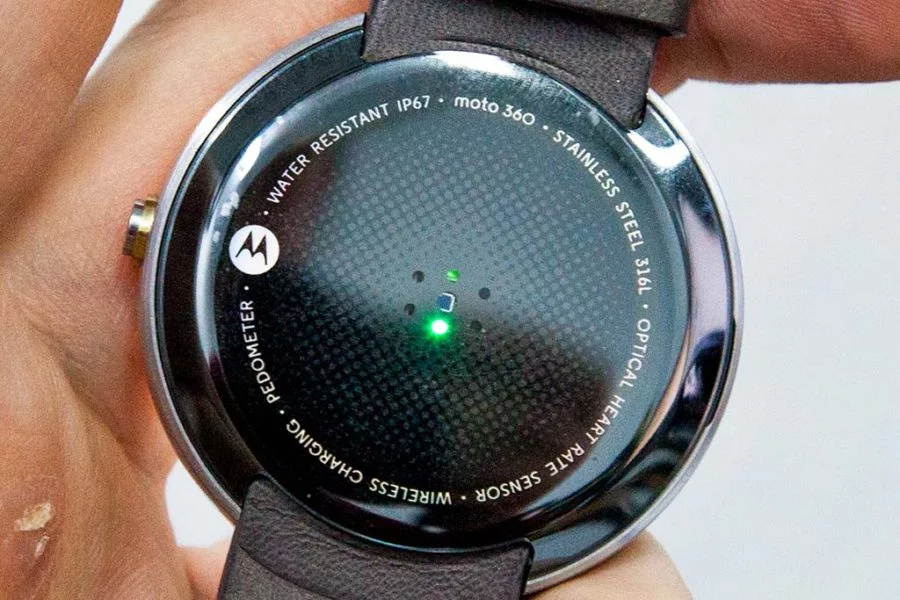 Applications
But let's quickly with applications, because in the end it is what a smart watch depends on. The advantage that brings is precisely poder install different "apps" in addition to what it brings as standard. And with the possibilities that give the APIs at the programming level, it will always be possible to find new applications that improve what comes by default.
Google Fit
Google Fit is the main application you'll find on any watch with Android Wear. It will track all your daily activity through your steps. And this is how it looks on the watch screen.
From now on I'll show you the images in screenshots directly extracted from the clock. More quality for you, and much more comfortable for me (it's really difficult to take quality photos to LCD screens and they usually include two photos to combine).
When you enter the Google Fit application, the first thing you'll see is how long we've been active, that is, how long we've been walking or playing any sport that the activity monitor's accelerometer has been able to detect. In this case, I've been lazy for a day, just 15 minutes until 6pm.
If we move the screen (by sliding our finger from right to left) we can see how we are in relation to the daily goal we have set. You can select this goal manually. In my case I have set an hour of activity. At that time I had 47 minutes left to reach my daily goal.
And if we scroll once more, we'll find the daily history.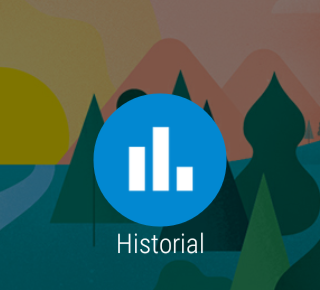 In which we can see how we have behaved during the last week. The horizontal dotted line is the one that marks your daily goal, the one you set yourself.
Google Fit also allows you to take a spot sample of your pulse, if your watch allows it. In this case, the Motorola Moto 360 does incorporate the sensor, so you will be able to do so.
It takes a few seconds to take the measurement. Unlike any sports watch, it does not monitor the pulse continuously, but only stores the pulse at a specific time. At least it keeps a record of the last 10 data obtained, with date and time.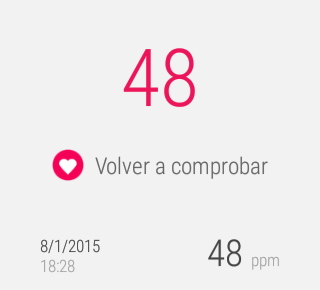 Of course, as our watch is constantly connected via Bluetooth to the Smartphone, all this data will be synchronized with the Google Fit application that you must also have installed on the mobile. And if we have any other application synchronized with Google Fit (for example, Strava), the information regarding these exercises performed will also be shown here.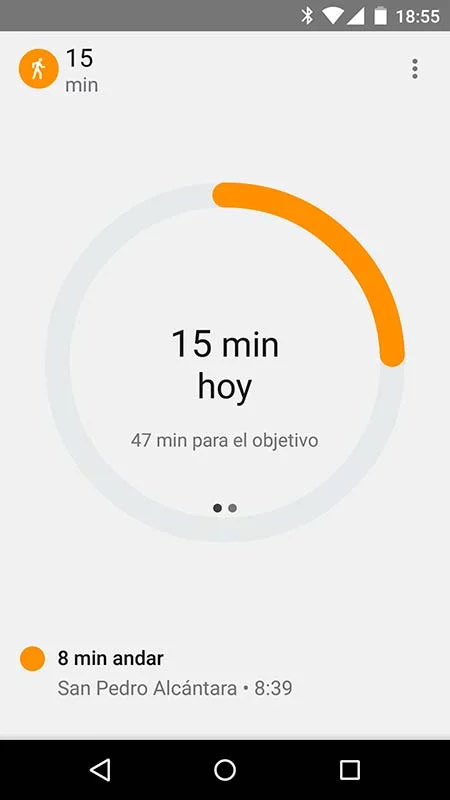 We have access to the same history that we found in the clock, but in a wider screen and with more detail of the activity performed.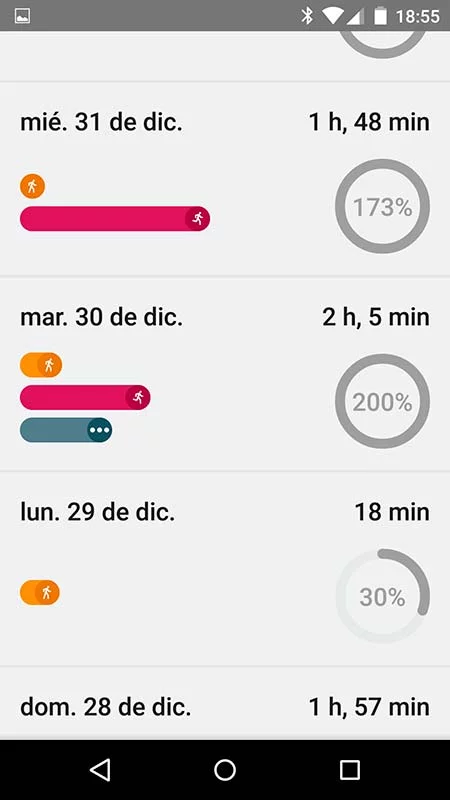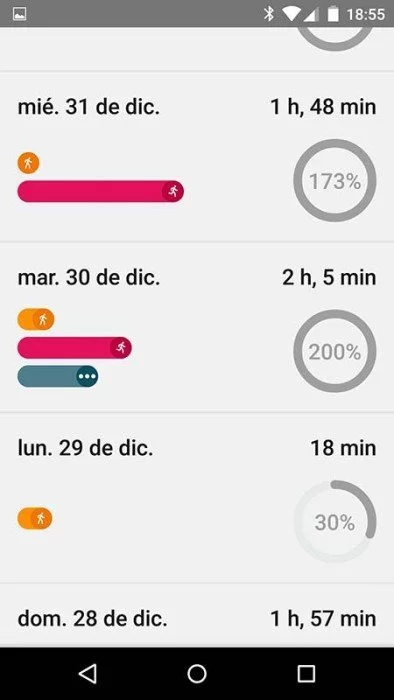 Touching on any day 1TP10We can see the information more broadly and know which application "has brought" that information (in this case I used Runtastic as a bridge for some activities synchronized to Garmin Connect, which does not yet have export to Google Fit).
Motorcycle Body
Moto Body is Motorola's own application installed on the Moto 360. And you might think (with good reason), why are there two applications on the clock that do the same thing? Well, I wouldn't know the answer, because they do almost the same thing. They analyse the daily activity and show it to you in steps and distance. But there is some subtle difference between the two. For example, Moto Body currently does not synchronise data with the phone or a web platform, so we can only consult the data through the clock. And while in Google Fit you can set your daily goals, in Moto Body you cannot.
But in terms of basic functionality, both applications will count the steps, but only Moto Body will translate it to the distance travelled.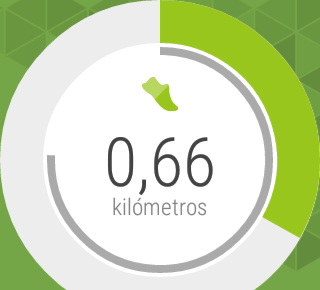 It is possible to access the total record of the week, which also changes what it shows between steps and distance.
This is how it is shown on the screen, with a nice animation (image from the Motorola)
Calorie calculation is another feature of Moto Body (something that, for example, is not covered by Google Fit either).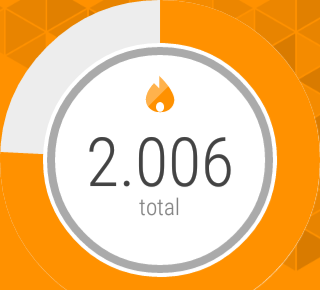 As before, the presentation is through an animation (image of the blog of Motorola)
Moto Body, unlike Google Fit, checks your pulse in a totally autonomous and regular way. In fact, being in the dark I noticed that the LED of the pulse sensor has turned on without me having requested the information. It does so because the Moto 360 will show you your daily activity not only through your movements, but also through the data obtained by the pulse sensor.
Within the details, you will divide that daily activity into resting time, active time, or time with a high intensity.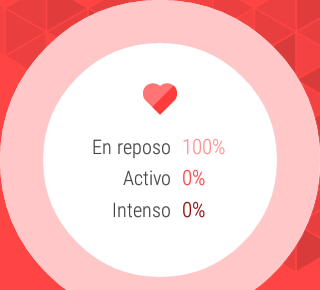 What is the same as Google Fit is that in addition to taking data on a regular basis, we can also measure the pulses at any given time.
 But remember, it's not a constant measurement like a sports watch, it's just a point measurement.
Endomondo
Endomondo is not the only sports application with support for Android Wear, but it is the one I will take as a reference, because it is one of the first to be compatible and, above all, because it supports the pulse sensor, which will be key in determining whether or not this watch will serve us to do sports in an intense way such as running. This will be the touchstone we will use to determine whether, in addition to being an activity monitor, the Motorola Moto 360 can serve us as a training watch.
The first thing you should know is that the Moto 360 does not have GPS, we depend on our mobile phone to be with us at all times, as the watch works exclusively as a remote screen where you can see the information. You can carry the phone in a bracelet case and see the information on the watch, but if you do not carry the phone with you it will not work.
Like the training watches, we have different screens, for example the basic one with duration and distance.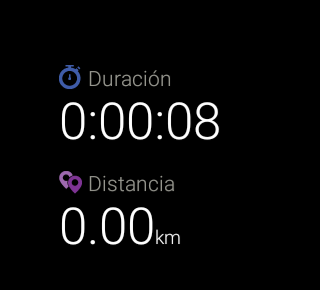 And if we move to the next screen, we see the screen with rhythm and heart rate. As I said before, Endomondo is able to receive the information from the optical pulse sensor.
This is what we were interested in knowing, right? How does the pulse sensor work when it is really required? That is, when we ask it to go beyond a mere pulse taking at a given instant. In this video you can see how the sensor behaves by taking data while I am at rest.
And this is the graph created, which goes directly to the phone. I repeat, while at rest, not in activity.
And you'll say, hey, all right, that's reasonable. Now will you compare it to a normal heart rate monitor and see how it goes? Well, no, I'm not going to. No need, because as soon as you start to demand a little bit and we raise the pulse rates slightly, the nice thing is over. As soon as I start the activity, the pulse information is over. Zero, nothing, nichts, rein, niente...
It's not that I didn't mark anything, but it's worse, it got stuck on the last figure given. After several tests, on the last one it got stuck on 70 constant pulses, even though I was doing a fairly intense exercise, I still marked 70 ppm on the screen (and on the exercise graph).
Your joy in a well. You can't rely on the pulse sensor of the Motorola Moto 360 to train. However, you can always connect a sensor via Bluetooth to your phone, and use the watch as a remote control or for a quick consultation, without having to carry your phone around. That way it does its job perfectly.
Summary
To tell you the truth, the Android Wear platform is still quite green. And it is something that is not only applicable to "wearable" or "wearable" devices of the big G. The same can be said of those of any other company. It is a new product range that sometimes seems like they are trying to shoehorn us in. Maybe that's the way it is, because it's about creating a need where there was none before.
In the case of the Moto 360, except for its functions as Smartwatch (which as I have already said is not for me to evaluate; not because I cannot do it, but because this is not the right place and you will find thousands of tests where you will see how it behaves using it for what it is intended), it is not very clear what they wanted to do with it. Compared to any activity monitor from companies with more experience in the sector (such as Fitbit), it is clear that it lacks many things. It does not have sleep analysis, nor does it count stairs, nor does it have a monitoring website. There is also no possibility of doing any social function (sharing your activity or comparing you with friends or family, for example).
It's true that the basic function is fulfilled. It monitors your activity, keeps daily and weekly records and can even analyse your pulse to see if the activity has been intense or not. But when it comes to the small details it's where it's weakest.
Today the Moto 360 is not capable of, I don't say surpassing, but matching any activity monitor on the market. It can help you know if you have been active during the day to day, but it will not provide much more relevant information. But if what you want is a smart watch and the activity monitor part is secondary and you don't give it too much importance, then the Motorola Moto 360 is made for you. It is comfortable, nice, quality. Good and nice, although it is not yet cheap. And you must be willing to charge it daily.
Did you like the test?
I hope that this analysis has helped you to solve your doubts with the more athletic part of the Motorola Moto 360. Completing any of the analysis I do on the page takes many hours of work. If you liked it and want to lend a hand, just comment below what you thought of the test, or ask your questions, sometimes I leave details without commenting or I have not explained correctly some function. You can be sure that I will come to answer you.
Share this post on your social networks and let your friends see it. Don't be selfish, I'm sure they're interested too.
And if you are encouraged to buy the device, you can do it through this link directly at Amazon. This way you save, and I get back a small commission that will help the purchase of new devices to perform the following tests.
Buy Motorola Moto 360
You can buy the Motorola Moto 360 in two colors: black strap and black dial, or gray strap and polished dial.
https://www.amazon.es/dp/B00N3VH3VM&tag=c1mes-21
https://www.amazon.es/dp/B00N3VH3VC&tag=c1mes-21