Suunto has released today a new firmware version for its two latest models (yes, in case you were still wonderingSuunto Spartan has reached the end of its life in terms of upgrades), sneaking "Suunto Spartan".on the quiet"a new option called SuuntoPlus.
It can be said that there is not much new, since it simply includes Strava's relative effort metric (for which you must be a Strava Summit user, since it is a proprietary metric), but nevertheless this is important news.
First I'll talk to you briefly about what this metric means, and then I'll move on to the importance of this update (which is none other than SuuntoPlus).
You can read everything you need to know about the Strava's relative effort on his blogI'll tell you that it's a metric that summarizes in a figure the effort that your training has involved and that depends, mainly, on the duration and the effort.
Therefore a 30-minute jogging start will have a low figure, a training series will be higher and a half-marathon in which you have done your best will have a much higher value (because of the mix of duration and intensity).
As it is based on effort, heart rate data is of utmost importance, so if there are errors in the reading, it is obvious that the value it gives will not be correct. Reviewing on my Strava the activities with a higher relative effort, for example, I have found a fairly standardized swimming training of 2200m that nevertheless has a relative effort of 228.
This is because the heart rate is sky-high, due to a bad record.
And on Strava we can see how the stress curve moves, which is exactly the same as we can have on other platforms with the TRIMP or TSS.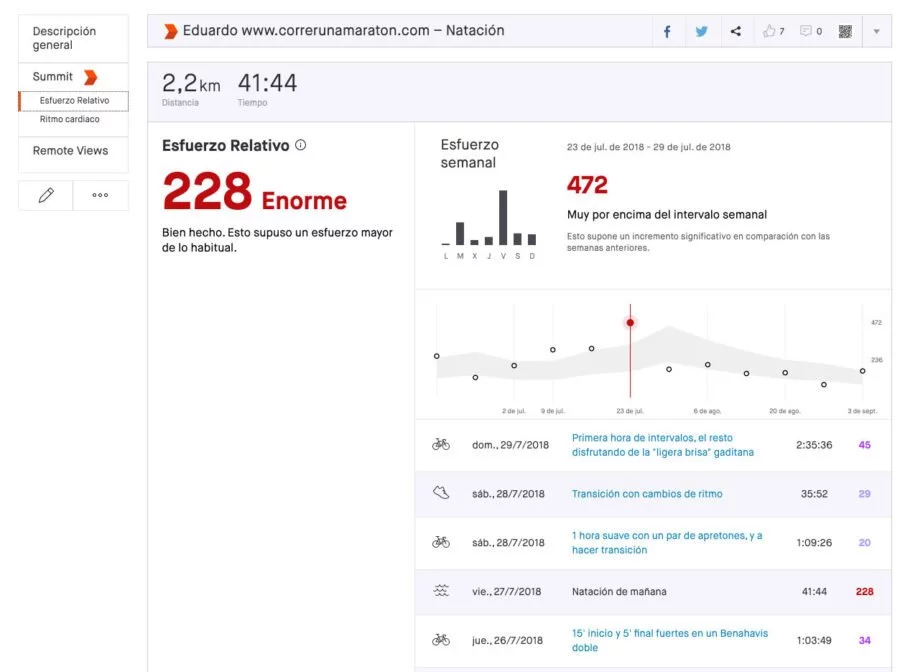 So as I was saying, it's not that it's an exciting or important update... at least for now. What is important is the announcement of SuuntoPlus.
SuuntoPlus, what is
Without a doubt the important thing about today's update is the revelation of SuuntoPlus, which is where Suunto will be adding new features in the future. I don't have many details because there has been no official announcement or press release, simply what you can find on the Suunto website.
SuuntoPlus is an option that is added to the activity menu. You will find it within each of the sport profiles, along with the rest of the available options. At the moment Strava's relative effort is the only thing available, but Suunto says it will be adding more options here in the future.
What I understand from this announcement (I insist, there is no more official information because there has been no presentation as such) is that SuuntoPlus is a kind of "SuuntoPlus".sandbox"This is a way for Suunto to integrate new features faster without having to work on the entire firmware, thus saving a lot of time and resources.
That is, they are small applications that can be added quickly by Suunto developers (so it is different from Connect IQ, there is no platform or application store), as it is adding a small part to the current firmware, without having to rewrite everything that is there so far.
It also opens the door to collaborations with third parties, as is the case with Strava, where you have to be subscribed to a premium service to have access to these features. Another possible integration could be, perfectly, TrainingPeaks and the training calendars.
Suunto is already thinking about a lot of things, in fact have a survey that they ask you to fill in to inform them what we users expect from Suunto watches. In that survey you can write down anything you can think of that might be interesting (and believe me, at Suunto they take it seriously and look at all those proposals one by one, it's not a formality), but also vote for ideas that they have in mind right now. And there are some pretty interesting things...
These are just some of the examples that have caught my attention, but there are many more...
Test to estimate a time at a certain distance, a way to automate a specific training and that with the results, indicates what could be the target time for your next race according to your current physical condition.
Physiological test to determine your training zones
Indoor training with exercise animations (what you already have at Polar and Garmin)
Automatic transition for triathlon without having to remember to give buttons
CLIMBER... Garmin's ClimbPro in Suunto? Yes, please!
Location-based autolap. Garmin eliminated it a long time ago, how many have you asked for it since?
In the end, it is not today's announcement adding Strava's relative effort that is important, but SuuntoPlus and that Suunto has set itself a clear goal of working in the short and medium term, something that was absolutely necessary since in the last few months it seemed that Suunto was starting to drift, not knowing very well in which direction to go.
So as an idea it is good, but now the execution is missing. I hope that this move will allow Suunto to be much more agile than it has been in recent months (the migration from Movescount to Suunto App is an example of how not to migrate), and establish a clear timetable for improvements and new ideas to be incorporated into their watches.
Because the competition is tight, and although Suunto has a very loyal user community, its patience has a limit. So welcome to SuuntoPlus.