Today is finally the official announcement of the Suunto Verticalone of the most anticipated watches of recent times. A significant turning point for Suunto which, after its acquisition by Liesheng, is the first watch under the tutelage of the new Chinese parent company. Yes, the Suunto 9 Peak Pro had been presented before, but it was merely a first step and still inherited things from "the old Suunto under the Amer Sports umbrella".
What's new? Several for Suunto, few for the segment. And even if there are few "absolute" eye-catchers, this Suunto Vertical will undoubtedly be one of the most important launches this year.
Suunto hasn't incorporated anything that others don't have, but everything it has added to the watch has been "Suunto style": reliability, quality, simplicity. What the company calls Suunto DNA.
But make no mistake, just because there are no new features does not mean that the Suunto Vertical is not going to be a reference in many things. An INMENSE solar charging surface, ridiculously brutal autonomy (60/85 hours with multiband), maps that are going to be reference even though they are not routable, a new 1.4″ Sharp display of great quality and possibly the best satellite reception on the market.
I have been testing the watch for a few days now. Not enough for this to be a full review because of time and because the final firmware version has not yet been released. That will come later, but for now these are some first impressions with the latest beta firmware version.
Over the past few days I've had a chance to do some testing with it, including taking it on a ride to an Ironman 70.3. So let me first tell you what's new with the Suunto Vertical and then I'll tell you about those first impressions.
Buy Suunto Vertical
Suunto Vertical, news
Let's go first with the complete list of new features provided by the Suunto Vertical. I leave it in a list for you to have a quick reference of everything there is.
New Sharp 1.4″, high contrast, touch screen
Sapphire crystal in any of its versions
Automatic display lighting with light sensor
Two models available: steel and titanium (bezel, body and cover, only a small part is polymer)
Solar charge on Suunto Vertical titanium for +30% of autonomy
49mm circumference
86 grams weight for steel model, 74 grams weight for titanium model
Strap 22mm
Maps for route navigation
3 map styles: outdoor, dark and high contrast
Downloading of maps by communities, directly via WiFi on the watch
32GB internal memory
Possibility of activating two SuuntoPlus applications simultaneously
Ability to switch between SuuntoPlus applications during the activity
Menu to select which widgets we have visible on the watch
Sunrise, sunset, daylight hours and moon phase widget
Weather widget (and clock face data) with data from Openweather
Solar energy widget with the incidence of the last 3h and last 7 days
Voice feedback, via cell phone, with lap and HR zone information
Flashlight function, activating the display illumination at 100%
New optical heart rate sensor
Multi-band chipset and near 360º antenna
Up to 60 hours with multiband and all satellite systems (85 hours in solar), 90 hours with single-handed all systems (140 hours in solar), up to 140 hours in energy saving mode with all 1s satellites (280 hours in solar) and a new Tour mode with 500 hours and infinite battery in the solar version.
Up to 60 days in watch mode, 1 year in solar version
Fast charge of only 1 hour and peak for 100% battery, 10 hours of training with 10 minutes of charging
Snorkeling and mermaid dive modes, with dive tracking down to 10 meters (33 feet)
Full metrics TrainingPeaks and Suunto Coach app with training, recovery and progress tips
Manufactured in Finland with 100% renewable energy
MIL-STD-810H military endurance certification
Water resistant up to 100m
Prices: £599 Suunto Vertical steel, £799 Suunto Vertical solar titanium
The summary that can be made of all this is: maps, market-leading autonomy, market-leading solar charging, possibly market-leading GNSS reception (pending all tests). Not bad at all what the new Suunto Vertical offers...
Highly refined aesthetics
The Suunto Vertical still has a Suunto look, but there are design elements that have never been used before. Of particular note is the bezel, which combines smooth areas with striated areas.
Suunto says the bezel is shaped this way to facilitate control when wearing gloves, not allowing fingers to slip.
The watch control is the classic one of the latest Suunto. Touch screen and three buttons on the right side. But in this case they are positioned differently, with the central button more protected and the upper and lower ones protruding.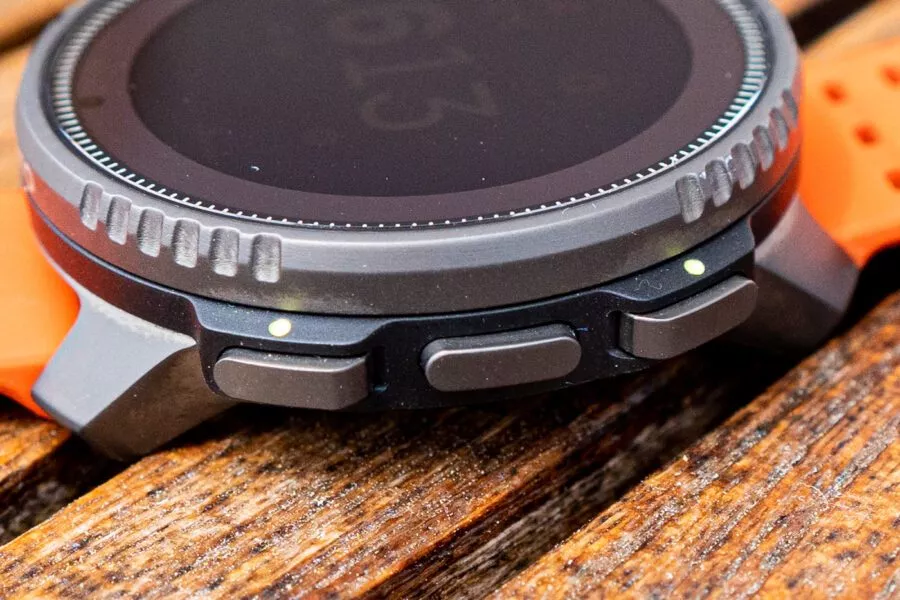 You will see that there are two yellow dots on the top and bottom buttons. According to Suunto, they are there to sharpen your sense when you go to look for the buttons. Although they look like it, they are not luminescent.
The watch is made almost entirely of steel or titanium. Both the bezel and the case are made of these premium materials, as are the buttons. There is only one area that is made of polymer, the one that holds the buttons.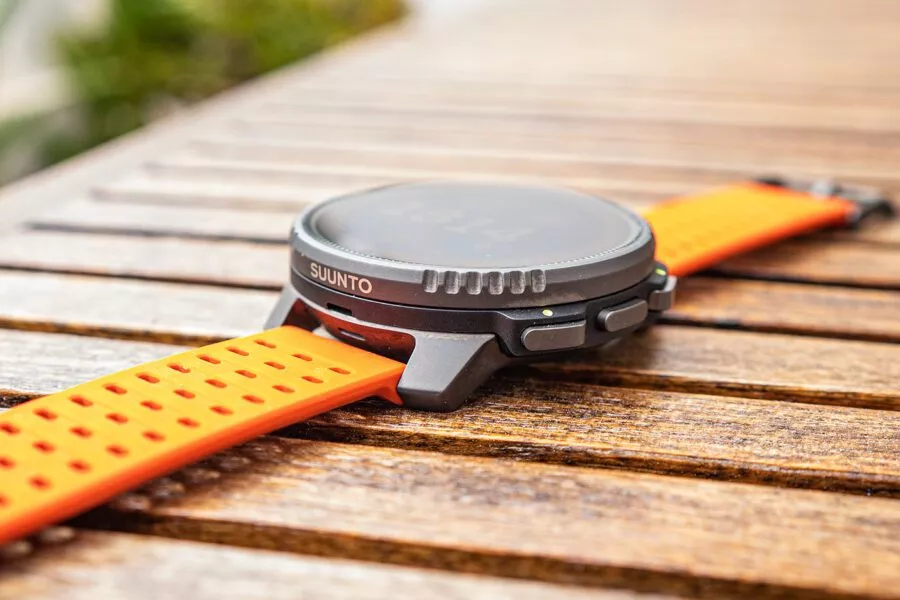 The bezel is a very important part of this Suunto Vertical, because it is the antenna itself for GNSS reception. And this antenna is almost 360º, so no matter how we wear it on our wrist there will always be some area with direct satellite reception. This antenna is partly to blame for the good GNSS reception of the Suunto Vertical.
It highlights the 1.4″ screen in a 49mm case. That makes that, despite being a large watch, it does not look massive on the wrist.
But since we are talking about massive sizes, in the titanium version the solar charging surface stands out enormously. It is much larger than the one used by Garmin in their watches with solar charging, here you can see it compared to the Garmin Forerunner 955.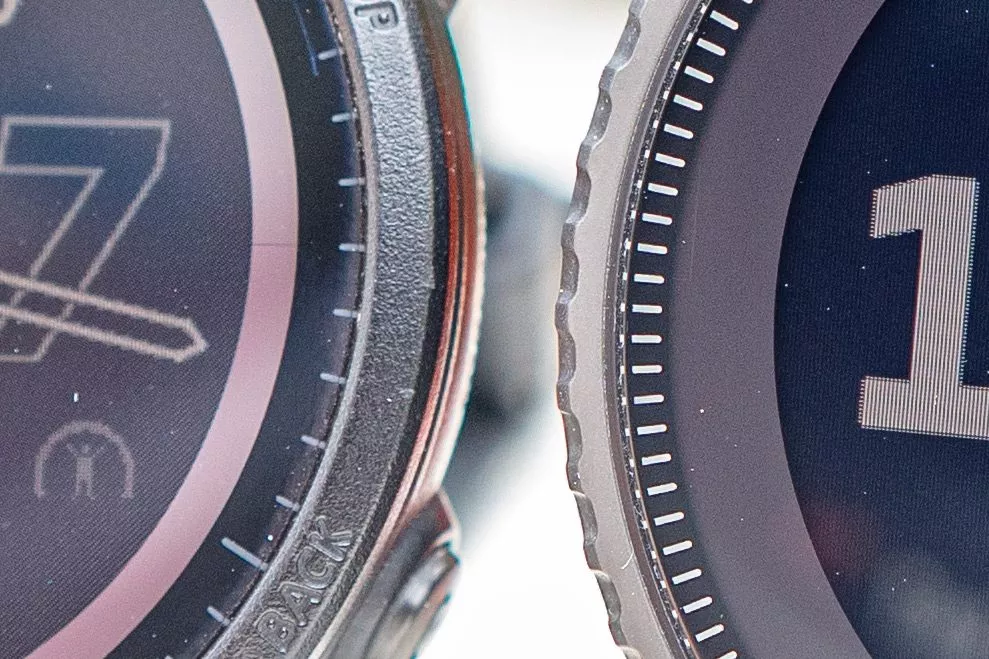 The 22mm strap has a quick-release system.
It is made of silicone, comfortable and quite elastic. It is not the lightest, and using a velcro one would be a set with less weight, but it is also part of the aesthetics of this watch.
Navigation maps on the Suunto Vertical
One of the most demanded functions by users for quite some time now is navigation with maps, something important especially in a 100% Outdoor brand such as Suunto. They had already arrived in the past to the brand from the hand of the Suunto 7The Suunto Vertical and its orientation as a mountain watch is where it was most needed.
There are a number of quite interesting things in the Suunto maps, solved in a very good way. One negative point is that, unlike other brands, the watch does not include maps of any kind when you buy the watch, so you first have to do the preliminary step of downloading the maps manually.
It is not a complicated process, it will simply take a few minutes and the download takes place directly on the watch through the WiFi connection it has, all commanded from the application.
But the management is quite intelligent, because depending on each country you can download the complete map or as in the case of Spain (and many others) do it by communities. In my case for example I have downloaded Andalusia which is the area where I usually go out and, if I have to travel to some other community or country, I simply download the area that interests me.
This makes the management very fast, because it avoids having to download for example the complete map of Europe. Not because of memory capacity, because with 32GB we have plenty of space, but because the transmission takes time (as in any device of this type).
Each map includes three different styles: outdoor, dark and high contrast. Depending on what you are going to use it for, you will prefer one style or another.
In general it will be the outdoor style that we will use, or at least the most common. Here you can see how it looks in each of the different map styles (outdoor, dark, high contrast).
Suunto has done a very good job with these maps. They are very detailed and perfectly mark green areas in green, water areas in blue (even swimming pools!), major streets and roads, etc. There are no street names or other points of interest, although that is something that may come later.
The maps stand out in a totally fluid use, both in scrolling by sliding your finger across the screen and when zooming (press top button to zoom in, press and hold top button to zoom out), but especially with the use of the compass when moving.
To see it is worth watching the video, because it is an immediate displacement and something of great help when you arrive at an intersection and you are not clear which of the various paths is the one you should choose.
The navigation possibilities are the same as in other Suunto models. We can easily create routes in the application through the integrated editor or import them from other services or synchronize them from connected services such as Wikiloc, Strava, Komoot, etc.
We can load a route, and during the same activity change to a different route. Navigation to a certain point, display location coordinates, change the map style, consult saved POIs... And the navigation has turn warning and off-route warning, both in the map view and through notifications that appear on screen.
What don't we have? Routeable maps. This type of maps allows more interaction from the watch itself, such as poder create a route directly from the watch (marking a point and the watch calculates it) or in the middle of a journey ask the watch to return to the starting point by the fastest route.
That would be the next step and only Garmin offers it. They obviously have the advantage of having been selling car navigation devices for a lot of years. Although it also has its dangers, such as calculating a route and guiding you by bike through a firewall or along roads that appear on the map but don't actually exist (it has happened to me).
But despite not having maps of this type, the implementation made by Suunto is really good. Everything is done from the practicality, from the moment we download only the communities we need, the information offered on screen or the creation of routes in the application.
As I said at the beginning, Suunto has not created anything new, but everything included has been done in the Suunto style, and this is what its users value most.
Autonomy and solar charging
Another of the most worked aspects of the Suunto Vertical is its autonomy, which is very high in any of the settings selected and practically the market leader in all of them.
Announcing 60 hours for the multiband+all satellites mode is certainly a fantastic figure, only on a par with another watch designed for maximum autonomy but which is much more expensive (the Garmin Enduro 2).
With that figure it is practically not worth recommending any other mode except for exceptional occasions, in which you can switch to the mode of all GNSS systems in a single band in which we would go to 90 hours of autonomy. And from there going through other power saving modes, to infinity... literally.
Suunto has adopted the use of the latest Sony GNSS chipset, with a fabulous performance. It is incredible that we are already talking about these figures in activity recording when not many years ago it was normal to be in 8 or 10 hours of activity with exclusive use of GPS. If you stop for a second to think about it, it is impressive.
I have prepared this table so that you can see the autonomy of both models of Suunto Vertical and also how it compares to other models on the market.
On the other hand we have the solar charging that is available exclusively in the titanium version. With a charging panel (HUGE), which occupies almost the entire inner bezel of the screen. According to data provided by Suunto, this charging panel can provide up to 30% of additional autonomy.
It is no longer a small help as was the case with the first models of Garmin that used this technology, now it is something noticeable and that can be valued in a real way. It is not about adding 3 or 4 additional hours of activity recording, we are talking about 60 hours with multiband use that would allow us to spend up to 90 hours (which may be more or may be less, it all depends on how much sun you can take advantage of).
Obviously the fact of getting so many additional hours is also due to the fact that it starts from a really good autonomy, which allows us to stay longer in the sunlight between charges. But since the charging surface is so large, the utilization is much higher.
Specifically twice as large as the surface area of the latest Garmins (which has already grown with respect to the first models).
In fact the watch would even be able not only to maintain the battery, but to recharge it by simply leaving it exposed to the sun.
Solar charging only works when the battery is below 94%, to avoid constant charging at peak battery levels, which is not good for battery life.
Things that are still missing in the Suunto Vertical
Not everything is rosy and there are also a number of things that have not made the cut in the presentation of the new model, some of them demanded for several years. Not for being old requests I will stop remembering it in each and every one of the occasions that I have to present you a new watch of the brand.
As you might be imagining, we still don't have the possibility to manage sensors in a more organized way (only one per type, having to replace the pairing if we want to use another one), we don't podemos create multisport profiles in a customized way (triathlon profile with the data preconfigured by Suunto and nothing else), notifications don't show emoticons, etc.
And as much as I do not see the day coming when I can have several pulse sensors or potentiometers paired with a Suunto watch, I think the most serious absence in this watch is the lack of emoticons. You'll say "well that's silly, if it's a training watch".
Well, yes, but it is also a watch that you are going to wear all day and display any type of notification that has emoticons is a very improvable experience, because instead of them appearing we will see only squares.
It's not about having the icons themselves, it's about having an experience that lives up to the expectations. And the expectations with this Suunto are very high, so that should be among the priorities.
I know that they are already working on it and given the increase of resources in Suunto after the appearance of Liesheng on the scene I do not think it will be something that will take a long time to arrive. And I hope the rest won't be either.
There are more things I miss. The heart rate variability monitoring is something that is becoming more and more important. All the competition has been adding it to their models for more or less some time now. Suunto has already dropped it through its user surveys, so it's probably one of the first things we'll see in both the app and the watch.
And speaking of the app, the Suunto App is becoming a very important asset for the brand. Admittedly, the move from Movescount to Suunto App was pretty catastrophic, and will be studied in universities as how not to do a platform migration... but the end result has been well worth it.
Suunto App right now is arguably the best application among all the competition.
He has recently added all the training load tracking metrics from TrainingPeaks (perhaps the most scientific method and, for those of us who are triathletes, our personal bible).
And it has just added Suunto Coach to provide guidance and advice to those less experienced in both training and the data provided by TrainingPeaks.
If the application is so good, what is missing then? Well, having all this data on the watch in some way, either as a widget or as some other option within the watch, but that it is not necessary to enter the application to poder visualize it. This is something that is present in the competition and that Suunto should also add in the Vertical.
Ultimately these are things to allow us to bring cohesion to the platform, improve the Suunto ecosystem and make it all work better collectively. But I'm sure they know all of this inside out at Suunto and that the deeper pockets of the new owners will make it happen.
Want to help the web? Buy Suunto Vertical
I hope that this in-depth review has helped you to decide if it is a valid device for you or not. All the work I do you can consult it without any cost, but if you want to support the page and by doing so the work I do, the best way to do that is to buy your new device through the links I provide .
And if you don't buy it today, remember to stop by when you do! Through these links you will not only get a competitive price and the best customer care, but also I will receive a small percentage at no additional cost to you. That's what allows me to keep offering you reviews like the one on this page.
Buy Suunto Vertical
Opinion Suunto Vertical
Remember that this article is, for the moment, only first impressions. I want to have more flight hours with the new top of the range of the Finnish firm to tell you all the ins and outs of the new Suunto Vertical.
For example, I have not added any section concerning satellite tracks or pulse sensor comparisons. The firmware is still beta so there may still be improvements to come. But I can tell you that so far everything I've recorded has been satisfactory, from running to open water swimming.
Suunto has finally awakened from its slumber. They were not making bad watches, but they were making them too slowly. The competition is tightening and the rift of separation was getting bigger and bigger, this model being the one that closes it.
The Suunto Vertical is a very important watch for the brand, it is the first 100% device of the new Suunto era. With more resources, more developers and with a strong marketing support (for a brand like Suunto, don't expect ads on building facades).
It gives users what they have been demanding for many years: navigation with maps. And what they have demanded for somewhat less: multiband. All this garnished with a market-leading battery life, a solar charging system with very good performance and improvements in its mobile application at the level of tracking and training load. And in any of these cases, doing very well.
Suunto has taken its platform to 2023 with a large screen and good visibility, downloadable color maps with a multitude of detail, multiband reception and great autonomy. And I think we say it little, but manufactured with 100% renewable energy and offsetting its carbon footprint with a reforestation project of Tree-Nation. I think it is important to emphasize this in a brand that is committed to overseas activity.
In short, this Suunto Vertical is a high quality watch that only needs some small additions to finish being a round device. And considering what the market situation is I think it also offers a very interesting price given all its features.
Full review coming soon, thanks for reading!