El análisis del Suunto Spartan Sport Wrist HR Baro (y el nuevo año) sirve para estrenar un nuevo formato que quiero empezar a utilizar a partir de ahora. Más condensado y directo, para contarte lo mismo pero de forma más rápida. Claramente el tiempo es el factor fundamental, pues si escribo tres veces más le tengo que dedicar muchísimo más tiempo a cada prueba y es algo de lo que carezco enormemente. También hay otros motivos, como «salud mental» (a veces termino escribiendo sobre lo mismo una y otra vez). Pero el más importante es por vosotros, intentaré hacerlo más breve y conciso para no aburriros, porque seguro que tampoco andáis sobrados de tiempo.
Even more so as in this case, when the Suunto Spartan Sport Wrist HR Baro (from now on Spartan Baro, to finish sooner) can be defined very quickly. This is a new model in the Spartan range that combines the best of the Spartan Ultra and the Spartan Sport. There are no specific functions in this model that are not present in other models of the range. In spite of that I think that this Spartan Baro is the most balanced model of the whole range.
You'll tell me what you think about the new format in the comments, for the moment we'll know all the details of the latest Suunto model, the Spartan Sport Wrist HR Baro.
---
C1M score
Overall operation - 8.5
Training possibilities - 8
Platform and applications - 8.5
Autonomy - 7
Finish and comfort - 8.5
Price/performance ratio - 7
User Rating:

4.08 ( 3 votes)
---
The good
Huge screen with great resolution. Using it is a real pleasure
Distills quality from every pore
After the latest updates you can easily compete with the competition
Fully compatible with Stryd
The Movescount platform is very good, highlighting the ease of creating navigation routes
All the design additions in the user interface have been satisfactory. They are not only beautiful, but also very functional
The bad
High weight
Not suitable for all dolls. It's a big watch
It is not yet possible to set up the triathlon mode, nor do we have a duathlon mode
Suunto is stumbling in the smart clock race. The smart notification function could be improved and there are no applications
We still have to work on the possibilities of interval training
---
---
Summary
The Suunto Spartan Baro is the perfect fusion between the model intended for the mountain - the Suunto Spartan Ultra- and the more asphalt or triathlon model - the Suunto Spartan Sport.
In essence, this is a Spartan Sport Wrist HR that receives the most adventurous features of the Spartan Ultra, thanks to the addition of the barometric altimeter. Or if we look at it from the other end, it's the version with an optical pulse sensor that the Spartan Ultra will never have. Be that as it may, the only thing that differentiates the Spartan Ultra from the Spartan Baro is the battery life and the glass material, as the latter is content with a mineral one and there is no sapphire option.
---
Suunto Spartan Sport Wrist HR Baro
There are no surprises in the Spartan Baro that we haven't seen in the rest of the range. As you may know, it has a touch screen that allows you to use all its functions quite precisely, and if one day you don't feel like operating the watch by sliding your finger around the screen you have the three side buttons to do so.
You can also use these physical buttons when training, always much more intuitive than using the touch screen especially when we are running.
Apart from the aesthetic differences with the rest of the Spartan range (basically the bezel with different size), there is another noticeable change: the strap. The Suunto Spartan Baro is the first Suunto that allows you to place it completely flat on a surface.
In my opinion the design of the belt has improved, it is now of traditional format and includes the possibility of being replaced quickly thanks to the quick release system.
The strap of the black model (called Stealth) doesn't convince me. The grooves it has are too marked and it costs a little bit of work to tighten it. I haven't tried the strap of the orange model (called Amber), but it seems that it will be a little more comfortable.
Pero no hay que preocuparse… porque como digo cambiarla es cuestión de segundos, y es compatible con cualquier correa de 25mm. Y por si te lo preguntabas, el Spartan Sport también puede montar las nuevas correas del Spartan Baro, así que podrás «actualizarlo» sin ningún tipo de problemas.
---
In use
Using the Suunto Spartan Baro I can differentiate three different aspects that I want to briefly discuss:
Use as clock and menu possibilities
Configuring sports options and profiles
Playing sports
Navigation
In these three aspects, you have particularities that stand out or absences that you need to highlight, so it is good to go point by point.
Use as clock and menu possibilities
As previously mentioned, Suunto Spartan Sport and Ultra have a touchscreen that can be used to scroll through the various menus and screens, which is a fundamental difference compared to both competitors and older Suunto models. The positive side is that Suunto does not force you to use the touchscreen to operate the watch, and that you can use the physical buttons for all functions.
I don't miss the two buttons on the left side of the clock, and I don't find the touchscreen uncomfortable to operate. I prefer to use one type of control for some things, and the other for others. I think it's a good thing that Suunto engineers combined the two formats, contrary to what other manufacturers usually do when they equip a touchscreen without buttons.
En cuanto al desarrollo del menú Suunto lo ha diseñado de forma «vertical», con la esfera de la hora en el centro. Y quiero hacer un inciso, la nueva pantalla de reloj que Suunto trajo a los Spartan con la presentación del modelo Baro es sublime. Un diseño muy bonito y muy funcional con información de horas de puesta y salida del sol, altitud, fase lunar y batería. Práctica, estética y cargada de información. Con este tipo de cosas no echo de menos no poder instalar otras pantallas de reloj.
But back to the menu. As I say you can think that the clock face is located in the center, if you scroll up you will find the different menus you have access to (Exercise, Navigation, Diary, Stopwatch and Settings), and below the time display are the activity and training screens: Activity, Training, Recovery, Sleep and Outdoor. This last one is specific to Spartan Baro and Spartan Ultra because it has a barometric altimeter, which shows graphs of the last 2 hours of altitude changes or the last 12 hours of air pressure.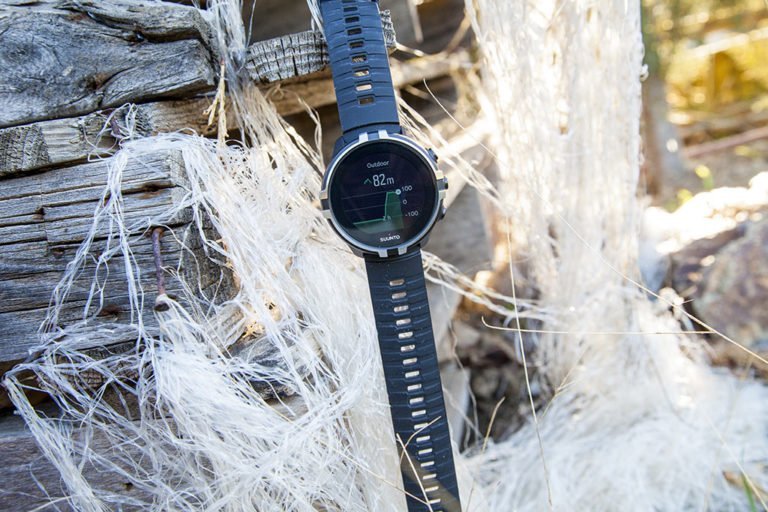 There is no screen where you can check the notifications from your mobile phone, as they will only be shown briefly on the screen when you receive them, but there is no way to go back to them later. There is also no possibility to interact, not to answer, but even to delete them. But well, did you want a smart clock or a tool for your days in the mountains?
Configuring sports options and profiles
Although there is a settings menu in the watch, all settings are made directly in Movescount. There is no possibility to modify details of sports profiles or data displays directly in the watch.
Except for a few moments, it's not something you'll need on a regular basis. You'll set up your sports profiles when you get your watch and as a rule you'll leave it that way for quite some time, so it's not too much of an imposition. Also, the initial setup is much faster because you can do it with a mouse click and in a much more visual way.
In the clock we have access to more than 80 preconfigured sport profiles, but of course you will prefer to prepare yours individually with the data you choose, at least the most used ones. There are several possibilities to display the information on screen, depending on how much data you want to control.
This is where the possibilities offered by Suunto's superb display begin to shine, with more than enough resolution to make the data screen you choose perfectly readable, even those with 7 fields. Similarly, the inclusion of the 2 and 3 column screens is great, making it a fantastic aid to be able to see our evolution in training or running as the kilometres go by, and which is also perfect for days of training series.
On this screen you will have space for 4 lines and can configure the data you want, for example heart rate and average rate for series, or power and time ... as you want.
It is also possible to display graphs, but at the moment they are only available for pre-configured profiles and we cannot add this screen to one of the ones we create. I am still confident that it will come with a next update, although at the moment Suunto has not confirmed anything about it.
Of course, when it does, the sports profiles we set up will win a lot of business.
This as for the possibilities of the data screens, additionally in each sport profile you can configure the rest of options such as the operation of the altimeter, the devices to search or the more classic lap and automatic pause.
The initial setup can be a bit tedious because of the amount of options it offers. I particularly miss being able to share sport profiles and other options between different watches (like Polar does), because every time I get a new Suunto model I have to do all the setup for ALL the sport profiles. It's true that my case is one in a million, so what suits me won't matter to the vast majority.
Playing sports
Of course, you'll want to know how Suunto Spartan Baro works when you're playing sports, because that's what you bought it for.
All the sports profiles you have set up will be available on the clock after synchronization.
These profiles are always sorted according to the last sport you played, and over time the ones you use the most will always be at the top, leaving the sports you spend the least time on at the end.
Y si vas a practicar algún deporte para el que no has preparado un perfil específico no tienes por qué preocuparte ya que puedes acceder a la opción de «Otros», donde encontrarás los más de 80 perfiles que Suunto dispone de forma automática en cada reloj.
These are predefined in terms of their screen settings and cannot be changed.
With the sport profile selected you will see the main screen for searching satellites and sensors, and if you scroll down you will find some of the basic options that we can change from the clock, such as GPS accuracy, power saving modes or the options it offers for interval training (among others).
As for these trainings, the programming is done exclusively from the clock and there is no possibility to create them from the computer (as in Garmin) or from the mobile application (as in Suunto Ambit3). The advantage is that they are very quick and easy to set up. You only need to enter the number of repetitions to be done, the interval time or distance and the duration of the break.
No warm-up or cool-down time is set, as preparing the intervals will add a specific interval screen that you can start at any time.
When you have finished your warm up you can click on the start button and start with the first interval.
Upon completion of that first interval in the distance or time you have selected the watch will alert you, automatically switching to the standby screen where you can review all the details of the interval and see how you have behaved.
All this multiplied by the number of times you have selected. When you are done you can do the cool down, or rest a bit and repeat the same intervals again.
I really like the ease of creating workouts and how they are presented on the screen, it makes everything very simple. But I really miss being able to have targets in the intervals and have them warn us if we are above or below target pace, power or HR. This is something that was present in the previous Ambit3s and has not yet seen the light of day in the Spartans, although I still hope that it will be included in a future update.
When we finish training we can see on screen the summary of the activity with all the details, as in no other watch you can do. And there are several screens to review, for example to be able to review the automatic laps (usually per kilometer) separated from the laps you mark manually (for example on a slope, or to perform intervals). These data are shown in column and it is very easy to compare.
The final exercise summary screen is also impressive, including details such as power, altitude and heart rate graphs, COPD and ETP data, etc. It is, without question, the best activity summary screen there is.
Of course you can also see all this synchronized in Movescount with more details, even if it is a workout where you have made intervals with the watch will be specified under the title of the activity.
Note that the Spartans that have an optical pulse sensor (as is the case with the Baro) will also make use of this sensor for swimming (although it is advisable to use the sensor on the chest).
And now that I'm talking about swimming, it's also worth stopping a little bit in open water swimming. Like the rest of the Spartans, the results are bad. So, no hot cloths. Measuring meters always in excess because of an algorithm that doesn't work too well.
You see, the GPS signal is digital, and digital signals are not transmitted underwater (which is the same reason why the pulse sensor in the chest must have memory to record data while swimming), so every time you put your hand in the water the watch loses the signal, having to retrieve it quickly when the hand wearing the watch is above water.
As you can assume, this is not an easy task, and if the algorithm is not well implemented, in the brief moment that the hand is above the water the location will not be at all precise so it ends up adding an excessive amount of meters too much and giving as a result a track worthy of a dizzy duck.
La parte «positiva» es que añadiendo metros de más a nuestro entrenamiento te saldrán unos ritmos impresionantes. 1,06min/100m para 3.000m, ¡que abran paso en las olimpiadas que allá voy!
Navigation
Finally, we must not forget the route navigation, one of the best implemented functions in the new Spartans. It is not strange because the relationship between Suunto and the mountain has always been very close (both Suunto and Amer Sports, the parent company that also owns brands such as Salomon, Arc'teryx, Armada, Atomic...). Therefore, it could not leave aside such an important function.
And I don't mean that it's good on the clock (which has been greatly improved with updates to the Spartan range), but that the implementation of Movescount with regard to routes is fantastic. For example, it allows us to import routes created on other platforms or registered with other devices (or those provided by race organisers).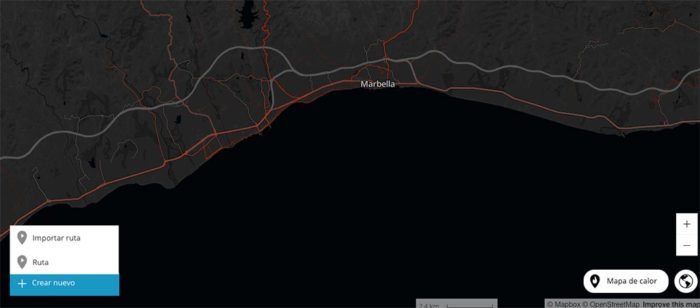 But what users like best (and I include myself) is the ability to follow routes created by others or to review a heat map. And what is that heat map? Well, the areas that other Suunto users pass through most. This way you can find out which areas are most used for running, which roads are most friendly to cycling, or which roads you need to follow to reach a peak - and all without ever having been in that location.
Once you save the route you want to follow, which as I say will be imported or created directly on the platform (and doing so is really easy), you can synchronize it with the clock.
It is not only possible to create routes, but also POIs (points of interest), both in Movescount and on the clock itself. For example, if you are in the middle of a tour, you can mark the place where there is a source for reference. Or locate yourself with reference to your home. This is always combined with the red arrow you see in the image that indicates where the geographic north is.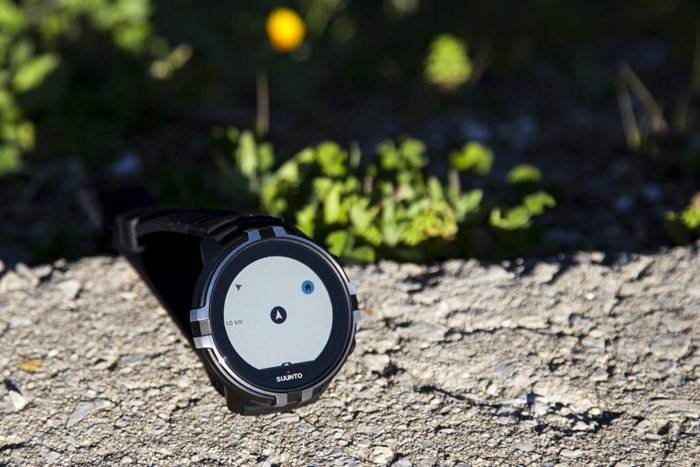 La forma de mostrar la navegación es a través de una ruta de puntos. No es una navegación guiada de forma que te indique «gira a la derecha a 50m», sino que deberás ir pendiente de la pantalla del reloj. En senderos claramente marcados no hay ningún tipo de problema, pero si la delimitación del mismo es complicada por la maleza o por haber mucha hierba la cosa se complica, por lo que deberás estar más pendiente de la pantalla. Eso sí, hay aviso de salida de ruta en caso de desviarte demasiado del camino.
Within the navigation menu options (by holding down the centre button) you can also adjust the zoom, so you can get very close to determine the route to follow, or zoom out to see your location in relation to the rest of the route, POIs you have marked, or the start and end of the route (in case you want to take a detour).
The maximum scale that it admits is 50m.
The watch has a magnetic compass, so as well as being able to follow the route marked, you can also navigate in the direction indicated, marking the remaining distance to the desired point.
And finally, I would like to highlight the altitude profile screen which, personally, is the only thing I use in mountain races. Here I can see approximately how much is left, the meters I still have to climb and how many meters I have already climbed.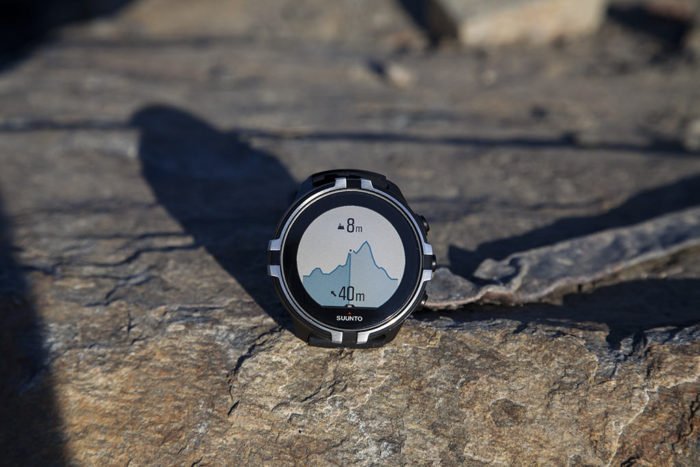 Logically, for this to work, you have to have loaded the route in advance.
Suunto navigation is probably the best in the industry, both because of the possibilities of the clock and especially because of everything available on the Movescount platform. I even like it better than the Garmin Fenix 5X, because even though it doesn't have maps on the device, the other features and the great screen make up for it.
---
Your competition
Suunto Spartan Baro's clearest competitor is undoubtedly the Garmin Fenix 5 (not to be confused with the 5X with maps). Both are intended for use mainly on trail and mountain, although we can then use it in many other disciplines such as road racing or triathlon. But both are top-of-the-range models of their respective brands, have barometric altimeters and incorporate the latest advances made by each manufacturer, including the optical pulse sensor. It could also include the Garmin Forerunner 935 or the Polar V800But the first one does not reach the premium aspect of these and the Polar is about to be replaced.
Si pensamos en la cantidad y profundidad de prestaciones es evidente que el Fenix 5 es más completo. Pero no todo es el listado de funciones y hay que mirar «los intangibles». Aunque en este caso es más bien visual, y es que la pantalla del Spartan es muy superior a la que ofrece el Garmin. Tamaño, contraste, claridad, color… sin ser una pantalla OLED o LCD de un smartwatch la pantalla de los Suunto Spartan es very Good. Just not as good as the rendered images might make you think.
Another aspect to consider when using this type of watch is range, at least if you are planning to make long journeys of several days or eternal ultra trail races. While the range of the Spartan Sport is limited to 10-12 hours with 1-second positioning (although there are many ways to extend battery life with on-screen power saving or lower quality positioning options), the Fenix 5 can offer up to 24 hours in the same conditions. Of course if you are going to make long mountain routes or participate in Ironman is something to be valued. Or opt for the Suunto Spartan Ultra, although you will not have an optical pulse sensor.
Both Garmin Connect and Suunto Movescount are at a very good level, with each of these platforms standing out in some details. Garmin is better at reporting daily activity and offers more possibilities on the platform, as well as having a more consolidated and seamless mobile application (Suunto is redesigned for yours). Movescount, on the other hand, is more user-friendly when preparing navigation routes or importing GPX files to upload to the clock, something that Garmin does not offer directly.
Finally there is the price factor where the Suunto is clearly a winner. Officially it is 50 euros cheaper but when looking at the different offers available the gap between the two grows and I don't forget that it is an important buying point.
What I am clear about is that whatever you buy, knowing the good and bad of each one, will leave you totally satisfied.
---
Conclusion
The Spartan Sport Wrist HR Baro is the most versatile watch in the entire Spartan range, combining in a single model what the Spartan Sport lacks (barometric altimeter) along with what the Spartan Ultra lacks (smaller size and optical pulse sensor).
And of all the Spartan range, the Baro is definitely the one I like best. I don't need the extra battery that the Spartan Ultra offers and in return I have everything I could possibly need, including the storm warning.
The Spartan range gets better every time you get an upgrade, because every time you add something it further enhances the user experience your screen offers, which is simply fantastic in both size and resolution.
No es un reloj perfecto. La correa del Spartan Wrist HR Baro Stealth (el de correa negra) me ha dejado un sabor agridulce. Tiene una especie de «surcos» muy pronunciados, como si fuese la oruga de maquinaria de construcción. Apretar la correa me resulta bastante incómodo, porque la hebilla tiene que entrar y salir de su hendidura. Pero es algo que no ocurre con el Amber (el de correa naranja) porque su correa tiene diferente diseño. Aparte aún necesitamos mejoras en los perfiles de multi-deporte (configurar triatlón, disponer de modo de duatlón, etc.), dar más flexibilidad con objetivos en los entrenamientos de intervalos y gráficas en los modos personalizados.
But I guess nobody's perfect.
Don't forget to share the test with your friends and... thanks for reading!
---
Buy Suunto Spartan Sport Wrist HR Baro
I hope that this complete analysis has helped you to decide if it is a valid device for you or not. All the work I do you can consult it without any cost, but if you want to support the web and with it the work I do, the best way to do it is to buy your new device through the links I provide below. And if you don't buy it today, remember to stop by when you are going to do it!
Through these links not only will you get a very competitive price and the best customer service, but I will also receive a small percentage without costing you any additional outlay, which is what allows me to continue offering you proofs like this on the page.
If you have any questions, remember that you have the comments section at the bottom, where I will try to answer all your questions.