The complete analysis is already finished, so if you are interested in knowing all the details of Suunto Spartan, I recommend you to read the complete review 

by clicking here

.
It's been a little over two months since I started testing the Suunto Spartan Ultra. In that time I've been using the watch quite regularly, but I haven't published the full test yet. It's not the usual procedure, as tests are published in a much shorter time frame. But this is a special situation. It's the Ultra of the model I have, but the situation with the Spartan Sport is similar.
This article is not going to be a complete test of the clock, it will still take some time. The reason is simple: the clock is still in development, despite having been on sale for a little over three months. It is absurd to publish a complete test today, with all the work that goes into it, so that more than half of the things I write will lose their validity in three months. All the work that goes into doing a complete test would be useless. But I cannot continue to ignore the elephant in the room either.
This is one of those articles that I don't like to write, because it is to talk about the failure of a launch, as something that could be a very good option, at the moment it is not because they have not known how to mark the times and have forced its release.
I don't like it, not for Suunto as a company (from whom I don't receive any kind of remuneration for writing articles), but for all the workers that I know are putting all their efforts to solve this situation that they have reached due to a bad strategic decision: a premature launch. They are eating a "brown" for which they are not to blame.
Suunto Spartan problems: expectations
There are several problems afflicting the Suunto Spartan, both the Ultra and the Sport. But the main and most important is an "expectation" problem. There are no serious GPS problems, or alteration of recorded data, nor does it suffer from hardware problems that have no solution. That would be much more serious.
What Suunto Spartan does, it does well. The thing is, right now, it does very little.
That problem of expectation comes when the user expects a certain number of functions in a watch that costs a whopping 700 euros in the most economical version of the Ultra model. And when someone spends that amount of money on a watch, he or she expects a higher level of functions than the model he or she is replacing, or at least that it is capable of the same as the model it is replacing (in this case the Ambit3 Peak).
And here we come to the first problem of the Spartan Ultra, which is far from offering what a Suunto Ambit3 Peak (and which at this time costs less than halfThe buyer therefore finds that after spending a fortune on its new equipment, it turns out that it cannot even do the same thing as it did on the model it replaces.
The problem of "expectations" continues when Suunto publishes a update schedule So the purchaser of the watch, frustrated by the lack of functions, is further frustrated because the established calendar does not match the reality, and in some cases has to delay the update and not define a date.
For example, the possibility of changing the configuration of data screens has already been delayed twice, and for the third attempt there is still no date set (sometime before the end of the year).
Because that's right, the Spartan doesn't allow you to modify the predefined training modes, you and I must use the same training screens. Such a basic feature, present in all watches since several years (even in Suunto), is still not possible in Suunto Spartan. Right now if you want to configure the sports in the Spartan this is the screen you will find.
When we go to the configuration of any other model (for example the Ambit3), we can choose how to configure each of these screens.
It's something basic and that he needs to be there for yesterdayNo watch that wants to be serious can afford not to let the user configure its data displays, even less so if it is at the top of the manufacturer's range.
Android support is another recurring problem. Recently an update was announced that should allow synchronization and notifications. I know of users who have not had problems, but in my case it has been impossible. I have only managed to pair the clock once, but without managing to synchronize. And I have tried it on different models and with different versions of Android. Since then I have not succeeded in any other time. It is true that it is not something simple due to the existing fragmentation in Android, but other manufacturers have managed to solve it for quite some time.
There is no denying that the appearance of the watch is impressive. Both the appearance and the quality of manufacture are beyond doubt. But the use is somewhat erratic. Not only because of its touch screen, which doesn't always behave as it should, but also because sometimes moving through its menu is a bit slow. At least, not as expected from a watch considered premium (back to expectations).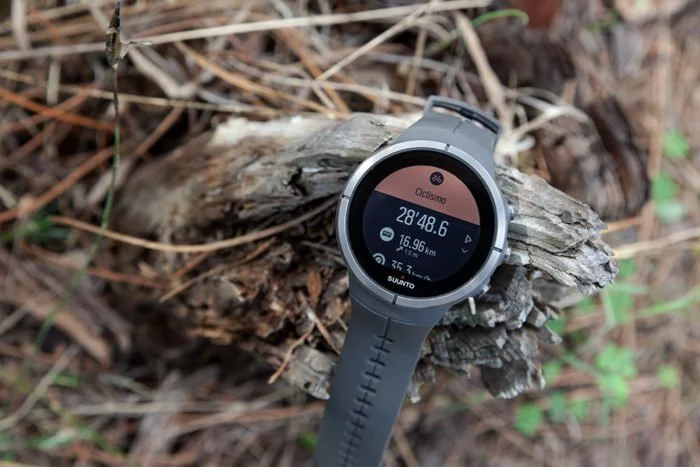 And as I said before, there will still be some time to receive updates as basic as the possibility of creating interval trainings to follow with the clock, navigation to a point of interest (right now it only allows to navigate routes), or storm warnings. All this is already present in the model it replaces and appears in the update calendar, but it has yet to become a reality.
It also doesn't help that Suunto made their applications that allowed users to interact with their watch disappear. Suunto was the first manufacturer to offer this possibility, which allows the user to greatly extend the range of use of a device. Then came Garmin with Connect IQ.
Well Suunto, in the era of Apple Watch, Android Wear watches like the Polar M600 and in short, of "apps" in general, decide to completely remove it from their latest model. It is totally incomprehensible.
Or that you can only add one sensor of each type, having to perform a sensor search if you change bicycle or pulse sensor.
In short, the problem with the Spartan Ultra is that it doesn't offer what you expect from it for many reasons.
It's not all bad. A few rays of sunshine are looming on the horizon
We also have to be honest, not everything is bad and the future is not so black. If it were, this would be my final analysis and I would simply tell you that Suunto Spartan is a model that does not exist and I would turn the page. I do not do this because I am convinced that Suunto Spartan in the medium term can be a great device, because the base that the Finns have created is VERY Good. The foundation's been laid, but now they have to know how to build on it.
No one will deny that the watch is aesthetically very nice. And not only that, but the construction quality is very high, at the same standards that Suunto has accustomed us to. The screen is very high quality, with a very high resolution. It is capable of displaying 320×300 pixels, when for example a Fenix 3 stays at 218×218. In fact, except for smart watches and their LCD screens (which devour batteries), it is probably the best screen so far. And I say this even when it is obvious that the actual contrast of the watch is not as it may seem with the images that Suunto offers on the web. But it is common to all marketing material of any manufacturer.
That high resolution could allow up to 7 data simultaneously, along with a graph around the sphere representing time, distance, calories or any other target. But of course, for that it is necessary to be able to configure it to your liking, because right now you have to adapt to what Suunto thinks is right.
Or include charts of upcoming heart rate zones in a future update.
The automatic or manual lap screen is also great: instead of just showing a screen with data from the last lap, you will have a summary of the last few laps so you can see lap records perfectly for interval or trend training throughout your workout. The same screen will be shown in the final summary of the activity, where you can scroll through them all much faster than if you had to do them one by one.
Despite the inaccuracy of the screen, we still have the buttons available for control, so it offers us the best of both worlds; a touch screen to make certain selections and three buttons to better control all our actions. Finally, a manufacturer gives us both options.
And the navigation screen, although simple and so far without many options, is quite clear in its conception. The use of different colours and layouts is very helpful, making it very easy to follow any route. Although obviously you need to receive more functions, such as navigating to points of interest or a warning to be out of route.
The Movescount revamp doesn't just affect the Suunto Spartan, as the benefits are also for the rest of the Suunto range. But here they are doing a really good job of taking advantage of all the "big data" they have. For example the heat map to find new routes, both in your training zone and when you are traveling somewhere and don't know where to podr train.
This is just the beginning, in the next days new updates for the online platform are scheduled with comparisons with athletes of the same age group, personal or club records or training improvement ideas. Movescount is becoming a platform with useful options, from which the Spartan Ultra and Spartan Sport will undoubtedly benefit. At least, Movescount is the best part of the Suunto Spartan
Opinion
What has happened with Suunto should appear in the management books in the chapter on how not to face the launch of a new product. And not only is it a new product, but in the case of Suunto (and its limited product range) it is the basis on which they must build their immediate future. Starting with the models with an integrated optical pulse sensor that Suunto announced for the end of the year (Spartan Sport and a more economical model, Spartan Trainer). But honestly, I do not know how this situation will affect the launch of those models that, at least, will have a quality sensor (Valencell, the same one found in the Scosche RHYTHM+)
Suunto's client has always been very loyal, usually in the mountain terrain (which is helped by the fact that Amer Sports, Suunto's parent company, also owns brands such as Salomon and Arc'teryx). Suunto has certainly not stood out for the amount of performance offered, it is not something that your typical client overestimates or pursues.
But what that loyal Suunto customer has always been used to is flawless operation, high reliability in any situation. The Suunto user knows that he or she will not find 50 options on the watch (often dispensable), but that whatever he or she finds, he or she can use it safely.
With this launch, Suunto not only fails to catch up with the performance competition, but it also fails to offer its loyal customers the reliability they are used to. Undoubtedly, Suunto's image will be quite degraded after this incident, both for those who would like to enter the Suunto family for the first time and for those who would like to make the leap to a new model in the Suunto range.
I think it's a typical case of lack of communication between departments. Or that your right hand doesn't know what your left hand is doing. I can't understand that if the marketing team knew what state the Spartan was in, they would still try to get it on the market. It's a device that shouldn't have been released in August, that shouldn't be on sale today and probably shouldn't be released until the first quarter of 2017.
There is still a lot of development work to be done, and Suunto must invest much more in software developers. The problem is that no matter how much they invest today, it won't pay off for a few months, nor can they outsource development, at least not right now with a product in mid-gestation.
But I don't want to be too hard on Suunto either. They know perfectly well in the hole they're in and don't need anyone to tell them.
They will eventually get out of the hole, because they all have. They have been neither the first nor the last to "screw up" in this way with a launch. There is Polar, which launched the V800 to the market without any support for open water swimming. A triathlon watch! It has still been receiving basic functions throughout this 2016, getting a very competent watch after numerous updates. Its problem is that it will drag that premature launch throughout its commercial life.
Don't think that Garmin is also exempt from similar mistakes, it has also had its moments... Remember the bracelet launch fiasco Vivosmart HR barely a year ago, to which I also had to give "wax" in its analysis. They needed several months to put everything in order after launching just in time for the Christmas campaign. Not to mention the Garmin Epix, which they prefer not to comment on at all.
It's not just a question of resources. If we go to other markets, there you have the Formula 1 and the budgets that go with it. Still, the Mclaren - Honda team has been crawling around the circuits for two years, and not just because of a lack of money, resources or engineers.
Right now the only thing left is to wait until Suunto can get on with their work, reorganize their work and learn the lesson for the next time (in the short term, their optical pulse sensor models). They have made a tremendous mistake. They know it (and so do the media), the users know it and the media know it. But it could be worse, it could be unsolvable design flaws.
I insist in believing that the base of the watch is good and that they will achieve great things, especially relying on the good work they are doing with Movescount. There is a saying that could not be truer: "time puts everyone in their place". If Suunto is not able to reverse the situation, they know what their immediate future may be. Only they can regain the trust of their customers.
And with that... thanks for reading!