I know that yesterday's news was undoubtedly the Garmin FR245 draw and that that overshadowed all the rest of the news, but it wasn't the only news. There were two other news related to Suunto. The first of these was the notification of the definitive closure of Movescount.
Although if I tell you the truth, the story of Movescount has been so anticipated and for so long that I have the feeling that I am living the Groundhog Day. When the mail came to me the first thing I thought was... "but hadn't it already closed?" Well no, it seems that the app was still operational.
But with this email it seems that the final burial has already been done and everything is already focused on the new Suunto App. In the mail they simply notifyAmbit1, Ambit2, Ambit3 and Traverse users that they will be able to continue make the settings and adjustments of the watch through the SuuntoLink desktop app.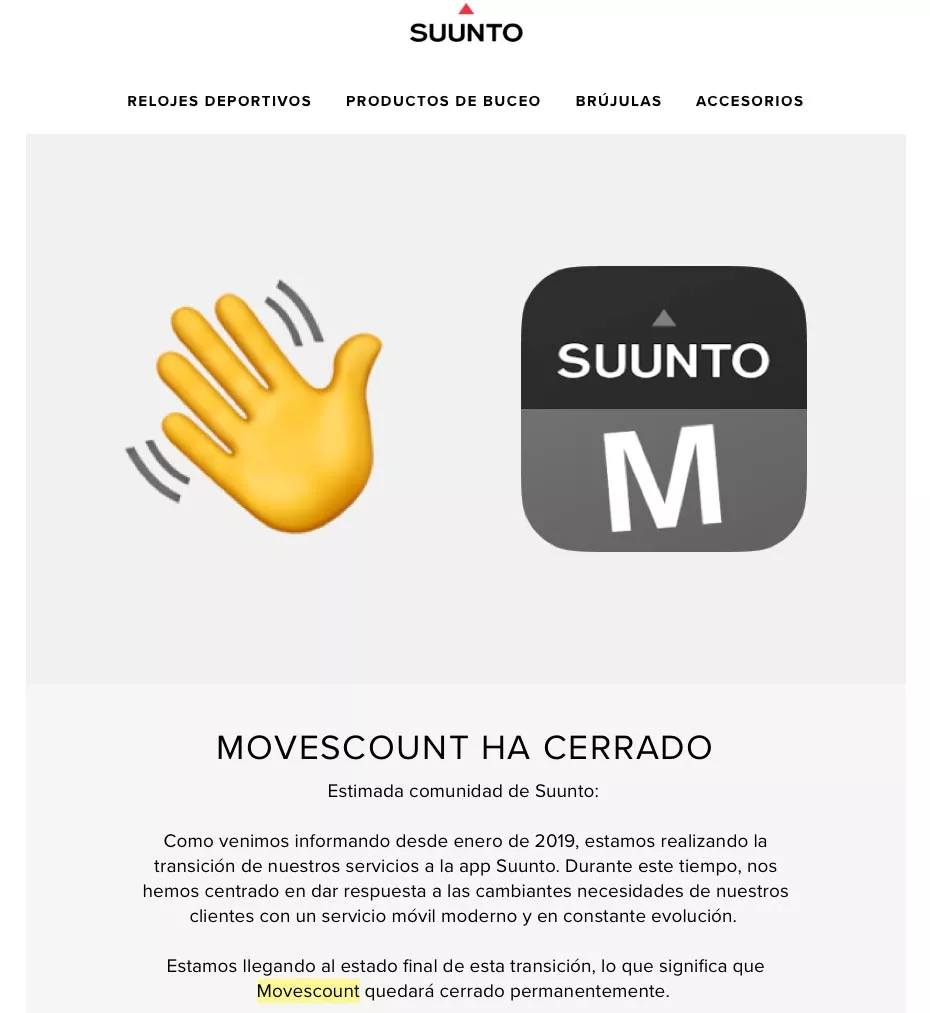 That was the news that all Suunto users received yesterday. But coinciding with the final death of Movescount, there was another much more important news that has gone completely unnoticed. The only notification regarding the operation is a brief press release on Suunto's website.
That Amer Sports (the brand's parent company until now) was looking for a buyer for Suunto was something that was already known. It was an operation they have been looking for a long time and that comes after having done the same with Mavic.
For those who didn't know it, Amer Sports is the company behind such well-known brands as Salomon, Atomic or Wilson. So this is another business move within the company's orbit, which bought Suunto in 1999.
Perhaps the sale of Suunto was the reason for Kilian Jornet's departure from Salomon, who knows...
Who bought Suunto
The acquisition was signed yesterday but will close throughout the first half of 2022. This is not like buying a used car where you sign the papers and take it, presumably there are many more fringes to close.
The Suunto press release states that the buyer is Liesheng, a China-based company that started operating less than 7 years ago, simply stating that they are the owners of the consumer electronics brand Haylou (no, I had never heard about it). So did QCY (no, I hadn't heard anything about this one either).
So who is Liesheng? It is a subsidiary of Dongguan Helen Electronics. And who are these Hele/Liesheng? To begin with, the brand that I said in the previous paragraph, but if I tell you that they manufacture products for Xiaomi then I guess you are already placing them better. Liesheng is the manufacturer of Xiaomi's Airdots headphones. And in addition to manufacturing products for them, Xiaomi is also one of their investors.
The Haylou brand has two business ranges. First of all wireless headphones (Xiaomi Airdots is only part of what they manufacture), but also an extensive range of smartwatches. And although these smartwatches have sports profiles, they don't have the experience and background of Suunto in the sector.
As for the company's numbers, Liesheng has 1,200 employees and 14 production lines. To these employees they are adding now the approximately 300 from Suunto.
However, the press release refers to the fact that the brand does not leave Finland and that Suunto's headquarters will continue in Vantaa.
What does this mean for Suunto users
If you are a Suunto user, or you were thinking about being one, you may now have a "down" feeling. "The brand has been sold", "my watch is going to stop working"; these sensations and many others are perhaps the ones that cross your head right now.
But the reality is that this are good news. Very good. In recent years Suunto has focused mainly on quality products, with good designs and on the accuracy and route navigation. However, in the software side of things there have not been any big movements while other brands such as COROS or Garmin have been constantly "hammering" on that front.
This is where the new owner can help Suunto. By capital, by development capacity, by the type of culture... But not only in that, Liesheng has its own manufacturing lines so they can manufacture directly on them without having to rely on other manufacturers. Access to new markets in Asia, centralized purchase of components, etc.
By the way, Amer Sports is currently 94.8% owned by Tencent and Anta (although I think they have already reached 100%), an acquisition that was made in 2019. And where are these two companies from? Yes, from China. It's not like Suunto is going to be a Chinese company now. It has been that way for a few years (at least its capital), so the only difference is going to be who invests money.
Looking to the future of Suunto
I think Liesheng's purchase of Suunto is going to be a turning point for the brand. Under the baton of Amer Sports they were in a state of lethargy, hibernating, precisely waiting to find a buyer.
Now fresh cash comes in, a lot of development capacity, possibility of selling millions of units in the Asian market...
By the time the purchase becomes effective, Suunto will be in the same place as COROS, and we already know how this brand has done in recent years.
COROS is a brand based in California, which is the basis of all its operations. However, it is a subsidiary of YF Tech, a Chinese company specialized in the manufacture of GPS for cars and which has one of its main customers in Volkswagen.
So they can have parallel lives. A parent company with a lot of development capacity and desire to spend money, with the advantage in the case of Suunto of not starting from scratch. There is already a brand image, a product, a distribution network... everything will be able to move much faster than in the case of COROS.
I have a tremendous desire to see what path opens up for Suunto and, above all, for us users. Fun times are coming...