June 7th was marked on the Suunto calendar not only to announce the new Suunto Spartan Ultra (the successor to the Ambit range), but also to show us the new features they have been working on for a season for their training platform, Movescount. A few months ago it was in beta period and today it has finally been released as a final version for the whole public.
Right now Movescount is back online, as it had been "down" since early in the morning performing the whole update procedure. Therefore, you can now enter to see all the new features incorporated, since of course no data has been lost in the renewal of the web application.
The main change is in design, being now cleaner and lighter, although it keeps the dark tones.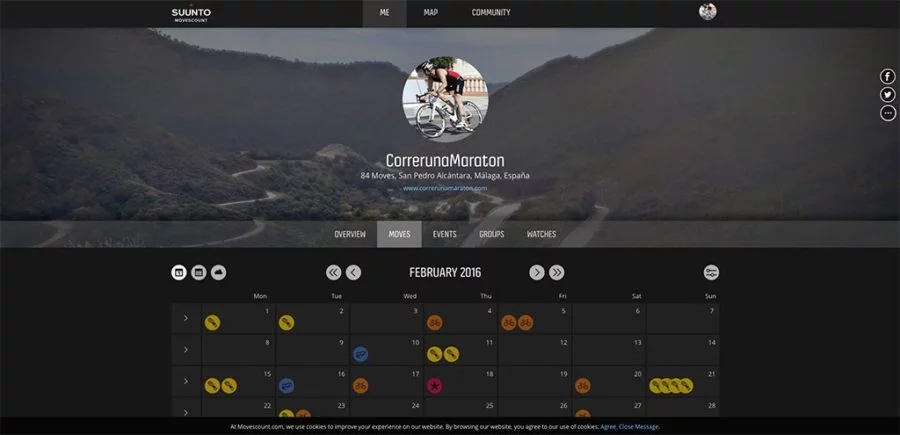 It is also adapted to mobiles (it is responsive), so you can choose not to use the mobile application and enter directly through the browser.
But where Suunto wants to focus is on the social use of the web application. Today we only see one part, which are the heat maps, but these social functions will increase with 2016.
At the moment these heat maps allow us to see where certain types of activities take place near our location (or the one you choose). Suunto makes use of the "Big Data" that has been collected in the form of Moves, and they have more than 100 million activities synchronized with their platform.
So thanks to the heat map we can see where more training or events are taking place according to the type of sport chosen. For example I can search for triathlon activities, and I will quickly find the events and routes I have in the vicinity (including Sunday's triathlon).
This is a feature that can be very useful, especially now that summer is coming. Imagine that you have a trip planned to visit Eurodisney with the kids. And obviously you have to find some time to continue with your training, but you arrive there and you have no idea where you can go to train. You can't find a park, or it turns out to be crowded and doesn't allow you to do your series at 3:00 min/km. You can visit the heat map first and see where people are running in that area and from that information plan your training route for those days.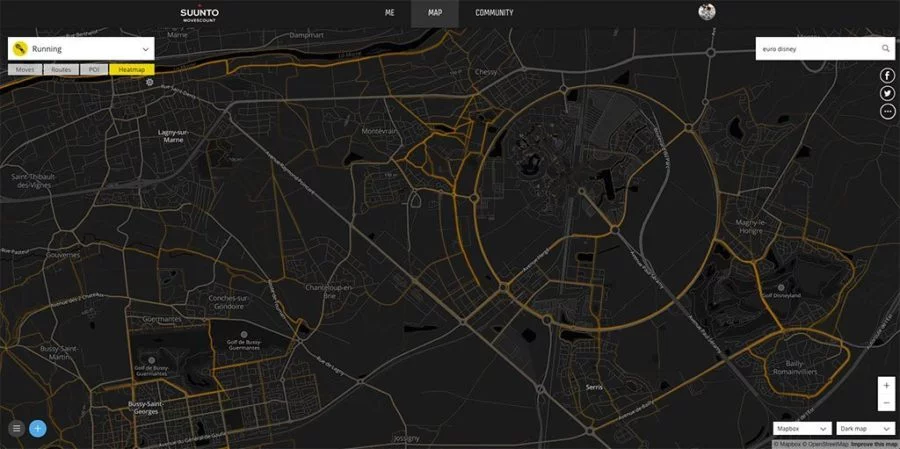 Or instead of spending the summer with Mickey you may have decided to spend the month of August in Madrid (lucky you!), but you want to do some open water swimming and the Manzanares is not appealing to you. Well, it's as easy as seeing where people swim in Madrid. And it turns out there are a few places where you can do it.
You can also select to display all people's Moves or just your own, allowing you to see where you do most of your training. This feature does not yet work at 100%, as it requires the Suunto servers to process the information.
And of course it will allow you to search for new navigation routes as before. You are not a Suunto user and would like to use the heatmap option to plan new adventures? Well, don't worry, because you don't need to have any brand product, as the is available to everyone.
This is just the beginning of the new Movescount. As I say, more new features will be added throughout the year. These maps will also be available on the Android and iOS app during the month of June.
And with that... thanks for reading!