Suunto has started September with an update of all its current products. This includes not only watches, but also the mobile app.
Suunto has received quite a lot of criticism in the past for the slowness in making updates and the lack of improvements in watches and especially in the mobile app. But with today's updates to watches and last week's to the app I think Suunto has taken a pretty important step.
The app has notable improvements in the navigation section, Suunto 5 and 9 receive quite interesting SuuntoPlus functions and Suunto 7 finally allows route navigation and gets functions from Suunto 9 such as FusedTrack and battery modes.
In short, many positive developments. Let's go with all of them.
Suunto 3, Suunto 5 and Suunto 9 updates
I'll start with the 3/5/9. These models receive version 2.12.30 via Suuntolink in a staggered way. This means that the distribution is done in blocks, so you may connect your watch to your computer and it may show you that there is no update available.
You'll have to wait for the next block. Suunto (and many other manufacturers) does this to prevent that if the update contains an error, it can be detected quickly and stop distributing the update and preventing that error from spreading to all models.
But let's go with the new features.
New watch face
The first thing we can see is a new watch face, intended for outdoor use.
On this screen in addition to the time of day you will have sunrise and sunset times. And depending on the watch model, a second dial with these other data:
Suunto 3, Suunto 5, Suunto 9: Daily steps
Suunto 9 Baro: Air pressure and altitude
Obviously only 9 Baro can display pressure and altitude data because it is the only one with barometric altimeter.
By clicking on the screen we can change some data.
Navigation
Navigation receives several changes in Suunto 9, this part of the update does not reach Suunto 5 beyond allowing to display waypoint names.
The Suunto 9 (S9 and S9 Baro) allows you to select the compass during navigation as well as activate the navigation function to a fixed point.
Suppose you are at a stop within the route and you see a point in the distance you are interested in going to (but it is not on your route, or you have no route created). You can set the watch for that destination, and if you know the distance to travel, you can also add it.
This information will appear on the compass screen which, as I said earlier, can now be activated within the mid-activity navigation options.
Finally, waypoints now show the name you created them with. This is the part that is available on Suunto 5.
SuuntoPlus features
SuuntoPlus is a feature that was added a few months ago. It is a kind of "sandbox" in which Suunto can add different functions much faster than if you have to introduce it in the firmware.
They are like small applications that can be added to the sport profile before starting the activity. After selecting it, it will appear as a new data screen within the profile. Previously Suunto had added screens with Strava or TrainingPeaks metrics, but with today's update they add several features made in-house.
Here are the new features offered in SuuntoPlus:
Climb - Hill Training
Loop - Lap Timer (Pace)
Loop - Lap Timer (Power)
Loop - Lap Timer (Speed)
Safe - My location
Sprint - Running Pace
Sprint - Cycling Power
Weather – Insights (only on Suunto 9 Baro)​
Wings for Life World Run
The first features are the ones I like most, and they are a way to automatically account for different parts of the training as individual laps. For example, the Climb — Hill Training option is similar to the Hill Splitter feature Polar introduced with the Grit X.
This app can be used for hill reps, or for outings where you will have several long climbs. From 10 meters ascended continuously, the watch will record a lap and display specific data for that climb.
Next we have the automatic "Loop" laps. What is a "Loop"? It is a lap marked automatically when passing through the same place. For example, every 400m on an athletics track, or going around the same course, for example running on a cross country course.
The watch seats a lap each time we pass through the starting point, or manually when we press the lap button (for example if the starting leg is not going to be repeated).
Why is there a choice for pace, power and speed? Because in the screen data it will be shown in green if it is better than the previous record and in red if it is worse.
The Sprint feature is similar to that of the Climb app because it marks automatic laps depending on different things we do in training, but recording punctual efforts.
The watch will use the first 10 minutes of the activity to have a reference, and will then record individual laps for efforts that are at least 25% higher than that marked reference. These efforts can be made depending on pace, speed or power.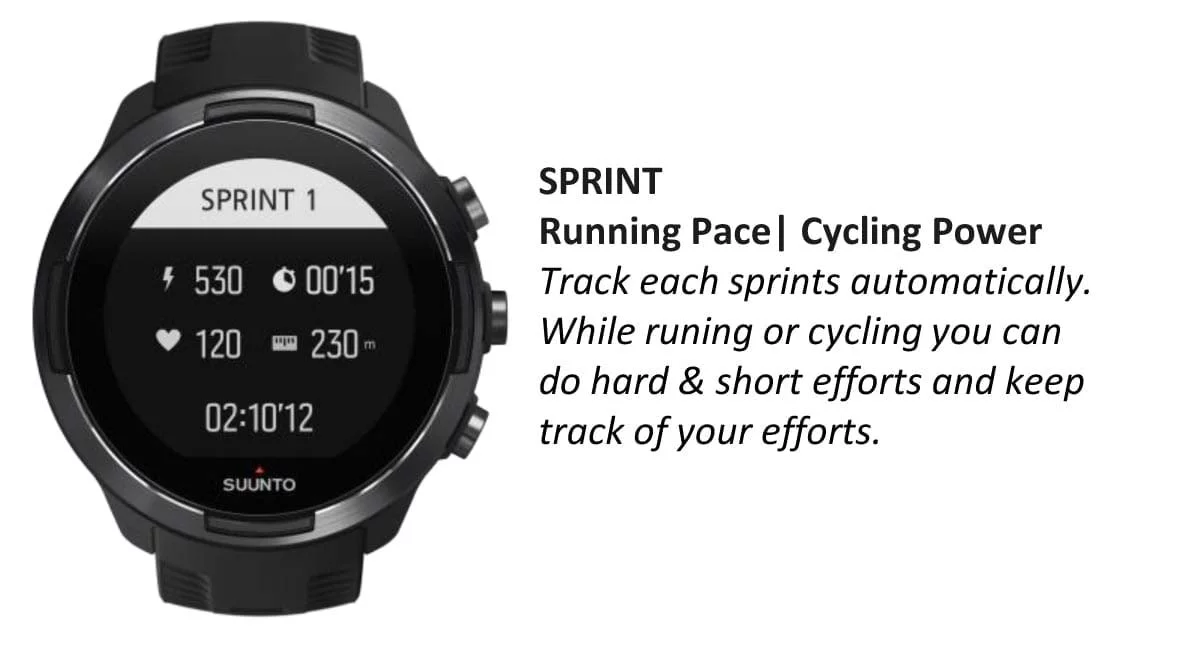 All these automatic laps and previous metrics of SuuntoPlus (Strava, TrainingPeaks, Loops, Sprints, etc.) are now synchronized with SuuntoApp and will be shown in the subsequent analysis, being able to review each and every one of them.
We have three more apps left: Weather, Safe and Wings for Life World Run. The first, exclusive to Suunto 9 Baro, will show us the current temperature of the watch thermometer (which can be affected by body heat), time of sunset and changes in atmospheric pressure. At the top right we will have the remaining time until sunset or, if you are in the middle of a route, the estimated time of arrival.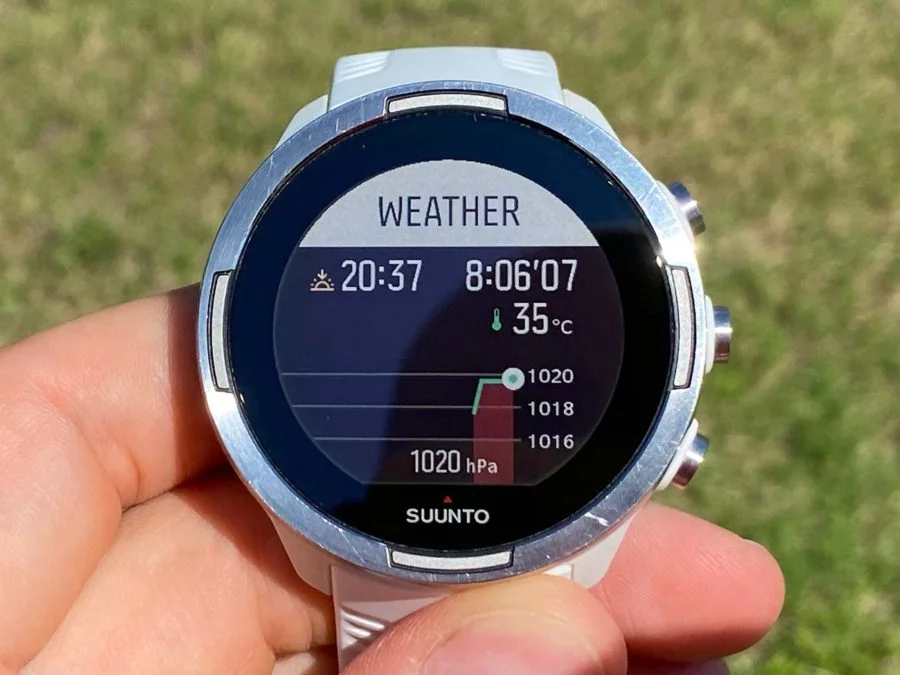 Safe will display coordinates of both the point we are at (top of the screen) and the point we started our route (bottom). It will serve in case you need to request help, or to navigate to start.
And finally Wings For Live is a simulation of the Cather Car of this well-known charity race, which aims to prevent the broom car from reaching us.
As you can see Suunto has greatly strengthened the possibilities of its SuuntoPlus function, highlighting those of Climb, Loops and Sprints that can certainly be very interesting for many of your workouts. And don't forget that we can see these data now also on the SuuntoApp after synching the workout.
Suunto 7 update
The update of the Suunto 7 depends on Google and usually takes a little longer than the other models. So with this one you have to be patient. Although I know it will be hard to have that patience because the update brings very important and long-awaited features for this watch. In fact I have not received this update yet on my watch...
It is finally possible to synchronize routes to the watch. You can create a route or use that of any other service outside Suunto and send it to the watch. From that moment we can see the route INSIDE THE MAP that you have downloaded on the watch.
The Suunto 7 also comes with the FusedTrack feature that premiered on Suunto 9, as well as the different energy-saving modes. We can reduce the GPS registration rate (for example to one GPS point every 10 seconds) and delegate location registration to the FusedTrack function. I have to say that FusedTrack works incredibly well on Suunto 9.
We also have a low power mode and always on display while we are doing workouts. We can see all training data directly at a glance without having to lift the wrist (or force the wrist gesture).
Finally, thanks to the changes of the Suunto App that we will see below, we can also synchronize popular starting points of routes and make them visible on the heat maps that we have synchronized on the watch.
Suunto App update
As for the Suunto App, it has also received important updates. These are already present in the final release versions of both iOS and Android, so you can head to your trusted app store (App Store or Google Play) and download the latest update.
The first change we see in the app is the main screen. At top we can see at a quick glance our workouts over the month, the breakdown of activities and their time, and a direct access to a map with our own heat map.
If you click on the map you will see the different places you have visited within the specified time frame.
But certainly the most interesting thing and that until now no other manufacturer had done is to show the popular starting points. Unlike routes (which can be the heat map), what is now shown is a point where many users start the route.
Imagine that you are on vacation and want to do a workout. The first thing you do is look for a route, and nothing better than seeing what local people do. You can find a nearby one, but if you travel by car... what will you do with it? You would have to find a place where you can both enter the route and leave your car parked. This way you can find the common starting point and head directly there to start that popular route.
The first thing we need to do is configure how we want to display the information on the screen. I chose exterior and thermal map of popular routes for trail running.
Then I choose a point on the map and I will get several options on screen. The route is highlighted and at the bottom distance, ascent, altimetry profile and approximate duration is shown.
If we zoom in, we can see the popular start and end points, marked with A and B.
You don't like that route, then you just keep scrolling around the map and go looking for other popular routes (with info about the starting point). Scrolling around the app map is very fast and intuitive, and everything is very easy to operate.
—
It is true that Suunto has been silent for much of this year. We only saw an update for Suunto 7 at the beginning of the year and after that few new features have been seen, beyond the continuos new updates to the beta SuuntoApp.
However this summer they are going strong at it. These are not updates that will completely change the game, but they are very welcome features.
What's new about SuuntoPlus can be quite interesting depending on your training profile. We had already seen the Climb feature in Polar Grit X and it is very interesting when we do hill intervals or for routes with many hills that you want to analyze later.
And Loop and Sprint apps also respond to features that have long been demanded by all users, not only Suunto but also other brands. Having laps recorded automatically when it comes to completing a circuit is a request I've been reading for years.
Of course, Suunto continues to work on the possibilities of navigation both in watches and in the app, as this is one of its strongest points and one of the greatest interests of most of its users. In my particular case, I'm going to start looking for routes in Asturias, where I'm heading in a week...
And with that... thanks for reading!