The first Suunto Ambit started out as a watch geared primarily towards mountaineers and ultra trail runners. The arrival of the Ambit2 meant adding more sports options and opening up the range of potential customers to those practicing other sports, including triathlon. The Ambit3 continues on the same path, adding smart watch functions thanks to its new Bluetooth connectivity (to the detriment of ANT+), synchronization via mobile phone, recording of keystrokes in underwater activities and, recently, the creation of advanced training.
On this occasion I must thank Suunto Spain for providing the watch for the analysis, once the test is completed, I'll send it back to youI always like to clarify this, so that you know that the tests that I carry out are totally independent and that I don't receive anything in exchange for a favourable opinion from the manufacturers. And in the same way, no manufacturer has ever pressured me about what is written in any of my tests. What you read is what I think, and I like to be totally transparent about that.
If this test helps you decide to buy Suunto Ambit3 Sport and you want to give me a hand so that I can keep on analyzing more watches, you can buy it at Amazon through this linkAlso check the price at FranceNot only will you get a very good price with the best service, but Amazon will pay a small commission that I will use to buy new devices and test them, and all this at no extra cost to you.
Suunto Ambit3 Sport Draw
Do you want to get a Suunto Ambit3 Sport like the one in this test? Well, Suunto is raffling one among the readers of the Ambit Multisport chain, where luckily for you, this page was selected to participate. Entering the draw is very easy, just post a comment at the end of this article indicating what you like best about the Ambit3 and this website, and your comment will enter the draw. Good luck!
Suunto has already provided the date for the draw. On June 30th we will know who the winner is.
There's already a winner! This was the winning comment from the entire Ambit Multisport network
Congratulations! And those of you who haven't been graced, better luck with the next one.

Suunto Ambit3 versions
Given the number of models in the Ambit family, I think it's necessary to clarify this. Sometimes it can be a bit confusing, and maybe you want a colour and it's exclusive to some model. That's how you know for sure.
You can buy Suunto Ambit3 in different models and colors. The range, initially composed of the Peak and Sport, has been completed with the RunThe Peak is the top-of-the-range model, with a barometric altimeter and extended range (and even a version with sapphire glass), designed for longer mountain breaks.
Next we have the Ambit3 Sport (the one that accompanies me for the test), which sees its sale price reduced when the barometer is removed and with a slightly reduced autonomy. As with the Peak, there is also the possibility of buying it with sapphire glass. Apart from a small difference in the quality of the materials (which in both cases is very good), at the software level it is exactly the same, with the same possibilities in terms of navigation (which is the strong point of the Ambit range) and the possibilities of multidisciplinary use: running, cycling, swimming and the multisports modes; for duathlon, triathlon, etc. competitions.
Finally we have the new Ambit3 Run, mainly designed for running and which has eliminated the swimming option and the external sensor support for cycling. You will also not have multisport options even though it retains cycling mode. If you participate in duathlons and you want it to compete, it will not work for you.
As to colours, the family has also recently been extended, with another one for the Ambit3 Sport range. The composition of models and colours is as follows:
Suunto Ambit3 Peak
Available in black and sapphire.
Suunto Ambit3 Sport
Available in sapphire, black, blue, white and coral.
Suunto Ambit3 Run
Available in black, white and lime.
Once you have a clearer idea of Suunto's current product range, let's move on to the Ambit3 Sport.
Unpacking
Suunto Ambit3 Sport comes in a sober black case with a picture of the watch on the front, and in this case it is the blue model.
On the side of the box you have the logo of the brand, and on the back the main features, among which it stands out that it is compatible with Strava (in terms of automatic data synchronization) and that it can reach an autonomy of up to 25 hours
Abrimos la caja para descubrir el reloj. La apertura es de tipo «joyero».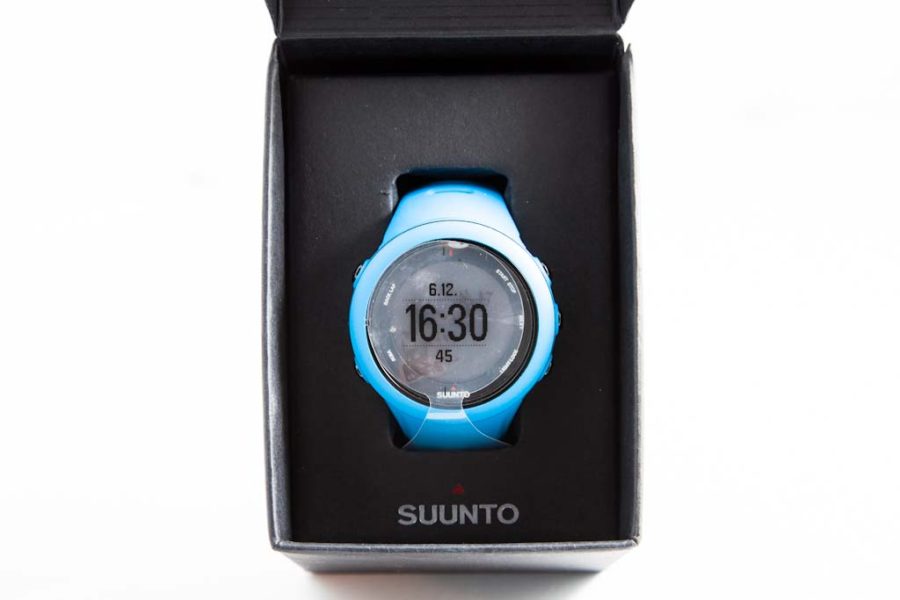 This unit is the HR version and comes with the pulse sensor. If you buy the normal version, you will only receive the rest: the timing and charging cable and a small instruction manual.
The clamp is placed on the side of the watch. It has no quick coupling, so you have to check that it is correctly placed when you put it in place. But once it is in place, the anchorage is firm and you can move the watch, which will not let go of the clamp.
The materials of the watch are really good, and it gives an overall quality appearance, both in the coating of the watch case (rubber touch) and the silicone strap. The screen is large and with good resolution (128×128 pixels).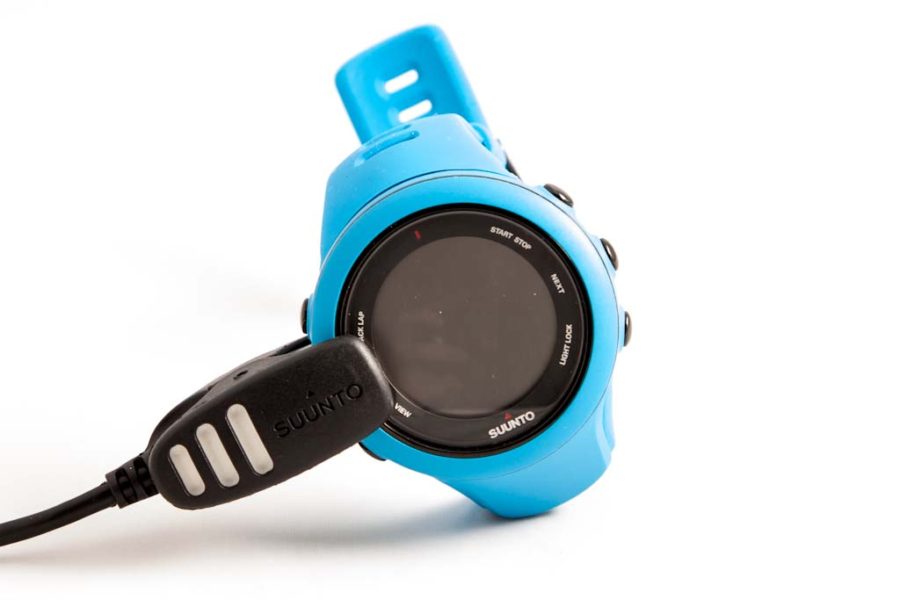 Please note that this watch is not suitable for all wrists, as it is 50x50mm in size. In addition, the GPS antenna is not located in the area of the screen, but underneath it, so that part of the watch is rigid and feels even bigger. But with a weight of 80g it is not uncomfortable to wear.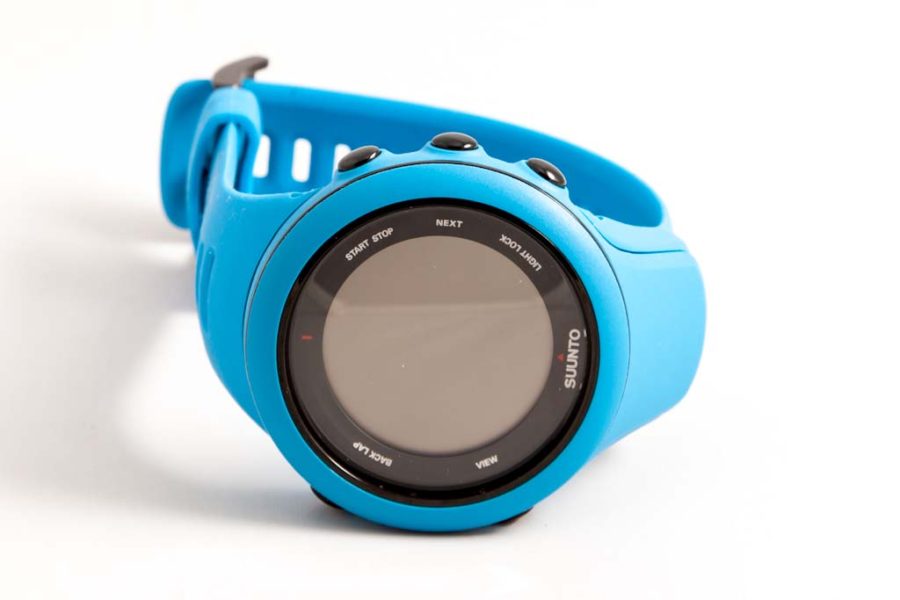 At the back you can find the loading pins. Although they are visible, you don't have to worry about them. Of course it is waterproof, up to a depth of 50m.
The pulse sensor is a new addition to the Ambit2 family. The new Suunto Smart Sensor not only changes in connectivity (from ANT+ to Bluetooth), but also in size - it's much smaller - and in performance. What sets this sensor apart from any other in the competition is its ability to record heart rate data and then synchronize it with the watch, so when you synchronize your swimming training sessions, you'll have them with HR data as well.
We've been looking at the clock a lot already. It's time to put it on your wrist and go out for training, to see what the latest from the Finnish house can do.
Running
When running with the Ambit3, you have several possibilities to select sports from Movescount: running, mountain running, athletics, adventure running, treadmill, etc. This will allow you to have several modes of sports enabled, with different data screen configurations in each of them, and different GPS settings. Also, when synchronizing the activity you will see everything separately in Movescount, because it is not the same a trail training as an asphalt one, so being able to separate the activity can be very useful when analyzing the data.
Para comenzar la actividad, debes pulsar el botón superior derecho, que indica «Start/stop». Y con la pantalla mostrando «Ejercicio», presionar el botón central, marcado como «Next».
On the next screen you can navigate between all the sports modes that you have activated in Movescount. You can create a multitude of sports, but only 10 can be displayed on the clock and the others will be deactivated (and each with its particular configuration), in case you want to alternate them later.
The first thing the Suunto Ambit3 will do is search for the heart rate sensor. If you don't have it with you or you haven't attached it properly, it will give you the option to retry or search for it later.
The satellite search will then start, which tells you the status of the search with a percentage valueAs you will see in the video below, Suunto has changed this percentage to a bar that is filled in as reception improves.
As for the satellite search, if you do it in the same place where you recently finished the last activity, it is a matter of a few seconds. If it is a long time since your last activity, or it is in a different place, then it will take a little more time. But nothing better than checking it yourself on video.
Once you have a satellite signal and have connected the accessories you want to use for this session (pulse sensor, pedometer, and soon power meter), it's time to start running. And from the first stride you'll be able to appreciate one of the main features of Ambit3, which is FusedSpeed. Don't worry if you don't know what it is, I'll explain it to you now.
There have always been two ways of showing you the pace at which you are running. Years ago, you used a footpod placed in your shoe, basically a pedometer. You would set a step measurement and from that you would get your pace and distances covered. But of course, if you changed the length of the step, the figures were not correct (technique exercises, slopes, tiredness, etc).
To alleviate this, the technology gave way to the use of GPS. Now it didn't matter how many steps you took and the length of those steps, because thanks to GPS the only thing the clock needs to know is how far you have traveled in a given time (today 1 second, if that is configured in the clock, in the past in ranges of up to 5 seconds). But GPS is not perfect, since it is not a continuous tracking technology but a positioning one, and it also offers a maximum accuracy of about 3 meters. That's why when we see a rhythm graph, it is showing peaks continuously.
What Suunto does is combine the two, and that's what it calls FusedSpeed. To get a good idea of how it works, you can look at this graph. The dotted yellow line is your actual speed. The thin line that peaks is the raw speed taken from the GPS. The watches must filter out and display the average speed taken for a few seconds, to stabilize the data displayed on screen. That would be the thickest yellow line. Finally, the red line is the speed displayed with the Suunto Ambit3, which is based on GPS data and is corrected for your running cadence, taken from the watch's internal accelerometer.
Running in a straight line at a stable pace you will not appreciate the effect of this option (which can be disabled for the activity from Movescount). But the moment you make changes of pace you will see that the update of the pace is very fast to adapt to your real speed, as you can see in the graph. The filtered GPS speed will decrease little by little, but in the case of Ambit3 you will have the data much earlier. And if you are doing very short series, for example of 200m, it can make a very noticeable difference. But nothing like a video where you can see how, indeed, the variation of the pace is almost instantaneous.
When you finish running and save the activity, the Ambit3 will inform you of the estimated recovery time to get back in full running condition. But keep in mind that this depends entirely on your heart rate, so if you have gone running without the sensor, you will not get that data.
As far as specific training is concerned, Suunto has always been quite behind the competition, until now it was only possible to activate an interval timer, which, when it comes down to it, is practically useless.
Desde el lanzamiento de las Apps, Suunto había dejado bastante de lado estas funciones, y todos los entrenamientos de intervalos se basaban en «apps» instaladas en el reloj. Por suerte le han puesto remedio, y con la actualización 1.5 ya es posible crear entrenamientos avanzados. De momento sólo puede hacerse con la aplicación del teléfono, lo cual no es muy cómodo, pero seguro que terminará llegando a Movescount.
Creating advanced trainings
With the new update it is finally possible to create advanced trainings in Ambit3, but for the time being these trainings can only be created in the iOS application, while waiting for Suunto Launch the Android-compatible version Advance with the Beta version of the Android application or allow them to be created directly from Movescount. When you do, the procedure will be the same.
Los entrenamientos han tardado mucho en llegar pero son bastante completos a la par que fáciles de configurar (que no de hacer, suerte con esas series de 3×2000 a 3:30). Cuando entras en la aplicación, en la sección de tu Ambit debes entrar en «Workouts».
Por defecto viene un entrenamiento de ejemplo llamado «My Workout». Para añadir uno nuevo, sólo debes pinchar en Edit y a continuación en el botón con el «+» que puedes ver en esta imagen.
From here you must add steps to your training.
You can add both simple steps (warm up, rest and cool down) and intervals (with a work and recovery part), which can be repeated as many times as you like.
There are different ways to complete each phase of training to move on to the next, for example the first warm-up. These are as follows:
Lap, by pressing the clock button
Weather
Distance
Calories
Reaching a certain heart rate
Going below a certain heart rate
And just as you have a multitude of goals for each part of the training, there are also different objectives for each phase
No objective, e.g. just jogging
Speed in km/h (or m/h)
Rhythm
Cadence
Power (for the moment only for cycling, until the arrival of Stryd)
Heart rate
You can combine the goals with the objectives as you wish, and you can also name each phase, because the clock will indicate it on screen as a reminder of what you have to do next.
Una vez hayas configurado el entrenamiento, toca sincronizarlo con el reloj, y después la parte más complicada: realizar ese entrenamiento masoquista que te has preparado. Lo primero que harás es iniciar la actividad para la que te has preparado el entrenamiento. En este caso es correr, pero lo podrás hacer en otro deporte. Mantienes pulsado el botón «Next» para acceder a las opciones del modo deportivo, y aquí podrás encontrar los entrenamientos.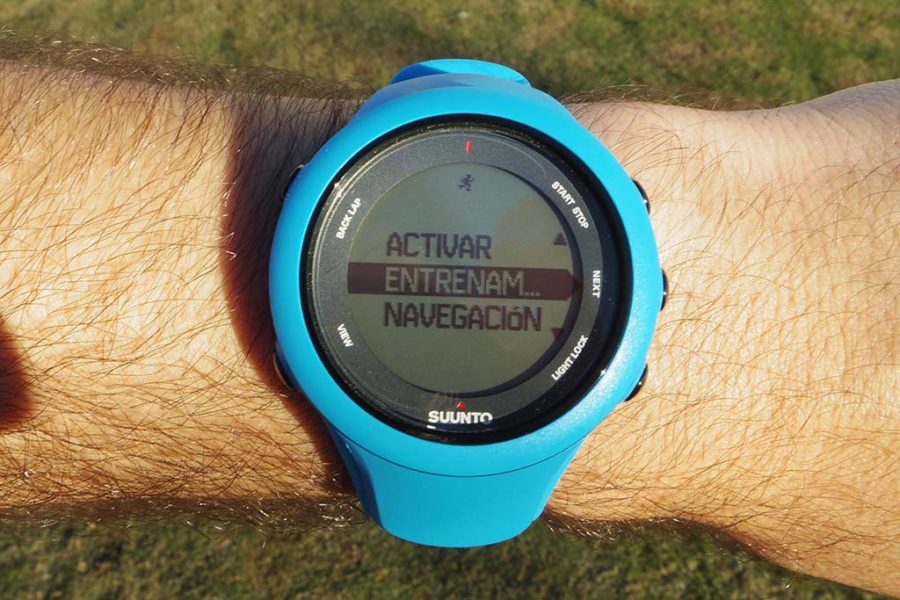 Verás los entrenamientos que has creado y sincronizado. Selecciona el que tu quieres y presiona «Next» para comenzar.
From here, the Ambit3 will guide you through each of the steps and, if you have put a text to each of them, it will show you what phase it is before you start it.
On the next screen you are warned that you are in part 1 of 6 of your workout.
Strangely, the bar appears to fill up by itself, but it doesn't correlate with this part of the training I'm doing, since in this case the warm-up is one kilometer long, without any kind of goal or time. I have the impression that this is a failure that Suunto will have to solve sooner rather than later.
You've warmed up. What's next? Suffering.

The next screen will give you a summary of what's coming to you. Part two of the total 6, distance of 1 kilometer and your suffering pace (well, I've been kind to myself and set a target pace of 4:30. Suffering I'll leave for another day without a camera).
Again we have a graph, this time representing our rhythm. The objective is to draw it inside the box. If the graph goes up you are going too fast. If it goes down you are going too slow. But there is no visual or sound warning. At the top you have your current rhythm (because that is the objective, if it were another one the data would change) and below it the remaining distance of interval (again, because that is what has been marked. If it were time, the distance would not appear).
After suffering, it automatically goes to the next phase, which I have marked as a one-minute recovery. Here, the time bar will appear, which this time is the right one.
And so you will continue for your training, until you finish it and the cooling down phase arrives.
Estas son las pantallas que aparecen por defecto en primer lugar. Pero si echas de menos tus pantallas configuradas no te preocupes, presionando el botón «Next» podrás acceder a ellas. Las que hemos estado viendo son pantallas que se añaden al modo de deporte para irte guiando en tu entrenamiento.
A la hora de grabar los datos para su posterior sincronización con Movescount, también falla en que no marca las vueltas automáticamente. Es decir, a pesar de que en pantalla sí aparezcan las vueltas, si no presionas el botón de «lap» no te separará las partes del ejercicio. Esto es un fallo importante, porque a la hora de realizar el análisis de los datos, si no te has acordado de marcar cada parte del entrenamiento de forma manual, tendrás todas las fases mezcladas. Lo ideal sería que en cada cambio de la fase del entrenamiento el reloj marcara una vuelta de forma automática y que así quedara reflejado en el archivo. Así es como aparece ahora mismo, activando las vueltas marcadas de forma manual, las pausas que hemos hecho (con el botón) y los autolaps. Bastante caótico.
Se nota que los entrenamientos están todavía un poco «verdes». Detalles como la barra inicial que nada tiene que ver con el objetivo del calentamiento o que en ocasiones el botón «Next» para cambiar de pantalla no responda, así lo demuestran. Al igual que tener que marcar las vueltas de forma manual. Pero es un enorme paso el que han dado los finlandeses para, por fin, equiparar el Ambit3 con el resto de la competencia. Los entrenamientos están ahí, simplemente falta pulirlos.
Running indoors
With the Ambit3 you can also run on a treadmill and have the clock provide you with rhythm and distance data. This is done, just like with FusedSpeed, thanks to the internal accelerometer. But if the rhythm is impeccable outdoors, when it comes to running on the treadmill I can't say the same.
The test was very simple. I started from a standing position and increased my pace slightly until I reached, according to the treadmill, a pace of 5:00 min/km. You know that treadmills don't stand out because of their exact calibration, but in this case I had a Garmin Fenix 3 on my other wrist to compare data. The workout I wanted to do that day was 6 km at a sustained pace of 5:00. This is what Suunto Ambit3 recorded.
According to the clock, instead of 6, I've run 5.16 kilometers, and at an average rate of 6:00 min/km. Looking at the graph, at no time was it close to the real rate, but it remained stable throughout the test (the cut is due to the fact that I stopped for a minute, not a clock failure). These are the laps marked automatically.
Don't miss out!
TELEGRAM CHANNEL: The best deals on the minute and alerts with the latest news. Subscribe!
INSTAGRAM: Follow the day to day and reviews for other different things
Pero como había «testigo» para certificar los datos, me permite verificar tres cosas:
The Life Fitness treadmill I use measures perfectly
The Fenix 3 measures indoor travel perfectly
The Suunto Ambit3 is not very accurate in its estimation.
The Fenix 3 has nailed the distance indicated by the tape, and the stable rhythm has also brought it to perfection, as evidenced by the automatically marked laps, with very little variation in the actual rhythm.
Something that Suunto has to improve.
Cycling
Todo lo que hemos cubierto del Ambit3 para carrera será igual cuando montes en bicicleta. La diferencia principal es que en lugar de mostrar el ritmo (en minutos por kilómetro) te mostrará la velocidad (en km/h o m/h). Si tienes un soporte de manillar, podrás colocar el reloj ahí y usarlo como cuenta kilómetros. Por desgracia para los triatletas, el Ambit3 Sport no dispone de kit de extracción rápida (el «quick release»), por lo que el procedimiento para T1 y T2 es un poco más largo si quieres poner el reloj en el manillar.
An important aspect when using Suunto as a mileage counter is how fast the displayed speed is updated, as there is no data from the clock accelerometer and therefore FusedSpeed here, so I leave you with a video where you can check it out for yourself.
¿Qué diferencia el modo de ciclismo del modo de carrera? El soporte de sensores externos. El problema si vienes de un Ambit2 es que tus accesorios tendrán conectividad ANT+, pero en el Ambit3 Suunto ha pasado a usar conectividad Bluetooth Smart, por lo que si esos sensores no tienen conectividad dual tendrás que ponerlos en una caja, o cambiar de marca de reloj. Los sensores que soporta son velocidad y/o cadencia (hay sensores de sólo velocidad, sólo cadencia, pero lo más común hoy en día es que sean de velocidad y cadencia) y medidores de potencia. Todo esto lo harás desde el menú «Acoplar», donde podrás hacer la búsqueda de accesorios.
Swimming
Another highlight of the Ambit3 Sport is when swimming, as it allows you to obtain heart rate data. Watches with a digital connection to their sensors (ANT+ and Bluetooth) do not receive the pulse information, as this type of signal is not able to penetrate the water beyond 5cm. Polar has managed to solve this problem in the V800 by adding connection via the 5kHz band (analog), in addition to Bluetooth connectivity.
But how did Suunto do this for Ambit3, if it only has a Bluetooth connection? Well, it's done with a twist, thanks to the new pulse sensor. The Suunto Smart Sensor records the frequency data while you're swimming, and when you bring the watch close to the sensor or out of the water, it will synchronize it. You can do this synchronization when you finish swimming or while you're taking a break, as it's done in a few seconds.
Therefore, if you are interested in having heart rate data for your swimming training, it is important that you buy the watch together with the Suunto pulse sensor. It has a limitation, which is that you will not have live heart rate information, by transmitting the data to the watch in delayed mode. Although if you have a Mio LinkIf you are a member of the team, you will have constant, real-time pulses as you can wear it next to your watch, close enough so that it never loses signal.
However, when you finish the activity, you must remember to synchronize the clock with the pulse sensor before finishing the activity if you want to have access to the information in Movescount. Instead of reaching the end of the street (or the shore if you are swimming in open water) and finishing the activity, pause it and bring the clock closer to the sensor or exit the pool to synchronize. Once you have done this, you can stop the activity and synchronizing the clock will give you the exercise data along with the heart rate. At this distance, as you can see, it is enough for the Ambit3 to receive the signal from the sensor.
When you train in a pool, you can set the length of the pool. In this mode, instead of relying on GPS data (especially if it's an indoor pool...), all measurements will be made through the clock's internal accelerometer. The data offered is somewhat limited: length, strokes, and number of laps. But thanks to Suunto Apps, we can always add an application (which I'll talk about later) that shows you, for example, SWOLF values.
The watch detects, through the movement, when you have reached the end of the street and you make the turn to continue swimming. At that moment it will count one turn, and it will have been counting the strokes that you have needed to cover it. You know, these measurements depend on the accelerometer, so if in the middle of a turn you stop to scratch because your foot itches, I guarantee that the measurement will not be correct.
Todo esto se sincronizará luego con Movescount, donde tendrás acceso a los detalles de la actividad o «Move», como lo denomina Suunto.
You will have charts of the activity to check your progress as you go through your training.
And just like when you run, you'll also have data for every length marked automatically.
All this is if you are swimming in a pool where you can specify the length of each length, if you are in the wave pool of the aquapark I would recommend the open water mode. When you swim in something other than a pool with a specific measurement, and as long as it is in the open air, then you will use the outdoor swimming mode. This time yes, with the GPS activated. But you will also use the accelerometer as it will continue to count the strokes. The distance will be taken from the satellite data, and not from the accelerometer, as you will not make any lap (no, you cannot make it count how many times you have crossed the strait).
But if when you are running, the GPS operation is constant, you should know that when you are swimming it is not. But not because of a failure in the Ambit3, but for the same reason as with the heart rate sensor, and that is that the digital signals do not penetrate the water. In each stroke, the watch will have satellite information when your arm is out of the water, and will lose the signal again when you return underwater. So the watch is losing and recovering signal continuously, which causes the accuracy of location is not very accurate and the distances are not as accurate as when you are running. But that's how the technology works, and at the moment there is little solution on the market for consumer GPS (actually, the military neither).
And let me remind you that, just like when you swim in a pool, you can use the Suunto pulse sensor, and once you've finished your workout, you can synchronize the data from the sensor to your watch and have your complete workout with your heart rate data.
Multisport or triathlon motorcycle
Suunto Ambit3, in all its versions (including Ambit3 Run), are not single-sport watches. They all offer a variety of sport mode settings. But what differentiates Ambit3 Peak and Ambit3 Sport from Ambit3 Run is the ability to have a multi-sport mode, which obviously includes triathlon.
Muchos os hacéis siempre la misma pregunta. ¿Qué me aporta a mi el modo multideporte? Pues si eres principalmente corredor y practicas otros deportes como complemento a tu entrenamiento, pero no compites en ellos de forma conjunto, no mucho. Pero para los muchos que practicáis triatlón, duatlón, acuatlón o cualquier otra competición acabada en «ón» donde haya dos o más deportes involucrados es algo de suma importancia.
This mode will allow you to have a single file with the information of the competition and, above all, to move from one sport to another quickly, without having to stop an activity and start the new one. For example, in the most typical triathlon, when starting the sport mode the first sport that will appear will be open water swimming.
Una vez que estés en la línea de salida, simplemente debes pulsar el botón de «Start» para comenzar la actividad y echarte al agua. Te aparecerán las pantallas que tu hayas seleccionado para ese deporte.
Cuando hayas terminado de nadar, para cambiar de deporte simplemente tendrás que mantener pulsado el botón «Back lap» para hacer el cambio de modalidad.
With regard to Ambit2, the transition time between each sport has been added, so that you can effectively count the time from when you get out of the water to when you are on the bike and start pedalling.
When you finish the transition, you repeat the hold down process and start the cycling part again.
And, as you can see, now what will be shown on screen is the data you have selected for cycling.
The process continues in the same way until the competition is over. You will go to a new transition, and by pressing the button again, the race will start. And when you have finished running, instead of pressing the pause button as you usually do, you must repeat the process of pressing the same button to finish and save the activity.
All multisport activities would be treated in the same way, and you would simply have to set them up through Movescount. It doesn't have to be a competition, it can be that you do combined running and swimming training and want to have it in the same activity, instead of two separate ones. Simply set up that multisport mode and you can select it in Ambit3.
El procedimiento sería el mismo que en triatlón. Comienzas la actividad y para cambiar de una a otra, dejarás pulsado el botón «Back lap».
El Suunto Ambit3 dispone de brújula magnética. A diferencia de la brújula digital que puedes encontrar en otros relojes, no es necesario que te estés desplazando para que te marque tu dirección actual y el norte. Simplemente rotando sobre ti mismo se irá actualizando en pantalla. También puedes crear una dirección de interés. Para hacerlo, dentro de la pantalla de brújula puedes presionar el botón de «lap» mientras apuntas con el indicador rojo a tu destino final.
This can be quite useful. Imagine that you are at the top of a hill and your final destination is a village, but when you come down you go into a dense forest or a very dense fog. By marking your final destination in advance you will know the direction you should follow at all times.
If there is something we can always highlight about Suunto Ambit is precisely its adventurous side, and as such its possibilities of navigation, positioning and creation of POIs (Points of Interest).
La navegación se puede iniciar en cualquier momento desde el menú del reloj, o desde una actividad. Para hacerlo desde el menú simplemente debes seleccionar la opción «Navegación».
Si estás dentro de una actividad (por ejemplo corriendo) y llegas a un punto donde quieres comenzar la navegación, puedes entrar en las opciones del modo de deporte manteniendo presionado el botón «Next».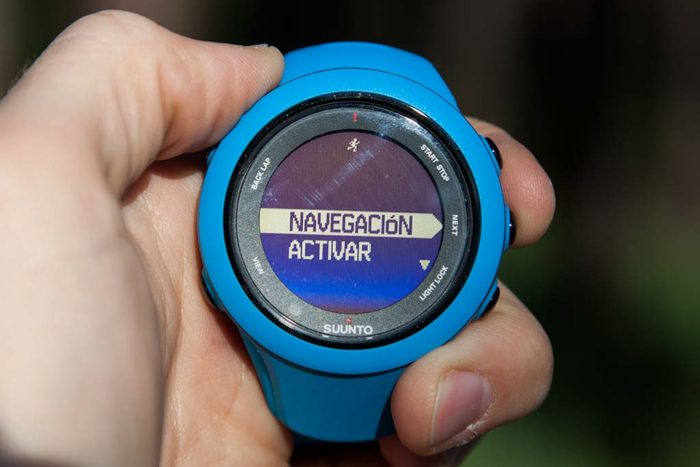 You can also activate the compass, if you just want to guide yourself.
From here your navigation will start, but since you have not created a route, it will be a straight line navigation, bird style. So if you find a gully during your navigation, you have two options: cross it or go around it. I leave the choice to you.
The first thing you should have done is, of course, to have previously created that point. We have three options, create the point of the current location to come back later; or enter the coordinates manually, to start a journey looking for that point. Finally, you can also create a POI through Movescount.
Una vez que ya tienes creado tu PDI y quieres navegar a él, no tienes más que seleccionarlo en el menú. En este caso es fácil, pues sólo hay uno. Pero no tendrás más que buscarlo y seleccionarlo con «Next».
It presents you with three options: view the data of the point, delete it or the one we are interested in: navigate.
At this point we start to navigate and the Ambit3 tells you, just like the compass, the direction you must follow to reach your destination. But now you can, with the distance remaining to the target point.
Please note that this is not a route, so if there are obstacles in the way that you need to overcome, that will be at your own expense. The remaining distance is in a straight line, so if you have to travel 4 kilometres to overcome a wall, it will not appear in the distance calculation, of course.
Movescount Routes
Movescount te ofrece varias opciones para cargar rutas en tu Ambit3. En primer lugar, la forma más sencilla será buscar una ruta que alguien haya creado previamente. Para hacerlo, en Movescount deberás dirigirte a la opción «Rutas» de «Planificar y crear», y dirigirte a una zona del mapa para ver todas las rutas que otros usuarios han creado. En este caso, busco rutas para recorrer en Marbella.
Pasando el ratón por cada icono tendrás información de distancia de la ruta junto con el nombre que le haya dado su creador. Una vez que hayas dado con una ruta que sea de tu interés, puedes pinchar en ella para acceder a todos los detalles. Y simplemente marcando la casilla «Use this route in my Suunto Ambit3 Sport» (Suunto, ¿qué tal una traducción completa?) se sincronizará a tu reloj la próxima vez que lo conectes.
La segunda opción para cargar una ruta es importarla. Por tanto, puedes crear la ruta en otra herramienta, descargarla de Wikiloc, que te la pase un amigo, etc. Para cargarla en el reloj el procedimiento es muy similar, pero en esta ocasión debes presionar en el botón de «Importar ruta» y seleccionar el archivo. Simplemente tendrás que introducir los detalles y marcar la misma casilla de antes.
Por último, Movescount también te da la posibilidad de crear tu propia ruta, a través del «Planificador de rutas». Nuevamente, la primera tarea será introducir todos los detalles.
The way to do this is to put POIs on the map, and the application will link these points. As far as possible, the most convenient way is to activate the option to follow roads, because with two POIs you can cover a great distance. If part of the route passes through an area that is not considered a road, then you will have to increase the number of points.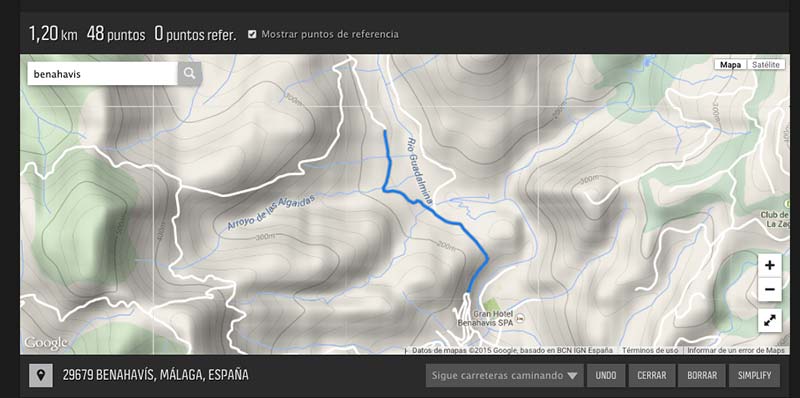 Y una vez que hayas completado la ruta, puedes presionar en el botón de «Cerrar» para unir el último punto con el inicio por el camino más corto, y con la opción «Simplify» eliminarás los puntos intermedios no necesarios que ayudarán a reducir el tamaño del archivo. Paso muy importante, ya que la memoria del Ambit3 soporta hasta 250 puntos. Hecho esto, guardar y sincronizar al reloj.
When you already have the route synchronized in your Ambit3, you simply enter the navigation option, just as you do for POI navigation. But this time, you will enter routes instead of POIs.
And here you select the route you have synchronized.
In the next screen, Ambit3 shows you a list of points within the route. If you have not named them, they are represented by letters, although you could specify which point is each one to know better where you are going. For example, exit, crossing, lake, river, etc. The advantage is that you do not have to start the route from the beginning, you can do it from an intermediate point.
Seleccionas el punto A y presionas la tecla «Next» para mostrar un mapa de tu ruta. Por defecto, se muestra sobre un mapa con escala 500m. Tu posición se representa por la flecha, que en esta vista gira con respecto al mapa.
Las opciones de zoom no son muy amplias. Presionando el botón de «View» cambias a la vista con escala 200m, donde esta vez es tu posición la que permanece fija y el mapa es lo que gira cuando tu lo haces. Esto te ayudará a orientarte y a elegir el camino que debes continuar.
The navigation is very similar to what you have seen from POI, as it tells you the distance and direction to your next point.
Es una navegación bastante sencilla y que no aporta muchas posibilidades ni un plano sumamente detallado. No deja de ser una navegación de «migas de pan», una sucesión de PDI que quedan representados en un mapa. Pero es más que suficiente, y no por añadir más opciones tendrás un mejor sistema de navegación. Al contrario, demasiadas opciones de zoom, planos, etc. al final pueden confundir y hacerte pasar 5 minutos tratando de descifrar el camino por el que debes continuar.

Como buen reloj de navegación también disponemos de una función de vuelta a inicio. Una vez que ya estás perdido sin remedio y llevas 30 minutos buscando cómo volver, puedes pedirle al Ambit3 que te muestre el camino. Estando dentro de la actividad, deberás dejar presionado el botón de «Next» para entrar en el menú de opciones avanzadas. A continuación, en Navegación activa la opción regresar a inicio. A partir de este momento te aparecerá la pantalla de navegación con dos puntos: el punto A que es el punto desde el que has iniciado la actividad y el punto B que es donde has «pedido la ayuda». La unión entre ambos puntos se hará por el camino que tu has seguido (así que si has dado vueltas para encontrarte previamente, también aparecerán).
GPS satellite reception
This is the first thing you should know: GPS's are wrong, they measure wrong and they don't always trace the route where they should. Sorry to be so blunt, but it's the truth. Many of you depend on the use of the GPS clock almost as a precision measuring instrument, and nothing is further from the truth.
For starters, GPS comes by Global Possitioning System. I mean, global positioning system. And if you look, at no point do I talk about tracking, just PositioningThe clock will trace your route from the points it has marked, usually every second (if that is how you have set it). The route (and pace) is calculated because you are now at X coordinate, one second later at Y and another second later at Z, and so on. Depending on the distance travelled between each point, that will be your pace.
Well, once you've got this clear, there's the most important thing to know. How accurate is a GPS? Well, as far as technology goes. civil Today, with good satellite reception, we are talking about 3 meters, in optimal conditions. And from here, it is the software of each manufacturer that determines by a series of patterns what your route has been. The clock filters the raw data to provide the final information, both at the level of rates and speeds (as in the so of FusedSpeed seen before) as the traces on the maps.
If the accuracy with good signal reception is 3 meters... what happens when the accuracy goes down through buildings, trees or simply turns in our trajectory? Well, that point can have a perfect accuracy of 20 meters around. So when you see maps that have no logic, rhythms that suffer sudden jumps or distances that differ from the official running distance, you know what it is due to. And having better reception than other competitors is not just a matter of using one chip or another (whether it is Mediatek, Sirf, U-blox or whatever), but a combination of factors. Software, antenna design, processor speed, etc.
Once you know how the GPS works, I have to tell you that in all the time I have been testing the Ambit3 Sport I have found that it behaves on a par with other devices I have been using simultaneously. The distances measured have been in similar figures between both devices, always less than 1% difference. But thanks to FusedSpeed the rhythms shown have always been the most stable, especially in turns or more complicated areas for GPS coverage.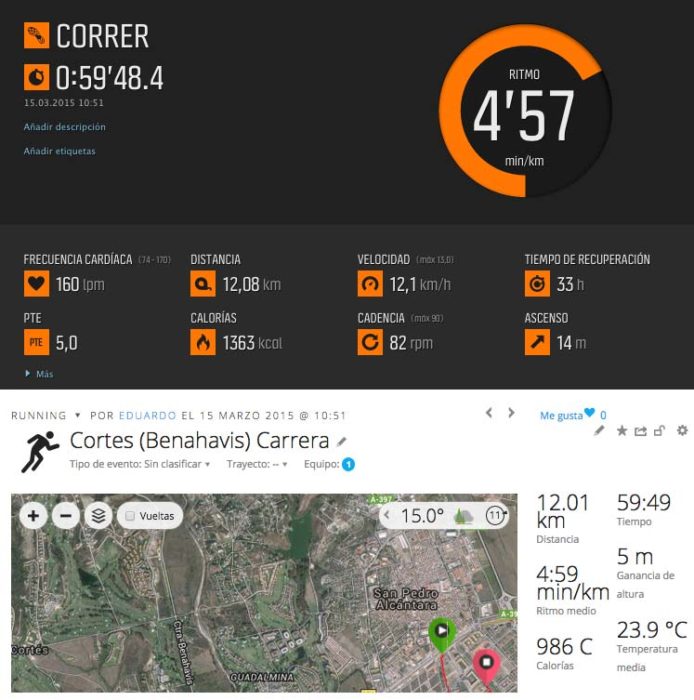 The lines marked, especially in a straight line, have always been quite correct.
This is not to say that there have not been times when I have failed to represent the data on the map.
But as I say, there is no such thing as a perfect GPS and it is common to see this type of error caused either by a lack of signal or by the bouncing of the same on buildings. What we have to value here is that the clock does not lose the signal, and in the case of the Ambit3 I have never lost it.
Battery life
Suunto anuncia una autonomía para el Ambit3 Sport de hasta 100 horas con GPS activado. Pero claro, esto tiene «truco», pues es con grabación de datos cada 60 segundos. Esto puede servir para actividades de montaña que no tengan un desarrollo rápido, como escalada. Pero como puedes elegir la frecuencia de grabación, no hay problema. La autonomía anunciada por tanto dependerá de qué exactitud de GPS tengamos en cada uno de los deportes, que podrá ser 1s, 5s o 60s (esto es diferente al intervalo de registro de 1s y 10s). Y la duración de batería anunciada será de 10h, 15h y 100h respectivamente. Con esta autonomía hay batería suficiente para terminar prácticamente cualquier competición, salvo carreras ultra de montaña o un ironman.
The advantage of Suunto's sports mode programming is that for example, for an Ironman you could select the recording frequency for swimming every 5 seconds, thus saving battery power.
As you usually have the selected recording frequency in one second, I will perform the test. Battery charged to 100%, I will start an activity and leave it until the battery runs out. This is the extract from the Move
It is also remarkable how the GPS works, because the usual thing I do in these tests is that the location is not always accurate and is not always the same. travel several kilometers As a note of caution, this test was performed before receiving the 1.5 update, which Suunto recommends will improve battery performance.
What happened after the update?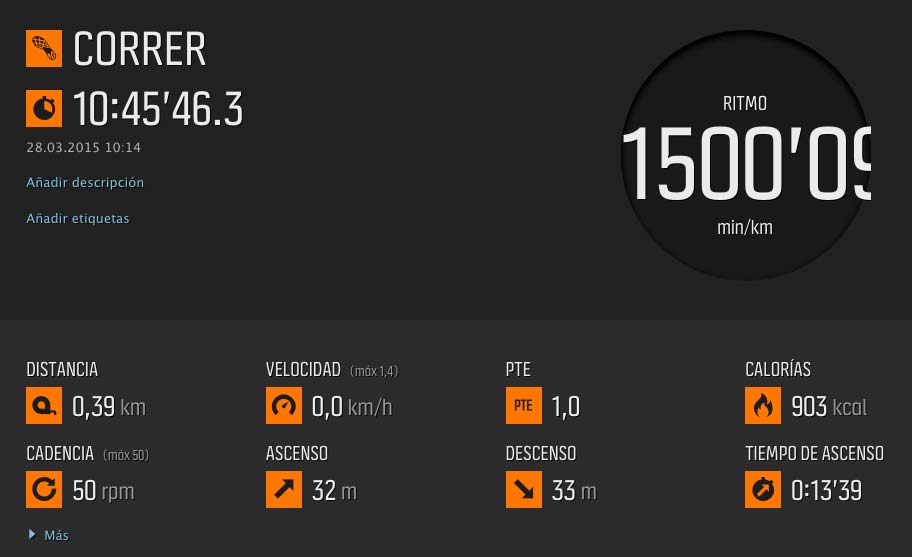 One more hour of battery life. Of course, we must also take into account that the conditions were better (sunny day) but it is a quite important improvement. The autonomy has increased in one hour with a simple software update.
Suunto Applications
Suunto lanzó la posibilidad de instalar aplicaciones en sus relojes en noviembre 2012. Ya ha pasado bastante tiempo desde entonces y el sistema ha alcanzado su madurez. De hecho, el problema ahora mismo es el colapso de aplicaciones, pues hay muchas que sirven para lo mismo y navegar entre todo este mar de «apps» se pude hacer un poco complicado. Para que te hagas a la idea, en estos momentos podemos encontrar en la App Zone más de 6.800 aplicaciones, de las cuales una inmensa mayoría no vale para nada
Por explicártelo de una forma rápida, lo que permiten estas apps es tomar datos en bruto y a través de diferentes fórmulas obtener funciones que el reloj originalmente no soporta. Por ejemplo y para que lo entiendas, Suunto no dispone de un «Virtual Partner» al que tu le puedas marcar un ritmo objetivo contra el que puedas correr. Pero ahí están las apps, no tendrías más que acceder a Movescount y buscar esa aplicación que tu buscas. O si te gusta hacer tus pinitos en programación, crearla tu mismo ayudándote del development manual.
App Zone
Acceder a la sección de aplicaciones es muy sencillo. Entra en Movescount y pon el cursor sobre «Planificar y crear», para seleccionar «App zone». Llegarás a la página principal donde puedes usar el buscador para encontrar la app que buscas. Tienes muchos parámetros para acotar la búsqueda, tanto de categoría como de actividad.
These are all the categories for which you can find an application.
Ya has encontrado algo que es de tu interés, por ejemplo esta aplicación que te calcula el tiempo estimado de finalización de maratón en tiempo real. Si la quisieras usar, tan sólo debes pinchar en «Guardar App» para importarla a tu biblioteca.
Here you can also test how it will be displayed on screen and indicate which formula is used to perform the calculation.
The complexity of these applications is very variable, from simple ones, like this end time estimator, to a pyramid for interval training where the code, as you can see, is much more complex.
Once you have the application in your library, you must add it as a screen data of the sport mode you choose, which in this case will be running.
And after synchronizing the clock, when you go to run you'll find your application as just another data field. You can move between the different fields you've selected until you reach the one for the particular application.
App Designer
If you are into programming, you can create your own applications. development manual que Suunto facilita, para que conozcas cuál es el lenguaje de «picar código» que necesitas usar para el reloj. Aquí tienes dos opciones, crear una aplicación desde cero.
Or select any application you have in your library and create a copy of it.
And then, by perfecting the algorithm to your liking.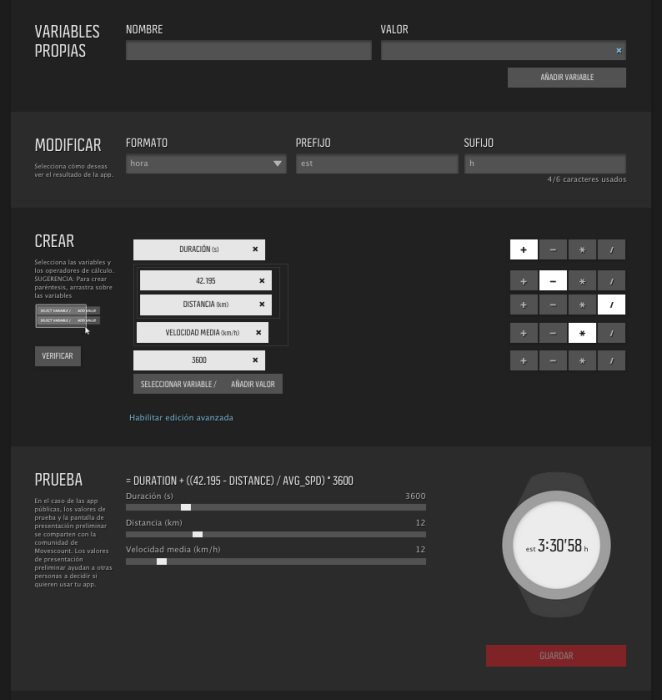 Daily activity
In the Ambit3 we can find a kind of activity monitor, but it is very simple and quite far from what other brands offer in this section. The watch will record your daily activity through the internal accelerometer and will show you in a graph, indicating what the intensity of your day has been, it has no indication of calculation of distances, steps or hours of activity; but at least it gives an estimate of calories. It will not synchronize this data to Movescount or be used for other advanced information, and it does not have sleep analysis either.
La actividad diaria queda representada por una gráfica, que irá ascendiendo si te mueves, y permanecerá fija si practicas el noble arte del «sofasing».
This refers to all the activity you do, both training and resting, so if you do a workout it will also be reflected, as well as if you take a one-hour walk that you do not classify as training. You can see how any workout has an immediate impact on this graph.
Not only will you see the activity during the current day, you also have another screen where you can see the weekly activity, and below that an average of the calories consumed daily. This last data is good if you are on a diet, as it helps you calculate what your average daily intake should be.
And like other manufacturers, it also tracks the estimated time to recover from previous physical activity. Personally, this is what I find most useful of all the information regarding daily activity, since the graph will go up with our exercise (depending on the intensity) and will go down as time goes by. It also indicates the recovery time as well.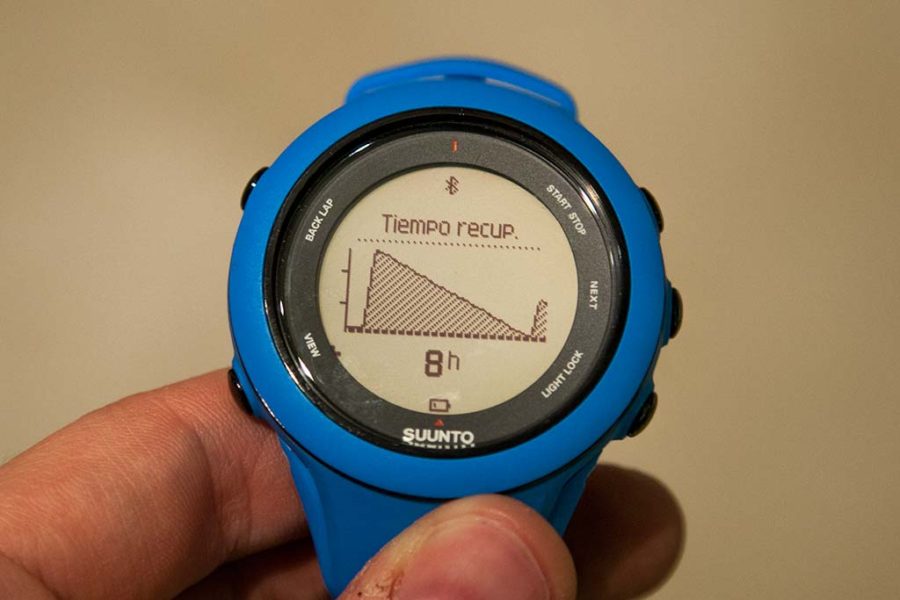 Use as a watch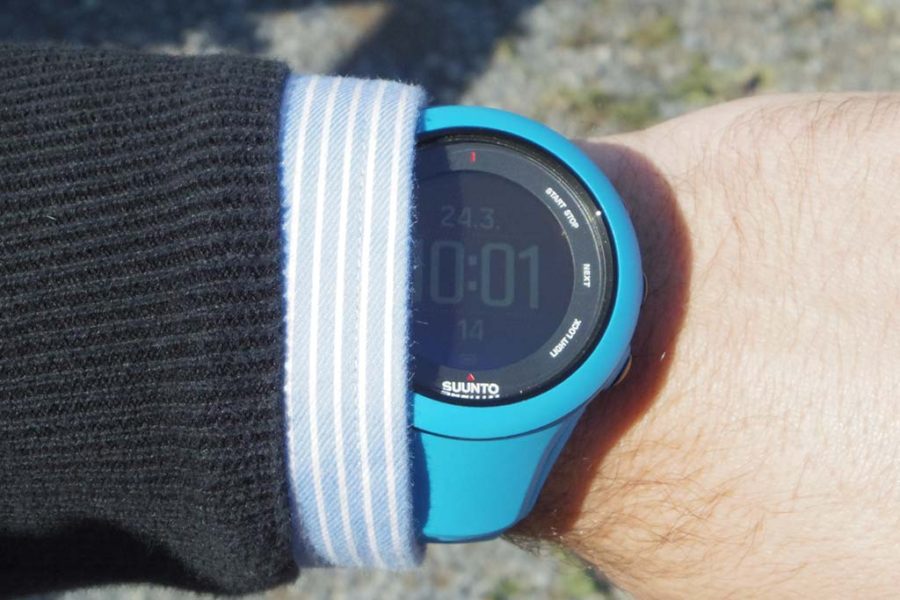 Suunto has always thought that your training watch should not only be that, but also your watch for daily use. And as such, it gives the Ambit3 Sport a quality finish and an aesthetic that, although sporty, can be perfectly compatible with everyday life. And not only because of the shape itself, but also because of the wide variety of colors available. In addition, as I will detail in the connections section, it also allows you to receive notifications from your mobile phone and display them on the screen (currently compatible with iOS, in Android in the coming weeks).
But it is not a watch for everyone, mainly because of its size. And I am not only talking about diameter, which with 50mm is clearly not a watch for all wrists, but also thickness: 15.5mm.
What can happen is that you may constantly trip if you wear a shirt with the button on the sleeve.
Among the different options that the clock has, the first one is the alarm, which is simple, meaning that it does not allow to set repetitions or to sound only on weekdays.
You can set both the time and the date manually, but there is also a function to synchronize the time automatically with every satellite connection you make, which you can turn on or off. This is very nice, because I know many people who beyond keeping the time, like to keep THEIR time which does not necessarily have to be the same as the satellite time. You know, there are people who like to keep the clock forward.
Suunto también piensa en los más viajeros y permite mostrar «hora dual». Es decir, dos horas diferentes. La principal, que lo más normal es que sea tu huso horario, y la secundaria, que se muestra en tamaño más pequeño en la pantalla principal. Yo tengo ahí la hora de Hong Kong, así se cuándo no me van a contestar un correo.
A la hora de mostrar la información en la pantalla principal, la fecha y la hora son datos fijos. Pero si presionas el botón «View» podrás alternar la información del campo inferior, donde podrás ver el día de la semana, el segundero, la hora dual, batería restante y notificaciones pendientes de leer.
Y si no te gusta tener la pantalla tan oscura, puedes optar por invertirla: fondo blanco con texto negro. Podrás configurarlo desde el menú, o simplemente dejando presionado el botón de «View» y cambiará rápidamente.
But there's one thing you should keep in mind: When you use the lighting, pressing the button to illuminate the screen will reverse it. Don't worry if you haven't understood what you just read, because we're going to see it now.
Lighting
In Suunto Ambit3, you can set the lighting independently for when you are active or when you use only the clock mode, and in the first case, you can set it from Movescount.
And to set the lighting for day-to-day use, from the clock menu, where you can also vary the intensity (brightness).
There are different configuration modes, which I detail below
Normal: La luz se encenderá durante unos segundos al presionar el botón «Light/lock» y cuando suena la alarma.
Off: Even pressing the light button will not turn on the screen.
Night: The light will be on for a few seconds when any button is pressed and when the alarm sounds.
Interruptor: Cuando presionas el botón de «Light/lock» se encenderá la luz, y permanecerá encendida hasta que vuelvas a presionarlo.
Como has visto antes, al hacer uso de la iluminación, la pantalla se invierte. Es decir, si tienes la pantalla en modo normal (fondo blanco, texto negro), cuando presionas el botón de «light», además de iluminarse la pantalla el fondo pasará a ser negro y el texto en blanco.
And the opposite effect will occur if you have the screen inverted (black background, white text). When you use the illumination, the background will change to white and the text to black.
Recuerda el truco de mantener presionado el botón «View» si quieres cambiar el comportamiento de la pantalla de forma rápida.
Connections
The most common way to synchronize the clock will be through the USB cable. To do this you will need to download the application MoveslinkIt's very simple and will serve as a bridge between your watch and Movescount and to update the satellite cache.
After the synchronization is complete, the whole process is over. As you can see in the image, the following processes will be performed:
Downloading Clock Data
Synchronization of Movescount settings
Synchronization of Activities or Moves
Satellite cache update
But with the Ambit3 and thanks to its Bluetooth connectivity, it will also be possible to synchronize through the mobile phone, avoiding having to use the cable and the computer. Much more comfortable! This functionality is already present in both iOS and Android.
The phone application will not only help you synchronize your Moves, you can also set up sports modes and check your activities.
The information presented is somewhat more limited than in the case of the Movescount website, but sufficient to be the screen of a mobile phone. It will serve you for consultation, not for analysis.
But the best thing about the application is that it allows you to change the screen settings for a particular sport.
And you can also change the generic settings of the clock.
These sport change possibilities are very practical. It can happen that you leave home and halfway through you remember that you forgot to add some data screen that you want to use in the race that day. Since the clock does not allow you to make any direct changes, having the possibility to do it from the phone will be very helpful.
Phone Notifications
Another possibility offered by Bluetooth connectivity is to display the phone's notifications on the clock's screen. Note, however, that only the notification can be displayed, but unlike other more advanced smartwatches (Android Wear or Apple Watch) it does not allow you to interact with it. You will not be able to delete the notification or mail, nor of course answer the messages.
We can configure its operation, so if you are interested in having your phone synchronized with the clock to use Movescount from your mobile, but you do not want to receive the messages on the screen, you can disable it without any problem.
The notification will appear on the screen and, if you have the tones activated, it will emit a small beep to warn you. I remind you that the Ambit3 has no vibration, so you only have visual and audible notifications.
You don't have to configure anything on your phone, as the system feeds directly from the notifications it displays on the lock screen. Remember that you can set certain applications not to display notifications, in case you have something that might be compromised in certain work environments and you don't want anyone to see it. The advantage of this feature is that not only the last notification will be displayed, you can also access all the ones you haven't deleted from your phone.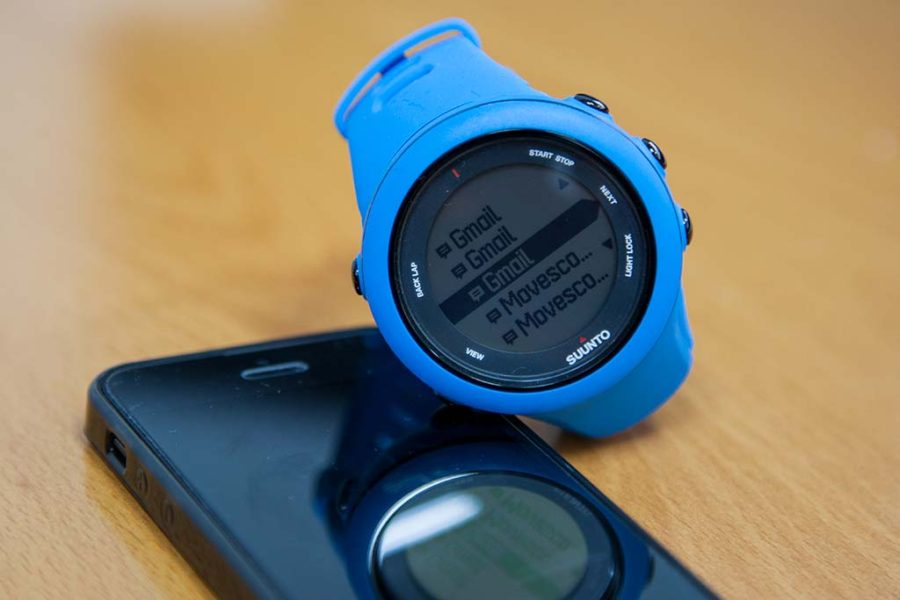 Like the Movescount app, this functionality is currently only for iOS, but Suunto has also promised to incorporate it into Android phones throughout April.
Update 5 May
Suunto has already released the Movescount app for Android. It is currently in beta mode and does not support the same features as its iOS counterpart. The basic Moves sync and check functionality is now available, but you will still have to wait for the same options as in iOS: synchronizing phone notifications with Ambit3, creating training plans, or support for the Suunto Smart Sensor.
Suunto Movescount
Movescount es la web de Suunto donde sincronizarás tus datos de entrenamientos y competiciones o, como Suunto lo denomina, tus «Moves». Además también realizarás la configuración de los diferentes modos de deporte para sincronizar luego al reloj. Esta forma de configuración es mucho más rápida e intuitiva, pero sólo es posible hacerlo desde el ordenador (o desde el teléfono) y no desde el reloj.
This is the screen that you will find when you go to configure Ambit3. These are the modes that you have activated at that moment in the clock. You can have 10 individual sport modes, and 2 multisport modes. To each sport you can assign the name that you want to identify it easily, as well as assign what type of activity it is, both to set the icon and to classify your Move correctly when you perform the synchronization.
When you create a sport mode, or edit an existing one, you will have access to all the configuration data for it.
En cada modo de deporte podrás tener hasta 8 pantallas de datos diferentes, y en cada pantalla puedes tener entre uno y tres datos simultáneos, dando la fila de abajo la opción de seleccionar hasta 5 elementos diferentes que podrás ir mostrando de forma automática (activando desplazamiento automático) o a través del botón «View». A menor número de datos, más grande se mostrará en la pantalla. Y no sólo puedes añadir datos predefinidos, sino también «apps» que te aportarán algún otro tipo de información, como por ejemplo un corredor fantasma a un ritmo determinado.
Additionally we can also add some graphics for heart rate, altitude or any app you want to add.
These are all the data you can select on your screens, to which you must add the different options offered through apps.
| Speed | Distance/GPS | Heart rate | Altitude |
| --- | --- | --- | --- |
| Speed | Distance | Heart rate | Altitude |
| Average speed | Return distance | Average heart rate | Promotion |
| Rhythm | | Peak Training Effect | Descent |
| Average pace | | Calories | Vertical speed |
| Return speed | | | |
| Rhythm of return | | | |
| Time | Power | Cadence | Multisport |
| --- | --- | --- | --- |
| Stopwatch | Power | Cadence | Current activity distance |
| Time of day | Average power | | Current activity duration |
| Dual time | Maximum power | | Average speed of current activity |
| Return number | Power 3s | | Average rate of current activity |
| Return time | Power 10s | | |
| Battery charging | Power 30s | | |
| Empty | Power per turn | | |
| | Maximum power per turn | | |
And for both indoor and outdoor swimming, these are the different options
| Swimming pool / outdoor | | | |
| --- | --- | --- | --- |
| Distance | Swimming pace | Average swimming pace | Total strokes |
| Stroke frequency | Rest time | Average stroke frequency | Previous pool length style |
| Interval distance | Interval duration | Interval rhythm | Total number of stroke intervals |
| Interval stroke frequency | Return distance | Rhythm of return | Total strokes back |
| Return stroke frequency | | | |
As you can see, you have many options that you can configure and leave each sport mode adjusted to your liking.
Viewing your Moves
Moves are what Suunto calls your activities, whether they are running, swimming pool or any other sport. In Movescount you will have access to all the Moves you have done (and synchronized), and that you can find when you access the web. When you want to enter an activity, you simply have to click on the Move that you are looking for and that you can find by the date.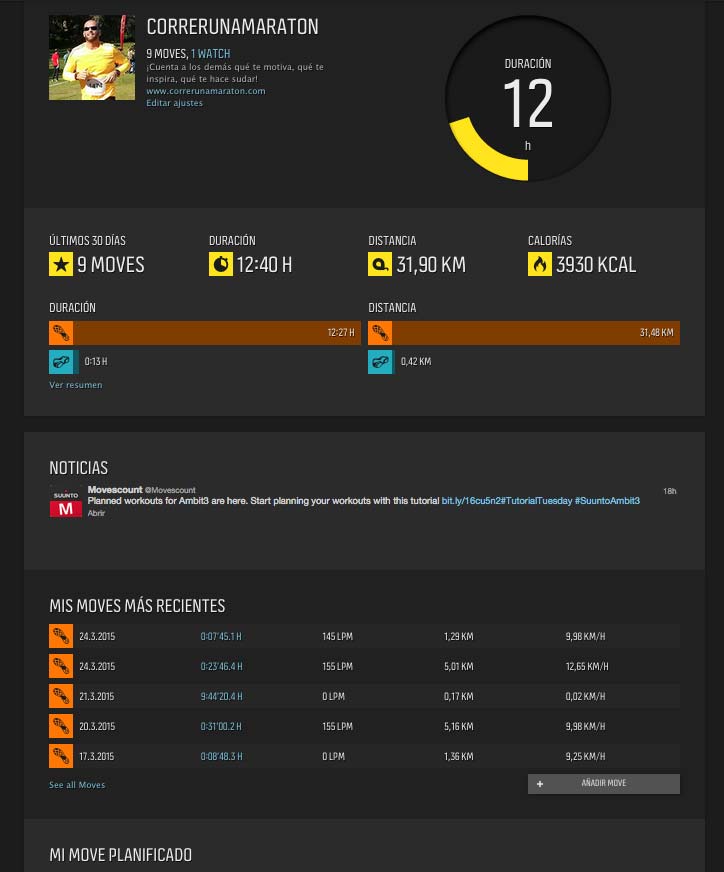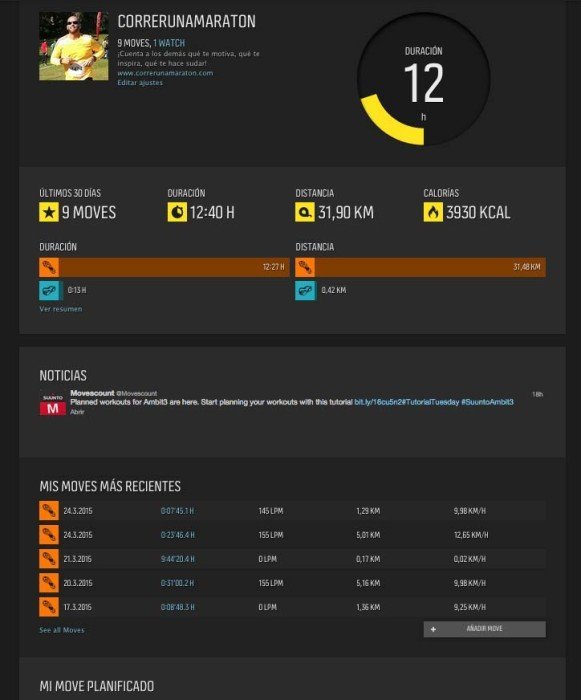 You will then enter the details of the activity, and at the top you will have the complete summary of the training you have done.
Under the general summary, you have the map of the route you have followed. You will see that it has a color representation, which will help you visualize the areas where you have gone faster. In this case, the beginning of the route changes from green to yellow and then orange, as I warm up and increase speed.
Shift for the graphs. You can click on each of the options below the graph to activate or deactivate each of the variables to see them represented in the graphs. In addition, the bar and curve graphs will give you the representation of the time spent in each zone for the last variable selected in the graph (in this case, it is the altitude that is shown).
Underneath, the laps marked automatically by the autolap or that you have created manually through the button, with information about rhythms, cadence or ascent and descent.
As you can see, there is a lot of data to compare and analyze. And if you take it seriously, it will allow you to see patterns that you can correct to be faster.
My opinion
In Suunto Ambit3 Sport I find things that I like very much, things that I can overlook and things that I don't understand that are not found in a watch of this range.
As a watch for practicing any kind of sport it is a fantastic option. The perceived quality in terms of materials is high, and despite not being a watch with steel or aluminum it does not give the impression of being cheap (as can happen, for example, with a Garmin 920xtThe screen is easy to read, allows many configurations and the configuration of being able to keep two data fields as the main one and the lower one being able to rotate it is really useful.
With respect to Suunto Ambit2 it has added more things, the most important being the ability to have keystroke data for swimming activities, but also Bluetooth connectivity, for better and for worse. Now the Ambit allows you to receive notifications from your phone (and soon will be compatible with Android as well) on your watch screen, and it doesn't drain your battery at all. We can also do synchronizations without the need to connect to your computer, which is very important when setting up any activity mode. The downside of changing connectivity is that if you are an Ambit2 user and have accessories that have ANT+, especially for cycling, you won't be able to use them with your new watch. In this case Suunto would practically force you to switch to another manufacturer that maintains this type of connectivity.
The Ambit3 also has an activity monitor, but it is quite limited, and Suunto has not indicated that they are going to make any improvements in this area. We can forgive him for this, since what you buy is a training watch and the activity monitor is secondary. The information it provides is quite scarce, but I don't think anyone will reject the purchase of the watch for this reason.
Something that Suunto had pending for quite some time is to match the training plan settings that we can find in other brands' clocks. Fortunately this is solved with the last update a few days ago, as it could not continue to depend on apps loaded into the clock by third party developers. It was a patch, but it could not be a solution. And now the Finns have already solved it, although I hope that the programming will not remain only in the mobile application, and will be brought to the website as well.
Lo que no entiendo es que el Ambit3 no disponga de avisos por vibración, sobre todo porque los avisos sonoros tampoco es que sean fáciles de escuchar, y si estás en ambientes ruidosos directamente ni te enteras. Y la falta de vibración es una característica que lo lastra mucho, sobre todo ahora que han llegado los entrenamientos avanzados. Es algo que tiene toda la competencia, pero el Suunto no. Han tratado de solventarlo añadiendo la posibilidad de que la aplicación móvil te vaya «cantando» los pasos de cada entrenamiento, pero te obliga a salir a entrenar con tu teléfono, y es algo que no a todo el mundo le gusta. Esperemos que en el Ambit4 se decidan a implementar la vibración.
All in all, the Ambit3 Sport is a great watch and if you don't mind the vibrating warnings, it's a very good choice to buy. Yes, you won't find the display of functions that can be found on a Fenix 3, but in its essential functions and in what you will use day to day, it is a watch that works very Good. Autonomy, rhythms, navigation, configuration... everything it does, it does well, and it doesn't get lost in functions that have little to do with what it is designed to do: practice sport.
Did you like the test?
I hope that this test has helped you in your decision to buy. To be honest, it takes many hours (more than you can imagine), and everything to bring you the highest quality items.
So, if you think the Suunto Ambit3 is the equipment you were looking for, you can buy it at Amazon Spain through this linkI recommend that you also look at Amazon FranceThis way it will cost you the same or cheaper than the official price, and I get a small commission that will help with the purchase of new devices for further testing.
If you are not going to buy the watch and want to show your gratitude, don't worry, there are more ways. If you liked this complete review of Suunto Ambit3 and you want to help me, leave your impressions in the comments. It will help me to know your opinion, in case I left something out or you think I should change something; and it will help you to participate in the draw! Ask your doubts if there is something that is not clear. In short, I am just an athlete like you who details the use of the watch from the point of view of a new user.
Show this post to your friends and share it on social networks, I'm sure if they are looking for a training watch they will thank you.
Buy Suunto Ambit3
You can buy the Suunto Ambit3 in several variants (Peak, Sport and Run) and colors. Below are links to some very good offers. You can buy the Suunto Ambit3 in several variants (Peak, Sport and Run) and colors. Below are links to some very good offers. The truth is that with these offers, the basic Run model is not worth the Sport at the moment.
(
33opiniones de clientes
)
If you are interested in the top of the range (Peak) with barometric altimeter and longer battery life, there are also fantastic prices.
(
737opiniones de clientes
)