The Ambit3 family grows with the addition of a new model, the Suunto Ambit3 Run. As with the Ambit2, Suunto takes the top-of-the-range model and eliminates non-running-specific features to offer a more affordable product focused exclusively on the runner. So if you're just running, you don't have to pay for features you won't use.
Therefore, Suunto Ambit3 Run is an Ambit3 Sport in which the swimming profile, the multi-sport option and the ability to add cycling-specific sensors are removed. This does not mean that you cannot add other sports profiles through Movescout, you can still create them for going to the gym or cycling, but you will not have a profile with swimming metrics or the possibility to do a multi-sport mode where you combine several disciplines (even if it does not include swimming and it is cycling/running). It is available from today at a price of 250 ? without pulse sensor and 300 ? if you include the Smart Sensor (the pulse sensor), that is, we save 100 ? if we are not going to use swimming metrics or we are not going to connect cycling sensors.
But what's not eliminated is the navigation capability offered by the Ambit3 Sport, so you can keep charging routes just like its big brother. So in addition to being a road watch, trail runners or hikers will also find Suunto Ambit3 Run a faithful companion, as it also includes an advanced battery life mode.
The Ambit3 Run comes in several colors, the classic black and white and a bold lime green.
Suunto also takes the opportunity to present a new color for Ambit3 Sport, the Coral.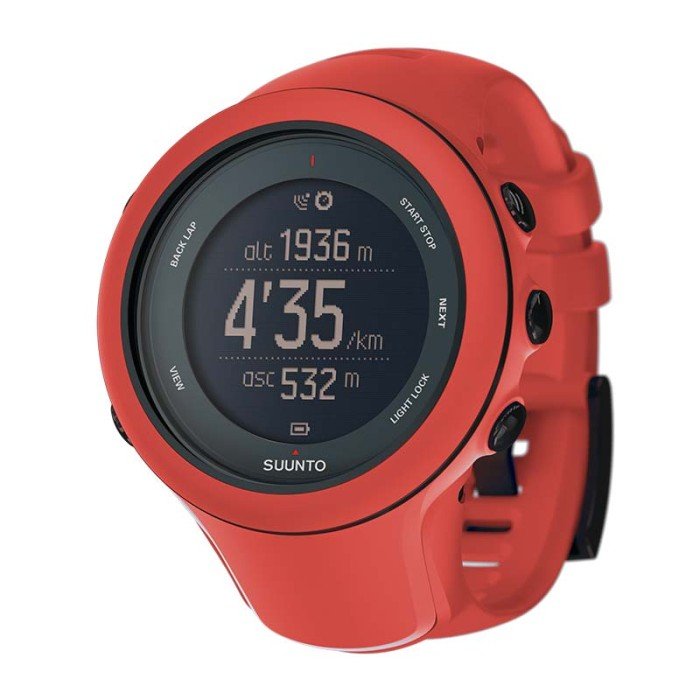 But it's not just the watches that have new colours, the chest strap also comes in brighter colours.
The Ambit3 range now consists of the following:
Ambit3 Peak: In normal or sapphire glass version, with extended battery life, higher water resistance (50m more than the Sport) and barometric altimeter.
Ambit3 Sport: Multisports watch for swimming, cycling and running.
Ambit3 Run: Running clock with navigation functions.
Advanced training comes to Suunto

Until now, the main complaint that Suunto users had was the lack of possibilities to create advanced training sessions, something that their rivals (Garmin and Polar) were offering. You can create these trainings on the internet through Movescout and synchronize them later to the clock, so that it guides you step by step.
In addition, the Movescout app will include a new function that provides voice prompts through the phone, perhaps as a measure to alleviate the lack of vibration of the clock. This is the same as other sports applications for mobile phones, but you must carry your phone with you if you want to receive these notifications (you have more information in the updates section).
Software Update Calendar
The updates for the Ambit3 range will come in two parts. The first update will be in March 2015, at version 1.5with the following improvements:
Improved battery lifeIn the case of Ambit3 Peak the battery will reach up to 20h/30h/300h in the best/good/OK GPS accuracy modes.
Exercise PlannerTraining creation through Movescout App and subsequent synchronization to the clock.
Voice prompts during exerciseNotifications when you exceed the range limits, reminders of what the objectives are, summary and others. For the time being only in English, but during the spring it will be extended to other languages.
Asian LanguagesSupport for Simplified Chinese, Japanese and Korean
Integration with TrainingPeaksSynchronize your Moves from Movescout to the TrainingPeaks online platform.
Share Suunto Movies to YouTubeSuunto Movies: Share Suunto Movies with your friends via YouTube
Later on, the upgrade to version 2.0in the spring of 2015.
Sleep recovery testReport on sleep quality and comparison with your recovery status.
Quick recovery testThe test is essentially a test that measures the variability of your pulse, to determine your state of recovery, something we have seen in Garmin watches (which you perform in the first moments of your workout), or in the Polar V800Unlike Garmin, the result obtained will be a percentage, and the higher the percentage it shows, the better you will have recovered.
Running performanceA control of the average of the trainings that you have done during the last weeks.
More languages
Android support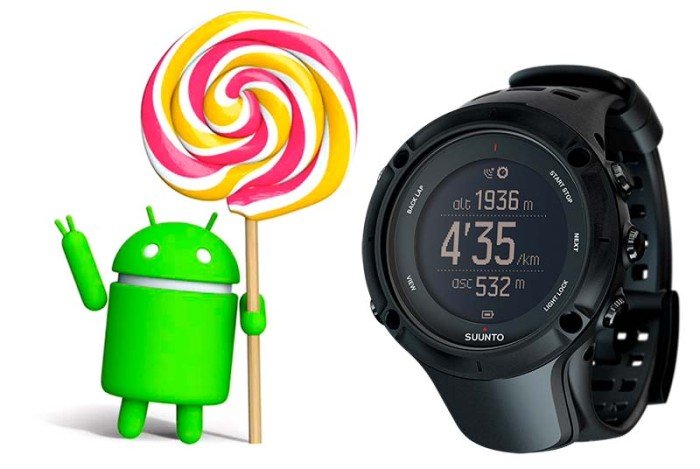 We've been waiting a long time for it, and finally there's a confirmed date. April 2015 is when we'll see the launch of the application that will match the synchronization and notification possibilities already seen in iOS, and that we've been waiting for for quite some time.
My opinion
It was a logical move on Suunto's part, as they had already done so with the Ambit2 range. There are many athletes who only have time to run and don't do any other sport specifically that requires full monitoring. Yes, many of you do cross-training using your bike or swimming, but you don't need the monitoring and tracking that external cycling sensor support or swimming metrics can provide. If despite using your bike, you won't be using speed or cadence sensors or power meters, and your SWOLF and stroke length data doesn't matter to you because you are simply swimming to improve your fitness, then clearly you don't need an Ambit3 Sport.
But Suunto Ambit3 Run will still provide you with a very reliable watch that stands out for its GPS (with its Sirf Star V chip), its software stability, and its route navigation capability at a lower price than previously available.
How it will behave in the marketplace, time will tell. Suunto has never been in favor of offering cheap prices, and it is justified in the use of quality materials and a very refined software. But the Polar M400 It is true that the Ambit3 Run offers full navigation functionality (which the M400 does not have, even the Polar V800 He has it. officially), but the Polar is offered for almost half the price and also has an activity monitor.
With respect to Garmin, we are 2 months away from the arrival on the market of Vivoactive, y llegará con el mismo precio que el Suunto. Todavía está por ver cómo avanza la plataforma Connect IQ, pero el Vivoactive ofrecerá lo mismo que el Ambit3 Run (también tiene navegación) y además ofrece funciones de natación, vibración y la posibilidad de instalar más «apps», incluso para jugar al Golf.
I am sure that Suunto fans will find the Ambit3 Run a very good training partner and will be fully satisfied with the Ambit3 Run. What I am not sure about is whether they will manage to attract the undecided customer or the loyal Polar or Garmin customer.
- Via Suunto