If you look at the new Suunto 9 from a distance and in profile it will seem that nothing has changed from the Suunto Spartan Ultra beyond a new bezel design. And if you mess with the menu you'll continue to feel the same way. Another thing that has changed is the way the watch is named, something that was necessary after the torturous start the Spartan had when it came to the market and was getting into the problem of excessively long names (e.g. Suunto Spartan Sport Wrist Hear Rate Baro - try saying that without stopping to take a breath).
But Suunto 9 is more than just a facelift, it's an evolution of a watch with a very distinct target client - the mountain runner. And it's the Suunto 9's new features that have focused on him, putting the focus on battery life with new energy-saving profiles and a new GPS-free mode that seems like pure magic.
What's new isn't just in the software - Suunto 9 now has an optical pulse sensor (something Spartan Ultra lacked) and has changed the supplier for its GPS chip, which is now owned by Sony.
On the way is also a change in the web platform and the mobile application, but it is still in beta mode and we still have a few months to go before it is up to what Suunto wants (and what users expect).
I've tried to keep the test concise and focus on the novelties of Suunto 9, and yet I've come up with an article that's just as long as all the others. Anyway, I guess I'm hopeless.
Remember that if you like the test and want to compensate my work, you can do so by buying through the links I provide. In addition to benefiting from a great price a small part of that purchase will go to pay both my work and the expenses involved.
Do you want to know all the details of the new Suunto proposal? Then let's go there, because we have been together more than 600km of training and we know each other perfectly.
Summary
Overall operation - 9.5
Training possibilities - 8.5
Platform and applications - 6
Battery life - 9.5
Finishes and comfort - 9.5
Price/performance ratio - 7.5
8.4
TOTAL
Perhaps the new features of Suunto 9 are not too noticeable or numerous. It's true that the only improvement over Suunto Spartan is in the battery management modes and in allowing the use of the clock for more hours. But if I have to take something back, it's the new FusedTrack feature that Suunto is introducing on this model. It's simply magic.

See price

User Rating:

3.45 ( 2 votes)
---
The good
The new FusedTrack feature is pure magic
Possibility to change the battery mode at any time
Able to reach up to 120 hours of autonomy
Good GPS performance
The optical sensor has been shown to be solid on the run
The bad
Excessive battery consumption when not training
Suunto is still not putting its applications in order and is keeping an important cocoa that, I hope, will be solved before the end of the year
Suunto 9, detalles
Find the best offer
Suunto 9
Suunto 9 Baro
Before we get into the new features of Suunto 9, I want to take a quick look at the basic functions and features of Suunto 9. I don't want to go into too much detail because it's essentially the same as the Suunto Spartans that I've already tested. You can see the details of each of them in their corresponding tests, and if you don't know the range, you can take a look at them to find out more about what the new Suunto 9 has to offer: Suunto Spartan Ultra and Sport, Suunto Spartan Baro and Suunto Spartan Trainer.
I think it's the best for you (because most of you already know the Spartans' capabilities) and for me, because I avoid having to repeat myself like a parrot and explain again what I have already explained.
Suunto 9 is aesthetically different from the Spartan range of two years ago, but the design pattern remains the same. Suunto has changed the bezel with four lowered zones, contrary to what it might seem (in pictures you might think that these four points protect the bezel, but they are located at a lower level).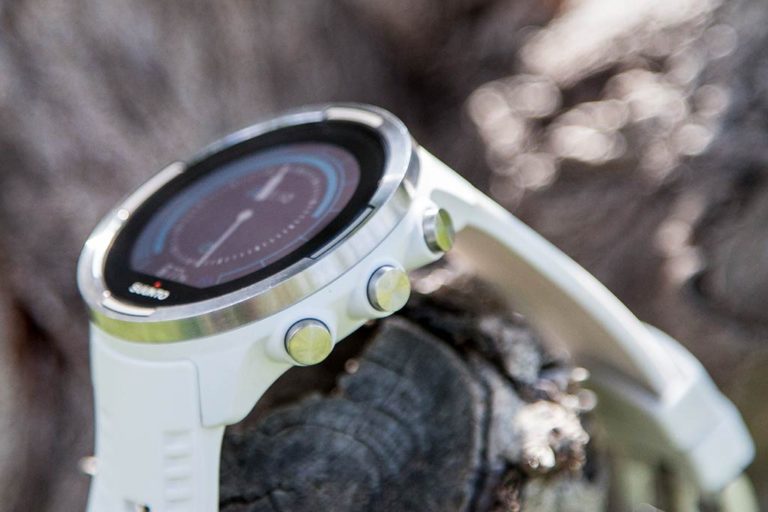 The strap is one of those we have seen in previous Suunto models, but this time the watch does not lie completely flat on a smooth surface as in the Spartan Baro.
But as with the Baro, the strap allows for quick replacement, and you could
Tiene zonas «dentadas». Su misión no es simplemente estética, sino que permite un microajuste de la misma sin cambiar el agujero donde abrochamos la hebilla. Es decir, un mismo agujero de la correa tiene 2 o 3 posiciones por lo que puedes ajustarlo a tu diámetro de muñeca a al perfección.
These are the aesthetic differences you will find with respect to the Spartan, everything else remains the same. The control is done with three buttons or through its touch screen, the customization is done exclusively through Movescount (soon also through the Suunto App) and we have different information widgets where you will find information about the daily activity such as calories, steps taken, altitude, heart rate, sleep, etc.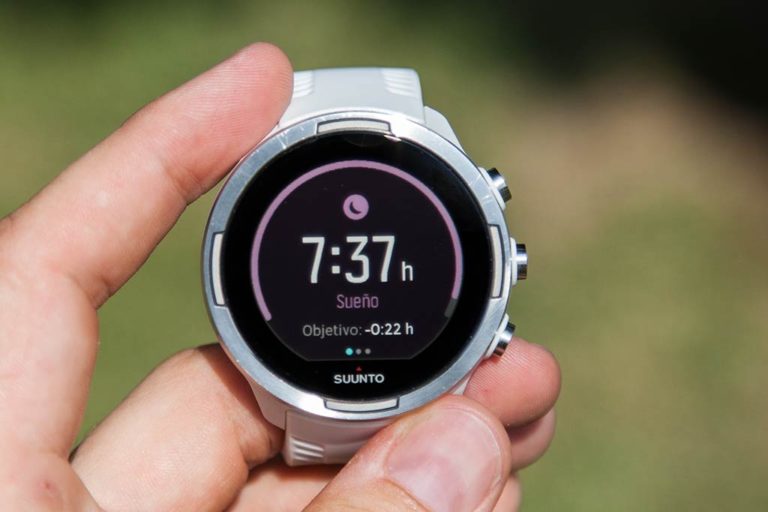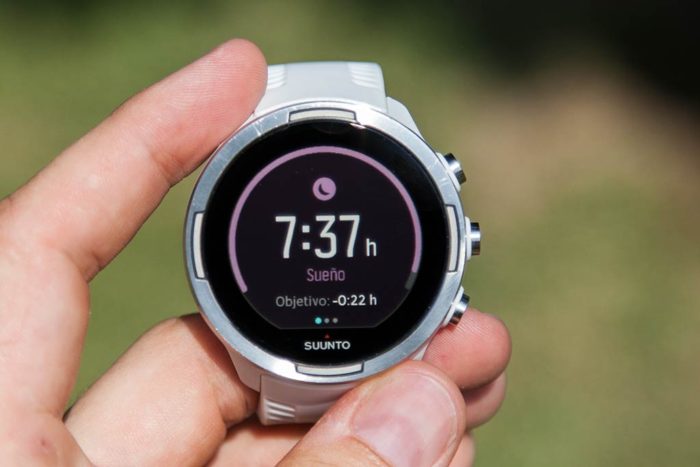 In the clock you can have the profiles you set up with the screen data you choose and also more than 80 predefined sports with the most typical data fields.
As I always say, this is one aspect where Suunto watches shine with their own light. The screen they mount allows you to display a multitude of information thanks to its size and resolution, and you can configure a screen with up to 7 data fields. Or screens with columns, perfect for seeing the evolution of your training as the kilometers fall or for carrying out training series.
The preconfigured profiles have different graphs to display information, but at the moment they are not available for the custom profiles. I still hope that one day they will include it in some update, as it is not understandable that it is not present in the custom sport profiles.
In Movescount you are not only going to configure the data screens, but also the rest of the functions of each sport mode both those you create and those included in Suunto by default.
When it's time to train, we must select our favorite sport mode from the clock menu. After creating the ones you need (it will take you the most time, but you only have to do it once) and synchronize the clock, they will all appear in the menu.
The satellite search screen is where Suunto 9's new features begin, as there is a new shortcut to changing the battery profile. Pressing the top button will rotate between the different options (performance, endurance, ultra and custom), and the top of the screen will show how many hours of battery life you have in that mode.
So if you are going to do an 8 hour workout and the clock indicates that in performance mode you will only have autonomy for 5 hours, it is clear that you have to make decisions. If you enter the options menu (bottom button) and access the battery modes, you will be able to see the differences between the modes or create one to your liking, but I will talk about this in more detail in the corresponding section.
There is a basic interval training function which is programmed exclusively from the watch, also in the options section before starting the training. At the moment it is not possible to configure it from the computer (as in Garmin) or from the mobile application (as it was possible in Ambit3), and without any doubt it is the demand that users make on Suunto with more insistence.
Although the representation on the watch is fantastic, the truth is that they are quite limited. We can only select the number of repetitions, interval time or distance and rest duration. But it is not possible to set a goal within each interval, make intervals of variable duration or set up warm-up or cool-down (which you can do without problems, but you will have to start interval training manually).
During the training you will have access to the different screens and data you have configured, being able to access at any time to the same menu of options I talked about before, so you can modify any of the details during the training and if necessary, change also the battery mode. To do this you just have to press and hold the central button.
At the end of the training we have access to the most complete activity summary screen of the whole sector (with permission of the Amazfit StratosAutomatic laps separated from manually marked laps (the first by the distance you specify and the second each time you press the lap button); heart rate, altitude and intensity graphs... Simply fantastic.
The synchronization can be done via Bluetooth with the mobile phone or with the computer via the data cable, and you can then see it in the application of the mobile or on the website itself. And this is where there are more doubts right now, because Suunto has been doing several puzzling operations. Some years ago he bought the application Sports Trackerwhich is currently in the process of merging with Movescount.
Lo mismo ocurre con la aplicación móvil de Movescount («limitada», por decirlo de forma discreta), que está en pleno proceso de ser sustituida por una nueva aplicación llamada Suunto a secas. Pero tanto la plataforma web como la aplicación se están retrasando más de lo que no sólo a Suunto le gustaría, sino de lo que los usuarios demandan. Es el aspecto más oscuro de este Suunto 9, que si bien la plataforma web sí está a la altura tanto en gestión como en posibilidades, la aplicación móvil y la integración con la nueva plataforma está llevando demasiado tiempo y es fuente de muchísimas quejas e incertidumbres.
Suunto has promised important news for after the summer... we'll wait anxiously.
Review of the new features included with the last update
Before we get into the specific functions of Suunto 9 and since this is practically a continuation of the previous Spartan tests, I think it's a good time to mention the new features that came in the last update that they received a couple of months ago, among which were the intensity alerts for your workouts. That's the main one, but not the only one.
This is a new training objective available among the options of each sport profile. It allows you to set a target zone, receiving an alert when we are out of it both above and below. And as the options menu can be accessed at any time, you can activate or deactivate that option in the middle of activity, or modify the work zone.
The variables you can select are heart rate and pace for running, or heart rate and power for cycling. If you use Stryd it is also possible to have power as a target, but this requires you to pair it as a power sensor and not as a footpod (but you would lose the synchronization with a power meter, which you should re-sync the next time).
Throughout your training, the watch will show you messages if you need to increase or decrease the intensity to stay in the selected zone.
It is possible to select heart rate zones depending on the sport, because we usually do not have or support the same maximum frequency in cycling as in running or other sports.
These are the ones that will appear later in the intensity target selection you saw earlier.
And speaking of goal, now in addition to the time goal (and the newly added intensity goals), there is also a distance goal.
You will be notified when you reach the 50% or 100% target.
We continue with goal functions. Before, the clock showed you the exercise count for the last month with a breakdown of time and distance by sport. In my opinion, this was never a very useful function because it is too long to get an idea of what we are doing or if we are following our plan.
Suunto has changed this, allowing me to select a weekly hourly target, which is a much more useful and easy to follow measure. In my case for example I have it selected in 6 hours and it allows me to see as the days go by if I am putting in more or less hours. This is shown in the widget itself.
Suunto 9 has a new watch face, the outer ring of which represents precisely this purpose (the one with the separate lines, the other circle providing information on the amount of battery remaining.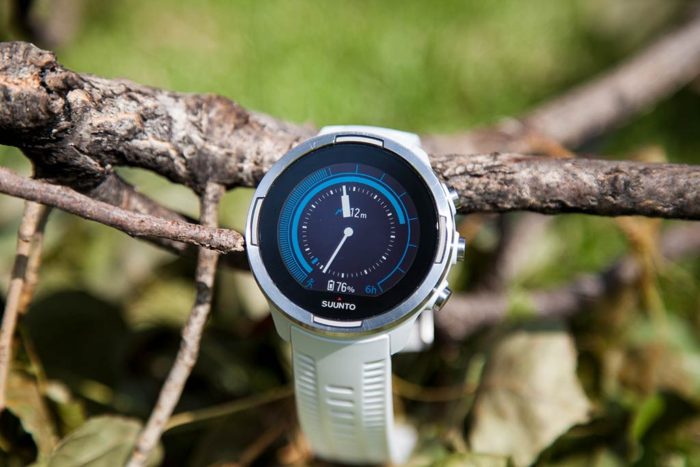 It is also possible to display the room temperature (in models with a thermometer, which are, in short, those with a barometer).
If you use the clock on a daily basis and have it synchronized with your mobile phone, the notifications that arrive will be shown on the Suunto screen. Until now it was quite uncomfortable, because the notification was shown... but after a few seconds it disappeared and there was no way to check what we had received and it forced us to take out the phone and look at it.
There is now a notification center where you can review all pending notifications on your phone.
Sólo aparecen las que estén «vigentes en el teléfono». Cuando eliminas una del teléfono, desaparecerá entonces del reloj. Pero lo que no es posible es eliminar la notificación en el reloj y que desaparezca del teléfono. No obstante es una función muchísimo más práctica que como estaba implementada anteriormente.
It's true that Suunto updates aren't terribly frequent, but when they do arrive they always bring something more or less new.
Battery modes
The user profile that Suunto focuses on for this watch is perfectly clear: ultra-distance runner. If that's your profile I'm sure that when you've been running for 50 miles there are many things that worry you, but you don't want the watch's battery to be one of them.
If you've been a Suunto customer for a while, I'm sure you've had a few models in your hands, such as the Ambit3 Peak that offered up to 50 hours of GPS performance every 60 seconds.
In the Spartan Suunto, it continued to make changes in order to extend the battery life: automatically turning off the display, reducing the amount of colors shown on the screen, etc.
But with so many options and so much variety everything was getting too complicated. And if there is one thing that Suunto takes great care of, it is having a clean and easy to use user interface. Some options could be modified in the clock, others only in the sport profile from Movescount, and being linked exclusively to that profile so it also didn't allow changes in the middle of the course (if you suddenly realize that you can run out of battery).
With Suunto 9 this is reduced to the use of different battery profiles. There are three predefined battery modes and one customizable mode where you can adjust the values to your liking.
By default the mode that will always be active is Performance, provided you have not created a custom mode, in which case it will be used by default.
How does it work? When starting a workout or race, a new option is now displayed on the satellite and sensor search screen.
At the top you can see the remaining range in hours along with the representative colour of each of the modes (green, yellow and red for the plus to minus level; blue for the customisation which is specific to each sports profile). You can quickly change modes by simply pressing the top button, or enter the options menu (by pressing down) to see the details of each mode.
Las horas de batería que se muestran son «en tiempo real». Es decir, con la batería que le queda al reloj nos indica cuál será la duración máxima que se puede alcanzar.
The battery mode is not only set at the beginning of your workout, you can also set it in the middle of your workout.
The autonomy declared by Suunto for each mode is as follows:
Performance Mode: Up to 25 hours
Endurance Mode: Up to 50 hours
Ultra Mode: Up to 120 hours
These times are approximate because it also depends on the ambient temperature (with cold the autonomy is lower), etc. And remember also that it is with the use of a heart rate sensor on the wrist, if we move to use a Bluetooth sensor the autonomy is slightly higher.
But as I indicated earlier, you don't have to worry about memorizing this data because it will be indicated by the clock itself when you go to select it, just as if the settings of the predefined modes don't match what you want, you can set the settings as you like with the custom mode.
There are changes that mean greater or lesser battery savings. Obviously the GPS has the highest battery consumption. In performance mode the logging is every second, going to 60s or 120s in Resistance or Ultra modes. In these cases the clock will use the FusedTrack function that you will see in the next section.
Options with an average battery impact are wrist pulse measurement, full color display mode or always on display.
But it doesn't stop there. Suunto 9 has smart preventive alerts. Based on your activity history over the past few days, it will alert you that it doesn't have much battery life left, so if you plan to train, you might want to charge your watch.
It's a smart warning, not that it always warns you when it reaches a certain percentage. If you always do a long run on Sunday, the clock will know and if on Saturday you don't have more than a 25% of battery power it will remind you that the charge you have is not enough to complete your workout.
What happens if we ignore the recommendation or don't have access to a charger? The watch will alert you when it reaches 10% remaining battery power and ask you if you want to switch to the next battery mode - for example, from Performance mode to Resistance mode. It also displays the estimated remaining battery life in the current mode and in the recommended mode, so you can determine whether the remaining battery will be enough to complete your current activity or not.
(I use the generic Suunto photo because I did not match the camera in my hand at the time the message appeared...)
In absolute terms the changes are not important, because it is something that was already contemplated to a greater or lesser extent before, but at the level of the user interface it is a very important change, especially because of the possibilities it offers to quickly change modes during the activity itself.
FusedTrack in Suunto 9
Without a doubt, I think the most important new feature of Suunto 9 is the inclusion of FusedTrack. Not because it's new (similar things have been done before), but because it works so well. It's just magic.
With FusedTrack, Suunto 9 ensures that despite the more restrictive drum modes you've seen before, both the rhythm and distance data and the track you'll see when synchronizing activity are not as affected.
Until now, when we used a restrictive battery mode, the GPS data was quite imprecise. This had an impact not only on what you saw afterwards after synchronizing, but also on the pace and especially the distance while training.
It activates automatically when you select the Resistance or Ultra battery modes (or in the custom mode if you reduce the accuracy of the GPS). In these modes the GPS only records data every 60 or 120 seconds, and yet the watch is able to record accurate tracks and display fairly reliable distance and pace data. Obviously it's not perfect but... it's pure magic.
So, if we only have GPS data every minute at best (remember, only if we activate some more restrictive battery mode, of course in normal mode the logging is per second), how is the clock able to get the data?
With FusedTrack what Suunto does is to take that GPS point that it records sporadically and then rely on the internal sensors of the clock: compass, accelerometer and gyroscope. That way the clock knows if we are still in a straight line or have turned (compass) or have accelerated or slowed down (accelerometer) since it has recorded the last point.
In short, it's just a mathematical algorithm, but one that works fantastically well. And when it comes to the final result, it's like wearing a watch with an intelligent recording mode (recording GPS every few seconds), because it records positioning data every few seconds in the activity file, even if only one of those points is real every 60 or 120 seconds.
By downloading the GPX file you can clearly see that it is the watch that completes the data with points continuously. For example in this training the watch was in Ultra mode (GPS every 120 seconds), however in the GPX file we have position data every 2 seconds.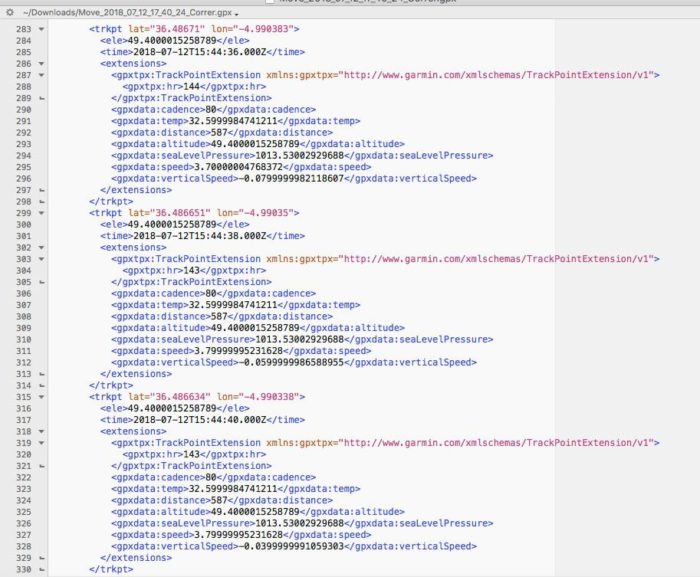 But of course, in order for the algorithm to do its job correctly, it needs to have consistent data. The first thing we need is to calibrate the accelerometer with our data. All we need to do is to go out and run using the GPS so that it is able to identify the particularities of our pace and stride.
From that moment on, if we are going to perform an activity with one of these modes, or we switch to them in the middle of the activity, it will be necessary to make the calibration of the compass.
This part is crucial, and Suunto recommends to do the calibration in an open place without anything that can alter the compass measurement. Therefore do not do the calibration inside buildings, near large metal masses, next to an electrical transformer, etc. If the compass is not calibrated correctly the results will not be positive.
That's all we have to do on our side, from there the clock is able to take points off the top hat.
Here's an example where Suunto 9 is in Ultra mode while Garmin FR935 and Polar M430 record data every second.
I repeat, I think it's pure magic. The part you see on the left is a straight line where I was performing constant intervals. Yes, here the track escapes slightly in a couple of occasions, but despite the difficulty (and that the algorithm is not designed for this) the representation is almost perfect with few meters between the different tracks.
But look at the rest of the points. The representation of the passage along the promenade is perfect. When the promenade draws a curve, Suunto 9 interprets it perfectly, coinciding almost perfectly with the other two clocks. And the turning point? Simply amazing because it does exactly in the same spot as the other two.
And I remember that the recording is in Ultra mode, so it's only recording GPS location once every 2 minutes. The rest of the points Suunto has extracted by itself.
Coincidence? I'll give you another example, also in Ultra mode.
Here you have it in a complete training of approximately 10 kilometers. Yes, it's true that in some points Suunto 9 has a slight deviation from the route and that it's not totally perfect. But I'm sorry to be so insistent, I find the accuracy of GPS incredible... without using GPS! In that training there are only 49 points registered by GPS, all the others have been interpreted by the clock.
Suunto 9 was not the first to have an extended battery life mode, of course, but comparison with previous Suunto or other models makes them pale in comparison, and Garmin does some similar things in UltraTrac mode. And to prove this, nothing better than going to the terrain that this feature is designed for: the mountain.
In this case there are 4 watches he was wearing, and three of them in battery-saving GPS modes with a fourth in control mode. These are the models, the GPS mode and the colors you see on the map:
Suunto 9Battery mode Performance with GPS every 60 secondsIn the map it appears in colour purple.
Suunto Spartan Sport Wrist HRMode of GPS OK registered every 60 secondsOn the map your track is green color.
Garmin FR935Mode UltraTrac registered Variable GPS (the clock decides when to activate the GPS and when to deactivate it), and in the case of the 935 this mode makes use of the gyro to improve the quality of the track, similar to what Suunto wants in 9. color blue.
Garmin FR230The control clock is configured for the highest possible quality: GPS+GLONASS every secondThis is the one shown in red color.
When analyzing the route I'm going to skip the beginning, because it's an area I've passed through three times and with so many lines it's a bit confusing, so I'm going to go directly to the parts where we have more clarity. However you can make your own analysis from here.
I start with this marked curve area. Remember that if you click on the image you will see it at a larger size.
El Garmin FR230 es el que nos marca el trazado correcto, en todo momento marca los giros perfectamente. El primero en excluirse de la comparativa es el Suunto Spartan Sport que decide viajar en avión sobrevolando las montañas en una línea totalmente recta. Ya ves que con esa configuración de GPS se muestra totalmente inútil. El siguiente es el Garmin 935 que a pesar de comenzar bien con la primera recta (el sentido de marcha es de «abajo hacia arriba»), simplemente intuye que es una zona de curvas. Hace ondulaciones en el camino pero va constantemente fuera de pista.
Meanwhile, Suunto 9 is almost always running parallel to the Garmin 230 and only leaves the area at certain times, but the result is a fairly decent track.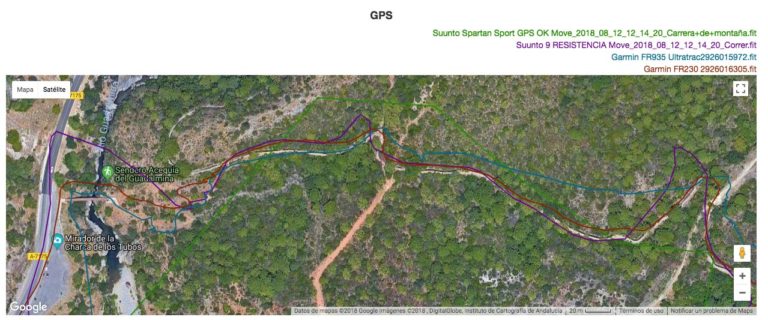 It continues to train towards a slightly straighter area after the 180º turn. Suunto Spartan Sport, with the GPS every 60 seconds, follows the ball completely. Suunto 9 does not make the 180º turn correctly, although it rejoins FR230 not long after in the right direction, while 935 continues to sense the way ...
I extend the bridge crossing point because in that area there is less tree coverage in the road area and you can see perfectly what the correct layout is. A layout that none of the four clocks have managed to represent correctly, not even FR230.
As a curiosity, Suunto Spartan Sport doesn't even show up, it has cut out completely and is already finishing the training. On this stretch, both Suunto 9 and 935 start well, but halfway down they separate completely, while FR230 is totally out of the way. These problems may be due to the fact that it is a somewhat technical descent with loose ground and quite a lot of rocks, so you go down with your arms open to help keep your balance. This leads to an abrupt change in the way you wear your watch that can alter the algorithm of the watches, and is certainly a nightmare for those who rely on the use of a gyroscope.
Turnpoint and climb. The different watches arrive at the bridge in the same way they have been during the rest of the training, with a good overall performance of the Suunto 9 until it gets totally messed up when facing it. The 935 doesn't do badly either, but it continues to cut when it can and on the climb to the bridge it also gets messed up in a similar way to the Suunto 9. Meanwhile the Suunto Spartan Sport has the classic operation of a watch that records every 60 seconds: when it gets a GPS signal the point is valid, but the fault comes in the union of all of them. If it were a straight line there would be no problem, but on the turns it will obviously tend to make cuts.
As I said before Suunto 9 has some tracks that are far from perfect, but you've already seen that the difference with the previous generation Suunto is absolutely abysmal, being the GPS logging rate the same (every 60 seconds).
Compared to Garmin's UltraTrac mode, the differences are minor, but Suunto 9's track has better definition and tends to be more accurate at most times.
These are the final distances measured by the different watches:
Suunto 9: 6,13km
Garmin FR935: 6.13km
Garmin FR230 (with Stryd): 6.05km
Suunto Spartan Sport WHR: 4.64km
At this point you may be wondering what happens when we have a navigation route loaded. We need accurate data at all times, because if we go off course it wouldn't be right to have to wait two minutes to know that you have to go back the way you came...
In this case, even if we have selected some restrictive battery mode, the GPS will be switched to full operation (recording data every second), but only If we are showing any screen with data, the selection will be respected so that we have made it.
Obviously this has some compromises and changes. Obviously the pace shown on the clock is not going to be accurate all the time, but since using this mode is intended for long mountain races where really, the pace is the least of my worries. And if you are worried you can always pair a footpod for accuracy.
Another small concession is that the automatic laps will no longer be every kilometer but every five minutes. The reason is the same, there is no possibility to provide the data completely accurate so Suunto chooses to offer the approximate information in that time. And while you are running you can see that it is making corrections because comparing the distances with other clocks in recording mode 1 second is slightly forward or backward, but always around the same figure.
The best part of it all is that it is the first software version of the watch and Suunto will continue to work on it and improve the function. If it is good now, when it is even more refined perhaps those concessions can be polished up even further.
At the moment the FusedTrack function is only available for running and trail running profiles, simply because these are the sports that offer the most data input and have the highest consistency of pace. Walking or hiking is much more variable and is not supported at the moment.
Where it can make a total and absolute difference is in open water swimming, precisely because of the difficulty in obtaining GPS data. FusedTrack would make perfect sense in the water because we are usually swimming in a fairly straight line (depending on our navigational ability), there is constant accelerometer data, and the compass is unimpeded in working underwater. Suunto could be the first manufacturer to offer super reliable swimming tracks. I look forward to it.
New GPS chip in Suunto 9
Some of these functions you have seen so far are only possible because on the 9 Suunto has changed GPS provider, now mounting a Sony chipset (probably the CXD5603GFSuunto has not specified the reasons for this change but it is more logical to think that it is due to a better energy use profile.
So given the change in that aspect it's of vital importance to take a look at the GPS tracks beyond the ones we've been looking at in the FusedTrack section, so below I'll focus on tracks recorded in the Performance battery mode (GPS 1 second).
I haven't collected many comparisons to show graphs (since I've been focusing on FusedTrack and most of the time I've been comparing with other devices has been with restrictive battery modes), but I've run quite a bit with Suunto 9 so I'm perfectly clear on how it works. That is, I don't have a large database to show you but I do have a lot of training done with Suunto 9.
The first thing to note is that Suunto 9 is only compatible with GPS satellites, at least for the time being, so there is no support for GLONASS or Galileo, although since Suunto has focused on the FusedTrack function and it works so well, I don't miss it.
This is not to say that Suunto will not activate the possibility of using them later on - this has been done in the past with other models such as the Spartan itself, but the truth is that even Suunto advises against their use except in complicated urban environments (here you have more information about what benefits you would have with GLONASSConsidering the work they are doing with FusedTrack mode and the search for the longest possible autonomy I don't see the need, as long as FusedTrack is applied not only when there is some restrictive battery profile but at all times.
>> Update: Suunto 9 now supports GLONASS satellites after the 2.5.18 update
I will now look at some examples of activities performed in normal GPS mode, which despite having visited what FusedTrack mode offers, the use of the clock will be on a normal battery profile during all workouts. This is just one example of the many workouts I have accumulated with Suunto 9.
I start with this pace change training. It's not my usual training zone where everything is much easier because it's totally open to the sky. Although there are no tall buildings, there are plenty of green areas and low buildings are also demanding in the sense that they can bounce the GPS signal and confuse the clocks.
But at first glance it seems that the three chosen for this training (Suunto 9, Suunto Spartan Trainer and Garmin FR935) fully agree, but as always, when we zoom in we see some differences.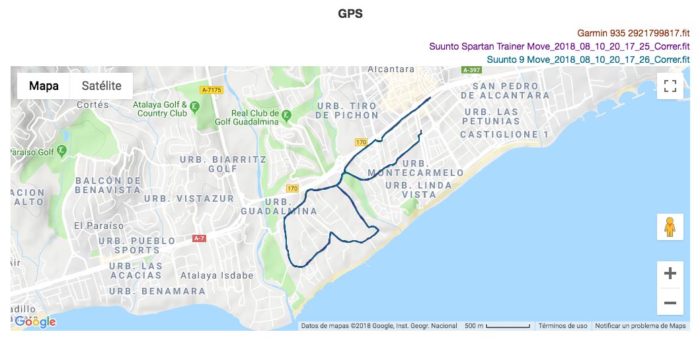 Watch out for this detail in the turn of the corner. The three clocks make the turn of the roundabout perfectly, but when you reach the corner both the Spartan Trainer and the 935 cut out the building. But the Suunto 9 draws the corner perfectly.
This behavior is not usual, however the 9 draws it perfectly.
This other roundabout is also a good example, although in this case the drawing of the Suunto 9 is not perfect because I have never run on the road, but in discharge of the three models, the sidewalk is quite narrow.
But in this image what I want to emphasize is the crossing of the road. Obviously I am an exemplary citizen and I always cross at the pedestrian crossing (ahem...) Well, at least in this case I do.
And Suunto 9 crosses it with me too. However both the other Suunto and Garmin cut back at this point, at least on the way out. It's a crossroads and you'll see that there are two charts, both of which are correct.
But don't think that Suunto 9 always does everything beautifully, it also suffers from moments of madness like this little spike that it makes in the middle of a straight line for no reason.
We are going with a different training, this time a fartlek with continuous changes of rhythm, but without resting, so there is always continuity in the graph.
This time the Suunto Spartan Trainer is replaced by a Garmin FR230. Now the graph that interests you is the purple one, which is the one that corresponds to the Suunto 9. And at first sight you can see that the Garmin FR935 has not had its best day, going off the track numerous times and "getting noticed". But let's analyze each case.
This is my most usual route, where I have perfectly identified the most problematic areas starting from this point where I run under leafy trees and with buildings on both sides. It creates a tunnel effect and, without going out into the open, I make a 90º turn. A hell of a turn for the GPS.
Again the Suunto 9 is the best performer in the first 90º turn. The Garmin FR230 was quite good with it, but it cut back slightly in the turn. The FR935 would have done well... but it's been wobbling around until it got to that point.
Shortly after that there's another tight turn that Suunto 9 does perfectly again (it climbs about 20cm on the fence, but the curve is perfectly drawn), while FR230 cuts again. 935 seems to have recovered, and later all three continue slightly through someone else's garden, but without any strange things.
It is something that continues further on, with the three models deviating 2-3 meters to the left of the royal route.
Below are two distinct areas, the lower one with full visibility and no signal bounce problem, all three watches are perfectly reliable.
But at the top it runs again under an area of trees and flanked by buildings. And experience tells me that it's always a hot spot, as it is this time. None of the watches do that area perfectly, but both FR230 and Suunto 9 do the least strange things. 935 definitely didn't have its day.
Although there are wonderful days when all the clocks fully match...
Finally, shall we take a look at the altimetry log?
The graphs are not aligned because I haven't done an initial calibration on the Edge 520 (Suunto 9 has FusedAlti, so it calibrates automatically). How do I know the graph on the Edge 520 is below what the correct data should be? Because I have a bicycle, not a submarine, so it's impossible for me to have done anything below sea level.
However, we can perfectly appreciate how both graphs are totally parallel to each other.
I have had the opportunity to do some swimming in open water as well. Not as much as I would have liked because we have had a terrible summer of jellyfish plague and I have not been able to go out to sea as much as I would have liked, but I have done some training.
The improvement compared to previous Spartan models is substantial. Let's just say that Spartans have never been very reliable watches when swimming in open water, with very extended distances due to very irregular tracks.
Suunto 9 performs much better in this area, at least when recording the track satisfactorily.
In this example, the three watches are quite similar in the way they are used. The one that marks the correct data here is the Garmin FR230, which is always out of the water when worn under a swim cap. Both FR935 and Suunto 9 are worn on the wrists so they have to fight with the constant loss of GPS signal underwater (digital signals cannot penetrate underwater).
From the red track of the FR230 we have to forget the final part (where you can see a completely straight line) because it was paused in the middle of the recording.
The Suunto has improved a lot from previous models, proof of which is that it practically draws the same route as the FR230 (which is out of the water recording per second). There are only two discrepancies, the area indicated above where the FR230 has stopped recording and the turning point, where I take a short break to drink some water.
The FR935, which until now had always been the most reliable option for swimming in open water, has a track with much less definition, straighter lines and with widely spaced reference points. The route followed is good a priori, but that of the Suunto 9 is better because there are moments when the FR230's track is perfectly stuck.
Discrepancies come with measured distances:
Suunto 9: 1,810m
Garmin Forerunner 935: 1,399m
Garmin Forerunner 230 (interrupted before completion): 1,170m
This is where there are strange things, because if the track is so similar... why is there so much difference in meters? Considering that FR230 has about 3 minutes of recording time left, it gives us a total distance very close to the almost 1,400 meters that 935 has measured.
You're probably thinking that if Suunto has been the best track, isn't the actual distance the track indicates? No, because the training took about 32 minutes with a total of about five minutes of stopping time in between, and I doubt very much that I'll be able to reach those rhythms in a single training session (unless my swimming has improved a lot this winter).
In short, the chip change hasn't been bad for Suunto 9. On the contrary, its performance has been very solid every day we've been training together (and it's been going on for hours now). It's not perfect, because none of us are going to be. It's not a precision instrument, but the tracks I've seen from all my trainings are satisfying all the time and I've never seen anything strange.
Optical heart rate sensor
Otra de las novedades presentes en el Suunto 9 si lo comparamos con el Spartan Ultra es la inclusión del sensor de pulso óptico. Se trata de la última versión «disponible» del sensor de Valencell. Ésta es la 1.2, porque Valencell ya dispone de una 2.0 pero no estaba lista para ser incluida en el Suunto 9. De hecho no hay ningún dispositivo todavía en el mercado que incluya el nuevo paquete 2.0, cuyo principal beneficio está centrado simplemente en un mejor rendimiento de batería para el seguimiento de pulso durante las 24 horas.
This sensor is capable of performing many functions in addition to those already included in the clock, at least in the biometric aspect. Suunto could enable them in the future through a firmware update, things like R-R interval or resting pulse variability (you can see all the sensor information on its data sheet, incredibly detailed).
At the moment the use of the sensor is focused exclusively on the recording of heart rate not only in activity, but also in sleep mode. It is an option that can be activated or deactivated. In case of use it will take a record every 10 minutes and will show the information directly on the clock through a graph of the last 12 hours.
In the same widget you can also check your current heart rate, even if you don't have this feature activated.
The current problem is that the information of those 12 hours (and what happened before or after) is not recorded anywhere. There is no possibility to view it in the Suunto application, in Movescount or in Sportstracker; at least for the time being.
It's to be expected that with the deep work being done on the new Suunto app and Sportstracker website, the possibility will be added in the near future, but at the moment it's a feature that serves for little more than battery life. So my recommendation is that for the time being you should deactivate it, especially because it's something that has a high impact on the day-to-day battery.
But let's go to the specific tests of the optical sensor at the moment that we are most interested in, which is during the training. For this and as always I do simply train with the watch, accompanied by other pulse sensors to be able to verify the data provided by all of them. I try to wear at least one pulse sensor on my chest and another different optical sensor to be able to assess the overall reliability as to how far the optical technology is able to go.
I will start with something simple, a steady pace workout where no pulse sensor (optical or otherwise) should have any problems. In this workout I will accompany Suunto 9 with a Garmin 935 using its optical pulse sensor and a Garmin 230 connected to a Garmin HRM-Tri sensor.
Everything seems perfectly stable without too many incidents, with some spikes from some sensor that seems to go where it doesn't have to. Suunto 9 seems to suffer the most, but these are very specific moments.
But don't think Suunto 9 is the only one suffering from this, you can see how the other sensors suffer from it as well - both the 935's optical sensor and the Garmin HRM-Tri chest sensor.
Another workout at a much more constant pace than before with identical results. What you see in the middle is a short stop and restart where the Polar M430 stays a little bit on the edge, but then comes back and makes the recovery perfectly. Meanwhile the Suunto 9 makes the representation perfectly on par with the chest pulse sensor.
I change the third and we go to an interval training where we will see something that is not usual: two optical sensors offering a better result than the chest sensor. That's nothing!
I start with a 20 minute warm-up (where there is a short stop around minute 3), both the Polar M430 and Suunto 9 represent this perfectly, while the HRM-Tri sensor has a quite different idea and completely loses track of reality. Why? I have no idea, there are just days when technology can fail, even that which is more than proven.
I will now extend the intervals, which are composed of 5 short intervals and 5 slightly longer intervals. This is where the chest sensor should not fail in theory, while it is the difficult part for the optical sensors, because we have just the opposite, a chest sensor that practically fails in all intervals and a couple of optical sensors that record with almost 100% effectiveness these first five intervals (except for the last one where Suunto 9 seems to go too high in pulses).
All the parts that I have marked correspond to the HRM-Tri sensor graph, but hopefully there is more, in the first of the five remaining intervals it gets lost again completely.
However, in the rest of the intervals we witness a behavior that is usually common in optical pulse sensors, and is the delay in both the rise and fall. In these four remaining intervals of training Garmin HRM-Tri already recovers from the initial dizziness and you can see how despite measuring the same intensities, both optical sensors have the same delay in both the rise and fall.
There is not much the manufacturer can do, it is the usual behaviour of this type of sensors and they are usually a little more clumsy in sudden changes where they are about 3 or 4 seconds behind a pulse sensor in the chest, whose information is more immediate.
On the bike, the Suunto 9's optical sensor has surprised me, it's still not too viable, but I've achieved better results than expected (although not as good as with the Polar M430).
Overall I've had a good performance with the Suunto 9 optical sensor. In fact better than I got with the Suunto 3 a few weeks ago (and they equip the same sensor). Compared to this one, the 9 has a problem to deal with which is the increased weight, but in return it has a much larger wrist print so it protects it better from outside light.
It seems that in this case the larger footprint benefits the new Suunto model, even though its high weight does not favour good records at all.
It should be noted that Suunto is one of the few manufacturers that activate the optical pulse sensor during swimming, but although I do not add it to the above charts I can tell you that the recommendation of both me and the manufacturer is the same: keep using the Suunto Smart Sensor on your chest because the optical measurement underwater is not accurate at all.
In any case, you'll have no problem training regularly with Suunto 9's optical sensor, even on days with intervals and sets, but only in running, or in any other sport (cycling, swimming, gym, etc.), if you want to have accurate data.
Buy Suunto 9
I hope that this complete analysis has helped you to decide if it is a valid device for you or not. All the work I do you can consult it without any cost, but if you want to support the web and with it the work I do, the best way to do it is to buy your new device through the links I provide below. And if you don't buy it today, remember to stop by when you are going to do it!
Through these links not only will you get a very competitive price and the best customer service, but I will also receive a small percentage without costing you any additional outlay, which is what allows me to continue offering you proofs like this on the page.
If you have any questions, remember that you have the comments section at the bottom, where I will try to answer all your questions.
Find the best offer
Suunto 9
Suunto 9 Baro
My opinion of Suunto 9
If there's one thing I like about Suunto 9 it's that it's totally focused on its target audience, which is mainly the mountain runner and especially the one who participates in ultra distance races. If that's your profile and you need a watch, look no further because Suunto 9 is the tool you need.
Suunto is right to focus its resources on its target client and not to try to fight Garmin on a more generic client by adding dozens of features. It's a war they can't win because their resource level is simply not close. However, Suunto has a large user base in the mountain segment, and they have to keep it happy.
This 9 will satisfy most mountain users because its new features have a direct impact on how you use it, even if you don't do ultra-distance running. Even though the battery profiles and the FusedTrack feature are geared towards this, you don't need to run more than 100km to take advantage of it.
Who hasn't run out of battery in the middle of a training session because they didn't remember to charge the watch? Who hasn't charged the watch the day before and, when they wake up, realise that they hadn't put it on charge? Who hasn't gone out for just over an hour and ends up coming back after five hours of adventure? These are situations that can be quite commonplace, and none of them are related to ultra-distance.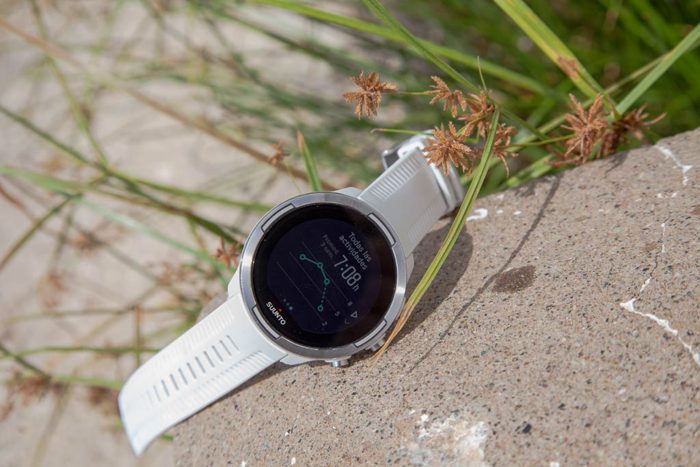 The problem that Suunto has is that the non-runner of this type of event may not think of Suunto 9 and prefer a cheaper option within the brand.
I don't think it's a watch exclusive to this type of user. In fact, I'm not, but it has been accompanying me in the last weeks of preparation for an Ironman 70.3 and has fulfilled perfectly, because we must not forget that it is a multisport watch.
But I don't want to forget one important detail, and that's the current situation we have around the Suunto App and the new integration of Suunto with Sports Tracker. Movescount is going to be a thing of the past, but the development of the new application and platform is taking too long. Amer Sports needs to understand that it's a very important part of their watches and they need to put more resources into its development, not only because the delays are getting too much, but because the competition is getting tighter and when they manage to launch everything they may realize that they are still behind the competition.