Today the new Suunto 9 Peak is announced, the new watch from the Finnish brand that is destined to mark the new future for the firm. Thinner, smaller but also stronger than the previous models. The Suunto 9 Peak, which we could call Suunto 9 G2, comes in two different finishes: steel and grade 5 titanium.
Aesthetically it is very similar to the recently announced Suunto 9 Baro Titanium and Suunto 7 Titanium . Cleaner and more discreet lines, a much more minimalist look. But probably what will catch everyone's attention is the big reduction in size, now being a watch just 43mm in diameter instead of the classic 50mm that have always been present in Suunto models.
Beyond aesthetic and size differences, the most important part is software and platform. At the moment there are few news. A feature called Ghost Runner (a virtual partner) and the arrival of blood oxygen estimation thanks to a new optical HR sensor. And above all Snap to Route, for greater accuracy in pace and distance on routes.
Suunto 9 Peak specs
Buy Suunto 9 Peak
Buy Suunto 9 Peak Titanium
Let's see first all the features of the Suunto 9 Peak and later I will go into some details and some opinion about the new watch.
Two bezel finishes available, steel and titanium grade 5

Size: 43 x 43 x 10.6 mm

Weight: 62 grams in steel, 52 grams in titanium
Sapphire glass lens
Color touch screen, transflective
Screen size 1,2″, resolution 240×240 pixels
Automatic display lighting with light sensor
22mm silicone strap, standard design and allows replacement
Battery life in watch mode: up to 14 days
Battery life in smartwatch mode: up to 7 days
Battery life with GPS recording 1 second: up to 25 hours
Customizable battery modes that allow 50h/120h/170h autonomy
Fast charging. 0 to 100 in 1 hour

Water resistance 100m

Bluetooth 5.0
New Sony GNSS chipset for better performance
Compatible with

GPS, GLONASS, Galileo, QZSS, Beidou

New LifeQ optical HR sensor (same manufacturer as the one in Suunto 7 with good results)
As for specific new features that arrive at Suunto 9 Peak we have these:
Virtual Partner. The Ghost Runner feature allows you to compete against a virtual pacer
New "Snap to Route" feature
Estimation of oxygen saturation in blood to check for acclimatization at altitude
Automatic updates via the Suunto App, without having to update through your computer
Suunto 9 Peak, now smaller
I have no doubt that what is going to be talked about the new Suunto 9 Peak is its size. With 43mm in diameter the first impression is that it is a small watch.
Just to compare, the previous Suunto 9 has a diameter of 50mm, which is Suunto's classic measurement in its top-range models. It's the same as the Ambit3 measured.
A remarkably smaller Suunto 5 fell to 46mm. 43mm is what the Suunto 3 measures, a watch that Suunto calls as "compact." However, the screen size of the Suunto 9 Peak is larger, you can see it in this image I've photoshopped.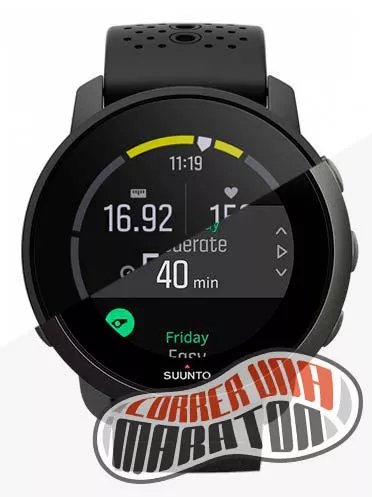 A Garmin Forerunner 745 measures 43.8mm, with a very similar screen size, although the size of the Garmin bezel could fool the eye.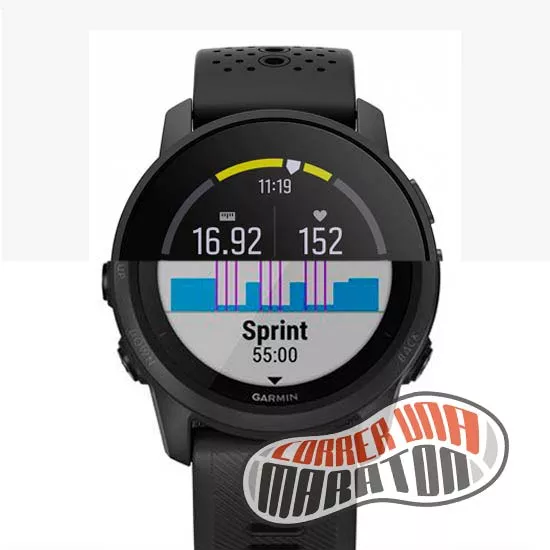 So the screen size is "enough", but in the end who will mark this will be the final buyer. It will be you who consider whether the watch screen is big enough for your use or not.
What is clear is that, as for the fingerprint on the wrist, it will be much less. For good (less weight, less volume, better optical sensor performance) and for bad (aesthetically).
Snap to Route
Suunto is known for its algorithms that take GPS accuracy further, especially when reception is complicated. That's why FusedTrack was born, a feature that allowed GPS to be disabled but, thanks to the rest of the sensors, make a route quite true to reality. It's not perfect, but it's very acceptable.
Snap to Route has a somewhat different approach. It is based on a route you have loaded into the watch (via the Suunto App or created with Komoot). It's like you're doing route navigation, but the watch will use it to guide itself.
As the watch knows where it will go through, regardless of whether the signal reception is good or bad what it will do is fix the track we are following to the track we have loaded. Therefore, both pace and distance will be much more real.
It's interesting when you run in complicated places. Narrow streets between buildings, canyons between mountains, etc. But remember that you will have to have the route that you are going to follow.
For example, it is perfect for urban racing. Imagine one of those races that were previously held (and will soon be back) in large urban environments that pass between tall buildings. There the reception of satellites is very compromised, so this feature will be very useful to have much more accurate pace and distance data.
SuuntoPlus
SuuntoPlus was released in late 2019i, but its problem is that it has been running into the limitations of the platform. When Suunto created the current platform (which comes from the Suunto Spartan Ultra announced in 2016) SuuntoPlus did not go into any plan. So the memory and processor capacity was what it was.
But SuuntoPlus is not something new for Suunto developers. If Suunto fans remember, we already had small apps that could be added to the Ambit3 via Movescount. Very simple apps that were introduced with pure code, but applications in any case.
SuuntoPlus came to cover that gap and open a "sandbox" of development of new features, a way to provide watches with greater functionality without having to completely redo the code. It was inside the watch, but in a specific section.
However memory has always been an issue, both to store those small apps and to run them.
The Suunto 9 Peak is already born with SuuntoPlus in mind, which opens a very interesting door for the most immediate future. If Suunto has been showing what things they can do on SuuntoPlus, rest assured that we will continue to see news around.
And not only from Suunto themselves, but also from third party developers. We have previously had some small feature from other companies: Strava, TrainingPeaks... In fact the platform is being characterized by fully opening up to other platforms integrating them into Suunto App.
Recently there is the case of turn alert notifications for navigation thanks to Komoot. Or TrainingPeaks training metrics.
What is one of the main demands of Suunto users in recent years? Interval workouts. What if TrainingPeaks develops a feature through SuuntoPlus to integrate the workouts from the platform and run them from the watch? Just my two cents...
GPS and optical HR sensor performance
The new Suunto 9 Peak arrives accompanied by many internal changes. Not only does it have more memory and is more capable. It also debuts a new GNSS chipset from Sony.
The Japanese manufacturer is dominating the market of satellite chipsets for wearables in recent times, both for its good performance but above all for its low power consumption. The chipset version that equips the Suunto 9 Peak promises to offer very good performance, something that Suunto has always boasted a lot of and why the brand has many followers.
New is also the optical HR sensor, something very needy because the Valencell from the Suunto 9 Baro was already noticing the years. In my last review the performance was subpar, not by itself but especially comparing it with the competition.
This new sensor also allows to estimate the oxygen saturation in blood, which Suunto will use to measure acclimatization at height rather than to make a daily measurement.
Suunto 9 Peak, availability and price
Suunto 9 Peak will have the following prices:
Suunto 9 Peak steel: 569€
Suunto 9 Peak titanium: €699
As for availability, the first units will be received around mid-June.
Buy Suunto 9 Peak
Buy Suunto 9 Peak Titanium
Suunto 9 Peak opinion
I think that the Suunto 9 Peak, beyond the size reduction, does not present a major novelty TODAY. But it does open a growth door for Suunto through which to increase the level of benefits thanks to SuuntoPlus.
This is certainly what we are going to have to look forward to in the near future, in my opinion closer than we can assume. I would not be surprised if once the watch is presented and before the end of the year we are having good news about it.
But I'm interested in trying out what it's offering today. The performance of the GNSS chipset looks like being very good, and I want to test the "Snap to Route" feature. I also have good expectations about the optical HR sensor. And I have to say, aesthetically... it's a very beautiful watch.
I guess my thoughts on this last paragraph match yours, so I'll get you to come around in a few weeks, by the time I've tested the new Suunto 9 Peak and I'll be able to provide you with answers to all these questions.
And with that... thanks for reading!