The Suunto 7 represents the entry of the Finnish brand into the complicated segment of smartwatches. It is a difficult sector not only because of the intrinsic difficulties it has in itself, but also because despite being a very large segment it can be, at the same time, very limited.
Suunto is entering the home of Apple Watch, which will undoubtedly be its main competitor. But it has one advantage: Wear OS, the operating system with which it works, is compatible with both iOS and Android. This allows Suunto to reach Android users who want a quality smart watch, but also iPhone users who are looking for something more focused on sports than what Apple Watch is.
Suunto has achieved the former. The Suunto 7 is a magnificent smartwatch with good finishes and that "premium" touch that many are looking for in what they are going to wear on their wrist all day long. However, where Suunto may have fallen short is in the performance section, although this will depend a lot on the profile of its user.
I've been testing the Suunto 7 for about a month, long enough to get to know it thoroughly so that I can tell you all the good (and bad) that this smartwatch has to offer.
If you like this analysis and find it useful to decide the purchase of your next GPS watch, please use the links you will find on this page (well, you can buy that GPS watch you want or anything else). You won't pay more than it's worth, but the seller returns a small percentage which helps cover the costs of hosting the site and obviously my work. Or you can also become a VIP member..
Lay back and relax because in the next few minutes you will be able to know the Suunto 7 in the utmost detail.
Suunto 7
Overall - 9
Training possibilities - 7
Platform and applications - 8.5
Battery life - 7.5
Finishes and comfort - 9.5
Price/performance ratio - 7.5
8.2
TOTAL
The Suunto 7 is the first smartwatch from the Finnish manufacturer. The manufacturing quality is superb, as are the rest of the watch and its sensors (GPS and OHR sensor). What has not surprised me so much is the software capabilities that Suunto has provided the watch at the moment.
---
The good
Diferente map types to show
Decent battery life (for a smartwatch)
Music playback, wireless payments, WiFi, apps... everything you can expect from a smartwatch
Android and iOS compatible
Good results on GPS and optical heart rate
With FusedTrack for battery saving
The bad
With maps, but without them being routable or allowing you to follow routes
The Suunto App doesn't allow adding external sensors
Suunto app without possibility to configure or edit sport profiles
Google Fit is very limited and there is no daily activity data in the Suunto app
Limited functionality on iOS
No speaker for calls or voice info
What and for whom Suunto 7 is
Before diving into the Suunto 7 review and its performance, I think it is appropriate to determine what Suunto 7 is and what is not, and therefore for whom it is intended and for whom it is not. 
The name chosen for this model may be misleading, for the simple reason that it stands in the middle of the current 3/5/7/9 range. It could suggest that Suunto 7 is halfway between 5 and 9, just as we had the Spartan Sport between Spartan Trainer and Spartan Ultra. Nothing further from reality.
The Suunto 7 is a smartwatch, it has absolutely nothing to do with any other model from the previous or current Suunto range. It is their first and only watch of its kind, totally different from what Suunto has launched so far.
That leads us to think about who is it intended for. The typical user will be completely different from the one you might be thinking of a Suunto 5 or a Suunto 9, even though the watch has maps that can be used for navigation on the trail. If you are looking for a watch for ultra distance racing, climbing, mountain or similar (which is where the Suunto type of user usually finds), the Suunto 7 is not for you.
This watch is focused on someone who has an active life but without excesses. Gym, running, a short ride... but not for someone who's considering 120km races or anyone on the Ironman circuit. And to avoid any misunderstanding, it is from that angle that I am going to analyze it, assessing who it is intended for and putting me in its shoes, rather than asking for things from the watch of a segment that it is not intended for.
Suunto 7 specs
Find the best offer
Suunto 7
When we talk about features in Suunto 7 we have to completely forget everything we know about Suunto and start with a blank sheet. This is not a Suunto like those we have been accustomed to, this is a totally different animal and we must look at it with different prism. 
So we have to forget what we traditionally look for in a Suunto watch and turn the sheet to focus on specific features of smartwatches where what matters are other things: operating system, memory, capacity, display etc.
This is the feature sheet that any smartwatch buyer would look for:
OS: Google Wear OS, version 2.13 (at launch, it can be updated through WiFi)
Processor: Qualcomm Snapdragon 3100
Memory: 1GB of RAM, 8GB of internal memory
Screen: 1.39″ AMOLED touchscreen, 454×454 pixels resolution and up to 1,000 nits brightness in high brightness mode, 300 nits in normal mode
Control: In addition to the touch screen, there are four control buttons that allow you to program different functions that interest us most (music, payments, etc.)
Stainless steel bezel, reinforced polyamide body.
Diameter: 50mm
Weight: 70 grams
Barometric altimeter
Magnetic compass
Compatible with GPS, GLONASS and Galileo
Battery life: up to 12 hours with GPS use, up to 48 hours as smartwatch
Water resistant to 50 meters
Android and iOS compatible
Wireless payments: NFC for Google Pay
Applications: Google Play Store enabled
Music playback: Yes, compatible with any external Bluetooth device (headphones, speakers, etc.)
Vibration: Yes
Tones: Yes
Speaker: No
But let's not forget that what we have in our hands is a Suunto watch, which brings with it a number of features that we should expect in the watch. It's what I call the "Suunto experience," something I'll refer back to in the test on numerous occasions.
These are the functions that Suunto 7 has and does not have.
70 sport profiles, like the rest of Suunto models
Profiles doesn't support changing data screens (at least for now)
There's no multisport profile (triathlon, duathlon, etc.)
Maps available on screen. They can be downloaded manually or automatically 
Many types of maps to show, among which are Suunto Heatmaps with the routes most used by the rest of the users
Maps are just an image, there are no POIs nor you can search by address
Unable to send a route to the clock to navigate it (at the moment)
Unable to create interval workouts
Heart rate measurement during the day within minutes, but not constant (it sends the data to Google Fit app, not Suunto)
You can't add external sensors (pulse, power, cadence, etc.) on the stock app. It's posible via third parties apps
You can download apps from Google Play that do allow you to cover some of the shortcomings mentioned above (customizing screens, tracking routes, interval training, etc.). But it will be in a standalone application without saving data on the Suunto platform
As you see it is important to emphasize the detail that it is a smartwatch, which gives a certain amplitude when it comes to not relying exclusively on what Suunto offers in its app, but we are open to download any of the applications that we find available in the Play Store, allowing to fill some gaps. 
However, I consider that although the possibility exists, it is not the ideal option, because you have purchased a Suunto and you are interested in the Suunto experience; it is not a Ticwatch where you don't mind relying on a third-party app.
But that I leave for later, first I want to give you a look at the possibilities that it offers as a smartwatch.
Suunto 7, the smartwatch
Obviously in a watch like the Suunto 7 it is paramount to value its performance as a smartwatch. Because that is what it is, beyond being a watch from Suunto or any other brand. It is a worthy rival to the Apple Watch, with which it is comparable in many of its facets; and a far superior watch to any of the other "smartwatches" that have recently been launched by its major rivals: Garmin Venu, Garmin Vivoactive 4 or Polar Ignite. 
Among the major brands of sports technology only the Polar M600 would be up to it, but there are quite a few years of technology between the two, and it must be recognized that the aesthetics of the M600 did not help him much.
Back to the Suunto 7. You want to know what's best about the watch? The default watch face. It's just fantastic, it makes you fall in love with it right away thanks to the fantastic screen.
This is the heat map of the area we are in. And it can be customized depending on the main sport you practice, as well as set a specific zoom. It is also possible to choose which data we want to show on the dial instead of the time and battery.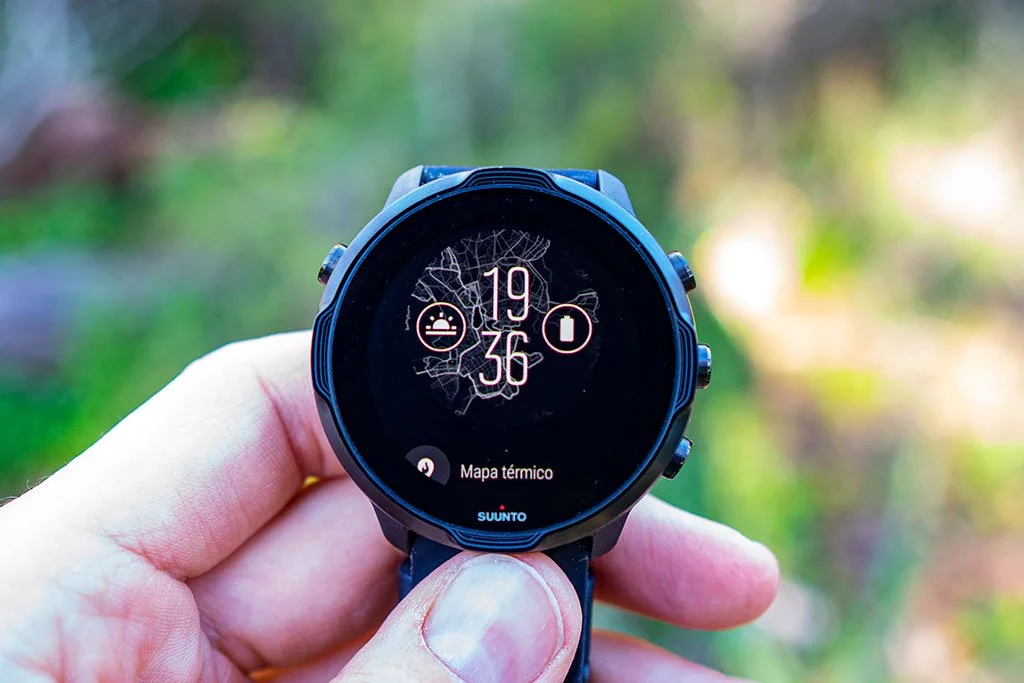 The map updates automatically when we change location. I can't tell you exactly what the update rate is, but I travel for work quite a few kilometers and whenever I have looked at the watch I find the correct map of the area, although I have not been constantly looking to see when it hasn't changed. 
If you don't like this watch face or want a more traditional one, Suunto has provided three more that we can select from the watch.
And if you still don't find any of them to your liking, don't worry because one of the positive aspects of Wear OS is absolute customization, and you can download any of the ones you find in the app store. I'm sure there are more than 1,000 watch faces available.
As for the display is AMOLED. It is possible to set the watch so that the display is always on, and in case of using a watch face compatible with low-power mode it will not have such a significant impact on battery life.
All Suuntos have this mode. It basically displays the time and keeps all other functions "frozen", updating once every minute. It is like recording the information on the screen, but it does not have a high refresh rate. And of course the map does not appear on the back until we activate the watch by pressing a button or the screen, or doing the twist of the wrist.
Watch control is the usual one with Wear OS. You can access different options by swiping on the screen, or access the apps with the buttons.
If we swipe from below we access the notifications.
Here we will find all the notifications that have been coming to the watch, although this is the most differentiated aspect between Android and iOS. While on Android we can manage notifications completely, including response to messages, etc. 
But on iOS it's not possible, we'll just see the notification and all we'll be able to do is delete it, that's all. Google or Suunto are not to blame on this, it's Apple's fault and how they block the phone OS. Only Apple Watch has access to these features. Bad on Apple's side.
Continuing with the possibilities of the watch, if we swipe from the left we access Google Assistant, another very important part of the Google ecosystem.
Its usefulness depends a lot on how involved you are within the platform. Maybe you don't have anything in Assistant and you're not going to take advantage of it beyond asking very generic things like weather, setting alarms, etc. 
But Google Assistant is a very powerful app that, properly used, opens the door to many things. For example I have all my home automation integrated with Google Assistant, and I can ask you to perform actions or turn on/off lights straight from the watch.
However, Assistant is rather slow to react, sometimes it will say that it doesn't have an Internet connection, and since in the end the watch needs to be connected to the phone to work it ends up being faster and more practical to open the Assistant app of the phone and operate from there (if you don't have a speaker nearby).
— Tip: Be careful if you set up a G Suite account as base for the watch, you'll be opening a door to hell because G Suite has a lot of blocked features. Assistant is just one of those issues —
If you want to talk to Assistant, there is no need to slide your finger to tap the microphone (or keep the battery-consuming "Ok, Google" detection active, which works only regularly), you can press and hold the left button and it will automatically launch the application.
That same left button, if you press it once, will allow us to access the apps menu. Here we will find everything that brings the watch by default plus any other apps that we download.
Among them we will also find the Google Play Store. This detail is important, because to install apps you do not need to do anything from the phone, everything can be done from the watch.
We can search for apps within the different categories it offers, through the voice or with a keyboard that surprisingly works very well despite the screen size.
The upper right button is reserved for the Suunto App, while the other two can be configured to launch any app that interests you most. I personally selected Google Pay for wireless payments and Google Play Music for music playback.
Wireless payments
---
And this gives me reason to talk about them, two bastions of Suunto 7 thanks to relying on Wear OS. You see, Suunto's choice of Wear OS is a double-edged weapon. The main problem that Suunto encounters is that they are now on a platform over which they have no control.
If Google decides tomorrow that its operating system will have a red wallpaper Suunto can't do anything about it, just as it can't alter OS functions at its will to improve what it thinks can improve for its customers. And this is a problem, because now they have to play by someone else's rules.
However, there are also positive aspects such as having a number of integrated functions that Suunto can access directly. One of them is wireless payments, a feature that Suunto was not going to develop because they simply lack the resources to do so.
Through Google Pay we can make wireless payments directly with the watch, having the data of our cards stored here. As a platform, I think Google Pay is the one that offers the most compatible banks, at least in Spain. We can add our card directly from our Google account, confirming with your phone, and then access them to make a payment.
Is it necessary to have payments on the watch? Well, of course, I think it's frankly useful.
https://www.facebook.com/correrunamaraton/photos/a.308731979326726/1352148984985015/?type=3&__xts__%5B0%5D=68.ARCaas5DubIOR10UT_OMW49ADaHNKxYWb6lhgf-oXeqbPq5AkRo3fvobuJxk86XDHhni1rYUGX83ZpjTeLrBHQEFBD2QFyyS5HF485O22m6KxutLp6DNIKnnCpu-sj6tQcaqZ165u6bGNAOjfnvTOu6jNPhuTjftCEIQWiOTeB60J4HvFXIfBzwY0APoCf9Iikv97VV3jEh-bYKkHnD4wyeR5hPiPnRuwjeDZYG_wrBBAKtl_JF6t81kZm0MhPU3rou0L5H6LflFEYblvhSE8OBGGQWUqOYfjH_r_nMrcXWwB2NZYVqpOqLywn-pQZDKOwe7zYJ74Xh2JSIFK63_N0ozig&__tn__=-R
Without going any further yesterday I had to get back in a cab from my training, a muscle overload prevented me from running while I was about 9 km from home. And I can thank I was able to pay for the cab with the watch, otherwise I would have had to take a little walk.
Music playback
---
Finally we have music playback. Here again I stress that this is a smartwatch, so we depend on what is available in the Google app store and not what Suunto could have included. 
There are a few apps to play music available, both from streaming platforms and by storing the music in the watch memory. However in this sense the most important is Play Music from Google.
I'm sure many of you will ask about Spotify. They have an app for Wear OS but it's limited to being a remote control for the phone app, it does not allow to download playlists or music.
But back to Play Music, the operation is very similar to any other streaming music application, with one exception: If you upload your music files to the platform you will be able to access them (and create playlists) without having to subscribe to the platform.
But if you want to access playlists, songs, etc. then you will have to opt for the Premium version.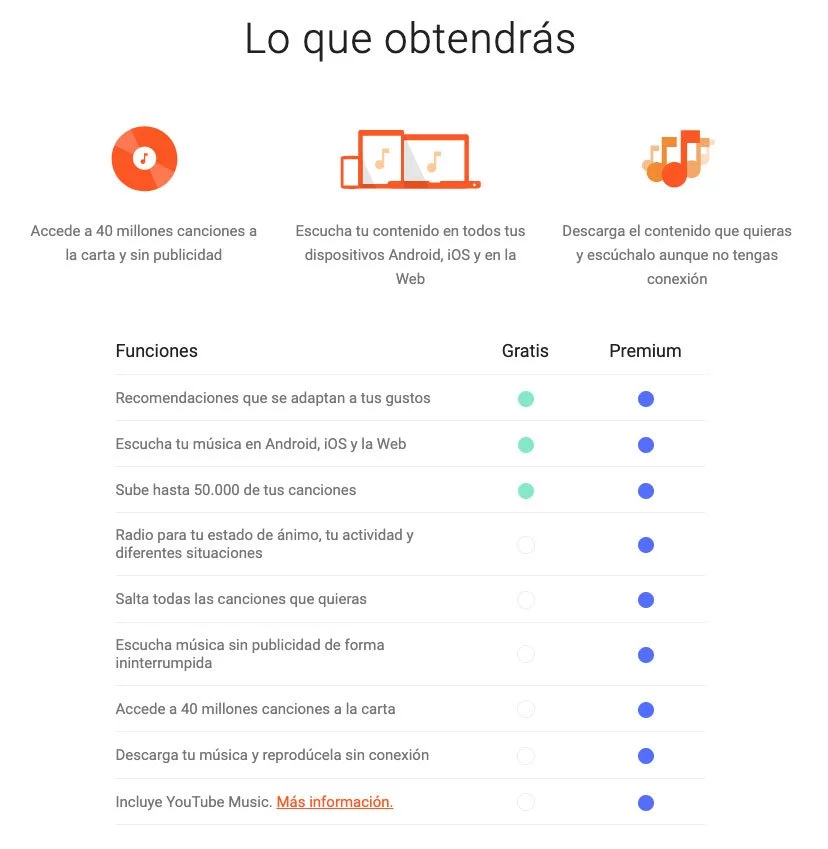 But as I say, if you are going to listen to music files that you have on your computer, podrás do it directly with Play Music. In fact it is not even necessary to "upload the file", when you share it Google detects that you have it and adds it to your library.
In short, as a smartwatch the Suunto 7 has a very good operation in general, especially if you are in the Android ecosystem as you'll be able to do complete management of notifications (something that Apple blocks for anything other than their Apple Watch).
I have used the watch mainly paired to an iPhone. I've had some connection issues, but I've also had them with other watches of different brands. The solution has always been the same: turn off and turn on Bluetooth on both devices and wait for the reconnection, and if it gets stubborn restart phone and watch. But as I say, the same thing has happened to me sometimes with Garmin, Suunto or Polar.
The interface feels pretty fast thanks to the Snapdragon 3100 processor; and as for the watch battery life, although I have a section specifically reserved to comment on these details, I find it quite in line with other similar smartwatches.
Using yesterday's example, I disconnected the from the charger at 7 am, with 3 hours of use of GPS on a bike ride and the rest of the day with always on screen mode (with energy saving). At 22:30 I still had 44% remaining battery, an experience very similar to what I've had in the past with other watches like the Apple Watch Series 5 in similar conditions.
On the smart watch part Suunto doesn't have much to do. The operating system is from Google and except for the design of the watch and button layout, Suunto does not have much poder of decision in the "smart" part. So I'll move on to talk about the specific work of Suunto, which is what raises the most blisters.
Suunto app for training
The Suunto app can offer two very different readings, and it all depends from the prism with which you look at it.
On one side I can tell you that it is a simple and easy to use application for those who want to take control of an active life and do not need too many details of their training.
Similarly I could tell you that the app is VERY basic and does not allow us to do anything extraordinary, and that it pales when compared to watches of a quarter of the price of Suunto 7.
In both cases the statement would be correct. This is where I bring back the term "the Suunto experience", which is ultimately what a user is looking for (and paying for) when buying a Suunto 7. 
Obviously we cannot pretend to find a Suunto 9 with an AMOLED display, because they are two very different watches and are oriented to quite different audiences. But I do believe that in a Suunto watch, physical activity must prevail and must meet a number of minimums. Minimums that in the case of Suunto 7 have not been reached.
But well, let's go step by step. The Suunto app has a shortcut through the top right button. Simply pressing it will open the main screen for satellite and heart rate search. 
In this screen we will be able to select the sport profile that we want to use or change some of the options. Once the GPS positioning is found, the map of the area will be displayed at the top.
GPS search is reasonably fast (it's compatible with GPS and GLONASS, plus BEIDU and QZSS), but to find the heart rate takes a little longer than I'm used to. This is because even if we configure the watch to track heart rate during the day, it will only do so at 15 minute intervals. Therefore, the watch has to do the procedure of registering our HR.
It's a little nuisance... it isn't that important either. Let's move on. The watch has 70 different sport modes, very similar to what we find in the rest of the Suunto range.
It's not that there are 70 different sports, depending on the sport there are several types of profiles, depending on how the training we are going to perform. For example when it comes to Running we can choose among all these:
Basic
Invervals
Basic trail running
Race
Indoor running (GPS off)
Cycling is the same. Then we find different sections such as indoor sports (gymnastics, yoga, pilates, etc.), outdoor adventure (hiking, paragliding, climbing, etc.), winter sports (cross-country skiing, snowboarding, telemark, etc.) and so on until we complete the 70 sports.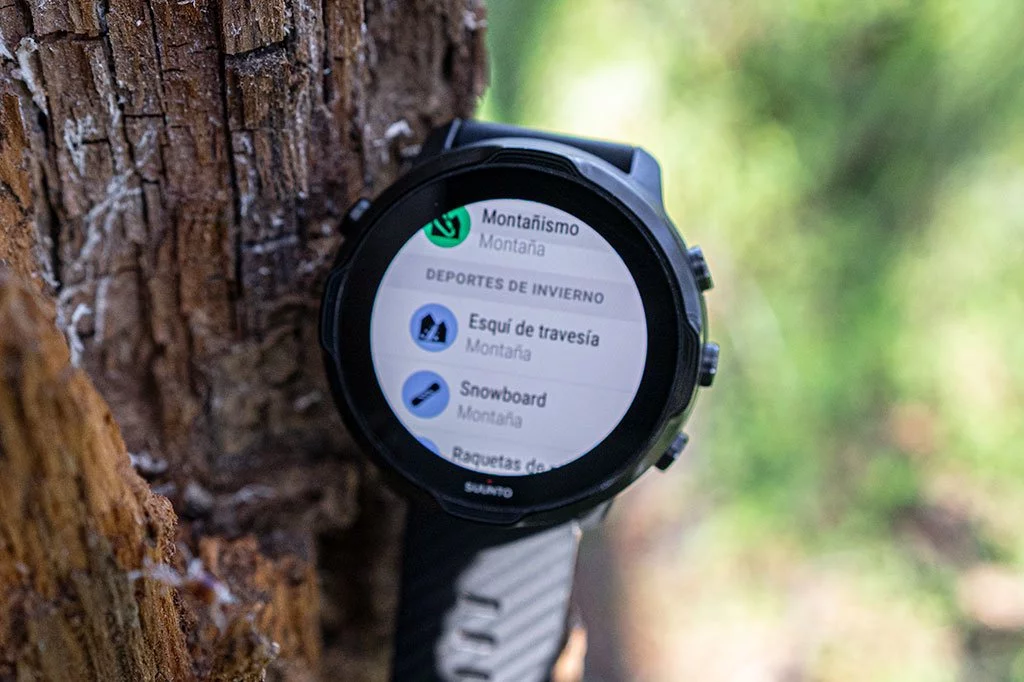 So, if there are up to four running profiles, what is the difference between them? Simply the data screens they offer. Here is the first stumbling block that the most advanced users will encounter: it is not possible to customize sports profiles.
What it brings is what you have to use, with the data Suunto has chosen and in the position they have estimated that most will like. I repeat, it is not possible to configure them either from the app or from the watch.
This already happened years ago with the Suunto Spartan, they also came to the market without the possibility of customizing the sport profiles. After many criticisms to Suunto, the possibility was finally enabled (although not 100%, there are still sports like triathlon that do not accept changes). But of course, that was a watch destined for a very specific market segment that did not understand, and rightly so, the fact that it was not able to configure its own data screens.
In the case of Suunto 7, I consider that this is not such a determining factor. Of course I would like to have that possibility, but my usage profile is different from that which Suunto has guided this model to.
Is it possible for Suunto to update the app and allow it? It is possible, but at the moment they have not said anything about it.
———
Updated July 1st 2020
The latest firmware update for the Suunto 7 includes the possibility of creating new sport profiles, which we can configure directly from the Suunto application. So one of the main demands I made on Suunto 7 is covered.
This configuration can be done from the device settings, where we now find an option called "Customize sport mode". By clicking on it 1TP10We can edit the sports that we are not going to use, sort them or finally, click on the long-awaited button CREATE SPORT MODE.
You can select the sport you want to set up from the long list of available sports offered by Suunto, and from there you can start customizing your profile any way you prefer.
It allows us to configure up to three screens, after which the screen with the map is added (if it applies to the sport profile you are setting).
These screens can have between 2 and 6 data fields (plus the fixed fields that appear on all screens: activity time, time of day and heart rate zone graph displayed on the outer ring). In addition to those you can also add a screen with graphics or the laps summary. The data options to include are quite extensive, something common in Suunto watches.
In short, a screen configuration similar to what we can have in the Suunto 9 for example.
———
It's the same with respect to the rest of customization and configuration... the user can do almost nothing about configuration. There is no possibility to enable or disable automatic laps, or change the distance for that automatic lap. No automatic pause/start. No GPS only or GPS+GLONASS. Neither edit heart rate zones... Of course interval workouts are out of the questions (another of the most common complaints among Suunto users).
We only have access to set on or off tones and vibration (which can be turned on or off independently), and select whether we want to leave the screen always on.
And this is where I emphasize again which user the watch is intended for. We must not forget that the best-selling wearable is currently the Apple Watch. Have you heard any of its users complaining about not poder editing heart rate zones? Or not having interval training? Me neither. 
The remaining options relate to maps and general options in terms of profile, metrics and integration with Google Fit.
These have not been the only criticism Suunto 7 has received. It also does not support external sensors of any kind. I'm not talking about more specific sensors like a footpod or a power meter, it's that it doesn't even allow us to use an external heart rate sensor. 
It is not a limitation of the watch or operating system, in fact we can download any other training app and connect to external sensors.
Again I think about the type of user of such a watch. For me this would mean discounting it automatically because I need a series of sensors for my workouts. But I'm sure 95% of the world's running community don't even know what a power meter is. And they don't care.
But back to the app again. By default the option to keep the screen on is disabled, if we want to see the data screen we can do it by pressing the left button or doing the classic wrist gesture. Then our training screen will appear with all its liveliness and colors (which I repeat, is simply magnificent) and we will be able to move between the data, the lap summary or the map.
When the watch is not displaying the data screens it switches to a low battery consumption mode. In that mode there is no information on the screen, just an empty screen that simply displays a reminder of what each button is for.
———
September 2020 update
Among the new features in the PXDZ.200824.005 update, one of them covers precisely this issue.
The Suunto app already has a low-power mode in which the display stays always on, replacing the function of keeping the screen on normally (and devouring the battery).
That's what it looks like now. The first image corresponds to the normal view, the second is the new low-power mode taking advantage of the OLED display.
It is much more comfortable than before because you can see the data at a quick glance, regardless of whether the screen is turned on or not. 
———
One thing to be thankful is that when we pause the activity we can see the different data that is on the screen.
After finishing the workout we will have the summary of the activity which, as usual in Suunto, is quite complete and makes use of many graphs. 
We also have training load data (EPOC, PTE and recovery time), but unfortunately these data are not used later at all, because the Suunto App does not have any graphics about it. 
These data did pass in Movescount to several graphs where you can see the evolution of the training load, the PTE, the recovery time... But after many months of development they have not yet reached the Suunto App, and the new watches are not allowed to be used with Movescount (Suunto 7 and Suunto 5). As I say this is not an issue exclusive to Suunto 7, it is something that affects the entire range, and it is something that I do care for Suunto 5 and Suunto 9, and not so much for the 7.
Once the workout is synced we will have the same data that you have seen in the activity summary, but with full access from the phone app to see our performance. 
As an analysis of the workout is quite fine, but again I repeat in the lack of long-term perspective of what our training is, training load, recovery, etc.
And to continue talking about the shortcomings of the application, we have the daily activity data. To understand what the existing problem is you have to differentiate on the watch which part is "Google" and which part is "Suunto". Because unlike other watches where everything is "Suunto", in the case of smart watches it is very different.
In this watch the "Suunto" part is its training application, which is the one I just explained above. And everything else, let's say, would correspond to Google, which is who develops the operating system, and to the operating system's own applications: in this case Google Fit.
And as activity tracking Google Fit is anything but efficient. Google has spent a lot of cash purchasing Fitbit precisely to improve this integration, but it is something that will come in the medium term. But if we open today the Google Fit app to check how active our day has been, we will simply find these (few) details.
As I say, that's Google's part, because it's "the operating system section" that is active in sleep mode. Here the Suunto application is not open, so it is not recording any activity data. 
The problem is that the Suunto app, when opened, does not "ask" Google Fit to request what the day's activity data has been, to then poder add it to its platform. 
The way to proceed would be to let Google Fit make the recording in the background and, when opening the application, the Suunto app (the one on the watch, not the phone) access that activity data to process it and send it over to its platform, the Suunto App (the one on the phone). 
However, this is what I find when I open the Suunto App.
These activity data come from having used Suunto 9 at some point during these days if I wanted to make a specific comparison. But there are no records from the Suunto 7.
———
Updated July 1st 2020
The latest firmware update for the Suunto 7 includes step information, calories consumed and recovery time in a new widget that can be added to the watch.
In addition, that data is already displayed in the Suunto application.
Therefore, the second initial problem is fixed as well.
———
Suunto has a lot of work ahead of them. They need to invest heavily in developers and put all their software (watches and apps) to the level that a 2020 user needs. Making exceptional hardware is no longer enough, now you have to include appropriate software.
Now the question that needs to be asked is, will the user to whom this model is oriented to demand these changes? That is the question that I emphasize at the beginning, we have to think about who is the target audience of this model.
If we consider that the target audience will be an active person that wants smartwatch to use in a day to day basis and that also has a good design, then it is quite likely that the possibility of configuring the data screens for sports profiles doesn't worry him too much. That same user probably doesn't have an external heart rate sensor because he doesn't need heart rate data to tell him anything beyond the intensity of a workout.
Does the Suunto 7 meet the demands of that user? Does it meet the demands of a much more active person with "other concerns" in terms of physical activity? No, but that is not its objective, for that the brand already has the Suunto 9 Baro.
In the end it all depends on the level of involvement in the "Suunto experience" that the buyer wants to have.
One of the selling points of Suunto 7 at its presentation was the maps. And not just "empty" maps, but the integration with the Suunto heat maps. A fantastic idea on paper that then had to be materialized in the watch.
There are a multitude of maps, each showing different information. We have normal and winter maps. And then there are up to 15 different heat maps for different sports: running, cycling, skiing, golf, mountaineering, etc.
What the heat map shows is the popular routes in that area, information that comes from what other users have uploaded to the Suunto platform. That is, if there are 10,000 running activities along a promenade, that point will be marked as "hot". On the other hand, the path that you walk along warming up from your home to the gym, and that only you record, will not be.
The watch can display the maps without having to be connected to the phone, but unlike Garmin maps, they will only be from a certain area. The download can be automatic, but to do this the watch has to be connected to a private WiFi network, which may not be the simplest thing in the event of a trip.
But there's no problem, because we can download an area previously from the watch itself, selecting a square area of 70×70 kilometers.
The download will not be automatic, because to do so the watch needs to be connected not only to the WiFi but also to the charger.
In either case (either manual or automatic download) the watch will display a notification letting us know that the download has already been completed.
My recommendation is that if you plan to make a trip and you will need the maps, download them in advance, because you don't know when you will have a private network to which you can connect, and if you will be able to do so with the watch charging and for long enough to download the map.
What can we do with the maps? For now little more than contemplating them in all their beauty. As of today, Suunto 7 does not support route navigation. 
———
September 2020 update
Finally, after the update received in September 2020, Suunto 7 can now use the maps as intended. 
From the mobile app we can create a new route, import a GPX file or use a popular route that we can quickly find in the application. Because these popular routes are another new feature present in the latest version of the Suunto App (which has improved quite a lot).
When viewing a route created, popular from the application or imported in GPX; at the bottom of the screen you have a button to "Use on watch". This will synchronize the route with the Suunto 7 for poder to use it later.
When it comes to selecting a route, a screen will open where you can see in great detail what we are going to do and where we are going to go. As an example, this test route to take my kid to English class.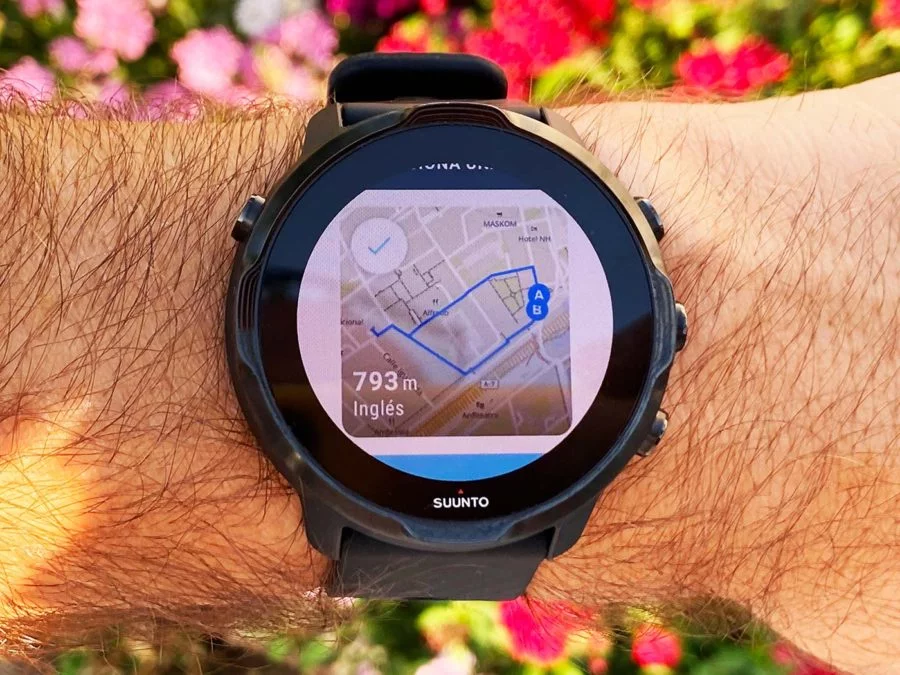 Maps are not routable. At no time will we receive a notification indicating that we should turn right on Main Street or take the third exit of the roundabout.
But it is not something that bothers me, because the use of this navigation is not oriented to be used on the bike (where those messages would make sense), but on the mountain where the only thing that can happen is that we reach a fork and want to confirm if we have to continue on one road or another.
To help you understand how maps and navigation work in the Suunto 7, get to the idea that they are multiple layers overlapping. The first layer is the background map (you can choose different styles such as heat maps, outdoor maps, winter maps, etc.).
A second layer would draw the route that we downloaded to the watch. In the image below is the route that is drawn in blue (point A is the starting point, point B would be the arrival if there are no more intermediate points). Our mission is to follow that route marked in blue.
Finally we have a third layer, which is the actual route we are following (and in the image you will see in red).
As you can see on the map screen, you can see the remaining distance to the next point (destination in this case, 782m), plus the estimated arrival time and remaining time depending on the current pace. 
We can move around the screen completely intuitively, because that is one of the advantages of a smart watch like the Suunto 7. Just by swiping your finger on the screen you can move the map quickly and without delay, being able to check at any time where the route is heading and other options that might be around us.
There are many zoom levels (from 10m to 3,000km), which you can modify with the top and bottom buttons of the watch. We can explore the surroundings by swiping your finger on the screen (as if you were using Google Maps on your phone), and with a simple tap on the screen you will return to your location.
How does this navigation compare to other watches with maps? (Right now only Garmin). Better in some cases, and lacking options in others.
In the case of Garmin, the maps we have are like those you are used to use on your car. You can go to a certain point of interest, or to a street, or to the center of a village; creating the route directly from the watch and without needing anything else to do it. They are much more powerful in that sense because you have so much more freedom. We can also have notice of a turn in advance, making sure that we are not going to miss a turn (in Suunto 7 we only receive one notification when leaving the route, and another notification when returning to it).
However, at the time of having to do any query of the route, everything is kind of clumsy and slower. With the buttons you need to vary zoom, then move vertically, then horizontally, and finally zoom in again. And you'll have to do that every time you want to check something.
Compared to the Suunto, they look like two totally different generations. The Suunto 7 allows you to explore, move, zoom in, change the type of map... everything is immediate, there is no wait. The processor is much more powerful and the touchscreen responds perfectly.
———
Battery life
When it comes to assessing the battery life of the Suunto 7, do not forget that this is a smartwatch. The requirements are very different from what we can find in a traditional sports watch because the energy consumption demanded by the different components is very different.
The battery has to power an AMOLED display of high quality and brightness, a powerful chip like the Snapdragon 3100, an operating system in constant operation like Wear OS... is like comparing the fuel consumption of a Renault Twingo with that of a Toyota Land Cruiser.
Based on these premises it is necessary to analyze whether the figures given by the manufacturer are met, in what form it does and what possibilities it offers, because this is not like a Suunto 9 in which the most we can do is activate or disable heart rate monitoring. In Suunto 7 every option we choose in the settings menu can have a significant impact.
According to the manufacturer, the Suunto 7 could reach up to 48 hours in smartwatch mode. But that would be in the most extreme case, selecting the most battery-saving options and disabling functions (and without using GPS or music).
Honestly, I don't think the watch is meant for that. There is no point in buying a smartwatch to disable functions and try to reach two days of battery life, especially considering that it has no sleep tracking (although there are apps available on Google Play that would track it).
So what I'm looking for is to get a good performance throughout the day, having some room at night for charging. That's how I understand smartwatches and that's how I've always used them, both on Apple Watch and on this Suunto 7.
By default these are the settings that the watch has configured in the menu:
Tilt to turn on - off
Save battery based on tilt - on
Tilt to light - on
Always On Screen - off
I think the savings after disabling the always on screen option is very scarce. I used the watch with the screen always on and off, and at the end of the day I did not see a noticeable difference in battery left. Having the option to save battery based on tilt turned on, what the watch does is to show a display with time and complications, but in a low power mode.
Although the Suunto 7 is not advertised as an always-on screen watch, as does Apple Watch Series 5 or Fitbit Versa 2, don't forget that it uses an AMOLED display. One of the advantages is that unlike an LCD, you can independently illuminate pixels (and not illuminate the full screen).
So that low-power mode what it does is illuminate fewer pixels and at lower intensity without having a significant impact on the battery. It also eliminates the use of color, refreshment with time seconds, etc.
Keeping the display always one will make the watch faster turning on when you turn your wrist, it will display notifications earlier because it will first do so in low power mode and, in general, the use of the watch feels faster. 
However, the option that does drain the battery is to keep the screen active during workouts. Suunto does not have a low power display mode for your application.. For example Apple does have it for its sports application, and what it does is to display the information with a slower refresh rate, without milliseconds and without any color. And turning the wrist activates the normal mode.
If we select the screen always on, it will never go to sleep, so it is an option to consider according to the circumstances. Maybe in an interval workout it makes sense to have it active, because we are more aware of the watch and we have some pace or heart rate to fulfill. Normally it will be a shorter workout and will not make such a high impact.
But in a long run or bike ride there is no point in using the always on display, because in 2 or 3 hours the battery will literally evaporate.
I've done a 2 hour bike rid with active screen during the activity, and screen disabled during the rest of the day, resulting in reaching 22h with 2% remaining battery.
And yet another 3 hour ride with screen disabled during the workout and screen always on the rest of the day, and I reached the night with more than 40% battery left.
Regarding GPS use, Suunto declares a maximum of 12 hours. I tried to do the test as I did in the past, leaving the watch recording a workout until it runs out of battery. But all the new watches detects when they are not on the wrist and turn off the OHR sensor, so it wouldn't be a reliable test. 
My experience says that the data provided by the manufacturer is usually quite accurate, but keep in mind that in a watch like this the duration can change a lot depending on how you use it: how many times you turn on the watch (activating the screen), use of map, music, etc. 
———
September 2020 update
Another new feature included in the September update was to provide the watch with the FusedTrack function, similar to the one that Suunto presented with Suunto 9.
This way, we can choose to record GPS location every 10s (instead of 1s) and then the watch, thanks to its internal sensors -accelerometers and compass- determine quite accurately our location, pace and distance traveled.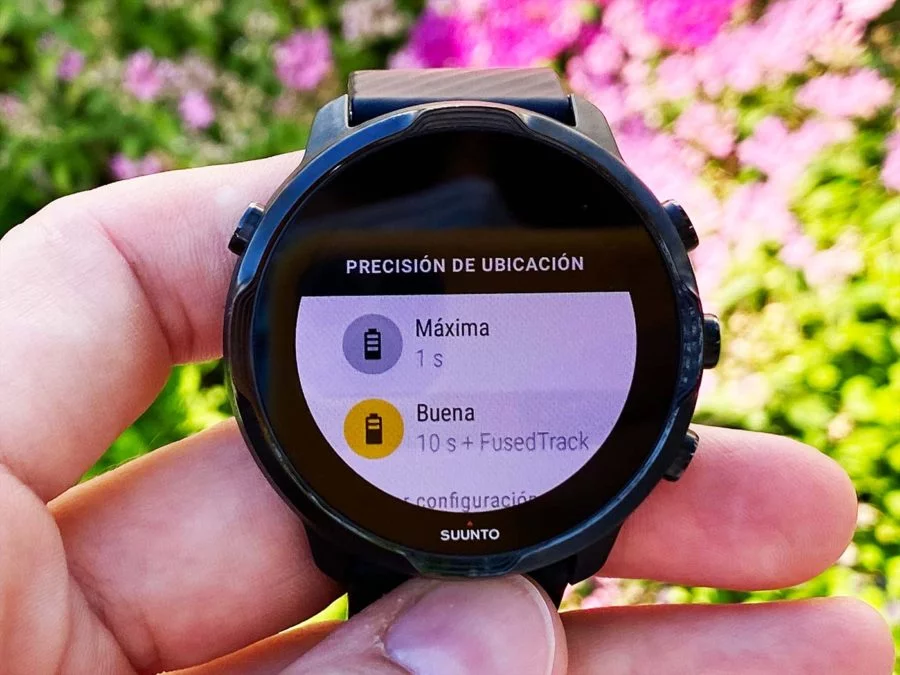 Obviously the data will not be perfect, and whenever possible it is best to opt for the maximum precision option. But the advantage we have with this mode is that we can activate it at any time, for example if we see that we are going to have trouble finishing our route with some battery left.
And unlike Suunto 9, in the case of Suunto 7 FusedTrack works for both for running and cycling activities (on Suunto 9 cycling does not allow FusedTrack). You can take a look at the Suunto 9 review to see the performance of this feature.
———
Finally, we would like to comment on the battery saving function. In this mode the smartwatch becomes "dumb" and deactivates absolutely all its functions, displaying only time and date on the screen.
You can enable this mode at any time from the watch settings. According to Suunto we could have the watch turned on in that mode for up to 40 days if you activate it with the full battery.
We might think that under some circumstances it would be interesting to carry it in that mode until we need to do some training, but it is somewhat uncomfortable because to get out of it it is necessary to hold down the power button until the watch performs the complete reset procedure, so it is not something instantaneous.
Still, it can be an option if you want to make sure you get to the starting line of a race with the battery as charged as possible.
This mode will be activated automatically when you reach a critically low level.
Optical heart rate sensor
The optical heart rate sensor found in the Suunto 7 has nothing to do with the Valencell that equips the rest of the Suunto range. The truth is that Valencell is already showing the years and although it showed a very good result in the past (for example in the Mio Link), many manufacturers have already improved it. 
The Suunto 7 however has nothing to do with the rest of the range, and it equips on this one occasion a sensor that by the data I have, is developed by LifeQ. 
It's neither good nor bad, it's just one more detail to keep in mind in the sense of not having previous information about its performance. 
An important detail regarding the use of the sensor is that even if we enable heart rate tracking at rest in Google Fit, it will only perform one measurement every 15 minutes. That equates to 4 measurements every hour, or 96 records of data over a day. It is clearly totally insufficient and does not provide any useful information.
This data is transmitted to Google Fit, which does not help when viewing any relevant information (again, there is no integration with the Suunto app).
But let's dive specifically on the sensor performance during workouts. Before showing you comparisons of different sensors, I would like to recall some basic aspects of optical sensors.
Keep in mind that a wrist heart rate monitor does not work the same way on all bodies. We're all different, and if we put things in the equation like skin tone, tattoos, body hair... the difference from person to person can be quite big.
In my tests it is not that the spectrum of users is very broad: it is me, myself and I. So what works well for me might not do it for someone else, or it might be better.
But the most important thing to keep in mind is that you have to follow some guidelines to wear the sensor. It should be tight (but not cut off your circulation), enough to keep the watch from moving freely on your wrist, leaving a separation of approximately one finger from the wrist bone. By following these details you will ensure that you get the best results that your conditions can offer.
During the several weeks in which I have been testing the Suunto 7 I have had the opportunity to record multiple workouts, from which I have selected the ones that you will see below.
I'll start with something easy, a workout that although it was hilly, the intensity is constant. There are no major changes and the only notable changes have been to stop before crossing some street.
For this workout in addition to Suunto 7 I wore the COROS APEX Pro, Amazfit Stratos 3, Garmin Forerunner 945 paired with HRM-Tri and the Polar OH1+ recording autonomously.
At a quick glance we can see that there is unanimity practice in all five graphs, although I have pointed out a couple of areas on which I want to focus a little more.
First we have a decrease in intensity, which occurs when I finish climbing the first of the hills and start with a slight descent. In addition to getting off I have to cross a crosswalk, so I slow down to keep an eye on the cars.
It's on intensity changes that OHR sensors show a slight delay (because they do not measure the heart rate directly, but by means of an algorithm).
The first to show a downward graph is the chest sensor (which does make a direct measurement), which is always the usual behavior. Suunto 7 follows closely and a few seconds later the others arrive.
The second mark I made was because I was struck by the irregularities it shows. And it's not something specific to one of the sensors, it's something that happens in general with all of them. And honestly, I have no explanation to give you of this behavior.
Let's move on to another similar workout, although it is a fartlek with no hills making some stretches faster than others. Same members in the comparison as in the previous training, although now it is the Garmin FR935 the one that's paired with the HRM-Tri sensor and the COROS has dropped.
Hard start for Suunto 7, which has taken almost 10 minutes to find the right heart rate. It is not strange that the start of the activity is difficult (in fact Stratos 3 also suffers it), but it does not usually last that long. But when the Suunto 7 already finds the correct heart rate it doesn't abandon it for the rest of the workout.
Again I made two marks on the graph to zoom, which corresponds to two dips in intensity which is where you can see some difference between the different sensors.
The behavior is repeated with respect to the images we have seen in the example at the beginning, with the Suunto 7 with almost the same immediacy of response as the chest sensor, while both Stratos 3 and Polar Oh1+ do so with a bit more delay.
Next workout, this one really hard for OHR: short and intense intervals. In this type of workout the intervals are so short that the sensors hardly have time to adjust the reading to the intensity, both because of the rapid variation and the changes in the run pace.
Honestly, I don't expect any optical sensor to be able to track them correctly. Technology is not at that point yet.
There are four blocks of intervals made, I will expand each of them to better appreciate the differences.
In the first interval block Suunto 7 does so reasonably well given the difficulty posed by this type of workout. There is not too much lag in the intensity rise or decrease except in intervals 4, 5 and 8. Stratos 3 only hits with the first two intervals and then ends dizzy.
Very similar situation in the second block, with the Suunto 7 behaving reasonably good and the Stratos 3 tremendously bad.
However, in third and fourth blocks it seems that Suunto 7 loses the fineness with which it had begun and, although it has a fairly correct rise and fall, in the peaks of the interval it is completely lost. Maybe it's because of the build-up of sweat?
Next we go with a more usual interval workout. I went to the track, making a 6×1200 in which the central 400 I ran at a slightly lower pace.
In this case, the COROS APEX Pro takes time to join the rest, while the Suunto 7 is immediately incorporated into the same heart rate as the Polar H10 paired with the Garmin.
Again we can see a good performance from the optical heart rate sensor of the Suunto 7 (the teal graph in this case). There are only two points where it behaves slightly out of normal at the end of the first interval.

As for cycling there is no surprise, it is mandatory to have an external heart rate sensor if we want to have good heart rate data, there is no other option. Too bad the Suunto App doesn't support it, we would have to use another app if we want to have reliable heart rate data.
Cycling behavior apart (which is usually bad in the vast majority of watches with optical sensors), I personally had no issues with the OHR sensor in the Suunto 7. This contrasts with the results obtained by other reviewers, such as DCR or The5KRunner. As I have commented with them, perhaps the temperature could be an explanation for why they have had bad results and yet mine have been really good.
What's more, in terms of behavior in interval training, I haven't had as good results in an optical sensor for some time as I have got with Suunto 7.
GPS Performance
Like the optical heart rate sensor tests you have just seen, GPS comparisons are made in the same way: with watches accompanying me in my usual workouts. Carrying both the Suunto 7 and other models, and checking where the problems appear.
I don't have a defined path to establish a score for the simple reason that there are other external factors that we should never forget. Things like clouds, leaves on the trees or simply the position of the satellite can alter the GPS results from one day to the next. 
This is why I prefer to make this type of comparison instead of having a predefined route and assess it from this one.
I'll start with this workout where there are several turns and I mix areas where the reception has to be very good, with others where there are many difficulties. Add also that the day was quite cloudy, which adds another degree of difficulty.
For this workout I wore the Suunto 7 on my left wrist, the COROS APEX Pro on my right wrist, while I carried the FR945 and Stratos 3 on my left and right hands respectively.
I'll start with this area next to the freeway. Straight line, no buildings or trees blocking the visibility of the sky, i.e. conditions that must be very easy for any watch.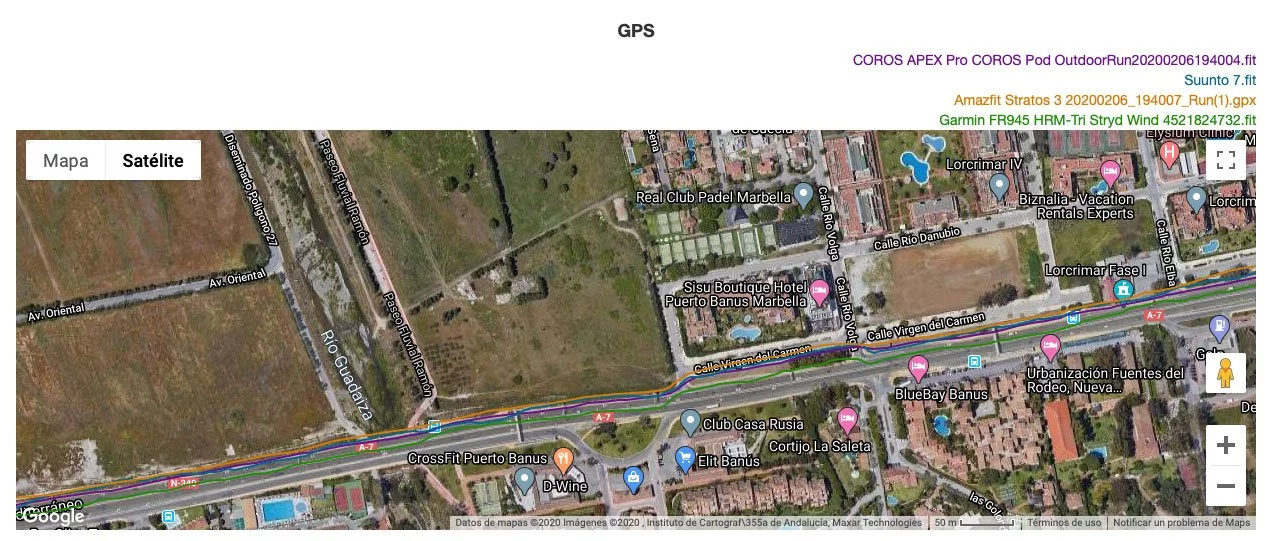 They all draw their track quite correctly, although the Garmin moves one or two meters to the right.
However with turns problems begin. At this point the Stratos 3 arrives quite dislocated and cuts the corner, but because it has already been far behind with the incidence (track in yellow color). Suunto 7 and COROS APEX Pro behave quite well, while the Garmin FR945 is quite lost, something that will be repeated throughout the workout on more than one occasion...
At this point I finish climbing up the hill that I started to ascend in the previous turn. It is a narrow street with trees on both sides of the road. The COROS APEX Pro draws a downright good path, the Suunto 7 cuts the corner slightly but without being too exaggerated.
The ones that do make an exaggerated cut are the Stratos 3 (which then goes long in the next turn) and of course the Garmin FR945, which hasn't heard too much of what the story is about yet.
And yet at this point it is the Suunto 7 which is completely separated from the other three watches. It may seem that its track is the worst among them, but truth told is that it is the only one of the four that hits the right side of the road, because I'm running down the sidewalk on the right. 
Despite the fact that both COROS and Stratos 3 are displaced several meters to the left of the actual route, the graph they draw is correct; not like the FR945, which in addition to being displaced, has quite a bit of hesitation.
Let's go to a point of conflict with a very sharp turn. It is also a hill with a 15% degree, so the speed is very slow, something that does not help with GPS data because the points are very little separated from each other.
In general all four watches do bad at this point (as I say because of the low speed), although at least the Suunto 7 is the only one that understands the turn well. 
Here I am already accelerating the pace, something that is perfectly noticeable in all the tracks (except for the FR945 that is quite lost again... I think I will have to make a full reset because it has some problems...).
In this zone of fast turns the behavior is positive on everyone's part. You can see a separation between the four because I have two watches on one side of the body and the other two on the other. That's why Suunto 7 and Garmin FR945 are shown on one side while COROS and Stratos are on the other.
Change of course to a much flatter one in which I do less turns besides being able to run something faster. In this case in addition to the Suunto 7 we have the Amazfit Stratos 3 and the Garmin FR935.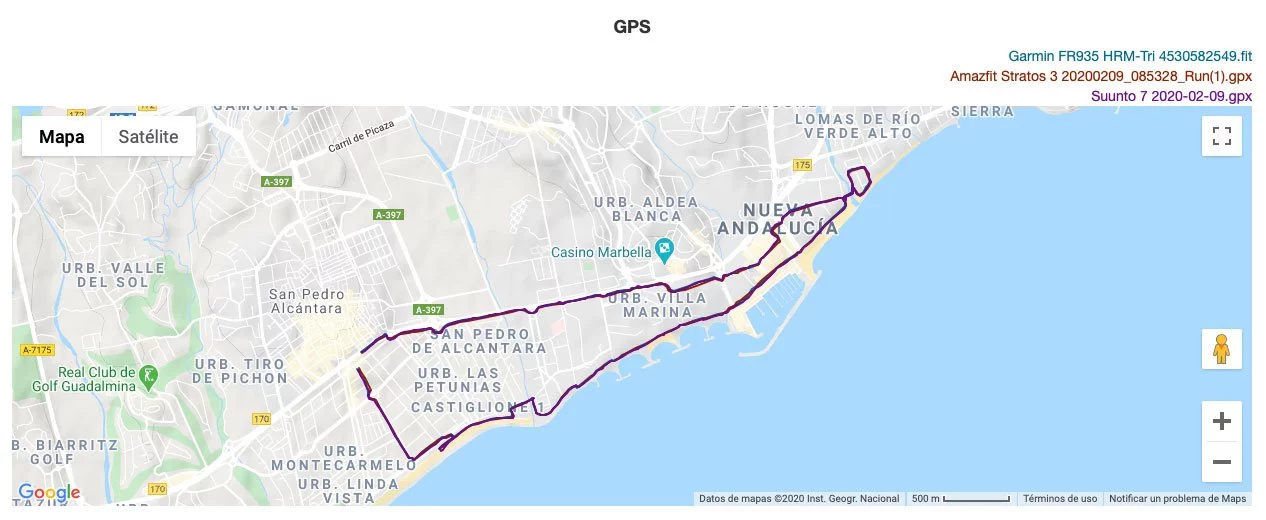 Bird's eye view doesn't seem to show a lot of discrepancies... but we're going to zoom in to see the details better.
This is the same highway point I highlighted before, except that it is on the other side of the road. In general all three watches behave well, with some discrepancy of centimeters up or down, but a good result for all three even in the semi roundabout I pointed out at the most right point.
However, I made another mark on the Suunto 7 track. Until then everything had gone correctly, but at that point there is a small detour of the route. I wouldn't have given it any greater importance if it weren't for what I could see next.
It is something that it repeats again on more occasions. As I say above it is a fully open area (I'm running next to the highway), so there is nothing that can affect the signal. In the meantime, the Stratos 3 -red track- and FR935 -in blue- make a perfectly straight line.
Here things start to get complicated because I enter Puerto Banus and start running between buildings or even below them.
In the first area marked on the left is the Suunto 7 the one that nailed the route, while Stratos 3 changes sidewalk. Here we are already talking about several meters of error, although in general the track is positive because there are no major deviations. That positioning error can be seen in the track, but it won't affect us in terms of total distance or the pace that the watch is showing.
After crossing the roundabout, I make another mark. At that point I pass under trees and balconies of the building so the signal reception is very complicated, especially for the Amazfit Stratos 3 which is the one I carry on my right wrist. Here the Garmin is the one that shows some doubts, while Suunto 7 and Stratos 3 make a fairly straight track.
At the bottom of that picture is the way back I've made on the route. Usually it's always a complicated point, because of the signal that bounces from buildings and running under a row of trees. The three watches behave correctly this time, although you can see a slight shift to the right by the Stratos 3 and to the left by the Suunto 7. The Garmin, which is the one in the center, is the one that shows the correct path.
Let's keep going down the road. At the point I make the turn, bordering a block, the Suunto 7 shows some doubts, but it's worse when crossing the bridge again where it makes a rather strange turn. 
The pattern that follows is very similar to the one I pointed out at the beginning when passing through the highway area. Meanwhile the Stratos 3 is very well entrenched on the route.
One of the points that I use the most in the comparisons is this small turn that you can see in the following image. It is a very fast change of direction, as if it were a "chicane", where the road to travel is very narrow and you can quickly see which watch is more successful. 
On this occasion it is the Suunto 7 that nailed the turn. The Stratos 3 draws it earlier while the FR935 is late to the party. However, despite how well it was going up to that point, the Suunto 7 deviates slightly further.
Second zone that I like very much for the comparisons is this next one, because of the accused turns and how easy it is to appreciate if there are errors by any of the watches I'm wearing that day. 
In the right turn to the entrance to the bridge, I have to save a fence next to the road. To do this, I have to move to the right about two meters and then make a 180 degree turn. It is a twist that both the Garmin and the Stratos 3 have made correctly, but that in the case of the Suunto 7 it has opened too much.
The next conflicting point is the turn ahead (on the left side of the image), where the FR935 shamelessly cropped. For its part, the Stratos 3 cuts a bit of the corner and the Suunto 7 adds an extra meter. 
Let's finish with a different route, accompanied by his brother the Suunto 9 and the Polar Vantage M.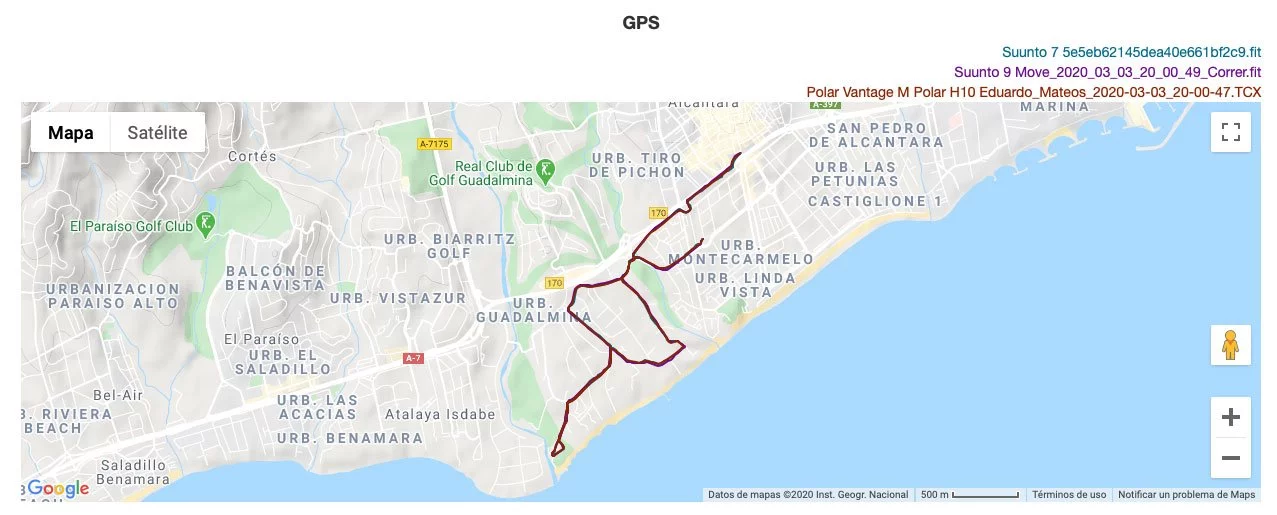 This is the beginning. It is somewhat irregular on the Suunto 7, while the Suunto 9 is shifted to the right (it is the one on the right wrist). The correct path I went through is the one marked by the Vantage M.
It does not take long to stabilize, and later both the Suunto 7 and the Vantage M are in line showing the same route.
In this workout the overall performance of the Suunto 7 has been good. In this area there are quite a few turns along quite narrow streets, I am surrounded by walls and houses; although it is true that they are not very high so they should not present too much of a problem to the reception of satellites.
A little further the Suunto 7 has a slip, but quickly returns to the correct route along with the Vantage M on my left hand. The Suunto 9 is quite accused of going on the right wrist and moves a meter to that side.
However, where I have marked with the arrow is the Suunto 7 which performs perfectly, since the Vantage M cuts the curve by quite a bit.
've also made quite a few bike rides accompanied by the Suunto 7, but it is not worth showing you those tracks because the speed is much higher and it does not show any accuracy issues.
I have had good GPS performance with the Suunto 7, with its slight point-in-time errors as can happen with any other model, but with satisfactory behavior in general. Even at times I have had more precision than with Suunto 9.
Suunto 7 against it's competitors
After all this I can only analyze and compare the Suunto 7 with respect to all its competition, because despite being a concept that we do not find in the market on a regular basis, it does not mean that it has no rivals. In fact it has them, each of them brings some advantages that the Suunto does not offer, but there are also other things that the Suunto does offer and the others do not."Pick and choose".
There is no doubt about it. In 2020 when we think "smart watch" the Apple Watch is what comes to mind. It is the undisputed leader in the market and has become the measuring stick.
Apple has been much longer on the game, with the Apple Watch Series 5 is their fifth version of the watch. They have focused primarily on health and the tracking of an active life. In that sense Apple's proposal is much more complete than what Google offers with Fit. The purchase of Fitbit was mainly made to bridge those differences, although it has not yet materialized.
But Suunto can play the trick of Android, where Apple Watch is not present. There are many millions of potential users who have not yet found a watch that meets their needs and Suunto wants the 7 to be the one to do it.
But not only Android, Apple can also be a good fishing ground for Suunto if it plays the trick of software more focused on sport than Apple Watch brings (something that doesn't look like Apple is planning to do). But for that Suunto needs to develop a lot more the watch app and offer everything they are capable of offering.
The price of the Suunto 7 and the Apple Watch Series 5 is very similar. The problem for Suunto? Apple's Series 3 Watch is still on sale from 229€.
Garmin has been "fooling around" with offering a smartwatch for some time. It is the market that it wanted to attack with the Venu, the first Garmin watch with AMOLED display.
However in the smartwatch department it falls far short of the Suunto 7. My main criticism has been that it is "just" a Vivoactive 4 with a nicer screen, but it doesn't have an interface that matches its gorgeous display nor does it take advantage of it at any point beyond a flashier watch face. 
As for smart features yes, it shows notifications and has apps, but you can't even get close to what Wear OS can offer in that sense. Its battery life is greater, but the one who wants a smartwatch usually doesn't mind charging the watch every one or two days.
However, in terms of sports functions the Garmin is far above the Suunto 7. The only thing that can save Suunto in this comparison are the maps, but until they add navigation, it is not such an important advantage. 
With Venu Suunto has a problem: it's quite cheaper. But it all depends whether you're looking for a smartwatch or a watch with smart functions...
Polar has also dared with AMOLED screens, being the Ignite the first model of the brand to offer it. It does not allow you to keep the screen always on and one of my main criticisms is how long it takes to respond to the wrist turn. 
Its case is similar to that of Garmin, in sports tracking functions the Polar is much more capable than the Suunto 7. The combination of Sleep Plus, Nightly Recharge and how everything is combined with FitSpark is it's most interesting asset. Although at the sports level it has a major problem, it does not allow to record manual laps.
Compared to the Suunto it's quite cheaper, although the reality is that beyond the bright screen they play in different leagues. The Ignite has little or no smart functions, because beyond displaying notifications it has nothing else in that regard.
Ticwatch
It's probably the most direct comparison. The watches of the Chinese Mobvoi have been on the market for some time. As smartwatches with Wear OS are much cheaper options; but they are only that, an smartwatch.
They are not specifically designed for sport or have their own training platform. I haven't had a chance to test the quality of their optical heart rate sensor and GPS (I talked to Mobvoi a while ago in case they were interested in a review, they said no...), but I did see references in The5KRunner and they didn't perform well.
They can be a very interesting option for those looking first of all for a smartwatch, where the sport part is something secondary, but as soon as there is a small interest in sports practice they will fall short. As soon as Suunto develops their app a little further they will be in different segments, even despite the huge price difference between them.
Very similar watch in concept: notifications and applications, music playback, wireless payments, always on AMOLED screen... but with this I will finish quite quickly. After Google's purchase of Fitbit, it's not clear what path they're going to follow. I wouldn't invest my money in a model with such unknowns...
As you can see there are options for every taste, but there is nothing that is exactly the same as Suunto 7. Everyone has their plus and cons that differentiate them and in this case I could not compare apples with apples.
Buy Suunto 7
I hope that this in-depth review has helped you to decide if it is a valid device for you or not. All the work I do you can consult it without any cost, but if you want to support the page and by doing so the work I do, the best way to do that is to buy your new device through the links I provide .
And if you don't buy it today, remember to stop by when you do! Through these links you will not only get a competitive price and the best customer care, but also I will receive a small percentage at no additional cost to you. That's what allows me to keep offering you reviews like the one on this page.
Find the best offer
Suunto 7
My opinion of Suunto 7
With Suunto 7 I find mixed feelings. On one hand I put myself in the shoes of the user Suunto wanted to make this watch for and I sincerely believe that they have managed to meet their needs. It is a very well made watch in which everything works as it should, and while short of options it's very easy to use when we are talking sports.
However, I also have a sense of frustration. But not to the Suunto 7, but to Suunto directly. I think the Suunto 7 is a magnificent watch thanks to its construction quality, appearance, sensors, etc. But I feel frustrated because Suunto has fallen back into the same mistake they already made with the Spartans. 
They still don't seem to understand that they should be a software company, that's what the market is demanding. Perhaps it is because of its corporate culture as Suunto is just another brand within the conglomerate that we find under the umbrella of Amer Sports (with brands like Salomon, Arcteryx, ENVE, Atomic and many others) and are focused on making "premium" quality products. If we take a look at those brands they are all sporting goods, but none rely on software. Yes, there is Sports Tracker, but that's a company they bought in 2015 and there has been little change since then.
I think that they continue to see Suunto as another brand of sporting goods. And it is not, Suunto has to be a software company because it is what the market demands and what all its rivals are heading towards. 
I can't understand how it has been possible to give the go-ahead to the market of Suunto 7 without route navigation. Or that almost three years later, Suunto App is a development still in beta state that lacks many of the functions of the platform it intends to replace (Movescount).
It's as if the left hand (marketing) doesn't know what the right hand does (development). The problem with hasty releases is that the first impression is what remains. It doesn't matter that in a year the watch does a thousand more things, if the feeling left in the market is that it offers little for the price it has. 
That doesn't mean that the product has to be finished. Users are already accustomed to short product renewal cycles that are associated with upgrades over their lifetime. But you have to set a minimum without which you should not launch a product.
In my opinion, the launch of Suunto 7 has failed on three clear points:
Maps, but without route navigation Fixed in the September 2020 update along with other improvements.
Google Fit is very deficient. Suunto can't do anything about it, but they can integrate activity data into their app Half-fixed" in the 30 June 2020 update. Google Fit is still very sparse, but the Suunto 7 already syncs more data with Fit and also displays some activity data in the Suunto App itself.
It's not possible to use any type of external sensor, not even a heart rate strap
Then there are other missing items that we could discuss if they are more or less important: sports profiles customisation, personalised heart rate zones, alerts, guided workouts...
I do accept that thinking about the user profile Suunto wants to offer this watch, the vast majority of them may not need such functions, so it is more interesting to target development in other areas.
I feel frustrated thinking about what Suunto 7 could have been and is not. And it's not because the watch is not good, which it is and I like it, but because Suunto has not been able to meet a minimum for its launch again.
The fact that a month later there is also no information about what are their plans for updates does not help as well. Polar filled into a similar puddle with the Vantages; they published what they wanted to get out of their watches and fulfilled it, leaving customers satisfied and knowing when and what functions they would have. Suunto should do the same.
As I said, the Suunto 7 is a good watch, but it is a prisoner of its price. For the 479€ it costs we find many and varied options of sports watches that will fully satisfy its users. And the one who wants a smart watch has other rather cheaper options to choose from.
Right now only Suunto has the key to unlock the situation, if they work well on the development of the product, they can have a very interesting model because the base is good (and that's what can't be changed in mid-development).
———
Update after the first two software updates
The road taken by Suunto 7 was tortuous at first. But Suunto has finally fixed the main defects left pending when they launched the watch to the market. 
The two main absences (route navigation and customizable profiles) are already resolved. Both things were very necessary, especially route navigation because it is essential when you have a watch with maps. To this we have to add that Suunto has lowered 50€ the price of the watch, making it a little more interesting.
Let's not forget that this is the first Suunto model with Android Wear, so it was obvious that some things were going to take a little more work. Is it the perfect watch for everyone? Not at all, despite the upgrades I still think that its "target" is fairly well defined. But Suunto has stepped up to the plate and its use is no longer disappointing.
Looking at the Suunto 7, the app and the rest of the 3/5/9 range updates, I think Suunto has understood that they need a wider army in the software development department. And it gives me the impression that it must have grown.
In many respects Suunto is no longer playing catch-up in features, it is developing new and interesting features. In short... "Suunto is back".
———
And... thanks for reading!