With the Suunto 5 the Finnish brand continues to update its range to give them, among other things, a simpler name. Gone is the name Spartan. Suunto 5 is the replacement for the small Spartan Trainer, the most economical model in the entire range. And it was very cheap because the materials were... cheap. But Suunto 5 is another story, its finish is completely different and it is once again a pure-bred Suunto: solid, well-made and fantastic looking.
I have been testing and analyzing the "little" Suunto 5 for more than a month. It has accompanied me in other tests that I have already podido publish on the page, being now its turn to enjoy a review for it alone.
As you will know if you are a regular reader of the page, below you will find a analysis clockwise in great detailAll this so that when you make your purchase you know whether Suunto 5 will meet your expectations or whether you should choose another model that is better suited to your use. If you are not a regular reader, why not?
If you like this analysis and find it useful to decide the purchase of your next GPS watch, please use the links you will find on this page (well, you can buy that GPS watch you want or anything else). You won't pay more than it's worth, but the seller returns a small percentage which helps cover the costs of hosting the site and obviously my work. Or you can also become a VIP member..
Let's go through all the details of Suunto 5!
Summary
Overall - 9
Training possibilities - 8
Platform and applications - 7
Autonomy - 9
Finishes and comfort - 9.5
Price/performance ratio - 8.5
8.5
TOTAL
Suunto 5 represents the mid-range of the Finnish brand, but performance-wise there is very little to separate it from the higher range. Mainly three things: barometric altimeter, magnetic compass and more battery modes. If you are looking for a well-made mid-range watch Suunto 5 is a worthy candidate.
---
The good
A mini Suunto 9. Almost the same features as its big brother but at a lower price
Fantastic finish quality
Very good autonomy
Many sport profiles that can be configured to cover almost any sport
The bad
Screen size and visibility, especially when we are using the black background
Continue to use the Ambit clamp cable
It is not possible to synchronize through the computer, only for updates
Suunto App is still a little green
Suunto 5 News
Suunto 5 joins the existing Suunto 3 and Suunto 9 on an odd number scale that helps to understand which market range it is geared towards. 
The nomenclature is now much clearer than before, or it was, because Suunto 9 came as such and then we had to call the original model Suunto 9 Baro, because that name was now taken by another model like it, but without a barometric altimeter. When Suunto seemed to have it all tied up tightly, they messed it up again...
In short, this is how the range is presented today:
Suunto 3Activity and fitness monitoring watch, without GPS
Suunto 5The one for this test. Smaller multisport GPS watch
Suunto 9The brand's top-of-the-range model with advanced range and mountain functions
Suunto 9 BaroSame as above, but with barometric altimeter
That there's a number missing from the nomenclature? Yes, Suunto 7, but don't tell them I told you, keep it a secret between us...
When reviewing what is new in Suunto 5, the comparison with the Suunto Spartan Trainer WHR The format is the same, the size of the watch, the design... everything is very continuous with respect to this one, but better.
Suunto 5 brings the following new features to the Spartan Trainer (which has been on the market for about 2 years)
Change the name to a much simpler one. "Suunto 5" is unquestionably much better than "Suunto Spartan Trainer Wrist Heart Rate".
Important leap in the quality of materials: bezel and buttons made of stainless steel instead of plastic, mineral glass instead of plastic, even the feel of the strap is somewhat better
New GNSS chipset by Sony
New operating modes for satellite reception: GPS, GPS + GLONASS, GPS + Galileo
Increased range up to 20 hours in normal GPS use, with extended mode up to 40 hours
As with Suunto 9, add smart battery modes with pre and post activity selection
Customized and adaptive training plans (available in Suunto 3, but not in Suunto 9)
Sleep metrics to verify that the rest has been satisfactory (available in Suunto 3, but not in Suunto 9)
24-hour stress monitoring (available in Suunto 3, but not in Suunto 9)
Measuring available resources (available in Suunto 3, but not in Suunto 9)
Add VO2Max estimation (available in Suunto 3, but not in Suunto 9)
Only compatible with Suunto App for synchronization, and Sports Tracker It cannot be used with Movescount or Suuntolink (the latter only for firmware updates).
In short, Suunto 5 is a mini Suunto 9 with the Firstbeat algorithms It is a combination of the best features of each: materials, smart battery modes, and Suunto 9 range; with all Suunto 3 metrics.
But by comparing pears with pears and apples with apples, I think it is also important to highlight which are the differences that exist between Suunto 5 and Suunto 9The main one is the size, being much bigger the 9. This makes the size of your wrist practically what marks the choice between one model and another. But it is not the only thing:
Suunto 5 is smaller. has a diameter of 46mm by 50mm from the Suunto 9
It is also slimmer14.6mm versus 16.8mm
The Suunto 5 no barometric altimeterSuunto 9 Baro does (but not the normal Suunto 9)
The compass of Suunto 5 is digitalYou have to be moving so that the clock knows which direction you are moving. Suunto 9's is magnetic
Since we don't have a digital compass, we also don't have the FusedTrack Suunto 9 for battery saving modes
The autonomy on the Suunto 9 is longer (up to 40 hours on the Suunto 5, 50 hours on the Suunto 9), and has an additional smart battery mode that allows up to 120 hours on the Suunto 9
The screen from Suunto 5 is not tactileso it has five control buttons. I personally prefer it this way.
The lighting Only on or off, and a little more dimmed if you activate the do not disturb mode.
Exclusive synchronization with Suunto AppWith Suunto 9 you can choose which platform to work with (at the moment...)
It has all the Firstbeat metrics: VO2Max estimation and fitness age, adaptive training plans, resources available (like Garmin's Body Battery function), sleep analysis
I guess you've pretty much figured out the differences between them all. But since this is about Suunto 5, let's go over everything you need to know.
Suunto 5 and its functions
All manufacturers follow the same pattern: they create a new model with a basic operating system on which they add functions in successive models. Not only in the world of GPS watches, but also in telephony, image, etc.
Suunto does the same, because today it is the way to work. If you are already familiar with the latest Suunto watches from the Spartan range you will not find many new features in Suunto 5.
But before we get to the software part, is it okay if I talk to you about what we have on the outside? 
What is most striking about Suunto 5 at first glance is its finishesThe difference from the model it replaces, the Suunto Spartan Trainer, is immense. The perceived quality is much higher due to the materials used (glass, stainless steel and polycarbonate), and the design is clearly inspired by Suunto 9.
In fact, Suunto 5 is made in Finland, like the rest of its brothers, while Spartan Trainer came from China.
In terms of colours, there are four different versions available at the moment. In addition to the classic black and white, there are two others with a gold bezel: in grey and in maroon (the one you see in this test).
Because Suunto 5 maintains the design with an external satellite antenna - under the screen - the belt change is not direct because the design is specific. This does not mean that in case of breakage there is no replacement - there is - but the replacement has to be specific because it is not a generic design belt.
In terms of menus, everything is very simple, and you can make basic adjustments such as setting alarms, connecting sensors or changing the clock face.
The settings for the sports profiles are done exclusively with the mobile phone through the new Suunto App, a quite positive change because it is very well resolved.
Configuration with Suunto App
---
Suunto 5 is only compatible with Suunto AppHowever, it is not something that is important for the future, because Movescount has a closing date for summer 2020. 
The configuration of the sport modes is done from here. We can't edit the predefined modes, but we can create new sport profiles. Doing it from the mobile is fast, simple and intuitive, here Suunto's work has been very good.
It allows you to configure three different data screens, with up to 7 data on each one.
It doesn't have to be a data only screen, we can also have a screen with graphics, lap summary screen or specific ones to make intervals.
The amount of data we can display is huge, Suunto doesn't cut any out even though it's not the top-of-the-line model, and it's sorted by category, so finding the field you need is easy.
The rest of the options will be changed from the clock. It makes perfect sense, as these are options that we may need to change more often than the data screens so we need to do this without having to rely on the phone.
Once the sport is selected, in the signal and sensor search screen, we can press the button down to change the rest of the options such as automatic lap, sensors to use, navigation routes, or select a target.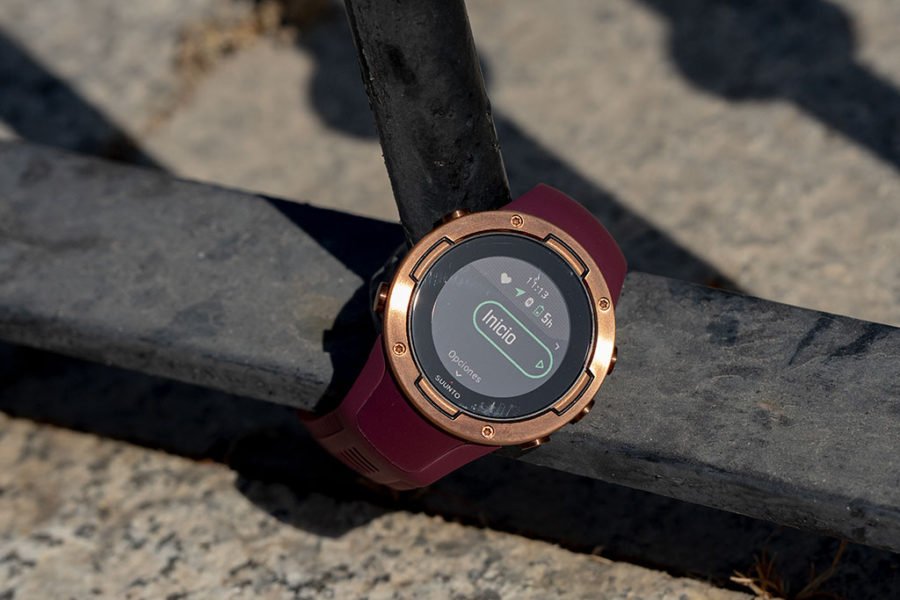 As for the Suunto App as a training monitoring platform... it is still under development. Slow development, but development. For the basics it is enough.
The interface is nice and everything is where you expect it to be. 
But that's where it ends. Much more detail is missing when it comes to showing trends, how past training affects recovery, etc.
This is in the app. SportsTracker is simpler and without as much detail as the mobile application.
As I say it's enough for basic analysis, but the problem is that they have to compete against platforms like Garmin Connect or Polar Flow. You may like them more or less, but what is clear is that today they have many more possibilities to offer. I've seen some images of what's to come in Suunto App and everything goes in this line, so in the short term it should be available.
Until now, the Suunto buyer could choose whether to continue waiting for the development of the new platform or to stay with Movescount. Suunto 3 was the first to force the use of the new platform, and being focused on a less demanding target audience could be overlooked.
But this is the first time that Suunto forces the use of the new platform for one of its "serious" watches, so it's about time to put the machinery to work at full capacity and start incorporating into Suunto App (and SportsTracker) all the possibilities that Movescount had.
GPS and smart battery modes
---
One of the innovations with respect to the Spartan Trainer is the smart battery modesHowever, in the case of Suunto 5 there are only two modes (normal and extended), and you can set up your own profile with your own selected settings.
The modes can also be selected from the sports screen while we wait to search for a signal. On the top we can see the remaining range with the selected mode, you can change the mode by simply pressing the top button.
From the options we can also select the battery mode we are going to use.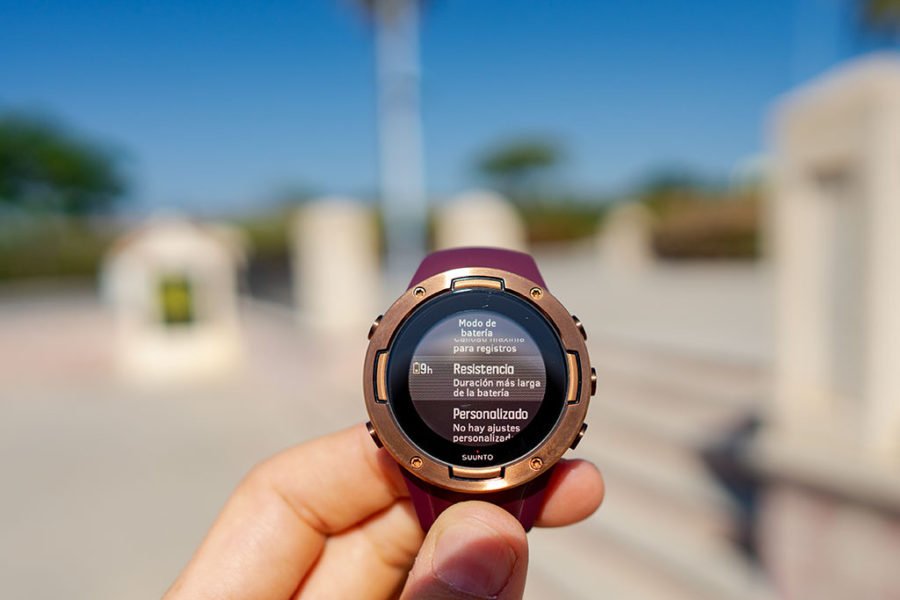 Or set one up with the options that best suit our particular use.
Please note that regardless of the mode you select from here, if you select a navigation route the GPS settings will be set to maximum. Obviously, because the clock interprets what we are not interested in is getting lost so we cannot afford to record the location every 30 seconds. 
But perhaps the most interesting part of the smart battery modes is that it allows you to change them while you're working, and it's the clock itself that will recommend you to switch to a power-saving mode when the battery is low. You'll be alerted when the battery is low on both 20% and 10%.
Everything works the same as in Suunto 9 (in his test you will find more detailsAnd just like this, with the latest firmware update Suunto 5 also allows you to select satellite reception settings, giving you the option to use GPS, GPS + GLONASS, or GPS + Galileo. 
It is a global configuration and not by sports profile, so once a mode is selected it will be used for all activities.
Personally I would prefer that depending on the profile I let you choose the mode, because for example in road cycling I would only need GPS, while for mountain racing I could be interested in the GPS + Galileo configuration (and here's why).
Sleep metrics
---
But let's get down to the specifics of Suunto 5, starting with sleep metrics. As with all other new software features, they are licensed through FirstbeatAlthough this sleep analysis is something only Suunto uses, it is very similar to what Garmin offers, which depends even more on them for its metrics.
The first thing you need to know is that to have the sleep quality analysis (and the rest of the daily monitoring metrics) you need to have resting heart rate data, and for that it is Need to activate constant HR monitoringThis has a significant impact on the watch's range, as the Valencell optical sensor used by Suunto uses up the battery as if it were a V8 engine.
In the case of Suunto 5 Sleep Tracker, it not only records how long you've been sleeping, but whether that rest period has actually been of any quality - in short, whether we've recharged our energy during that time.
When you wake up in the morning, the clock automatically shows you a summary of how the night went. Until now, it simply showed the hours that you had slept, but now it also assigns a rating to how good it was.
In that example you can see that besides having slept little, the sleep has been of poor quality. Logically I have rested quite a bit, and those are the sensations I have. By the way, the 8h goal has been selected by me, everyone can set the goal they want.
You can say... it is normal that the quality of sleep is low with so few hours of sleep, surely if I sleep more hours the quality will be higher. Well, not necessarily.
Only two and a half hours I was able to sleep that night and yet the quality of sleep was quite good. Short but intense. As you can see the relationship between time spent asleep and quality of sleep is not at all related.
This is one of the few things shown in the Suunto App after synchronization.
In short, think of your body as if it were a rechargeable battery. What this function tells us is what percentage has been recharged during the time it has been in the charger (your bed). This monitoring is done only during the night period, not if you take a mid-day nap. In that case you will not have data on the quality of sleep but this rest will be taken into account with the Available Resources function.
Available resources and stress
---
This is practically similar to what is called "Body Battery" in Garmin. So similar that in both cases it shows the same information, only with a different name. It allows us to see how we are consuming our energy resources throughout the day, calculating how much energy we have available at any given time.
Here we can see the impact on our bodies of the breaks we have taken throughout the day, or that time on the couch that you have spent doing nothing.
As with sleep, all this means a recharge for the body, which will be reflected on this screen. It is clear that the higher the recovery percentage, the greater your sense of vitality. Therefore your training will be more profitable when this level is high.
Next to the graph of available resources we find a screen that indicates in what state we are (active, inactive, recovering or stressed) and how long we have been in this state.
On this screen it indicates that I have been active for 1 hour.
And what is all this for? Well, if we know how to interpret the data correctly, it will benefit you in the most important part of your training: rest. And in addition to rest, knowing how to interpret when it is convenient to train more or less hard, regardless of the "euphoric" feelings you may have when you are about to hit the Start button on the watch.
Returning to the examples I have given above, on August 2nd I slept 4 and a half hours, the following night even less, only 2.5 hours. As it is logical, the recovery that the body could have had is quite low and proof of this are the resources indicated in the graph you have seen above (9%). And that is because I had not yet trained that day.
Even though I hadn't trained, I hadn't trained for two days, and you know that feeling... it feels like you're going to lose the previous 6 months of training by missing your session for two days. I could have said, "a gentle jog and at least aim for a few km".
However, the graph of available resources was clear: my body was not recovered from the previous two days (trip, wedding, trip, birthday...) so after so much hustle and bustle and so little rest, going out to train probably wasn't the smartest thing I could think of.
So I chose to listen to the clock and go to sleep, and I would be back at work the next day. Result after the break?
This time I was able to sleep more, and with good quality too. How many resources are available after the break?
As you can see the night's rest has been quite profitable. I have rested well and so the graph reflects. So perfect, I can get on the bike and attack a port.
VO2Max estimation
---
The last of the missing metrics, which is again identical to the one shown by Garmin, after finishing a race training the watch will give you an estimated VO2Max value.
This value is not always the same and does not represent your actual VO2Max level either, as we do not normally do 100% training. It is the estimate you should have in order to have been able to perform that training, and is shown only in running or walking training.
The VO2Max widget will display the overall value, which usually corresponds to the last training performed.
In Suunto App you can track this value.
Route navigation
---
In terms of route navigation there are some changes compared to Suunto 9. But these are due to the exclusive compatibility with Suunto App, so we cannot benefit from Movescount's route creation possibilities.
In a sense it is a pity, because the truth is that the operation has always been good and simple, both to create routes and to upload the routes of others (for example, those provided by the organizers).
Suunto 5 does not have access to the Movescount platform, however we can create routes from the mobile application, as well as upload routes created in GPX (and in the short term it will also support FIT files). 
In addition to uploading routes you can create them directly in the application. It may seem uncomfortable, but the truth is that Suunto has it well solved in the application. In the end it's the same because the data source, heatmaps and other features offered in Movescount to create routes are in Suunto App.
We have several options when creating the route, depending on whether we want it for road cycling (only follow roads), on foot or MTB (using paths). We simply select the points on the map that we want to go through and the application creates the route.
In the lower part, additionally, we will have information of distance to cover, unevenness, profile graph and estimated time. This is what a mobile application to create routes should be. 
If you still like the idea of creating routes with the mouse, you can always use other utilities (including Movescount...), download the route in GPX and synchronize it to the clock.
The only thing we don't have the possibility to do yet is to create points of interest (POIs), and if you have routes saved in Movescount you'll have to synchronize them manually, because there is no automatic import.
Screen
---
I don't want to stop talking about the main negative point of Suunto 5: the screen. That is that the visibility, depending on the conditions, can be bad. 
It's not a matter of screen quality. On the contrary, because this one is good. It has a lot of contrast and more than enough resolution. Of course it's not the screen of an Apple Watch, but for a watch of this type we're not interested either.
The problem is one of size and lighting. On the one hand I would appreciate a larger screen. The edge of it is, in my opinion, too big.
But the main problem is its lighting, the origin being the type of technology used in this type of screen.
For sports watches, it is necessary to use transflective screens. Unlike an LCD screen, in broad daylight they can be seen quite clearly because the back of the screen reflects the light. At three o'clock in the afternoon and in the middle of August, the screen can be seen perfectly, and at night we can use the lighting to see the information (which, by the way, Suunto allows to keep it always on).
This is no different from what any other manufacturer offers, but why is it worse in the case of Suunto? Well, it's because of the way the watch is built and the separation of the screen from the outer glass.
In any other brand we find that the screen is practically glued to the glass, while in the case of the Suunto it is "sunken". This means that we must constantly orient the watch towards the light source to have a bright screen, at the time that does not receive light directly we will see it as off because it does not have much light to reflect. It is something that is accentuated in dark screens.
All the photos you can see in the test are made in the best conditions to see what is shown on the screen (which is the important thing, and I do this in all the tests of all the manufacturers), but when the orientation is not perfect it is a little more difficult to see the information.
In addition, the advertising and catalogue images that Suunto uses for its products are rendered; where you see a screen with a lot of colour, lighting and very vivid. That's why you can read so many complaints among newcomers, as they feel somehow deceived.
But I repeat, it's not that the screen is of bad quality. On the contrary, it has a little more contrast than Garmin or Polar, but it suffers a lot when the incidence of light is not direct, which makes the competition's look better because they simply look better.
However, when it comes to training it is quite mitigated if we use the clear theme in the profile options.
The white background helps you to see the details better, but for everyday things like notifications or simply seeing the time, it can be quite uncomfortable.
Adaptive training plans
Another new feature of Suunto 5 is the adaptive trainingsalthough it has already become known with the Suunto 3 a year ago.
The mission of these adaptive trainings is to generate a training plan for the next 7 days, which will be adapted to how we spend the week. That is, if it was time to train on Monday but you couldn't do it, the plan will be readjusted and will establish the new weekly goal, redistributing the training.
As for the plans, they are very simple, perhaps too simple. In a model like Suunto 3 and with your target audience in mind, it is a good solution. The Suunto 5 user will probably be much more active and have other sports concerns, so these training plans will taste little to many of you.
Perhaps when you're resting after the season is over it can be a good option to keep active without having to get too hot in the head, in that respect it's a good solution.
When selecting a training plan we can select three different objectives: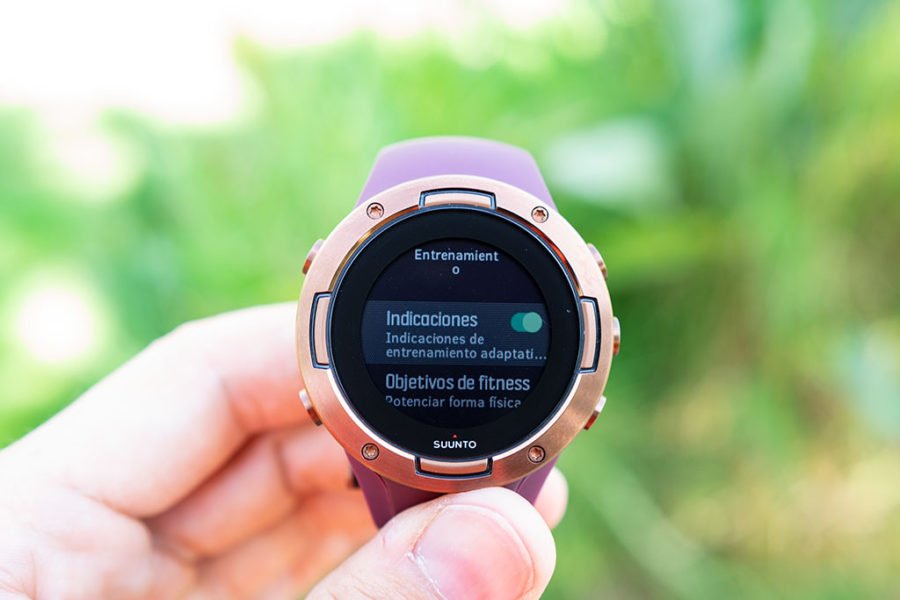 It is not necessary to explain much about what each of them does. Depending on the degree you select the trainings you prepare will be more or less intense.
The trainings will be based on your past activity, so it will be important that you have recorded everything in advance with the clock.
In my case this is more difficult since I created the training plan with very few hours of shooting with Suunto 5, so it hasn't had the time to get to know me and the weekly goals it sets are very scarce.
However, every new week the training plan is updated and, in my case, increased (because I train much more than the clock indicates at first). In the clock you can see at any time which days it is time to train, and what kind of training you will have to do.
What are the plans? Simply to guide you in the intensity and duration of the exercises. You can do them as you like and using the sport you want: cycling, running, weights... whatever. But the clock will mark a heart zone that you should try to keep without going over or under. So logically it is important to establish the HR zones correctly. 
During your workout the watch will guide you with very simple on-screen messages, simply telling you whether to increase or decrease your pace, but nothing more. 
It won't tell you if you have to run faster or go at a certain pace, just more or less intensely. That's if you're running, if the sport is another one, you'll simply have to do the repetitions more or less quickly, or swim more or less intensely, etc. 
In short, the training sessions are good... but quite simple. As I say they may be good for the Suunto 3 user, but I don't see the Suunto 5 buyer using them beyond the end of the season and they won't help you prepare for a sock or a marathon.
Optical heart rate sensor
Suunto continues to trust Valencell for their Suunto 5. Their collaboration dates back to the first Finnish model that included an optical pulse sensor: the Spartan Sport Wrist HR.
Not much has changed since then. The sensor remains pretty much the same. Valencell has released a small update on that basis (they call it "packages") with which they started working on Suunto, but it has not received many changes. Right now the version they work with is the 1.2 package.
It was good at the time (even the best), but while the competition has been updating the performance of its sensor in Suunto they have been slightly stagnant.
The biggest burden on this sensor is energy consumption, especially in 24/7 heart rate monitoring mode. When activated (which is required for all new features in Suunto 5), the impact on range is significant. 
But this is not the only case, its limitations also come to light when we are recording an activity and there are changes in intensity, where you can see a slight delay with respect to devices of other brands. But we will see that later.
In fact, Valencell presented the 5.0 package during the 2019 CES, a smaller sensor with lower battery consumption. Why haven't you reached Suunto 5?
Two reasons: the first and main reason is that one thing is that the company presented it in January and another thing is that they were in a position to offer it to their customers; the second is that even if it had arrived on time the development of a product takes many months of work, and implementing a new optical sensor is not a tribal thing (especially when you inherit the hardware design of the previous model).
As a reminder, keep in mind that an optical pulse meter will not work the same for everyone. Tattoos, body hair, skin tone... all of these can create a big difference between people.
These tests are performed with a "broad" spectrum of users: one, which is me. What works for me may not work the same way for someone else, or may work better.
The most important thing to keep in mind is that you have to wear the sensor correctly, tightly (but not like a tourniquet) and leaving a separation of approximately one finger from the wrist bone. If you make sure you follow these details you can be sure you will get the best possible results for your skin color conditions, etc.
Let's get on with the testing and analysis. In this first comparison we have Suunto 5 versus the new Garmin Elevate v3 sensor from Forerunner 945You will also find an additional graph corresponding to the Polar H10 (paired with the Vantage M).
This is a varied workout, mixing segments at more intense rhythms with other zones where I do climbs and descents with constant intensity variation (but without becoming a series workout).
Noting the strange start of Suunto 5 during the first few seconds, we see that the situation is very similar, although you can see a better overall performance from the Garmin's optical sensor than from Suunto, which is more likely to delay changes in intensity.
Until the 6th minute I do a short warm up, where everything is more or less the same in the three graphs. At that point I start a segment of about 10 minutes at a rate of 4:10-4:15min/km, which is this part you can see enlarged below.

The Forerunner 945's graph is almost perfect (if we take the one we have from the Polar H10 as correct, it's usually like that); somewhat better than the Suunto's which, without being bad, stands out more from the chest sensor.
At 16:30 I stop to cross a street and that's where I start the up and down zones, alternating the changes in intensity. 
The behaviour continues to be repeated. Very good from the FR945 that practically nails the intensity changes to the second, while you still perceive a delay of a couple of seconds in the Suunto 5 graph.
It's not something that makes it unusable, but the differences are there and I like to highlight them. In fact it's quite complicated that no one would notice the delay if there were no other sensor graphs to compare them to. A few seconds delay in showing the heart rate is not something that will affect people's 99%, however what they do worry about are the big errors with unrealistic spikes.
Let's go with a different training, in this case comparing the two sensors of the Suunto brothers: Suunto 5 and Suunto 9.
The first thing I want to emphasize is what I have "painted" orange, is something that I have encountered more than once when analyzing the graphs. It is due to a bug that exists when exporting the activity in GPX format and a problem when assigning the correct time to all the points. It is only present in the exported files, while reviewing the training in Suunto App or in other applications where the export is done automatically is shown correctly. Suunto says it is working on it...
As far as the graph itself is concerned, we can see that there is not much difference between them beyond the initial warm-up minutes, but I think it's interesting because you can see that the behavior of the Suunto 9 and Suunto 5 sensors are exactly the same. It's as if they are both connected to the same external sensor.
Let me zoom in on any of the points and you'll see what I mean.
The differences between the three sensors are negligible, and both Suunto 5 and Suunto 9 show almost the same, there are hardly any differences between them. However, the difference of FR945 (synchronized to HRM-Tri) is not exactly the same.
You can see again how the delay I spoke about earlier is repeated. When the intensity of the exercise is lowered, in the FR945 it is immediate while in the case of both Suunto models there is a small delay. But the delay is exactly the same in both, not that one goes before the other.
Do you want a training series? I also have, a 5×400 with breaks from 30″ between series. It's not as intense a series as I'd like to show you the behavior it has (especially for a 400m), but I was a bit weak in muscle and it wasn't a question of risking more.
At first glance we can see that already from the warm up there is some problem with the FR245. Maybe I didn't wear it tight enough, because I remember to have adjusted the strap but already quite late in the training, but not so soon.
So that's no excuse, because even if you lose the first interval, from the second one you already recover. It's rare because usually in easy conditions like this heating the optical sensors usually make it almost perfect, in this case it's clear that it took some work to start recording correctly.
I will now expand the section on intervals, which is where the most interesting part of the training is.
In the first interval Suunto 5 is much better than FR245, which is still missing from the warm-up period, but in that first recovery it is also slightly lost, although it doesn't take too long to recover.
In the other intervals Suunto shows the same behavior as we have seen so far. It measures what it has to measure, and it does it with the slight delay it always has, but this time it is much better than FR245, which is lost again at the beginning of the fourth interval.
As for the rest of the training there is not much else to highlight, it is more of the same as what we have been seeing so far.
We are now going to a cycling training that covers quite well different types of training. It is divided into two parts: a first segment in which I had to do 4×5 minute sets, with a 1 minute break between sets; and a second half in which I simply try to do it smoothly (with peaks depending on the traffic situation or the terrain).
Again I compare the graphs of Suunto 5 and FR945, while in this case the chest sensor I carry is the Garmin HRM-Tri paired with a Garmin Edge 1030.
I'm going to zoom in on the different areas, although I think it's pretty clear which one by taking a quick look at the image above.
This is the first part, heading to the small port where I will do the intervals. 
In general, all three sensors have needed an initial warm-up until they start recording correct values. This is common for everyone, so the first few minutes are always going to be erratic. Perhaps in this case Suunto 5 has taken the longest time to come into action, because it doesn't join the other two sensors until I start pedaling hard to try and save the busy part of the road.
As we have seen so far, FR945 reacts to changes relatively quickly. Not as fast as the chest sensor, but it behaves better than Suunto 5.
Let's move on to the interval part, including the last stretch of the climb which, although not at the same intensity, does have a good volume of work.
Again, Suunto 5 is a little slower in reactions, along with some erratic behavior in a sporadic way, and as we have already seen, something worse than the FR945 graph.
In the first of the breaks, however, it is the HRM-Tri that fails as it has a sudden drop in pulses, while both optical pulse sensors record data in a very similar way.
But when we don't have the same intensity, the result is different, there is not the same precision.
That's the second part of the training. Until minute 53:30 or so I'm just standing there filling up the water cans, and that's where I start the descent. What until now was a nice graph in which all the sensors were practically parallel, is now a mess of different colors.
Here we can appreciate much more inaccuracy, but especially from Suunto 5. FR945 does not do so badly (which is not to say that it does well), but in this second part the Suunto 5 data are practically useless.
In short, Suunto 5 has the same common denominator in all tests (which has not changed from Suunto 9 or earlier Suunto models): it has a slight delay in running training when there are changes in intensity, such as interval and series training. However, when training at a more or less constant pace (this includes slight changes such as ups and downs) the sensor behavior is perfectly valid.
However, if you plan to use the watch for cycling training, you should continue to use the chest pulse sensor as Suunto 5 suffers quite a bit under these conditions.
GPS operation
Suunto 5 does not change much in terms of GPS. Like the Spartan Trainer it is still a special model because it is the only one that still uses an external antenna - it's that piece of hard plastic you can see on the bottom of the watch.
For some it may be a little uncomfortable, but the truth is that once it's put on my wrist it doesn't affect me personally at all. I don't even notice that I have that rigid area.
As I said at the beginning, Suunto has recently launched an update allowing the use of Galileo satellites alongside GPS. This is perhaps the most important new feature, although it is not exclusive to Suunto 5 as the update has also been extended to Suunto 9 as it shares the GNSS chip.
As is the case with all this year's models, Suunto 5 is also equipped with the Sony chipset that offers such good range results, however in some situations this range is offered by compromising the overall performance on precision. But everyone is more or less getting out of this rut with better or worse results.
I think that in Suunto's case the changes they have made have been quite remarkable and their performance is quite a bit better than a few months ago, as they were showing errors more often. Today only Polar is suffering more than it should.
Just like the optical sensor tests you saw earlier, the GPS comparisons are done in the same way - with the watches accompanying me on my regular workouts. Wearing both Suunto 5 and other models, and checking where problems appear. I don't have any defined route where I set a score for the simple reason that there are other external factors that we should never forget.
Things like clouds, leaves on trees or simply the satellite position can alter the GPS results from one day to the next, which is why I prefer to do this type of comparison instead of having a predefined path and assess it from there.
The tests I've done with Suunto 5 have been using the GPS + Galileo configuration, which will be the one most of you will use.
I will start with a training I usually do, but choosing a circular route because of its ease in seeing errors.
For this occasion I have the latest models of Garmin and Suunto, taking advantage of the opportunity to make a joint comparison that is valid for all your tests. I accompany Suunto 5 with the Garmin FR245 and Garmin FR945.
At first glance all three behave perfectly, but I always like to zoom in and look at the sharpest turns to try to find erroneous patterns of behaviour by the algorithms. 
In the image above you can see that I come running under an area of trees, making two 90º turns with little distance between them. The result is that all three behave almost perfectly.
Yes, there is some separation in the tracks, but we are talking about a few centimeters, and considering that I wear the Garmin on my left wrist and hand and the Suunto on my right wrist that slight separation may even be correct.
Further on there is another tricky turn, making a kind of "chicane" in this area of the ride. Here the Suunto 5 reacts a bit late to both turns. With good intention, but tenths of a second later. However it recovers quickly and does not fall into mistakes, as is the case of the Forerunner 245 that goes off the racing line for a while, as you can see in the track I have marked in the image.
As I say, it's a precise moment, but it's not the usual one. Here's another area with numerous turns where all three clocks mark almost exactly the same track.
In this area I slowed down after a few intervals, climbing a hill at a much more relaxed pace, which seems to bother the Suunto, deviating one or two metres from the area I passed, while the two Garmins don't seem to have been overly concerned.
The following training is very similar in terms of route, but I want to focus on specific areas.
This time I'm not wearing Forerunner 245, but Forerunner 935, a watch that is now fully mature and has received a lot of updates. I consider it to be a watch that has a fairly reliable GPS (which is not perfect).
To compare the turning area we've seen before, I zoom in on the same spot.
Well, here's the FR935 that behaves the worst all the way around, making more wrong turns than the other two and going off course constantly.
Both Suunto 5 and FR945, the two with Sony's theoretically worst performing chipset, have proven much more reliable here.
But I'm going to focus on the part of the training that I wanted to focus on, part of which was climbing stairs at intervals, with lots of repetitions. This type of training is hell for GPS because it's constant breaks, very short routes, very variable speed of movement... The algorithms are designed to record more stable rhythms, at greater speed and without having so many turns on the track.
Yet none of the three have any problems in the stairwell area.
Crossing a bridge on the other side of the road, twice? Not a problem either.
That this is too much asphalt and you're going to use Suunto in the mountains? Don't worry, although on the coast it's not easy to get away from built-up areas, I've looked for those situations too.
But before we get to the forest, we're going to cross a tunnel about 25 meters long and see how it behaves.
At the turn into the tunnel Suunto 5 is already somewhat forced to cut the turn, and does so by marking a straight line. This is an indication of having lost some reference point. At that same point both Garmin and Polar have no major problem.
However, none of the three have a strange behavior when going under the tunnel and the deviation is minimal even losing the coverage (that's pure algorithm work), recovering the signal quickly when leaving the complicated area and having no problem in the subsequent turns. Very good performance when losing the signal and recovering it from Suunto 5, but also from Garmin and Polar.
But let's go to the woods, which is what I was looking for in this training.
I remind you that blue is the colour corresponding to FR945, red to Vantage M and purple to Suunto 5.
At the entrance to the difficult zone Suunto 5 is more in line with reality, following the route of the road, but further on it is the one that deviates while both Garmin and Polar are more in line with the correct path. Even so, in these difficult conditions, all three have proved to be quite reliable.
Finally, before I change sports, I'm going to compare it with its brother, Suunto 9. It's the same watch in many aspects, but while 9 has a built-in antenna, remember that 5 has an external one.
Mind you, it seems I didn't have enough patience with Suunto 9 and started training early...
So I'll start analyzing from the point where the three come together, leaving the walking on water part aside. 
In general it seems that this was a more regular day for the satellites. And it's not normal. Totally clear skies, areas without signal problems, and yet at many points all three clocks behaved somewhat erratically.
For example, here, where none of the three make a correct mapping, Suunto 5 is the closest to reality, or the least mistaken.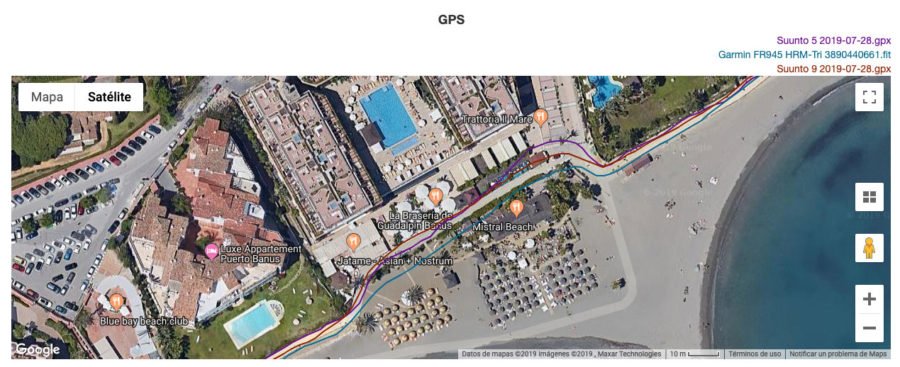 However, further on it is the Suunto 9 that goes completely off the track, an area that is almost always reached with signal problems, as I go along the main street of Puerto Banús, through an area with a lot of trees that makes signal reception difficult. Perfect for these tests.
Both Suunto 5 and FR945 behaved moderately well both on the way there and back, but as I say it is Suunto 9 that has gone several metres off course.
And this is the area that is difficult. The area that you run through is the row of trees that is also flanked by buildings on either side. It is a difficult area and it allows me to see the actual performance of the watches.
I don't expect a perfect track here. After many years analyzing in that area I know I'm not going to have it. But I have seen slight mistakes and more glaring errors.
Suunto 5 has a B. The performance has been better than Suunto 9 which has had quite a few problems in most of this area.
In cycling, as usual, there is nothing to object to.
It's standard with any GPS device. 
In cycling the speed is higher, so the points are more separated from each other making it easier for the algorithms to work. It is very rare to see track errors when cycling.
Swimming in open water is, however, quite the opposite. What is rare is to find a track that is well drawn and has no errors. The reason is none other than the loss of signal every time the hand enters the water to give the stroke. At that moment the watch loses the signal completely (because it is a digital signal that is not transmitted under water) and must recover it in the short time that we take the hand out again. And so on constantly.
Here you can see a comparison between Forerunner 945 and Suunto 5, each on a wrist, and the Polar Vantage M went under the cap to make sure it was always above water and didn't lose signal, to try to get perfect route data.
Clearly that wasn't the case, it seems that the race mode (which is the one I used on the Polar) didn't like the low speed of swimming and has a totally erratic track, worse than the watches I was swimming with.
I'll widen the area of the gyre for you.
And for gaining clarity, by eliminating the track of the Polar.
Now it's clearer, isn't it? At least the Polar track helps us determine that neither of them have actually marked any madness.
In this case the Suunto has been slightly more erratic, both in the turn and in the process of getting to the beach. The Garmin has been finer in the development. Even so Suunto has improved a lot in open water, a few months ago it was discouraging, both in the drawing of the track and in the results it gave, as it came out many more meters than the actual swim. Today? Very similar to the rest of its competitors and perfectly valid.
The summary of all this? Well, nowadays GPS data is something that has less and less to worry about. This year it is clear that there are important changes due to the adoption by all manufacturers of the new Sony chipset, but it is increasingly difficult to find errors.
Or at least bump errors. It doesn't mean that the tracks are perfect. They aren't, but because we can't expect them to be either. I remind you that you're receiving the signal from satellites that are thousands of miles away from the earth in a small 45mm device that's attached to your wrist. The fascinating thing is that despite all the difficulties that performance presents, it's just the way it is.
As for Suunto 5 in particular I have seen good data, both individually and compared to its brother Suunto 9. It is clear that the external antenna plays in its favour and, despite being against the current design trend, it is the main cause of better results than the 9.
I suspect that Suunto 5 is going to be a big part of future testing of other devices, it's going to be a good touchstone.
My opinion
I have the impression that the market is not going to be fair to Suunto 5 and that it will not have the impact that this model deserves. Maybe I'm wrong, but I think it will be in the shadow of Suunto 9 (not Baro), despite having almost the same features. 
The Suunto 5 is a mini Suunto 9. It is smaller, but in terms of performance both offer practically the same. And in this generation it no longer has the problem of the first Spartan Trainer, penalized by an excessive use of plastic for which Suunto has us accustomed.
This Suunto 5 is a real Suunto. Good materials, quality construction and made in Finland (the Spartan Trainer is "made in China"), which makes it a more expensive watch than the Spartan Trainer? No doubt about it, but it is what the Suunto customer is looking for, a quality product because that is what they have always offered.
You will have fierce competition with models from other brands that will move in the same price ranges, such as the Polar Vantage MThe Garmin Forerunner 245 or even the Garmin InstinctAll of them are made entirely of fiber polymer (plastic, good quality, but ultimately plastic), while the Suunto is a watch with more packaging and quality construction that combines the same polymer with other materials such as steel or glass. 
There are only two things I can do with Suunto 5: the display and the battery consumption of its optical pulse sensor. I like everything else, and I wouldn't have any objection to using it in my daily life if my main sport were running. However, my sport is triathlon, and there are options in that segment that are more specifically created for that use.
Suunto 5 is a very balanced choice for the person who is looking for a watch to run on the asphalt or in the mountains and does not need the barometric altimeter. It meets all the requirements that a watch of this type must meet and yet I think it will live in the shadow of a few models from both Suunto and other brands.
And with that... thanks for reading!