Suunto today announces a new model for its mid-range, the Suunto. Suunto 5 Peak. In this case it uses the Peak designation because it inherits the design of its big brother, the Suunto 9 PeakThe new Peak model is a very compact model, but it does not enjoy some of the features that we have usually had in the Peak models of the Finnish firm.
It is a watch that looks a lot like the Suunto 9 Peak, but that sees some of its features reduced to make it a more economical watch. What is maintained is the Nordic design of simple and simple lines, which seems to have come to Suunto to stay, away from a more rugged aesthetic.
It is an evolution of the Suunto 5 inheriting design features and details from the 9 peak such as downsizing, integrated GPS or software functions.
Features Suunto 5 Peak
The Suunto 5 Peak has the same software as the other models in the Suunto family, so it enjoys the more than 80 sport and multisport modes, allows connection to external sensors via Bluetooth, is compatible with a multitude of third-party applications (Strava, TrainingPeaks, Komoot), etc.
On that note, if you have used any Suunto model since the Spartan series, you will be very familiar with what it offers and how the information is displayed.
Regarding the features and specifications, I summarize it in the points below:
New exterior design, with stainless steel bezel, very similar to Suunto 9 Peak

Size: 43 x 43 x 12.9 mm. Significantly more compact than the Suunto 5.

Only 39 grams of weight, compared to 66 grams for Suunto 5
Plastic lens
1.1″ screen size, resolution 218×218 pixels
22mm silicone strap, standard design and allows replacement
Autonomy in clock mode: up to 10 days
Battery life in smartwatch mode: up to 7 days
Autonomy with 1-second GPS recording: up to 20 hours
Customizable battery modes that allow up to 40h/100h autonomies

Water resistance: 30 m

Same GNSS chipset as Suunto 9 Peak
GPS antenna is removed from the strap side
Compatible with

GPS, GLONASS, Galileo, QZSS, Beidou

Retains the same Valencell optical pulse sensor of Suunto 5
Wireless upgrades just like Suunto 9 Peak
With respect to the Suunto 5 these are the things in which it improves:
Smaller in diameter and thickness and lighter 41%
It eliminates the antenna from the bottom of the watch. This makes it a more comfortable watch and allows the use of traditional 22mm straps.
Updated GNSS chipset
Updates directly via Bluetooth
What about the Suunto 9 Peak? There are a few things the little brother of the Peak family doesn't enjoy:
No barometric altimeter: no storm warning or altitude data with maximum accuracy
Smaller screen
No fast charging
Plastic lens in place of sapphire crystal glass
No touch screen
No illumination sensor for automatic display start-up
Reduced autonomy and less energy saving modes
Without the new optical pulse sensor (lower accuracy, no oxygen saturation estimation)
In short, it is a light and compact watch that has all the software features of the rest of the range (Snap to Route, Suunto Plus, etc.), but with a few cuts to make it a more economical model.

All Suunto software features
At the software level something to thank Suunto for is not cutting back on features because it's a non-premium model. Not only that, but when the Suunto 9 Peak hit the market it incorporated new Suunto Plus features, the Snap to Route feature, and Suunto updated their older watches to incorporate those exact same features.
This Suunto 5 Peak can do exactly the same as other higher end Suunto models as long as the hardware supports it. Obviously if it doesn't have things like barometric altimeter or other hardware features then pod won't be able to enjoy those functions, but those that it is prepared for there is no problem.
This includes for example the latest additions like phone music control, all SuuntoPlus functions including the latest ones like Ghost Runner or Burner, or the very interesting Snap to Route function.
Among those possibilities is route navigation. Suunto does not have maps, but in spite of that I consider that the navigation offered is frankly good.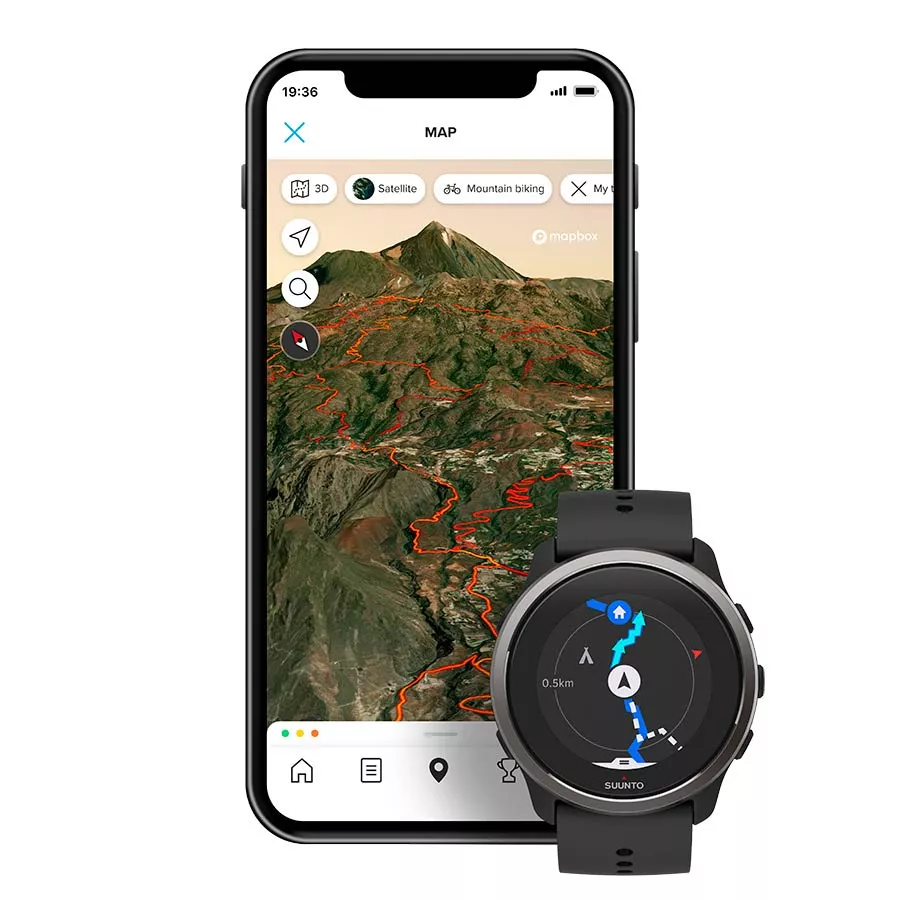 Graphically the information on the screen is displayed very clearly and the creation of routes through the Suunto App and the heat maps is very easy and fast. In fact on more than one occasion I have used the Suunto App to create my routes, even if the watch I was going to use that day was not a Suunto.
GPS and optical HR sensor performance
The Suunto 5 Peak receives the same Sony GNSS chipset that was used in the Suunto 9 Peak and that has given such good results. What is certain is that in the GPS tests that I did in the analysis of that model The results obtained have always been very good. It is not for nothing that Suunto has always boasted of its performance.
Where there is no update is in the optical pulse sensor. The 5 Peak continues to use the same Valencell sensor as the Suunto 5 (and other older models of the brand). The truth is that in terms of performance it's already looking a bit old, although the reduced weight of the Suunto 5 Peak will help it perform a bit more reliably.
It is true that where it had not performed well was in larger and heavier models (the last one being the Suunto 9 Baro Titanium), mounting it on lighter models helps to have better records.
Suunto 5 Peak, availability and pricing
The Suunto 5 Peak will start to be available in some stores from February 1 in selected markets such as Spain, in the rest of the world will be available throughout the spring. And it can be pre-ordered now on the Suunto website.
It is priced at 299€ in any of the colors in which it is available. A total of 6 colors are available:
Green with black bezel
Anthracite
Black
Gray with gray strap
Gray with multicolored strap made of recycled materials
Anthracite with orange strap
Conclusion
The 5 Peak Suunto possibly marks the end of an era. After the Liesheng's purchase of the brand I think we will see some news from the next device. This Suunto platform has already received a multitude of new features and updates, but functionally it feels somewhat clunky and slow.
Suunto's hardware is good, they have a mobile application that accompanies their product very well, but where they need to increase resources is in development and feature enhancement.
This Suunto 5 Peak does not stand out for anything special because it does not bring anything new to what Suunto offers so far. But it does allow to bring many of the things present in the 9 Peak to a model of almost half the price, starting with the good GPS accuracy.
Perhaps the price is higher than other competing models (PACE 2 CHORUS, Polar Vantage M2, Garmin Forerunner 245, Garmin Instinct), but in this category Suunto offers enough reasons for its proposal to be worthy of consideration. Suunto does not cut back on software features in order to reserve some features exclusively for the more expensive models, which allows it to stand out in some respects from any of the others.
If you don't need all the features of a Suunto 9 Peak but you like the aesthetics and compact size, and you still want to enjoy the other features such as route navigation, SuuntoPlus, Snap to Route, various battery consumption profiles... all that is present in the Suunto 5 Peak at almost half the price.
If I have to look for any aspect that I would like to improve it would be the screen size (1.1″ is small for me, especially if we plan route navigation) and it would be great if Suunto had opted for the optical pulse sensor of the Suunto 9 Peak. I guess we don't podemos have it all....
And with that... thanks for reading!