Strava today announced major changes to its business model. Obviously it will continue to be based on monthly subscription, but now podrás select which "packages" are the ones that interest you, being able to lower the cost of monthly registration.
Think of it as a phone package where you can choose whether you want it all (landline, mobile, internet, TV, etc.) or just a part of it. And before you ask, it's not a way to raise the price of your current premium service since the subscription option that has been in use so far is the same price as the full version offered from now on. But let's get to the details.
Strava Summit replaces Strava Premium
The first notable change is the change of name. I personally do not understand it very much, especially since for most non-English speaking users the new name does not make much sense.
The premium service is clear what it is and anyone anywhere can understand it. Strava's intention is that Summit (translated as summit or pinnacle) assumes that when you hire the service it is because you are an athlete with a goal, so the full version of Strava will help you achieve it. Personally I think it's pretty smoky from the marketing department, but I guess they have done their studies for several weeks to reach this conclusion and it has not been a decision made on a crazy night (or yes, who knows...).
In short, get used to the new name. We will no longer see Strava Premium, nor applications or devices that ask for a Strava Premium subscription. From now on everything is Strava Summit in one of its different packages offered.
Strava Summit Packages
Strava is both blessed and condemned. Millions of users use its services, making it not only the sports application with the highest number of users, but also raising it to the level of a social network. To give you an idea of the size, during 2017 around a billion activities were recorded on the platform. And it continues its exponential growth by adding around one million users every 30 days. These are impressive figures.
But as I said, it's their biggest condemnation. It's clear that the vast majority of these million new users don't sign up for the platform with the idea of paying for the service. They simply do it to be part of the social network that Strava has created and to share their training with their interested friends (and to end the training published on Facebook). Their user base is so large that it's already out of reach for any company, as the cost would be unbearable.
So Strava has millions of users but is supported by a few who are willing to pay 7.99 euros a month.
I think the Strava move is interesting because it now offers the possibility of having a subscription from 2 euros per month for an annual subscription (2.99 euros if you make a monthly subscription). This will allow more users to make the jump to the subscription system as the cost is significantly lower. Although it also has a danger and that is that many of the current Strava Premium users will lower the subscription level to only one package, reducing the current income.
Be that as it may, even if the movements on one side and the other are balanced and everything is left to the chickens that come in and the chickens that go out, what is clear is that this will satisfy many more people so the relationship with the customers will be much more positive in the long term. There is nothing more important than having a happy customer, even if the income they produce is lower (the telecoms in this country could take an example).
I've already dropped a roll on you and I haven't told you what packages are available yet...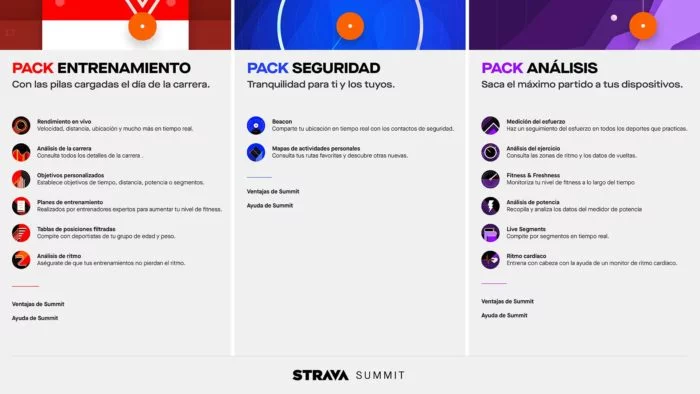 We have the Training Pack, the Security Pack and the Analysis Pack, each of them aimed at a different user, although I think the options of the Training Pack and the Analysis Pack have not been well drawn. This is what each of them includes:
Training PackThe KOM Pack: This is the option you want in case you are preparing for a race. You will have access to training plans, detailed post-race analysis, customized goals, etc. In principle I would say that it is oriented to the user of the mobile phone application, although this pack is reserved for the personal and KOM records classification tables filtered by age and weight, which I think would be better positioned in the next pack.
Analysis PackTraining: In this case oriented to those who use an external device and synchronize their workouts with Strava. Fitness monitoring, exercise analysis and effort measurement, trend control, power analysis... This is the pack you should choose if you want live segments on your device.
Security PackThis is the most logical as it includes Beacon, the possibility of transmitting in real time your location to the people you choose. It also offers a heat map of the areas where you have been active, but I don't think it is too interesting or at least justifies the monthly payment.
Each of these packs costs £2.99 in a monthly subscription or £2 if you choose to pay annually, and you can combine them as you like. And if you choose all three, you'll get a discount by putting the price exactly the same as with the current Strava Premium. Same features at the same price.
As I say the difference is that now you can choose the packs that you choose. For example if you use a Garmin or Wahoo device that already has a tracking platform you can skip the Security pack part, so you will go from paying 7.99 euro per month to 5.98 euro while maintaining the same level of features in the rest of the fields.
And don't forget that contracting any of the plans gives us access to Premium technical support (this is still Premium, it doesn't change its name) and advantages such as exclusive discounts for paying platform users.
I insist that I think it's a good move on the part of Strava. I can benefit from it because when I make the renewal I can do it at a lower price since I don't need the functions of the Security pack (and that saves me), and the fact that I only want the Premium Summit to have Strava segments in real time you can get it for only a couple of euros a month. You will say if you also consider it interesting.
And with that... thanks for reading!