Amazon has decided to launch a kind of Black Friday in an event called Spring Deals. And as always here I am to bring you the best of these offers, because you have to comb a lot more than you think to find interesting deals. It is not always in Spain where you are going to find the cheapest.
So don't worry, you don't have to start going through the different Amazon sites because I'll bring it to you all reviewed and cooked.
First of all remind you to join the Telegram channel (especially today with possible flash offers)There, the offers are published immediately, not only during this week but throughout the year. In addition, I am already preparing another raffle for channel subscribers, so get ready....
The dates we have for this occasion are from March 27th to 29th. Only these days, everything you don't buy discounted on these two days no longer podrue buy it on the 30th (well, podrue, but it's going to be more expensive for you). And Amazon says there are discounts up to 40%.
[OCD] Remind you that when you buy through any of the links I provide you will generate a small commission. This is what helps pay for the website and the work I do in testing, and it won't cost you a penny more. It's the way you have to thank me for everything I do. Although not all are affiliate links, if I have no affiliation with the store and the offer is good I also include it.
Do you need more help? Here are the comments or also the general web chat channel. This Prime Day will be spent in front of the screens of the different computers I have prepared, so podré will answer your questions almost instantly.

Spring offers on GPS Garmin watches
Garmin Fenix 7X Solar
It is usually one of the offers you are looking for the most lately. The latest Fenix model, in its larger size version. On this occasion it is the one I recommend over the smaller models, and it is not because of its larger screen... it is because of the integrated flashlight, which seems silly but I appreciated it a lot while I was testing it.
Garmin Fenix 7X Solar Analysis
---
Garmin Fenix 7
If you want to make the jump to the Fenix 7 series in the most economical way possible there is also a very good deal on the "basic" model. Which is not so basic because it has the full map pack, music, Garmin Pay, etc.
---
Garmin Venu 2
The Venu 2 is currently the intermediate version within the Venu 2 range. It has a very good quality AMOLED display and has all the smart features of the Vivoactive.
---
Garmin Venu 2 Plus
The Venu 2 Plus is the latest evolution of the high-end part of the Venu. Compared to the regular Venu 2, it adds a speaker and microphone, which allows you to use voice assistants and even receive phone calls and talk on the watch, as long as you have a connection to your cell phone.
---
Garmin Vivoactive 4
For only 169€ you get a very competent watch in sport, with wireless payments and music playback; including synchronization with platforms such as Spotify. The offer is available on both sizes of the Vivoactive 4.
---
Garmin Forerunner 55
Updated Forerunner 45 with track running profile, workout suggestions, PacePro, etc. Although for the price difference, I'd recommend the FR245 above for its better screen with higher resolution.
---
Spring offers on GPS Polar watches
Polar Grit X
It was Polar's first entry into the mountain world with new features such as Hill Splitter, FuelWise and route navigation with turn warning.
Or you can also look at it another way. It's like the Vantage V2but with some features cut back. But as a mountain watch without going up too much in price, it is an option that I like quite a bit, especially for the little more than 200 € it costs with this offer.
---
Polar Grit X Pro
New bezel (which is what differentiates it from the regular Grit X), a higher quality strap and sapphire crystal. But the Grit X Pro is not only appearance, it has also come with new software features. New screens with "outdoor" information, changes in the interface, more possibilities in navigation ... in short, it is a more complete set.
---
Polar Vantage V2
As with the previous one, the Vantage V2 is not a model that Polar is reducing in price, so if you were looking for one, now is the time to buy it at a succulent discount.
With respect to the original model, it stands out not only for all the new features that the Polar Grit X included in its presentation, but also for the running, cycling and recovery tests. And recently it has just received all the new features presented with the Polar Grit X Pro so next to it it is in the top range of Polar products.
---
Spring offers on GPS Suunto watches
Suunto 9 Baro Titanium
Note that this discount is for the Suunto 9 Baro Titanium (up to now they had always discounted the model without barometric altimeter or the normal Baro).
It has extended battery function thanks to FusedTrack (which works great) and has been receiving major updates for SuuntoPlus, exactly the same as Suunto 9 Peak introduced as Snap to Route and all other latest Suunto features.
Analysis Suunto 9 Baro Titanium
---
Suunto 5 Peak
The little one from Suunto can be an interesting option if you are looking for a small watch. Its main advantage is that in such a small size (and weight) it offers the same as the rest of the Suunto range.
It is a model that I quite like to use for testing because it offers good performance and weighs really little. Its only handicap is that it does not have a barometric altimeter, so perhaps it is more oriented to use on asphalt.
---

Spring offers on Garmin computers
Garmin Edge 130 Plus MTB
The smallest Garmin model was recently updated with some of the most important Garmin cycling features. For example ClimbPro, which will guide us on each of the climbs we have on our route.
Also with guided workouts, which 1TP10You can create from Garmin or download through Garmin Connect. And now it even allows us to control a smart roller.
The offer is the MTB pack that includes speed and cadence sensors with specific mountain bike support.
---
Garmin HRM-Pro Plus
The latest pulse sensor from Garmin, the top of the line. Unlike the HRM-Pro that was until now in these dates of offers, the Pro Plus changes the closing system of the battery, thus avoiding the typical failure that you get water or sweat after changing the battery (with the consequent death of the sensor).
Advanced running metrics and stores heart rate during swimming for synchronization after the end of the activity.
Also with Bluetooth connectivity (dual connection) and can also record intensity, steps, calories and heart rate data without using the watch.
---
Garmin HRM-Dual
The HRM-Dual is a basic sensor (no accelerometer so no running metrics), but offers dual communication via ANT+ and Bluetooth, and can receive heart rate data on devices using both technologies.
For example, you can train on the bike trainer by sending the data to Zwift and to your watch. Or train in the gym in the same way.
---
Polar Verity Sense
The Polar Verity Sense is one of the best external optical pulse sensors out there. It has memory so you can record activity without relying on anything else, or instantly transmit data to any Bluetooth compatible device.
Unlike the sensors built into watches, the poder being placed on the upper arm allows the heart rate reading in a much more suitable area. Personally it has worked well for me even on the bike.
One of my reference sensors in the analysis of different devices.
---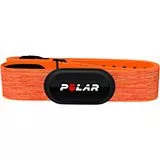 Polar H10
Among the heart rate sensors possibly the Polar H10 is the most awarded. If you only want heart rate data and don't care about the running dynamics metrics of Garmin (or don't have a Garmin) I certainly think this is the best choice.
It has dual Bluetooth connection simultaneously, as well as ANT+ and 5kHz,
---
Spring offers on other interesting items
Philips OneBlade - Body and beard trimmer, perfect for shaving legs because it shaves like a razor. Great reviews on Amazon
Air fryer - Eat healthy without restricting what you eat. The legendary COSORI 5,5L and 1700W is now on Cyber Monday offer - fries for the whole family!
Amazon Echo Dot 5th generation - For only 34€. Not only to ask Alexa for things (although she still doesn't know how to bring you a coffee...), but also perfect to listen to music in any corner.
I keep looking and updating... stay tuned!
Thank you for reading and above all, for collaborating with the site!