Today Garmin, in addition to presenting its new Edge 520In this new range, there are several products, the first of which is an approach warning radar that is not really a Garmin development. This technology comes from the purchase of the South African company iKubu seven months ago. They developed the technology initially, and after the acquisition Garmin created the final product. Seven months is a pretty impressive time frame from the purchase of a company to the presentation of a final product, so it is clear that iKubu had done a great job creating the technology.
Secondly, we have a new intelligent lighting system, which makes it possible to increase or reduce the intensity of the rear lighting or the length of the front light projection depending on the speed marked by a paired Edge device at that time.
Garmin Varia Radar
Did you feel like reading the whole test? It's already completed, so you can click here to access itThis thread is the presentation of the device, the most complete and relevant information is the one you will find in that test.
Of the two, the radar is clearly the most interesting. The system consists of several components that can interact with each other. First we have the radar itself, which has a total of 8 high intensity LED's. It is placed on the seat post, behind the saddle, and is responsible for detecting vehicles approaching from behind and sending information to the display on the handlebar. This display can be the Garmin Varia own, which is the one shown in the picture below.
Or, if you have a Garmin Edge, you'll have information on your screen, so you don't need to add another device to your handlebar (at your own expense, as they are sold separately). Garmin has announced that the radar will be compatible with the Edge 510, 520, 810, 1000 and Touring Plus range.
How does it work? Nothing better than watching it on video to give you an idea.
To put it simply, we have the radar under the seat and it will detect vehicles approaching from behind. As the vehicle approaches, more LEDs will illuminate in the rear light to give you visibility and for the driver to notice that he has a bicycle in front of him. So if in normal condition you find two LEDs on (fixed or flashing), as the car approaches more LEDs will be on.
On the handlebar-mounted display the cars will be shown as approaching lights. Once we have been overtaken, you will be left with a green light indicating that we no longer have anything to worry about. But we can dispense with this additional display, as it is possible to connect the radar to a compatible unit and display the information directly on its screen.
Garmin Varia smart lights
The Garmin Varia smart lights are composed of a front light and a rear light (or lights).
The front light has an adjustable beam. For its correct functioning we must connect this accessory to our cycling computer. The connection is wireless through ANT+. The computer will send information of the current speed and the light beam will be adjusted according to how fast we are going. If we are going slowly it will illuminate the front area of the bike, while if our speed is higher the light beam will focus more deeply, since the logical thing is that your look goes beyond three meters in front of the handlebars.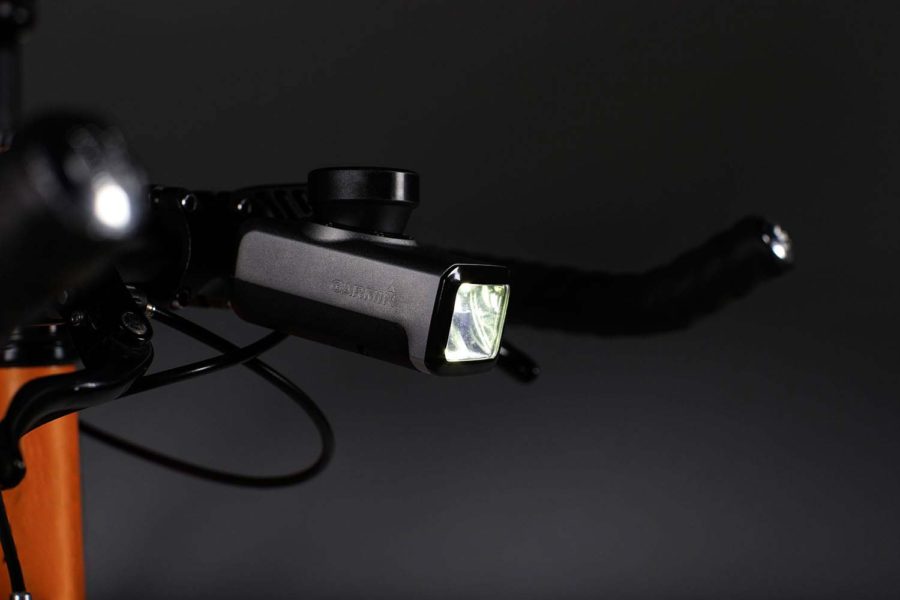 It also has a function to avoid dazzling oncoming vehicles, and if your control unit is the Garmin Edge 1000 it will also benefit from its lighting sensor, so when you enter a tunnel or at dusk it will turn on automatically.
As for the rear light, it can be installed individually or in pairs. If you install two together they will also work as if they were blinkers. They can be paired up with your Garmin Edge via ANT+ and will signal turns when you approach them. Of course, you must make a navigation route to do this.
Garmin Varia: availability, price and opinion
Both the radar and the lights will be available during the third quarter of this year. The price of the radar (without screen) is £199. If we want the complete set of radar plus screen we will go for £299. As for the smart lights, the price of the front light is £199, while a rear light is £69. If we want to buy the complete set of front light plus two rear lights we will offer a kit for £299.
I find this new range from Garmin interesting, and it's appreciated that they enter the market of quality accessories. As for price, it's not easy to value the radar, mainly because it's unique. Of course, 199 euros for a safety device doesn't seem too high to me, although it depends on which areas you usually ride your bike in. If your usual training place is on city or national roads with a lot of traffic, it might not make much sense, since because of the traffic density you don't need to be warned that a car is coming. You'll be surrounded by them.
On the other hand, if you are driving on secondary roads where the traffic is much less frequent and a car appears every 5 or 10 minutes, this can be an interesting option. When you know that there is a car that is going to approach you, you will know that you must be careful and prepare for its overtaking. Make sure that you have not gone to the centre of the road and be aware of possible curves or changes in gradient.
El precio de las luces, a pesar de ser un producto bastante interesante por su «inteligencia», creo que supone un desembolso demasiado elevado. Principalmente porque en el mercado ya podemos encontrar buenos sets de luces tanto delanteros como traseros. Es cierto, no tienen un control inteligente, pero el manejo manual de las iluminación no representa mucha complicación.
And so much for the presentation of Garmin's new products. Thanks for reading me!