First test marked in red on the calendarOf the options I had marked on the calendar (of which some have already fallen), this event was one that I wanted. Firstly because it is an Olympic distance, which I think is in the perfect place between being a triathlon in which you go to the top from the beginning and barely save anything, but especially because it is a triathlon without drafting, with all that it means.
So it was a day to swim at my own pace (and not at the pace of a group I want to hook up with on the bike), a day to fly with the goat and, despite not being a sprint, to do the race almost at full capacity.
Don't get me wrong, the sprint distance is undoubtedly a lot of fun, but I think that pure triathlon is in distances from the Olympic one and above all in modalities without drafting, where you don't depend on having to go in a good group, but you have to achieve everything by yourself.
Before the race
Don't think it was an easy week. In fact, in the middle of the week I was in doubt as to whether the race would be held or not. Even thinking that if it turned into a duathlon we would be very lucky. In Malaga we had a major storm that started on Wednesday or Thursday. Wind, a lot of rain and, above all, the sea was very angry. See if he was angry, look what it brought to the coast.
That was on Friday, not many hours before the race, and with those prospects we were going to do 1500m at sea (or 1900m-950m for those who ran other distances). The weather forecast was improving over the weekend, but it was still unclear whether the triathlon would be dry or wet.
In spite of everything, on Saturday it was time to pick up the bib and attend the technical talk, which was obligatory, although without having to sign any documents, there was no guarantee that we would all be present. But the first thing they told all the triathletes was that the next morning there would be a triathlon. The Maritime Captain's Office (those in charge of approving the holding of events at sea) had already confirmed that the situation would improve and that the race could be held without any problem.
It might rain, it might be dry... but at least we knew we were going swimming.
Career day
And despite how the week had been, Sunday dawned like a perfect day. Slightly cloudy, but with no rain forecast. The water was quite calm without much of a surge, although at 17º the water was a little short. Logically, it was a matter of putting on neoprene.
Swimming according to what I had planned. Keeping a constant pace from the beginning, without falling asleep but without pushing too hard. There was no worry about leaving a minute early or a minute late, as the advantage of being a race without drafting is that you don't have the urge to get out of the water in search of a large group willing to work on the bike.
First lap without excessive crowding. Some stick in the turn of the first buoy but the usual situation. Also some tripping of hands against feet, but nothing done with evil, the truth is that it was a fairly clean swim by all.
Finish the first lap and I'm off to do the turn at the flag on the beach.
The group has already stretched out and while I'm turning, the leaders are looking for the first buoy again.
I'm a good sailor at all times and don't stray too far from the course. Luckily there wasn't much swell, so there was no need to constantly look where I was going.
I came out of the water in 66th position after 26:34 swimming, a little better than I expected, and I am just over 4 minutes away from the race leader.
Llego a T1 y «arruino» la carrera (que no es que fuese a ganar, pero los grupos de edad peleamos cada posición con uñas y dientes :-)…). No había cesta para los «útiles» de natación, sino que debíamos dejarlo antes de la zona de boxes en una bolsa de plástico que la organización nos había facilitado. Primer incidente… pierdo la referencia de dónde está mi bolsa. Comienzo a buscar… y no la encuentro, y eso que la había colocado yo mismo una hora antes.
I finish passing the row of bags and take off my neoprene, I'll look for it later. I bend down to get it off my feet and I get the typical dizziness after finishing the swim, but much more than I've ever had before. I guess it's not a good idea to bend down after getting out of the water.
I take off my neoprene and I stumble around looking for my bag again, which finally appears. Next odyssey, I put the neoprene inside, because the glasses and cap are no problem. I fold the neoprene quite carefully to make it as small as possible... and it doesn't fit, it slips. Second try, third try... On the fourth try I manage to put it inside and hang the bag back in place.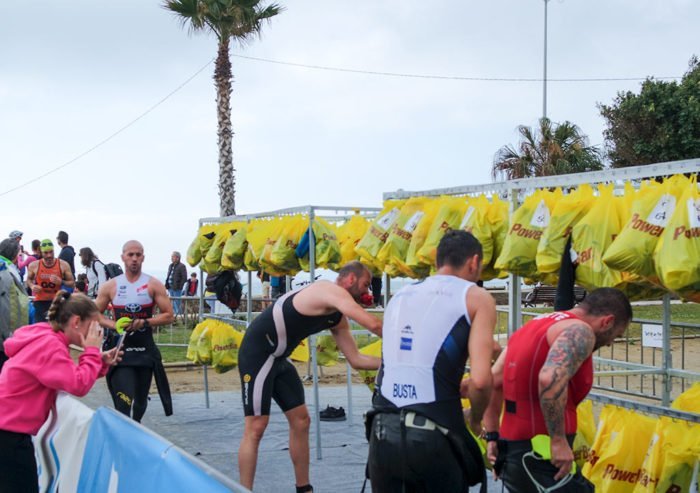 Back to the pit area to get the bike, but there he has already overtaken me to the water canoe. And here comes the second disaster of the race.
For longer sprint distances I always run with socks, I usually hold the 10km without them but it's risky. I decide to wear them in T1, as the day was overcast and my bike shoes are quite open, so I didn't feel like being cold. WRONG.
After putting on my socks, bib, glasses and helmet, I head for the pit lane (I think they were already sweeping...). Remember I said we'd been raining all week, right? Well, on the way out, passing pools of water with my fresh socks, and of course, being by the beach, picking up sand. We'll come back to this later...
A little more than 4 minutes later (yes, yes, 4 minutes in a transition that shouldn't have taken more than 1) I'm getting on the bike. This is where my career starts, especially in a circuit as flat as the one we were dealing with. I leave the village through an urban area where I take the opportunity to pick up an isotonic bottle and put it on the rear support with some difficulty (the Xlab Gorilla ensures that the bottle won't jump no matter how big the pothole is, but it's a pain to put it inside).
We arrive at the national road and I start the machinery. A long straight ahead and 280W of standardized power as a goal, about 38-40 km/h on the flat. Slight headwind but hardly noticeable. I am recovering quite a few positions benefited by carrying goat and because the flat terrain benefits me.
After about five kilometers we reached the detour where there was a small slope of about a mile. The truth is that I had been put quite worse, but then the lion was not as fierce as it is painted. A fairly easy climb and a moderate descent, as the ground still had wet patches in the shaded areas.
Descend again to the national road and after a couple of minutes heading west, turn 180º to look for the village again, this time with a downwind.
I complete the first lap in about 270W standardized. A little below what I thought, but well in general, besides overtaking a lot of bikes in the entrance section to the village. Not all of them would be from the Olympic, many would be from the Half or the relay competition.
Another pass by the refreshment station and this time I pick up a gel, taking advantage of the street circuit to give an account of it, coupling again as soon as I return to the national.
Again to set the pace, and I continue overtaking some bikes. Up the slope again, with the difference that this time I lowered it without any consideration, it was almost all dry.
Back to the village for the last time, overcoming small slopes where I was overtaken by a couple of bikes (I am a slave of the power), recovering the position in the descent and posterior plain. So two or three times, until we reached a road narrowing (half of it was open to road traffic). One of the leaders of the Half overtakes, first me and then two bikes that were on the right. I get into position to overtake, but the bike that was ahead of me does not finish the overtaking, or the one I was overtaking squeezes the gear. And I could not overtake in a third line, because I obviously get into the opposite direction (immediate disqualification).
After several seconds of doubt, seeing who passes, who doesn't, the stewards' bike appears and we get a warning. It's a big deal... At least that causes the two bikes on the right to allow overtaking, the Half's competitor finishes passing and goes to the right. I overtake him again and I go to the top of the group until I return to the pit area, finishing the 40.5km of the second segment in 1:14:21. I get off the bike in perfect physical condition and looking forward to running.
But... do you remember what I was saying about the socks? Well, obviously the entrance to the pits was still flooded. I didn't remember anymore, so I take my feet out of the shoes leaving them hooked on the pedals, as I always do. Chof, chof, I was already wearing dry socks and I soak them again, so I have to put the shoes on with my feet wet (I could have also taken my socks off...).
As if this wasn't enough, the pit lane had a 100m stretch along the beach. In theory it should be compacted sand, but the storm had taken it away, leaving beach sand completely loose. Perfect, I add a little more sand to a few wet and sandy feet.
I start running at a pace of about 4:20. Comfortable and waiting to evaluate after reaching the end of the promenade. I pass a small flight of stairs for the first time, and ask my ischians what they thought. They tell me they didn't mind, which I'm glad about. I refresh myself and pick up a bottle of water to drink.
I continue my way and reach the end of the walk, turn and face wind. At the beginning, it undermines the morale a bit, but I appreciate it right away because it helps to cool down a bit.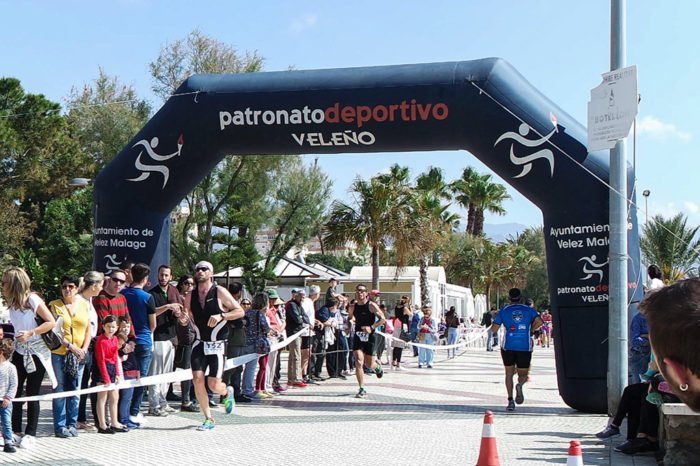 Halfway through the race I start to remember my wet socks. My feet start to get annoyed and I start to notice the sand abrasion on the sole of my foot. I reach the end of the first lap but I don't wear the same joy I used to. I was thinking about keeping the 4:20 pace and even speeding up a little bit, but I see how I'm starting to mark kilometres in a long 4:30.
Para el kilómetro 7 ya me quería morir. Tenía los pies machacados, mitad por las ampollas «gracias a» los calcetines mojados y mitad por la arena rozando sobre la piel reblandecida por la humedad. Nuevo paso por avituallamiento pero esta vez no recojo agua (ya lo llevo en los pies…), simplemente voy mirando qué corredores llevo delante y a cuántos puedo alcanzar.
I'm going to get out of one of them, which does pick up water, which I take advantage of to overtake it. I have a group a little further ahead, so I just forget about my feet and try to catch up with them, which I do about 300 meters before the finish line. I complete the 10.5 km of the race course in 47:24, limping and with my feet practically on fire.
Finish time of 2:32:43, in position 51 of my age group and 83 absolute, about 22 minutes from the winner. Not too bad, at least considering the disaster of the first transition (we all have excuses :-)!) I'm sure that with a less problematic first transition and without the shattered feet I could have gone below 2:30 without much difficulty.
And what is left in the calendar? Well, nothing much, because what I had thought for May will not end up fitting anything. The only thing that fits me in dates is the Marbella sprint triathlon, but the change of route and doing it exactly the same as the duathlon from three months ago So I'll start now to prepare the big goal of the year, that Ironman 70.3 of Portugal, although there will surely be some 10K or 5K on the way.
And with that... thanks for reading!