After the announcement a few days ago that Polar was beginning to support automatic synchronization, the circle over Strava has been completely closed, with all manufacturers now allowing automatic synchronization of activities with the largest sports social network.
Strava has become big for a very simple reason: it goes beyond sharing your training and races with friends. The key is in the segments, both those created by other users and those that you can create yourself. What are these segments? They are fragments of a route on which users can compete in their own time.
And you can compete with yourself trying to improve your times, against your friends to be the fastest or against the whole community to be the fastest in a certain segment. If you are the fastest in a certain segment you will become the KOM (King Of The Mountain). You will not win anything, but you can show off in front of your friends.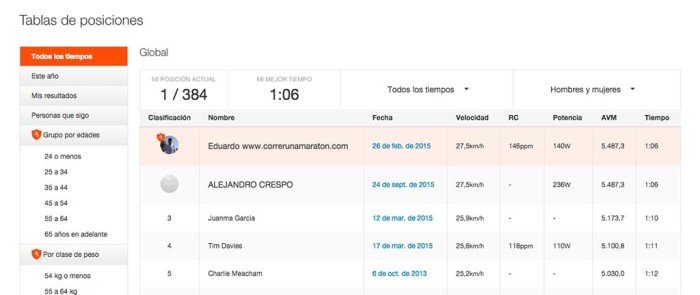 Thanks to the automatic synchronization of activities you don't have to do anything on your own. After passing your training to your manufacturer's platform it will be sent to the Strava server without you having to download or upload files, all thanks to the Strava API that allows this interaction.
You want to know how you can do it? I'll explain it to you next.
Synchronize Polar with Strava
I'll start with Polar, for being the last one to join the party. It's a tremendously fast process, so it's not something you put off until later, when you have some time. You can do it right now.
After this, both accounts will be synchronized. A matter of seconds. From now on, every time you synchronize an activity (regardless of whether you do it via Bluetooth or USB cable), seconds later it will automatically appear on Strava, where you can also consult the information and see your evolution in the segments you have performed.
If at any time you want to deactivate the automatic synchronization you just have to go back to the same screen and click on disconnect. Or from Strava, by accessing Configuration - My applications.
Synchronize Garmin with Strava
In the case of Garmin the procedure is somewhat different, because it is not the application that synchronizes with Strava (as in the case of Polar), but Strava that connects with Garmin Connect. So the synchronization must be initiated from the Strava website by accessing https://www.strava.com.
En la parte superior derecha de la página, pincha en el símbolo «+» y selecciona «Cargar actividad»

En la ventana que se abre debes buscar el logo de Garmin y pinchar sobre «Comienza»

Aparece la pestaña que te explica el procedimiento, y sólo debes pinchar en «Conectar con Garmin»
You will return to the Strava website, where you can check that the synchronization is already active.

A partir de ahora después de cada sincronización tu actividad aparecerá en Strava en unos 15 o 20 segundos. Si quieres desactivar la sincronización automática podrás hacerlo desde las opciones de «información de la cuenta» en Garmin Connect.
Synchronize Suunto with Strava
Doing it with Suunto is a lot faster, partly because there are no long texts to read before synchronizing both applications. It goes straight to the heart of the matter. Simply access Movescout and follow these steps:
En la parte superior puedes encontrar el acceso directo a los ajustes. Si pones el ratón encima aparecerá un desplegable. Debes seleccionar la opción de «Otros servicios de deporte». O aún más fácil, puedes pinchar directamente here


En las diferentes opciones de conexión entre plataformas, pincha en el botón naranja de «Connect with Strava»

Se abrirá la ventana de autorización, donde simplemente debes pinchar en «Autorizar»

You will return to the Movescount website, where you can see confirmation that the synchronization is already active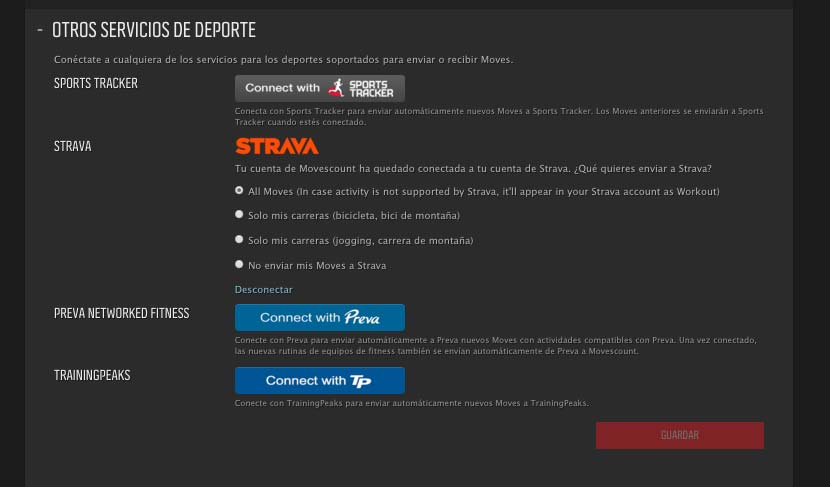 Puedes seleccionar qué quieres compartir. Por defecto compartirá todos tus Moves, pero puedes seleccionar otras opciones. Si quisieras dejar de compartir tus carreras tienes dos opciones: seleccionar «No enviar mis Moves a Strava» o desconectar ambas cuentas.
Synchronize TomTom with Strava
With TomTom it's different, because you have to set up synchronisation between the MySports Connect application and Strava. To do this, simply open the application and access the settings. On the Upload & Export tab you can add a service. Simply select Strava and enter your account details.
From now on, every time you synchronize the clock with your computer, MySports Connect will send the activity to Strava as well. You can then log in to the website and see all the details and check if you've mastered any of the segments you were looking for.
Synchronize Fitbit with Strava
You will only be able to synchronize the highlighted activities with Fitbit Surge, logical because at the moment it is the only device of the brand that has GPS. In order to activate the synchronization in Fitbit they have prepared a direct access in their page.
Go to the shortcut website to activate the synchronization, which is at http://strava.fitbit.com/. Aquí simplemente debes pinchar en «Connect»

After confirming the authorization, you will be returned to a page explaining how it works.

With these three simple steps you will have both platforms synchronized. From now on when you synchronize any activity that has GPS data it will fly directly to Strava, to the delight of your chosen segments.
Heads up!
THE BEST BLACK FRIDAY OFFERS

The best offers of the year are here, NOT TO BE MISSED.
Offers in sports technology: Black Friday at Garmin, Polar and more.
Canal GRATUITO de Telegram para recibir todas las ofertas. ¡Únete!
But synchronization is two-way, so if you track activities with another device or with the Strava application, after the workout is over the calorie and minute activity data will be added to your Fitbit account.
–
So from now on, compete with your friends. Thanks for reading!